It's finally that time of year most runners yearn for—spring running! The temps warm. The flowers blossom. The trees bud. Birds chirp. It's hard to go for a sunny spring run and not come back in a good mood. (And let's not forget that optimal running performance temps happen in the springtime!).
But not all spring running is flowers, bunnies, and sunshine. There is a lot of unpredictable weather too like pop-up storms, rain, and confusing temperatures that can make anyone unsure of what spring running gear they should wear.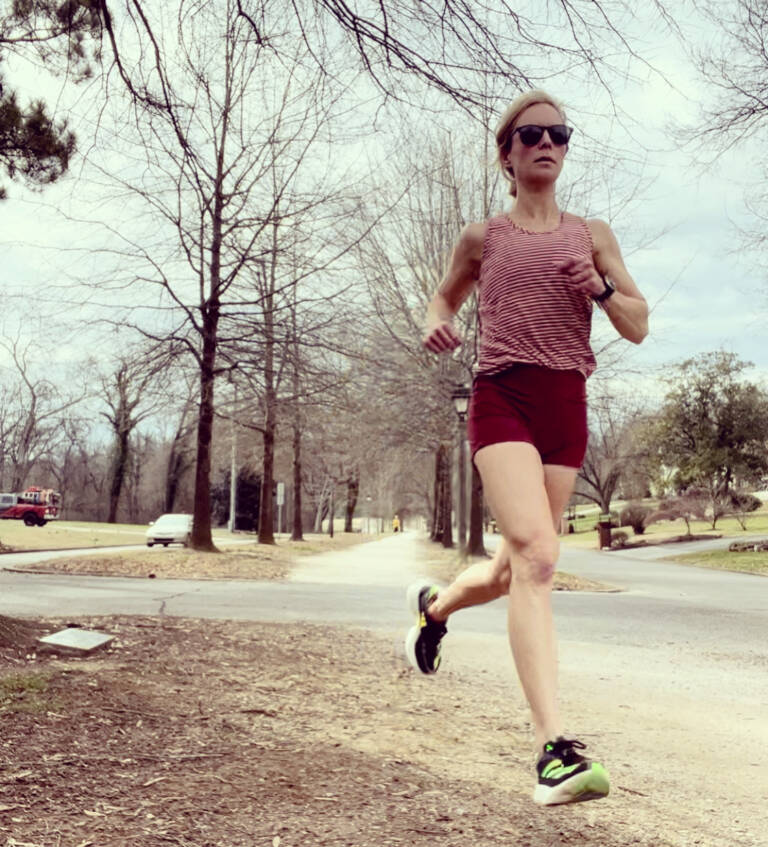 My goal is to help with this running wardrobe conundrum so that when you head out the door, you're prepared for whatever mother nature will bring. This way you can come back from a spring run in a good mood, no matter the weather.
Related: How to Adjust to Racing in Bad Weather
I'm rounding up the 12 best spring running gear items from my wardrobe and others' (I asked around!). This running gear has you covered from your head to ankles, and everything in between.
In this article I'm going to cover:
What you should wear for spring running
A spring running temperature guide, plus
7 must-have spring running gear items
So, let's roll!
What do you wear for spring running?
Just like with fall running, the goal for what to wear running in the spring is LAYERS. Most runners like to dress with either full coverage on their upper or lower body.
Spring running gear combinations include: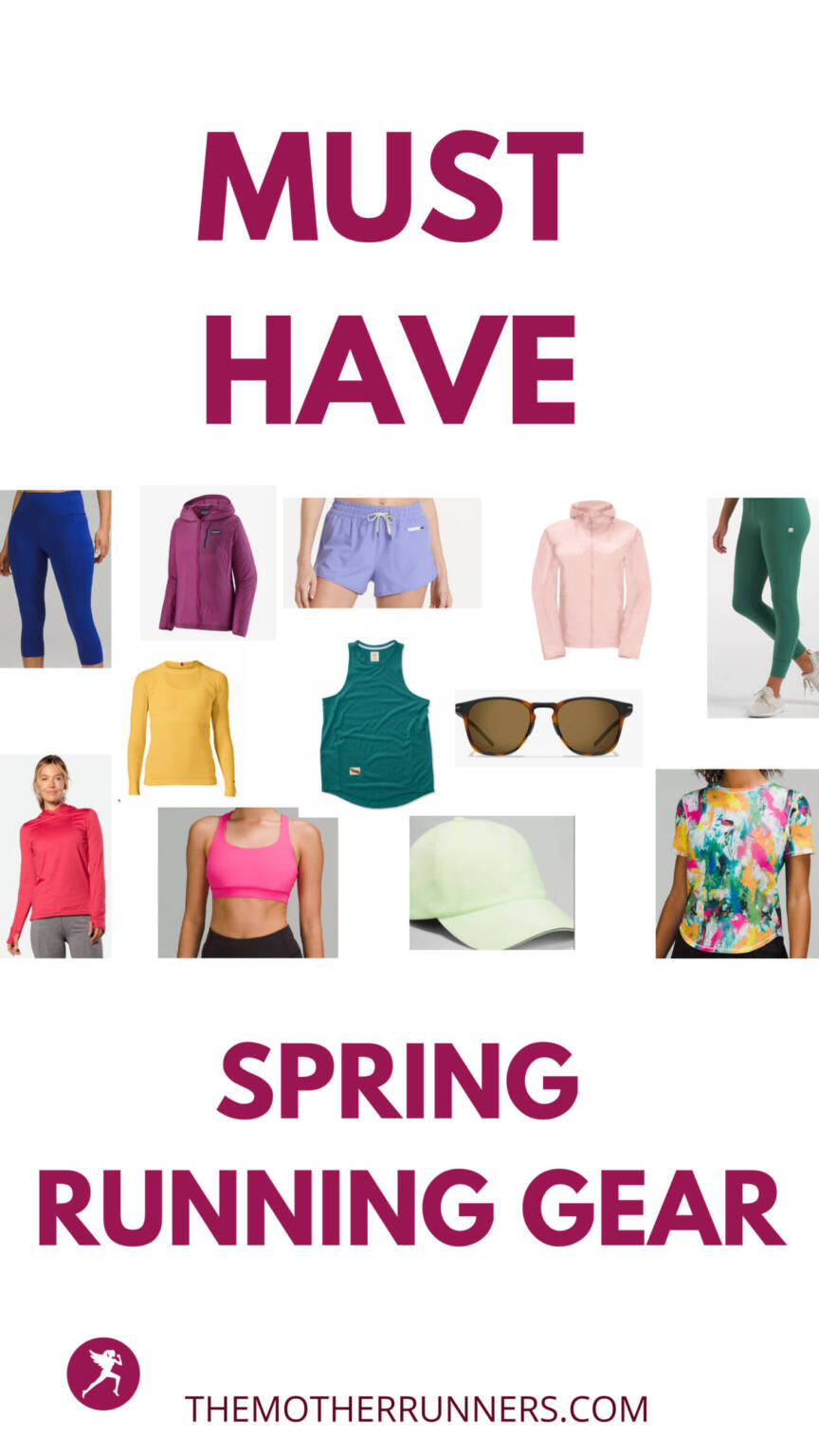 t-shirt and leggings
tank and leggings
short-sleeve with capris
shorts and long sleeve
Keep in mind if you usually run hot or cold. And then pay attention to how you feel on your runs. Some people chart their preferred running gear for different temperatures so they remember next time Mother Nature throws them a curve ball.
Related: What to Wear for Running in the Fall
Spring Running Gear Tips
Here are some quick spring running dress guide:
Create a guide of what you wear so that you can remember what works best for different temps. ⁠
A lot of people like to dress fully covered on top and not on the bottom or vice versa. Some combos may be a tank and leggings, or a long-sleeve tee and shorts. ⁠
Remember that you will warm up 15 degrees more than the feels-by temp. ⁠
Layer! Shells like the Patagonia Houdini trap in heat, wick away moisture, and are easy to carry if you shed it. ⁠
What should I wear to run in 40-50 degree weather?
Moderate temperatures in the spring are 4o to 50-degree weather. In 40-to-50-degree weather, you will want to either wear on top a short-sleeve shirt or tank with a top layer that you will shed.
I suggest choosing a top that's easy to hold in your hand. Some like Patagonia's Houdini jacket self-pack into a small pouch.
On your bottom, you will want to wear shorts or light tights.
What should I wear to run in 75 degree weather?
Any time the temperature is above 70 degrees, you'll want to wear little clothing and what you do wear—you want it to be breathable and wick moisture. In other words, do not wear cotton! Wear technical fabric like spandex or polyester.
In temps above 70, I usually will only wear a sports bra and shorts. If you don't like running in just a sports bra, then wear a light tank or singlet.
Spring Dressing Guide for Runners by Temperature
Because spring temperatures range widely, here is what to wear running in the spring during different temps. Don't forget that your core body temperature is going to rise by about 15 degrees. So, dress in what you would wear if it was 15 degrees warmer.
What to wear in 30-40 degrees: If it 30-40 degrees, consider wearing a long sleep top or a long sleeve top over a base layer that you will shed. Or wear arm warmers. Wear tights or capris.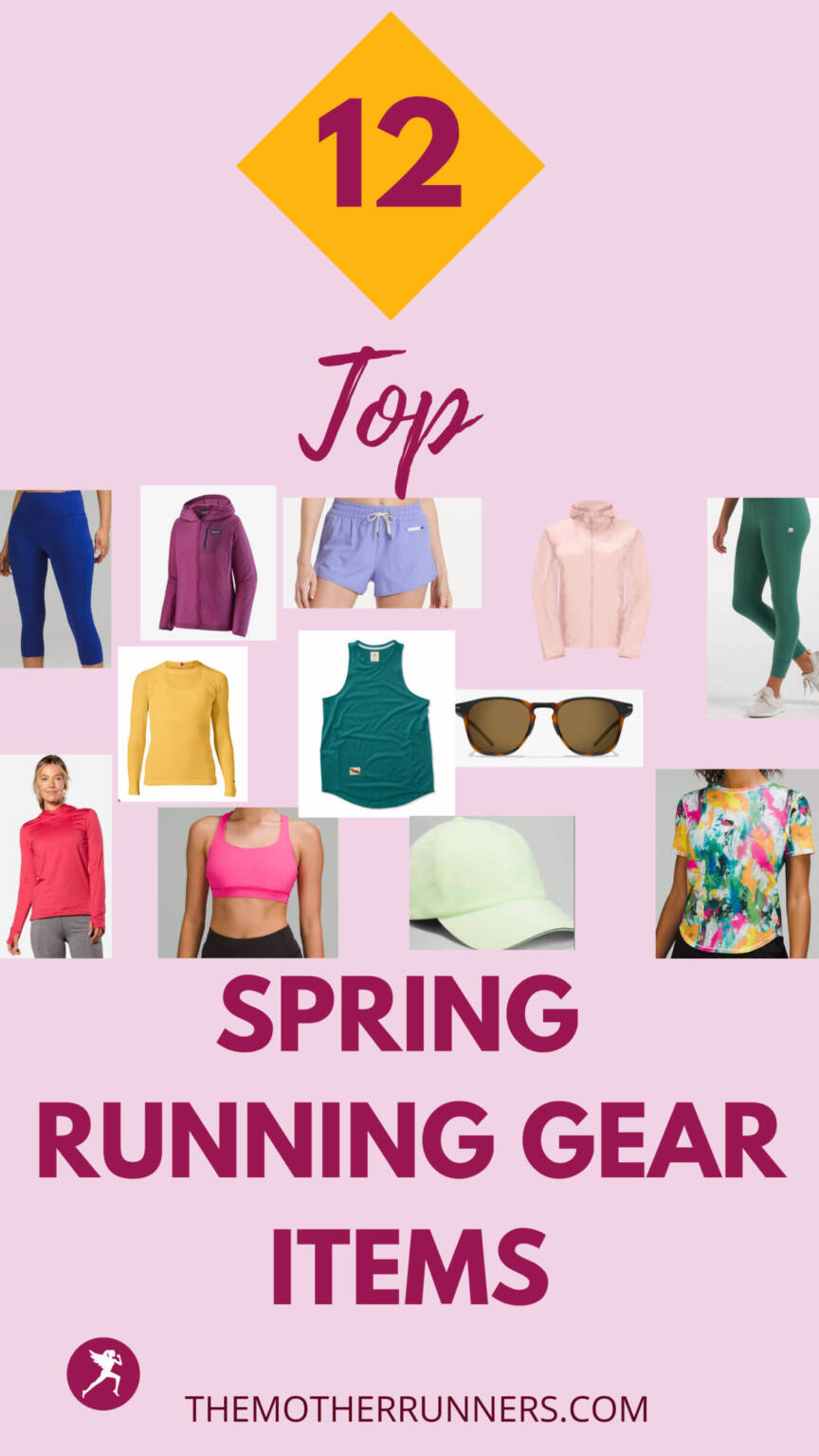 What to wear running in 40-50 degrees: Dress in a lightweight top layered over a short-sleeved base layer tank. Lightweight tights, capris, or shorts. You can shed the top layer if you get warm. I suggest choosing a top that's easy to hold in your hand. Some like Patagonia's Houdini jacket self-pack into a small pouch.
What to wear running in 50-60 degrees: Wear shorts and a short-sleeved shirt or tank. Remember, you're dressing like it is 65 or 75 degrees out at this point. Unless there is a cold wind, you want to dress as you would on a spring day.
What to wear in 60+ degrees: You'll want to wear a moisture-wicking tank or tee with shorts. You may possibly want to wear a sports bra.
Related: How to Dress for Running in the Cold
12 Must-have Items for Spring Running
Here are the best running gear items for spring running from cold and rainy days to sunny, warm days!
Best Running Rain Jacket for Spring
Jack Wolfskin Pre Light 2.5L Jacket – The Pre Light 2.5 L jacket is a super lightweight waterproof jacket that stands up to those April showers that bring us May flowers. I love how it is fitted, comes in a lot of pretty colors, is packable, windproof, breathable, and waterproof with Texapore Pro. It is the MOST waterproof rain jacket I own, by far. It's my go-to when I know my run is going to be a downpour.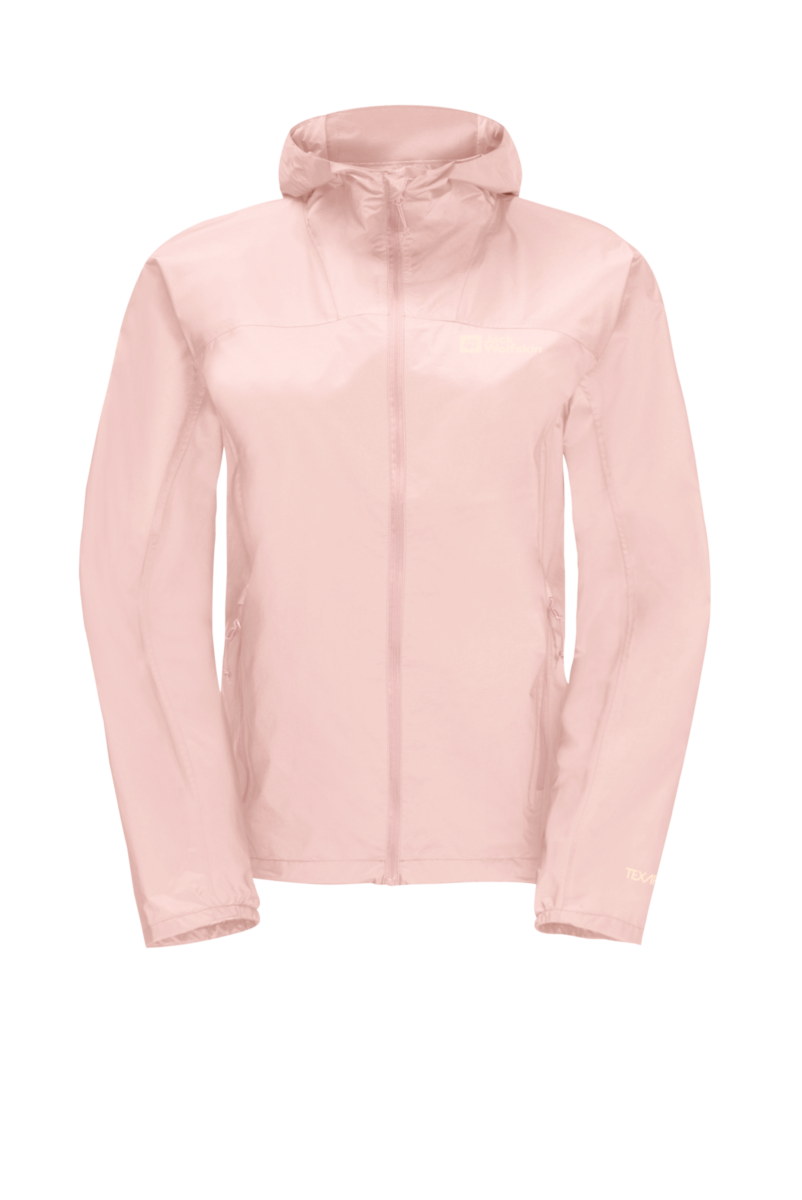 Notable features & specs:
Texapore Pro Dry Light 2.5L: 100% Polyamide – waterproof (20,000 mm), windproof, and breathable (15,000 g/m²/24hrs) fabric that is durable for continued wear
2 hip pockets
adjustable hood
adjustable hem
an array of colors options
Price: $199.95
Related: Best Rain Jackets for Runners in 2022
Best Windbreaker for Spring Running
Patagonia Houdini Jacket: The Patagonia Houdini Jacket is one that I include in pretty much every best running gear list because it is so versatile, it's almost magic. This water-resistant running jacket does an amazing job of trapping heat in and letting moisture out.
I wear it as a shell in the fall, winter, and spring. It's the best running gear when you are unsure of what the weather may be. Will you be too cold? Will it rain? Throw it on and if you get warm or stay dry, it's lightweight and can easily pack into the chest pocket.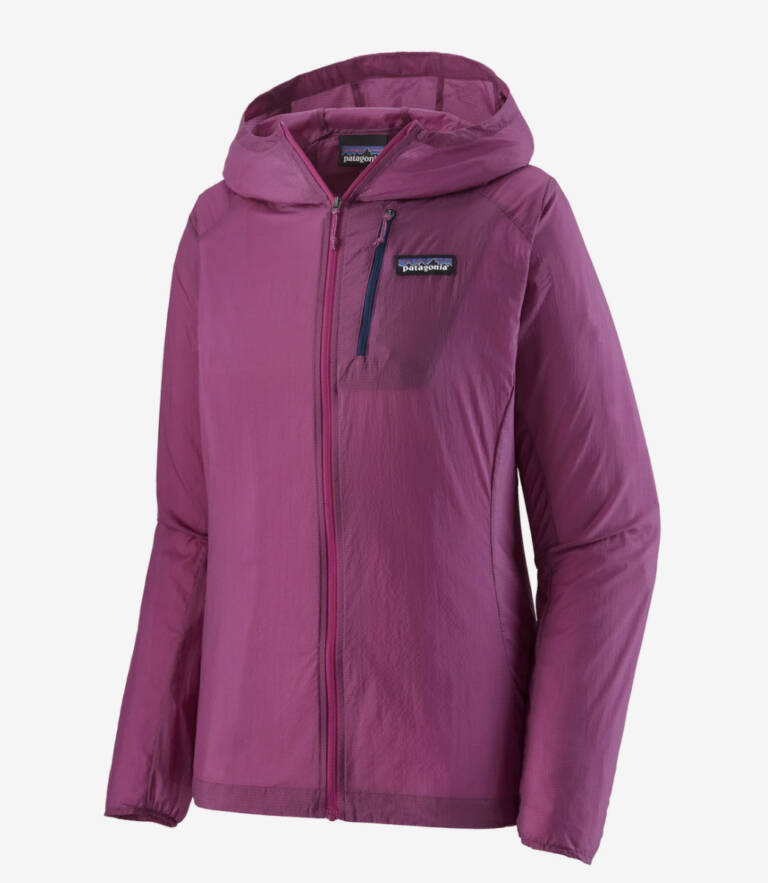 I recommend the Patagonia Houdini Jacket to any runner. It is a spring running staple!
Notable features & specs:
Featherweight 100% recycled nylon ripstop with a PFC-free DWR finish (durable water repellent coating that does not contain perfluorinated chemicals)
Zippered chest pocket converts to stuffsack with a reinforced carabiner clip-in loop
Slim fit with drop tail for improved fit while moving
Hood adjusts in one pull and won't block peripheral vision
Durable half-elastic cuffs; drawcord hem
Pretty colors and patterns options
Price: On-sale for $53.99
Related: How to Run in the Rain (& What to Wear)
Best Long-Sleeve Shirt for Spring Running
Nathan Women's 365 Hooded Long Sleeve Tee: The Nathan 365 Hooded Long Sleeve Tee is a super comfy choice for those chillier spring running days—particularly those days where you start of cold and warm-up quick.
The microfleece reminiscent fabric on the inside makes it a great long-sleeve to lounge around in. And the thumbholes keep your hands warm on days you don't want to commit to mittens. The sleeves are also easy to pull-up should you get hot.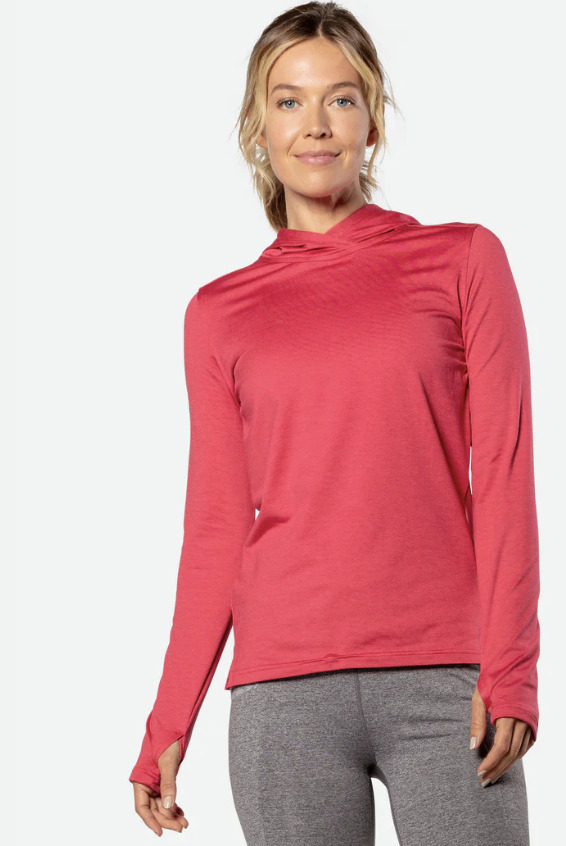 I love and don't love that it is a long fit. This keeps you extra warm on chilly spring days but isn't the most flattering cut—at least on me. The stretchy fabric also makes this shirt easy to take on and off, and MOVE.
Notable features & specs:
Mid weight premium technical knit hoodie designed for any season
Long sleeves with Thumbholes for ultimate fit and function
Moisture Wicking and Quick Drying
Ultra Soft great for lounging and super stretchy for freedom of movement
Reflective logo on wearers right sleeve
Body: 88% Polyester, 12% Elastane
Lots of pretty colors to choose from
Price: On sale! $63.75
Best Base Layer
Tracksmith Brighton Base Layer: Just like the Houdini, I have a tough time rounding up any running gear without including the Tracksmith Brighton Base Layer. It also amazes me with its versatility and amazing ability to trap in heat and wick moisture while being SO lightweight.
It's easy to put on, pull-up the sleeves if you get warm, and layer under thicker layers. I also love how it is fitted and cut—it's one of the most flattering long sleeve running shirts I own!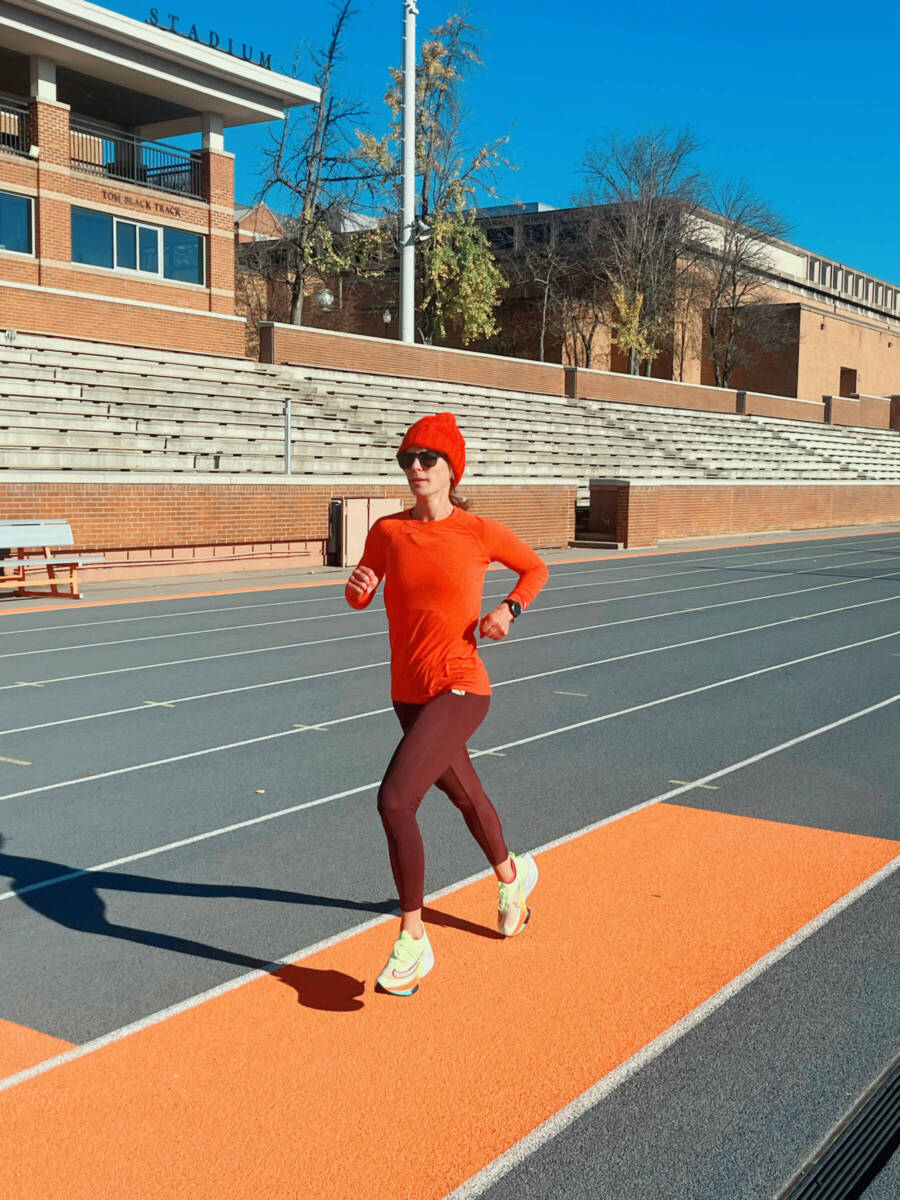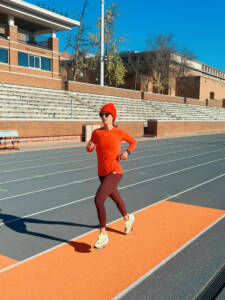 It is a light Merino wool mesh that keeps you dry and warm—but not too warm.
Notable features & specs:
5 Micron Merino Wool Blend
52% Wool, 28% Nylon, 20% Polyester
Constructed Seamlessly To Prevent Chafing
Attactive classic Tracksmith colors
Durable—I've worn mine for years.
Price: $88
Best Tank for Spring Running
Tracksmith Harrier Tank: I got to give Tracksmith another nod for their Harrier tank which with its Merino wool is ultra toasty. It's perfect for chilly spring running days where a lightweight tank is too little but a long-sleeve is too much. The Harrier keeps your core warm and your arms cool.
I often wear my Harrier tank with mittens because when I'm running—especially hard—my arms will get too hot but my core still needs to stay warm. It's a perfect spring running choice for this mid-weather days. It's also a great running tank to layer as a base layer under a long sleeve and then shed to.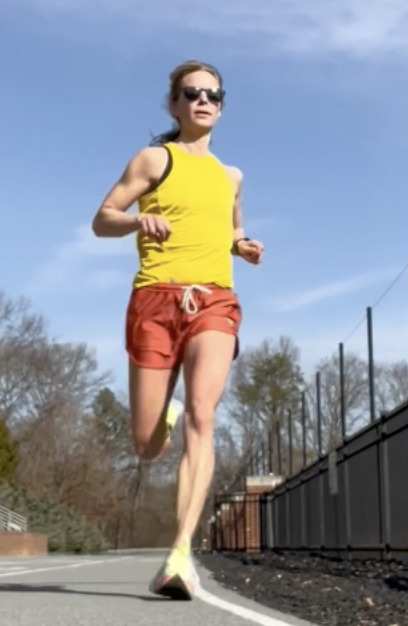 I also love Tracksmith's Session tank for days that are a bit warmer. It's lightweight, breathable, with a relaxed fit for easy or hard running.
Notable features & specs:
Moisture-Wicking
Quick-Drying
Odor-Resistant
Racerback Tank With High Neck And Scooped Hem
Price: $72
Best tee for spring running
Lululemon High Neck Running and Training T-Shirt: If you want a little pizzaz in your spring running—and to don a pattern that matches well with the spring flowers, go with the Lululemon High Neck Running and Training T-Shirt. I love the array of colors and patterns this tee comes in, the lightweight material, slim fit, and meshy breathable fabric.
Notable features & specs: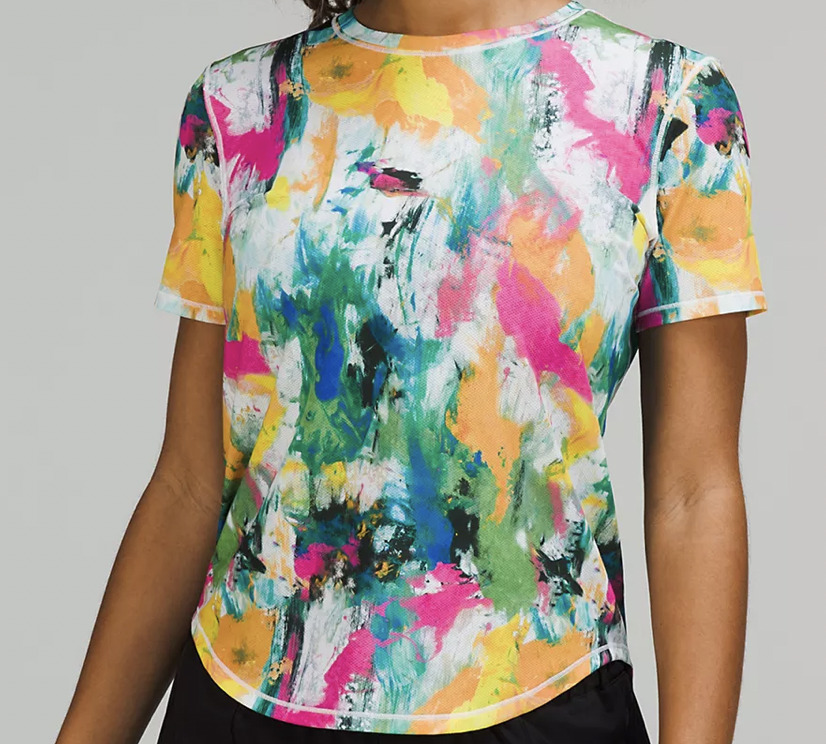 Anti-stink zinc
Mesh breathable fabric
Plenty of colors to choose from
Fits at hip
High neck
Moves with you
Price: Only $29
Best women's running shorts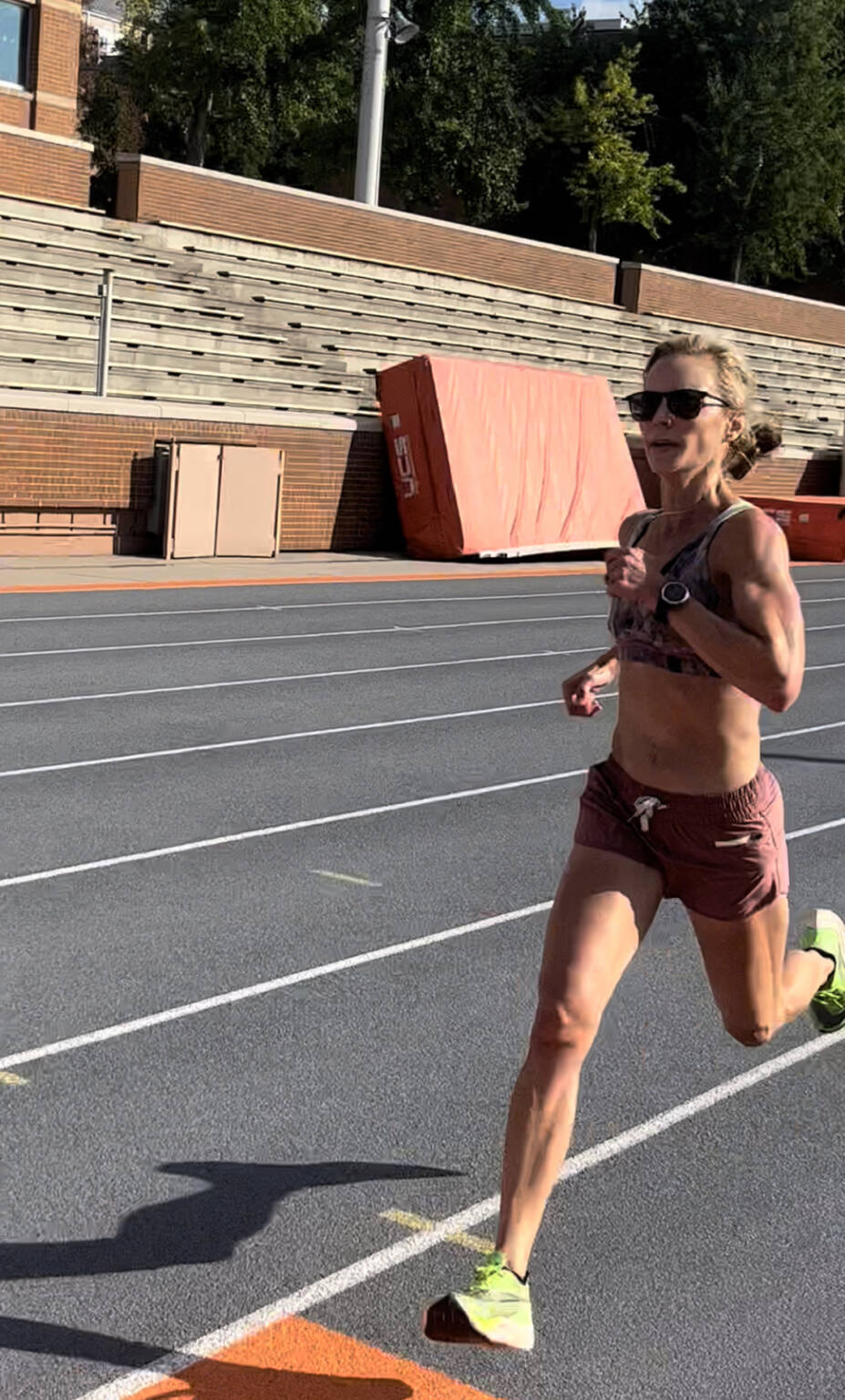 Vuori Clementine Shorts 2.0: One of the main perks of spring running is that you get to wear SHORTS again! I've made it no secret that I'm a lover of Vuori clothing. I'm even an ambassador for Vuori! Their clothes are well-made, ultra comfortable, and cute! It's no wonder I see more people everyday wearing their items!
The Vuori Clementine Shorts 2.0 are my favorite shorts of all time. They are virtually weightless, seamless (so no chaffing), and flattering. The Vuori running shorts also feature a breathable mesh liner and 4-way stretch fabric, and lots of colors.
Notable features & specs:
4-Way Stretch
Recycled
Quick Drying
Anti-Odor
Mesh Liner
Drawcord
Elastic Waistband
Reflective Logo
Front Stash Pocket
Price: $58
Related: Vuori Shorts vs. Lululemon Shorts: Which Ones are Better?
Best Capri Pant for Running
Lululemon Fast & Free High Rise Crop: Running in the spring means running in moderate and confusing temperatures. It's too warm for leggings but too cold for shorts. Capri pants (aka cropped pants) to the rescue!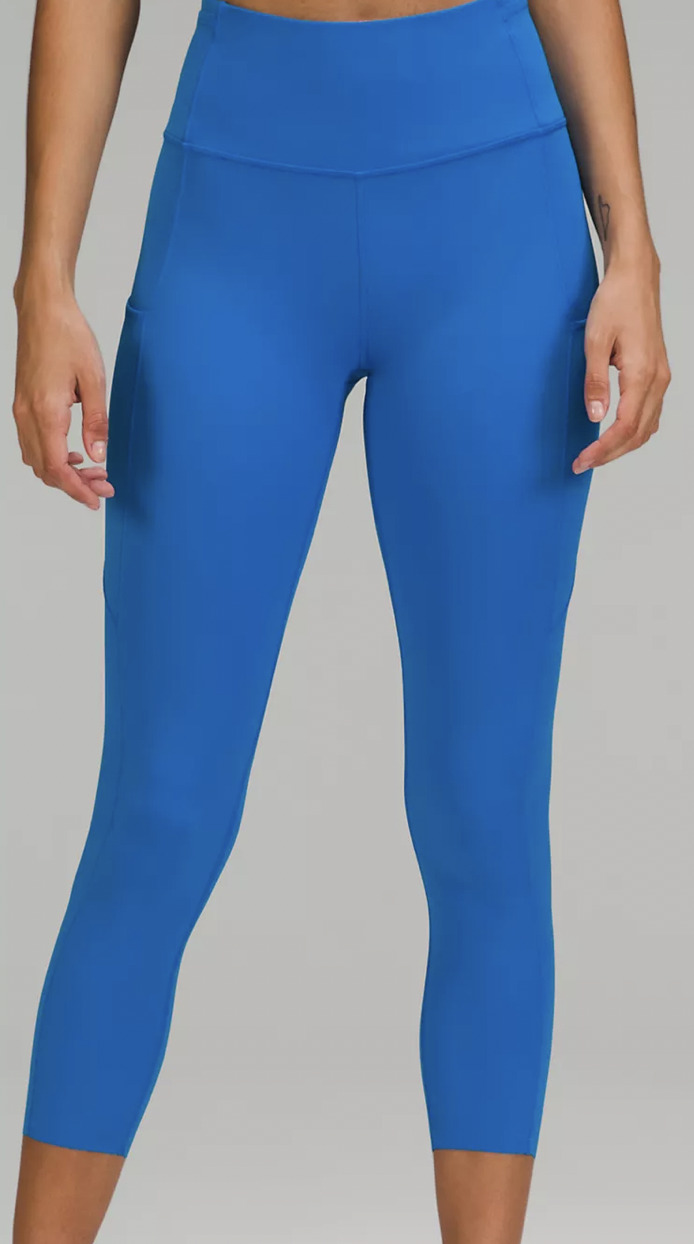 I love the Lululemon Fast & Free High Rise Crop 19" because the fabric is really soft; they stay put; the high-rise fit is flattering; and there storage. These capris hit mid-calf and solve the problem of "what should I wear for running in the spring?" because they offer medium leg coverage. These capris are built for running so no riding or chaffing.
Notable features & specs:
Designed for Running
Weightless Coverage, Nulux™ Fabric
High Rise, 19″ Length
Product Features
Two side drop-in pockets fit your phone
Five waistband pockets
Tighter waistband and continuous drawcord
Price: $118
Related: How to Get Used to Running in Hot Weather
Best Leggings for Running in Spring
Vuori Daily Leggings: Do yourself a favor and get a pair of the Vuori Daily leggings. You may never wear anything again. These running leggings are cute, flattering, durable (I wear mine ALL the time with no pilling or rips), and comfortable when running or lounging.
The semi-high waist is flattering and the drawstring helps these running leggings stay put when you're running. I promise you will get your money's worth!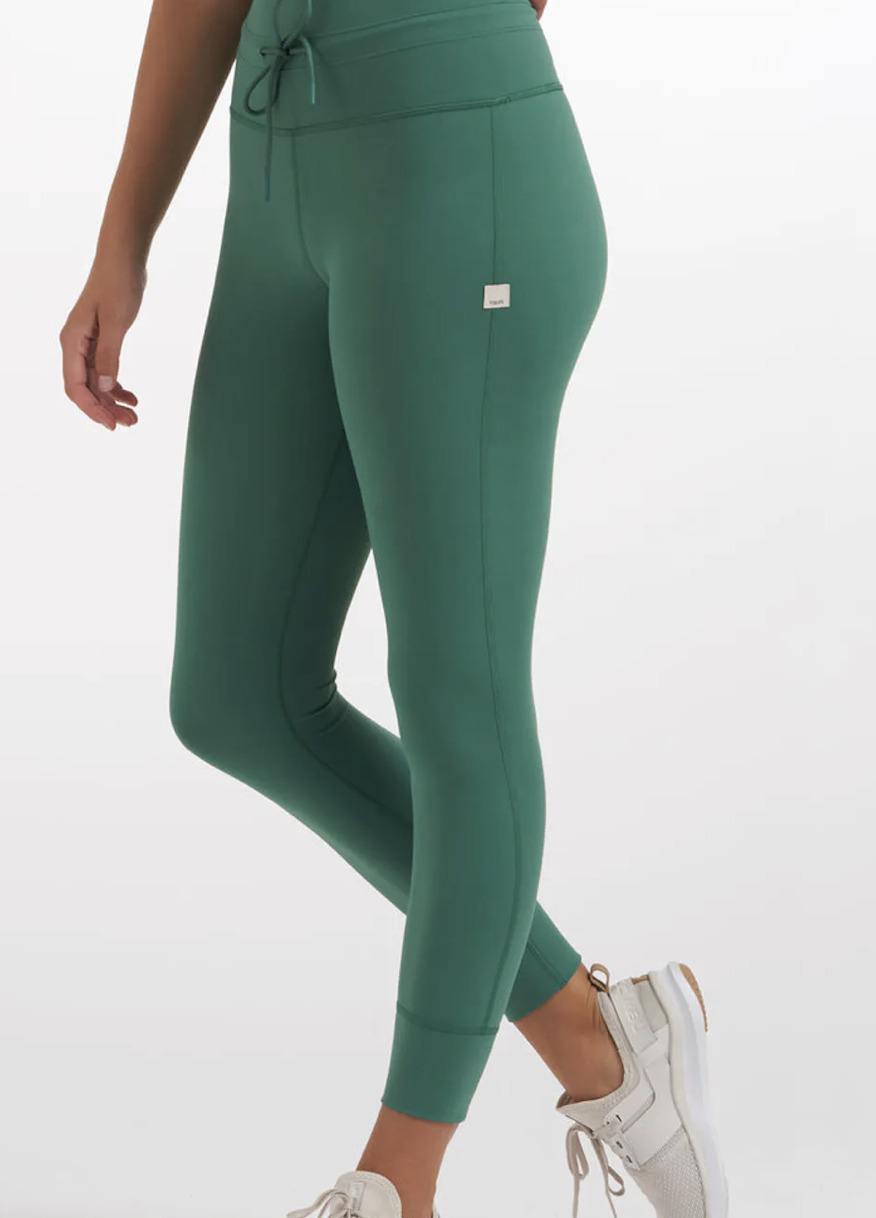 Notable features & specs:
Drawcord
High Rise
Moisture Wicking
Cuffed at ankels
Upgraded no slip fit
9 colors to choose from
Price: $89
Related: Benefits of Running in the Heat
Best Sports Bra
Lululemon Energy Bra: I am including the Lululemon Energy Bra for the main reason that it is super pretty. I love the vibrant color options and criss-crossed back. This sports bra doesn't have pockets and doesn't offer high-impact support (check out this article for those sports bras). It offers medium support with a lot of style.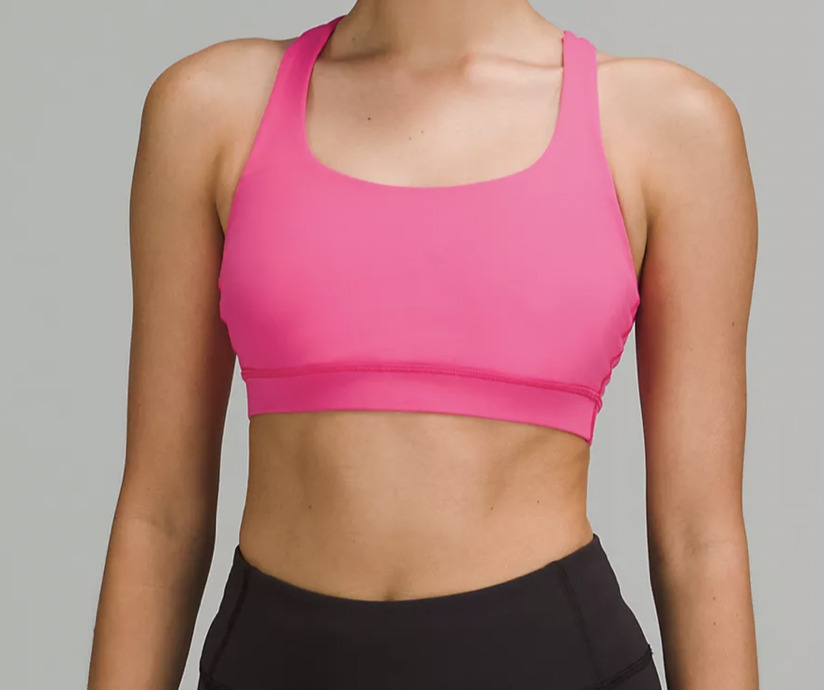 I recently bought a sonic pink Lululemon Energy Bra as a special race day bra. I will probably only wear it for special occasions. But that is mainly because I like to put my phone in my bra and this one doesn't have pockets for that. (Get a round-up of sports bras that do).
Notable features & specs:
Slick and Low-Friction Support, Luxtreme™ Fabric
Medium Support, B–D Cups
Lots of color options
Criss-cross design in the back
Pockets for optional, removable cups
Price: $52
Related: Best Running Sports Bra for Big Busts
Best Running Hat for Spring
Lululemon Fast and Free Hat: If you want a hat that blocks the sun and wicks away sweat, the Lululemon Fast and Free Hat is your hat. It's lightweight and moisture-wicking. I wear this hat for summer and spring running because it doesn't make my head hot.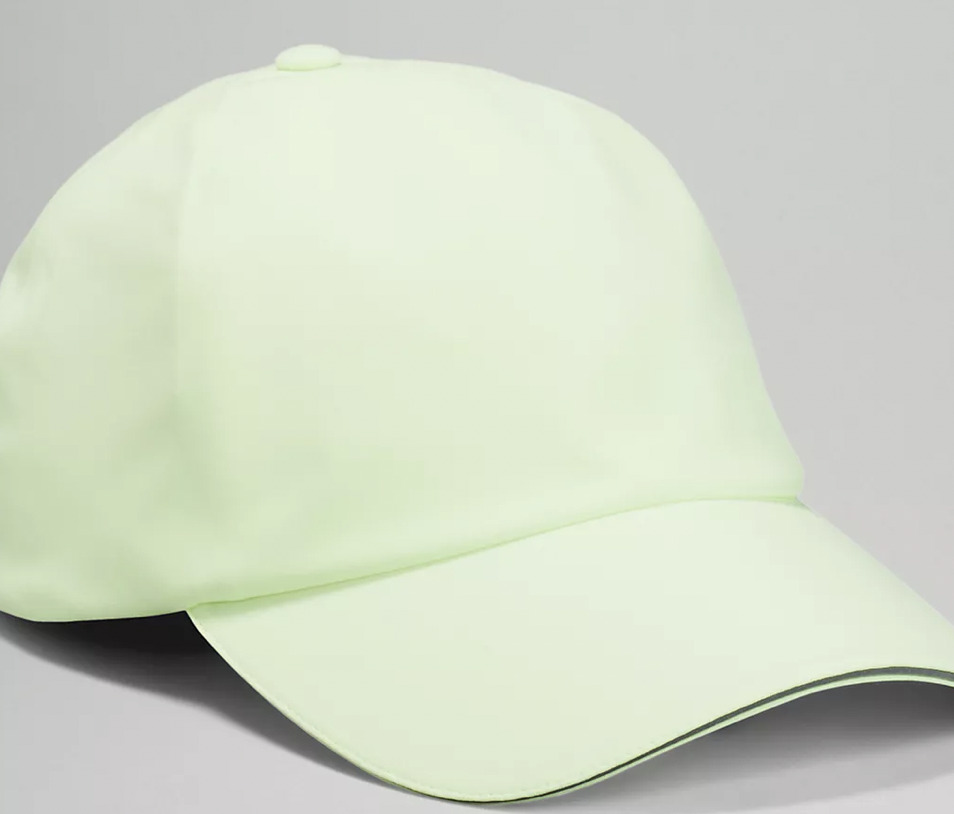 For my head, the cap is a bit long so it doesn't look great with my ears. But I think that is a personal problem for me and my genetics!
Notable features & specs:
Designed for Running
Swift fabric is lightweight, four-way stretch, sweat-wicking, and quick-drying
Interior mesh fabric sweatband wicks moisture to help keep you dry
Adjustable back closure for a custom fit
Reflective details
Price: On sale for $19!
Best Running Sunglasses
Roka Sunglasses: Listen, you can't go wrong with Goodr sunglasses and their fun colors and patterns. However, if you want a pair of light and attractive performance sunglasses that you can wear all the time, I suggest investing in a pair of Roka sunglasses. They are incredibly stylish, stand up to scratching, and very lightweight. I can't even tell I am wearing them when running!

Notable features & specs:
Great for bright and sunny conditions across all environments.
Neutral color.
Polarization blocks glare on the water and the road.
Option for prescription
Price: Around $200
Alright friends, now you are ready to nail those spring running goals!
If you want guidance with those running goals, check out my run coaching services. Also, be sure to check out my free training plans: