Are you ready to take the next step from your 5k and try to master the 10k? Awesome! I want to help!
Here I will discuss training for a 10k and share my 8-week 10k training plan for beginners (a couch to 10k plan) and intermediate runners.
The 10k distance is an excellent way to challenge yourself because it helps you build both endurance and speed. By training for the 10k, you will be running more which will make you fitter and stronger!
To help you will your 10k goal, enjoy free access to my 8-week 10k training plans below including my Beginner 10k training plan and Intermediate 10k training plan. (I recommend my run coaching for more advanced 10k training).
So, let's get started!
Related: A New Approach to Goal-Setting
How long is a 10k?
A 10k is 6.2 miles and is twice as long as 5k which is 3.1 miles. A 10k is 25 laps around a track.
How long does it take to train for a 10k?
It typically takes 8 weeks to train for a 10k, assuming you have been running for at least a month.
My 8-week beginner 10k plan builds you from the couch to 10k.
My 8-week intermediate 10k plan builds you from base of easy running to sharpening your speed and bolstering your endurance.
The biggest difference between the two plans is that the intermediate 10k plan assumes you have been doing some running. It has more mileage and incorporates speedwork to accomplish a faster 10k time.
The beginner 10k plan is a couch to 10k training plan that includes easy running, building from a low level of mileage.
How long does it take to run a 10k?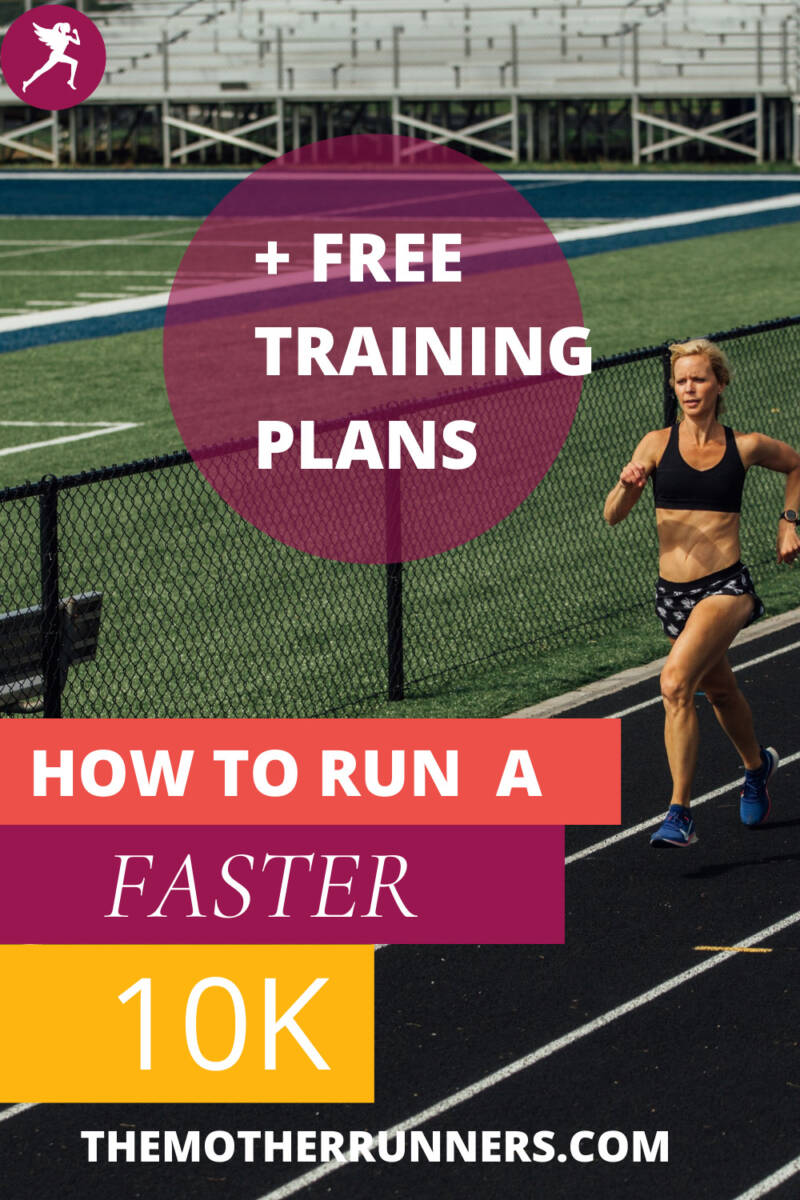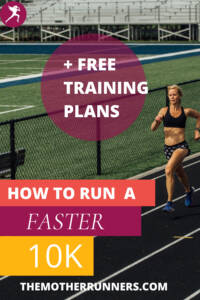 The average time to run a 10k is 49:43, according to Running Level which calculates race finish times by age and ability.
If you're a beginner running, it may take you up to 90 minutes to complete a 10k. If you're a more experienced runner, it will likely take you under an hour.
Should I run a 10k before my 10k race?
You don't have to run a 10k before your 10k race but doing so can help you build confidence and rid race jitters. This is why I include races (or time trials if you cannot find a race) in my training plans.
The more you can race in any training, the better you will be prepared for race day: You will learn how much time you personally need before you get to the start line, how many bathroom breaks you need, what you like to wear, what you need to eat, etc.
This eliminates any room for surprises or error, which you do not want on race day! There are so many variables in running, that it really helps to control as much as you can.
Related: Your Strength Training for Runners Guide
How can I run a faster 10k time?
There are four key ways to run a faster 10k time:
Studies show adding strength training including plyometrics can make you run faster by improving power and turnover
Running strides also makes you run faster by improving the communication between your brain and muscles.
Running more mileage will spur physiological adaptations such as more mitochondria and capillary density; a stronger cardiovascular system; and stronger muscles, bones, and tendons, to help you run faster.
Finally, varying your runs to include difference paces, such as my intermediate 10k plan does, will improve running economy, making you run faster.
Related: The 8 Best Plyometrics Exercises for Runners
How does training for a 10k make me a better runner?
Training for a 10k makes you a better runner by improving both your speed and endurance. For those who specialize in shorter distances, a 10k can push your lactate threshold, allowing you to run faster for longer.
Related: How to Do a Threshold Run
For those who specialize in longer distances such as the half marathon and marathon, training for a 10k can improve your running efficiency with improved form and muscle fiber activation, making you faster.
Related: 9 Running Hacks that Will Make You Run Faster
How should I run a 10k race?
If you want to run a faster 10k race, aim for running negative splits which means you get progressively faster over the course of the race (unless the course is very hilly).
To do this: Run the first 2 miles 5-10 seconds slower than your goal pace. Then speed up to your goal pace for the middle 2 miles. The fifth mile, increase to 5-10 seconds faster than goal pace. Give it all you got in the last mile! You should always finish a race FAST.
Ten 10k Training Tips
Here are 10k training tips to help you nail your next race!
Find the right training plan. Make sure my plan meets you where you are at with your current mileage.
Pick the right race. Pick a race that fits with my training schedule timeline.
Honor the warm-up or cool-down. Do dynamic stretching, drills, and easy running to start. Foam roll, static stretch, and do easy running to end your runs.
Recover hard. That said, prioritize recovery. Be sure to eat well and sleep at least 7 to 8 hours a night!
Run on the road. Unless you're racing the 10k on a track, run as much as possible on the road to get a feel for what the distance is like on varying and undelaying terrain.
Run mostly easy. Most of your runs should be at a conversational pace in which you feel like you can keep going when the run is over. That is where you really trigger physiological adaptations to build endurance, speed, and prevent injuries.
Practice makes perfect. Find a 10k race (or even a 5k depending on your training schedule) to get comfortable with all the race day logistics and feels.
Run difference paces. The more advanced you get in your training, the more variable your workouts will get to build your speed and endurance.
Make run friends. Training with others makes it fun! It helps the miles fly by, keeps you accountable, and may even prompt you to make friends for life!
Give it all you got! Never finish a race with anything left in the tank. Sprint through the finish and make yourself proud!
Related: The Benefits of an Easy Running Pace
Sample 10k Training Schedule
Here is week 5 of my 8-week 10k training plan for intermediate runners.
The biggest differences for my beginner training plans and intermediate training plans is the absence of speedwork, and lower mileage.
Monday: Run 3 miles easy, 4 strides
Tuesday: 25-minute tempo run with warm-up and cool-down
Wednesday: Run 5 miles easy, 4 strides
Thursday: 1-2 mile warm-up, 9 by 400 meters at comfortably hard pace (RPE 8), 1-2 mile cool-down
Friday: Cross-train or walk for 1 hour
Saturday: Run 7 miles easy
Sunday: TOTAL REST
Related: How Many Miles Should You Run in a Day?
Download My Free 8-week 10k Training Plans
Beginner 10k Training Plan
This Beginner 10k training plan prepares you to run a 10k in just 8 weeks! This plan builds in strength training and cross-training days to prevent injuries and make you stronger. It's also flexible to fit your crazy mother runner schedule and comes with my personal support and training tips. This plan serves as a wonderful starting block for future running goals and success.
Intermediate 10k Training Plan
Are you ready to take your running to the next level? Then this Intermediate 10k training plan is for you! With a focus on increasing endurance power, in 8 weeks you will lace up a fitter, faster runner.
If you're looking for advanced and customized training, I highly recommend getting a running coach. A running coach can tailor a plan to your background, needs, goals, and lifestyle.
Check out my coaching services to help you reach your goals!