We Mother Runners don't want many things. But we do want to be able to have our choice of music and podcasts, and feel connected to our families while training. In other words, we want the best running gear that holds a phone.
Thus, Mother Runners' dream product isn't something that makes us run 4% faster (but the Nike NEXT% is pretty legit). Or something that makes us look (and smell) like we just showered, put on make-up, and blow-dried our hair no matter how many miles we put in.
Nope. It's a hybrid of a Garmin and an Apple watch. If only these two things could get together and make a magical little unicorn baby. Because let's face it, no matter what app you use, the Apple watch's GPS isn't exact enough for our training needs. Yet, we still need to be connected to our families (especially if our kids are little), or want tunes or podcasts to keep us company on our runs.
Alas, many of us aren't lucky enough to sport two watches 80s style, so we must pack our phone as we go which can be pretty cumbersome, not to mention, annoying.
Related: 15 obstacles to running facing mother runners and how they overcome them.
Here's a round-up of the best running gear that holds your phone.
(Note, they're all sweat-resistant, too!).
Bra
Lululemon's Stash n' Run bra has pockets on the outside of the bra so it's easy to slip your phone in and out. It also can be a storage zone for energy gels, credit cards, keys, what have you. I wear this bra on almost all my runs.
However, the phone does tend to wiggle out if running speedwork. Wambas bras were created just to solve this dilemma–they have a velcro enclosure that keeps your items from flying out when running fast. Tracksmith's Allston bra also boasts an internal pocket. Rabbit's ultibra-VO is a fan favorite among mother runners along with Oiselle's Flyout and Pockito bras.
A budget yet quality choice is Senita's sports bra which is about half the price of the others.
I like TitleNine's Runway bra because the pocket is in front and makes the phone easily accessible. However, the pocket only holds smaller phones. You can also just stick your phone in your sports bra in a ziplock bag as an option.
Get a New list of pocket bras here.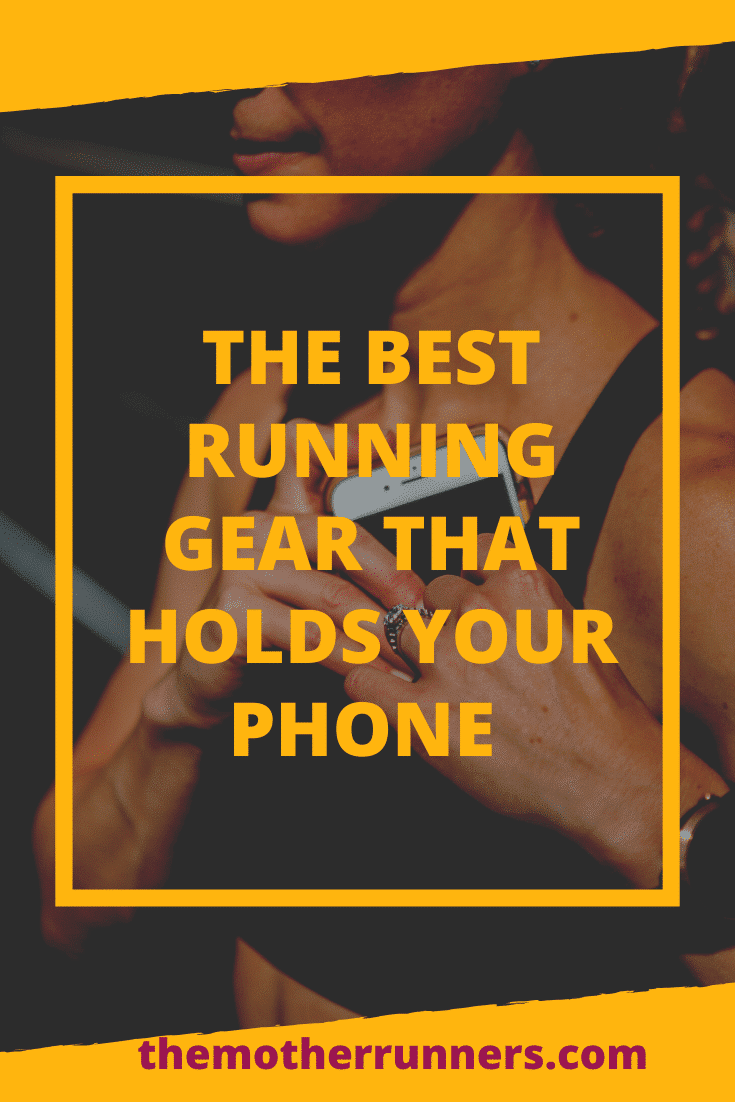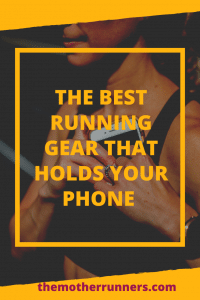 Belt
The Flip Belt is comfortable and carries everything you might need while running. You put it on over your waistband and basically can't feel it. It's pretty easy to slide your essentials in and out and keep them secure. The only time I have noticed my bulky phone is if I am picking up the pace.
Clip
If you want to run with your phone but forget you have it, then the Koala Clip is for you. It fits on the back straps of your bra and doesn't budge. The only thing is, you can't really access your phone easily once it is in place.
Shorts
Oiselle pocket joggers have two leg pockets (plus three others) that comfortably hold a phone and come in multiple lengths. The phone doesn't bounce but again, it's not easily accessible if you need to see your texts or change music.
The same goes for the Rabbit trail legs lite shorts which also have a side pocket for your phone, and offer a different style if the pocket joggers aren't your thing.
Related: The best jogging strollers on the market
Water Bottle
The Nathan insulated water bottle works to keep you hydrated and connected. Its case comes with a touchscreen pocket so you can see who texted you. Perfect for long runs and hot ones. Note, it only fits up to an iPhone 6.
Arm Band
Notice, we didn't include armbands on here, because honestly, armbands are annoying. They slip. They bounce. And you can't see the screen. They definitely aren't among the best running gear that holds a phone. So, give these products a spin. Stay connected and run free my Mother Runners.