The Mother Runners Coaching Services
The Mother Runners now provides individualized coaching services specifically designed for mother runner athletes of all levels (as well as runners who are not parents to humans).
(If you are interested in my free training plans, you can find them here.)
As a mother runner myself, I personally understand (and have lived) the benefits and challenges unique to motherhood. From training with a stroller to running while pregnant to crazy schedules to breastfeeding babies to sleepless nights, I provide nimble schedules and training setups to allow you to stay healthy and reach your goals. I offer attentive coaching that's individualized to your goals and stage of life. What's more, is that my coaching connects you with other The Mother Runners athletes so that you can support one another on your journey to being the best runner and mother you can be.
What You Get with The Mother Runners Coaching Services
I offer 3 tiers of coaching services.
PREMIUM:
Individualized monthly training plans
Ongoing coaching feedback via unlimited email
Phone calls as needed
Schedule adjustments as needed
Special discount codes for our favorite brands
General nutritional guidance, including race day fueling
Access to The Mother Runner community
Race plans and strategies
Strength training programming
Cost $140/mo
STANDARD:
Individualized monthly training plans
Check-ins every two weeks
Special discount codes for our favorite brands
Access to The Mother Runner community
General nutritional guidance, including race day fueling
Race plans and strategies
Strength training programming
Cost $110/mo
BASIC:
Individualized monthly training plans
Access to The Mother Runner community
Special discount codes for our favorite brands
Strength training programming
Limited coaching communication & feedback
Cost $75/mo
EXTRA NUTRITION GUIDANCE:
I'm also excited to have partnered with running dietitian Kristy Baumann in offering a nutrition program for mother runners. For $99 the first month and $25 after, learn fueling strategies and get meal & snack ideas, plus much more! Learn more about Kristy's program here.
Click here to take the first step toward your next goal.
What Runners Are Saying
"With an unabashed enthusiasm for the sport of running and an unwavering joy for helping moms become the best version of themselves, Whitney brings nothing but the best every day to her coaching. She is not only an ardent cheerleader but also an incredibly well-trained and researched professional in her field. I am so grateful to have her in my corner every day as I continue to set (and crush) new running goals."— Rachel P.
"Whitney's gifts are apparent from the first moment you reach out to her. I had wavered for years with reaching out to an online coach. After reading and learning more about Whitney, my gut told me it was time. The moment we connected, I immediately knew I was where I was meant to be. Whitney's ability to meet her athletes where they are, and her openness and honestly has created a community of mother runners I wished I had joined earlier. It is truly a motivating and enjoyable place to be. Her coaching goes above and beyond scheduling a comprehensive training plan. She always knows when that extra phone call is needed for the added support, and she's always there to lend a listening ear. With gentle guidance she helps lead you through each step. I am truly grateful to be working with Whitney. Whitney has helped put the joy back into every step I take. I've never loved the process more!" — Emily G.
"Whitney has made such a positive difference in my life, and her impact reaches far beyond realizing my potential as a mother runner. With Whitney as my coach, I have the security of knowing that her methods are 100% evidence-based but also arise from her deep experience as a runner herself. She also has first-hand experience with the unique challenges of balancing running with early motherhood and offers understanding and support to make adjustments where needed. With each victory–whether that be a PR in a race or a breakthrough with endurance or speed–she not only supports me with an individualized training plan but with her heart and soul as a fellow mother runner. Since I began coaching with Whitney, I've not only reached each goal I set my mind to but have exceeded my expectations. I am so grateful that I finally got the courage to ask Whitney to be my coach, and I look forward to many more breakthroughs with her by my side." — Courtney F.
"Whitney has been an outstanding coach. Before I started with her, she listened carefully to the details I shared- in terms of both my running and my family responsibilities- and then built a training plan that worked perfectly within those parameters. I have learned so much from Whitney. Strength training exercises, pacing tips, and fueling guidance have been particularly helpful. Whitney is warm and encouraging and I always look forward to her responses after I input my runs!"— Rachel H.
"Whitney was recommended to me by a friend as someone would write me a solid plan for a marathon. I reached out and she was organized, timely, and supportive. Whitney makes sure to know where you are currently at as a runner, builds on any weaknesses, and allows your strengths to shine. She is prompt, flexible, kind, and goes above and beyond any price she lists as what's included. She truly loves the sport and can't help but be as supportive as possible." — Morgan H.
"More than a coach she is a friend, she keeps you motivated. When you think she isn't tracking you, she will send you a message or give you a heads up or encourage you. Her messages and check-ins are what keeps me going to get better at it. She guides you step by step in your goal. I can say, it is worth having a coach like her in my life." — Jennifer C.
"Best running coach! Distance is not an issue at all — we live in different states, and we've never met in person, yet she knows exactly what I need to feel motivated and challenged. With Whitney's help, I ran my best half-marathon time ever!" — Fernanda B.
"The best thing about working with Whitney is that she constantly asked me how I felt and I was encouraged to listen to my (previously injured) body during the entire training block. No matter what was going on, Whitney always answered my questions and taught me how to be flexible in my training when the niggles hit. Whitney always kept an open line of communication; Being a mother runner (both Whitney and myself) sometimes means texts at odd hours and responses at odd times due to managing kids, spouse, and work. I would definitely recommend any runner work with Whitney (mother or not)!"–Emily B.
"I had always run intuitively listening to my body. With so much uncertainty that pregnancy brings, Whitney helped me understand what was safe, right for the moment and could strengthen my body throughout my pregnancy. She was a safe and knowledgeable sounding board, flexible, and helped me meet my goals: feel as good as possible while pregnant! I am looking forward to postpartum recovery and returning to running with her by my side!"— Jessica J.
"Whitney has been amazing coach in helping to provide consistency, strength building and emotional/running support. She helps take the stress of training out by providing complete training/workout schedules and is always there to help switch up schedules when life happens and also to provide needed encouragement. She has helped to give advice and suggestions when needed from fueling to stretching and all the in-betweens. As a runner, I have often struggled with building my strength, and with her leadership, I have really started to feel the difference in both my physical strength and running as a whole. The Mother Runner environment is a true team with so many encouraging and uplifting athletics. Best decision I made was joining the team!" — Elizabeth M.
The Mother Runners Training Plans
If you are interested in non-individualized training plans tailored to specific distances and levels, please visit my shop page.
About Whitney Heins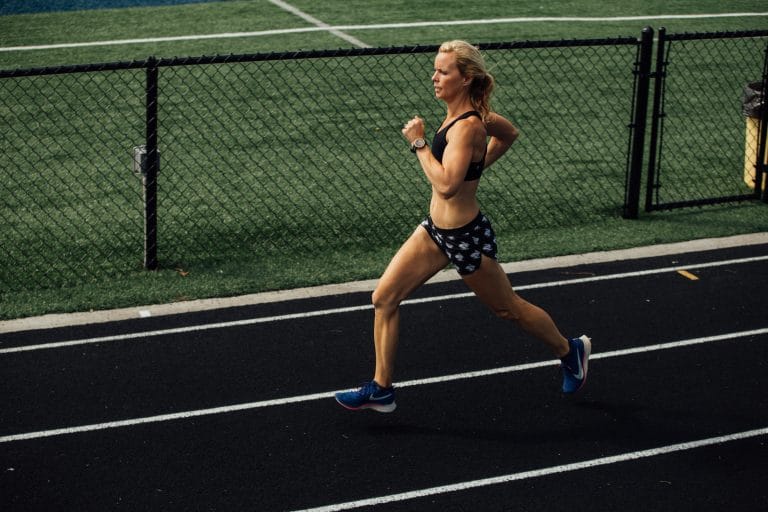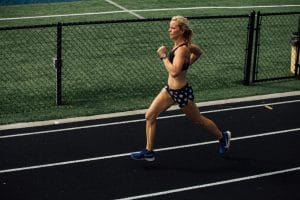 Whitney Heins is the founder of The Mother Runners, a community and resource with information and inspiration for moms who run, and a VDOT O2 certified running coach. She started running with her dad when she was 6-years-old and has been running ever since. As a journalist and freelance writer, Whitney uses her innate curiosity and passion for running to investigate training and tips to help fellow mother runners chase their dreams. Her current goal is to run a 2:45 marathon in the fall of 2023. Whitney lives, runs, writes, and parents in Tennessee with her husband, two young children, and two pups.