Congratulations on your new baby! I'm thrilled to help you return to running after having a baby with this postpartum running plan (below).
Before I go on, I have created a very extensive postpartum running guide. I also have some tips for you on breastfeeding while running, the best nursing sports bras, and a guide to stop leaking while running.
Related: 6 Steps to Return to Running After a Break
A side note, I do not include a pregnant running plan because pregnancy and running are so individual. Instead, I coach pregnant runners so that the plan can be totally customized. Find out more about my run coaching services here.
Postpartum running is also very individual. Everyone progresses at a different rate. No person OR pregnancy OR postpartum return to running is the same. So, before you keep reading, please vow to not compare yourself to anyone—including a past version of you.
That's unproductive and could even be hurtful physically (and mentally).
In this article, I'm going to cover the following:
When can you start running postpartum
When to start running postpartum after a c-section
A step-by-step guide to how to return to running postpartum
How to strengthen your pelvic floor and core after giving birth
Top postpartum running tips
A sample week in my postpartum running plan, and
My FREE postpartum running plan
So, let's not waste any more time!
Related: How to Ditch Mom Guilt
When can I start running postpartum?
You can start running postpartum when your doctor says it's okay, you can comfortably walk for 30 minutes, and you are free of pelvic pain. This may be at 6 weeks or 12 weeks, or more or less. A 2019 study recommends 12 weeks.
But the postpartum return is incredibly individual and influenced by a myriad of factors. Start running after having your baby when YOUR body is ready—not when you think you're supposed to or even when you get the all-clear from your doctor if it doesn't feel right.
When can I start running postpartum after a c-section?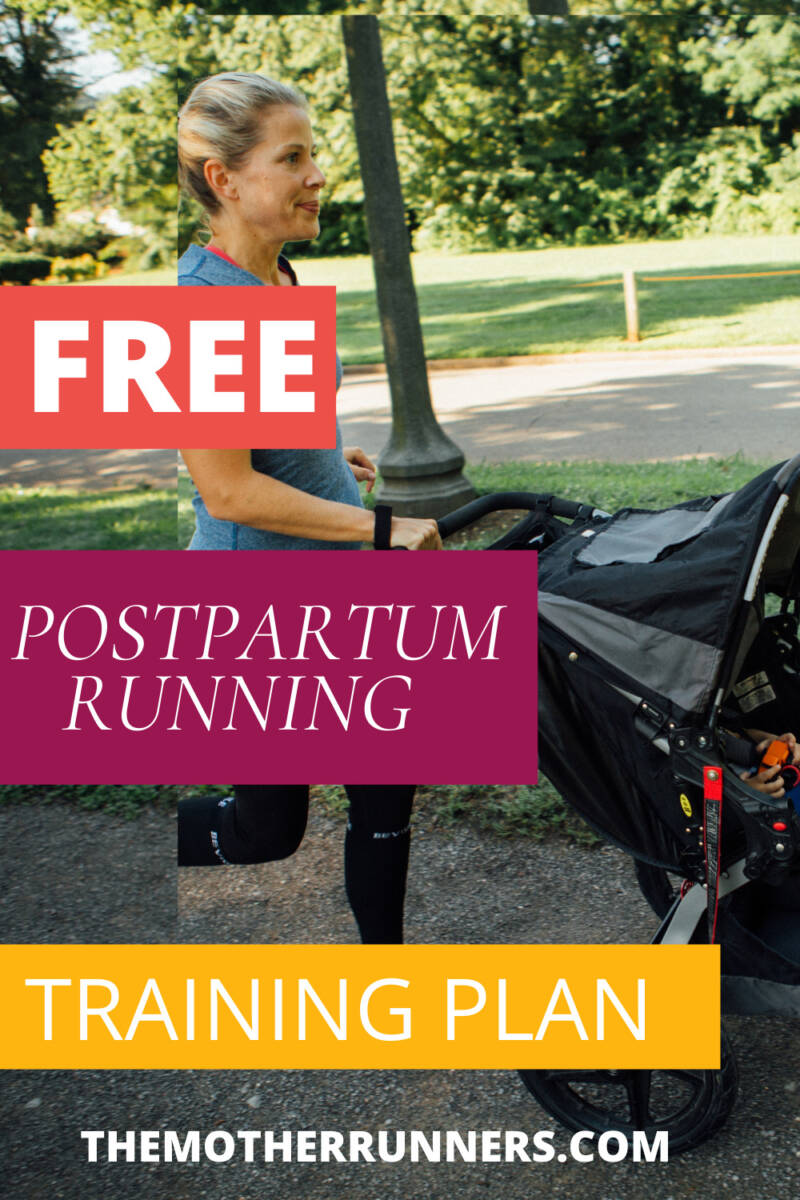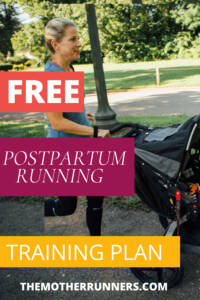 Women who have had a c-section will likely return to running later than women who have had a vaginal birth. Women who have had a c-section should wait at least 8 weeks after having a baby to resume running. This is because the core is weaker after giving birth.
How do I strengthen my pelvic floor and core after having a baby?
I highly recommend new moms do the ReCore Fitness program after having a baby before resuming running and during. (I also highly recommend ReCore's pre-core program for pregnant runners).
Seeing a pelvic floor specialist to ensure your body is ready and identify any issues is a smart move.
Check out my interview with ReCore's founder Celeste Goodson, who works with most of the elite mother runners, and my interview with pelvic health guru Dr. Carrie Pagliano here on return to running after baby.
How do I return to running after having a baby?
Here are the 6 general steps to follow when returning to running after baby:
Step 1: Assess your pelvic floor health.
Step 2: Strengthen your core and pelvic floor.
Step 3: Assess your alignment.
Step 4: Work on your breath.
Step 5: Walk before running.
Step 6: Resume running and pace yourself.
Get a detailed list of my postpartum running guide here.
7 Postpartum Running Tips
Walk before you run.
Walking is the best activity to ready your body for running. As long as you're cleared by your doc, you can start walking right away.
Aim for 30 minutes.
When you're able to walk for at least a half an hour without pain or discomfort, you're ready to start run/walk intervals. This will likely be between 6 and 12 weeks postpartum.
Start with short run/walk intervals on a flat, level surface.
Gradually elongate the time you run and shorten the time you walk so that you work up to consistently running for a half-hour. At this point, you can segue to running. This is what my postpartum running plan does.
Alternate run and cross-train days.
Do not run consecutive days until you are able to run for 30 minutes comfortably. Then you can try a back-to-back run and see how your body responds over the next 48 hours.
Strengthen your core and pelvic floor!
Getting with a pelvic floor specialist is always a good idea (especially if you feel discomfort or have leakage!). ReCore Fitness has wonderful plans for mother runners to rebuild that core and pelvic floor at home.
Take a "down week" every 4th week.
About every month do one week of reduced mileage by about 30 percent to let your body adapt to the new training stimulus.
Wait to do speed and long runs.
Be able to run comfortably for an hour before resuming speedwork, starting with strides. I typically don't recommend speedwork or runs longer than an hour until about six months postpartum. This is due to physical recovery post-childbirth and the reality of sleep deprivation for new moms. Bear in mind, this is very individual, and the progression may be slower or faster
A sample week of the walk to run program—Week 3 of the 8-week postpartum running program:
Monday: Run 8 minutes, walk 2 minutes, 3 times
Tuesday: Strength train for 20 minutes and XT 30-60 minutes
Wednesday: Run 8 minutes, walk 2 minutes, 3 times
Thursday: Strength train for 20 minutes and XT 30-60 minutes
Friday: Rest, Yoga, or XT
Saturday: run 10 minutes, walk 1 minute, 2 times
Sunday: REST
Free 8-week Postpartum Running Program
This After Baby Run-to-Walk plan trains you to run for 30 minutes without stopping 8 weeks. Do this plan when you can walk for 30 minutes without discomfort. If you've had a c-section, aim to walk for 60 minutes comfortably before beginning this postpartum running plan.
This 8-week running plan progresses your run/walk intervals safely, is flexible and comes with my personal support.