Runners are like the mail delivery people: no type of weather deters us. We run in cold, hot, rain, snow, sleet, wind, ice. You name it, we run in it. (Except lightning—do not run in lightning). But when it's a downpour many of us pause, thinking: what should I wear for running in the rain?
It's a real conundrum, especially as spring showers near, because, as runners, running in the rain we face: getting pelted in the face, literally getting weighed down by waterlogged clothes that overheat or get cold, and chaffing, to name a few of the unpleasantries.
But you can prepare by dressing for running in the rain the right way and have a very enjoyable experience that makes you feel like a really tough mother…runner…
In fact, I argue that running in adverse conditions is only going to help better prepare for race day…and life…when things don't go according to plan, and you learn to adapt and tough it out.
So, let's get started! In this article I will cover:
Is it safe to run in the rain
Can you get sick running in the rain
The benefits of cold weather running
Tips for running in the rain
Tips for racing in the rain
What to wear for running in the rain
Is it safe to run in the rain?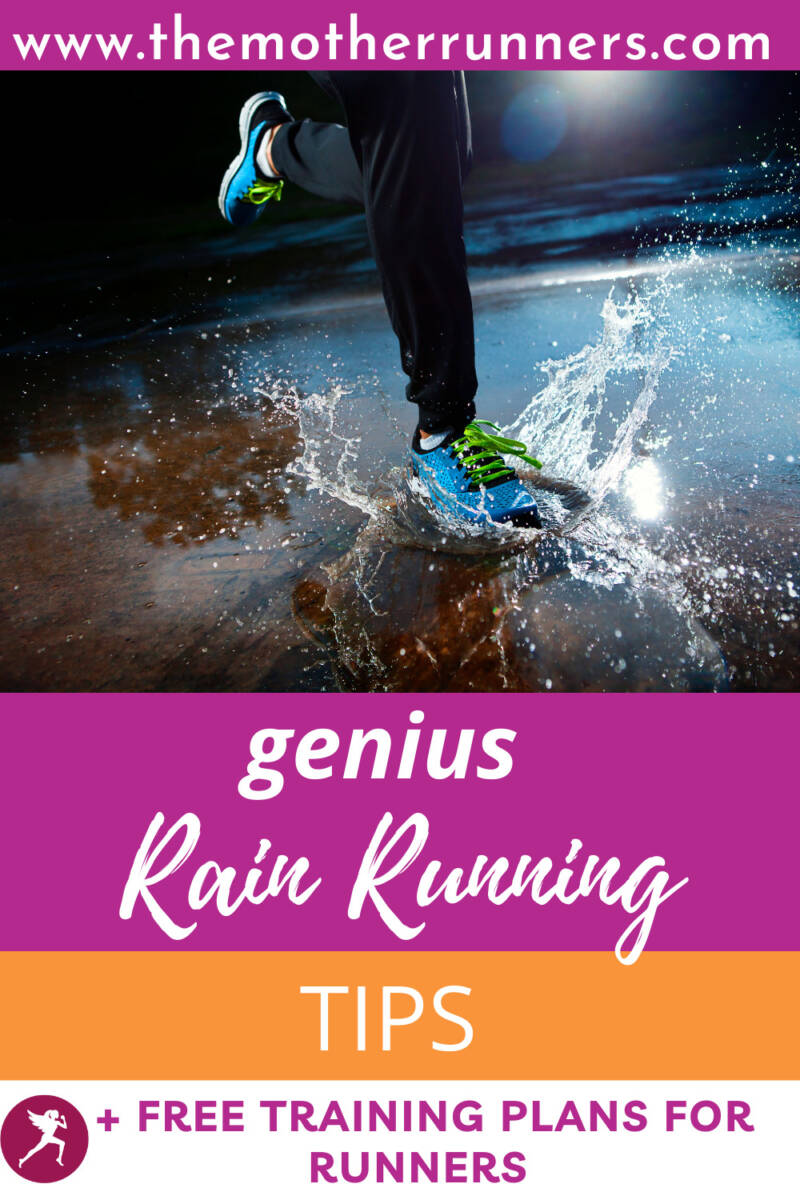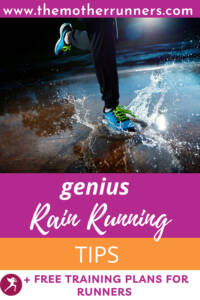 In most cases, yes, it is safe to run in the rain. However, if the rain is accompanied by lightning, do not run. Also, if the rain is accompanied by high winds, extreme downpours, or the potential for hail, look at the radar and wait for a break in the rain to head out for your run.
Your time to run may be in the morning and that may be when it's raining and storming. So, think of a plan B.
Can you run at lunch?
Could your partner watch the kids after work so you can run?
Is it possible for you to switch your workout?
Would you be able to run on a treadmill instead or in a parking garage?
It's always a good idea to think of creative solutions and be flexible with the plan. It's a great skill to strengthen as a runner and a parent.
Related: Safety Tips for Runners You Shouldn't Ignore
Can you get sick running in the rain?
There is some research that suggests being cold suppresses your immune system, therefore increasing your susceptibility to getting sick. Avoid this by changing out of your wet clothes immediately when you get home and taking a hot shower. Drink some hot coffee too if you can.
If you did a long run in the rain and usually have a smoothie, wait until you are warmed up to refuel with a smoothie or have some peanut butter toast, oatmeal, eggs, etc. instead.
Also, try not to stop when running in the rain, especially cold rain. That will bring your body temperature down and make it harder for you to warm back up. Keep going. Your warm house and hot shower are at the other end of the run.
Related: Winter Running Motivation: How to Survive Running in the Cold and Dark
What are the benefits of running in the rain?
The main benefit of running in the rain is mental toughness. You can't control the weather, so focus on what you can control: what to wear in the rain and your attitude.
This is an awesome opportunity to work on your mental strength for race day or life situations where you are thrown curveballs.
Running is a beautiful metaphor for life. Time and again, it shows us that we can do all we want to prepare for something—but there are always going to be situations out of our control.
By exercising how to forge a positive outlook and adapt to changes on the fly on a run in the rain, you're more likely to do it on race day or as a parent, employee, spouse, etc.
Related: 9 Mental Training Tips for Runners from Sports Psychologists
6 Tips for Running in the Rain
Dress for running in the rain.
Wear a brimmed hat; thin moisture-wicking socks; moisture-wicking clothes; tight-fitting tights or shorts; put your phone in a Ziploc bag or waterproof case; leave headphones at home (you probably can't hear the music anyway over the raindrops and wind); wear a reflective, waterproof jacket; and wear shoes that have good traction (bonus if they are waterproof, too).
I include more on what to wear below.
Apply anti-chaffing balm.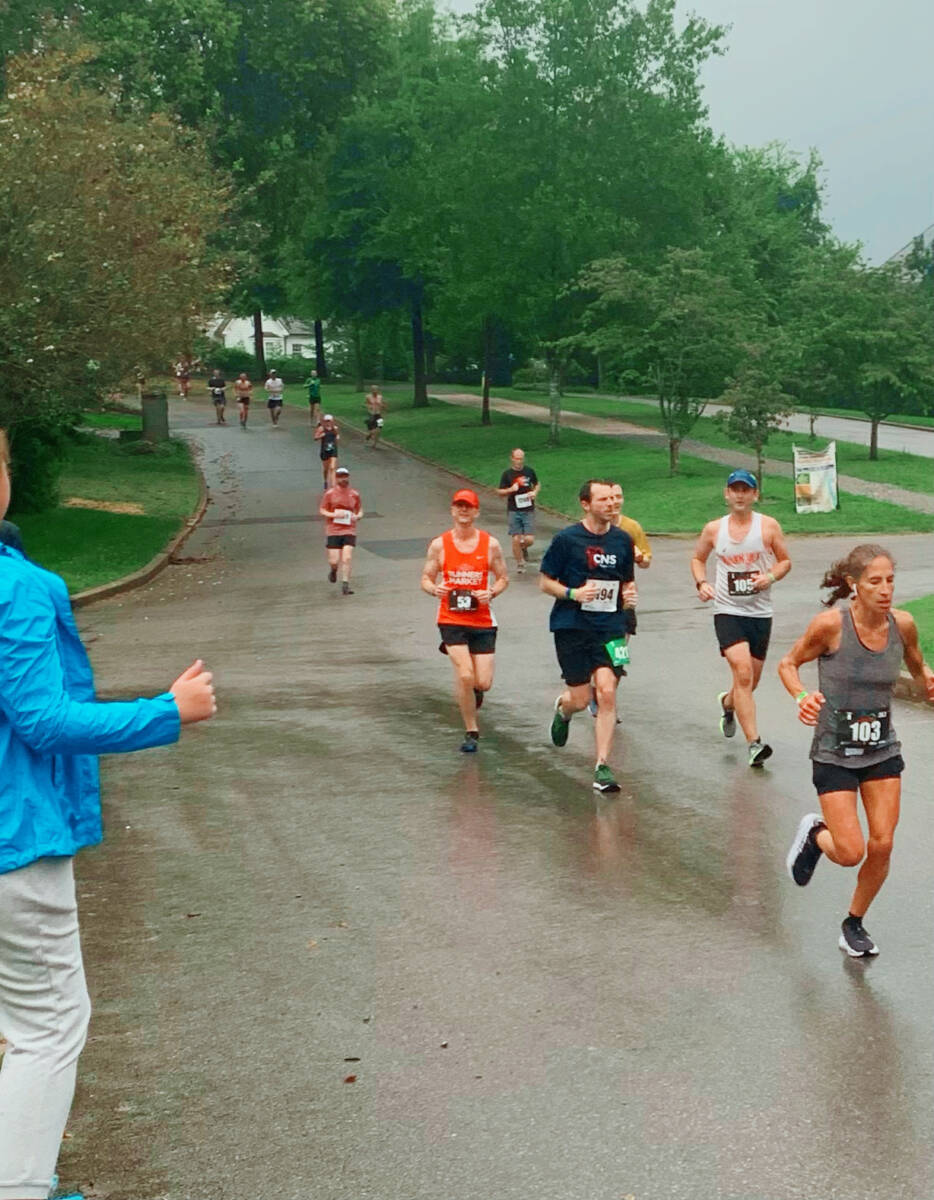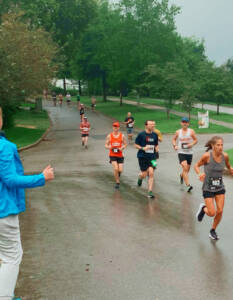 With water comes friction. Lube up all areas that have seams and friction like your feet to avoid chaffing.
Adjust your attitude.
You're going to get wet. Instead of focusing on how awesome a run on a beautiful sunny day or crisp morning would be like, think of how mentally tough you are to run in this weather and how much tougher you are going to be when you're done.
You may not run as fast as you would have on a dry day, but your mind will be stronger for it.
In high school, my coach would call us "mudders." Whether we were or not, it led us to believe that rainy days were our secret power, giving us a leg up on the competition.
You're one tough mudder mother runner!
Forget about pace.
You're going to run slower. So, don't worry if your pace is off. If it's a base-building run or recovery run, run for time instead. Your body doesn't know the distance. It knows time on feet, so run for as much time as you would have in pleasant weather.
If you have a workout or race, run by the effort you were supposed to on that day. Forget the time on your watch.
Change your clothes.
As soon as you are done with your run, change into dry clothes—or take a hot shower and change into warm clothes. This limits the opportunity for illness and is just more comfortable.
If you're at the stage in life where your kids need you as soon as you walk in the door, they are going to have to wait until mommy is ready to help them. This is important!
Dry your shoes.
After you've warmed up and refueled, take the insoles of your shoes out and stuff your shoes with newspaper or magazine pages to dry them out. You can also put them over a heating vent to expedite the drying process.
6 Tips for Racing in the Rain
Bring a trash bag.
Keep yourself dry and warm as you line up for the race by bringing a trash bag that you make armholes in. This way you can ditch the bag at the start or in a trash can on the way to the line. Few things stink more than standing in the rain, getting colder and wetter. This will also help keep your muscles warmed up, preventing injury.
Dress in light moisture-wicking fabrics.
Avoid wearing cotton that soaks in water. Instead, wear synthetic materials or wool that wick the moisture and don't weigh you down. Don't forget to wear a visor or a brimmed hat to keep rain from pelting you in the face.
Lube up.
This bears repeating—use your anti-chaffing stick on skin that will rub against your clothes like armpits, sports bra lines, short lining, waistbands, and feet.
Ditch pace.
There is a good chance that running in the heavy rain will slow your pace. Don't worry about that. Focus on your effort and running the best race you can given the conditions.
Own it.
You're going to get wet. Own it. You can't change the weather so focus on what you can do to make the most of a soggy situation: have a positive attitude and dress right.
Pack dry clothes and a towel.
Immediately after the race, head to your car or race expo area to change into dry clothes such as sweats. Bring a towel to dry off excess moisture.
What should I wear running in the rain?
The name of the game for running in the rain is minimizing getting water-logged and chaffage. You will get wet. That can't really be prevented. But you can decrease the consequences that may come with running in the rain.
8 Must-have Rain Gear for Runners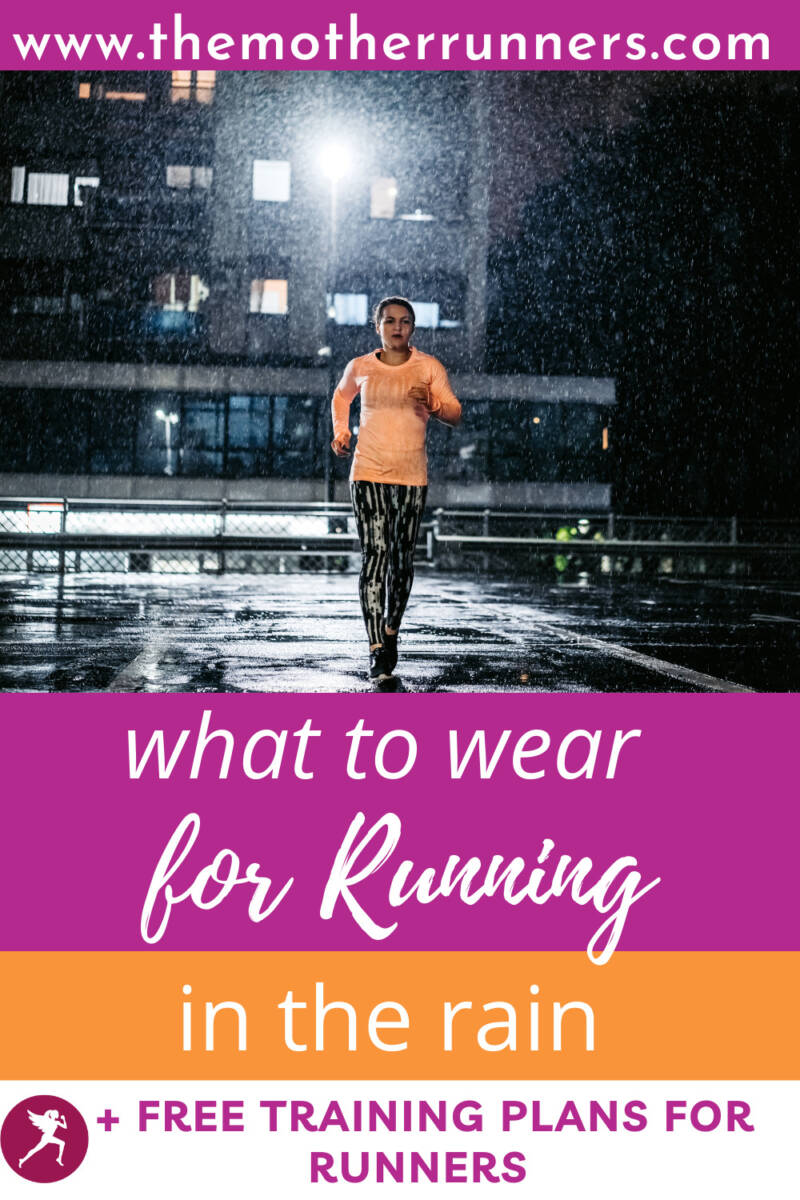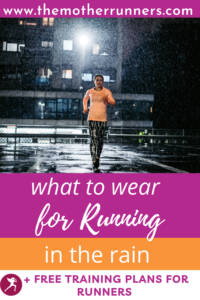 Grippy shoes
You don't have to wear shoes that are waterproof, such as Gore-Tex ones, BUT you should wear shoes that have good traction, especially if you are going to be encountering hills on your run.
These Saloman Sense Ride 4 have great traction and come in a Gore-tex model if you live in an area that gets a lot of rain, or you just really hate running with wet feet. I also love the adidas Solar Glide for running shoes which are grippy, block out moisture, and even come in a Goretex option.
Moisture-wicking socks
When running in the rain, you want socks that are thin and wick moisture to keep your feet dry, light, and free of chafing and blisters. There are lots of great options but Drymax socks boast the number one sock to keep your feet dry.
Body glide.
Use Bodyglide or Vaseline on areas that seams touch and on your feet to prevent chaffing. When your clothes are water-logged and heavy, they are going to rub more, putting you at risk for chaffing. Lubing up these body parts minimizes friction and painful chafes.
Fitted shorts or pants.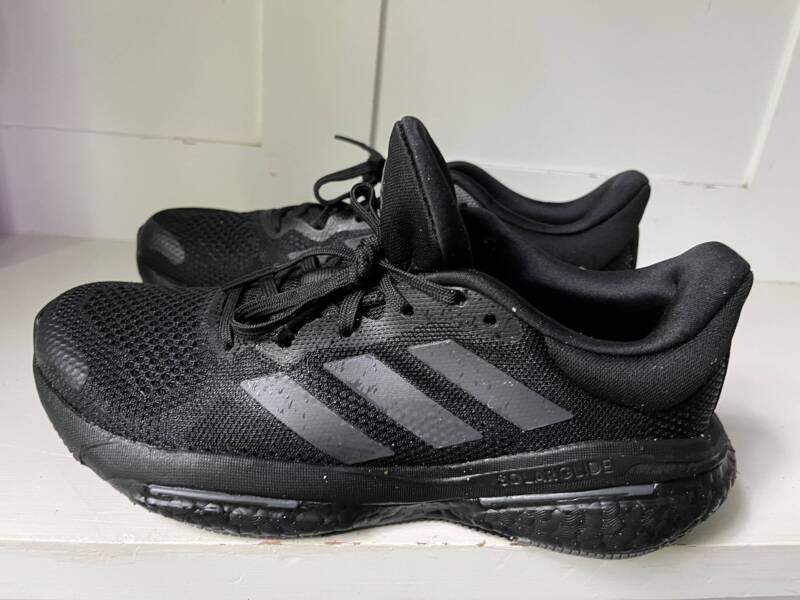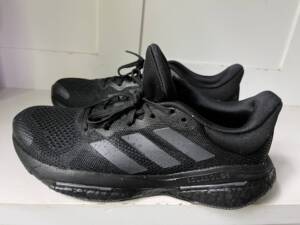 Wearing clothes that don't rub, especially near your nether region, will also minimize chafing. So, aim to wear spandex bottoms or tights. I like the Lululemon Fast and Free shorts or Nike Pro shorts, and for pants, Tracksmith's Turnover tights or Vuori Stride leggings.
Waterproof outer layer.
For your outer layer, you want a jacket that repels or resists water without making you overheat. When it's really a light rain outside I love the Janji Rainrunner jacket. It keeps me dry without suffocating me with hot and humid air. It also has reflective edges. For a little less protection and breathability (and money!) I also love Nathan's Women's Protector Rain Jacket. When it's pouring, I wear my Jack Wolfskin tapeless pre-light rain jacket.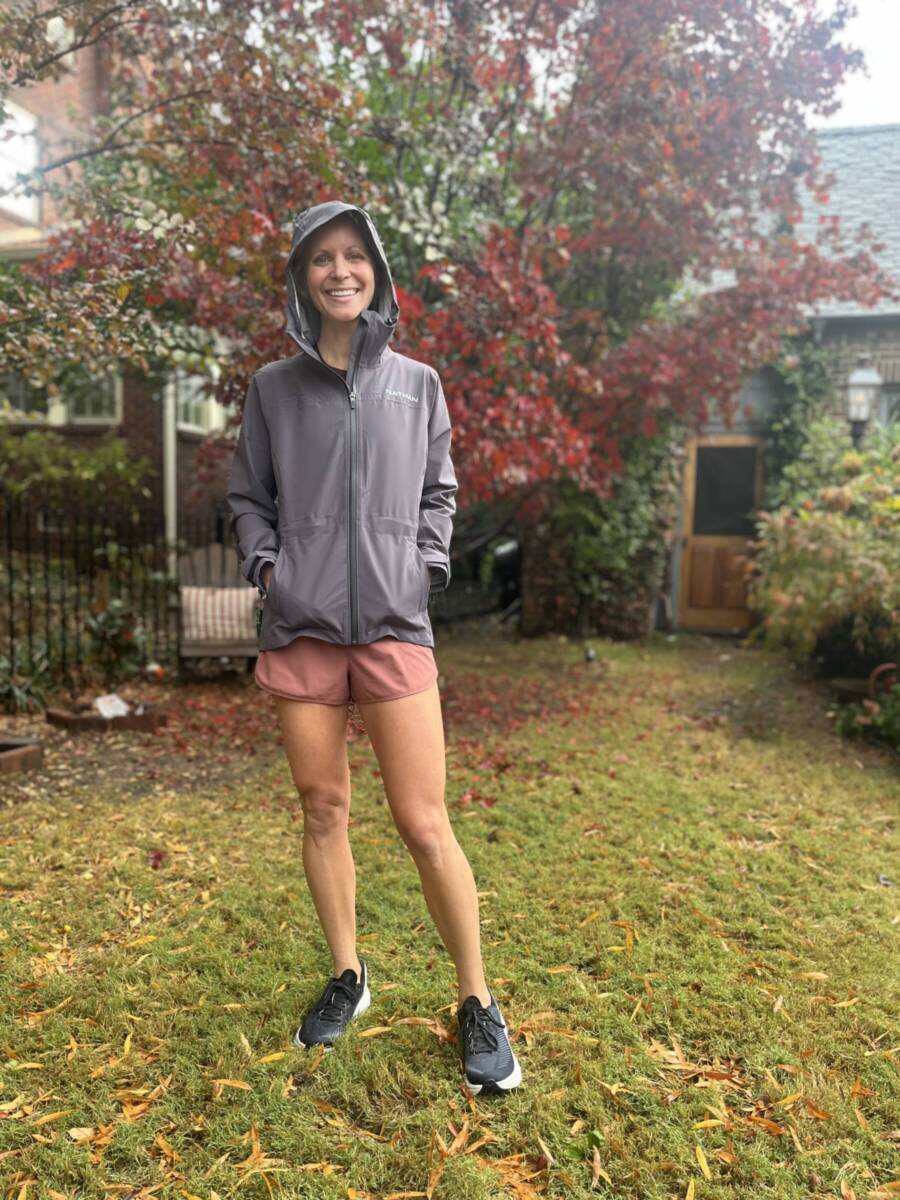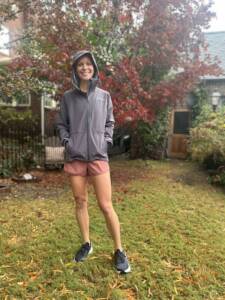 When it's sprinkling outside, I love Patagonia's Houdini windjacket which resists water but does a wonderful job keeping you warm without weighing you down.
Both jackets have hoods to pull over a hat to protect your head and neck from getting wet and cold.
Moisture-wicking base layer shirt.
Wear a base layer that wicks moisture, keeps you warm as needed, and feels light. Wool or synthetic materials are best. Tracksmith's Brighton base layer is my all-time favorite to wear through fall, winter, and spring.
Get tips on layering in my winter dressing guide for runners.
Vest.
If you need extra or less warmth, opt for a running vest to go over your base layer. The ON all-weather running vest is windproof and reflective. Rabbit's let 'er zip wool vest, which I own and love, is the same and adds a great cozy and breathable layer for cool runs.
Brimmed hat.
Most people hate rain pelting their faces when they run. It's unpleasant and makes it hard to see where you're running. Stop this unpleasantness with a brimmed hat. You can go with any old hat (I love Tracksmith's hat for its style).
Or, you can level up with a moisture-wicking hat one like Nike's Dri-FIT hat.
Lighted clothing.
If you're running in the dark, cars will not be able to see you! Illuminate yourself with the LED foot lights, Nox Gear Running Vest, or a headlamp.
After you're done with your run, get dry, refuel with something hot, and be proud of your bad self!
If you want help towards your goals (rain or shine!), check out my run coaching services!