Ahh, fall running is finally here. I love running in the fall season more than most anything. I put it up there with chocolate, naps, puppies, kid snuggles…
My perfect day consists of running in the fall crisp air surrounded by colorful falling leaves, returning home to a pumpkin spice latte and pumpkin bread, a pumpkin patch, a nap with football on in the background, then waking up to some chili that's been cooking in the slow cooker, followed by s'mores by the fire and a cozy movie night with the family…I need to stop. Sorry…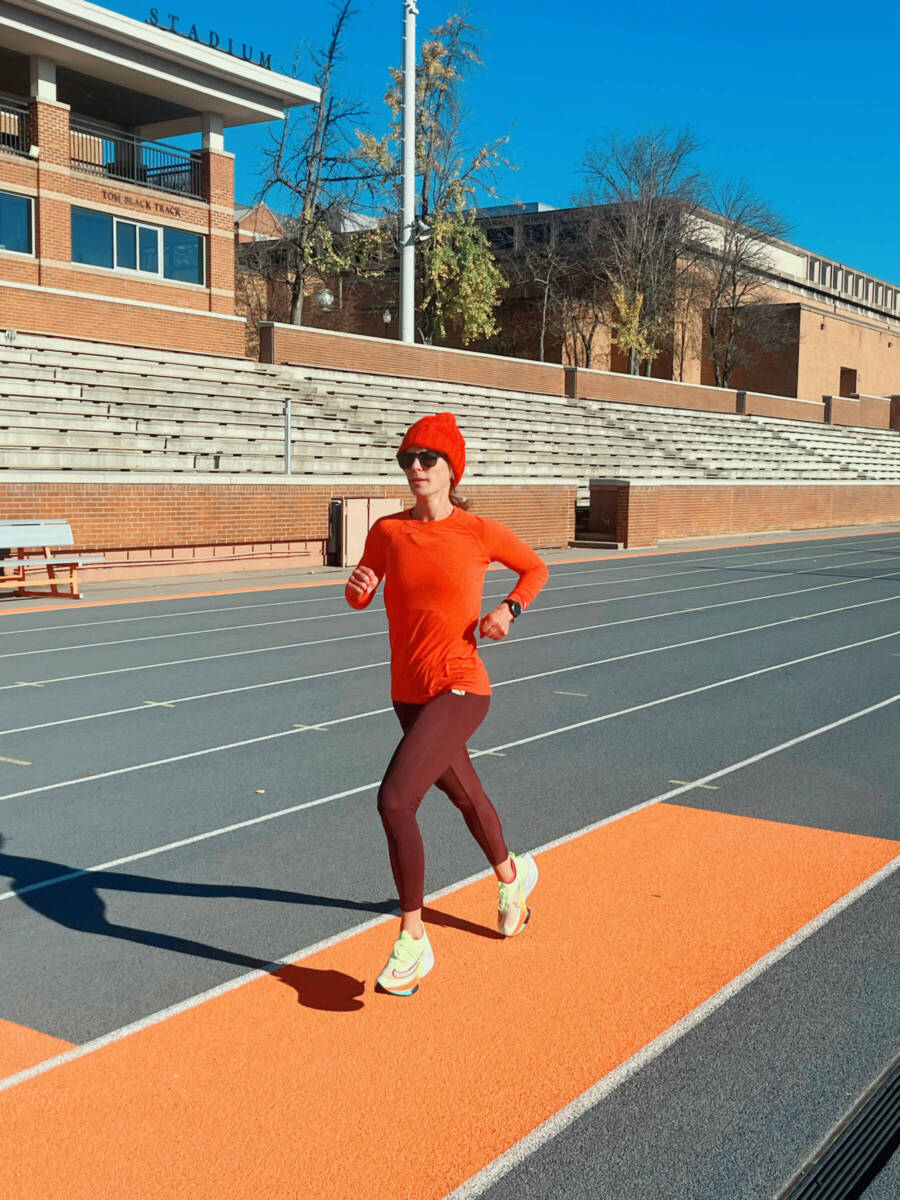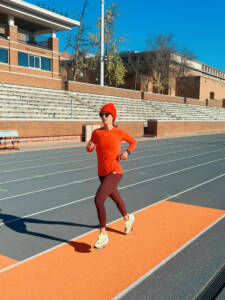 But running in the fall can be confusing. Here in Tennessee, the autumn air arrived right on time, and it's left me overdressing.
For my long run done early this morning, I felt downright COLD in 45 degrees. So, I threw on an extra layer, only to be reminded that the first mile is a LIAR and I needed to take that layer right off.
Honestly, it's a lesson I learn on my first run during this time of year…every year.
So, it's time for a refresher on how to dress for running in the fall. Below I'm giving tips on what to wear and what NOT to wear plus some running clothing and running gear recommendations.
This is so we can ENJOY fall running and reap the rewards of our hard work training in the hot summer sun.
Specifically, I will cover:
What is the best temperature for running and why we run faster in the fall
What should you wear for running in fall
What should you NOT wear for running in fall
A runner's dressing guide breakdown by temperature
Fall running tops, bottoms, socks, shoes, and gear recommendations
So, let's get going!
What is the best temperature for running?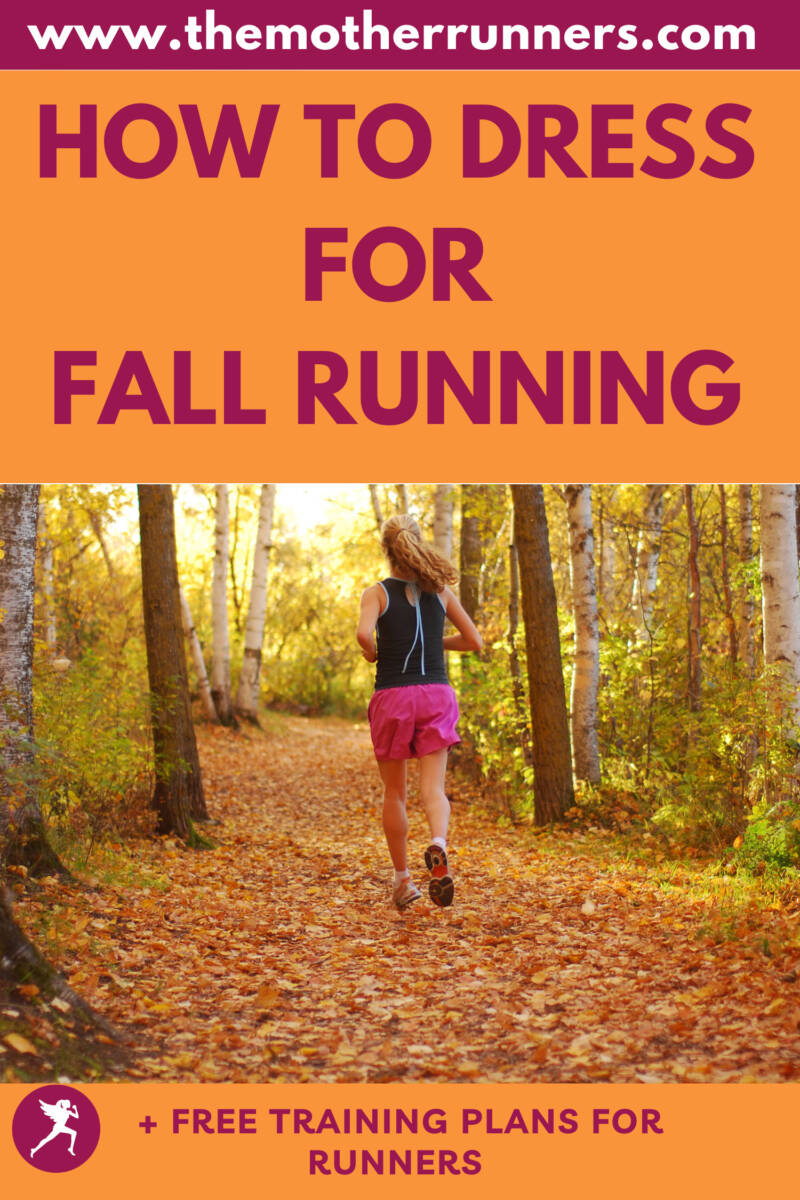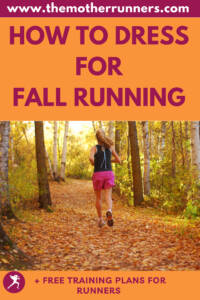 The best temperature for running performance is 44 to 59 degrees. Fall is the best time to nab those personal records because your body has worked hard running in the summer months, becoming more efficient at pumping oxygen-rich blood to your working muscles.
Therefore, when the temperature drops, your body doesn't have to work as hard to pump your blood, so you expend less energy running the same pace. Faster paces feel easier.
Pretty cool, huh?
Related: The Benefits of Running in the Heat
What should I wear for running in fall?
For running in fall weather, bear in mind that your body temperature will rise about 15 degrees so dress like it is 15 degrees warmer than it is. You may likely want to dress in layers to adapt to the temperature change. You can shed these layers on your running route or run a warm-up around your house, shed them, and head out on your run.
For most runners, wearing a light base layer such as light wool long sleeve shirts, and shorts, capris, or tights will keep them comfortable running in fall. Some people may prefer to wear a long-sleeve shirt and shorts while others may like to wear a tank or short sleeve top and tights.
If your extremities tend to run cold (like mine because I have Raynaud's Syndrome), you may want to wear wool mittens and socks.
Also, remember that you will still be sweating, so wear technical fabric or wool that wicks moisture away.
Don't forget to wear something that illuminates you or reflects light since, with shorter days, you may be running in the dark.
Related: How to Become a Morning Runner
Finally, take stock in if you typically run cold or hot. Some people are more sensitive to cold so may need to wear thicker clothing or more layers.
How should I dress for a fall race or fall marathon?
Dressing for a fall race or fall marathon should consider the outside temperature for the duration of the race, race distance, and pace/effort.
If you are running a marathon, there is a chance the temperature will rise considerably throughout the race. Keep that in mind as you dress. If it is 30 degrees at the start but 50 near your estimated finish time, you may want to shed a layer or wear arm warmers.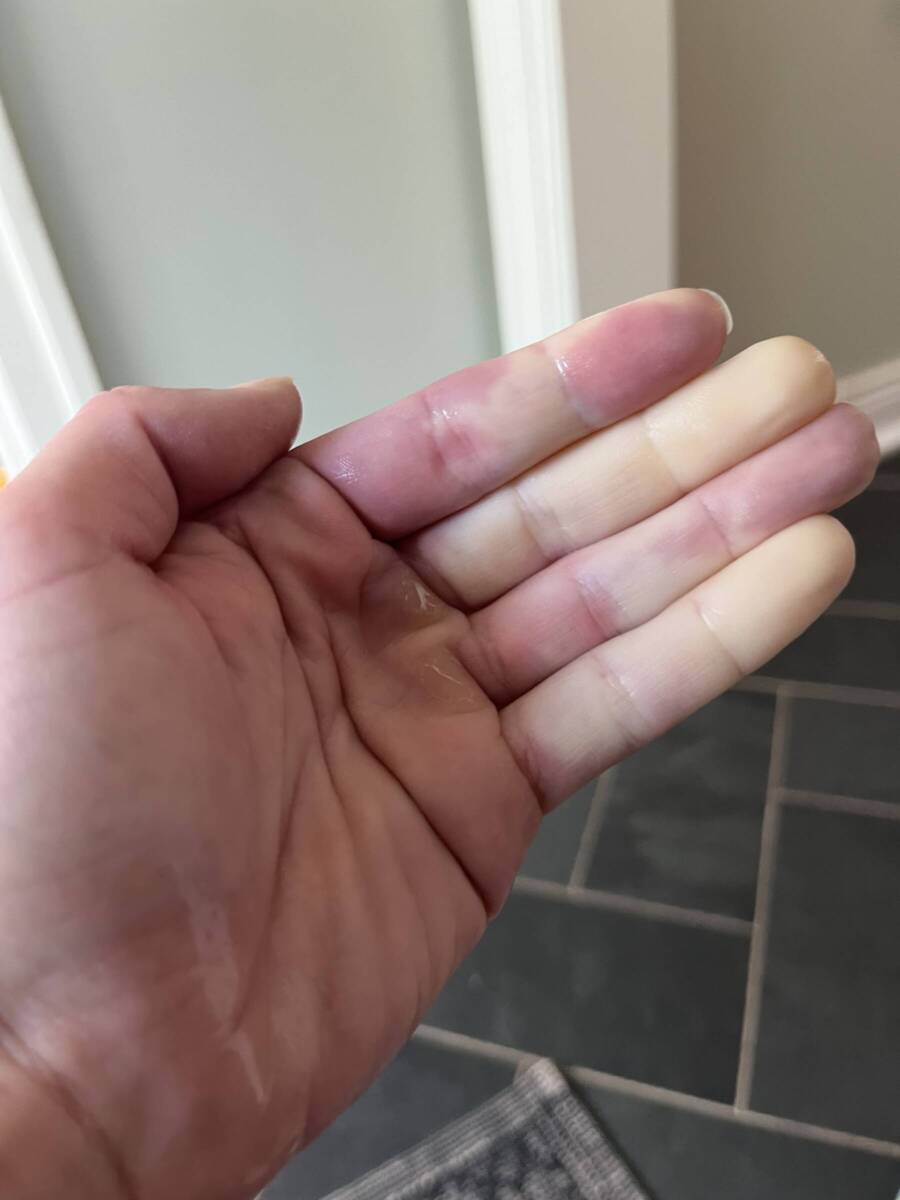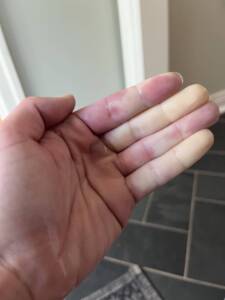 Also, for longer distances, realistically think about your pacing. If you typically go out hot, hit the wall, and coast—then there is a good chance your body temperature will drop and you'll get chilled. If there is a reason to try to run a steady pace or negative split, this is one of them.
If you are running a fall 5k, consider how fast you plan on running. The faster the pace, the less clothes you should wear.
Temperature:
If it 30-40 degrees, consider wearing a long sleep top or a long sleeve top over a base layer that you will shed. Or wear arm warmers. Wear tights or capris.
If it is above 40-50 degrees, wear a long sleeve top and shorts or short sleeve top or tank with capris or shorts.
If it is 50-60 degrees, wear a short-sleeve top or tank and shorts.
Is it better to run in capris or leggings?
Capris are a great option for running in the fall. They keep your thighs warm but not overly so. Capris with a tank, t-shirt, or lightweight long-sleeve top is a great option for fall running.
Should I wear shorts or leggings for a marathon?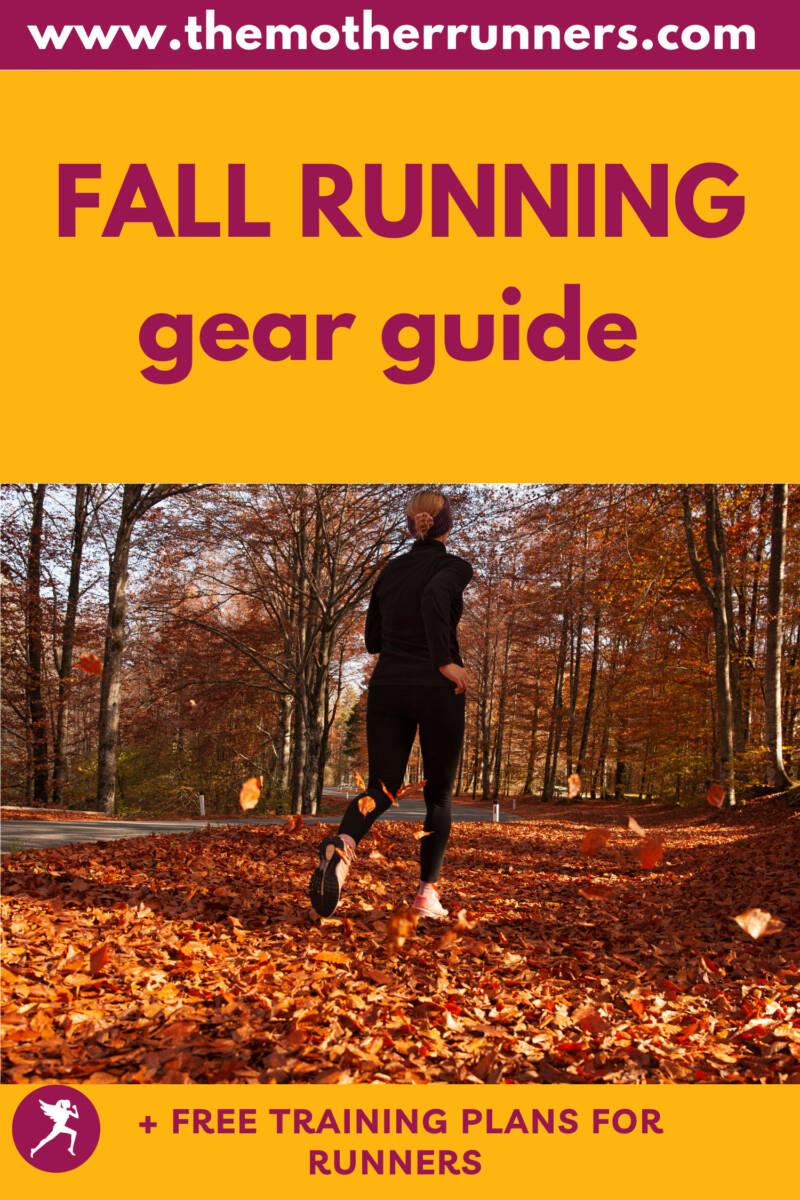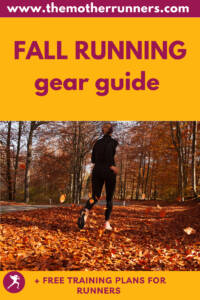 The faster you run, the less clothes you want to wear. So, if you are going for a sub 3:30 marathon or BQ or faster for example, you likely want to wear shorts instead of leggings in most cases.
Pay attention to how you feel on your long runs. This is a chance to practice what to wear on race day (if you get the chance to run in cooler temps, that is)!
Related: 13 Race Tips to Nail Your Marathon
Fall Dressing Guide for Runners by Temperature
Because fall temperatures range widely, here is what to wear running in the fall during different temps.
Don't forget that your core body temperature is going to rise by about 15 degrees. So, dress in what you would wear if it was 15 degrees warmer.
What to wear running in 50-60 degrees:
Wear shorts and a short-sleeved shirt or tank. Remember, you're dressing like it is 65 or 75 degrees out at this point. Unless there is a cold wind, you want to dress as you would on a spring day.
What to wear running in 40-50 degrees:
Dress in a lightweight top layered over a short-sleeved base layer tank. Lightweight tights, capris, or shorts. You can shed the top layer if you get warm. I suggest choosing a top that's easy to hold in your hand. Some like Patagonia's Houdini jacket self-pack into a small pouch.
What to wear running in 30-40 degrees:
Wear a light base layer with a vest or a mid-layer top, tights, hat, and gloves or mittens. (I prefer wool or fleece mittens).
If you live someplace where it is below freezing in the fall, check out my winter running dressing guide.
Related: Top Ten Winter Running Tips
What should you NOT wear running in the fall?
The biggest mistake runners make running in fall is overdressing. (This includes me!).
When the temperature drops and we aren't acclimated to the colder temperatures yet, we tend to panic and wear more layers than we need for running in cooler temperatures.
So, remember, add 15 degrees Fahrenheit to the current temperature outside and wear what you would wear in that weather. Or, you can add a light layer that you plan to shed after your first mile or two.
Another big mistake runners make is that they forget that they still sweat running in fall. Therefore, you still want to dress in moisture-wicking fabric such as polyester, wool, or nylon. In other words, do not wear cotton when running in fall!
Remember to still wear sun protection to protect your skin from harmful UV rays.
Finally, runners should remember to stay safe running in the dark for those morning or evening runs. Stay in lighted areas and wear something bright or light so that cars can see you.
Also, don't forget sunscreen, an anti-chafing stick such as Body Glide and/or heavy moisturizer like Elta MD PM to protect your face from the sun and wind.
Related: Top Personal Safety Tips for Runners
Fall Running Gear Recommendations
Base layers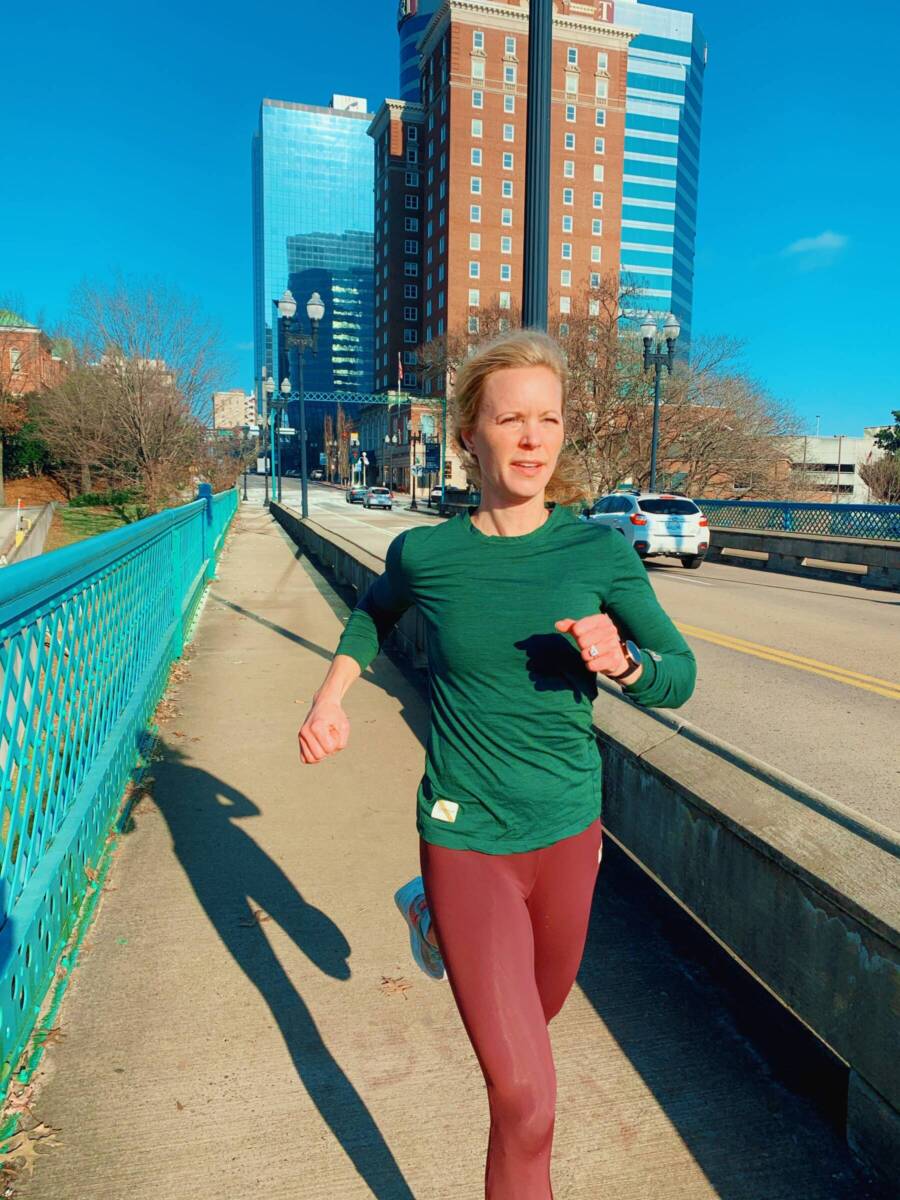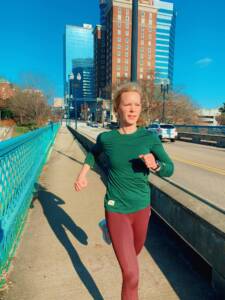 Tracksmith Brighton Base Layer is the best base layer out there. It is a light Merino wool mesh that keeps you dry and warm—but not too warm.
Tracksmith Harrier tank is made out of Merino wool to keep your core warm but sleeveless to keep the rest of you cool. Also comes in a tee and long-sleeve.
Athleta Momentum hoodie is warm, fitted, seamless for zero chaffing, and has a hood to keep your head warm.
Top and mid layers
Patagonia Houdini Jacket is magical at how it is so lightweight but is a heavyweight in keeping cold, wind, and wetness out. Perfect for rainy fall days. And, if you warm-up, it packs into a small pouch you can hold!
Oiselle Flow Long Sleeveis lightweight and moisture-wicking, and the right amount of warmth-trapping. Plus it has finger holes to keep your hands warm.
Tracksmith Harrier Long Sleeve is a heavier version of the Brighton base layer with its Merino wool blend that keeps warmth in but wetness out.
Related: What Should I Wear for Running in the Rain?
Bottoms
Related: Vuori Shorts Review for Women
Socks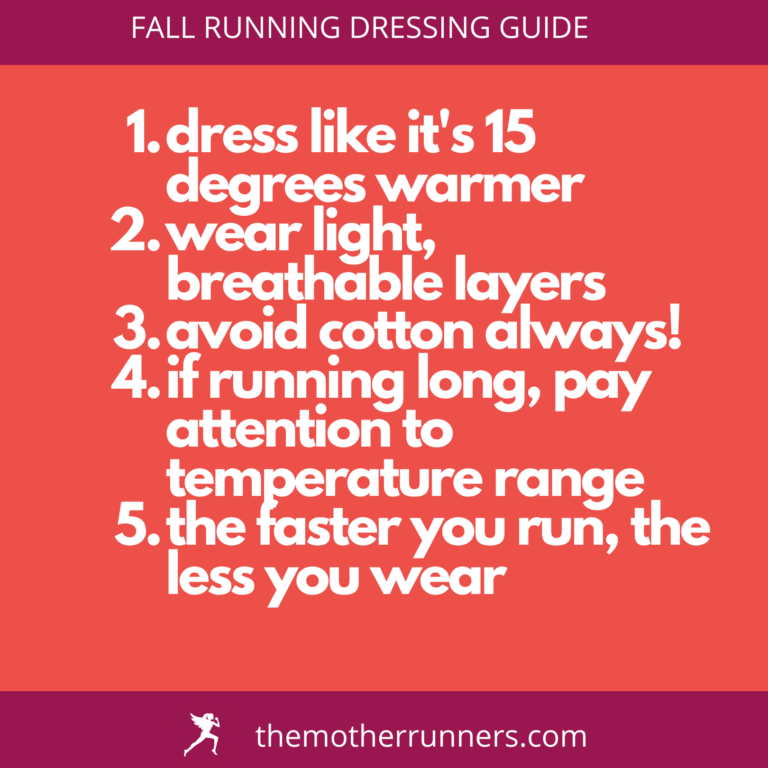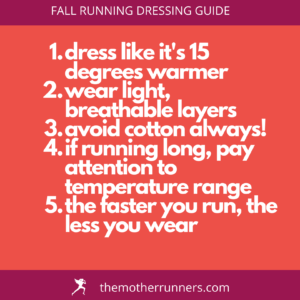 Swiftwick socks come in various lengths and thicknesses to supply warmth, zero moisture, and support. I love the ankle socks for cool temps.
Hat
Mittens/gloves
Related: How to Run in the Snow
Light-emitting gear
If you want guidance with your training, check out my run coaching services. Also, be sure to check out my free training plans: