Updated February 19, 2023: Last weekend I had a 20-mile long run with a 10-mile tempo in it. I wasn't feeling well, was super unmotivated, and the weather matched my mood–it was windy with pouring rain and temps in the upper 30s. What helped me get out the door, quite honestly, was knowing I had a running rain jacket to protect me from the elements.
As I anticipated the feeling of the cold wind and rain on my body, I thought of how the right running rain jacket would block the discomfort so I could execute the workout (a workout for both my body and mind!).
Related: 9 Mental Training Tips from Sports Psychs
When it comes to running in the rain, there are two schools of thought: don't fight it and get totally soaked (and get cold and chaffed). OR, find the right running rain jacket to protect you from the elements.
The trouble is, for a long time, you had to choose between staying dry but also getting smothered in your own body heat and sweat in a rain jacket for running.
Fortunately, technology has been advanced to design materials that keep outside moisture from getting in while wicking inside moisture out.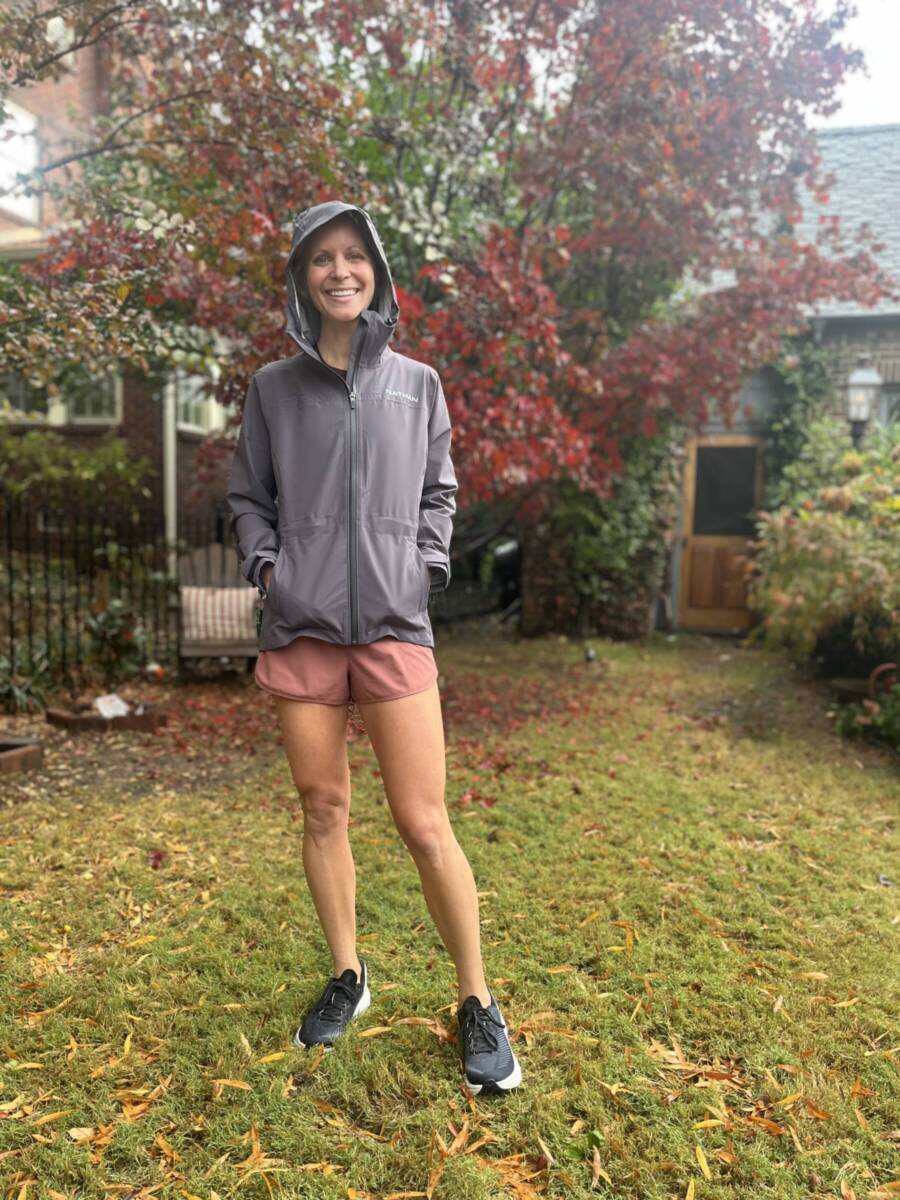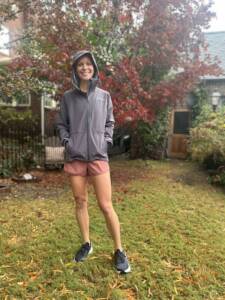 In this running rain jacket review, I will answer:
can you run in a rain jacket?
can you run in Goretex?
are raincoats and rain jackets the same?
what to look for in a running rain jacket, and
I offer 8 rain jackets for running that offer you protection to rain with breathability. I also offer 3 runner-ups. This way you don't have to pick your poison but instead enjoy running in the rain!
Related: How to Adapt to Racing in Bad Weather
Can you run in a rain jacket?
Yes, you can run in a rain jacket if you choose the right one. You want to avoid running in a rain jacket made of rubber which won't breathe, or that isn't fitted. You want a running rain jacket that is light, slim, and ventilated.
Otherwise, you risk overheating and flapping in the wind!
Can you run in Goretex?
Yes, you can run in Goretex. Goretex technology advancements have been able to keep the waterproof quality of Goretex while adding breathability. A goretex rain jacket will cost you several hundred dollars, but it is worth the price if you will be out in rain and wind for an extended period of time.
Are raincoats and rain jackets the same thing?
No. Raincoats and rain jackets are not the same thing. Raincoats and rain jackets may both be waterproof jackets that have hardshells that block water. But rain jackets allow for breathability and durability. Raincoats are less expensive than rain jackets but the savings come at a cost.
I do not recommend running in a raincoat which will trap the heat and moisture and feel borderline suffocating.
What to look for in a running rain jacket?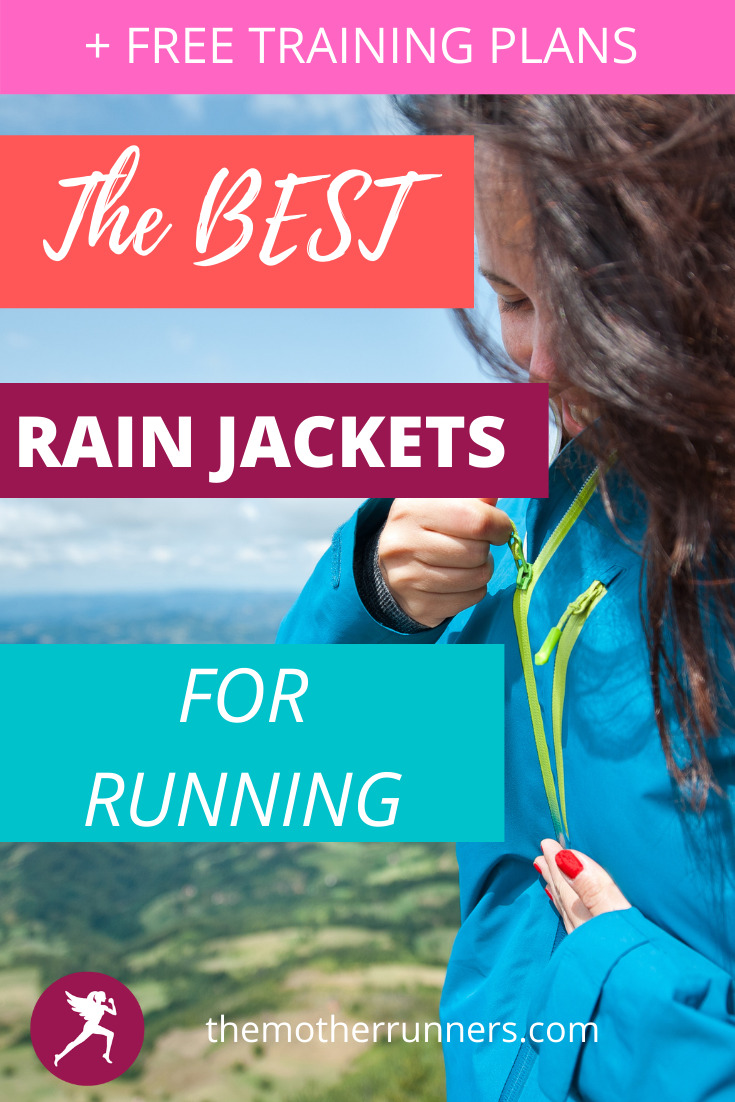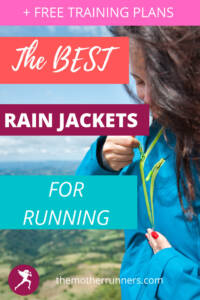 When you're shopping for a running rain jacket, you want to look for its water permeability which can be divided into three categories:
Waterproof: A fully waterproof jacket uses materials like Goretex and is designed with closures around the openings to keep water out. You used to have to choose between being dry from rain but wet from sweat due to its lack of breathability. Not anymore.
New technology allows you to be waterproof with breathability. But it comes at a price—using several hundred dollars.
Water repellent: Water repellent rain jackets are treated with a water repellent coating that allows water to bead off the surface and roll-off. These running rain jackets are usually less expensive but aren't as breathable or durable. When washing, be sure to not put them in the dryer to extend their lifetime.
Water-resistant: A water-resistant rain jacket is a light shell layer that will protect you from getting wet in light rain and wind, but will get soaked in heavy rain. These jackets are often made of nylon and great for sprinkles and/or shorter runs.
Other features to consider are the rain jacket's breathability, reflective qualities, cinching, noise from flapping in the wind, and packability.
How I reviewed these running rain jackets:
I own or have owned several of these models. These reviews are based on my experiences plus reviews from other runners around the globe I connected with on Instagram. I also scoured reviews online to round out runners' experiences in these running rain jackets.
I include rain jacket reviews in two of these categories waterproof and water repellent. None of the water-resistant jackets made the cut due to their lack of protection. Additionally, I aimed to give a range of prices since these running rain jackets can get quite pricey.
Related: My Complete Running in the Rain Guide
So, let's get started!
8 Best Rain Jackets for Running
Waterproof Rain Jackets for Running
Janji Rainrunner Pack Jacket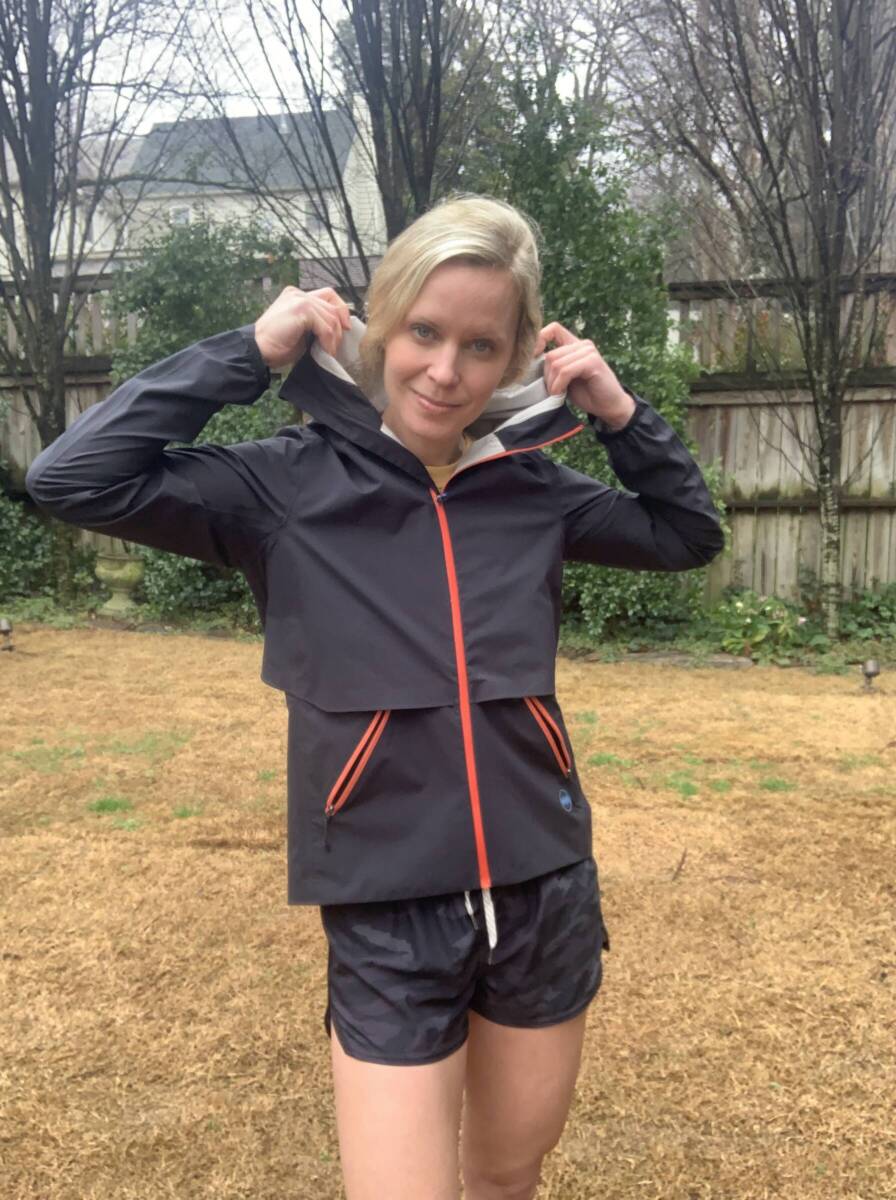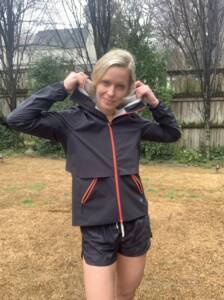 I have the Janji Rainrunner Pack Jacket and I love it. It is a completely waterproof jacket made of nylon and has a durable water repellancy (DWR) coating for extra protection, that is light, packable, and breathable for a waterproof jacket. In fact, the latest model is 3 times more waterproof and breathable.
This waterproof jacket has cinching around the arms to keep water from getting it and is fitted, keeping it from flapping in the wind. There are vents in the front and back, aiding in breathability. Because it is lightweight, it is not especially warm so if you're running in a cold rain, you will definitely need to layer.
Pros: waterproof, breathable, packable, and dries quickly.
Cons: the hood does not cinch so you can't adjust it to you face. And it does eventually become saturated.
Best for: Medium hard rain in the 40s and above.
Bottom line: The Janji Rainrunner running rain jacket is an attractive and durable rain jacket that I actually use even when I am not running.
Price: $198
Jack Wolfskin Pre Light 2.5L Jacket
The Pre Light 2.5 L jacket is a super lightweight waterproof jacket that stands up to those April showers that bring us May flowers. I love how it is fitted, comes in a lot of pretty colors, is packable, windproof, breathable, and waterproof with Texapore Pro.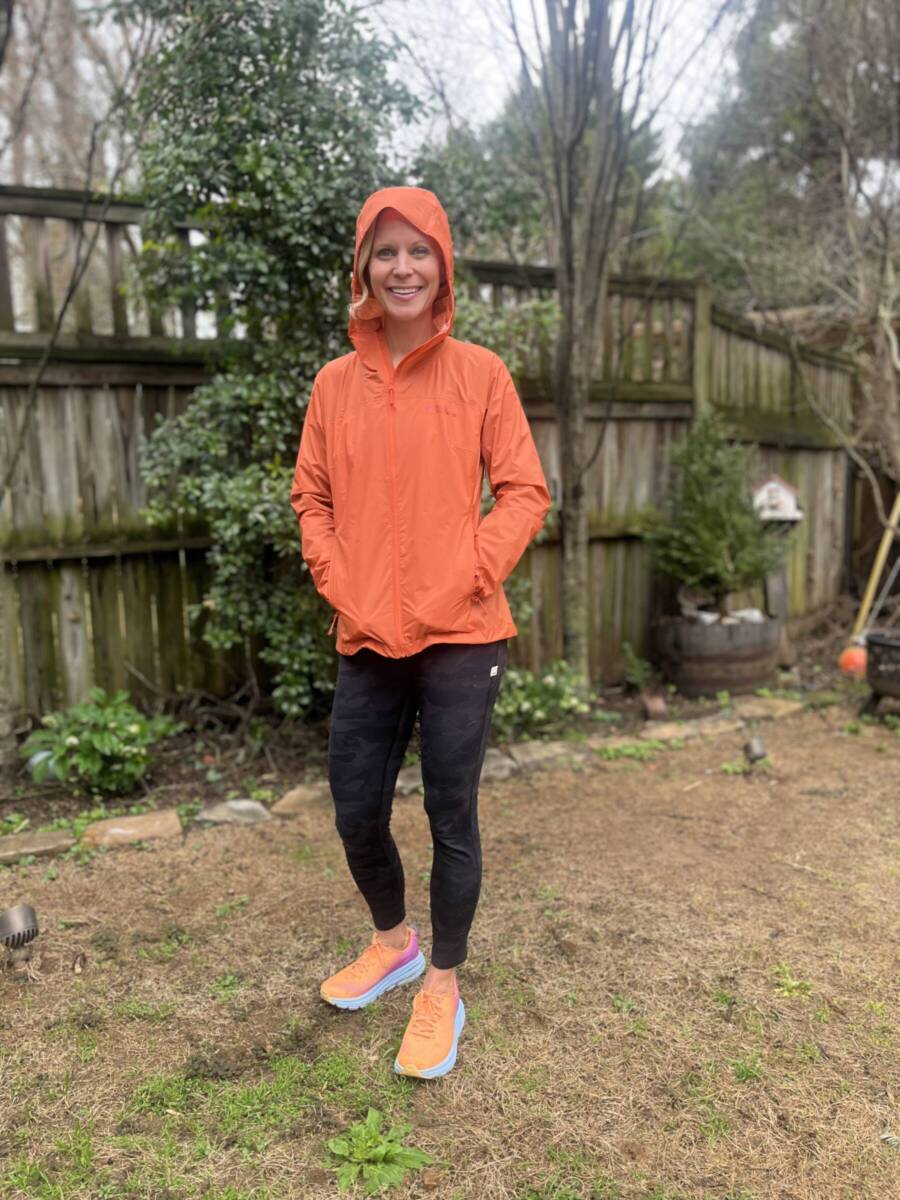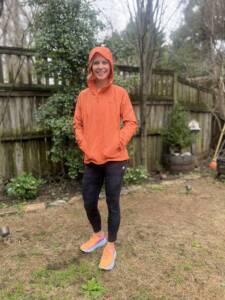 Pros: waterproof, windproof, ultra-light, packable, breathable, quick-drying, insulating, and comes in lots of bright color options.
Cons: it's a bit loud.
Best for: Hard rain in the 40s and above.
Bottom line: The Jack Wolfskin jacket running rain jacket is one of the most waterproof and durable running rain jackets you can get for under $200.
Price: $199.95
Nathan Women's Protector Rain Jacket
Another light, protective rain jacket I have and love is the Nathan Women's Protector Rain Jacket. For a little less money, you get amazing breathable protection in an average rainstorm with its polyester coating. The biggest difference between the Nathan running rain jacket and the Janji raincoat is that it is a looser fit so I prefer it as an outerlayer in cold rain.
The Nathan raincoat has a bit of a waxier feel and is a tiny bit heavier. It has cinching around the arms and a roll-up hood in case you want to use it as a standard windbreaker.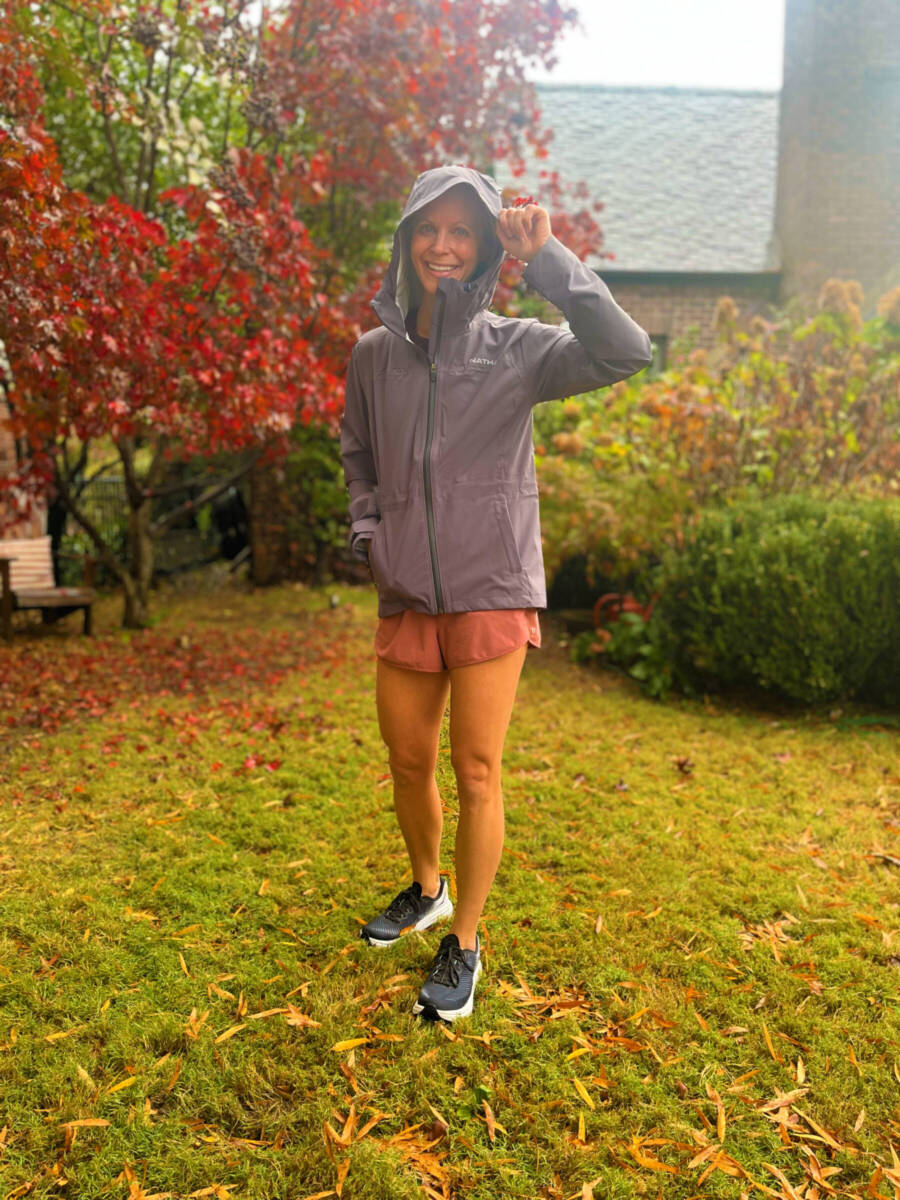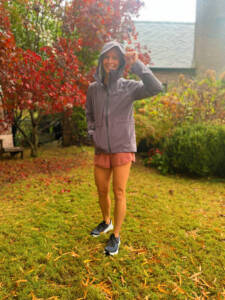 Pros: This waterproof polyester rain jacket protects you from light rainstorms for a reasonable price (with the quality you expect from Nathan!). Its sizing allows for layering in cold rains.
Cons: This jacket offers about one-third of the water protection than the Janji raincoat with less breathability.
Bottom line: The Nathan Women's Protect Rain Jacket is perfect for cold light rainy runs. You get a lot of protection for the price.
Price: $150
Arc'teryx Norvan LT Waterproof Running Jacket
If you are running in the elements, the Arc'teryx Waterproof Running Jacket is your rain jacket! It is goretex rain jacket using shake-dry technology which makes it impermeable to rain and wind but is relatively light and fitted. While you may sweat battling Mother Nature, the technology allows the moisture to evaporate, keeping you dry.
Pros: This waterproof goretex rain jacket protects you from rain and wind better than any jacket could.
Cons: It is heavy as compared to the Janji Rainrunner jacket. And the hood only adjusts in the back, thus potentially leaving it open around your face.
Bottom line: If you're going to be facing the elements on a trail run, the Arc'teryx Norvan LT goretex tain jacket is worth the investment!
Price: $399
Related: How to Dress for Running in the Cold
Water Repellant Rain Jackets for Running
Patagonia Houdini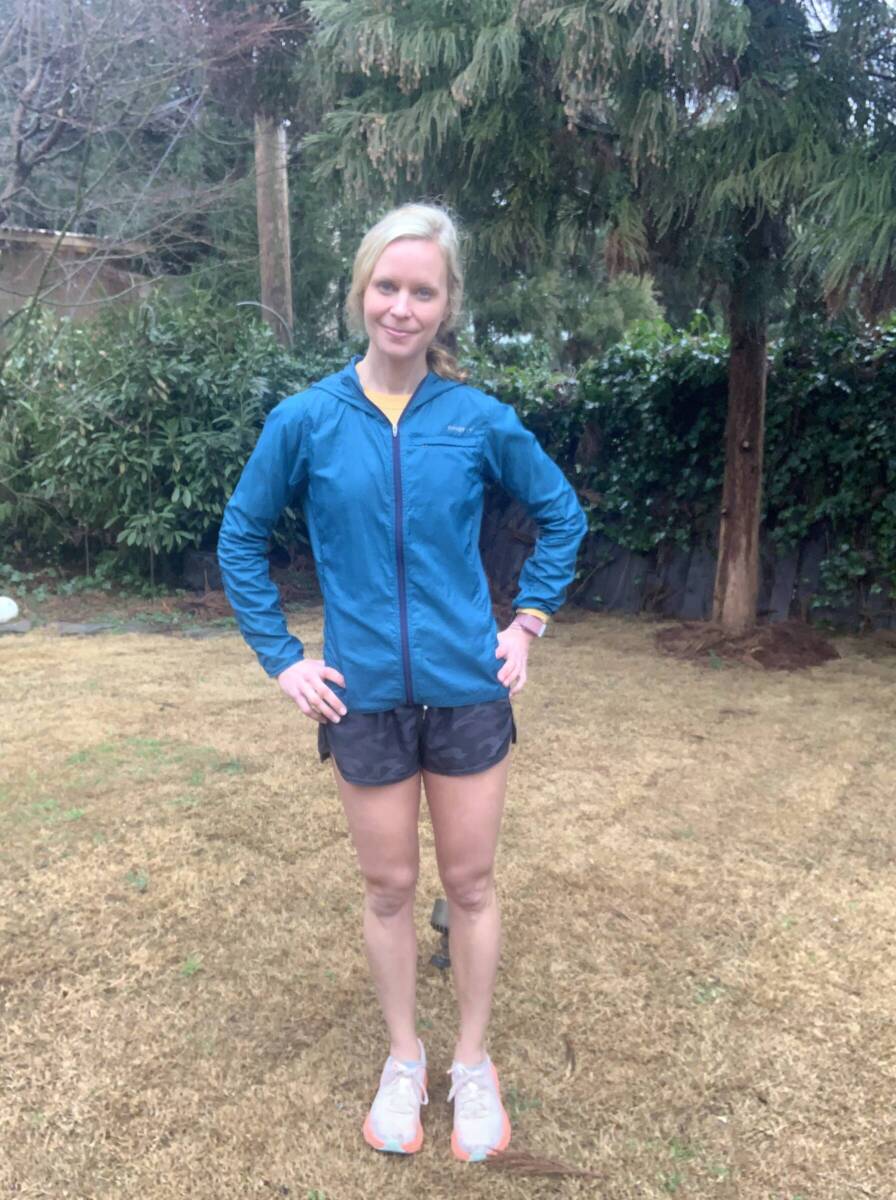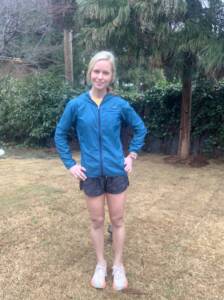 Confession. I have two Patagonia Houdini jackets. These jackets are not waterproof by any means but they do have a DWR (durable water repellent) coating that gives you some protection from light rain.
Why I love the Houdini windbreaker jacket is that it is incredibly light yet powerful in blocking wind and trapping warm air in. However, it is also breathable.
(For $100 more, the Houdini Air model takes the Houdini to the next level with more wind protection. Some reviewers have complained that the original Houdini is wind-resistant, not windproof. This newer model is Patagonia's answer to this.)
In addition to rainy weather, I wear it in the winter over my base layer because it is so warm. And, if I ever warm up too much, it is packable into a small chest pocket, shrinking to the size of a tennis ball. So I can run with it in my hand.
The Houdini water-repellant rain jacket comes with an adjustable and non-adjustable hood option.
Pros: The Houdini shell is extremely versatile, adding a layer of protection in many types of weather. It is fitted, packable, quick-drying, and has an adjustable hood and cuffs. It also comes in an array of colors and designs, too!
Cons: It is only water-resistant so it does not keep you dry in anything more than light rain. It also lacks reflective elements outside the Patagonia logo and I really wish it had pockets to put my hands in. If it did, I'd wear it all the time.
Best for: Trail runners who may encounter high winds and downpours. It is not best for road runners.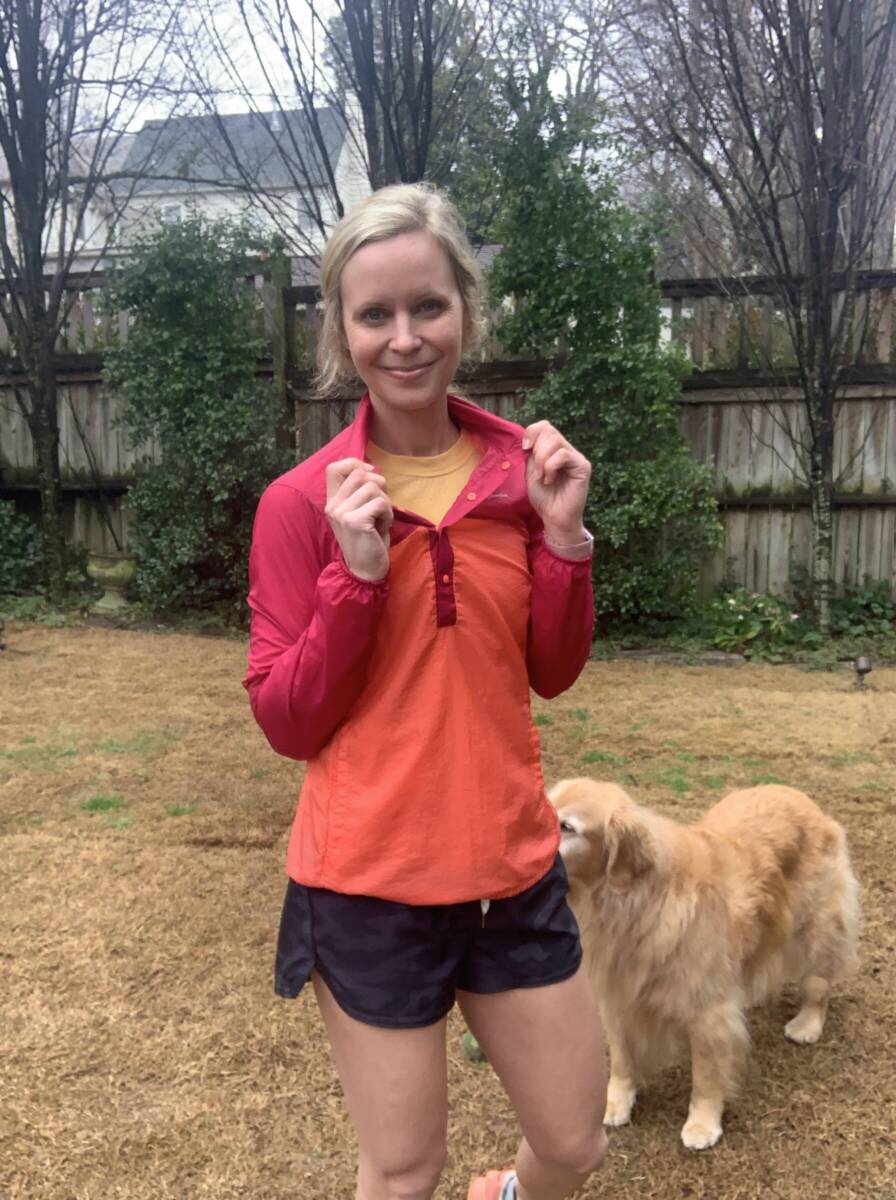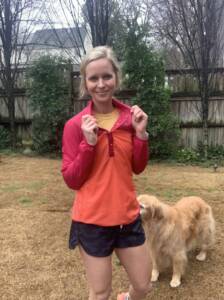 Price: $99
Bottom line: Rain or shine, the Houdini windbreaker belongs in a runner's wardrobe. It comes in handy in transitional weather, light rain, and windy days.
Oiselle Reflective Vim Anorak
Oiselle's Vim jacket was a popular pick among many mother runners. It is a bit more expensive than the Patagonia Houdini but adds reflectivity and more wind protection.
This windproof jacket is made with a Pertex super light shell that resists water while being breathable and is windproof to gusts up to 60 miles per hour. It also packs into a chest pocket.
It's a bit less fitted than the Houdini making it more comfortable for layering in cold weather. However, this also opens it up to more wind-flapping.
Pros: This water repellent jacket is quick-drying, windproof, reflective, and breathable, with an adjustable hood.
Cons: It is not waterproof and comes only in three colors. I also prefer a more fitted look and feel.
Best for: windy days above 40 degrees with a light wind, and transitional weather days
Price: $142
Bottom line: The Oiselle Vim jacket is a great choice for windy, light rain days. If you face high winds regularly, I would choose this over the Houdini.
Related: 10 Steps to Run Longer Without Stopping
North Face Winter Warm Jacket
The Women's Winter Warm Jacket is another great option for trail runners facing the elements (but not super harsh elements). For less than the Houdini, it offers a water-repellent coating that dries quickly, traps in heat, and is breathable.
Some wearers caution it is not suited for cold days below freezing, so be sure to layer up with base and mid-layers if wearing on a cold, windy, day.
Pros: Reflective, light, breathable, water repellant, packable, and affordable.
Cons: A basic design, not incredibly warm or waterproof.
Best for: Mildly chilly, rainy, and windy days. Do not depend on for long runs in harsh conditions
Price: $129
Bottom line: For the money, the North Face Winter Warm Jacket gives you a lot of bang for your pocket, offering you solid wind and rain protection for an affordable price.
Tracksmith Off Roads Packable Rain Jacket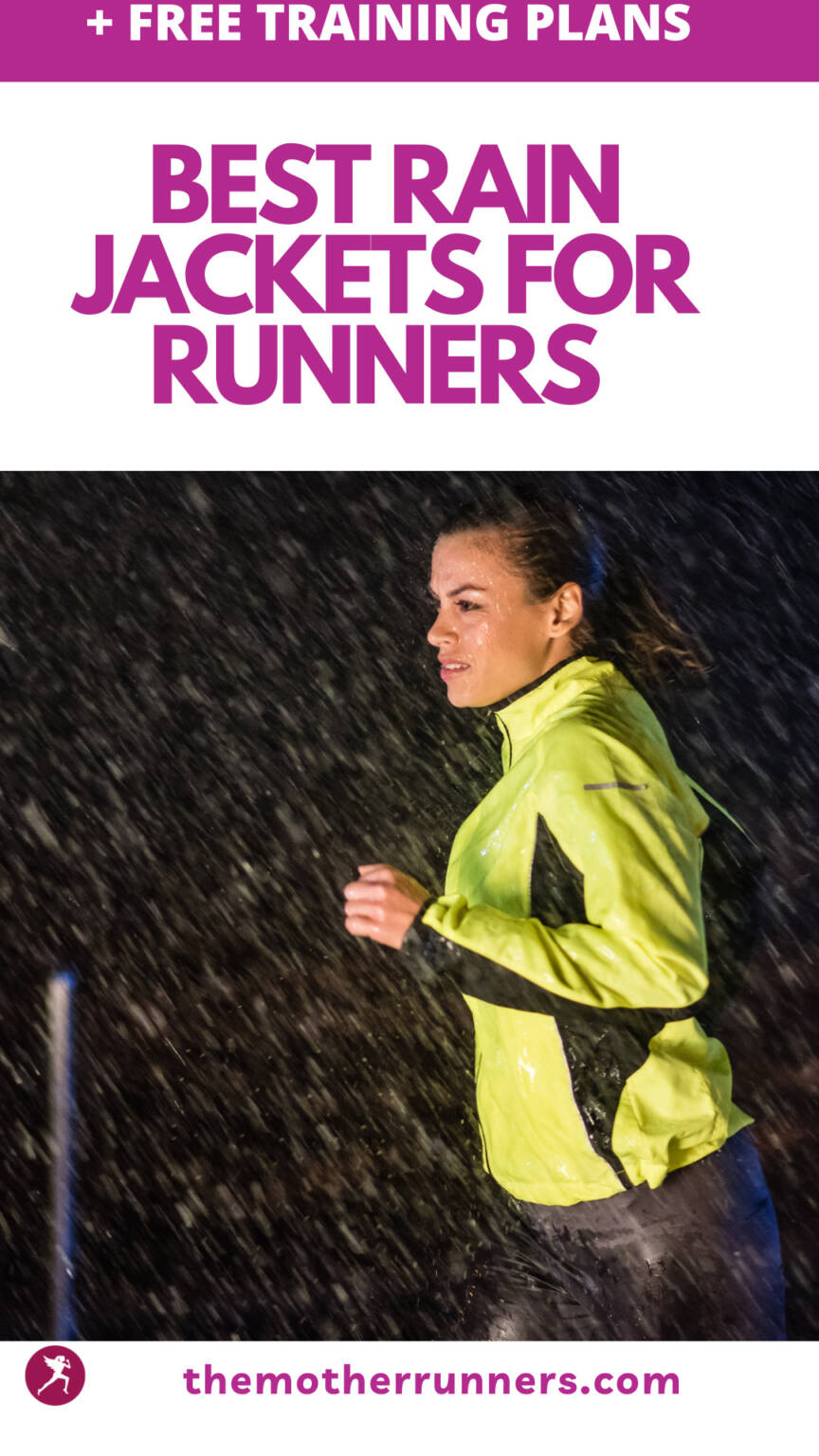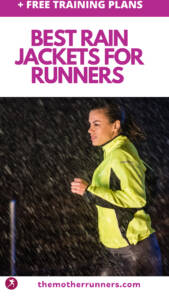 This Tracksmith packable rain jacket is water repellant and stylish. It features lightweight stretch fabric, pockets (!), and Nanosphere DWR which makes it lightweight and breathable.
However, the tech isn't necessarily what makes this jacket stand out from the rest but its aesthetic design. I love the looks of Tracksmith clothes and this design makes me want to buy the entire Off roads collection!
Pros: Water repellant, light, durable, breathable, and packable with an attractive design. It is a comfortable fit and also has pockets (which clearly I love!)!
Cons: It's pricey for a water repellant jacket and is a boxy fit which I do not prefer.
Best for: Windy, light rain days in the 40s or above and just wearing around town
Price: $198
Related: How to Stay Motivated to Run in the Winter
Bottom line: The Tracksmith off-roads jacket will protect you on mildly windy and rainy days. You pay extra for the style rather than the technology.
Also to Consider:
This a $99 waterproof rain jacket using Dryvent technology. For the price, it does a great job of keeping you entirely dry. However, I did not include it in my top two because while it has vents, it is not as breathable as the others.
The fabric itself is not very breathable so you do get hot while running in this rain jacket. However, if you only need a waterproof running rain jacket occasionally, this is an incredibly inexpensive option!
Cotopaxi's Teca Light Half-Zip Windbreaker
This powerful water-repellant windbreaker in an attractive color-blocking style. I did not include it because the unisex style is better suited for male bodies.
Lululemon Fast and Free Windbreaker
This windbreaker was a really popular choice among mother runners. However, it is currently out of stock at the time of this article.
If you need help with your run training, wet or dry, please check out my run coaching services.