If there's one thing I don't know about, it's trying to find the best sports bras for large busts (thanks breastfeeding and running!). BUT, many of my friends do and my sister does!
The other week my sister asked me for recommendations on the best running sports bras for large chests. My sister and I have little in common—including our chest size! Unfortunately, I couldn't answer her! So, I went to the mother runner nation and of course they had lots of suggestions.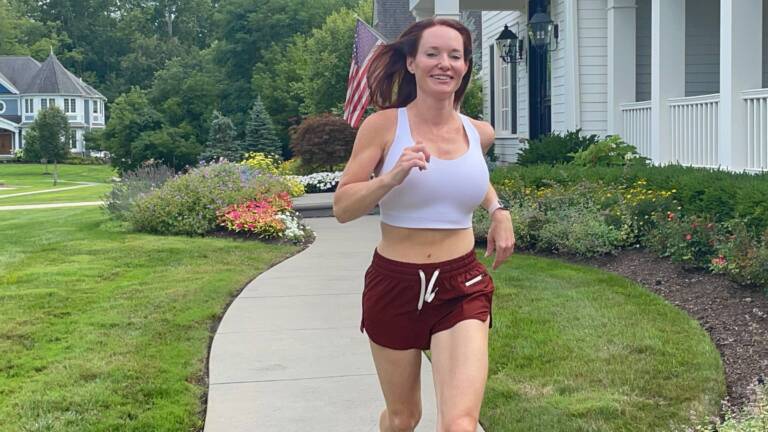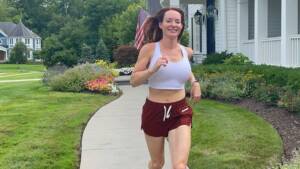 Trying to find a sports bra that fits big boobs comfortably can be like searching for a unicorn. You need a bra that prevents bouncing, boob spillage, doesn't cut into your skin, is adjustable, can easily go on, and is cute!
Related: 5 Best Nursing Sports Bras for Runners
Thankfully, more and more athletic wear companies are catching on with this dilemma and offering sports bras for large chests. But many don't accurately advertise. Let's face it—a lot of them are probably designed by men.
How I reviewed these sports bras for big busts
So, here's what I did. I got recommendations from other large-chested runners plus did research online, shared the best with my sister. She purchased them and then took them out for a spin on her morning runs. Then she gave me a full review.
My beautiful sister is not easy-to-please. She has high standards for things, so even though I haven't experienced these bras personally, I trust her opinion wholeheartedly.
Below are the 4 best sports bras for big breasts—and one of the worst, because there must be a dud, right? That's math or probability or Murphy's Law or something like that!
Before we get to the review, let's answer a few questions about running sports bras.
How can you tell if your sports bra fits correctly?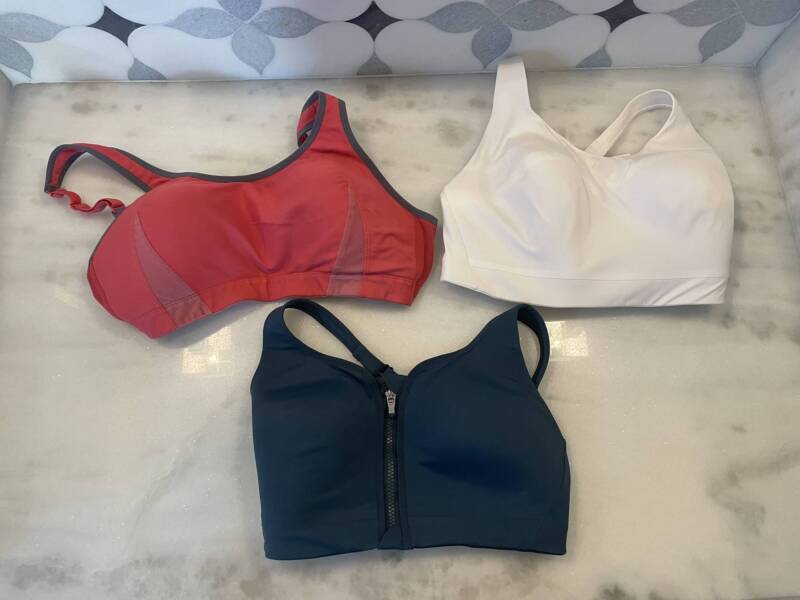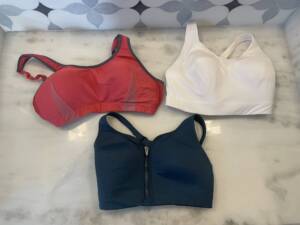 Studies show that as many as 7 out of 10 women are wearing the wrong size sports bra. Yikes!
This means you aren't as comfortable as you should be, and you aren't giving your breasts the support they need. Sports bras are wonderful shock absorbers, reducing bouncing that can result in sagging by 74 percent.
A correct fitting sports bra should:
Have a band that fits snugly around the rib cage but not so snug that your skin is bulging. There should also be no gapping or slippage.
Your straps should not slip or dig into your shoulders. You should be able to slide two fingers underneath them.
Your breasts should fit inside the cups fully with no gapping or overflow. No side boob or top spillage.
There should not be any wrinkles in the fabric.
How can you tell if a sports bra is supportive enough for running?
Ideally you can take your sports bra home and try it out on a run. If not, you can try jumping up and down to see if you feel comfortable. Or you can try jogging around the store, on the sidewalk, or on a treadmill like you would with running shoes you are trying.
Your boobs should not bounce and your chest should feel supported, not restricted.
Related: The Best Belly Bands for Pregnant Runners
What type of sports bra is best for a large bust?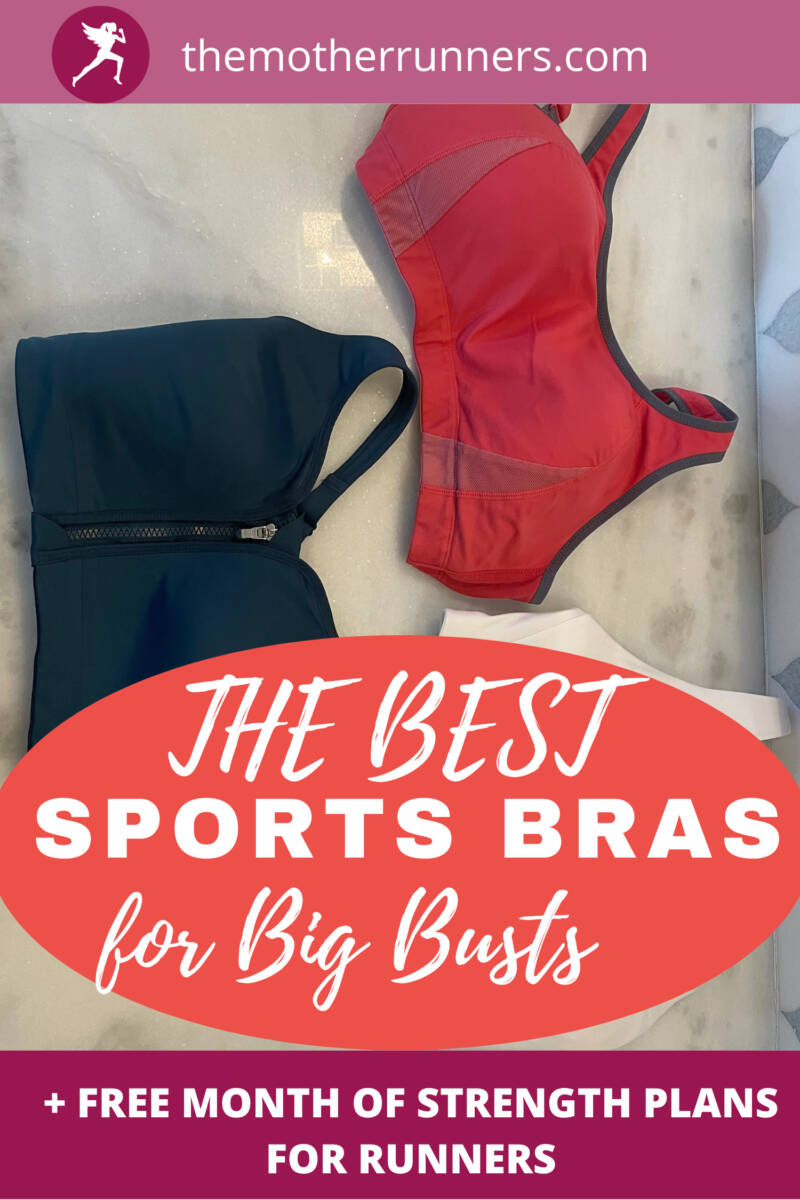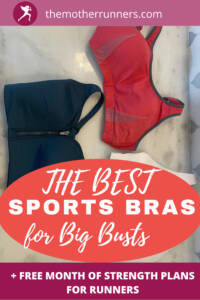 Sports bras for large busts typically will have a hoop enclosure in the back or a zip front, individual cups for each breast rather than compression, and wide straps. Some sports bras for bigger breasts will have an underwire.
Are sports bras good for bigger breasts?
Yes, sports bras can be good for bigger breasts if they support each individual breast rather than flatten them down. If you choose one that flattens your chest, it will provide less support for high-impact exercise such as a running.
Is DDD the same as F?
Yes, a DDD is the same as an F for most companies. It depends on the brand what the size is called. A DDDD is also the same as G in some brands.
Related: Can You Run a Marathon While Pregnant?
How often should you replace a sports bra?
Retailers recommend replacing a sports bra every 6 months. However, I have had mine for YEARS!
Typically, you'll know by the wear and tear of your sports bra and comfort whether it needs to be replaced.
4 Best Sports Bras for Large Busts (+ the Worst)
Alright, now let's get to the good stuff. Here are the best sports bras for large chests on the market. Included in the reviews are the opinions of my sister and other reviewers and mother runners.
Best overall: Athleta Advance Bra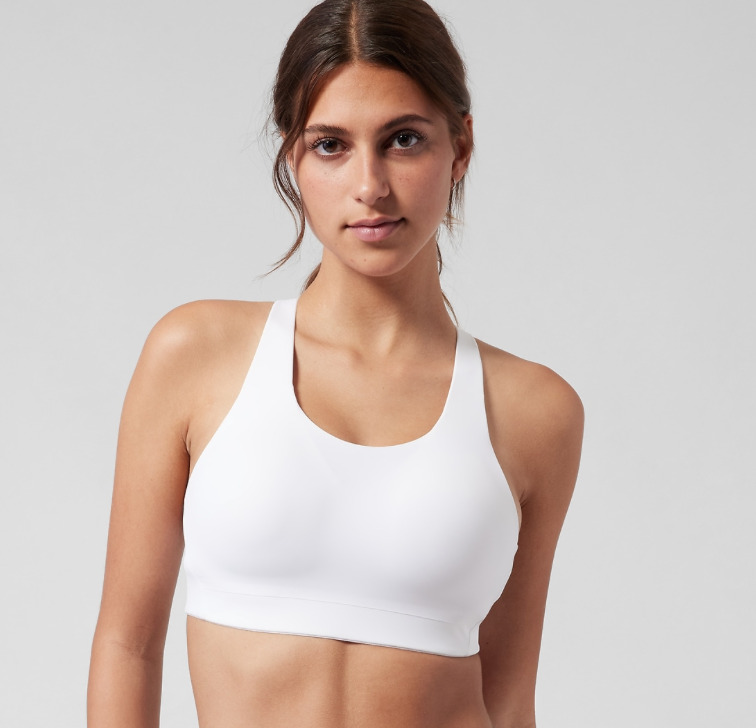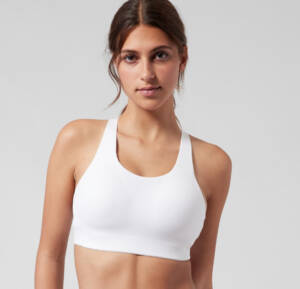 We start this list with the best. This Athleta Advance Bra is my sister's overall favorite. She says it's pretty and her boobs felt secure from top to bottom. Pro tip: it runs small! She had to move up a size. Fellow reviewers report the same.
The main difference between this one and the Advance zip front (next) is that it does not have a front zipper (duh!) and instead has a high neckline.
Pros of the Athleta Advance Sports Bra
High neckline provides maximal support and full coverage
Fabric molds and cups encapsulate your breasts
Breathable and quick-dry fabric with mesh backing
Easy to take on and off
No wires
Adjustable straps and band for sizes up to 40DD
Attractive design
Cons of the Athleta Advance Sports Bra
Only goes up to a DD in the store
Runs smaller than the Advance zip-front bra from Athleta, so many need to size up.
Pricey
Bottom line: This bra is stylish and comfortable but runs small!
Buy the Athleta Advance Bra $69 (some colors and sizes on sale)
Best Style: Altheta Advance Zip Front Sports Bra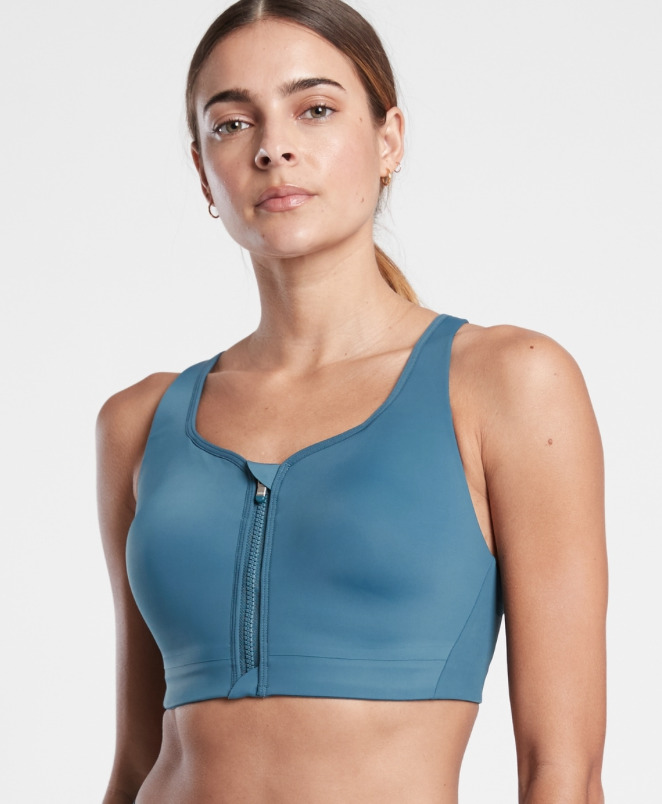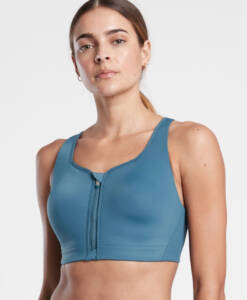 If you want to look cute while running (and most of us do!), then this sports bra is your sports bra! My sister loved the style and how it easy it was to put on. You have the option of using the front zipper closure OR the hooks in the back.
Some reviewers complained about the zipper, saying it slides down during high impact or is difficult to pull up (there is a hook to help you zip it).
If you purchase this, make sure the cloth enclosure is over the top of the zipper to keep it in place. It also only sizes up to a DD.
Related: The Best Running Gear that Holds Your Phone
Pros of the Athleta Advance Zip Front Sports Bra
Sleek, moldable fabric and cups encapsulate your breasts and retain shape and compression (no uniboob)
Mesh back for ventilation
Easy to take on and off
Quick dry and wicking fabric
No wires
Adjustable straps and band for sizes up to 40DD
Attractive design
Cons of the Athleta Advance Zip Front Sports Bra
Out of a lot of sizes and colors
Only goes up to a DD
Zip can come undone when running
Chafing near the zipper despite fabric covering it
Zipper difficult to zip
Bottomline: This is a pretty sports bra that you may want to try out on the road to ensure the zipper stays puts and you like how it goes on and off.
Buy the Athleta Advance Zip Front Sports Bra $79 (some colors and sizes on sale)
Best priced: Syrokan Full Coverage Sports Bra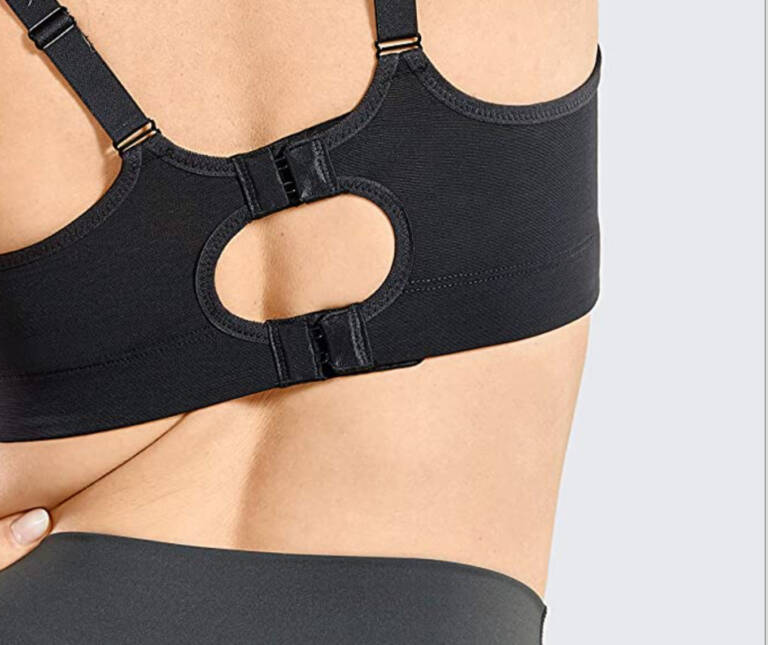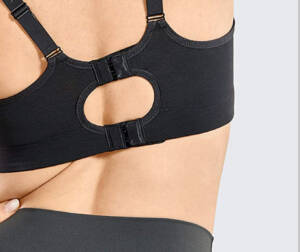 I was SHOCKED when my high-maintenance sister (did I write that out loud?!) said an inexpensive sports bra from Amazon was one of her all-time favorites of all she tried. But she's not wrong.
Of more than 4,000 reviews on Amazon, more than half give it a 5-star review, saying they've bought several. And, noting that the Syrokan bra was the first to fully support their large chests for running.
Still, there were several who did not like the fit, said it was cut too small or skimpily, or ran too small. For the price, it is worth trying this bra.
Related: 8 Clever Tips for Running While Breastfeeding
Pros of the Syrokan Full Coverage Sports Bra
Designed for high impact sports with shock absorption
Molded cup with light padding for nipple coverage
Double hook and eye back closures for secure fit
Wirefree
Quick-drying and breathable fabric
An array of patterns to choose from
Inexpensive
Cons of the Syrokan Full Coverage Sports Bra
Reviewers say it can be hard to return overseas
Runs small
Not the cutest style available
Bottomline: This is a wonderful all-around sports bra for big chests at a low price point!
Buy the Syrokan Sports Bra at $27-29
Most Comfortable: Triumph Lingerie Traction Extreme Lite and Hybrid Lite Sports Bra
The Triumph Lingerie Traction Extreme Lite and Hybrid Lite Sports Bra is a favorite among big busted runners I surveyed online which sizing option up to a G1
They love the support, comfort, style including the racer back cut, and options including an option for no underwire and range of sizes. They are also a fan of the fabric which is extra flexible Lycra.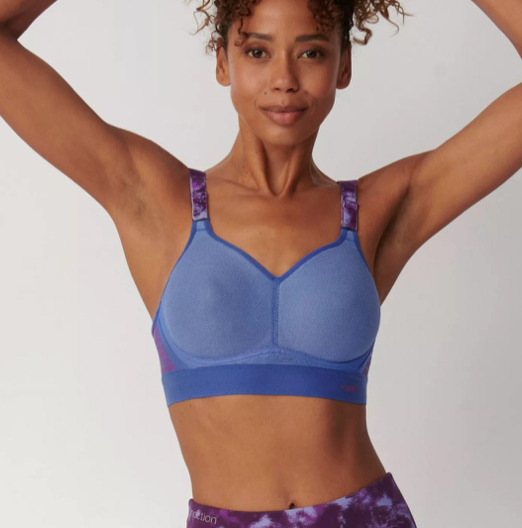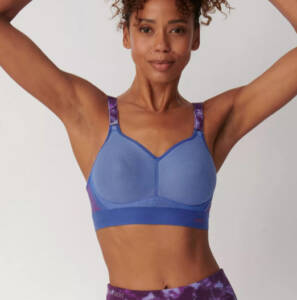 Personally, I am not a huge fan of the style but sometimes you have to pick comfort over fashion!
Triumph Lingerie Traction Sports Bra Pros:
Flexible lycra fabric that holds its shape
Slightly padded and shaped cups to wrap gently around your bust
Padded, wide, and easily adjustable straps
Lower band to prevent rubbing
Wide hook eye closure, softly padded, adjustable in three positions
Breathable material with moisture-regulating inserts
Soft, antibacterial quality
Triumph Lingerie Traction Sports Bra Cons:
Sizing is off with a mismatch between cup size and band size.
Padding and material are thin.
Some reviewers say it's not worth the price.
Bottom line: This sports bra moves with you while providing support for your chest. However, the style is acquired.
Get the Triumph Lingerie Traction Bra for $54-82.
Honorable mention: SHEFIT Ultimate Sports Bra
I was going to include the SHEFIT Ultimate Sports Bra in this rating after recommendations from several other mother runners, however it gets very poor reviews online. This bra has a front zipper closure and size range from A to I.
However, reviewers say the size chart is way off and it's overengineered. One reviewer says they feel like they are wearing a suit of armor.
If you feel like you need the extra support, check it out!
Buy the SHEFIT Ultimate Sports Bra for $75 (several styles on sale!)
Worst Overall: Athleta Phenomena Sports Bra
So, now for the dirty laundry, my sister says the Athleta Phenomena sports bra, despite it saying it's best for high-impact exercise, was the "absolutely worst" sports bra for big busts. She said it had little support and allowed for lots of bouncing.
It's been relegated to her yoga wardrobe.
"After trying it on, I now know why it was on sale from $89 to $29.99." Oh well, they can't all be winners.
If you want guidance with your running, check out my run coaching services. Also, be sure to check out my free training plans: