Lack of sleep is my kryptonite. It dawned on me (pun intended) that even since I was a kid, lack of sleep has broken me. After almost every sleepover party, I'd end up getting sick. A cost of staying up late and putting shaving cream in the hands of my friends. (Karma?) Therefore, getting a good night's sleep with a comfortable pillow is key—hence, my Lagoon Sleep and Pillow Cube pillow review!
Now, as a mother and a runner, sleep is essential for me doing either well. When I'm sleep-deprived, I'm a cranky and impatient mom. And as an athlete, when I don't get enough sleep, I end up getting injured.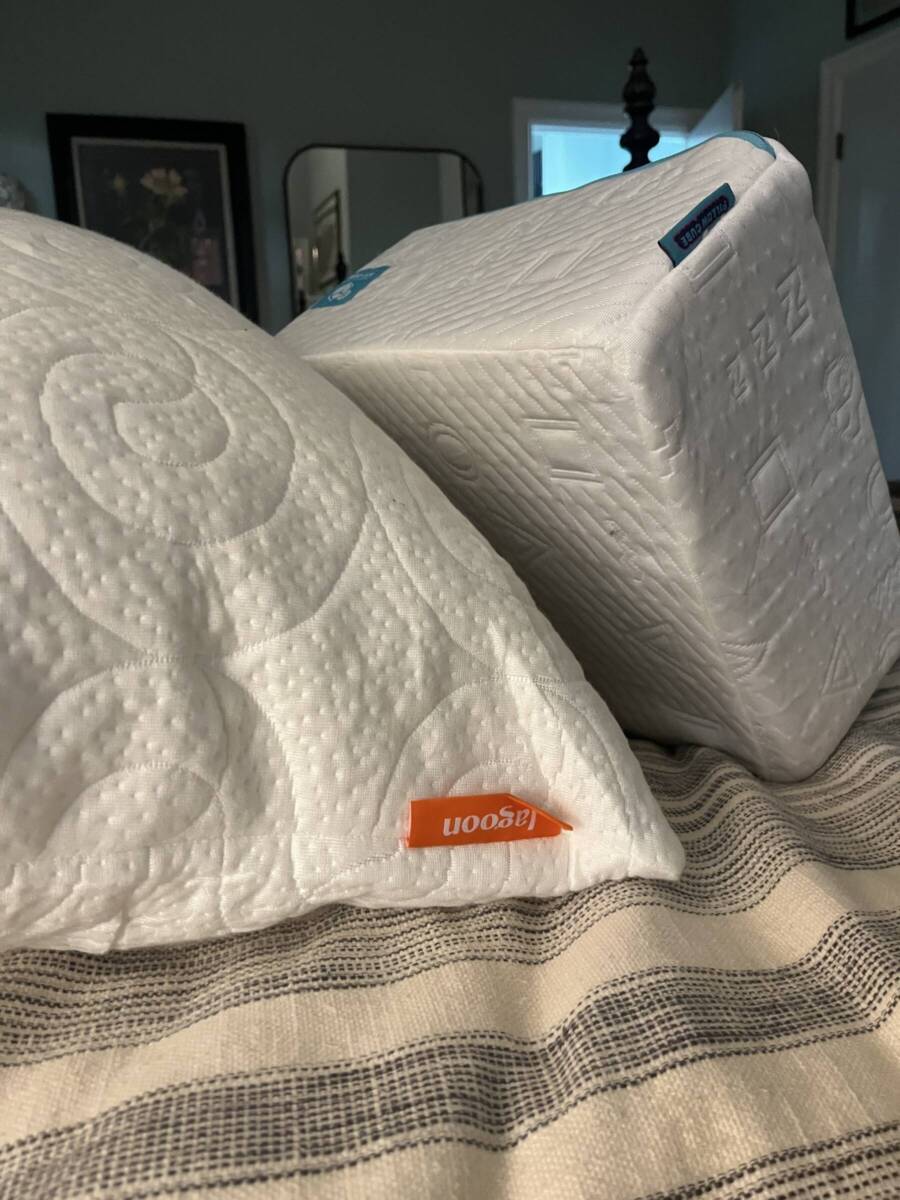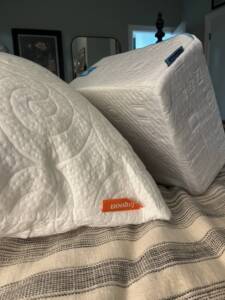 Related: Lessons Learned from My Injury
I'm not alone.
When my athletes are getting sick or fighting budding injuries, we often uncover that the culprit is lack of sleep. When we don't get enough sleep, our bodies can't operate at full capacity.
For a lot of us, little things like the sound of a clicking fan or a too-soft pillow can disrupt our quality of sleep and wear us down. This is extremely frustrating when getting the time for a full night's sleep is hard to come by as a mom.
Related: Should You Run on No Sleep?
So, that's why I'm reviewing two newer pillows on the market, the Pillow Cube and the Lagoon Sleep Pillow. Both of these companies have their customers take quizzes to find the perfect pillow match. And, if you aren't happy, return your pillow!
In this article:
I will review the Pillow Cube Cooling Ice Cube and the Lagoon Sleep Fox Pillow, including:
An overview of the Pillow Cube and Lagoon Sleep Pillows
My experience with these pillows
Pillow Cube and Lagoon Pillow specs
Pros and cons, and
The bottom line of these pillows
Before I get to my review, I want to answer a few common questions about the Pillow Cube which has been a bit of a (not so) sleeping giant in the pillow world.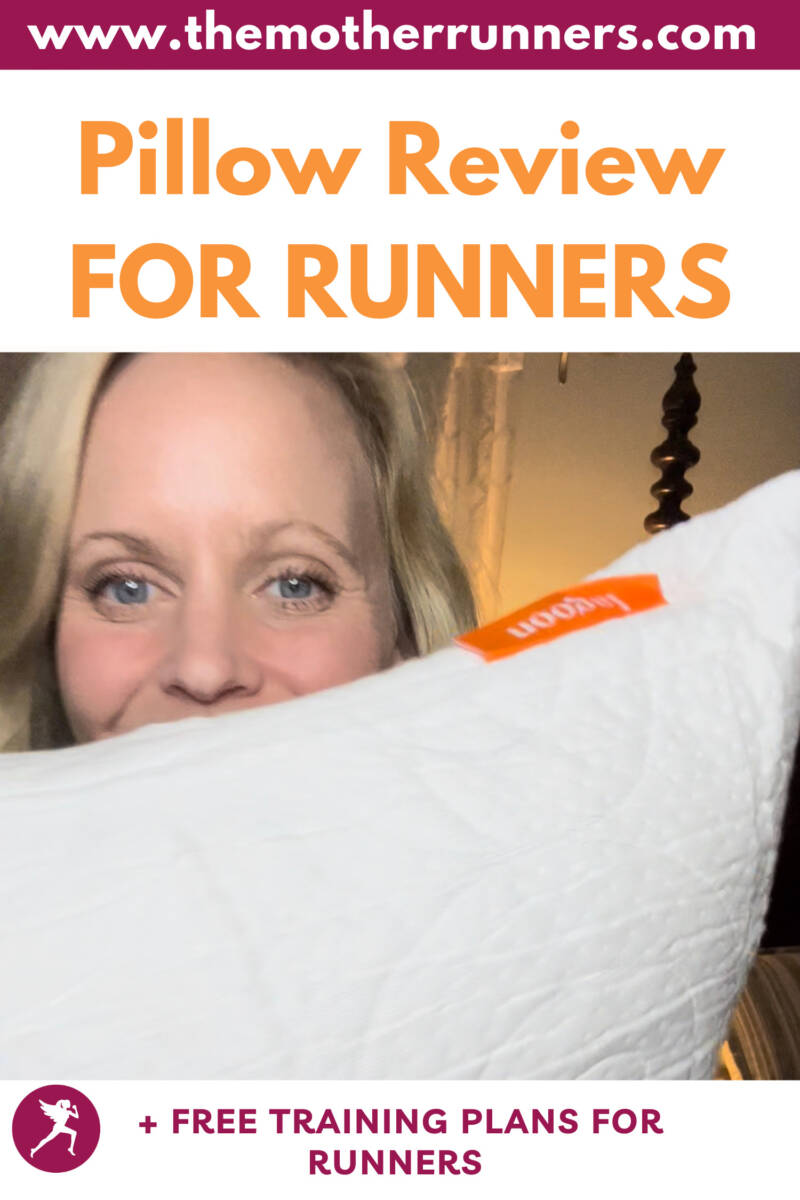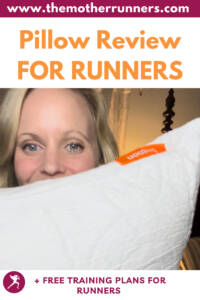 Related: The Importance of Sleep for Runners & Injury Prevention
Are cube shaped pillows better?
Cube-shaped pillows like the pillow cube provide better support for your head and neck than flat pillows or pillows that compress and lose shape. There are some other side sleeper pillows off Amazon that offer a similar shape or concept.
Related: 9 Reasons You Aren't Getting Faster
Why is Pillow Cube good?
People like the Pillow Cube because it's soft, silky, cool, and aligns your spine and supports your head. Traditional pillows collapse and can put a crick in your neck. The Pillow Cube's 90-degree angles prevent this from happening.
Is Cube pillow good for neck pain?
Yes, the Pillow Cube is good for neck pain if you get the correct height. I tried using my husband's which was a 6-inch Pillow Cube. The height was too high, and I couldn't sleep with it the whole night.
Other reviewers started with the recommended 5-inch height only to wake up with a sore neck.
Related: Best Gifts for Mother Runners
Can you sleep on your back with Pillow Cube?
Pillow Cube says that some people like sleeping on their backs with the cube-shaped pillow. I did not find this position comfortable. For me, it felt like it did not support by head and neck. Larger people may like sleeping with the Pillow Cube on their backs. (I am 5 foot 6 inches and 115 pounds).
However, the Pillow Cube is specifically designed for side sleepers, so if you sleep in other positions than on your side, I do not recommend this pillow.
Does the Pillow Cube come with a pillowcase?
Yes, the Pillow Cube comes with a cover that is made of polyester. However, it does not come with a pillowcase.
If you'd like a pillowcase, you need to purchase that separately. They offer Italian silk pillowcases starting at $89.99 and microfiber pillow cases for less than $10.
Pillow Cube Cooling Ice Cube
Our purchase of the Pillow Cube Sidekick Ice Cube is the product of some successful Instagram marketing. My husband sent me their page last year with a note: "I want this for Christmas."
So, for Christmas, he receiveth.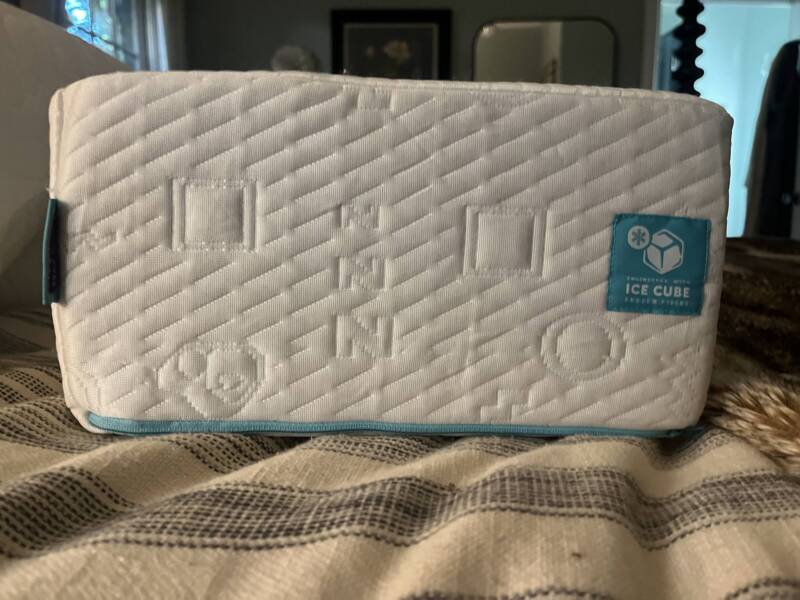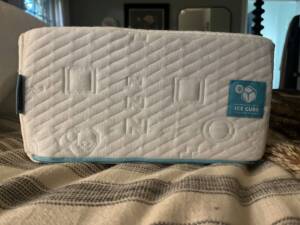 Pillow Cube Pillow Overview
If you aren't familiar with the Pillow Cube pillow, it is a pillow designed for side sleepers. Pillow Cube's ad is convincing—explaining that most pillows don't provide proper support when you're sleeping on your slide. Essentially, most pillows collapse and create a crick in your neck with the misalignment.
Pillow Cube's memory foam and shape aligns your spine and supports your head, allowing you to sleep better and wake up without aches and pains. To pick your perfect pillow, you fill out a quiz that asks about your sleep habits and how your body feels when you sleep and wake up. Then it makes suggestions for the best pillow match.
Related: Can Running Make You Happy?
Pillow Cube also claims that proper side sleeping will have the following benefits (I did find some intangible research to support the claim for fewer neck aches and snoring):
Spine alignment
Improved circulation
Better digestion
Reduced snoring, and
"more cuddling"
The Pillow Cube Ice Cube Pillow features frozen fibers that keep your head cool all night long.
My experience with the Pillow Cube Cooling Ice Cube
The Pillow Cube Ice Cube promises what it preaches. It aligns your head so your neck isn't awkwardly cranked into a squished-up pillow. And it stays cool all night long. No flipping is needed. However, its cube shape makes it annoying to switch sides unless you purchase the longer version (not a cube then, anymore).
If you choose to purchase this pillow, I recommend filling out the quiz to make sure you find the right match. I realized that my complaints about the pillow cube have more to do with the fact that I chose a pillow for my husband who is 7 inches taller and 85 pounds heavier than me!
I found the Pillow Cube pillow to be too tall and too firm (and too short). My husband doesn't think it is too tall or too firm (but too short—though they do now offer longer versions up to 24 inches).
Finally, while it's easy to hide the pillow cube under your bed, it's not an attractive pillow you want on display. Therefore, you likely won't make your bed with it—but it does make an excellent travel pillow!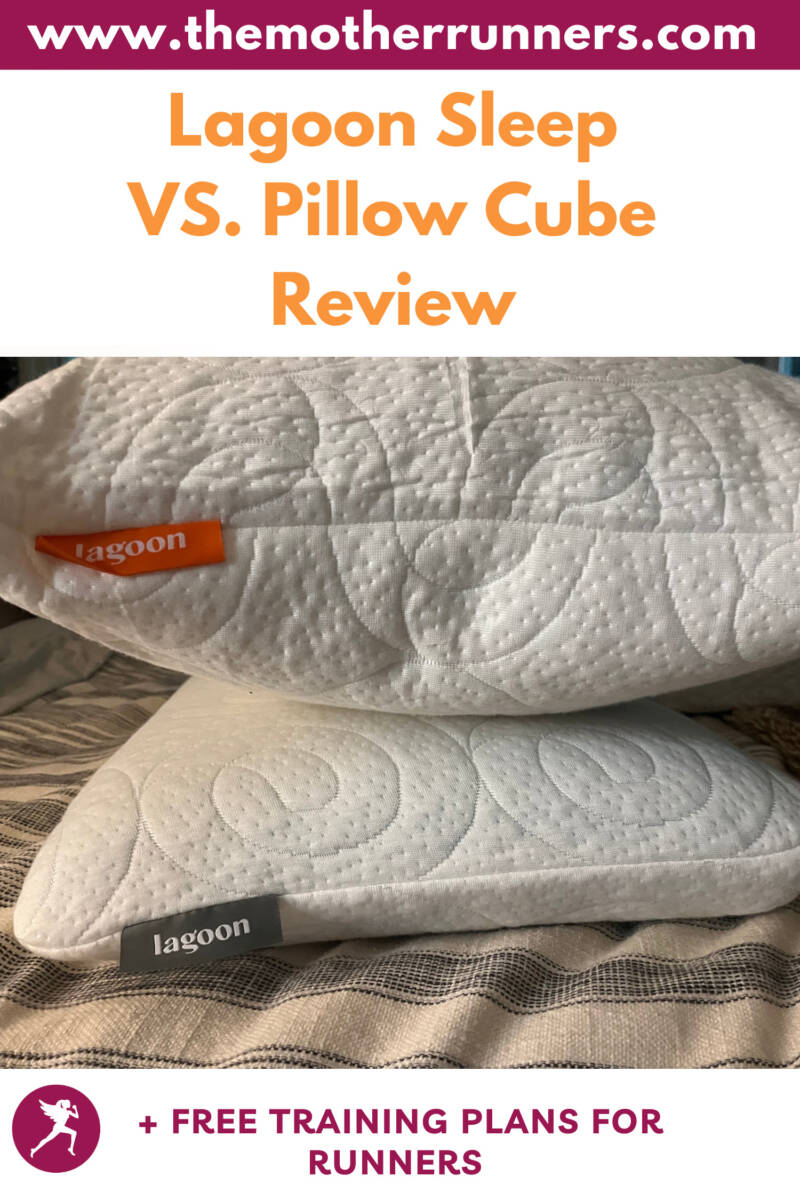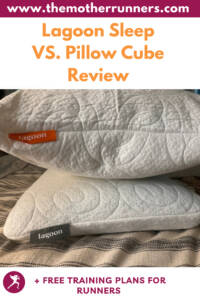 Related: Vuori Shorts Review for Women

Pillow Cube Cooling Ice Cube Specs
Breathable material
Stay-cool option
Memory foam made of breathable, viscoelastic, and polyurethane inside the pillow
The pillowcase is made of polyester and spandex
The pillow cover is made of spandex
Adjustable height from 4 to 6 inches
Length choices of 12 and 24 inches
Offer cute pillow "cubs" for kids
Have a 60-day trial and 5-year warranty
PROs of the Pillow Cube Cooling Ice Cube
Aligns your spine
Wake up with less aches and pains
Stay cool all night (10 degrees cooler)
Good travel pillow
CONS of the Pillow Cube Cooling Ice Cube
Can't easily switch positions in night unless you get the longer version
Not attractive for made beds
Too firm for my taste
Pillow Cube Bottom Line:
If you're a dedicated side sleeper who regularly gets hot in the night, then the Pillow Cube Cooling Ice Cube is for you! If you like to move around in your sleep, sometimes lying on your stomach or back, then I don't recommend the Pillow Cube.
I also don't recommend the Pillow Cube for sleepers who prefer softer, more pliable pillows. Pillow Cube Price: $69.99 up to $159.99
Lagoon Sleep Fox Pillow Review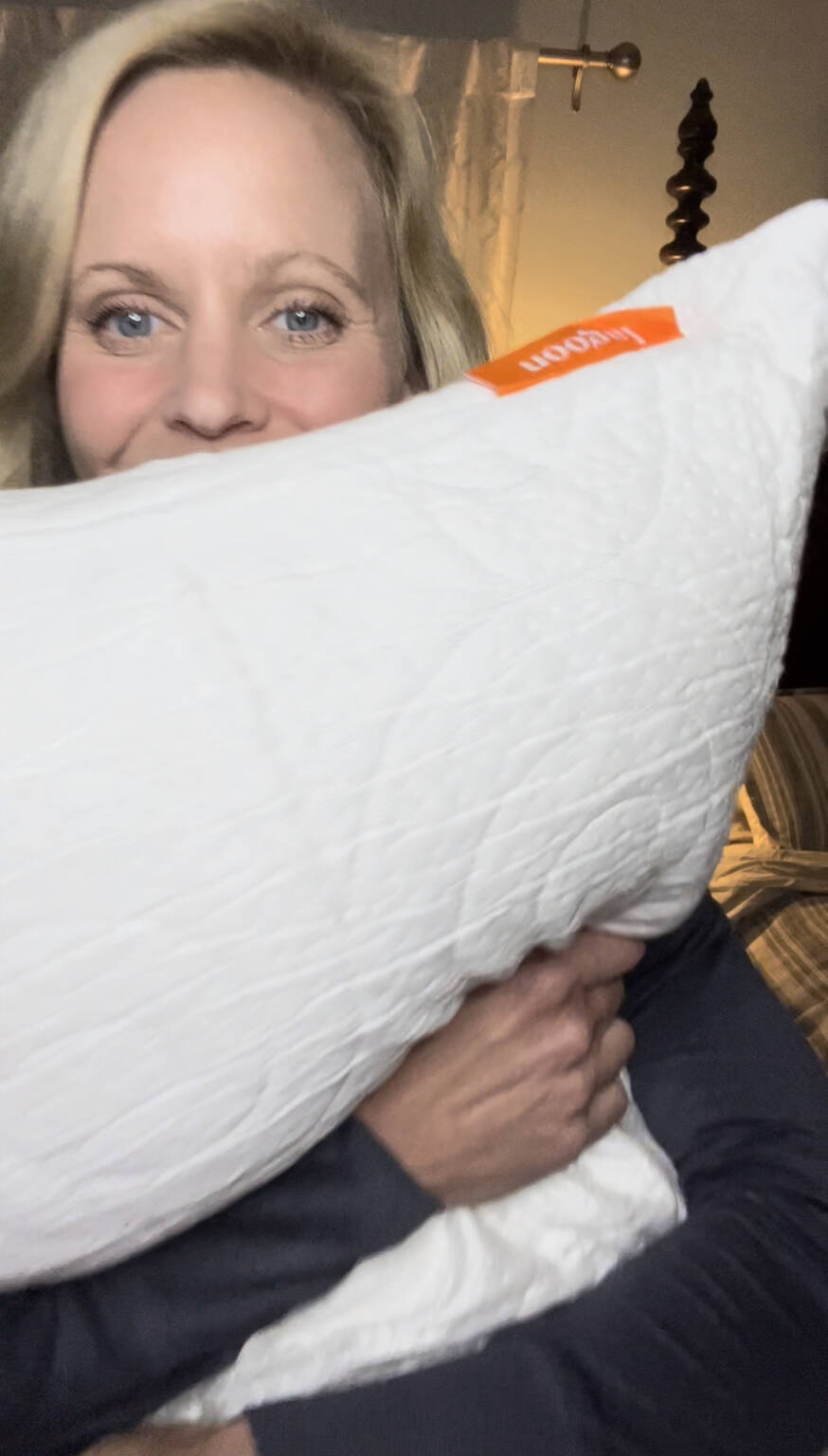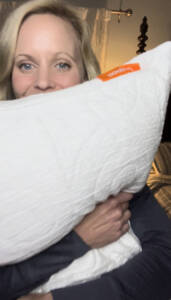 The first night I slept with the Lagoon Sleep pillow, I overslept by an hour. When my husband nudged me awake after my alarm had been going off for an hour, I sleepily said, "must have been the pillow!" I couldn't believe it!
Overview of Lagoon Sleep Fox Pillow
Lagoon Sleep is founded by Ryan Hurley, a competitive swimmer who knows the importance of sleep. Lagoon's priority then is to create perfect pillows to help people sleep better so they can reach their goals.
That's whether it's to run every morning, make breakfast for your kids, or be "on" with your clients.
Like with Pillow Cube, you fill out a quiz to match you with your best pillow—out of 8 choices named after animals. I was matched with the Fox and my husband was matched with the Hippo which was flatter, more low-profile pillow.
We ended up exchanging the Hippo for the Fox because my husband liked it better (though he liked them both).
My experience with the Lagoon Sleep Fox Pillow
As noted, I got one of the best sleeps of my life with my Lagoon Sleep pillow. When you receive your pillow, it's flat. You unpack it and stick in the dryer on low for 15 minutes. Then a fluffy rectangle of comfort emerges.
My first night with the Lagoon pillow, I woke up feeling like a new woman and have been sleeping with it ever since. I even took it to the hotel I stayed in for my first race in three years. I slept well and subsequently raced well—nabbing a PR in the half-marathon.
The pillow's loft was a bit too high for my comfort, so I adjusted it by taking out some of the fill. This is something the pillow is designed to do.
The Lagoon Sleep Pillow Fox model is super soft and breathable. It has the amazing ability to be cushiony without losing shape. It also stays cool though it isn't "cold."
Related: 12 Best Supplements for Runners
Lagoon Sleep Pillow Specs
The cover is bamboo and polyester
Liner is polyester
Inside is 80% shredded memory foam blended with 20% polyester microfibers
Comes in two sizes, Queen or King, and 7 models
Features "Stay in place" traction liner to ensure maximum consistency and breathability
Pros of the Lagoon Fox Pillow
Optimized "extreme comfort" foam and microfiber blended fill
"Stay in place" traction liner to ensure maximum consistency and breathability
Reinforced shell and liner for increased durability
Sustainable
30-day trial
Adjustable fill
Great customer service
Fast shipping
1-year warranty
Hypoallergenic
Machine-washable
Cons of the Lagoon Fox Pillow
Bottom line:
I love my Lagoon Sleep Fox pillow. To me, it is a perfect pillow! I have slept great with it almost every night it's been under my head. It's ultra-soft, plush, cushioned, and malleable (but not too malleable…) to my head. It's also my husband's favorite. I plan to buy many as gifts this year. (Save 15% off Lagoon Sleep pillow with code MOTHERRUNNERS).
If you're a dedicated side sleeper and someone who LOVES a cold pillow, then the Pillow Cube is for you. Or, if take your sleep seriously and loves soft, plush pillows, then Lagoon Sleep pillows are your match.
If you want guidance with your training, check out my run coaching services. Also, be sure to check out my free training plans: