Most runners know that the way to recover is to increase blood flow. Practically every recovery tool has this aim—including compression therapy.
And now there are several products flooding the market using compression therapy to improve recovery, including leg compression boots which come at a costly price.
So, are these fancy leg compression machines worth it? That's what I set to find out.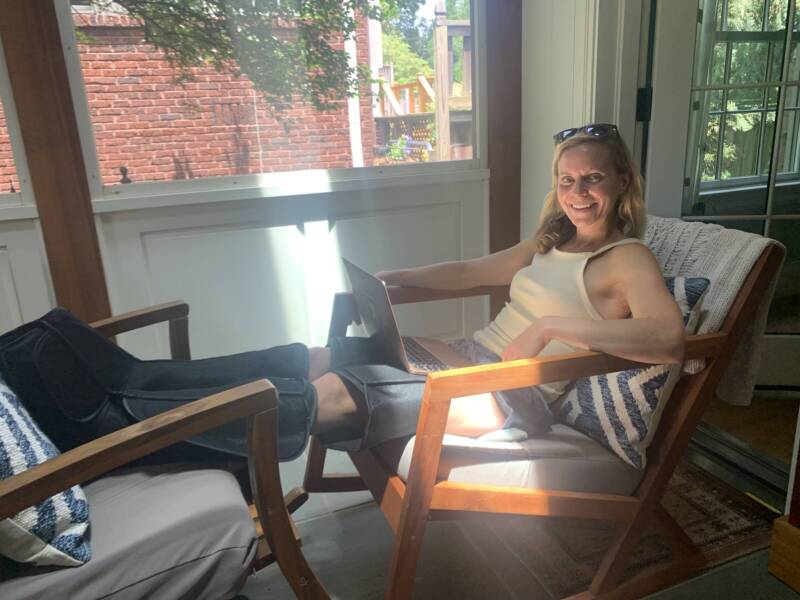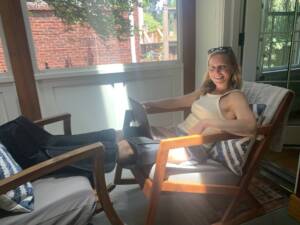 In this article, I compare the trailblazers in the market of compression therapy machines, the Hypervice Normatec boots to the newest on the market, Bob and Brad's leg compression boots.
To conduct the review of these compression boots, I used them each independently during an intense week of training.
Then, I compared them after one another in consecutive sessions for multiple days.
Before I get to the review of the Normatec boots versus Bob and Brad boots, I want to answer some general questions about compression therapy such as:
What is compression therapy?
What do compression boots feel like?
What are Normatec boots good for?
How often can you use compression boots?
Who should use compression boots and who shouldn't use them?
Do compression boots work?
Are NormaTec boots worth the money?
So, let's roll.
What is compression therapy?
The goal of compression therapy is to increase blood flow. Compression therapy is a type of physical therapy that gently squeezes your legs to improve circulation which gets oxygen-rich blood flowing to your muscles to aid in recovery.
Studies show that compression boots like Normatec boots have been shown to lessen pain by increasingclearance of blood lactate and circulation, and help heal injuries such as plantar fasciitis, ankle sprains, knee pain, and arthritis pain, sore hips, and lower back pain.
Related: Best Shoes for Plantar Fasciitis
What is compression therapy good for?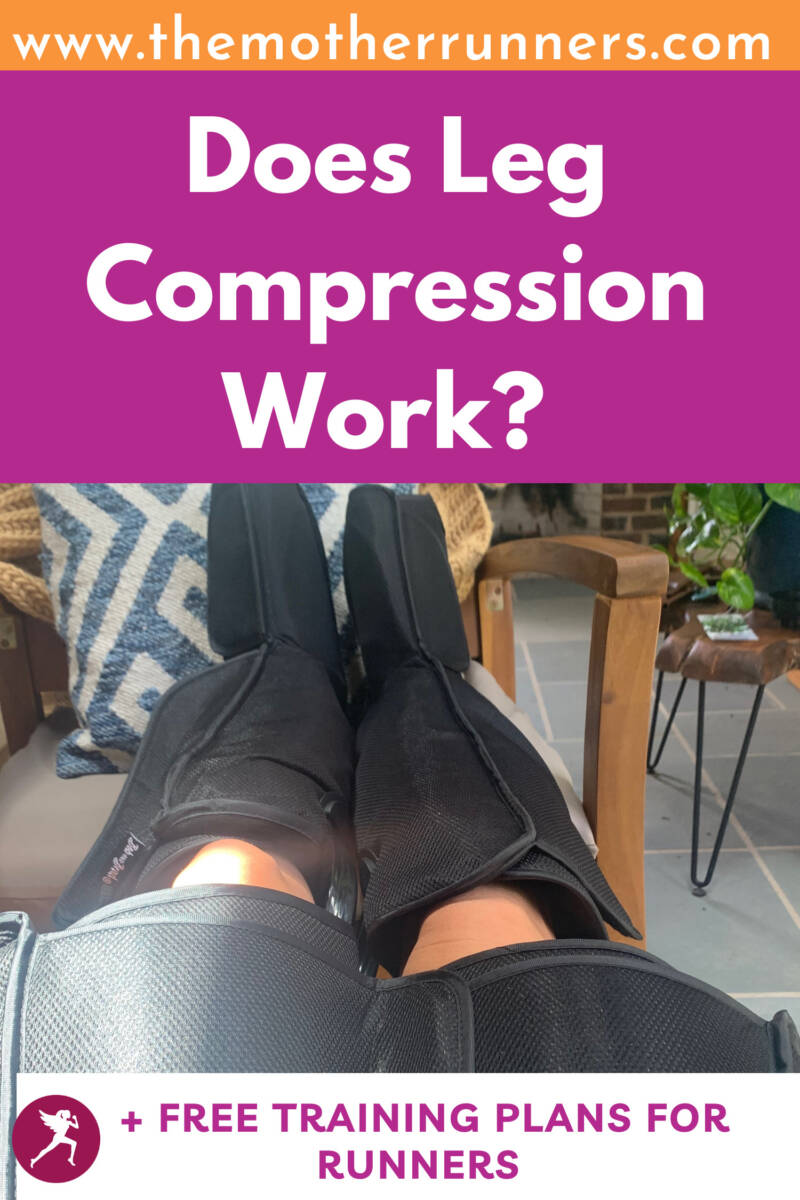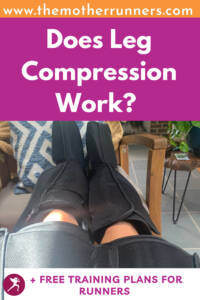 Compression therapy is good for warming up before exercise, recovery from strenuous exercise, and injuries such as plantar fasciitis, tendonitis, varicose veins, and even leg ulcers.
Related: 7 Tips to Recover Faster from a Marathon
What do compression boots feel like?
Compression boots feel similar to a blood pressure machine but on your legs. The compression device inflates around your legs. It gently squeezes tighter and tighter, giving your leg a "hug."
The Bob and Brad leg compression machine also has a gentle heat function and "pulses" giving the sensation of a massage (and also relief if the compression intensity is high).
The Normatec boots offer a static compression that feels like a very long hug.
When you are done using the compression boots, your legs feel "fresher."
Related: Benefits of Foam Rolling
How many times a day can you use Normatec boots or compression boots?
You can use compression boots every day as often as two times a day for up to 30 minutes. You get the most benefit using them for at least 10 minutes.
In fact, the Bob and Brad boots have an automatic shut-off at ten minutes.
How do you use recovery boots?
Find a spot near an outlet, and elevate your legs or lie down. Then sit back and relax. I like to do work while using my recovery boots. I aim for at least ten minutes a session.
Who should use compression boots?
Athletes like runners should definitely use compression boots! After my first intense week of training after a two-year hiatus from injury, my legs felt very fatigued.
After one ten-minute session, my legs felt markedly better.
Anyone who stands for extended periods of time (such as nurses or teachers) would also benefit from Normatec boots or compression boots.
Related: How Strides Make You Faster
Who shouldn't use Normatec boots?
Normatec doesn't recommend anyone with acute pulmonary edema, acute thrombophlebitis, or acute congestive heart failure to use their compression boots.
Are Normatec boots worth the money?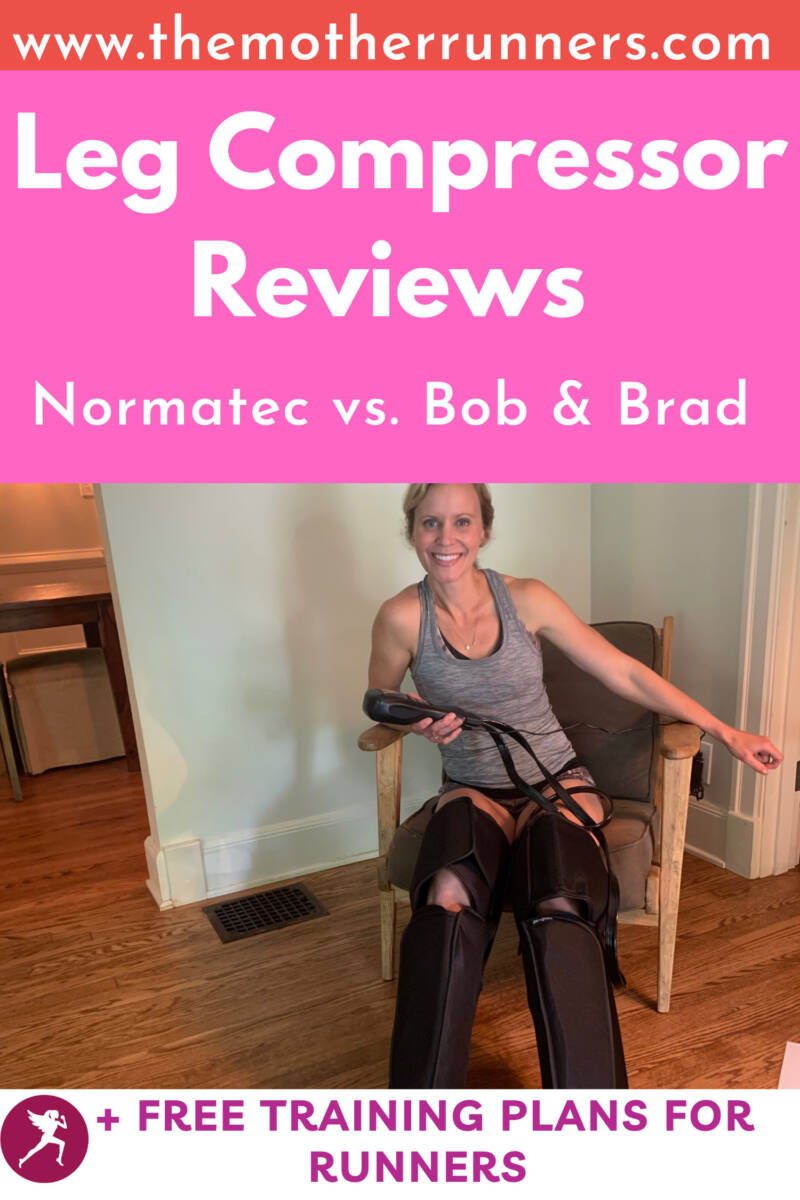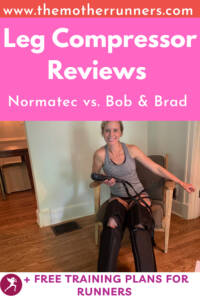 Normatec boots are very effective for the overall recovery of fatigued, sore, legs. However, if you have sticker shock, the Bob and Brad compression device is much cheaper and arguably almost as effective.
The drawback to the Bob and Brad boots is that you need more time to use them. It takes more time to get set up and then you use the compression in the three separate areas of your body. Plus, they do not cover your knees or high thighs.
The Normatec boots have fewer wires to contend with so less time to set up. Plus, you can operate on your full leg all at once, not just in sections. So instead of having to spend three times ten minutes, you can do one set of ten minutes and get the full recovery! Also, no need to sit near an outlet.
I have felt benefits from both boots. Plus, reviewers online say it has helped their legs feel rejuvenated and ready for the next workout. Indeed, the sensation is almost immediate after one session.
How do compression boots compare to other recovery tools?
I have pretty much every recovery tool under the sun from foam rollers to massage guns to cuppers.
I have found that compression boots do the best when it comes to overcoming overall leg fatigue. I love the massage guns for targeting sore spots and trouble spots. And I love foam rollers for general muscle soreness.
Related: How to Use a Massage Gun?
I do not use my cupper since it is easy to overcup and does more harm than good, I have found.
Therefore, I prefer to use my compression boots when mileage climbs and after long runs and speed workouts. I use the massage guns for warm-ups and after each run on previously injured areas.
Related: Bob and Brad Massage Gun Reviews
Normatec Boots Vs. Bob and Brad Boots Review
Normatec 2.0 Legs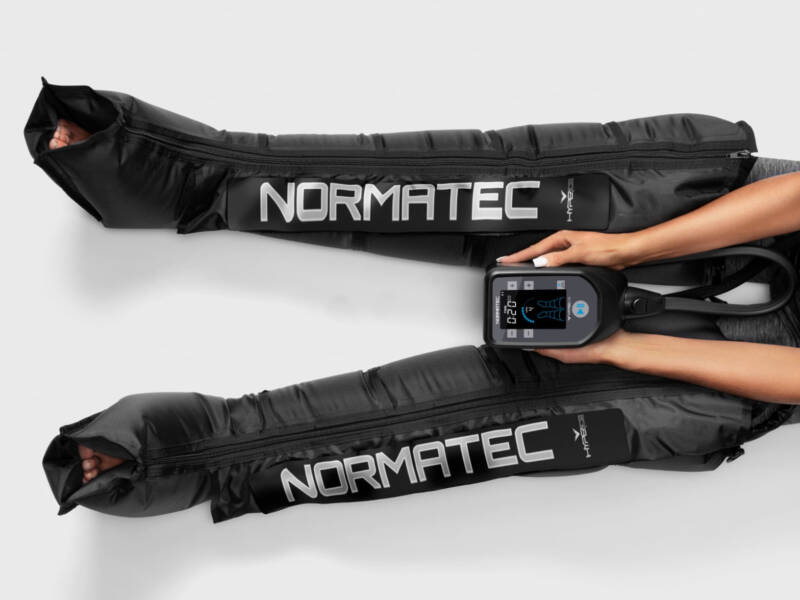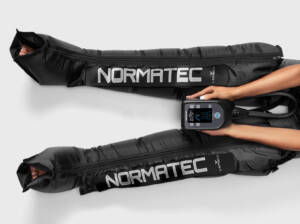 The Normatec boots combine dynamic air compression with a pulse massage pattern to enhance blood flow and enhance recovery.
My experience:
I do not own Normatec boots, but I have an elite runner friend who does. So, I borrowed hers for this review.
The Normatec leg boots are a high-quality product. In fact, you feel like a pro slipping them on. When turned on either by its controller or an app on your phone, you feel it squeezing your legs like a giant hug. It has three functions: pulse, distal release, and a gradient system.
If the intensity is too strong or too light, it's easy to adjust to ensure it's comfortable yet effective via the controller or app.
What I love best about these Normatec compression boots is that they slip over your entire leg for full coverage and recovery. Thus, there are less wires to get tangled or unplugged as you get situated. (There are if you use the attachments for your other body parts). I also love that after charged, you can use them anywhere!
PROs
Full leg experience so quicker to use also hits the knees with the Bob and Brad do not
7 intensity levels (compared to 4 with Bob and Brad)
3 modes compared to 1 for Bob and Brad
Less wires to deal with for your legs
Zone boost adds extra pressure to an area in need
App-operated
No need to be near an outlet when charged!
Has leg, arms, and hip attachments
TSA-approved for carry-on
CONs
Expensive!
Cannot turn off zones one at a time
Normatec 2.0 Legs Key Specs:
Weight: 3.4 pounds
2-hour battery life
Blue-tooth connection
7 intensity levels, 3 modes
Zone-boost technology to provide extra time and pressure on one area
Price: $699 down from $899
Bob and Brad Leg Compressor with Heat
This leg compression massage therapy recovery tool uses the latest bionics technology to simulate hands kneading massage and compressing muscle contraction. Use the full leg massager to help you recover faster after workouts or relax after being on your feet all day.
My experience: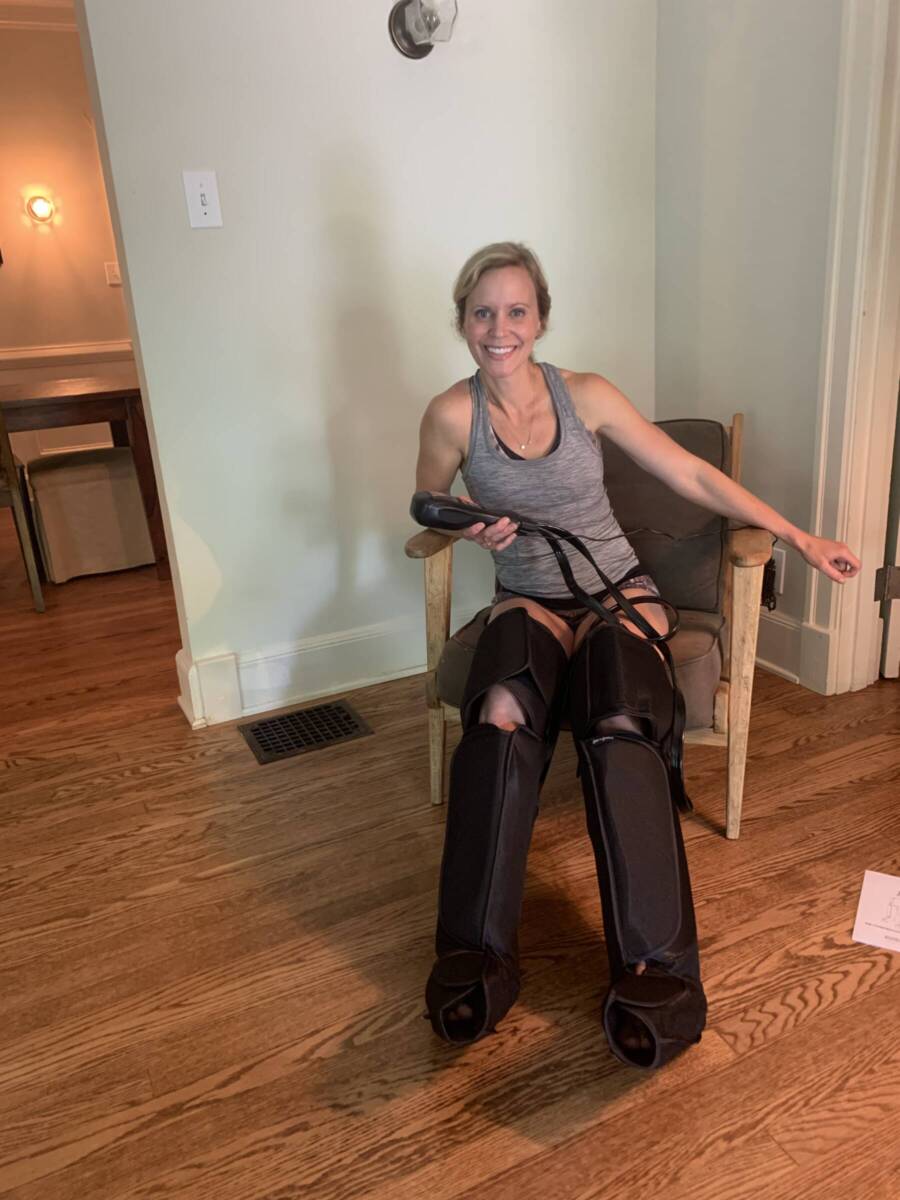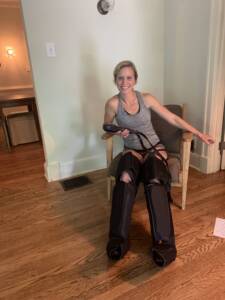 I used this leg compressor after my first week of training with changes of zones and higher mileage. My legs were definitely feeling fatigued, and this helped them recover!
The compression is very powerful. In fact, my kids noted my toes were turning purple (and I was feeling uncomfortable at the time with the strength), so I lowered the intensity a level. The pressure pulses so that it simulates a massage.
At a lower intensity, it was a relaxing experience, especially on my calves and feet. I am finding that I am looking forward to using it on a regular basis because it is effective and feels good!
The cords do get tangled and unplugged from the thighs easily. And it's kind of difficult to get situated. I wish the power cord was longer so I had more options of where to sit with my legs elevated or lay down. In a dream world, there would be no cords! AND, you would be able to compress and massage all three areas at once.
Also, the heat function is a nice touch though it is very gentle—similar to a car's heated seat.
PROs
Adjustable to fit different leg sizes
Infrared heat option (Normatec does not have this)
Different modes to target 3 body parts with different compression and heat intensities
CONs
Have to be near an outlet
Wish I could work on 3 main body parts at once instead of having to cycle through
Bob and Brad Leg Compressor Key Specs:
4 modes for compression
3 compression/massage area options
2 heat intensities
Lightweight
Quiet
Price: $109.99 marked down from $119
Bottomline on Normatec Recovery Boots Vs. Bob and Brad Boots
Both of these products, the Bob and Brad compression boots and the Normatec compression boots, will level up your recovery. Both recovery tools are top-notch.
The Normatec boots are easier and quicker to use since they come in a full-leg boot with no wires connecting the leg compression parts as you sit. Also no need to sit near an outlet since it is battery-operated. This convenience comes at a cost though—about $600 more!
The Bob and Brad boots need an optimum spot to set up. You need a place where you can put your feet up and be close to an outlet. You may even need some help attaching the wires to the compressors on your thighs. (I could do it myself but it took a minute). If you have a good spot to do your recovery, then the Bob and Brad massage boots are a great choice!
My legs felt slightly more recovered with the Normatec boots because they offered full coverage, but not by much. If you have knee or thigh (quad and hamstring) issues, I recommend the Normatec because they cover this whole area.
However, I don't think you can go wrong with either compression boot. And I think you'll notice a big difference in how your legs feel during your run the next day after using it!
If you want guidance with your marathon and other running goals, check out my run coaching services. Also, be sure to check out my free training plans: