When that alarm goes off in the morning and I am warm and snuggled up in my bed—with my golden retriever nestled against my legs and my 4-year-old son in the crook of my arm—it is SO HARD to get up….especially in the winter. I know I'm not alone. That's why I wanted I wanted to arm us mother runners with smart winter running tips to help us stay motivated running in the cold and dark.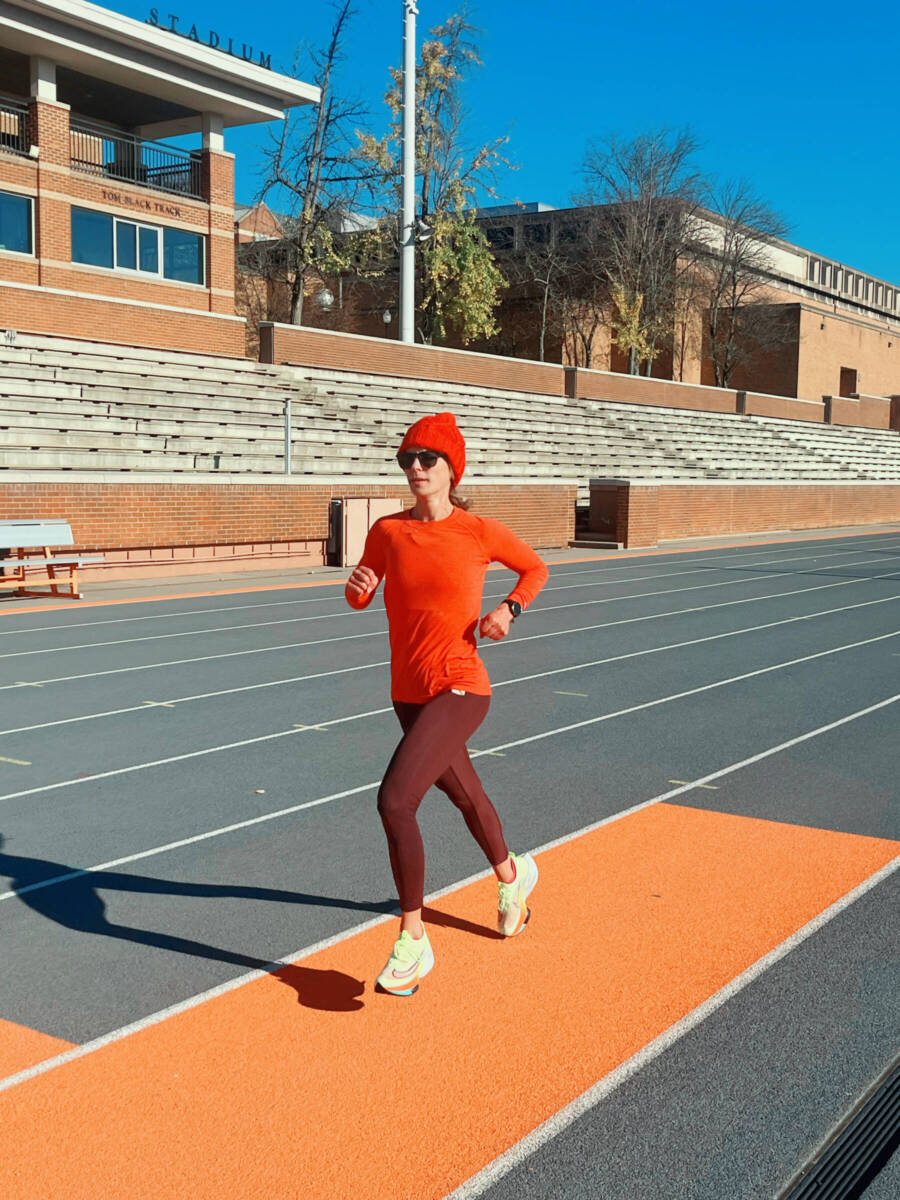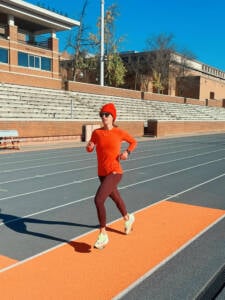 Running is a year-round sport. It is a sport that takes consistency. It is a sport in which we are like the mail—we never stop no matter if it's freezing, snowing, rainy, whatever. That's our secret to success.
So, I got with a bunch of experts to share the best tips for running in the winter.
Related: Do You Need Electrolytes Running in the Cold?
In this article, I will cover:
what temperature is too cold to run?
is running in the cold bad for your lungs?
plus ten tips for running in the cold and dark.
Let's roll!
What temperature is too cold to run?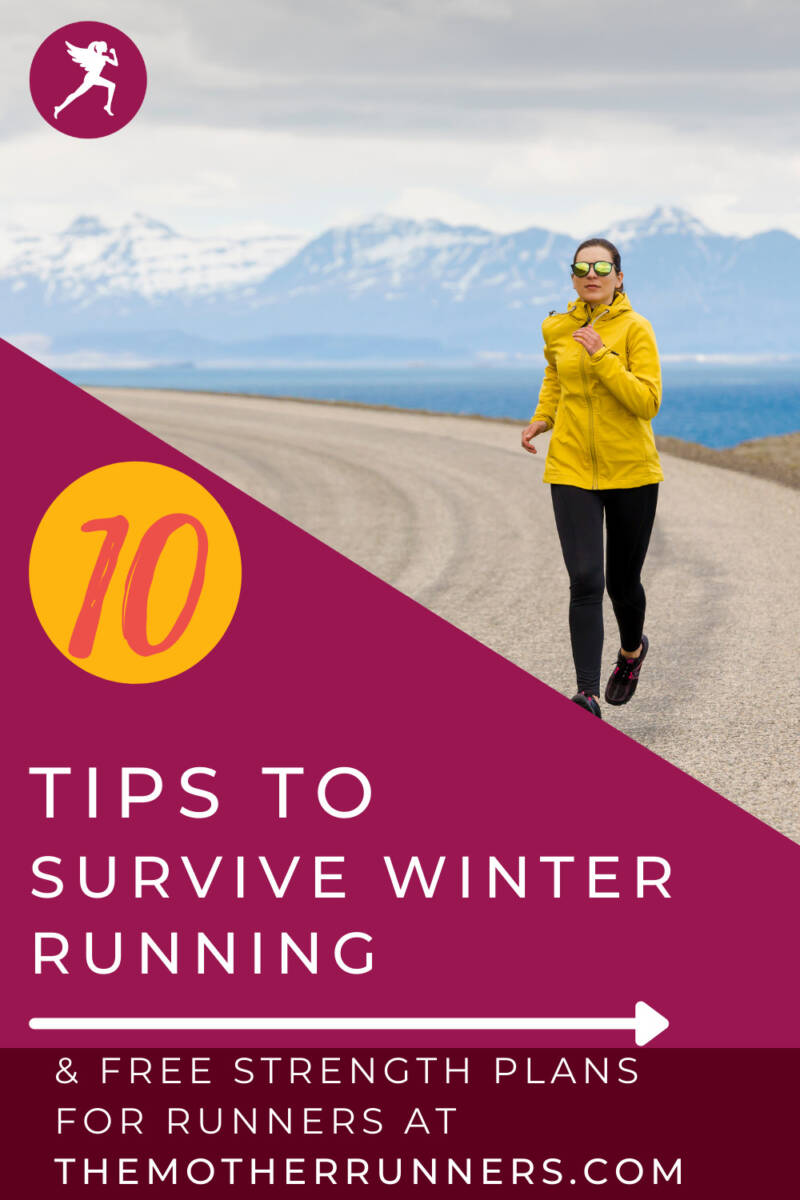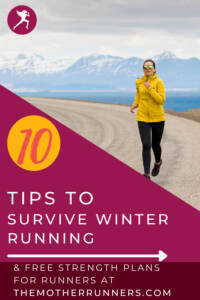 It is too cold to run based on the clothing and gear you have. You can layer and find clothing that will protect your skin up to -20 degrees Fahrenheit. (Although running in sub-zero temperatures is not recommended).
If you don't have these technical clothes, then likely the teens are as low as you should go. Also keep in the mind the wind chill.
Ensuring you are warmed up before heading our and wearing something to protect your fingers, toes, and head are crucial. If the wind is making it even colder, go by that temperature in deciding if you should hit the roads or the treadmill.
Related: How Should I Dress Running in the Cold?
Is running in the cold bad for the lungs?
Research shows running in the cold can be bad for the lungs because it could dry out the lining and cause damage. This is not common but does explain why breathing can hurt when running.
To protect your lungs and ward off pain, wear a mask, muffler, or scarf around your mouth to humidify the air before it goes into your lungs.
Okay, now let's get to it. Here are 10 tips to help you survive running in the cold and dark so you stay in shape for spring running.
10 Winter Running Tips for Running in the Cold and Dark
Pick a spring goal.
To get yourself out of that warm, cozy bed to run in the cold, you need a motivator. And a spring race (or a winter one) is one, says Chicago-based running coach Amie Dworecki.
"That way you aren't getting up and endlessly running in the cold and dark without feeling you have a 'Why' or a purpose," explains Dworecki. "It could even be just a fitness goal to get into better shape, or to run a certain number of times per week (and check the goal off on a calendar)."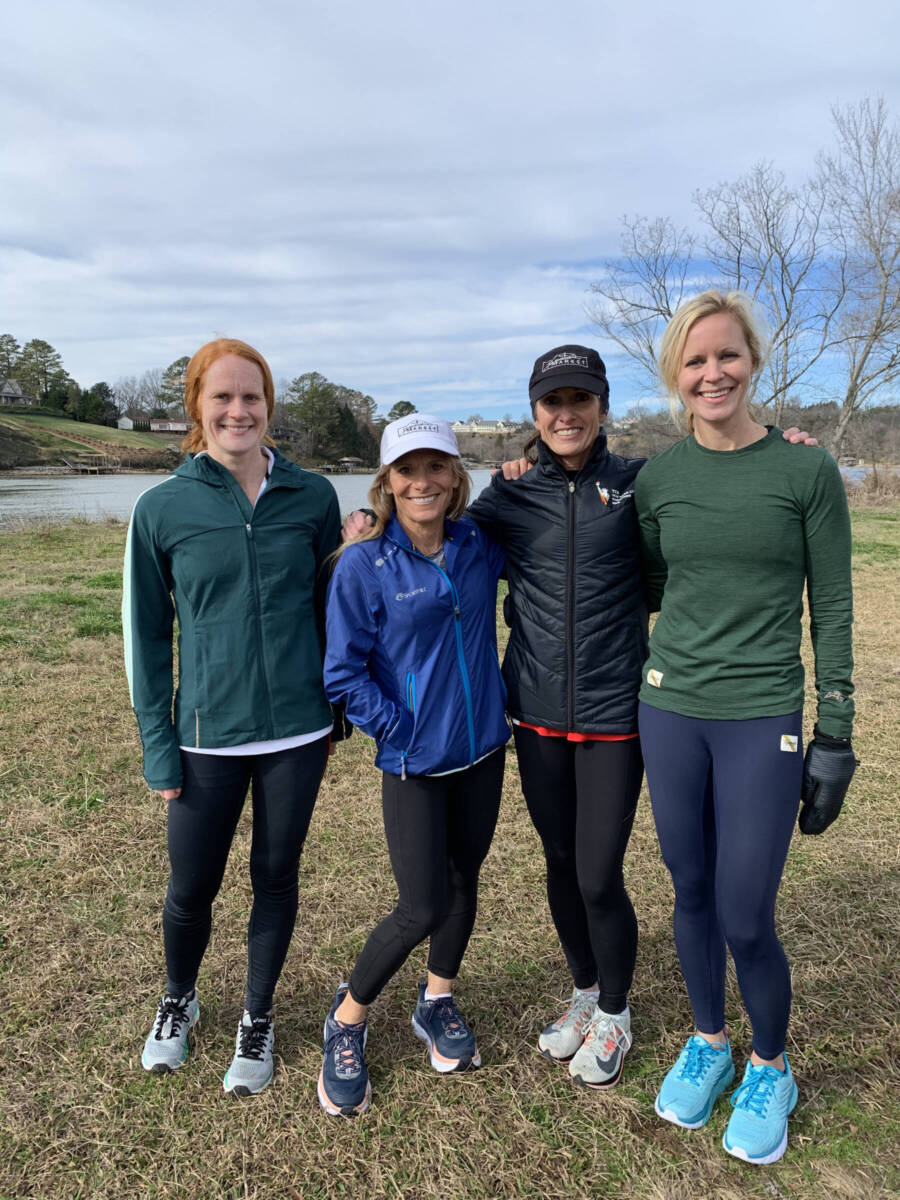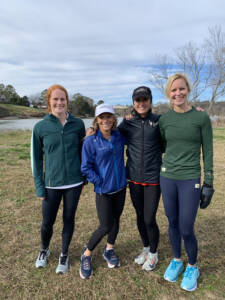 Setting a goal that connects you to your "why" will give you that extra push to keep up the winter running.
Meet running friends.
Sometimes that goal isn't enough to spur motivation. That's where a carrot or accountability in the form of a running group or running friend comes in. It also makes it safer to run in the dark.
"Even if you usually prefer to run solo, running with friends can give you the extra motivation and accountability that you might have in spades in warmer months but lack in colder months," running coach Jody Braverman.
Layer and avoid cotton.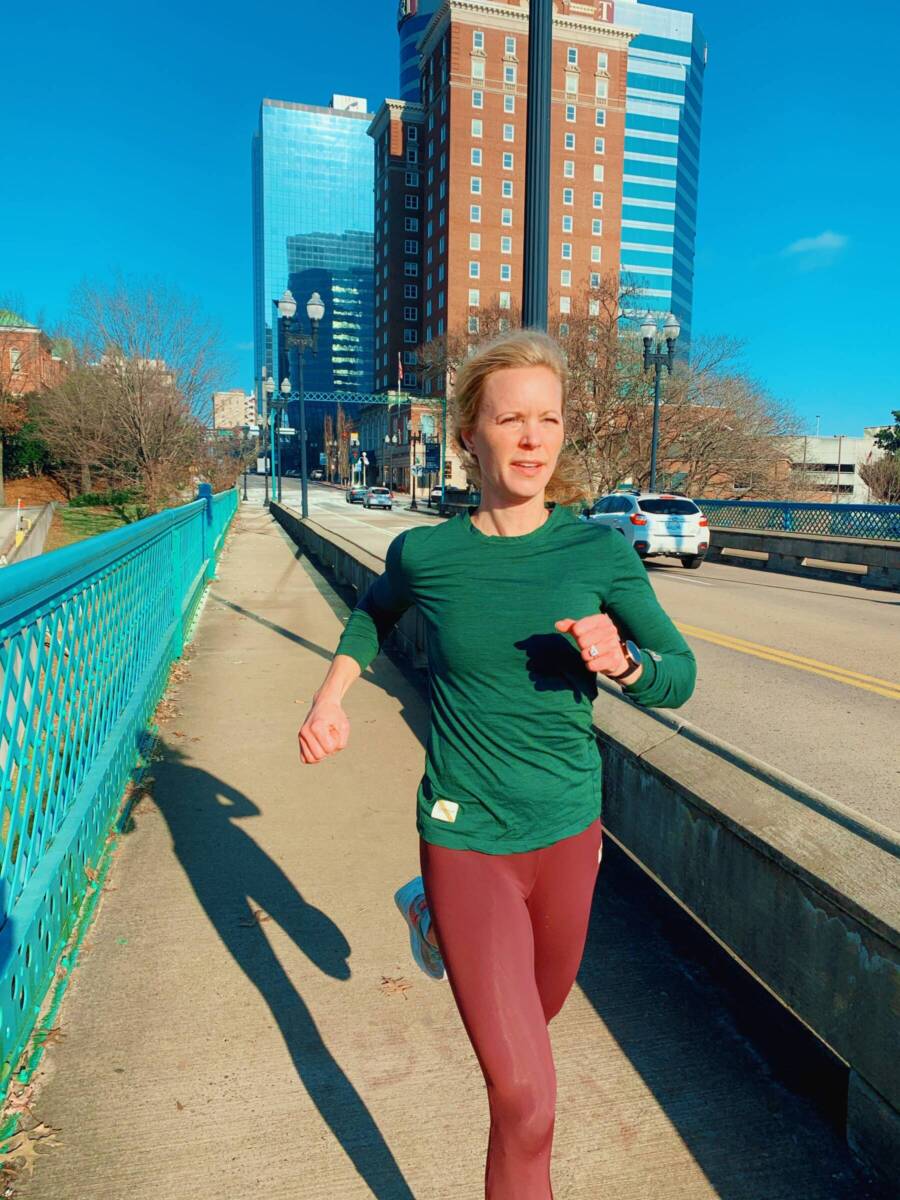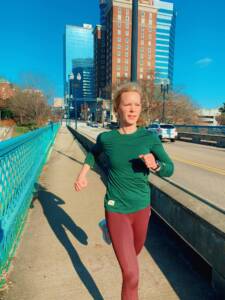 To make running in the winter more enjoyable, you need to dress the part. The key to dressing for running in the cold is LAYERS.
Here's what to wear for running in the winter:
Dress like it is 15-20 degrees Fahrenheit warmer than it is. (Or shed that extra layer after you warm up).
Wear a base layer and then layer over it.
Don't wear cotton as it absorbs moisture and holds it against your body. Invest in sweat-wicking, synthetic materials such as wool or polyester.
Cover hands, feet, and mouth with a muffler or scarf to protect lungs from cold air.
Wear something illuminating so cars can see you.
Run with your cell phone and an ID.
Warm-up indoors.
If you can, warm up indoors before you start running in the cold air. Do drills and mobility with layers on. Then, as soon as you head out the door, begin running. Do not allow your body to cool-down.
"Warming up indoors can also make those cold, dark runs less of a drag," shares run coach Meredith O'Brien.
I also like to wear an extra layer and shed it when I am warm and get it on the way home.
Run slower.
If you are running in frigid temperatures, with the risk of ice or running in the snow, then slow it down. It is not wise to attempt workouts where you may fall or get frostbite.
"While trudging through snow and slowly over ice might be OK for a slower endurance workout, it would be dangerous to do a faster workout in the same conditions," shares Dworecki.
Winter is a wonderful time to build your base with that easy running. If you are training for a winter or spring race, move speed workout days to better weather days or do them on the treadmill or in a parking garage.
Stay safe in the dark.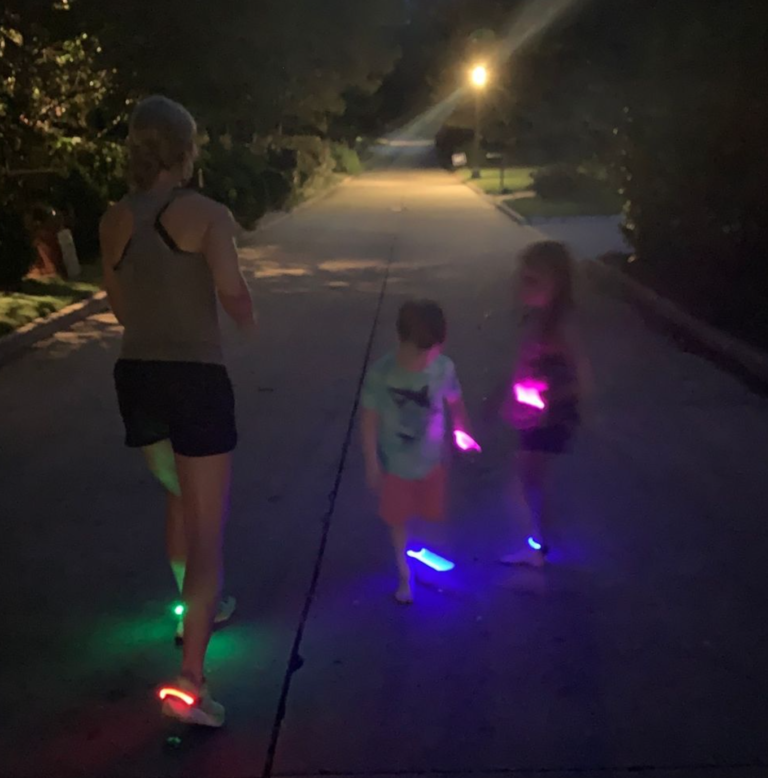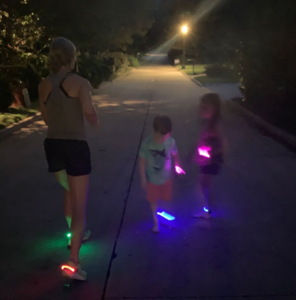 Running in the dark brings with it lots of risks. Keep yourself safe running in the dark by:
Carrying a cell phone close to your body (bearing in mind that batteries tend to freeze in cold temperatures—so stay close to home if running in temperatures below the teens).
Tell family when and where you may be running, and what time you expect to be back.
Wear illuminated or reflective running gear so cars can see you.
Slow down if there is a risk of black ice to avoid falls.
Run with a running group or friends if you can.
Run in or near daylight.
If it is possible to run during some daylight during the week, do it. I like to mix up my runs when I can to get some more sleep, keep variety, and avoid always running in the cold and dark. (You can take turns with your partner if they run or workout, too).
Related: Have a Healthy Marriage while Training for a Marathon
"With many people working from home now, running at lunch may be easier than ever," explains Braverman. "So, take advantage of that."
If you can't run at lunch, try to run in the morning, ending when the sun comes up.
"If you get to see the sunrise, that's a pretty good motivator," adds O'Brien.
Most running coaches agree that trying to run after work when it's dark and you're tired is the least optimal (or safe) option.
Respect the conditions!
Don't think you're immune to slipping on ice. YES! It can happen to you.
"Black ice is a thing! Slipping on black ice sucks while walking, doesn't get better when you do it while running. Trust me, I've done it," says physical therapist, Jason Kart. "Don't spend holidays rehabbing an injury in my clinic."
Kart advises looking for treated concrete or asphalt instead of trails to run on during times of snow or ice. Run Repeat's Paul Ronto adds to use common sense.
"As for abandoning ship, common-sense rules here, if it's -40 and the power lines are exploding from ice load, and the roads are covered in glare ice then it's probably best not to run outside."
Related: Get more Brilliant Cold Weather Running Tips Here
Invest in a treadmill.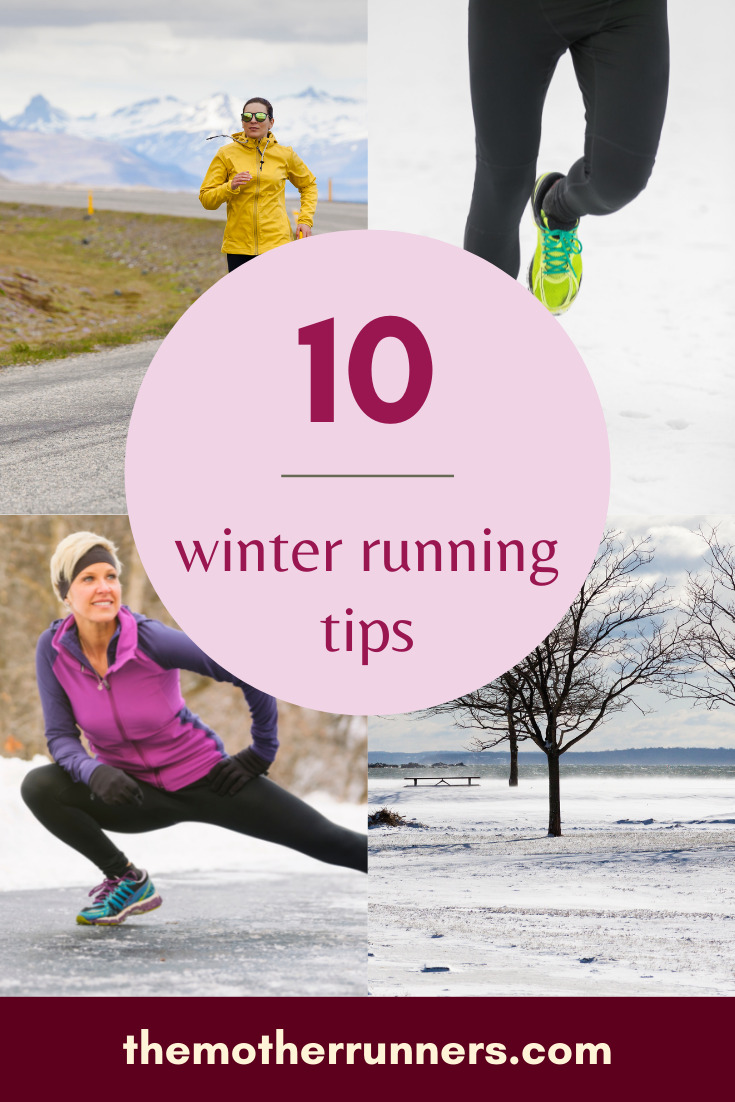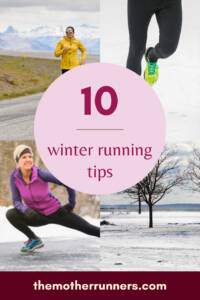 Running on a treadmill is a wonderful contingency plan. Plan to have access to a treadmill either at a gym or friends', or purchase an inexpensive treadmill off Amazon.
If you're running on the treadmill just in times of inclement weather (or lack of childcare), no need to get a fancy one.
Related: 11 Strategies to Bust Barriers to Exercise
"I spent $500 for a foldable treadmill that goes up to 7mph. No incline, but I live in Illinois so the biggest hill I have are bridge abutments," shares Kart, who runs on a treadmill whenever the temps dip into the teens.
Adjust your mindset.
Winter running should be full of easy miles—so give yourself grace if it feels harder to speed up.
"Winter running is harder because your body is working harder to regulate body temperature," explains Carina Heilner, a 2:47 marathoner and running coach. "Your body will also acclimate to colder temperatures; it just takes some time."
For most, running in the winter is a time to maintain fitness. It is not a time to get PRs. So, build your base. Run easy. Do some cross-training and treadmill work.
"Winter running is a great opportunity to expand your fitness horizons and come back strong in the early spring," says Kart.
Use this time to give your body and brain a break to come back better than ever!
If you want help staying in shape in the winter, or chasing your spring goals, check out my run coaching services!