Do carbon plated shoes make you run faster? The answer is a resounding yes! This is why everyone from recreational runners to elites are jumping on the super shoe bandwagon.
When the first carbon fiber shoe was released back in 2017 by Nike, (the"Nike Vaporfly 4%" which claimed to improve times by 4%), only elite runners could access them.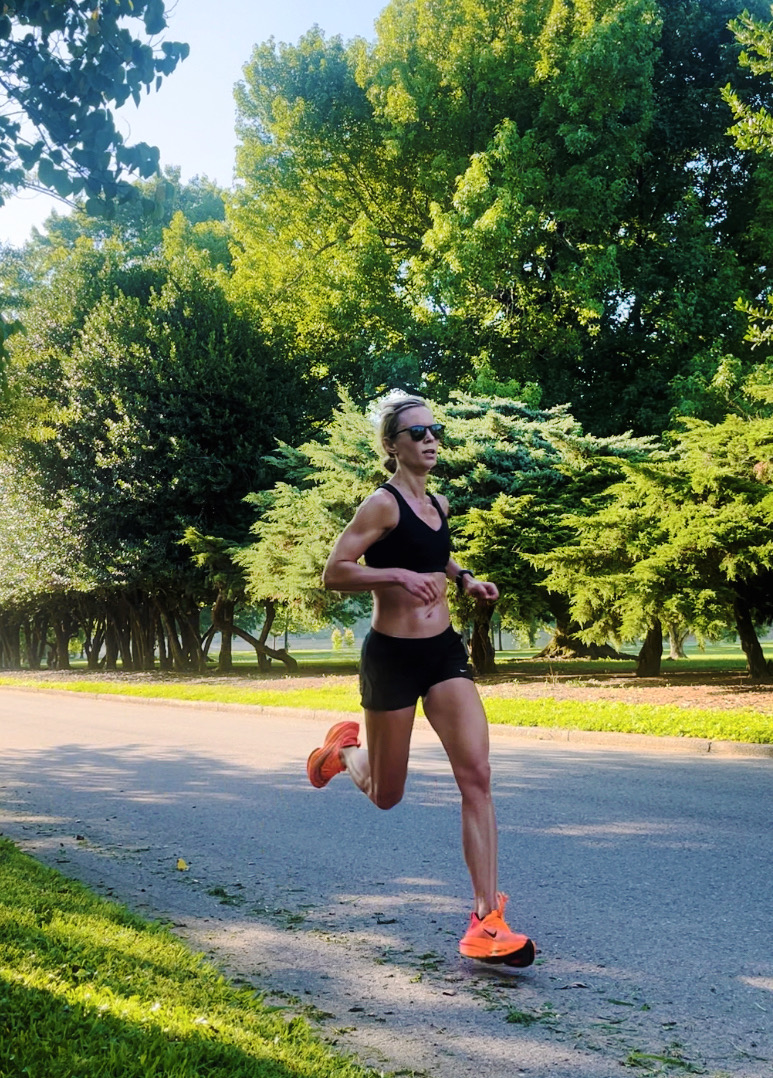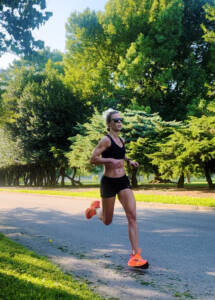 Once times started improving, athletes of all caliber started to take notice and open their wallets.
Related: Super Shoes: Nike Alphafly Next% vs. adidas Adizero Adios Pro Review
Since Nike's release, all world records from the 5km to marathon have been broken by both men and women. Even at a recreational or sub-elite level, the running community has seen stark improvements in times.
In recent years, the shoe industry has further improved shoe technology, with every major shoe brand offering its version of a carbon plated shoe.
I got with my friend Amanda Martin, a PT student, elite runner, and running shoe guru (from years of working in a running store) to do a deep dive into how these shoes improve performance.
In this article, I will cover:
What are carbon fiber shoes?
What are the benefits of these super shoes?
How do carbon fiber shoes work?
How are often can you run in carbon fiber shoes?
And the models of carbon plated shoes on the market
Let's go!
Related: Bondi 7 vs. Bondi 8 Review
What are carbon fiber running shoes?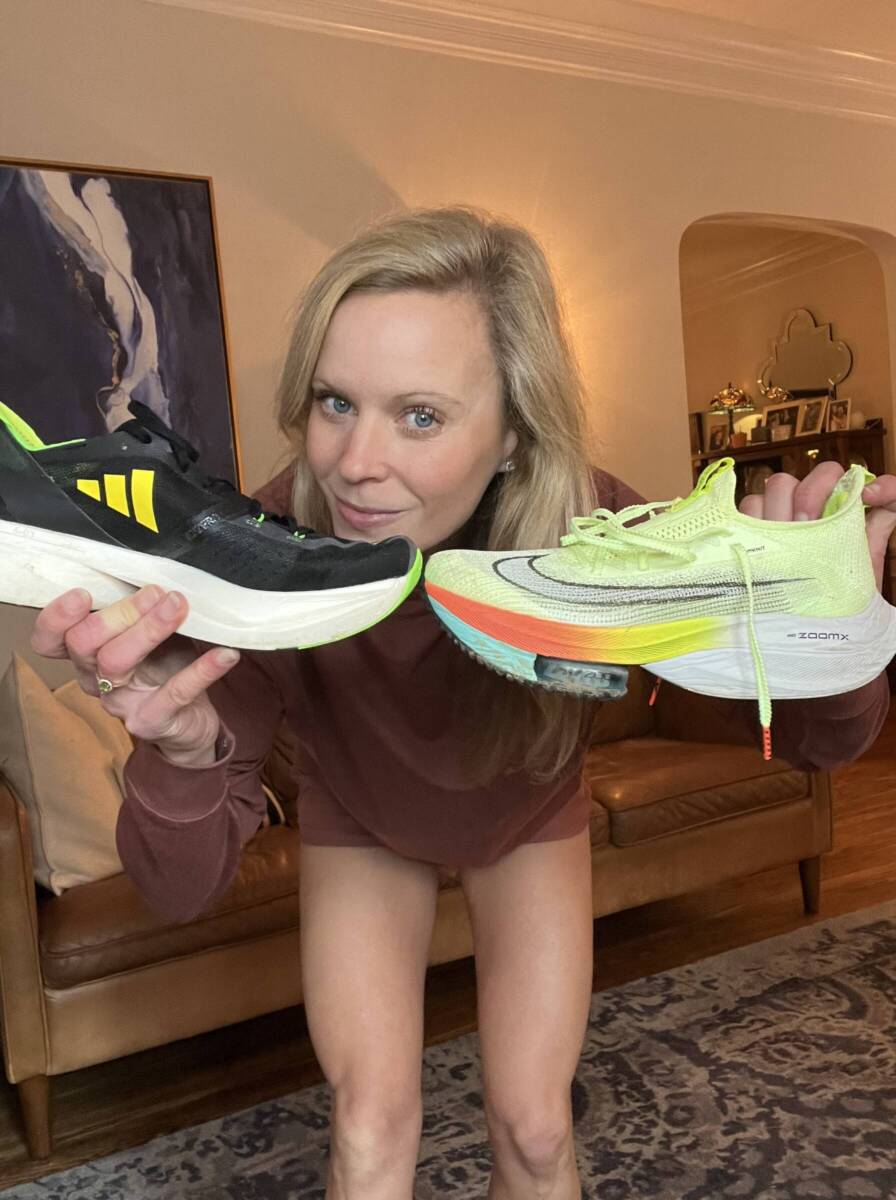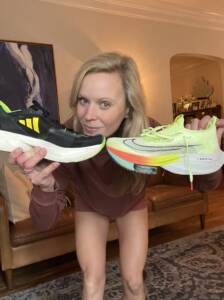 Carbon fiber plated shoes use a full length carbon plate throughout the midsole of the shoe. This piece of carbon fiber is surrounded with different midsole foams to improve running cadence, stride length, and energy expenditure.
What are the benefits of carbon plated running shoes?
There is a ton of research on the benefits of wearing a carbon-fiber plated shoe on race day from improved cadence, increased stride length, and decreased energy expenditure i.e. improved running economy.
A deep dive into this, however, shows that the primary biomechanical improvement the shoe offers occurs at the ankle.
This makes sense because the heel and ankle are where the compression and spring occur during the running gait cycle. Most of us heel strike at some point in our stride. This sends a force through our body. How we handle that force allows us to move faster or slower over time. (E.g. more ground contact time means a slower pace and higher risk for injury).
Related: Hoka Rincon Review: Best Shoes for Plantar Fasciitis
If a shoe can manipulate that force and cause the spring effect to occur sooner, cover a larger distance and more frequently then, Voila! We have improved running times and decreased energy to do so.
This is great for long distance running whether that be a half marathon, marathon distance, or even longer distance. This is because the shoes decrease energy loss and the amount of forces our bodies have to overcome over a two to five hour time frame.
How exactly do carbon fiber shoes improve running economy?
Carbon fiber shoes improve running economy by improving the propulsion from the ankle.
There are many factors to consider when we examine running economy. Each person has their own unique stride and ability to optimize energy expenditure through their physiology and biomechanics. There are a lot of really in depth materials researching lever arms, moment arms, ground reaction forces, and angles that each part of the body create while running.
These factors can all be affected by the heel height, stack height, stiffness or softness of the foam, and length of the carbon plate.
Related: 7 Best Hoka Shoes for Long Distance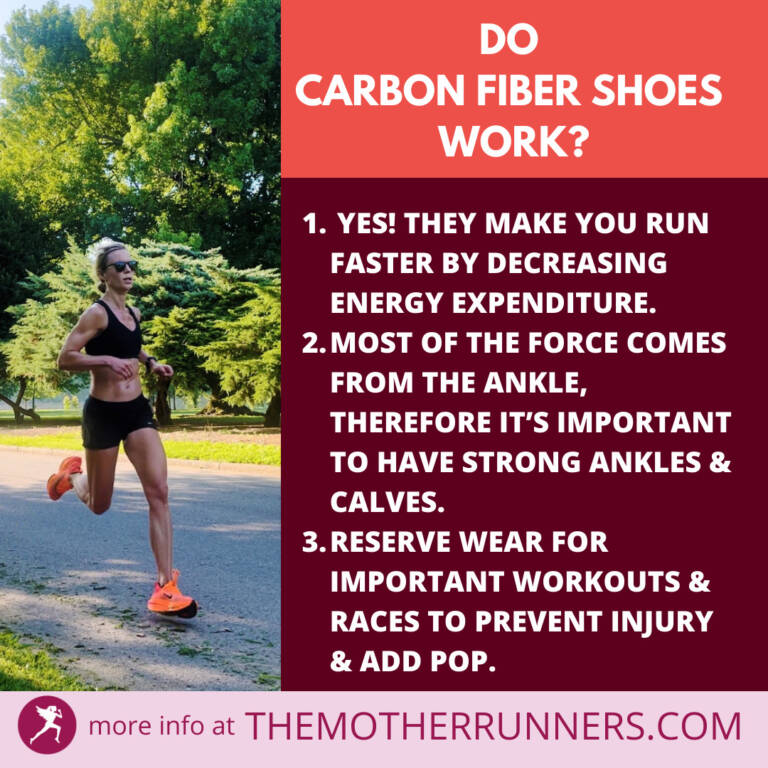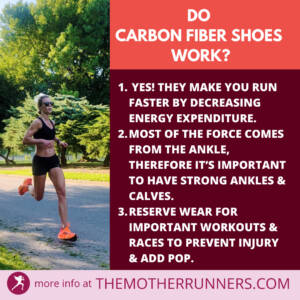 The carbon fiber shoe primarily effects the lever arm at the calf muscle and the ankle, and the carbon midsole takes more stress than the tendons and muscles.
According to the British Journal of Sports Medicine, the shoes create a "teeter-totter" effect at the ankle which drives the ankle and shin over the toes propelling the rest of the body forward.
What is interesting though is the shoes have no data to conclude that they affect the angles and moments at the knee or hip.
Therefore, it is critical to keep the ankle and calf strong while using super shoes to prevent injury from unnatural mechanics.
Related: 7 Best Running Shoes for Achilles Tendonitis
In addition to the carbon-fiber plate, these shoes use high-tech cushioning to help absorb forces from tiring the body. All of these are factors that impact running economy.
For these reasons, the world athletic association has made clear parameters around specific stack heights and drop heights to prevent an unfair advantage.
How often should you train in carbon fiber shoes?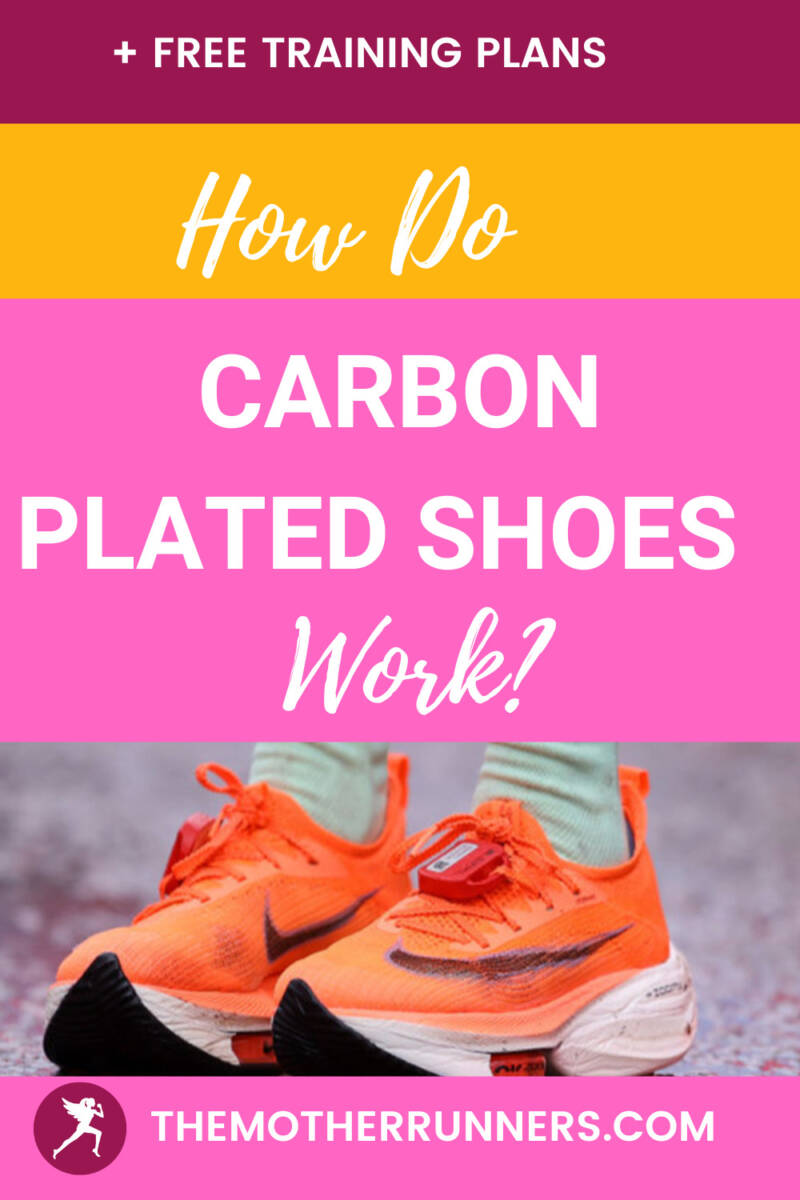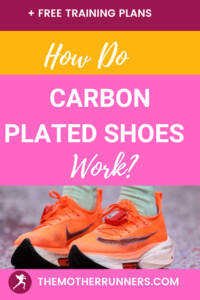 You can train in carbon fiber shoes in important workouts and races. It's not recommended to use carbon-plated shoes as daily trainers due to increase risk for injury.
A general rule of thumb is maybe one to two times a week and ideally not in the pair you will be racing in on race day.
Remember that carbon plated shoes reduce energy expenditure by changing the way your body naturally hits and absorbs shock from the ground. While this is beneficial in a marathon or hard, long effort because it can help you recover faster, this is not ideal for shorter distances and easy runs.
If you use them everyday, you increase the risk of injury. Also, you lose the effectiveness on race day. You want this to be your super shoe and give you some pop!
Related: What Are the Best Recovery Shoes for Runners?
You also want to save the miles on these shoes. The delicate nature of carbon mean these shoes only last for 250-300 miles.
Save these shoes for faster, threshold efforts either in a longer run, on the road or on the track, and for longer races. This means about 1-3 times a week.
Other strategies to reduce injuries are helpful to keep in mind too like strengthening the foot all the way up the chain to the hamstrings and low back, and proper fueling.
Related: When to Replace Your Running Shoes
What brands offer carbon fiber shoes?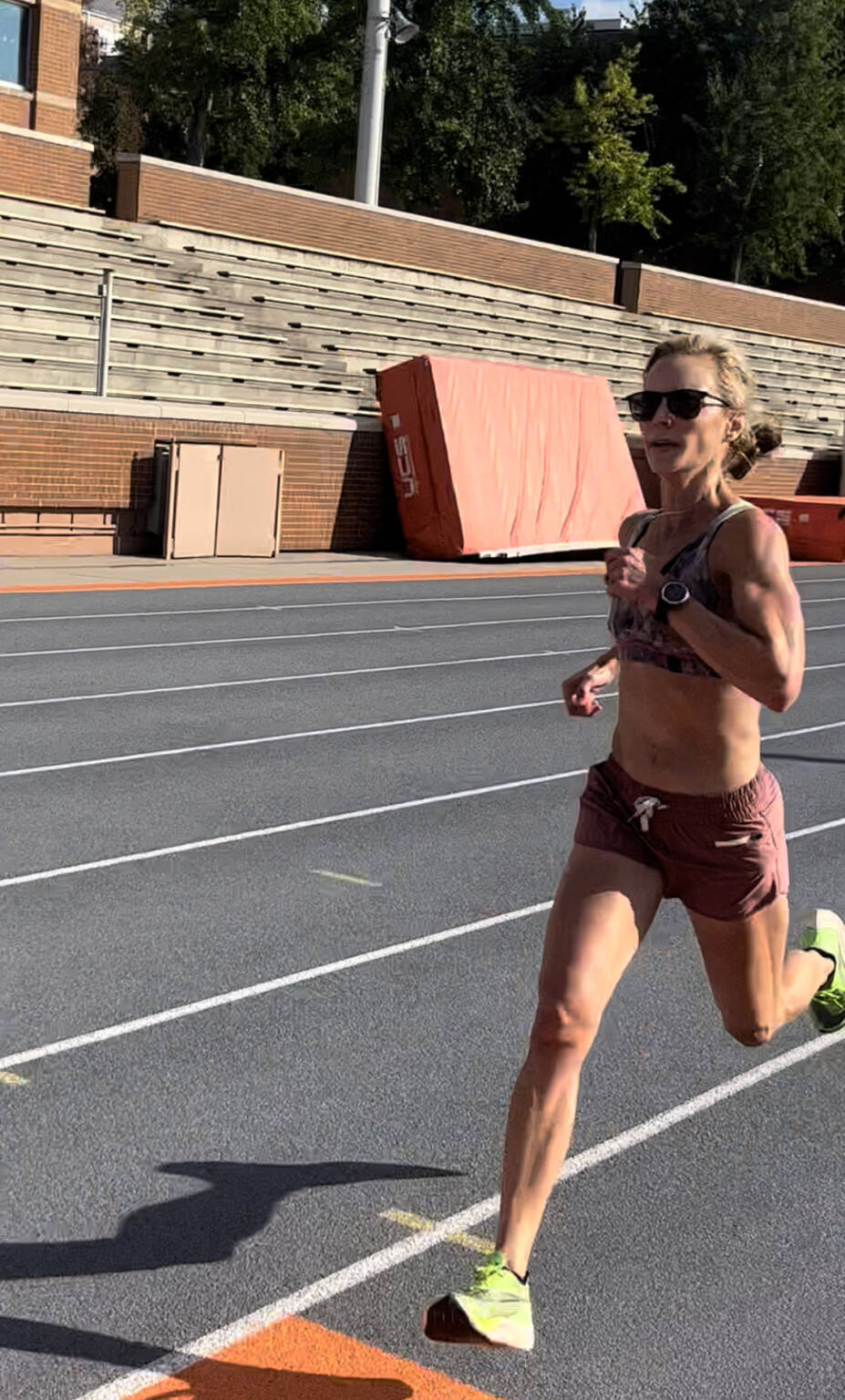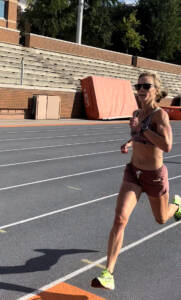 All major running brands have produced a carbon fiber shoe or a lower tier equivalent model that can be purchased at a lower price point.
Here are our top 10 best running shoes with a carbon fiber plate:
Nike Alpha Fly Next % 2

Nike Next %

Saucony Endorphin Pro 3

Saucony Endorphin Elite

Asics Metaspeed Sky+/Edge+

Hoka Rocket X 2

On CloudBoom Echo 3

Adidas Adizero Adios Pro 3

New Balance Fuel Cell SuperComp Elitev3
The right carbon-plated shoe for you is based on personal preference and comfort. For example, some shoes offer a higher or lower mm stack height. The average stack height for carbon plate running shoes is 8mm currently.
Some other models to consider are:
Puma deviate nitro elite

Adidas Takumi Sen

Hoka tecton X

Hoka carbon X

Mizuno wave rebellion pro
These are in order by the brand but our top pick is still one of the Nike models.
What is the history of the carbon fiber shoe?
Nike has been on the forefront of shoeware innovation from Michael Jordan to now, Eliud Kipchoge.
They were the first to design the waffle pattern and add spikes to cross country shoes for better grip with the ground. Despite the varying opinions of Nike, their impact on the running world has undoubtedly improved the sport exponentially.
For the carbon fiber shoe, Nike set out to achieve one of the greatest sport accomplishments of running a sub two hour marathon.
Nike researched and experimented a ton, but ultimately played off the idea that carbon is a lightweight material that has a high energy return, something that has been used in the cycling world for years.
They understood that a ​​full-length carbon plate would work with the ground reaction forces of the runner and would propel them forward.
Related: Can Your Running Shoe Pattern Predict Injury?
They pulled together some of the fastest men on the planet and had them do a prototype run on May 6th, 2017, in Italy where Eliud Kipchoge ran seconds above the 2:00 hour mark.
Nike continued to tinker in the lab and enhance the shoes even further leading to Eliud's remarkable victory in Valencia in 2019 where he accomplished a marathon in 1:59:40.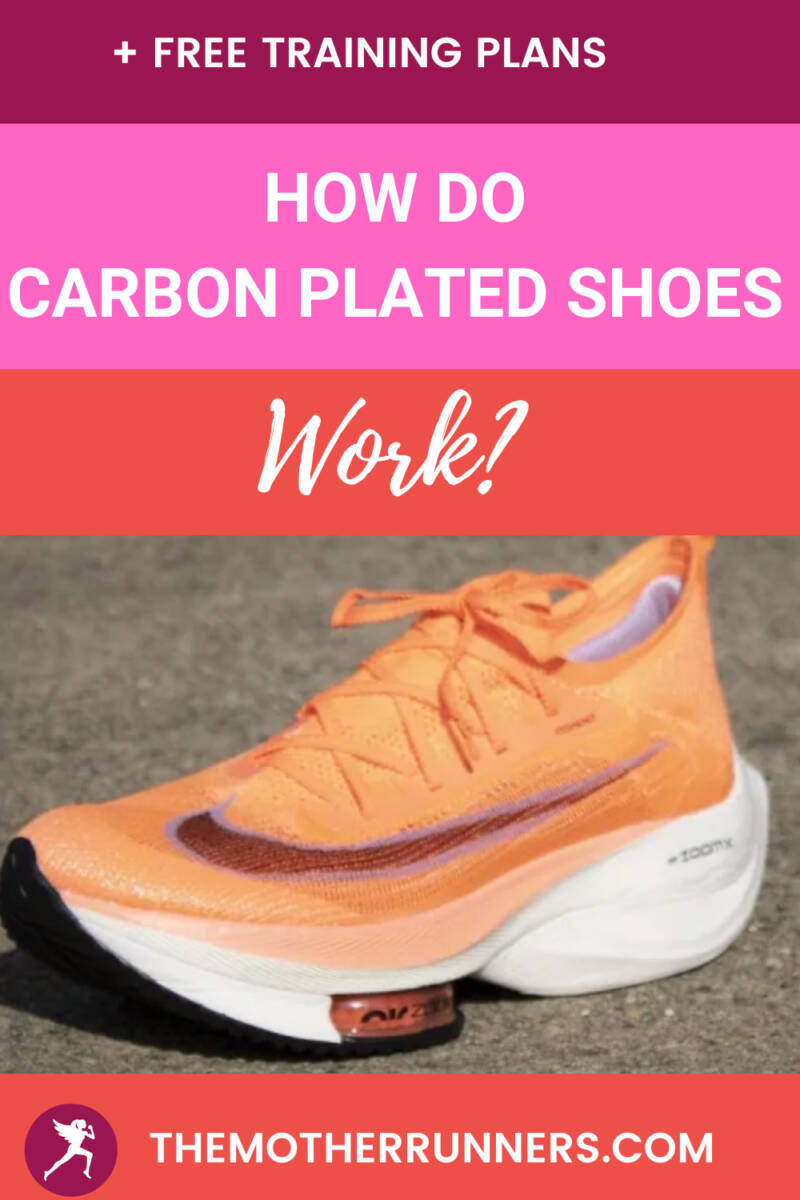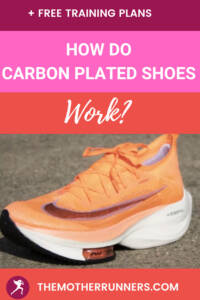 From that point on, Nike and other brands begin replicating these shoes at a remarkable rate to give the public access..and the rest is…record after record after record….history…
Carbon plated shoes are now some of the top selling items on the market in the running world. And, it isn't far fetched to say that at nearly every local race 80% or more are wearing a pair.
The evidence is clear, carbon-fiber plated shoes do make a difference.
Key Carbon-Plated Shoe Takeaways:
Carbon plated shoes improve running economy by increasing stride length, efficiency, and cadence.

Carbon fiber shoes are meant for hard, long distance efforts like a 5k to marathon and there have been drastic decreases in time since their first appearance.

Always remember to consult a local running store to be fitted for the right carbon fiber shoe for you because every runner is built differently.

And, even though these reduce forces, they can add stress to your body, especially at the ankle and calf, so it is important to keep up your strength programs.

Carbon fiber shoes are a great boost that enhance your other training, fueling, and strengthening.
We hope this helped you understand the super shoe era that we are witnessing and helped you decide whether you want to jump on the bandwagon. We can't wait to watch you fly!
If you want guidance with your running goals, check out my run coaching services. Also, be sure to check out my free training plans: