It's no secret I think Hoka is a great shoe. In fact, I blame deterring from wearing Hoka shoes for my 2.5 year injury cycle. I wore the Hoka Tracer for years. Then they stopped making them, so I started wearing On Clouds. I loved the ONs at first, but the heel slippage contributed to me developing plantar fasciitis and tearing my plantar fascia.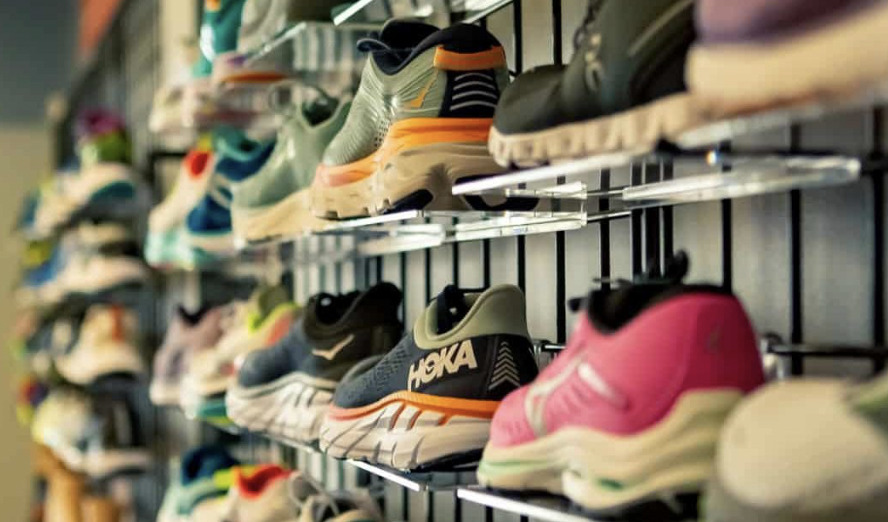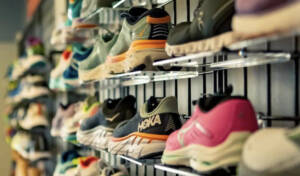 Related: How I Healed My Plantar Fasciitis
When I was finally able to begin my return to run process, I asked my physical therapist what he thought the best running shoes for me would be. Without any hesitation, he said Hoka. We thought about which Hoka model would be best, doing research, and trying them out. After deliberation, we settled on the Hoka Rincon. And I have been a happy, healthy runner ever since!
As a blogger, I get sent running shoes to try, and any time I start wearing another shoe, niggles start to pop up. Indeed, I have had many athletes I coach become Hoka converts. Especially when one of my runners start to complain about foot, calf, or Achilles pain, or plantar fasciitis, I ask them to try wearing Hokas.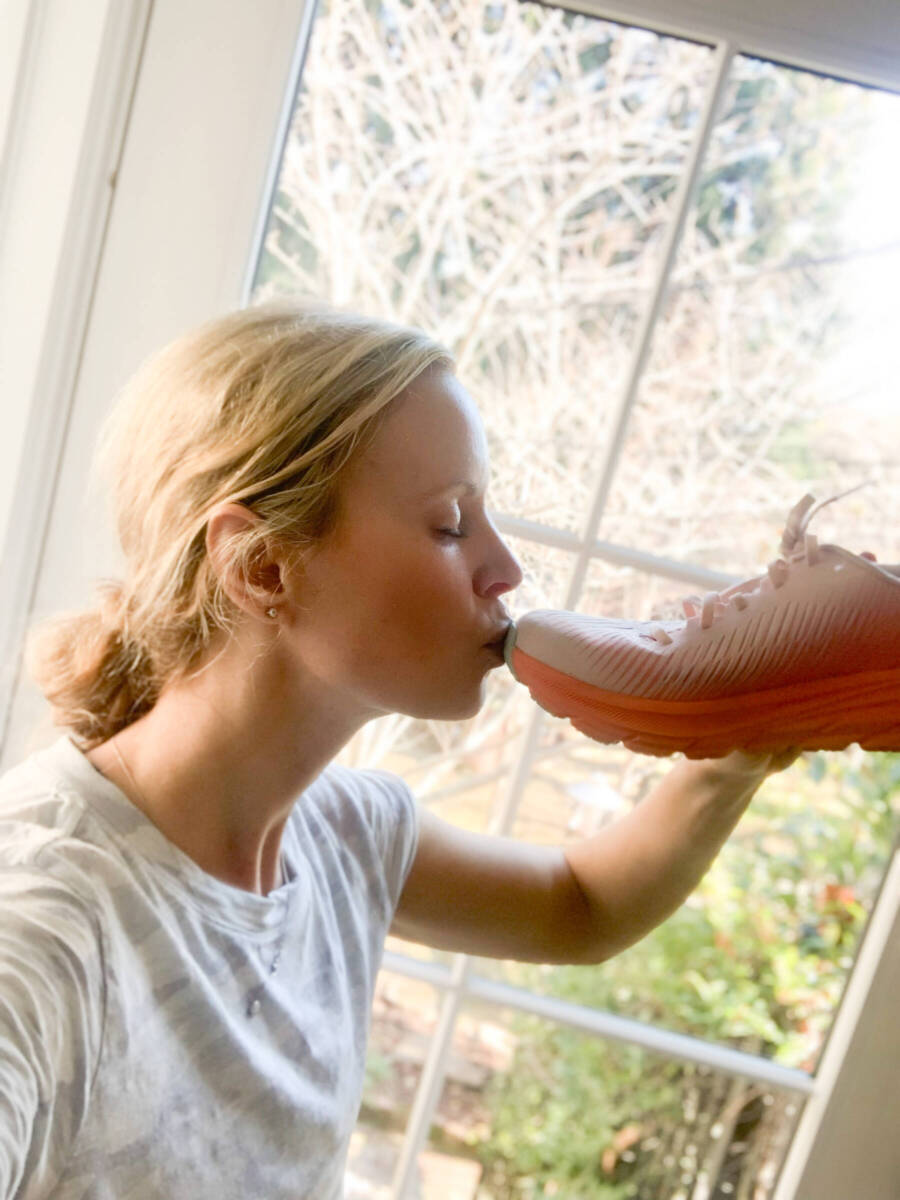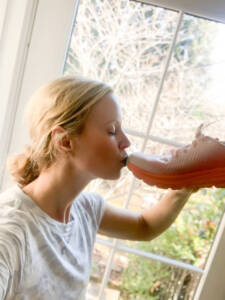 In all but one case, my athletes have switched to Hoka wearers. That one time, my runner had especially high arches, so the Hoka Rincon wasn't the best fit for her—probably the Mach would have been better.
Generally, runners need to be very particular about the running shoes they choose. I do believe most runners can find a Hoka running shoe they like that will go the long distance. But you got to try before you commit! I am here to help you find the right Hoka running shoe for you.
Related: 6 Best Shoes for Achilles Tendonitis
In this article, I am going to cover:
How to find the right running shoe
Why Hoka running shoes are the best
And the 7 best Hoka shoes for running long distance: tried & tested
Let's roll, shall we?
Related: When to Replace Your Running Shoes
How to pick the right running shoes:
You might be tempted to just go out and buy a pair without knowing what you're doing, but that could lead to injury and discomfort.
If you're looking for new running shoes, here are some tips that will help you find the right ones: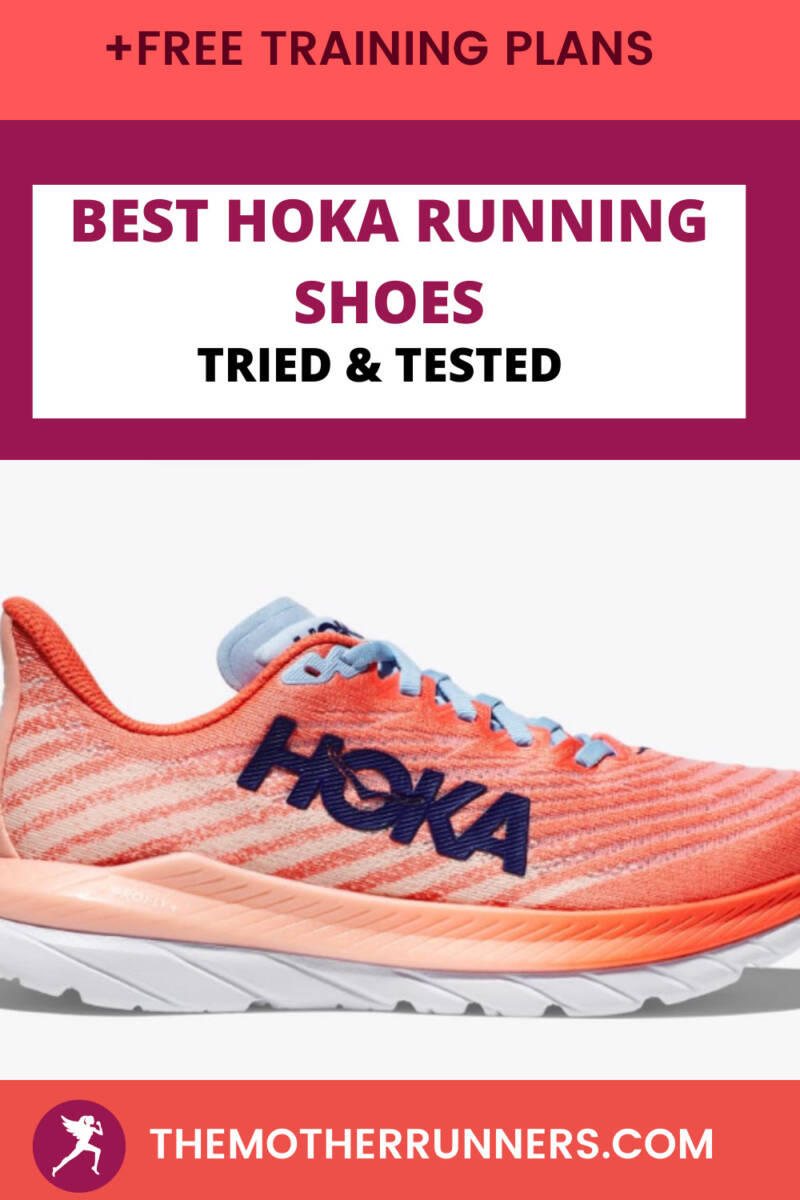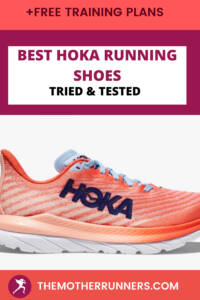 1) Go to a specialty store. A good running shoe store will have employees who know what they're doing, and they'll be able to help fit your feet properly into different styles of shoes.
2) Don't buy your shoes online unless you've tried them on first—you want to make sure that they fit well and feel comfortable! Or buy several pair from a retailer that lets you return after use.
3) Wear socks when trying on different pairs of shoes; this helps ensure that there aren't any uncomfortable seams rubbing against your skin when you run in them.
Best features of Hoka running shoes:
HOKA is a French brand (now headquartered in Goleta, CA), established in 2009, that designs running shoes with a balance of cushion, support, and a responsive and smooth ride. This makes Hoka a great choice for going long distances and doing long runs.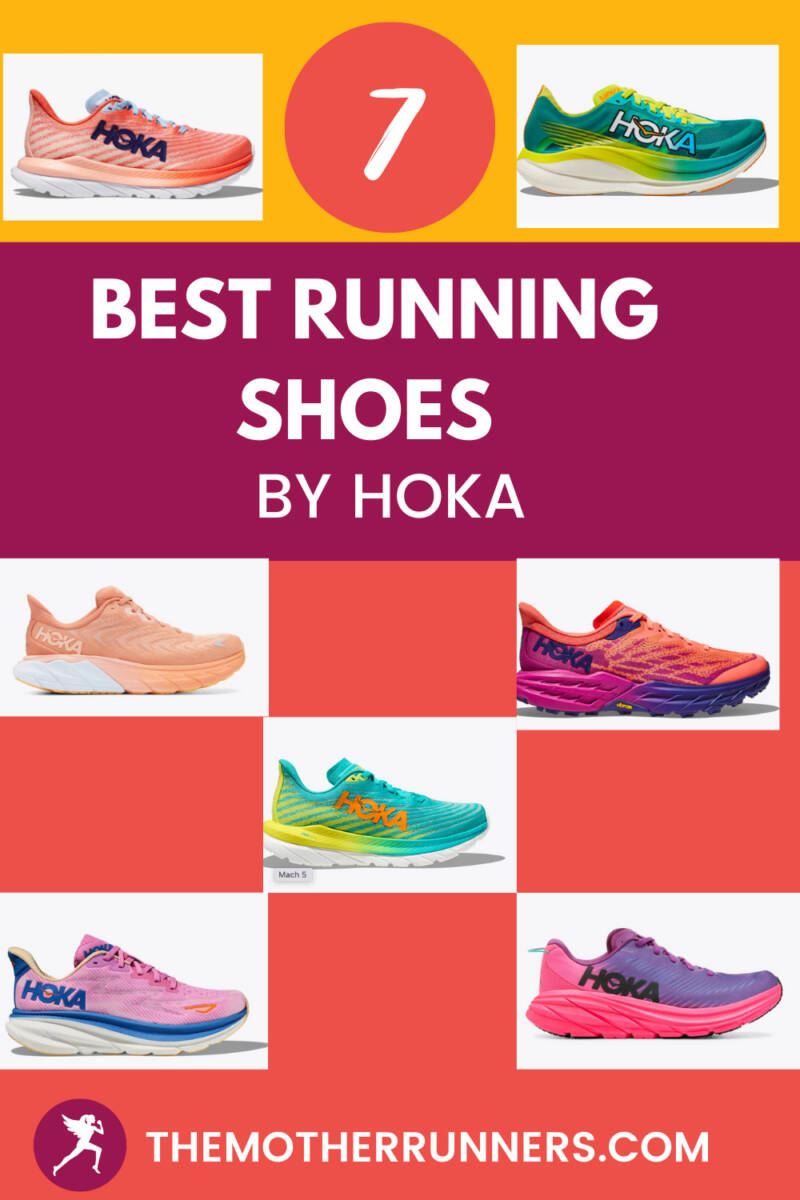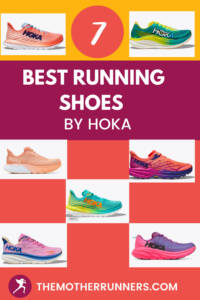 Some of their best features include the following:
They have extra cushioning in the heel, which makes them feel like you're running on clouds. This helps prevent injury and keeps you feeling fresh during long runs.
They have a wider toe box, which means that your toes aren't crammed into their own little box, but are free to spread out and do whatever they want. This also prevents injury by keeping your feet from being squished together when you run.
Most models are lightweight, so they don't make you feel weighed down when you wear them—even if you're wearing them for hours at a time!
Hoka shoes are designed with an extra-thick midsole, which helps absorb shock and prevent injuries like plantar fasciitis and shin splints.
The outsole is made of rubber, so it grips the ground no matter how wet or slick the surface you're running on is. And because there are no seams between the rubber and foam components, you won't get any blisters when you wear Hoka shoes!
Hoka shoes have been proven in clinical studies to reduce pronation by up to 20% compared to other running shoes on the market today (and pronation is one of the main causes of injury).
Hokas are made with a material called "EVA foam," which gives them an extremely lightweight feel but is also very strong and durable. The EVA foam can last for up to 500 miles of running!
Finally, Hoka shoes have a breathable mesh upper that allows air to flow through the shoe and cool your feet during long runs in warm weather.
Related: How I Stopped Being an Injury Prone Runner
7 Best Hoka Running Shoes for Long Distance
Hoka Bondi 8 is the most cushioned Hoka shoe, making it the best for injury prevention in runners. As a neutral running shoe, it's not overly stabilized and it features a knitted upper that is both breathable and supportive. The midsole is made of foam infused with carbon rubber making it extra durable. Indeed, I wore mine as my recovery shoes for years!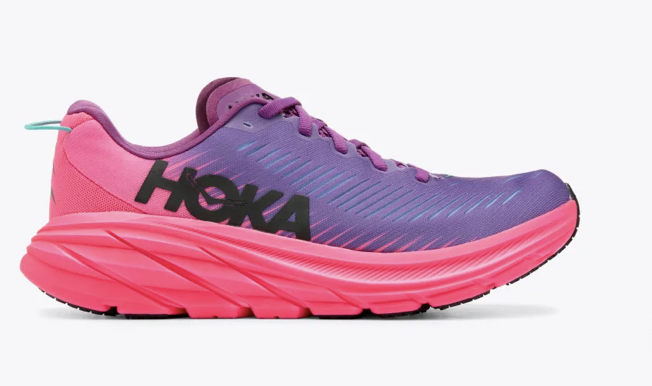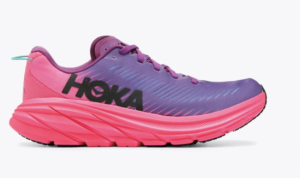 Related: The Best Recovery Shoes for Runners
This shoe has been designed for road running and long runs on hard surfaces, though it can also be used off-road in light trail conditions. The Bondi 8 weighs more than most road shoes at 12 oz., which may be due to its thicker sole and supportive construction.
Pros:
The sole provides unmatched cushioning making it both comfortable and safe for those prone to injury
The upper is comfortable and breathable, so you won't get too hot during your workout.
Cons:
Expensive
Heavy and clunky feeling to some (like me)
Price: $165
Related: My Full Review of the Hoka Bondi 7 vs. 8
The Hoka Rincon 3 is a running shoe that has a lot going for it. It's lightweight, supportive, versatile, and comfortable. The color options are great too—you can choose from a range of bright, fun color palettes.
The shoe has a durable upper that's flexible enough to move with you but strong enough to last through long runs. Its midsole is made of foam that gives you ample cushioning while still allowing your feet to feel the ground beneath them. The outsole is made of sticky rubber, which provides traction in the rain and snow.
Pros: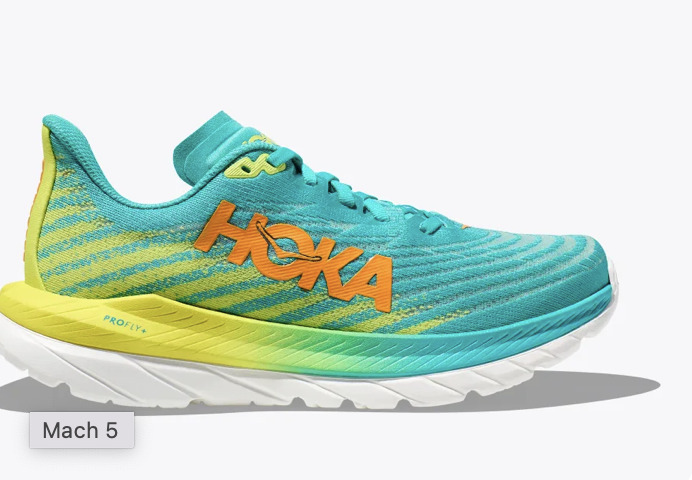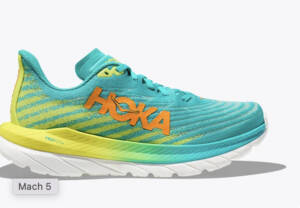 Responsive for both easy and fast running
Lightweight and cushioned
Durable breathable upper mesh
Flexible midsole allows feet to move naturally
Sticky rubber outsole provides traction
Inexpensive compared to other similar models
Cons:
Wears out quickly (maxes out at around 250 miles)
Not the best running shoe for trails or gravel roads
Not a shoe for people with wide feet or flat feet
Price: $125
Related: Hoka Rincon 3: The Best Shoe for Plantar Fasciitis
The Hoka Clifton 9 is a lightweight, cushioned shoe that's designed to provide plenty of support while still being flexible and responsive. It's a great option for runners who need a supportive running shoe that can handle all kinds of terrain.
The Clifton has a 6mm heel-to-toe drop, which makes it a great choice for anyone who needs a little more cushioning than a traditional running shoe but doesn't want their shoes to feel too bulky or heavy (think of it as Bondi light).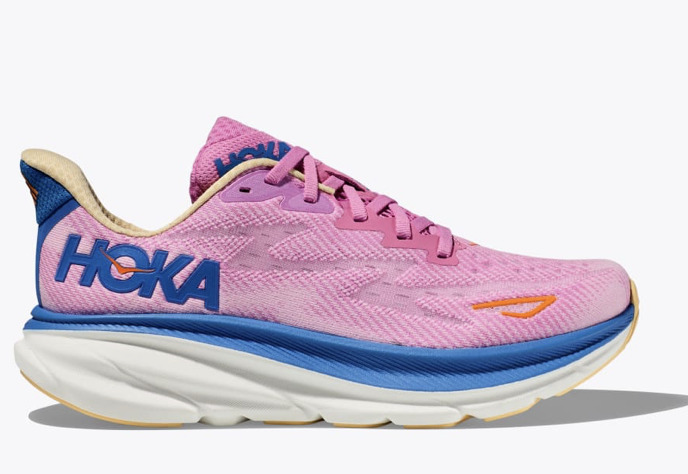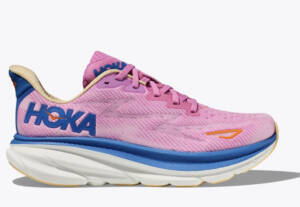 The top is made of a breathable upper mesh that allows your feet to breathe during runs.
The outsole has been updated for this version of the shoe and now features an improved forefoot grip pattern along with deeper flex grooves on the medial side of the midsole. This provides a smoother transition through each stride cycle.
Pros:
Lightweight
Great support for high arches
Wide toe-box
compression molded EVA foam midsole provides ample cushioning and stability
Durable upper material
Stability features
Extra cushioning on the heel and forefoot for comfort during long runs
Cons:
Expensive
Can be heavy if you have sensitive knees or ankles
Less traction on rocky surfaces so not good for trails
Price: $145
The Hoka Arahi 6 shoe is a running shoe that's designed to provide maximum cushioning and stability without a lot of extra weight.
The Arahi has a plush, padded upper and a thick midsole that's meant to reduce the impact of each step. Meanwhile, the shoe is designed to be lightweight while still providing enough stability to handle long distance runs. The Arahi is a great shoe for runners who need motion control due to overpronation without feeling weighed down.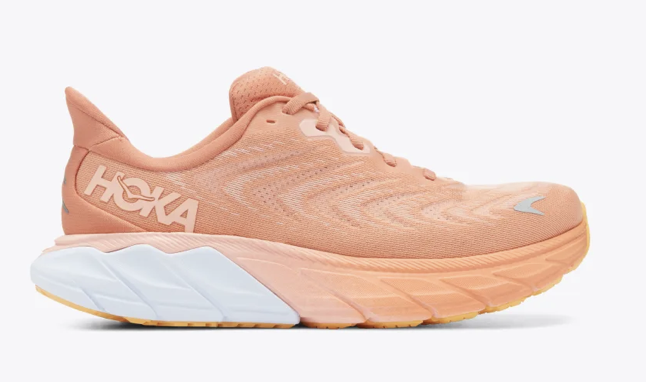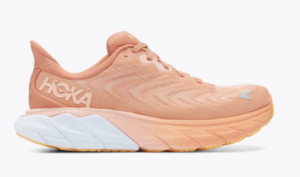 Pros:
Very comfortable—the padded upper and thick midsole makes this shoe feel great on your foot
Lightweight—the Arahi 6 weighs just 9.7 ounces per pair, which is very low for a running shoe of this cushion
Provides good traction on both wet and dry surfaces
Cons:
Runners with wide feet may find the fit to be narrow and lead to blisters
Some users find the J frame to be rigid.
Price: $140
The Hoka Mach 5 is a running shoe that was designed to run fast—particularly for long workouts like tempo runs. It is specifically great for runners who have a high arch and need extra cushioning.
The best part of this shoe is the fit: you can adjust the lacing system so that it fits your foot perfectly. If you're looking for something with stability, this is not going to be your cup of tea—but if you want something light and comfortable (and maybe just a little flashy), then the Arahi is worth a look.
Pros:
Lightweight and flexible, which makes it easy to move around in.

The Hoka Mach is great for long, hard efforts.

Low-cut design that provides better stability
The ProFlyX midsole provides an optimal balance between energy return and cushioning due to the Pebax plate and PEBA foam. This leads to improved running economy improved over long distances.
Has a wide toe box and an extra-high heel cup, so it fits comfortably on your foot.
Features the Ortholite footbed that wicks away moisture from your feet to keep them dry and comfortable. This means you can run longer without getting blisters or getting sore feet.
Cons:
Lacks a lot of shock absorption when walking or standing still.
Not as versatile as other Hoka models
Tongue can slip
Price: $140
The HOKA Rocket X 2 is a shoe with a carbon fiber plate built for speed, making it a perfect shoe for race day without sacrificing comfort or health (since many carbon-plated shoes offer little support and stability, putting runners at risk for injury). I like the Rocket 2X better than the Hoka Carbon X3 and Bondi X because my stride feels more efficient and smooth.
Related: Do Carbon Plate Shoes Help You Run Faster?
The Hoka Rocket X2 can be worn in distances from the 5k to the half marathon and marathon. It's very lightweight and responsive thanks to its combination of innovation ProFly (which features a firm bottom foam for propulsive toe-offs and our classic soft top foam cushioning), rocker midsole, and carbon fiber plate (shown to increase energy return).
Pros:
Rocker, foam, carbon plate, and ProFly design helps you run fast!

The Hoka Rocket makes you run like a rocket! It's my favorite carbon fiber Hoka shoe.

One of the most comfortable super shoe or racing shoe on the market.
Versatile road running shoe for distance from 5k to marathon.
Cons:
Like all carbon fiber shoes, these can be hard to put on.
Expensive like all other super shoes.
Also like other super shoes, you can't put on a lot of miles so watch for wear and tear.
Price: $250
If you want to traverse mountain trails like a mountain goat, then the Hoka Speedgoat 5 is your shoe (according to my ultrarunner husband who loves this shoe).
The latest model of the Speedgoat features Vibram Megagrip with Traction Lug for supreme traction and grip. You'll feel safe and stable in descents and on technical trails. Meanwhile, you'll be pleasantly surprised by the shoe's cushion and comfort.
The latest model of the Speedgoat is also more lightweight than the previous model and sizes up to extra wide (EE). The Speedgoat is the GOAT when it comes to trail running shoes.
Pros:
Superior grip
Optimal cushion in a trail shoe

The Hoka Speedboat is the GOAT of trail shoes.

Extra wide size options
Cons:
Lugs make this shoe uncomfortable on road races
Some users complain of a pointy toebox that makes it feel like a speedboat instead of a speed goat.
Price: $155
If you want guidance with your running goals, including run/walking goals, check out my run coaching services. Also, be sure to check out my free training plans: