As a master's runner and injury-prone runner, I need to recover as hard as a I train. And one key aspect of recovery I've discovered is wearing recovery shoes. You know, key aspect isn't the right term—game-changer is better. One game changer is my recovery sandals for running.
I started wearing my recovery flip flops after I tore my plantar fascia in the summer of 2021. The recovery slides were the only shoes I could walk in. I am being totally literal here. It still hurt to walk but it was much better than even wearing my running shoes or carbon fiber racing shoes.
Related: Do PRP Injections Heal a Plantar Fascia Tear?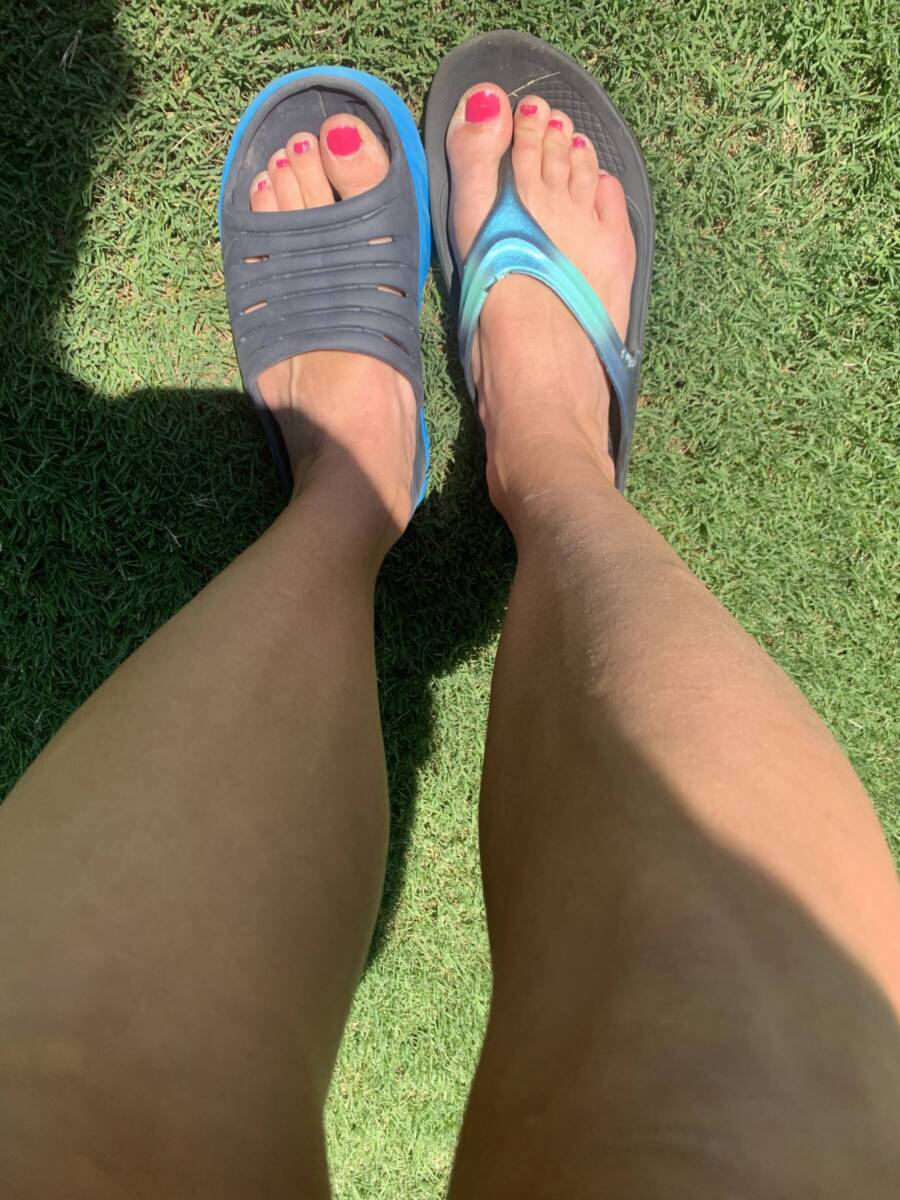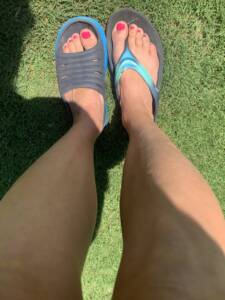 Until I realized I had a tear in my plantar fascia, I wore OOFOs religiously—around the house, to a concert, even to a wedding! Once I realized I had a tear, I started wearing a boot. Then when I segued out of the boot, I put my recovery slides back on.
I became attached to my OOFOs but wanted to know what the best recovery shoes were.
The result is a full review of OOFOs flip flops versus Hoka Recovery Slides versus Kane Revive Active Recovery Shoes based on my experience, fellow runners, and online reviews.
This article will cover:
Why you should wear a good pair of recovery shoes over traditional footwear
What are recovery shoes for?
When should I wear recovery shoes?
How long should I wear recovery shoes?
Do recovery shoes like OOFOs really work?
How long do recovery shoes like OOFOs last?
A review of the best recovery sandals for runners
Let's go!
Why should I wear recovery shoes?
Recovery shoes for runners help you train as hard as you can in the time that you have.
Now that I am finally training again with eyes on a fast marathon time, I am back in my running recovery slides. Fashion be damned.
Related: How to Recover Faster from Your Marathon
By wearing my recovery footwear for runners, I've noticed a marked difference in how my legs, feet, and back feel when I don't wear my OOFOs. I have tired feet, fatigued legs, and little aches (aka niggles) are more prevalent. Research supports that fatigue is reduced and recovery is enhanced when you wear recovery shoes.
For a long time, I thought OOFOs were the only game in town when it came to recovery footwear, but not anymore. There are a lot of competitors in the market so I wanted to compare them.
I got a pair of Hoka Recovery Slides (I am a BIG fan of Hoka!) and the Kane Revive (another trailblazer in the recovery footwear world). I wore them each for a week to compare how my legs, feet, and whole body felt after training hard in them.
Related: Hoka Running Shoes: The 7 Best Running Shoes for Runners
What are recovery shoes for?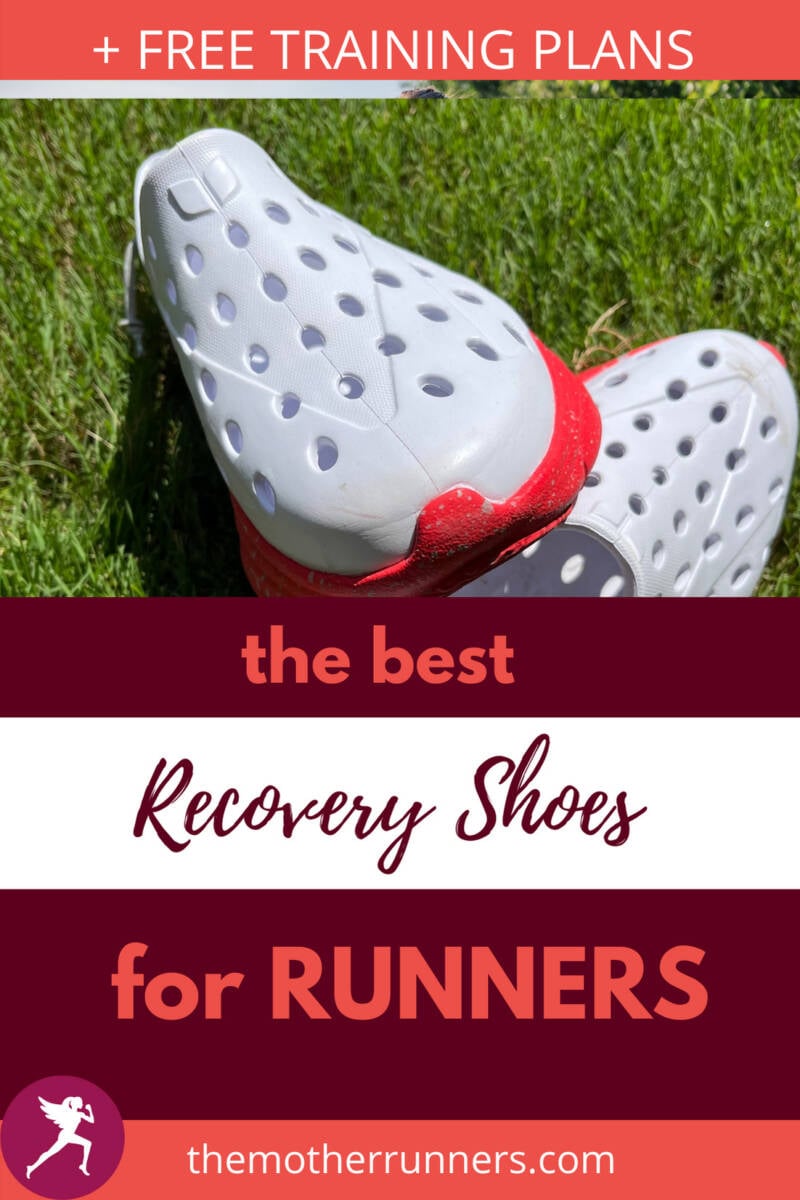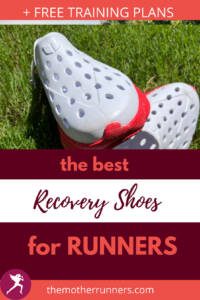 Recovery shoes for runners are meant to enhance your recovery after running. They do this by taking the stress off your feet and legs through cushioned yet supportive material and a spacious shock-absorbing design that often includes a design to reduce the force needed to walk.
Most of the recovery footwear for runners are slip-ons made of a plastic or foam-like material.
What should I look for in a recovery shoe?
The best recovery shoe for runners have:
A supportive yet cushioned sole
Soft material
Spacious toebox or open-toe
Shock-absorbing and energy-efficient design to minimize stress on your feet and legs
Related: Hoka Bondi 7 vs. 8: An Honest Review
Can I wear recovery shoes all day?
Heck yeah, I wear my recovery shoes all day every day. I don't just wear them after a long run or speed workout day. I wear them any time I can get away with it—and even times when I can't (like that wedding I mentioned–they are really for casual wear).
Obviously, the more you wear them, the sooner you will need to replace them. If you want to really optimize your recovery process, pair good recovery shoes with compression socks to increase blood flow.
Do recovery shoes really work?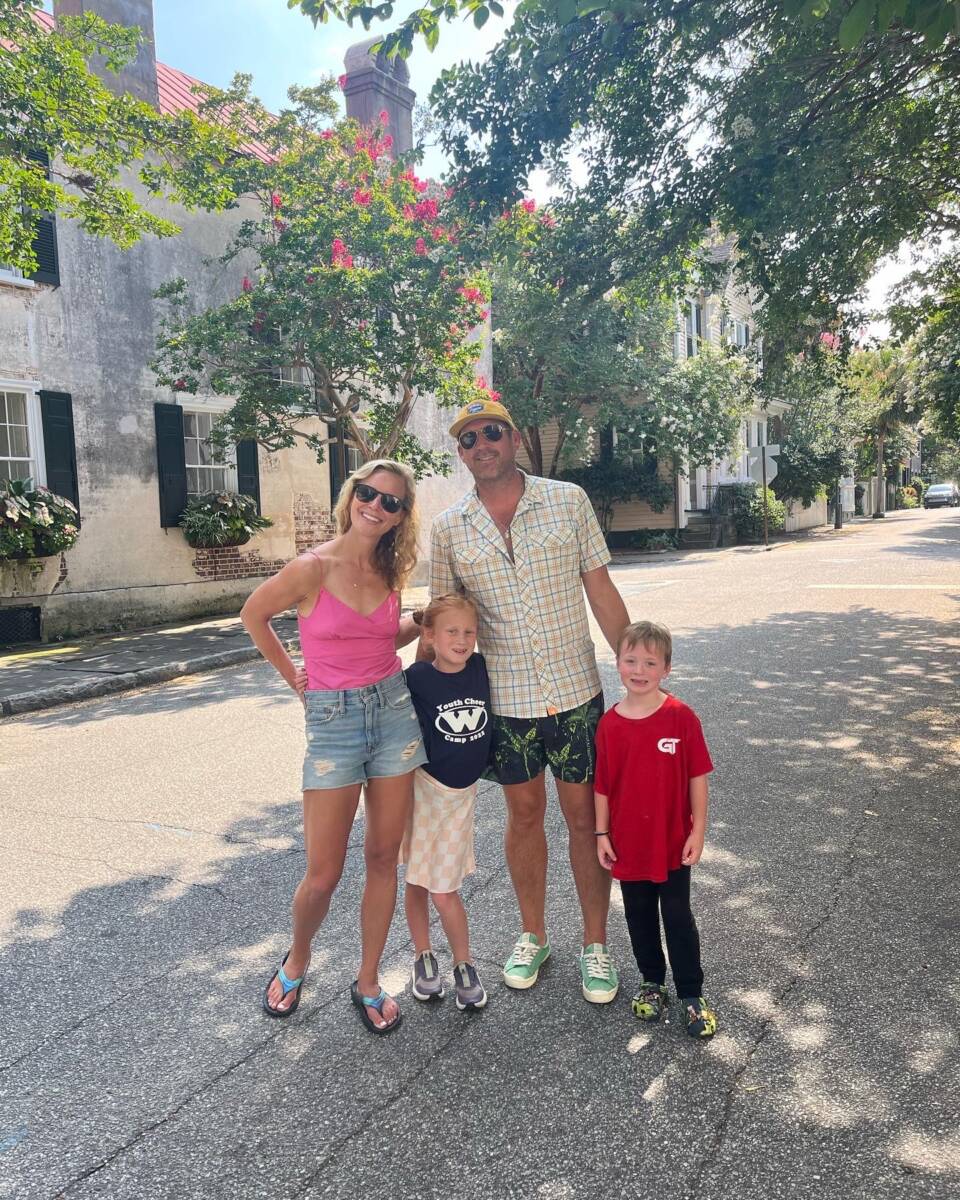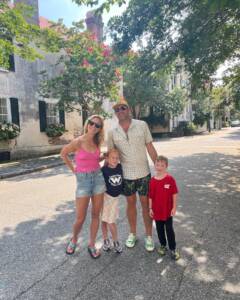 Yes, many recovery shoes do help you recover faster from your runs. I know this firsthand from my experience, my friends' experiences, and my athletes.
Research backs this up. According to OOFOs, a 2018 study by the University of Virginia School of Medicine Speed Clinic found that the recovery sandal OOFOS absorbed 37 percent more impact than traditional foam footwear materials and required 47 percent less of energy exertion,
I have found that my legs feel fresher wearing my recovery sandals than they do if I wear my running shoes throughout the day!
Related: Your Ultimate Marathon Checklist
How long do OOFOS shoes last—or any recovery shoe?
OOFOs report that their customers get new sandals every 8-9 months. I got new OOFOs exactly one year after wearing them religiously because the foam started to get so flimsy that it would fold underfoot, causing me to trip.
Recovery Shoe Review: OOFOs Sandals vs. Hoka Slide vs. Kane Revive
Alright, now that we got that taken care of, let's get to the review of the most popular recovery shoe models for runners on the market so you can find the right recovery shoes for you!
OOFOs Ooriginal Sandal Review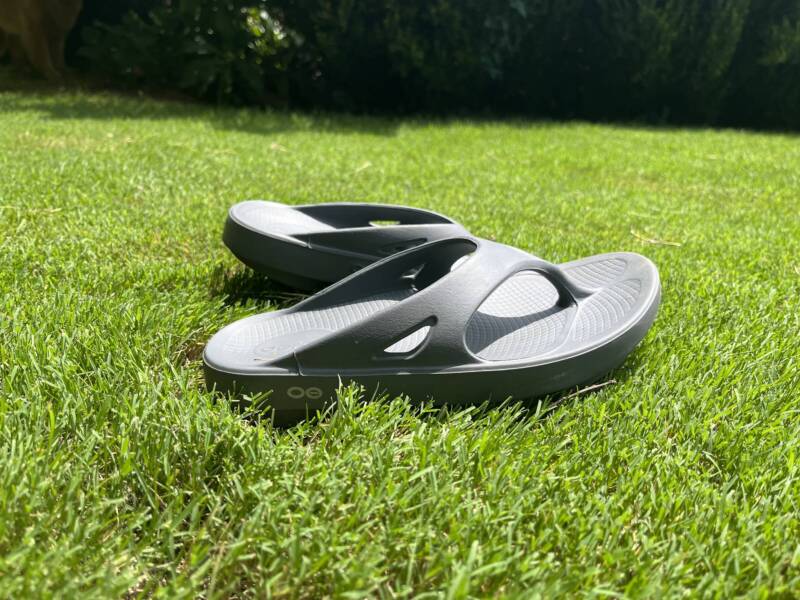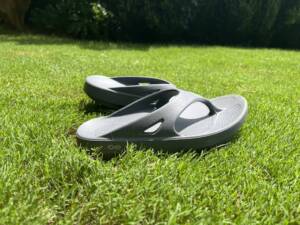 We are starting with the mother of recovery sandals, the OOFOs sandals. These sandals are proven to ramp up your recovery so that you can bounce back and nail your next run.
They have proprietary OOfoam™ technology that absorbs 37 percent more impact and reduces ankle energy exertion by almost 50 percent than traditional foam footwear materials and competitors.
Indeed, if you compare them to other comfort sandals like Crocs you will feel that the foam is much more cushioned. OOFOs are not like Crocs which have a rigid material that can tire muscles.
OOFOs are also great for foot health and those suffering from plantar fasciitis because it has a footbed that cradles and supports your arch.
As noted, I became reliant on my OOFOs when I had intense foot pain from plantar fasciitis and a plantar fascia tear. When I began running again, I continued to wear my OOFOs sandals to keep my plantar fasciitis from flaring. Then I noticed how much better my legs felt post-run and now wear them so I can train hard and recover the next day for my run.
OOFOs sandals have the ultimate cushion and shock absorption. They feel bouncy yet supportive and the footbed is soft. Indeed, I have never worn a more comfortable shoe.
Though they aren't perfect.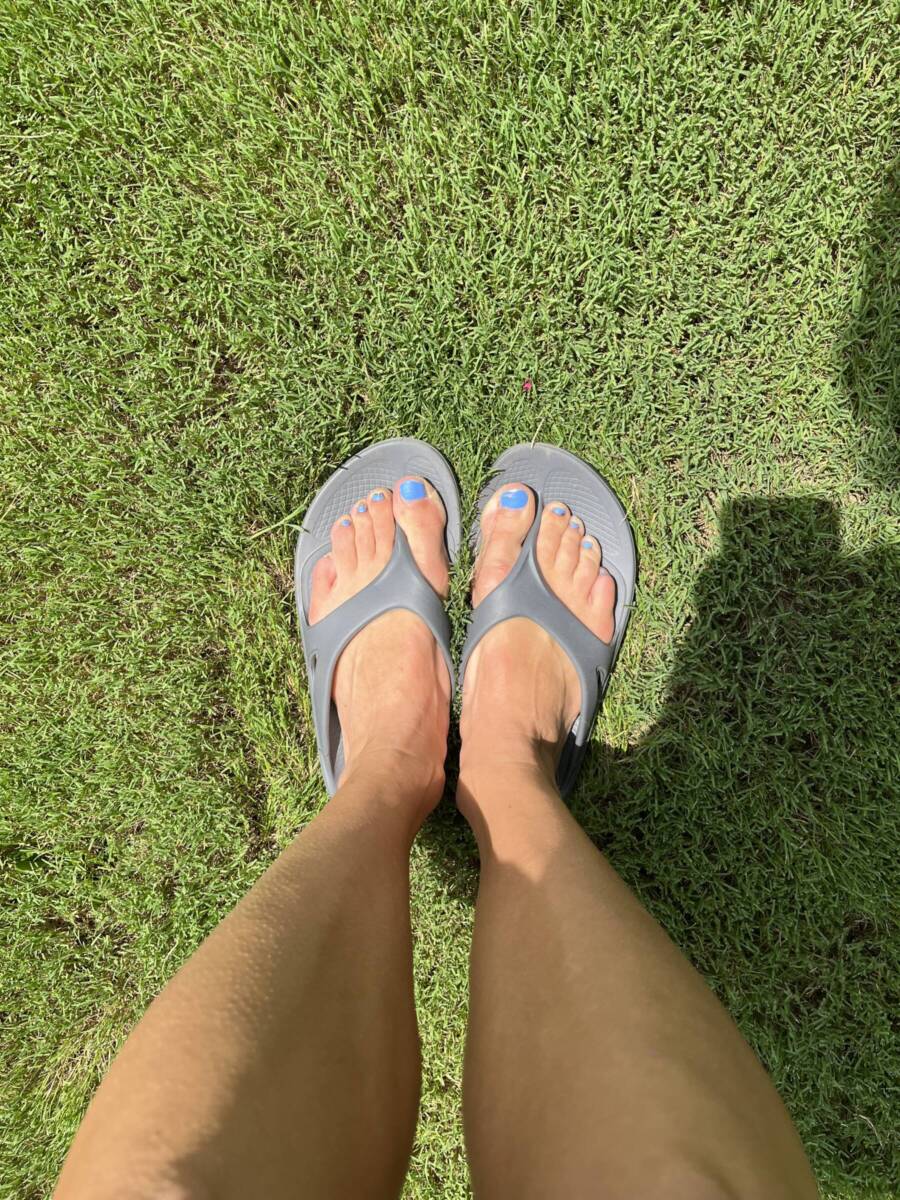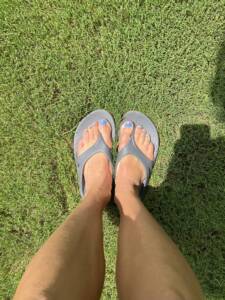 OOFOs has new designs that are more attractive than the sandals in my opinion (like the OOFO OOahh slide which has a nice soft top layer or closed-toe shoe OOmg EeZee Low Shoe)—but they still aren't pretty (aka not suitable yet for weddings, ha!). And when they wear down, the sole will become flimsy and fold under putting you at risk for falling.
Pros of OOFOs Sandals
Optimal blend of cushion and stability
(American Podiatric Medical Association) AMPA-approved
No rubbing or chaffing of straps
Incredibly comfortable and easy to put on
Easily rinsed off if they get dirty
Perfect for those who suffer from plantar fasciitis
Last up to a year of regular use
Don't get sweaty or hot
Inexpensive
Scientifically proven to increase recovery
Cons of OOFOs Sandals
Not attractive
The color coating peels off overtime on the colorful models
The foam on the sole gets flimsy and folds under over time
Key specs:
Type: Flip-flops
Color: Comes in various colors
Weight: 4 oz.
Drop: NA
Bottom line: If you are a runner, you should own OOFOs are some of the best shoes for recovery you can own. I recommend them to all my athletes. And all of them say they help them feel fresher faster.
Hoka ORA Recovery Slide
Another shoe I became reliant on when I had my plantar injury was Hokas. I realized the hard way that Hokas are the only running shoes I log lots of easy and intense miles in and stay injury-free.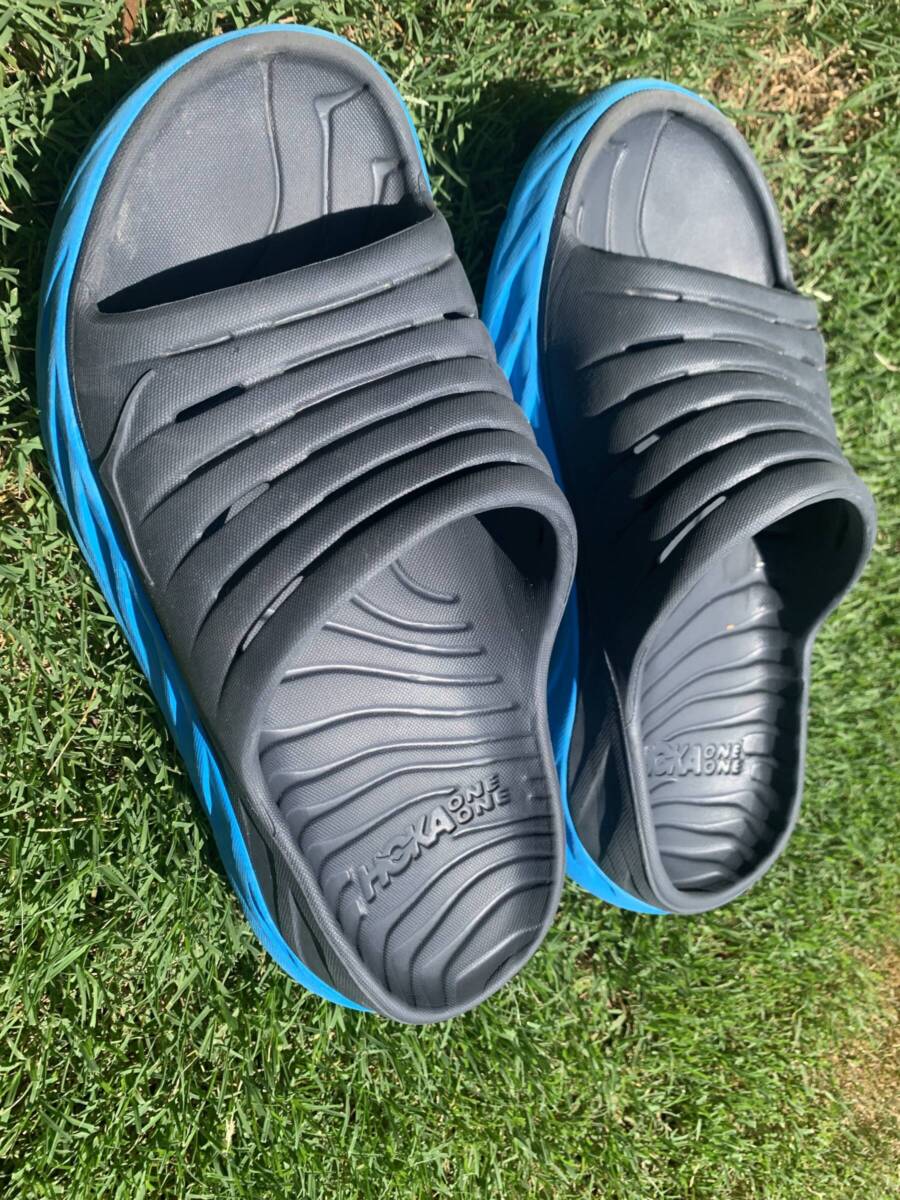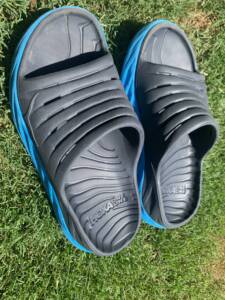 Related: When to Replace Your Running Shoes
(Read my Hoka Rincon review, noting the Rincon is the best Hoka model for plantar fasciitis).
As expected, I loved the feel of the Hoka ORA Recovery Slides. They fit my feet like a glove, making them feel extra supported. And the Hoka signature meta-rocker helped propel my feet forward requiring my legs to use less energy to move.
Wearing them after my runs made my legs feel less worked but not as recovered compared to my OOFOs sandals. I think it is because the material in the Hoka recovery slides is more rigid so each step, while supported, wasn't as springy or bouncy.
What I loved most in the Hoka recovery shoes versus the OOFOs sandals was that it held my feet in place. I felt more supported to do things like walk my crazy dogs without tripping or sliding.
Bottom line: You can't go wrong with a Hoka shoe when it comes to comfort. I loved how supportive my Hoka Recovery Slides felt but the material isn't as cushioned as the OOFOs. These Hoka recovery shoes are best if you are doing lots of vigorous walking. OOFOs are better for all-day, leisurely wear.
Related: How to Prevent Common Running Injuries
Pros of Hoka ORA Recovery Slide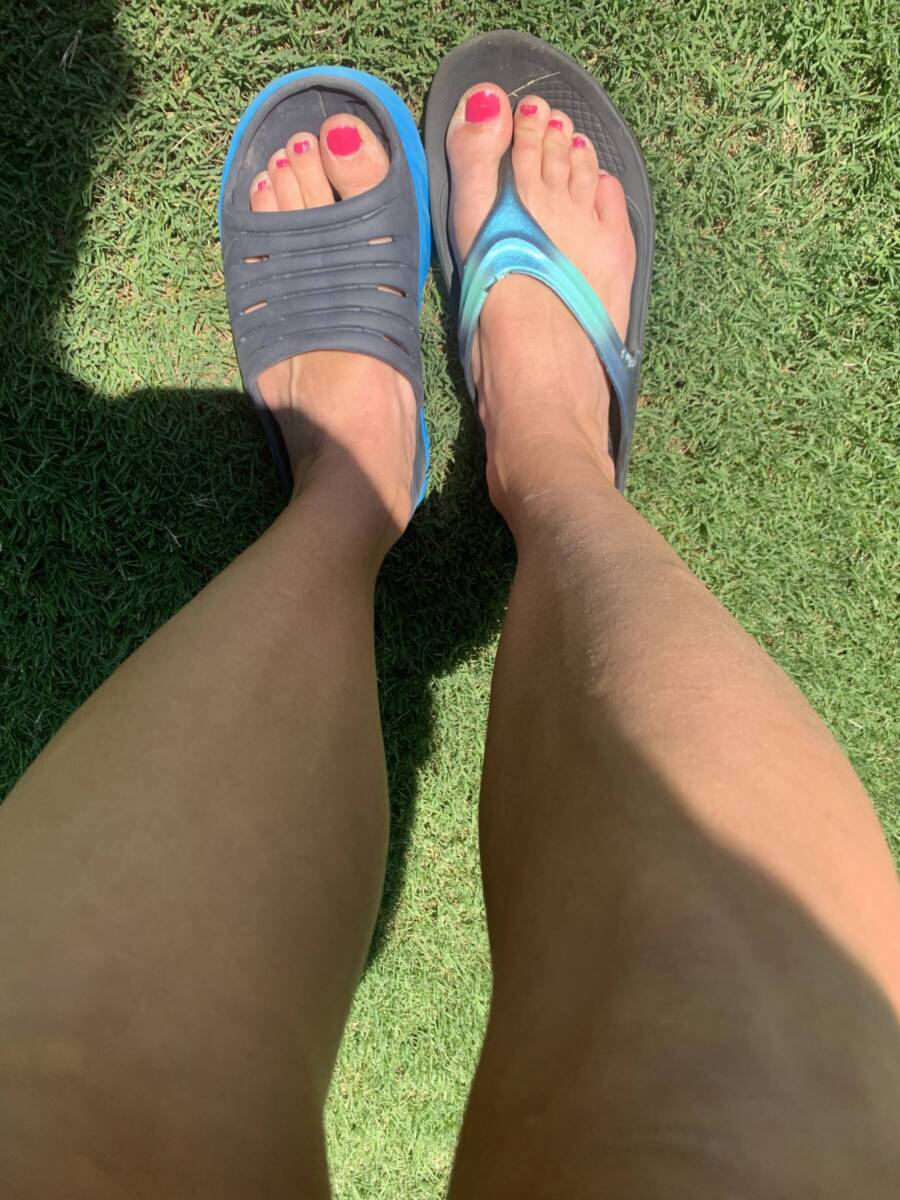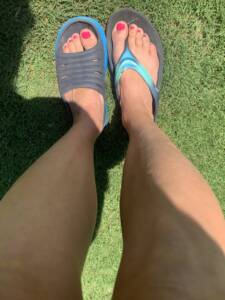 ·
Meta-rocker conserves energy of your movement
Hugs feet for optimal support
Various colors
Easy to clean
Doesn't get hot
Makes your legs feel less worked
Comes in a sandal option
Material lasts longer than a year
Less expensive than OOFOs
Cons of Hoka ORA Recovery Slide
Not as cushioned or as soft of a sole as OOFOs
Looks like an athletic shoe so doesn't go with "street clothes"
Key Specs:
Type: Slide sandals
Color: Various colors and two patterns
Weight: 6.6 oz.
Drop: 6mm
Kane Revive Active Recovery Shoe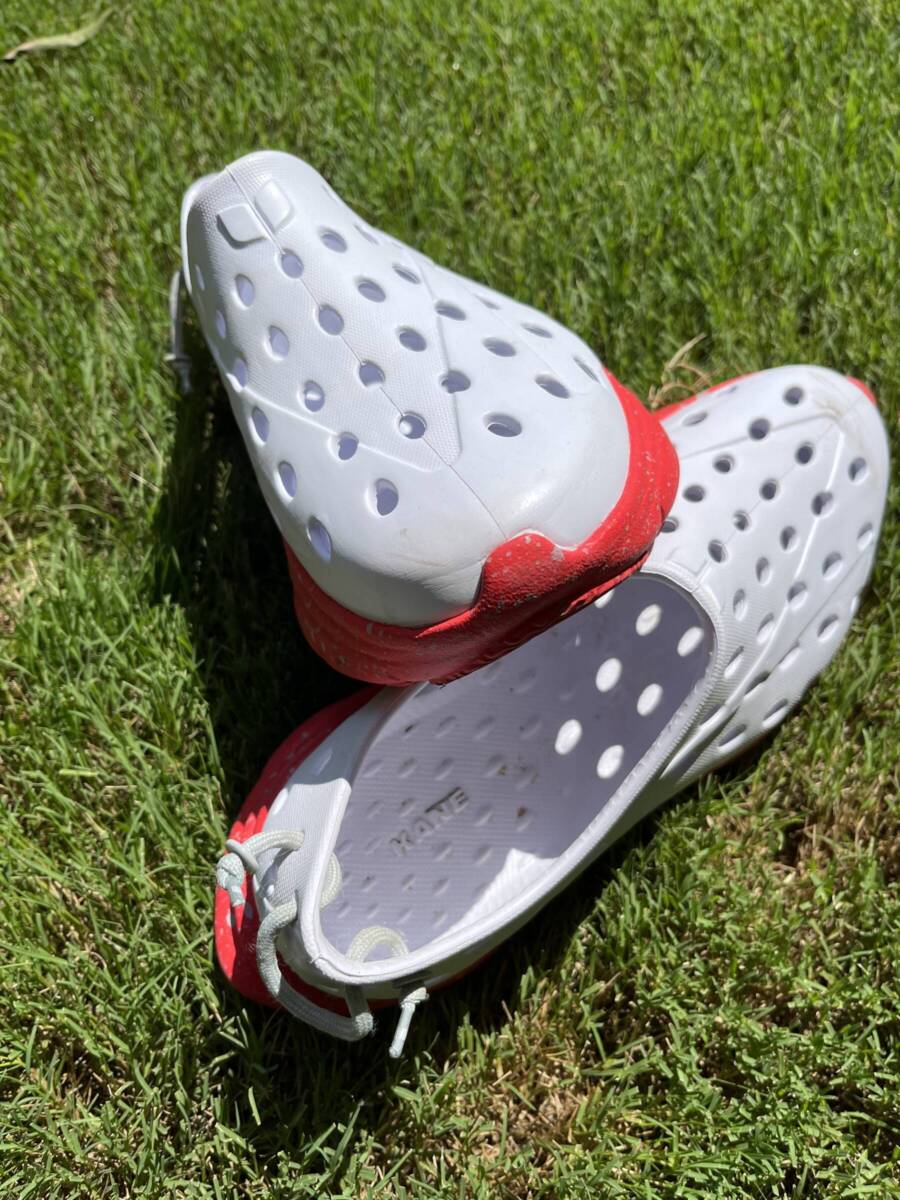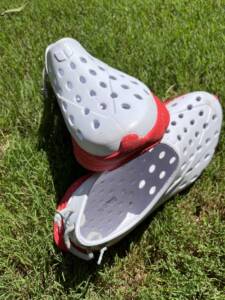 If the Hoka slides are good for walking the dog, then the Kane Revive Active Recovery Shoe is great for jogging with your dog. Indeed, these shoes are "active recovery" shoes, meaning they are meant for you to be up and moving around versus lounging or leisurely walking.
Related: How to Fix Your Running Form
For this reason, these recovery shoes are not recovery sandals or slides. They fit around your whole foot and resemble Crocs—but an edgier, cooler looking Crocs (though my kids who love their Crocs and their Jibbitz charms may disagree).
Related: How to Start Your Kids Running
I loved that my feet felt supported and massaged in these shoes. The footbeds have rubber nodes that massage pressure points in your foot, activating blood flow according to Kane.
What I didn't love was how rigid the material felt. And the way it was cut rubbed into the side of my foot giving me a mild blister. Other people did not complain of this so it is likely just my anatomy!
Related: 9 Steps to Return to Running After Injury
But for this reason, I wore these shoes for walks with my dogs and errands like to the mall with my kids, but I didn't wear them around the house like I did with the OOFOs and Hokas.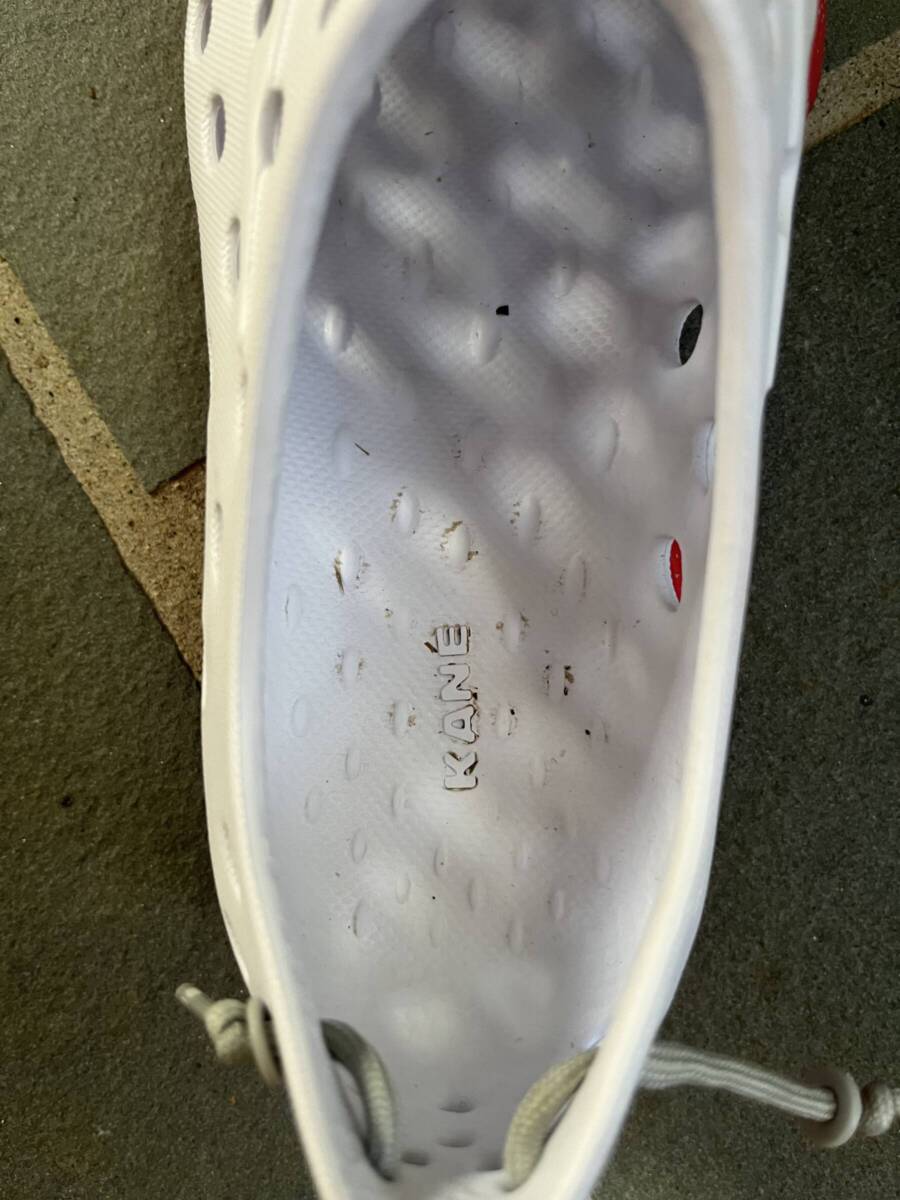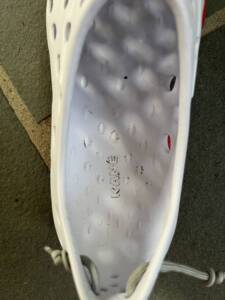 Pros of Kane Revive Active Recovery Shoe
10mm heel-to-toe drop that reduces strain on the Achilles and assists natural stride
A wide toe box to accommodate for post-workout swelling
Excellent arch support making it a great option for those with plantar fasciitis
Raised nodes on the sole to stimulate blood flow and massage feet
Stays put so you can be active
Easy to rinse and clean
Array of attractive colors and styles
Made of eco-friendly material and 100 percent recyclable
Cons of Kane Revive Active Recovery Shoe
Rigid material that wearers say needs to be worn in for optimal comfort
Can get hot and sweaty
Cut rubbed by foot below the ankle
Key Specs: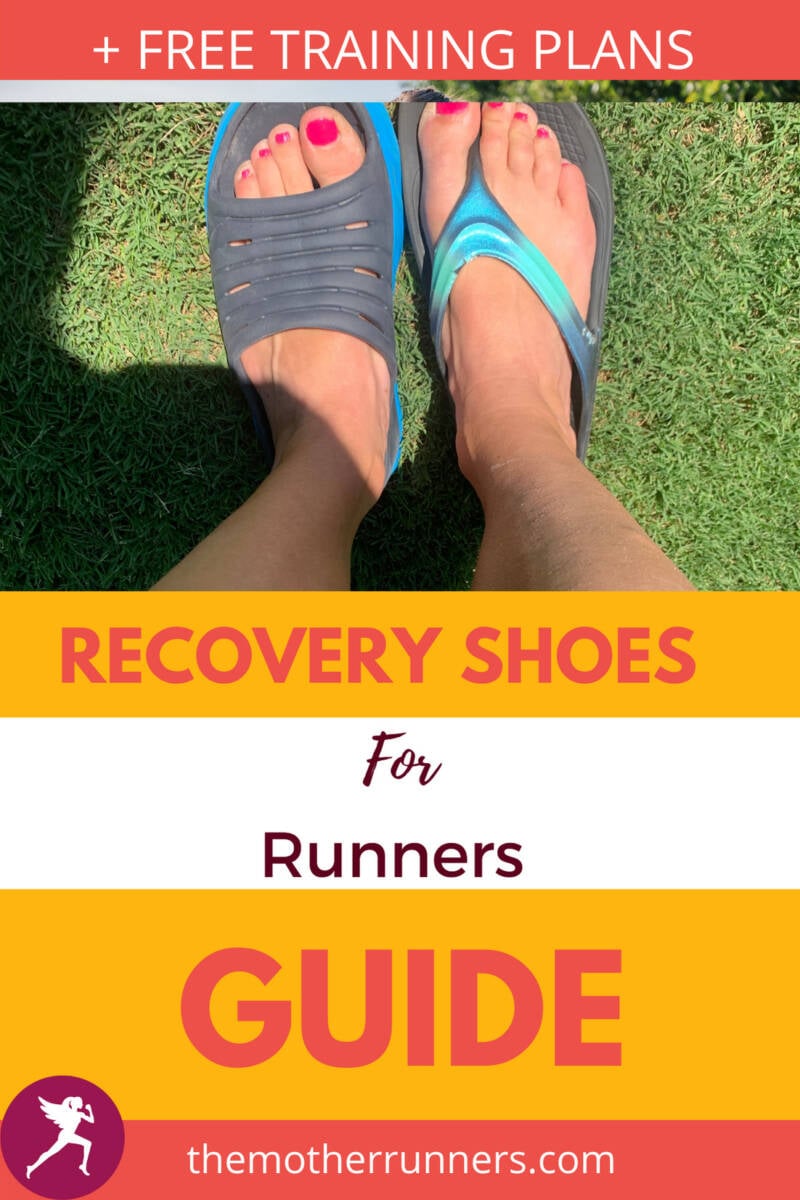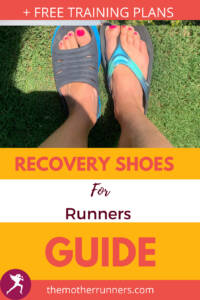 Type: Slip-on
Color: Various colors and patterns
Weight: about 9 oz.
Drop: 10 mm
Bottom line: My feet felt relaxed but my body didn't feel less "worked" when wearing these shoes. I do like the athletic style and colors best of the three.
All of these recovery shoes are great options. My favorite and the ones I wear the most are still OOFOs. No matter the one you like the best, I do think a recovery shoe should be a staple for any runner.
If you want guidance with your training, check out my run coaching services. Also, be sure to check out my free training plans: