Achilles tendonitis is one of the most common running injuries. When running, your foot hits the ground with every step and pushes off again—and this repeated motion can put pressure on the Achilles tendon. The pain from Achilles tendonitis is often felt in the back of the heel bone and can cause swelling and stiffness in this area.
You might have heard of Achilles tendonitis as "heel pain," but it's important to note that this condition does not always affect only one part of your body; rather, it can cause pain all along your lower leg (including in your calf muscles) as well as in other places like knees and ankles.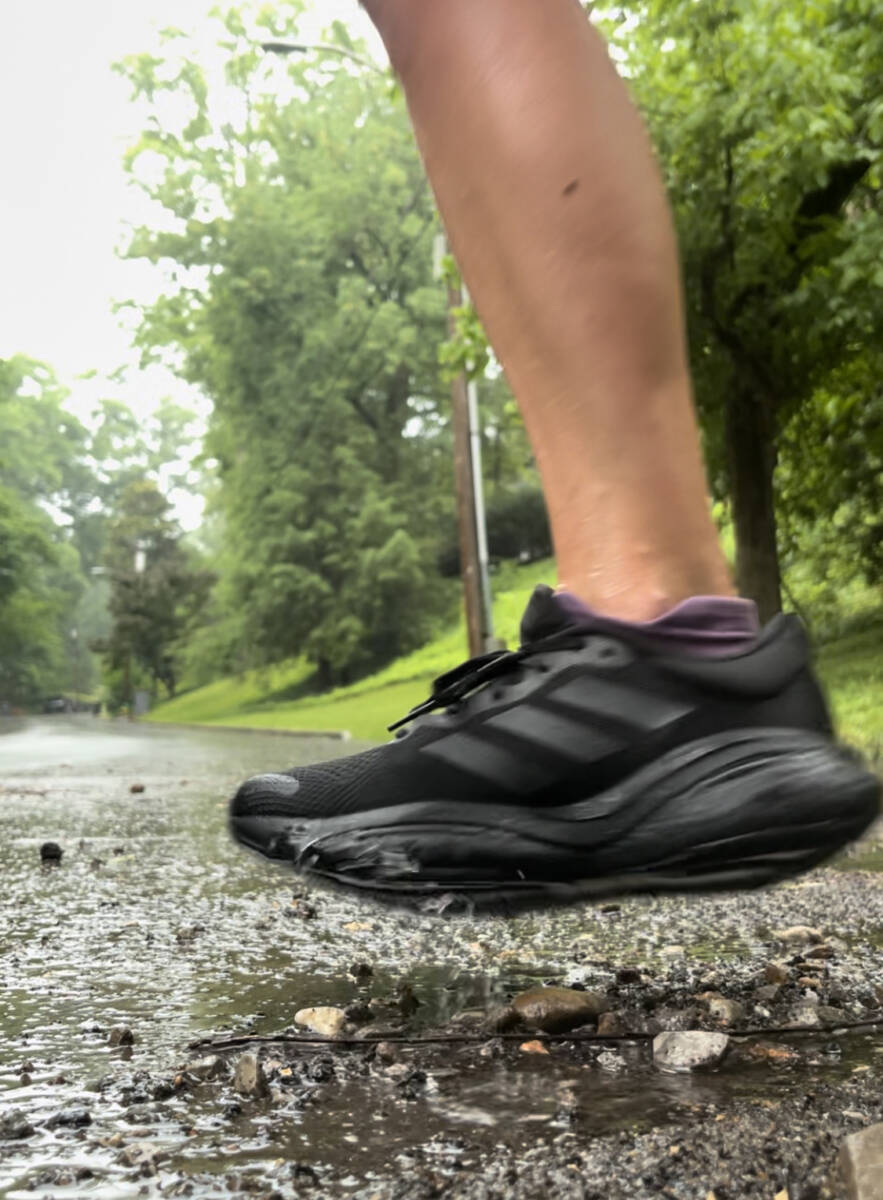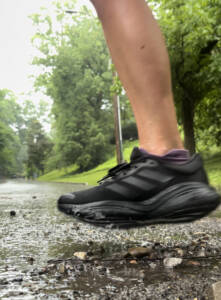 I had my first brush with Achilles pain when I was in grade school from playing soccer in too rigid of cleats. I struggled with it for more than a year. Finally, my dad just sliced the bottom of my cleats, popped in a heel lift, and I was on my merry way. Thankfully, I've only had a touch of heel pain since when I developed a plantar fascia tear and plantar fasciitis. Plantar fasciitis and Achilles tendonitis often go together.
Related: How I Healed My Plantar Fasciitis
A change in running shoes can have almost as magical effect for Achilles pain. That's why I got with Doctor of Physical Therapy, Joe Norton, and my friend Amanda Martin, an elite runner, running shoe guru, and student in physical therapy, to come up with a guide for the best running shoes for Achilles Tendonitis.
In this article, I will cover:
What is Achilles tendonitis
How to treat Achilles tendonitis
Should you stretch for Achilles pain
What to look for in running shoes for Achilles tendonitis, and
7 best running shoes for Achilles tendonitis.
Please note, I am not a medical professional. But I did speak with one for this article. If you need help with your Achilles pain, go see a healthcare professional!
Okay now, let's go!
What is Achilles Tendonitis?
Achilles tendonitis is one of the most common injuries for runners. Achilles tendonitis is an inflammation of the Achilles tendon that connects your calf muscles to your heel bone. This tendon is the largest and strongest tendon in the body and serves as a shock absorber for your foot, so it plays a major role in stabilizing your gait when you run.
Symptoms of Achilles Tendonitis: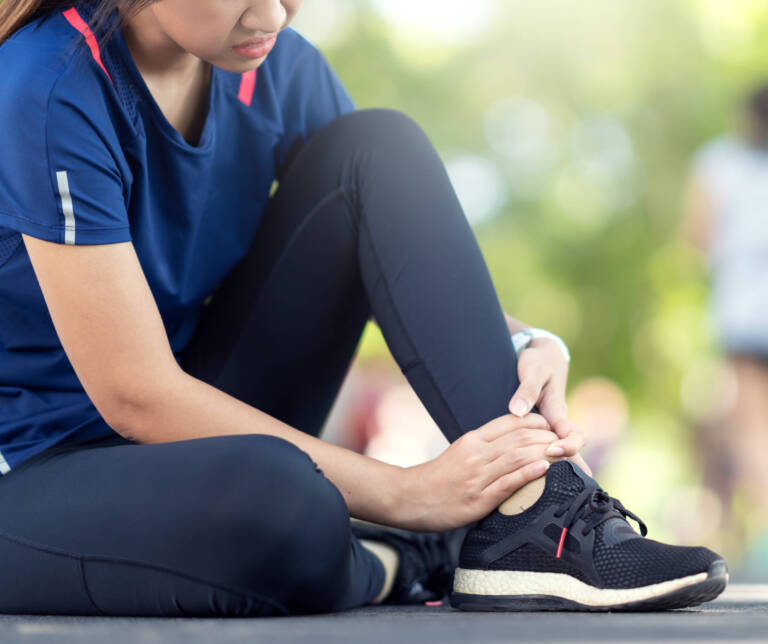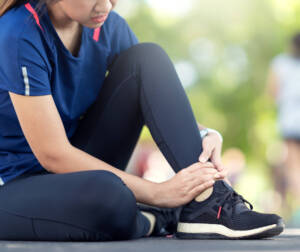 pain in your heel or lower leg at the back of your ankle
stiffness after exercise
tightness in the calf muscles; swelling
warmth around the area
and difficulty walking up stairs or hills without pain.
Causes of Achilles Tendonitis include:
Improper shoes or shoes with too much mileage
Increase of mileage too quickly
Change in running surface or terrain
A sudden increase in speed or intensity of running
Overpronation of the foot
Weak core muscles
Related: How to Treat and Diagnose Your Running Injury
Other causes of Achilles pain include:
Achilles tendinosis (microscopic tears in the tissue of the Achilles tendon)
Achilles bursitis (inflammation of the small fluid-filled sac near the Achilles tendon)
Fractures or fractures near the ankle joint, which may occur after a fall or during sports activities such as running or basketball
Infections such as septic arthritis (infection in joints), osteomyelitis (infection within bones), or cellulitis (cellulitis)
Note: Heel pain can also be caused by plantar fasciitis and ankle sprain, both common in runners.
How do you treat Achilles tendonitis?
Treat Achilles Tendonitis by:
Resting your foot (cross-train instead of run until the pain subsides)
Icing and heating throughout the day for 20-minute intervals
Wear proper shoes at all times

Ensure you are wearing proper running shoes for Achilles tendonitis
Gently foam roll your calf in the acute phase of pain and then gently stretch your calf as your pain dissipates
Begin strengthening your calf muscles with calf raises (3×20 reps per day)
Strengthen your core

Consider wearing a compression sleeve, or ankle brace, or use KT tape for added support.
Related: Injured Before Your Marathon? Here's What to Do
Can you run with Achilles tendonitis?
In some cases, you can run with Achilles tendonitis, in other cases, you may need to take a break from running.
If your heel pain increases as you run or you are changing your gait to run, then you need to take some time off and treat your Achilles.

Pin these best shoes for achilles tendinitis in runners for later!
If your pain decreases as you warm up, then you can continue to run if the pain does not go above a 3/10 on the pain scale during or after your run. You will still need to treat your Achilles pain so that it does not increase.
Pain Relief Tips for Achilles Tendonitis
If you have Achilles tendonitis, there are a few things you can do to relieve pain:
Ice your Achilles for 15 minutes at a time, about three times a day. This will help reduce inflammation and soreness in the tendon.
Follow icing with a warm compress. You can soak a towel in warm water and lay it over the affected area for 5-10 minutes at a time.
Elevate your feet above heart level on a pillow or chair. This will help take some of the pressure off of the tendon, which helps relieve pain and swelling.
If your pain is disrupting your sleep and daily activities, you can take ibuprofen or acetaminophen for pain relief.
Use a foam roller or tennis ball to massage out any knots in your calf muscles.
Wear compression socks, a brace, or sleeves to improve support and blood flow through your ankle and foot and accelerate healing.
Heel lifts of at least 1 cm and orthotics can relieve pressure.
Related: How to Return to Running After Injury
Should you stretch for Achilles tendonitis?
If you're suffering from Achilles tendonitis, you may be wondering if you should stretch your Achilles.
The answer is: it depends.
It's important to remember that stretching is not a cure-all for Achilles tendonitis. It can be helpful in the right context, but you need to make sure that you're doing the right kind of stretches for your particular injury.
Do not stretch: If you have an inflamed tendon—which is the most common type of injury associated with Achilles tendonitis. Avoid stretching and instead try using ice and compression on the area. This will help reduce inflammation and provide relief from pain.
Stretch: If your problem seems to be more mechanical than inflammatory (meaning that there isn't much swelling), then maybe okay to stretch if you do it correctly: don't bounce or force yourself into positions where your body isn't ready for them yet!
Related: 6 Best Yoga Poses for Runners
Best Stretches for Achilles Tendonitis
The best stretches for Achilles tendonitis are those that involve the calf muscles. The most important thing to remember when stretching your calf muscles is that you should hold each position at least 30 seconds, and you should repeat each stretch three times.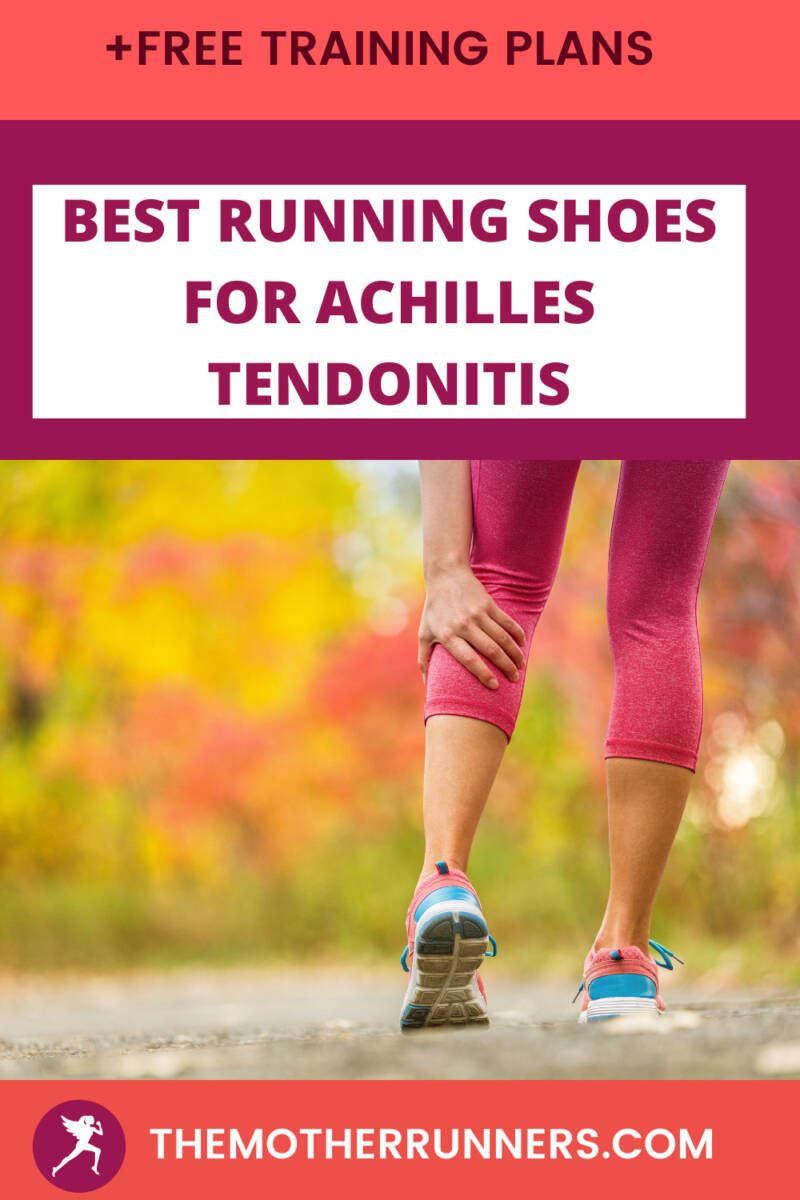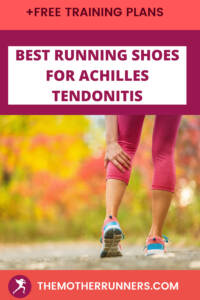 Standing Calf Muscle Stretch: Face a wall. Put your injured leg forward and keep the other leg back. Bend at the knee of your injured leg, with your foot flat on the ground, then lean forward with your hips and hands against the wall. You should feel a stretch in your Achilles tendon, which is what you're trying to accomplish here. Hold for about 30 seconds, then repeat three times on each side.
Seated Calf Muscle Stretch: Sit on the floor with your legs straight out in front of you (or as far apart as possible), bend one foot up towards your buttock while keeping it straight, and pull gently on the toes until you feel a stretch in your calf muscle (which will happen after about five seconds). Hold this position for 30 seconds before switching legs and doing the same thing with them. Repeat this sequence three times daily.
Related: Strength Training for the Marathon
What to look for in a running shoe for Achilles tendonitis?
For those who suffer from an Achilles injury, finding the right pair of shoes can be a challenge. I recommend going to a running store and being properly fitted. You want something that's comfortable, supportive, and durable.
Here are some tips from Norton and Martin for choosing the best running shoe for your needs:
High drop: Look for a high heel-to-toe drop in the beginning stages. (A heel-to-toe drop is the difference in height between the heel and the forefoot. A high drop would be between 5-12mm). After you increase strength in your calf muscles, you can move to a lower drop.
Heel cushion: This will help to distribute the weight evenly across your foot, absorb impact, and reduce pressure on your Achilles tendon. Also, make sure the material around the heel doesn't compress or rub against your tendon.
Heel rocker: Shoes like Hokas that have a rocker bottom can take also take the stress off the Achilles, notes Norton.
Good arch support: This will help keep your arch in alignment and reduce strain on your ankle area by giving it more stability throughout each step you take.
Neutral shoe: A neutral shoe will give you more cushioning and support than a stability shoe. However, if you are an overpronator (when your foot lands on the outer heel and rolls in) then you will need a stability shoe. Going to a running shoe store and having someone watch you run is the best way to ensure you get the right motion control in your shoe.
Heel counter: A heel counter is a piece of material that wraps around the back of your heel when you put on the shoe. The heel counter should be firm, but not too firm; otherwise, it could cause irritation or blisters on your heels when you wear it for long periods of time.
Related: When to Replace Your Running Shoes
7 Best Running Shoes for Achilles Tendonitis
Below are the best running shoes for Achilles tendonitis. These shoes incorporate many, if not all, of the above qualities runners should look for when needing to relieve Achilles pain.
Related: How I Stopped Being an Injury Prone Runner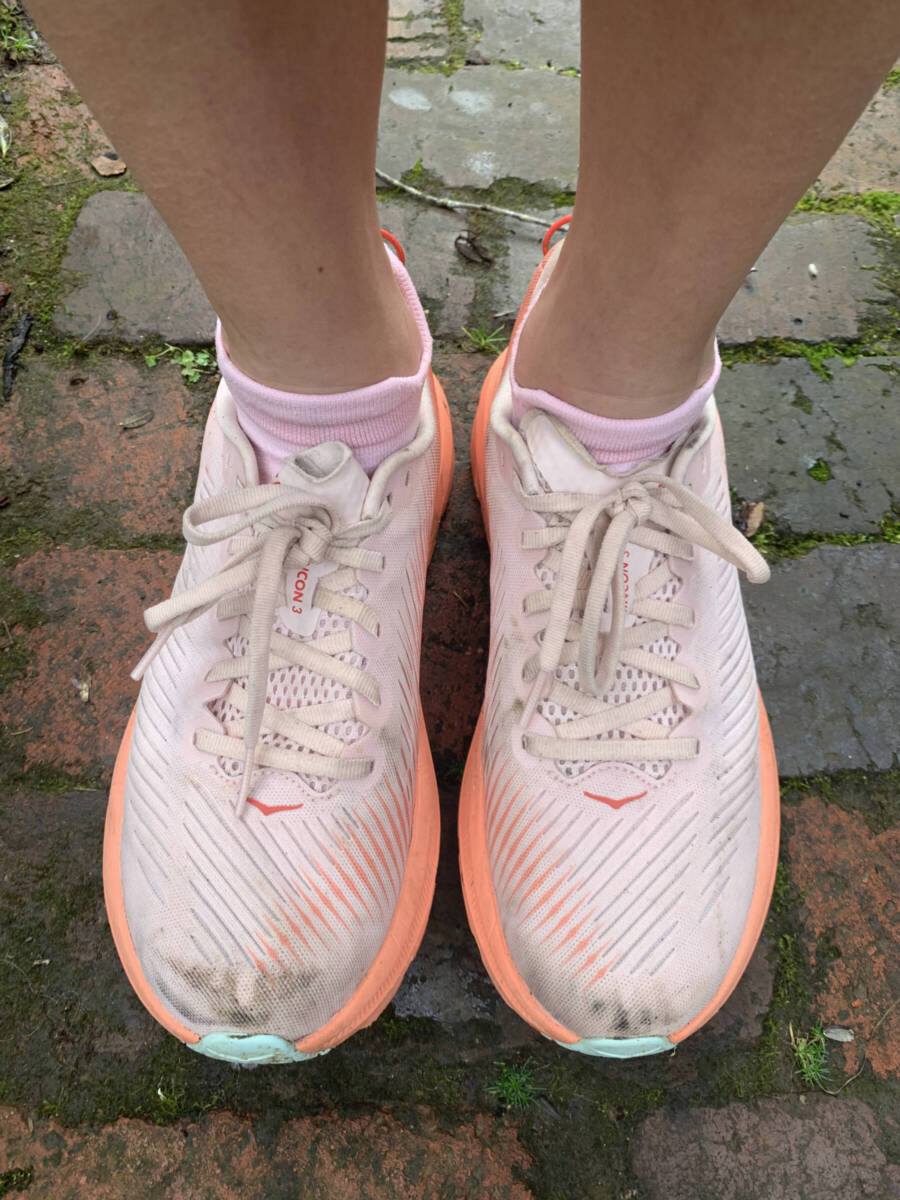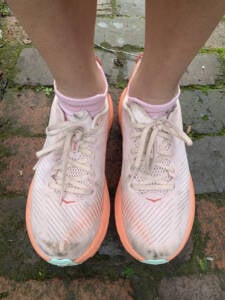 It's no secret I am a huge fan of HOKA. With their cushion and meta rockers, HOKAs are perfect shoes for those
struggling with Achilles tendonitis. The HOKA Rincon is the shoe that allowed me to return to running after my plantar fascia tear and Achilles tendonitis.
It has a low-profile cushion coupled with a firmer material giving you the best of both worlds: comfort and speed. The shoe is responsive yet plush. The only drawback of the HOKA Rincon is that you don't get as many miles on it as other shoes. I typically have to get new ones after 200-250 miles.
Read my full Rincon review here.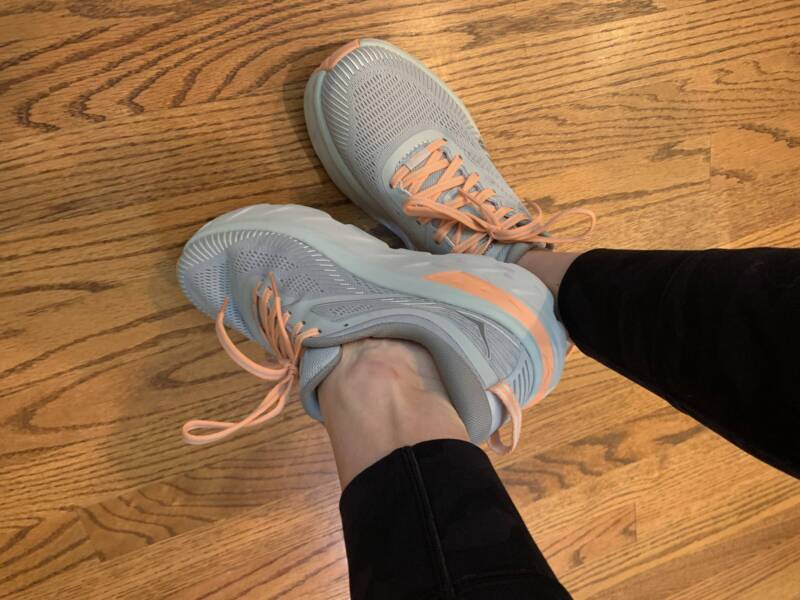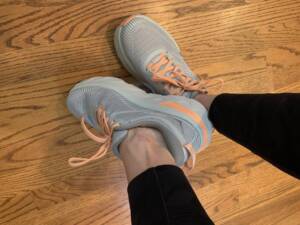 The HOKA Bondi 8 is like running on a plush pillow. They are extreme comfort with soft midsole foam and compression pads at the heel and forefoot to provide additional support while running. These pads also help minimize shock absorption during each stride.
The Hoka Bondis have a full-length EVA midsole, which is cushioned and supportive, as well as a padded collar that makes them comfortable right out of the box. The main drawback of these shoes is that they feel clunky—so definitely not a shoe to wear if you have speedwork on the calendar.
Read my full Bondi review here.
adidas Solar Glide Running Shoes: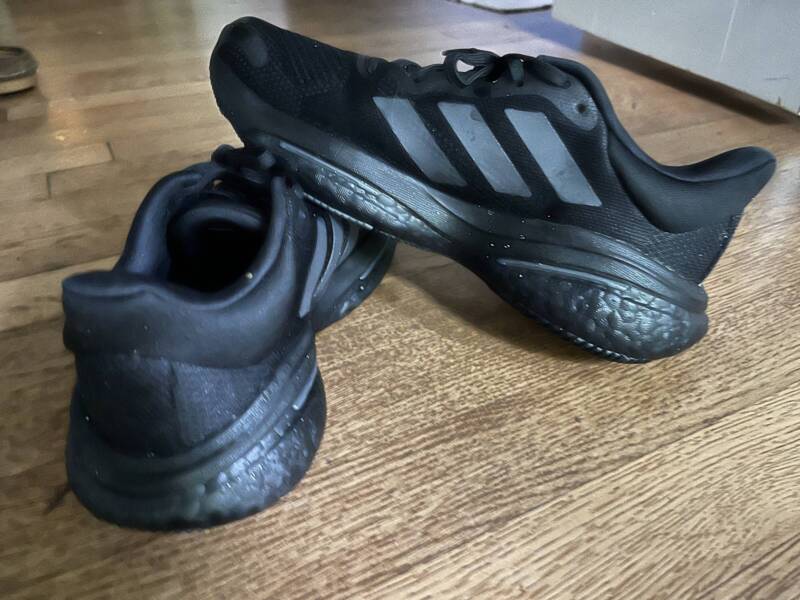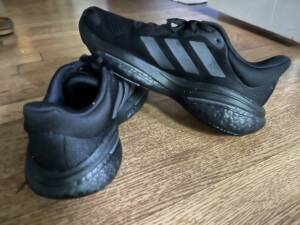 The adidas Solar Glide running shoes are sturdy yet cushioned shoes. Packed with performance technology like the BOOST trademarked polymer midsole and LEP 2.0 (linear energy push) in the sole, you feel springy and
powerful in these shoes. What I like best is that your foot feels supported but not rigid. It's my go-to shoe for rainy runs. It's not my go-to for speedwork or longer runs.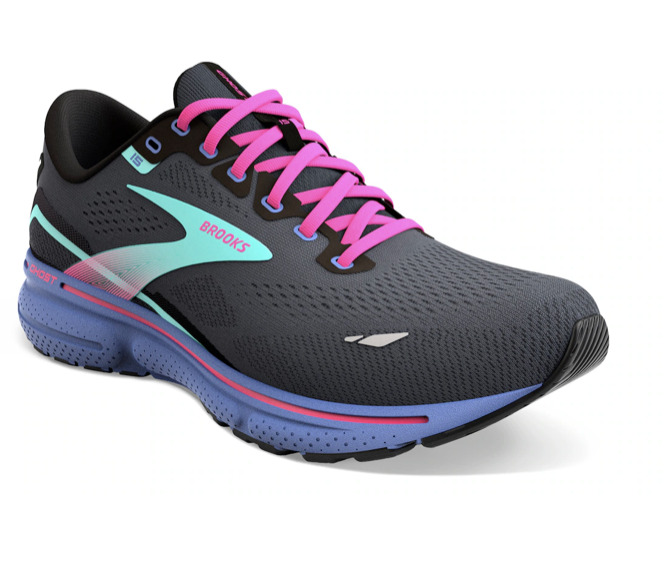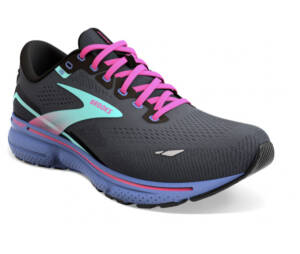 The Brooks Ghost 15 is super lightweight and flexible but still offers amazing support and comfort. The Brooks Ghost absorbs impact really well and helps reduce fatigue on long runs.
The midsole includes cushioning that's just enough to make running comfortable without adding too much bulk or weight. The only downside is that it takes a while to break in.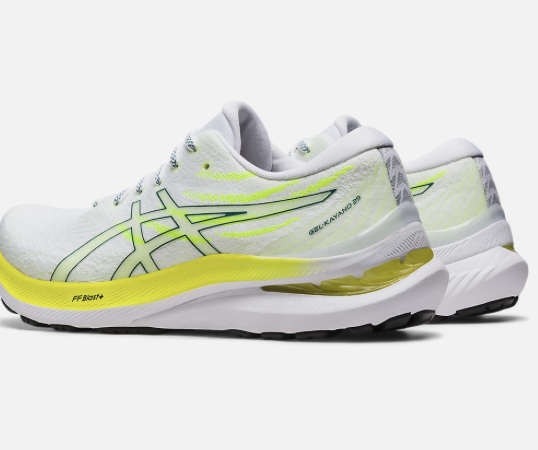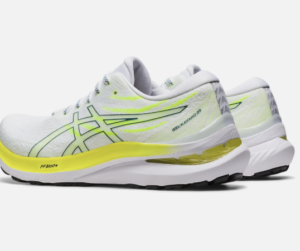 The Asics Gel-Kayano 29 running shoes also offer both comfort and stability. The dual-density midsole is designed for optimal shock absorption plus energy return so, like the Rincon, you can take these out for long runs and tempos. The outsole has flexible grooves that allow for natural motion during running, which reduces muscle fatigue over time. I ran in the Gel-Kayanos for years. Compared to the Rincons, they feel a bit cumbersome.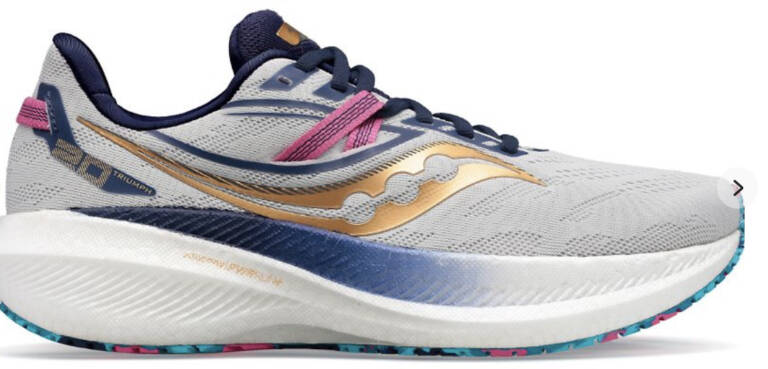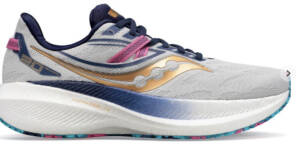 The Saucony Triumph triumphs in being lightweight, comfortable, and with a ton of cushioning in the midsole, which makes it comfortable to run in and gives you some extra protection against injury. The upper is breathable so your feet won't get too hot or sweaty, My biggest complaint about this shoe is that they feel heavy after several miles so they are best suited for base-building runs.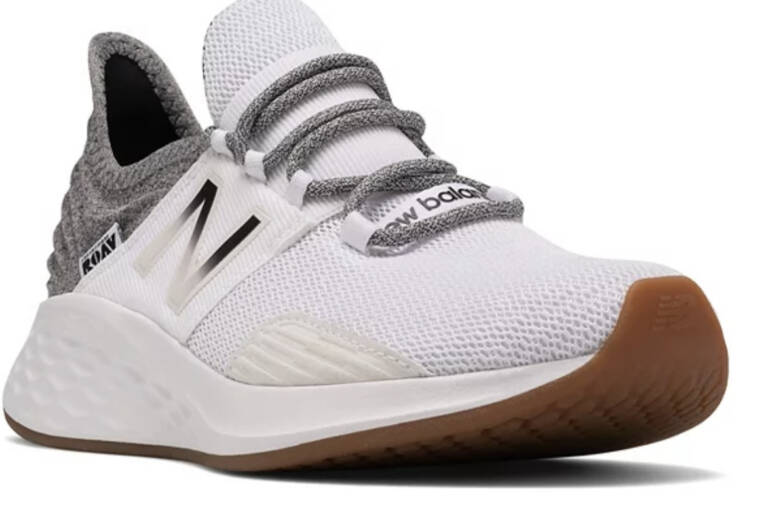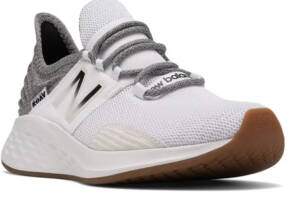 The New Balance Women's Fresh Foam Roav v1 features fresh foam cloud-like midsole that offers a lightweight and ultra-cushioned ride. The neutral shoe hugs your heel for support and stability. The 8mm drop is moderate so you can wear this shoe even after your Achilles tendonitis heals. What I don't love about these shoes is that the toe box is very wide so it's not best for those who overpronate and can lead to sliding and blisters.
If you want guidance with your running goals, check out my run coaching services. Also, be sure to check out my free training plans: