The jogging stroller market is changing. New models are coming out every year including those that almost literally turn everything on their head. Well, maybe not turning it on their head but almost doing it backwards where you aren't pushing but you're pulling! So it's time to review the best jogging strollers on the market!
I am going to stack up the most popular and best running stroller, the BOB Revolution, which I logged countless miles with my kids versus the newly ever-popular KidRunner.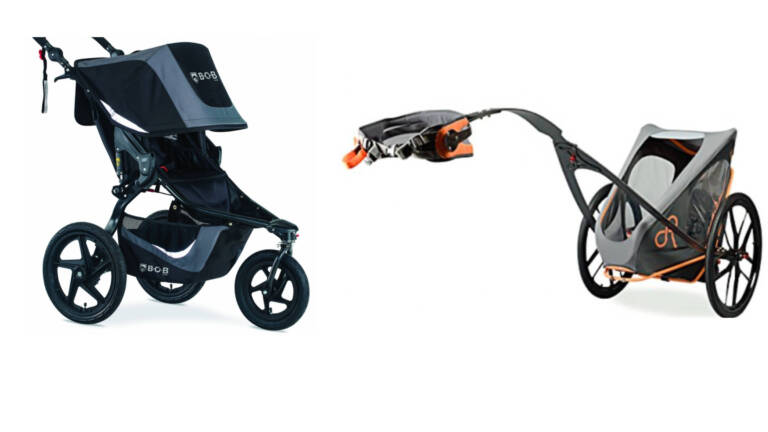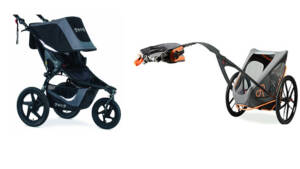 The KidRunner is vastly different than most jogging strollers because instead of pushing the stroller—doing the dance between one arm, two arms, the other arm, sometimes no arms (push and glide, baby!)—you pull them behind you like you're a dog pulling a sled. No joke.
It's more of a freeing feeling—you have the open road ahead of you, your arms and hands are free, and it's easier than pushing. BUT, this model of jogging stroller may have some drawbacks (pun intended).
So, I'm putting the best jogging stroller against each other—reading reviews and asking fellow mother runners for their honest opinions.
In this article, I'm going to cover:
Is a running stroller worth it?
When can you use a running stroller?
The pros and cons of running strollers?
How much harder is it to use a jogging stroller?
And then review two of the best jogging strollers: BOB Revolution vs. the KidRunner
Related: Top Running Stroller Tips
Is a running stroller worth it?
If you're a runner with a baby or toddler, than a jogging stroller is definitely worth it. Running strollers come with a hefty price tag (usually more than 600 dollars) but you will get your use out of them.
The extra money usually comes in the form of air-filled tires, a suspension system, storage, handbrakes, a front wheel that can lock—and freedom to go for a run when you have young kids without the need for childcare.
A good quality running stroller will last you years and miles. Indeed, you can buy used running strollers for a fraction of the cost off Facebook Marketplace or Craiglist, and recuperate some of the cost by reselling yours.
I logged most of my miles with my babies when they were napping. Indeed, when my kids fought naps, I would take them out in the running stroller and the fresh air and rhythmic running would lull them to sleep.
Related: A Round-up of the Best Running Strollers on the Market
What age can babies go in running stroller?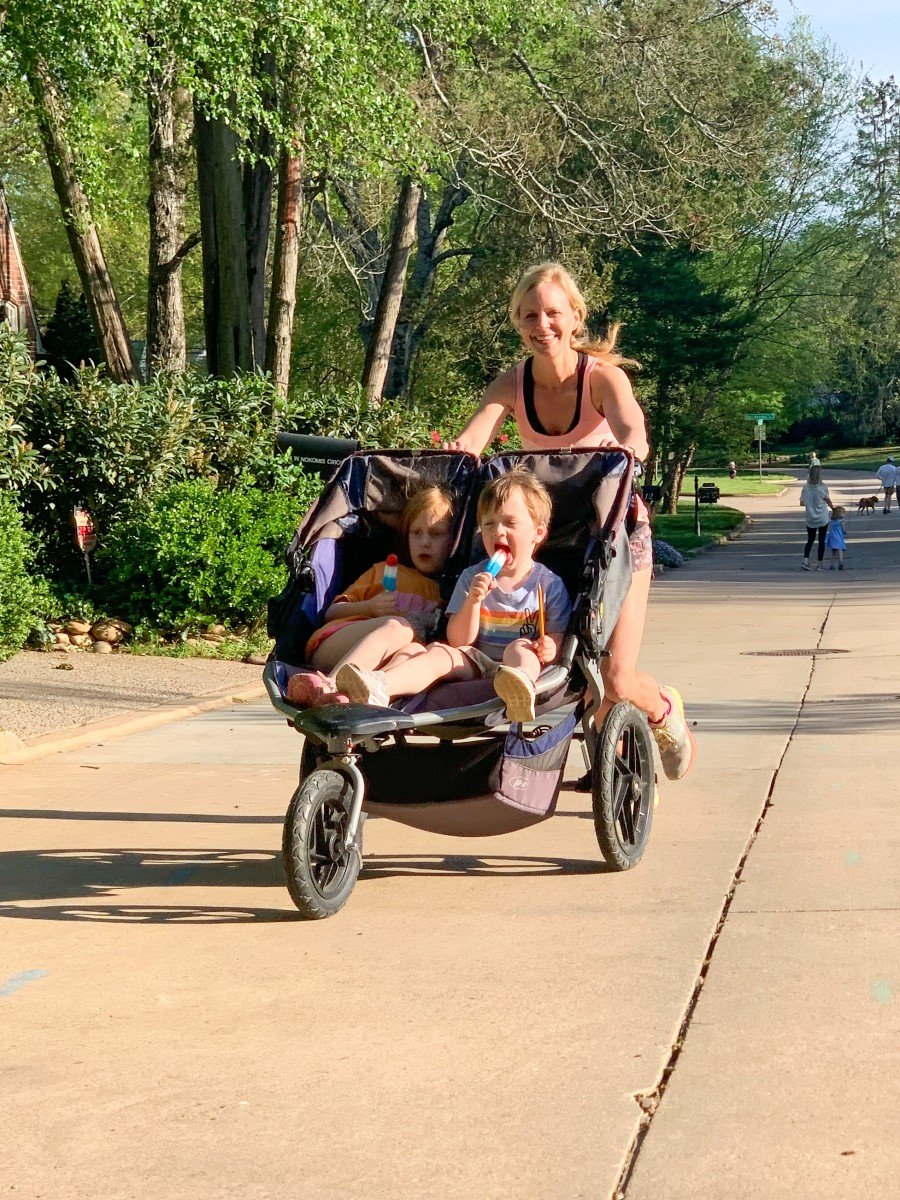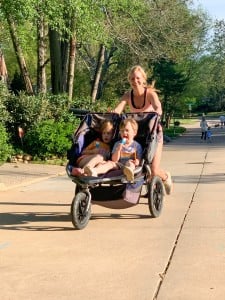 Most pediatricians will advise that babies can ride in a jogging stroller around six months old because this is when most babies can hold their head up. However, I ran with my babies at a younger age by using a car seat adapter.
A car seat adapter is a bar that inserts into most jogging strollers which allows a car seat to lock into the stroller. This allows the baby to recline in the jogging stroller, just as they were riding in a car. No need for head and neck control.
Jogging stroller companies do not advise running with a car seat adapter with a baby under six months old. The main reason is for fear of tipping over.
If you choose to run with your baby using a car seat adapter in the running stroller, be sure:
you stay on smooth and flat terrain
with minimal turns and traffic.
Can you put a 3-month-old in a jogging stroller?
It is not advised to put a 3-month-old in a jogging stroller.
Most running stroller manufacturers want you to wait until you baby is 8 months old. Most pediatricians will tell you to wait until your baby is 6 months old (as long as they are rocking tummy time and showing great neck strength).
You can put a 3-month-old in a jogging stroller using a car seat adapter. This allows the baby to recline (no need for strong head and neck control) and face you so you can see them while you run.
Again, if you do this, be sure to stay on flat, smooth terrain with not a lot of bumps or cars.
Related: How to Get Your Kids to Start Running
How long can you use a jogging stroller?
Most jogging stroller manufacturers recommend not using their products until a baby is at least 6 months old. Some recommend not using a running stroller until your baby is 8 months old to ensure head and neck control.
After you are clear to start using your running stroller, you can get hundreds, if not thousands, of miles on your jogging stroller.
I know friends who have used the same running stroller for ten years or more.
Related: 5 Benefits of Stroller Running
Is a 5-year-old too big for a jogging stroller?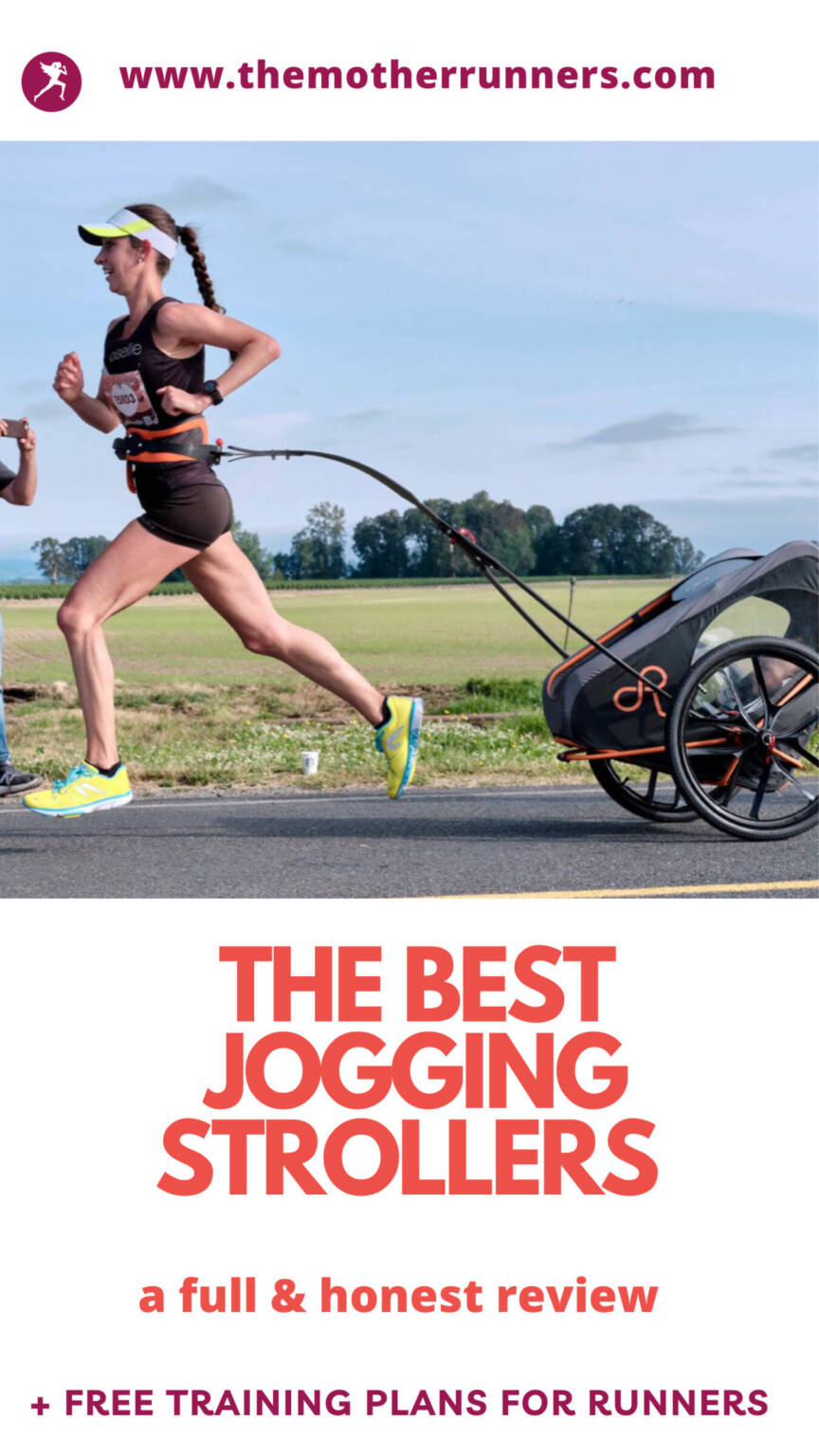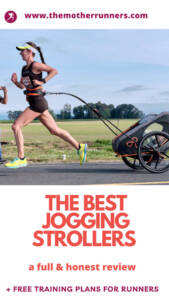 The American Academy of Pediatrics recommends discontinuing use of strollers for kids over the age of 3. However, this isn't out of safety reasons—this is out of reasons for health and inactivity.
I argue running while pushing your 3 or 4-year-old in a stroller is a wonderful way to teach how to be strong, healthy, and active. (Especially, if you make a pit stop at a park along the way!).
Related: How to Keep Your Toddler Happy in the Stroller
Are running strollers safe?
Most pediatricians and jogging stroller companies will recommend waiting until your baby is 6 to 8 months old before using a running stroller. This is the age when babies can hold up their heads. Since jogging strollers don't have a reclining option and babies will also incur some bumps along the way, head and neck control is necessary.
Do you need a jogging stroller to jog?
Yes, you should not run with a traditional stroller. A traditional stroller doesn't have the wheels and suspension to handle the speed and terrain of running. Therefore, it is not a safe and comfortable ride for your child. It also don't have lockable front wheel to help with stability. For your safety, a regular stroller doesn't have the ergonomics to support proper running form.
In short, if you run with a traditional stroller, you risk injuring yourself and your child.
Related: How Cold is Too Cold for a Stroller Run?
Are jogging strollers better than regular?
Jogging strollers are better than regular strollers in that they offer a more comfortable ride, have more safety features such as a locking front wheel and handbrake, and are more versatile.
However, running strollers are bigger and often harder to collapse for travel.
Related: Mom Qualifies for Olympic Trials Training with a Stroller
What are the pros and cons of jogging strollers?
The pros of a jogging stroller are that they are:
versatile,
comfortable,
safe,
have lots of storage,
are easy to assemble,
last a long time,
and provide freedom for a parent to exercise and adventure with their kids.
The cons of a jogging stroller are that they are:
expensive,
bulky,
and the tires lose air pretty fast.
How much harder is running with a jogging stroller?
A study found that running with a jogging stroller is 5 to 8 percent harder than running without one. This means that you burn 5 to 8 percent more calroies running with a running stroller.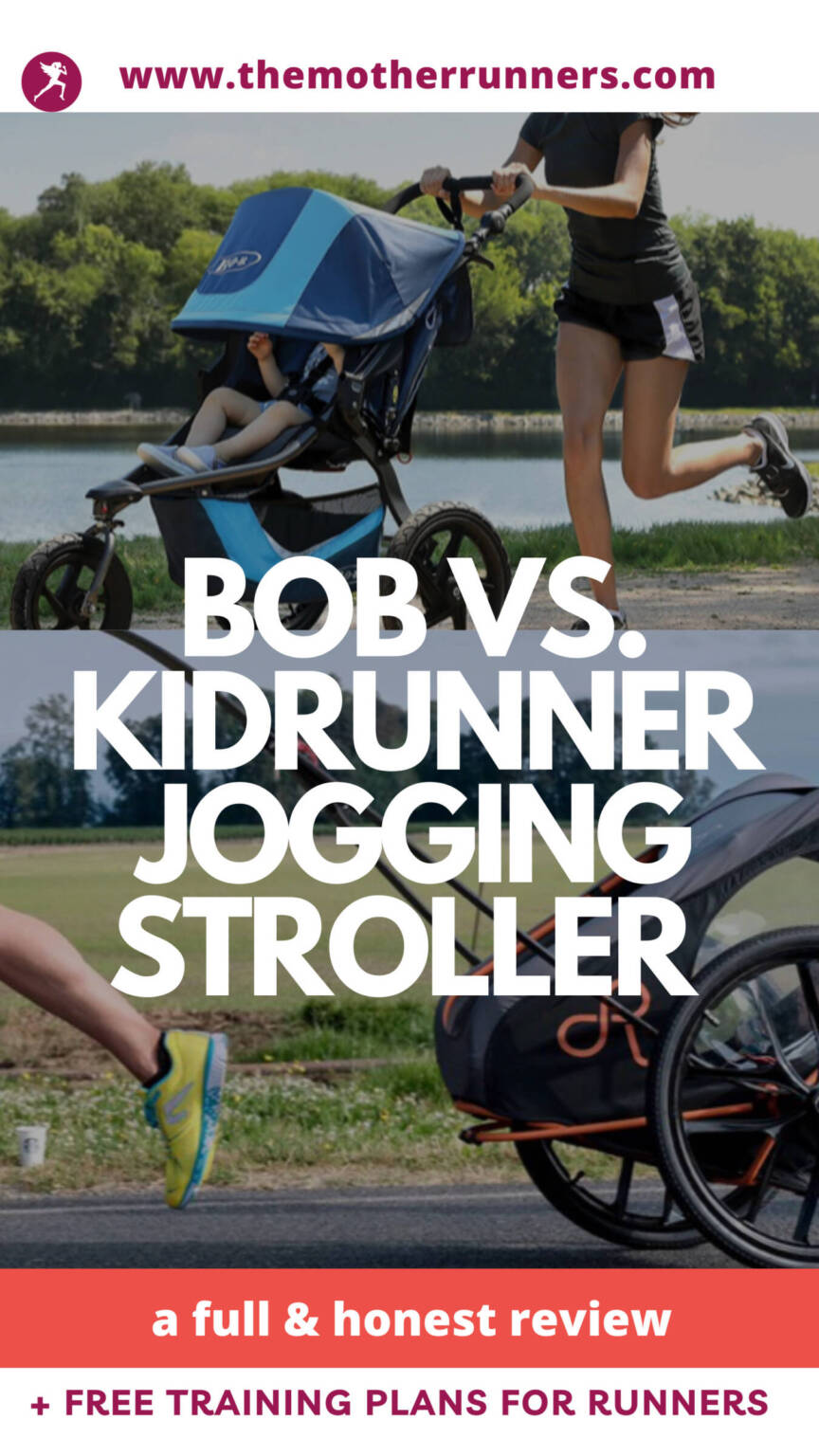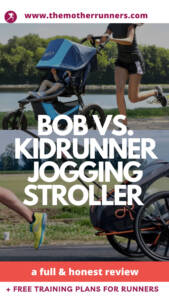 Related: The Best Jogging Strollers on the Market
How much slower do you run with a jogging stroller?
Most people run about one minute slower per mile pushing a jogging stroller. However, this pace varies based on your running ability, the running stroller model, and the weight of your child (or children!).
If you are training for a race with a running stroller, it is best to train by heart rate and time over pace and distance. Read more tips on how to train for a race with a jogging stroller here. No study has been done on the Kidrunner pace adjustments, but mother runners say you can run faster with the KidRunner!
2 Best Jogging Strollers on the Market
KidRunner Review
The KidRunner is a revolutionarily different jogging stroller—but many say because of this, it is one of the best running jogging strollers on the market.
Instead of pushing your child, you pull them with a tether that goes around your waist. This allows you to run with a more natural stride with the ability to swing your arms! The KidRunner is aerodynamic and the cushioned harness balances your weight so you feel only a slight pull, even going uphill.
Another perk of the KidRunner is that your kids can see you and you can hear them unlike in a traditional jogging stroller. However, if they drop something, you can't see it. And YOU can't see them.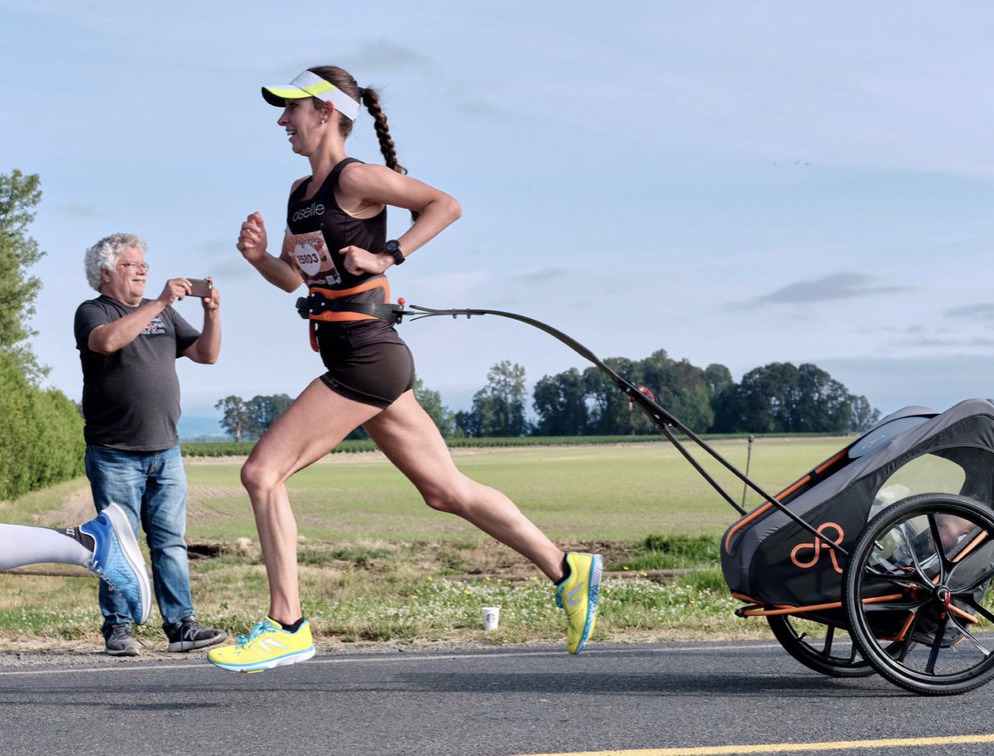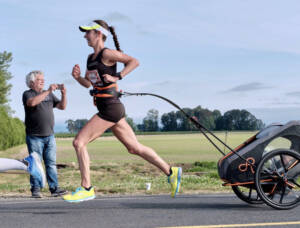 It does take some practice calibrating it so that the weight balance is right and the harness is comfortable. You'll know if the weight balance is right if you feel like your barely pulling anything.
You can do fast running and strides with the KidRunner making it perfect for mother runners chasing race goals with a kid in tow.
In fact, Danielle Hart (who posts a lot of videos of her pulling the KidRunner) says she ran PRs using the KidRunner!
"The KidRunner is a great tool to use if you're an avid runner and love to bring the kids along. Three years later, and I still enjoy taking it out when I can," she shares.
KidRunner specs & features:
Child Age: 6 months to 5 years old.
Product Weight: less than 22 lbs.
Terrain:Multi-terrain including trails, gravel, beaches, roads….
Safety:3 US patents, advanced composite materials and 5-point child harness.
Comfort:Natural, hands/arms free running and comfortable, ergonomic/lightweight waist harness.
Ease:Folding cockpit, quick release accessories, accommodates parent runners from under 5 feet to over 6 feet.
Price: $695
KidRunner PROs:
Hands-free running
No pushing
Clear view
Child can see you and feel comfortable
Phenomenal customer service and support
Cozier environment with more room for the little one
Once dialed in, very easy to run with
All weather cover makes running in the elements easy
Built in bug netting
Runners say the kids stay in it longer—a big perk!
Can do fast running with it
Great strength training
Best option for running with 3 young kids (two in the double stroller and one in the KidRunner)
KidRunner CONs:
No sunshade so it gets hot and sun can get in your child's eyes
If not adjusted correctly can be hard on the low back
Takes some time to adjust and find the right balance
You have to readjust when your child grows
Not easy to pack up and put in the trunk (doesn't fit in most trunks)
Harder at first to run as it uses different muscles (think dragging a sled versus pushing one)
Wider than other traditional running strollers
The longer yoke makes it hard to turn (like towing a trailer)
You have to unhook the yoke to get things (like if your little one throws a toy out)
You have to speak up for your kids to hear you
You can't see your little ones
Can chafe around the belt so must wear a tank
Hard to turn due to the turning radius
Can't try out before purchasing
No option to run with your baby under 6 months since there is no car seat adapter option.
BOB Revolution Flex 3.0 Single Jogging Stroller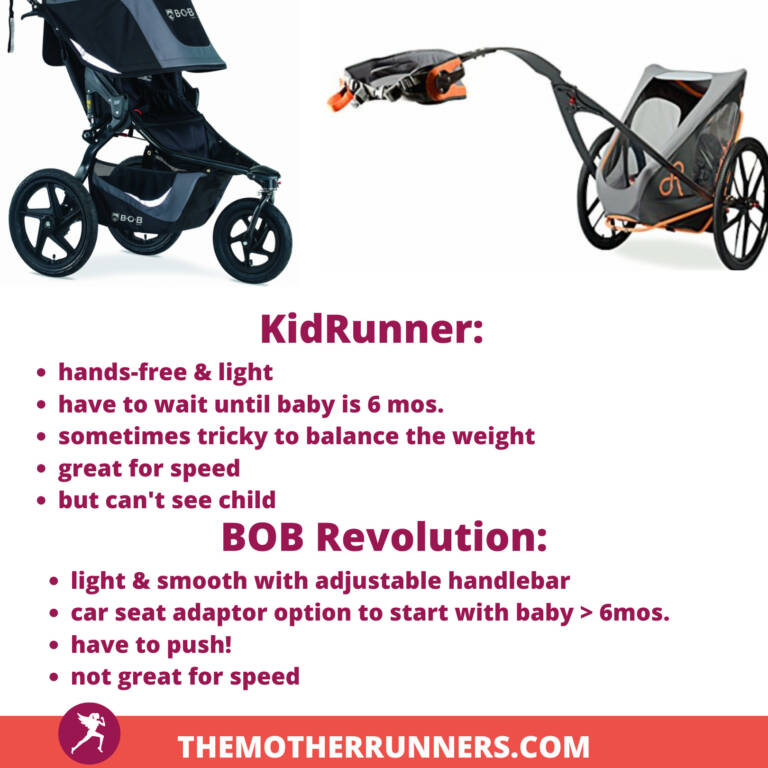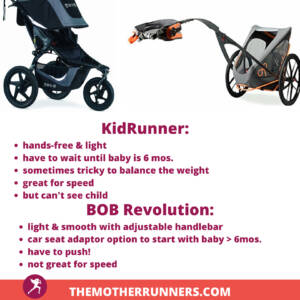 The BOB Revolution running stroller is one of the most popular running strollers on the market. We had the older model, the BOB Revolution SE single. When we went from one to two kids, we got the double stroller from Craigslist for a fraction of the cost. (We would have sold our single but it actually got stolen at the park! Another story for another day!).
What makes the BOB Revolution Flex 3.0 single stroller so popular is that it offers a smooth ride featuring a mountain bike suspension system for all terrains, lots of storage, it's very durable, and collapses pretty easily so you can put it in the car.
The front wheel locks if you are on rugged terrain and need more control. You can easily unlock it if you need to make lots of turns. It's pretty light to push. If it feels hard to push, chances are you need to inflate the tires.
What I love about the BOB Revolution Flex 3.0 that the BOB Revolution SE did not have is a 9-point adjustable handlebar to find the perfect height for pushing while running. Also different than the previous model is a peak and chat window with your kiddo and extra storage! It has six storage pockets including one for a cell phone, and an extra-large cargo basket.
The BOB Revolution Flex also has safety features such as a handbrake and wrist strap. And it offers lots of additional features sold separately to make it extra comfy for you and your child including sunshades and cup holders.
The BOB Revolution Flex is also more affordable than other popular jogging stroller brands such as the Thule.
Bob Revolution Flex 3.0 Single Stroller specs & features:
Six storage pockets and a large cargo basket
One-Handed Recline Adjustment
Easy-Remove Rear Wheels
Infant Car Seat Compatible (be sure to make sure the adaptor matches your car seat brand)
Adjustable Handlebar
Fully Upright Seating and Near-flat Recline to start having a baby ride when walking at 6 weeks
Compression Comfort Seat
Seatback Ventilation
Suspension system and air-filled tires
Swivel Locking Front Wheel
Adjustable Front Wheel Tracking
Peek & Chat Window with Quiet Magnetic Closure
Price: $550
BOB Revolution Flex PROs: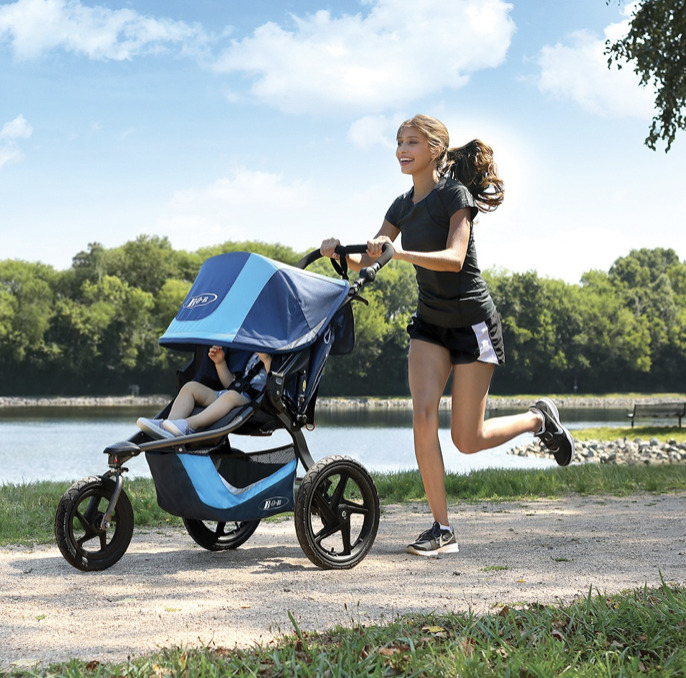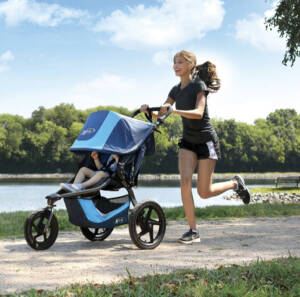 Lightweight and easy to push
Can run with your baby starting at 6 weeks with car seat adapter (on flat and smooth terrain)
Able to see and speak with your child while running
Extra smooth and comfortable ride for you and your child
Adjustable handlebar
Lots of added features like shades and pockets for comfort and storage
Very durable! You will be able to run lots of miles and resell it
Less expensive than other popular running strollers
BOB Revolution Flex CONs:
It is not hands-free!
Hard to do speedwork
It can be hard to hear your kids talking
You have to inflate the tires regularly
Best Jogging Stroller Bottomline:
If you are looking to train for a race with a stroller and want to hit closer to your race paces, then the KidRunner is a great option. But bear in mind you shouldn't use it until your baby is over 6 months old.
If you want to run with your baby ASAP and don't mind having your arms occupied and training by heart rate or feel, then the BOB Revolution SE is the best running stroller for you!
If you want guidance with your running goals, with or without a watch, check out my run coaching services. Also, be sure to check out my free training plans: