Ahh, winter. As if stroller running wasn't challenging enough—you throw frigid temps and slippery terrain in our paths to getting fit. But what is too cold for a stroller run?
My stroller running days are behind me, but I remember this question worrying me when I had no other option but to run with the stroller. When I decided it wasn't too cold for a stroller ride, I'd worry the whole time about if my baby was cold but didn't know it. I'd stop every few feet to make sure he or she was okay.
I don't want the weather to be a barrier to you and your running goals—so I have all the tips here for running with a stroller according to moms who have done it again and again.
Related: 12 Genius Tips for Running with a Stroller
How cold is too cold for a baby in a stroller?
Below freezing is when it becomes too cold for a stroller run (if the baby is dressed warmly).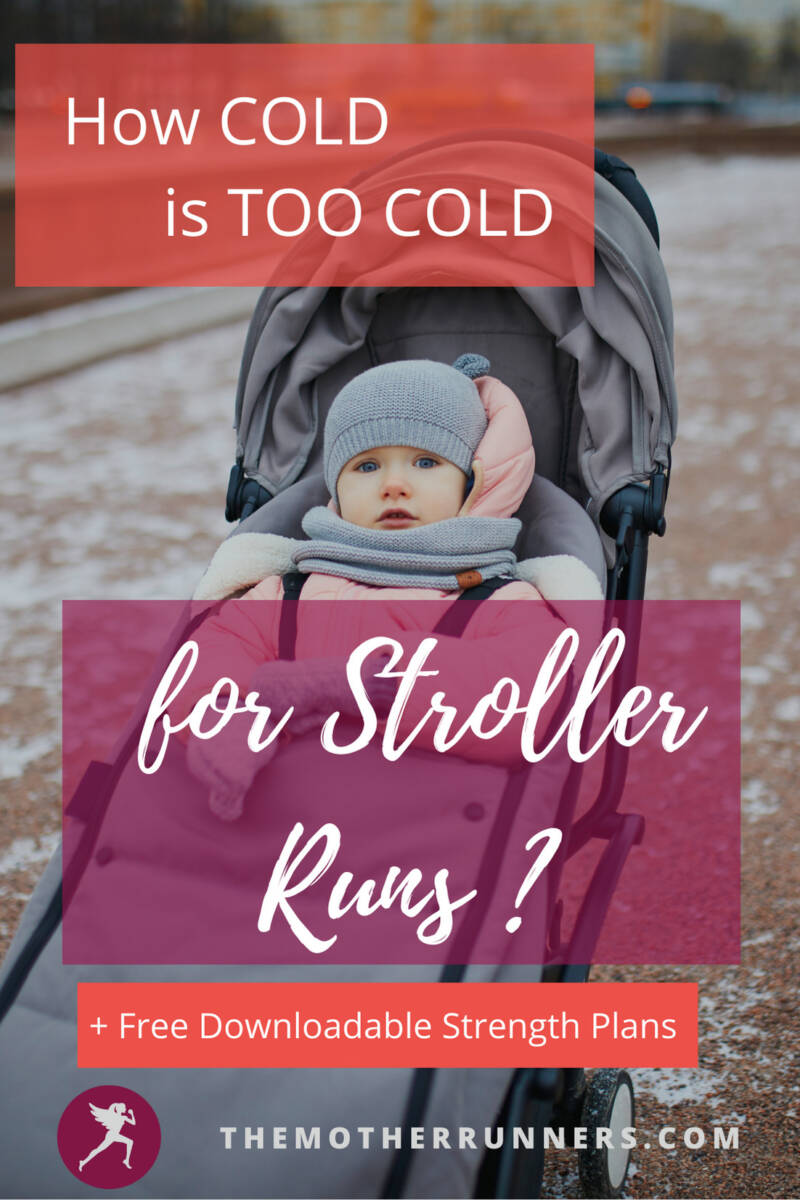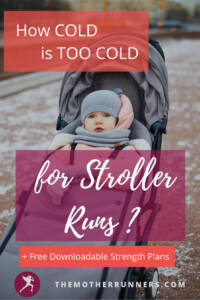 Some moms like Lisa Selby, a run coach and the mom behind MilebyMileblog.com, will take their babies and kids for short runs when the temps are in the 20s. But most moms agree, that when it dips below 30 (not counting the wind chill), it is too cold to run with your baby in the stroller.
Andi Ripley, a mom of two boys, Olympic Trials qualifier, and host of the A to Z Running podcast, notes to go by the "feels by" temp when deciding whether to take your baby out in the cold. "I have a threshold and it makes my decision a lot easier!"
How can you tell if your baby is cold?
When you're running with your baby in the stroller and it's cold, it can be really hard to tell if your baby is too cold. They may be asleep or not know that they're cold.
The way to tell that they're too cold is to feel then nape of their neck, hands, and feet, says Melanie C. Prior, MD, primary care pediatrician at the Hospital of Special Surgery. If it feels cold to the touch, it's time to head back indoors.
Bear in mind that babies cannot regulate their body temperatures well yet, so they will be cold before you are (plus, they aren't moving around and elevating their body temperature like you are).
Related: 13 Brilliant Tips for Running in Cold Weather
If your baby is shivering, breathing slowly, or has cool, pale, or bluish skin, head home immediately, advises Dr. Prior. They may also sneeze or cry. Take them inside and do skin on skin (if you are warm) with a blanket around you both.
When you babies become toddlers, let them be the guide as to what is too cold. If they tell you they're cold, listen. It won't be enjoyable for anyone, if they're cold and you're listening to whining the whole run.
Related: Your Postpartum Running Guide
How long can you run with your baby in the cold?
Most mother runners agree, you can run with your baby in the stroller for about a half hour in the cold. If you run in the 20s, keep your run to about 15 minutes.
In both instances, check on your baby every couple of minutes to make sure they don't look or feel cold. Also, stay close to home in case of an emergency. Pro runner and mom of two Neely Gracey advises to run when the sun is out.
These (unofficial) guidelines are for babies less than a year old but qualify for children who aren't old enough to tell you they're cold yet.
Related: An Interview with Neely Gracey
How to dress your baby for the cold?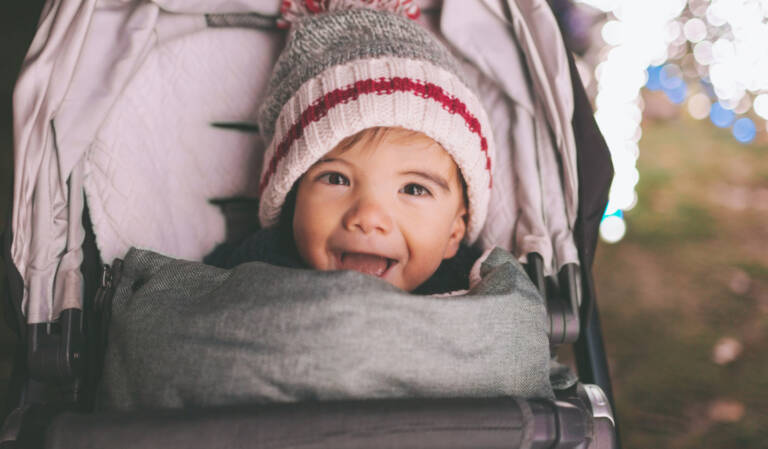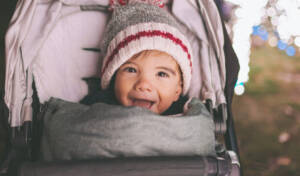 Dress your baby for cold weather similarly to how you could dress yourself for running in the cold. By that, I mean use lots of layers.
"As a general rule, babies need to wear one more layer than an adult," says Dr. Prior. "Layer in 'threes.' For example, one-piece sleeper next to baby's skin; then a thin/light shirt and pants; finally a snowsuit or bunting (ideally water repellant)."
You want to dress your baby in onesies to limit skin exposure to the cold. Here are guidelines to dress your baby for cold weather:
A onesie as a base layer
A sweatshirt and pants
A warm coat or bunting
Warm hat
Mittens
A blanket
Vaseline on their face
A stroller weather shield
Sunglasses
Get more tips on how to dress your baby for the cold on Lisa's site.
Related: 10 Tips to Help You Survive Winter Running
What stroller gear do I need for running in the winter?
Blocking your baby from the elements is the name of the game when stroller running in the cold.
Here are stroller running gear recommendations and a packing list for stroller running in the cold:
Weather shield to trap in heat. Make sure it fits the brand of your stroller.
Stroller clips to clip blankets or stuffed animals to the stroller.
Baby Stroller Bunting Bag which eradicate the nuisance of blankets sliding off your baby. It's like a form-fitting sleeping bag for your baby.
Tissues for runny noses.
Stroller basket for storing items if your stroller doesn't have storage.
Vaseline for your baby's face and lips to protect it from the cold.
Hydration in the form of a bottle for your baby.
Stroller wrist strap in case you lose your grip on the handle bar.
Warm layers for your baby (see dressing guidelines above)
And, the usual blankets, toys, tablet-friendly gloves, snacks, and stuffed animals for your baby.
What is the best stroller for snow and ice?
The best stroller for snow and ice is the BOB Gear Revolution Pro stroller which is adaptable to any terrain.
It has a locking system for the wheels to keep the stroller from jerking and you in control of its direction.
It also has air-filled tires and a mountain bicycle-like suspension system which cushions the ride for your babe.
And, it has a handbrake for slowing down or

stopping in a jiff.

The BOB Revolution is the best stroller for the winter and wintry conditions.
With a price tag of $499, the BOB stroller is an investment, but every mom (including myself) has had their strollers through multiple babies.
Other moms and Neely highly recommend the Thule Chariot which "fully encapsulates the kids, keeping them way warmer and not even needing a hat and gloves," shares Neely. The Chariot is pricey, costing $1295, but is perfect for active families.
It converts into a bike trailer.
The Thule has an adjustable suspension offering a smooth ride.
It has a padded seat.
And, the Thule offers a rain or sun shield to protect kids in any weather.
Keep in mind, most moms re-sell their strollers, getting a pretty big return of investment.
Related: The Best Jogging Strollers on the Market
Here are 10 tips for running with the stroller in the cold, snow, and ice.
10 Winter Stroller Running Tips for Running with the Stroller in the Winter
Layer. Just like you layer yourself to run outside, layer your baby. They aren't going to be as warm as you so layer them even more and cover hands, head, and feet.
Lube up. Just like you body glide ahead of a long run, use Vaseline on your baby's exposed face and lips to protect them from chapping in the cold.
Use a Weather Shield. A stroller weather shield is a MUST for running in the cold. It protects your baby from cold winds and traps in heat making the stroller a toasty cocoon.

Pin these 10 stroller running in the cold tips for later!

Check your baby frequently and stay close to home. Even if it's warm enough for you to run outside with your baby, check on them frequently and check for signs of being too cold like pale skin and slow breathing. Stay close to home so you can safely abort mission.
Run where it's safe. Tread lightly on wet leaves and slick areas. Avoid using a double stroller on roads. Look for large shoulders. Avoid running in snow and ice. Aim to run on plowed paths or streets.
Go by the "Feels by" temp. Humidity and the wind chill can make it feel colder than it is. Decide what "feels like" temperature is too cold and set that as your guideline for stroller running in the cold. Also, check the weather frequently to be ahead of any changes.
Let them call the shots. When your kids are old enough to tell you how they feel, don't push it if they say it's too cold.
Have a back-up plan. If it's too cold for you or your kids, have a back-up plan like running on a treadmill or a time to run when it's not too cold for you or your kids.
Never go hands-free. Some moms like to push the stroller ahead of them, let go, and run towards the stroller. It's not safe to do this, especially if there is a chance of snow, ice, slick leaves, or bumps in the road.
Look for a stroller that has wheels that lock. Make sure your running stroller is designed for all-terrain including a suspension system and wheels that lock to avoid dangerous jerks while stroller running.
If you'd like help reaching your goals, including training advice for stroller runners, check out my coaching services.