Ahh, carbon fiber running shoes. So costly yet so game-changing. For runners wanting to nab a PR, carbon plate running shoes are worth the money. Research shows these super shoes can make you run super fast. But which carbon fiber-plate shoes are the best? I review the top two favorites: Nike Alphafly Next% vs Adidas adidas Adizero Adios Pro.
In recent years, carbon fiber plate shoes have overtaken traditional running shoes and road racing shoes in the marathon distance and below. It's not just elite runners wearing them. Runners of all levels in the running community are donning these bouncy shoes–despite the high price point!
I remember the first time I tried on a pair of carbon plate running shoes. It was an incredible feeling. The bounce in my step and energy return in my stride was undeniable. This was not a placebo effect. I knew these super shoes would help me run faster in my marathon.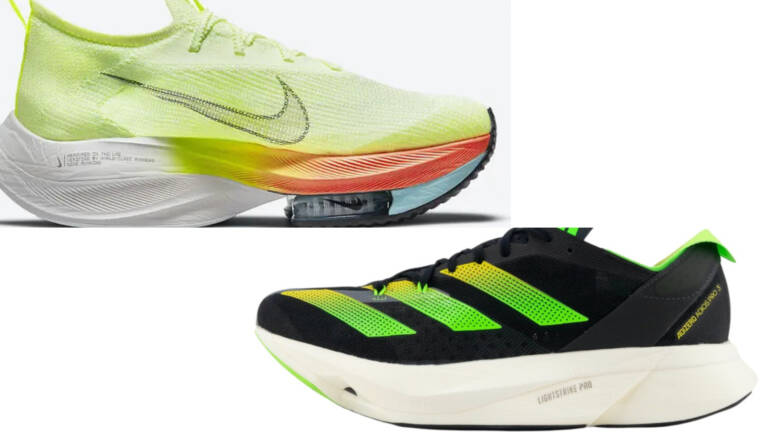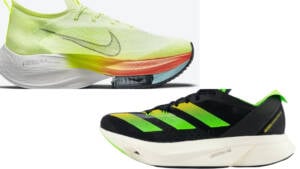 My first pair of carbon fibers were the Nike Vaporfly 4% in 2019. Then I went on to wear the Nike Vaporfly Next%, Hoka Carbon X, Saucony Endorphin Pro, Nike Air Zoom Alphafly Next%, and finally the adidas Adizero Adios Pro.
Why did I keep switching my super shoes? Because while these super shoes have a super energy return, the feel on them isn't optimal. Carbon plate running shoes lack support and comfort in a lot of ways because they are built for speed not miles.
My experience with carbon fiber running shoes
Related: My Experience Running the CIM Marathon
I ran my CIM marathon in the Alphaflies and my friends and husband wondered if my carbon shoes may have been a piece in the puzzle for my underperformance. Indeed, my legs never felt fresh, and the wheels fell off at mile 17.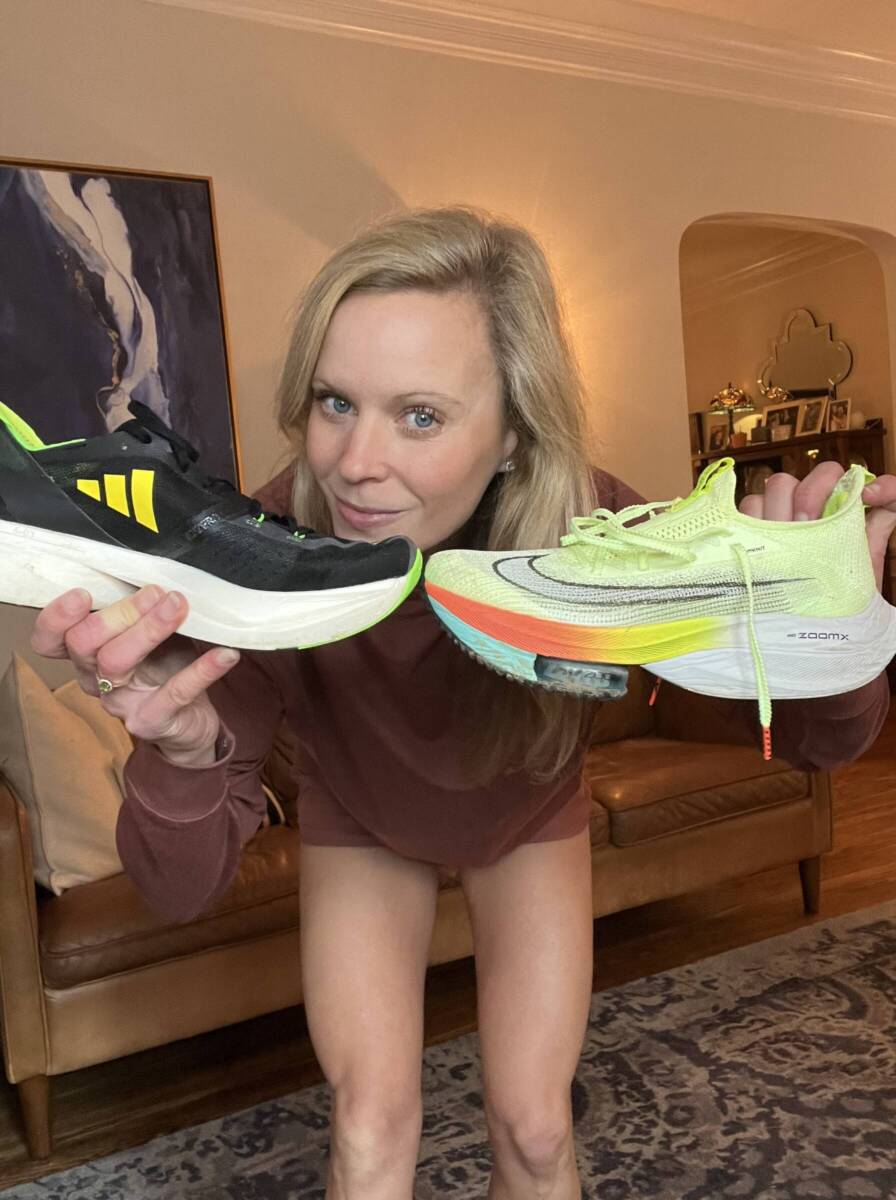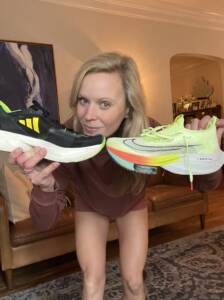 So, I decided to make a change. I listened to former adidas pro runner and mother runner Neely Gracey and bought a pair of the adidas Adizero Adios Pro racing shoes. Neely had a stellar performance at CIM, a 2:30. So I figured, if these carbon fiber shoes were good enough for her, then they would be good enough for me.
Related: Pro Racing Strategies from Neely Gracey
Below I share my experiences with these super shoes: Nike Alphafly Next% vs Adidas Adizero Adios Pro Review. But first I answer some general questions about carbon plate running shoes.
Specifically in this article, I will cover:
What does carbon fiber do in running shoes?
Are carbon fiber running shoes worth the money?
How many miles do you get in carbon fiber running shoes?
How much faster do carbon fiber running shoes make you?
And Nike Alphafly Next% vs Adidas adidas Adizero Adios Pro Review–which one is the best carbon plate shoe?
Buckle up because here we go!
What does carbon fiber do in running shoes?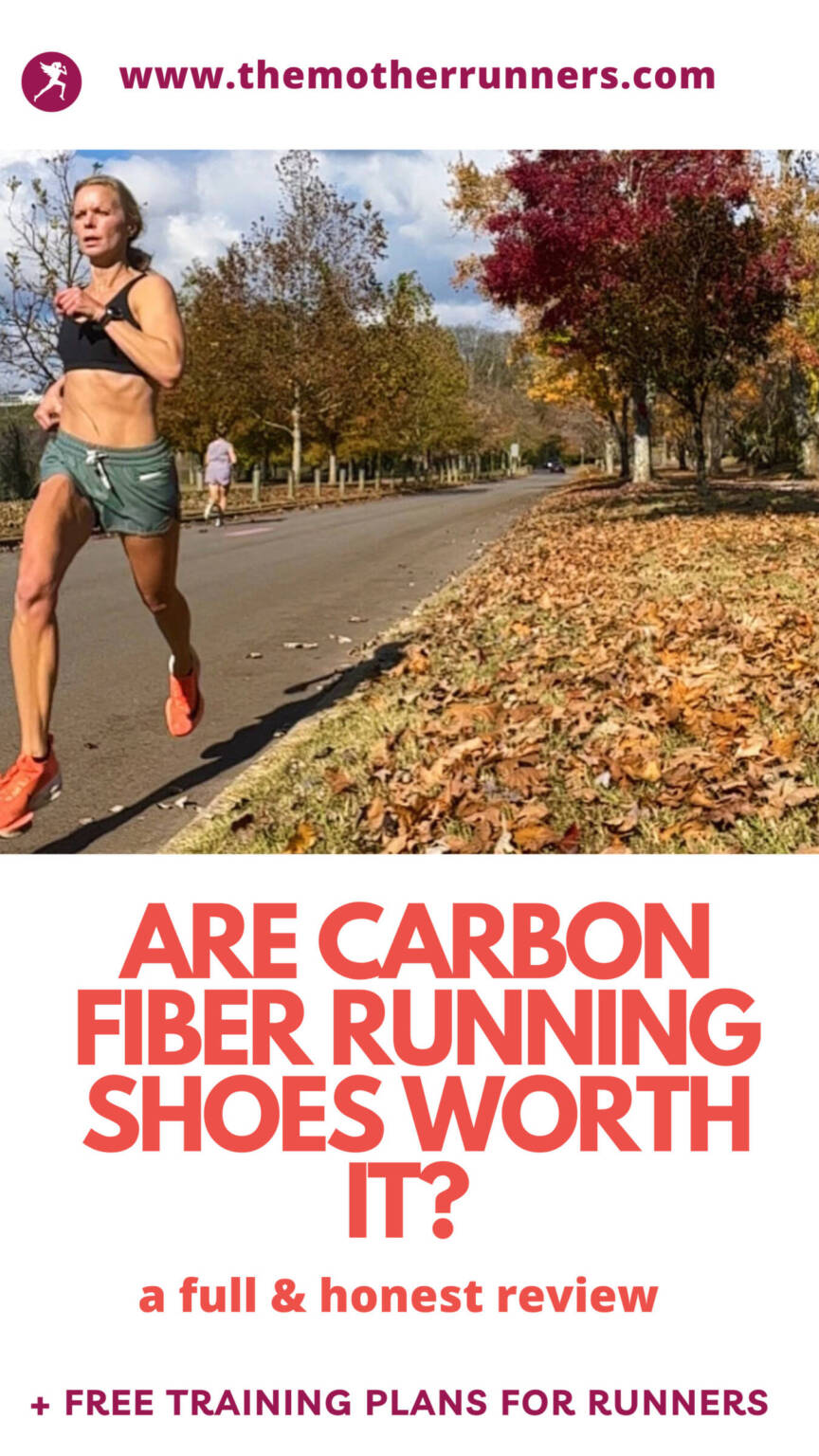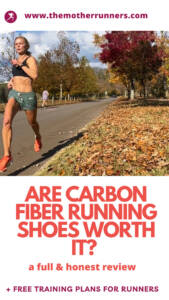 Running shoes with carbon fiber plates in the midsole foam of the shoe works with the foam to create an extra bounce with the foot strike. This further propels the runner forward at a faster rate. This allows the runner to use less energy with each step.
Therefore, super shoes empower a runner to run faster with less effort and take longer to fatigue. The elasticity and shape of the carbon fiber changes a runner's running mechanics including stride length and ground contact time, thereby improving their running economy.
Pro runners and recreational runners alike have found benefits of the added boost from carbon fiber-plated running shoes.
What shoe makes you run the fastest?
Other major shoe brands have developed their own super shoes, but Nike still holds the podium for the fastest running shoe.
Research indicates that the Nike Vaporfly Next% 2 makes you the fastest. A 2022 study collected running and metabolic data including VO2 max scores in distance runners wearing eight different carbon plated shoes.
The study concluded: "From these data, it appears most running shoe companies have not yet caught up to the advantages conferred by the Nike VF2."
Indeed Eliud Kipchoge is the first (and only) human to break 2 hours in the marathon with a time of 1:59:40 in Vienna, Austria, on October 12, 2019. Key to this accomplishment? The Nike Vaporfly.
Nike's carbon-plated shoes changed the running game so much that they were almost banned from pro running competitions.
Important note: The Alphafly was a newer model created after the original Vaporfly. The current model of the Vaporfly Next% 2 is better for shorter distances because it's lighter and has less cushion. The Alphafly Next% 2 has more bulk and cushion, and is thus better for marathons. This is why I am reviewing the Alphafly.
How much faster do carbon-plated shoes make you?
Carbon fiber running shoes can make you 4 percent faster!
Studies show that carbon plated shoes reduce the energy cost of running by 4 percent. Therefore, it can be projected that a carbon fiber running shoe can make you run 4 percent faster. (A recent Runner's World article explains that this number varies based on a runner's running style and bodyweight. For some people, they may feel like they are running slower. And heavier runners feel more benefit.)
That's a lot! If you're looking to break 4 hours in the marathon, wearing carbon plated running shoes could help you shave close to ten minutes off your time!
Related: When to Replace Your Running Shoes
Are carbon fiber shoes worth it?
If you care about your running times, then carbon fiber shoes are worth the price tag. (Nike's super shoes sticker for $275!).
When you slip on a pair of carbon plated running shoes, the extra pep in your step is undeniable. You'll likely notice that your pace is automatically quicker, and your legs feel fresher longer during your run. If you don't have a propulsive feel in your stride, then you're not wearing the right shoes for you!
When thinking about whether you should spring the extra dough for carbon fibers, consider this: in 2019, runners who wore the Nike Vaporfly shoes took 31 out of the 36 podium positions in the major marathons.
Related: Bondi 7 vs. Bondi 8 Review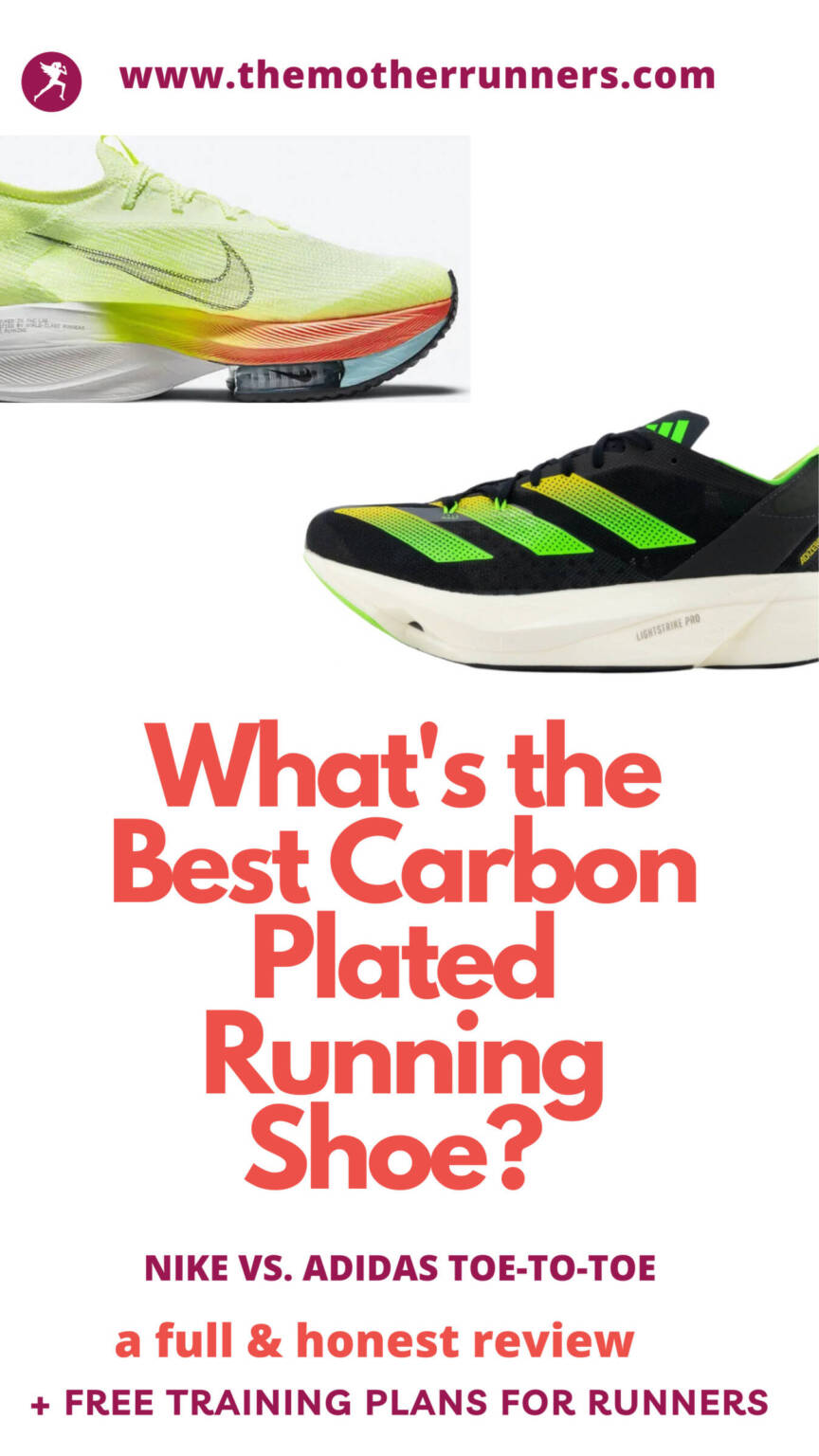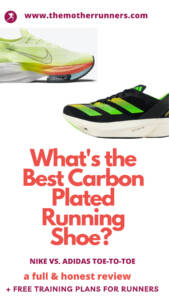 How many miles do you get on carbon plated running shoes?
You get significantly less mileage on carbon-plated running shoes than you do in regular running shoes. For most carbon-plated running shoes, expect to get less than 150 miles.
For comparison, most daily trainers get 300-500 miles (with the exception of the Hoka Rincons which get about 250 miles).
When you think about it that way, you're paying about 2 dollars for every mile you log in a carbon plated shoe. (But don't think about it that way….think about that shiny new PR!)
Related: Hoka Rincon Review: Best Shoes for Plantar Fasciitis
Nike Air Zoom Alphafly Next% vs Adidas Adizero Adios Pro Review
Alright now that we got that out of the way—it's time to review the Nike Air Zoom Alphafly Next% vs. Adidas Adizero Adios Pro.
As mentioned, I have worn several iterations of Nike's super shoes. And while I loved them, they still left something to be desired. While I loved the forward momentum, they weren't the most comfortable ride. So, I got a wandering eye and invested in a pair of the adidas super shoes.
Below I share the super shoe stats plus my experience wearing them. I hope it helps you decide which carbon plated shoe is best for you!
The Nike Alphafly Next% Review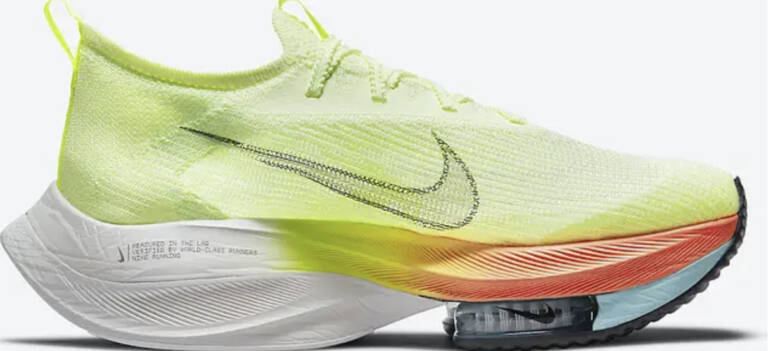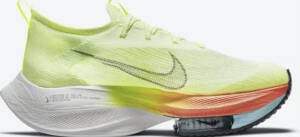 Nike's Alphafly Next% is THE super shoe. Look around at any race and likely half of your competitors are wearing them. This is for good reason. Slip on a pair of Nike's super shoes and you can feel the magic and power immediately.
Nike's latest carbon fiber-plated racing shoe, the Alphafly, features a super thick slab of ZoomX foam which is bouncy, cushiony, and responsive. The Alphafly's signature difference from previous models is its' two forefoot Zoom Air pods for additional pep.
Another big difference in Nike's latest carbon fiber plated model is the conspicuous rounded foam outsoles that protrude from the heels. Just looking at the shape of the shoe, you can see how its form meets speedy function. The rocker is prominent as is the boost. It may be the "techiest" shoe you've ever seen.
The Alphafly's upper features Nike's AtomKnit which is breathable and more flexible than past models. Also, a nice touch, the laces don't come untied. That was a huge complaint of mine of the past models. I had to quadruple knot and tuck the laces.
Nike Alphafly Next% Specs: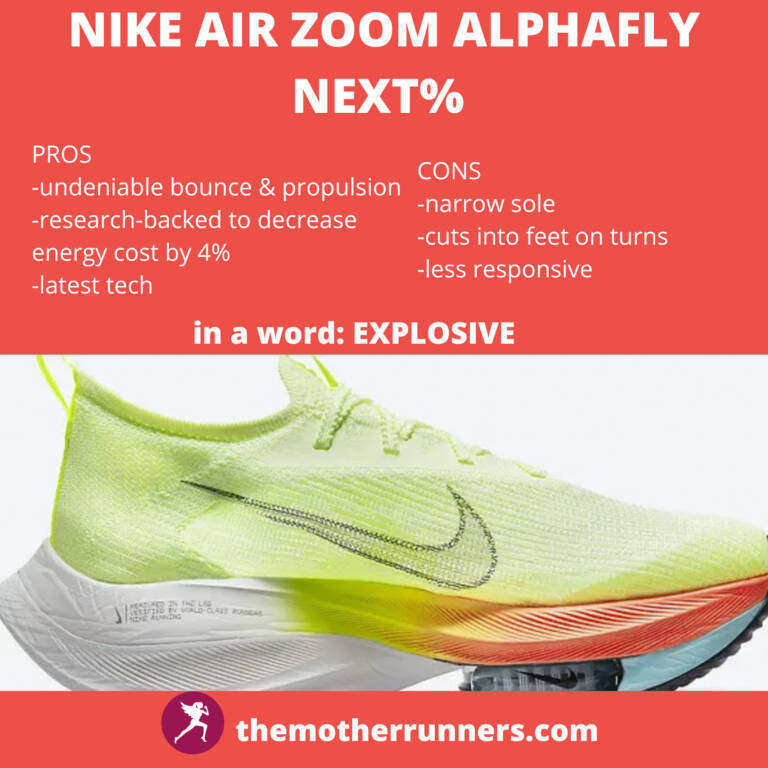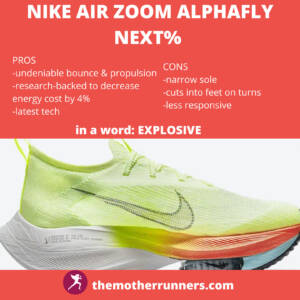 Brand: Nike
Model: Alphafly Next%
Type: Race
Weight: 8.0 oz.
Price: $275.00
Heel: 39 mm
Toe: 35 mm
Drop: 4 mm
My Road Test:
I remember the first time I tried on my Nike Vaporflies. They were magic. I tested them with an easy run and my pace was automatically quicker and it felt almost effortless. However, the magic seemed to erode with each new super shoe model.
Though Nike added more technology, the shoe seemed to feel clunkier—perhaps from the added size (though not in weight). It almost seemed like the added bells and whistles took away from the simplicity of the carbon fiber magic. Sometimes less is more.
When running in these shoes, the added bounce almost makes my legs feel out of control. Both my legs and feet don't feel sturdy sometimes. And the soles seemed to become more and more uncomfortable on long runs with pick-ups. My feet are of average width, but my feet don't feel comfortable in my Alphaflies. Indeed, I've had others complain that the Alphaflies hurt their feet. And, when I go around curves, my feet almost cave into the sides, hurting my arch and metatarsals.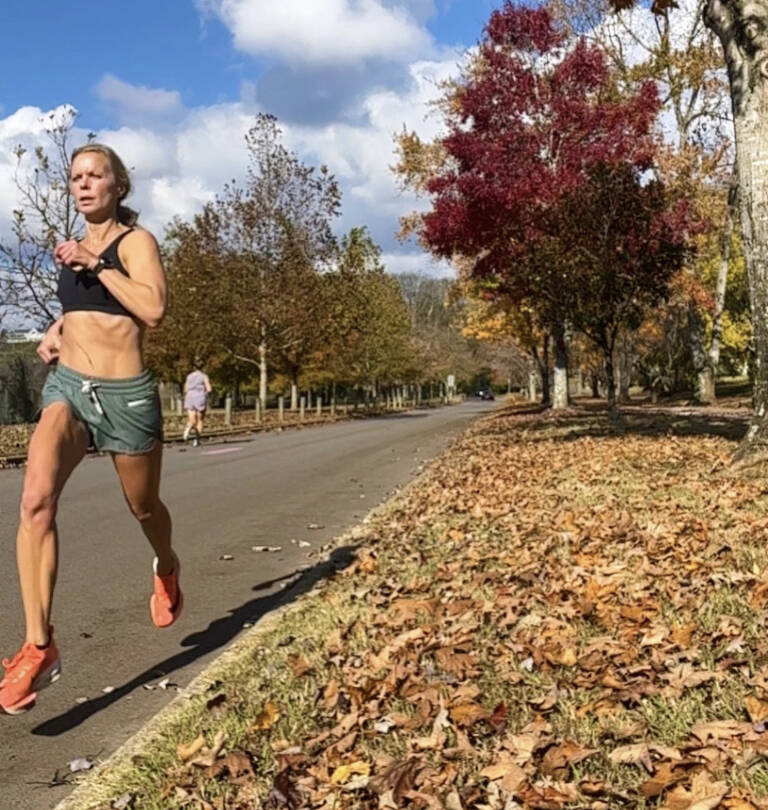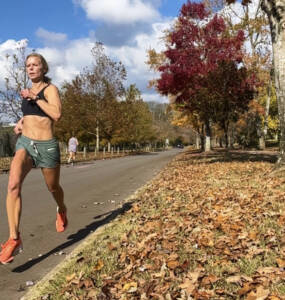 Do I run faster in them? Yes. I ran my fastest marathon, half-marathon, and mile times in these shoes. Do my legs take longer to fatigue? Yes, I think so. However, my feet feel uncomfortable overtime in the Alphaflies. For this major reason, I decided on another carbon fiber shoe model—the Adidas version of a super shoe.
Alphafly Next% Pros:
Undeniable speed and bounce
Light
Massive forward propulsion
Alphafly Next% Cons:
Narrow sole
Turns are uncomfortable
Most expensive carbon plate shoe
Not durable
Adidas Adizero Adios Pro 3 Review
The adidas Adizero Adios Pro 3 is the most comfortable carbon-plated shoe I have worn. It's bouncy yet roomy and offers a smooth ride.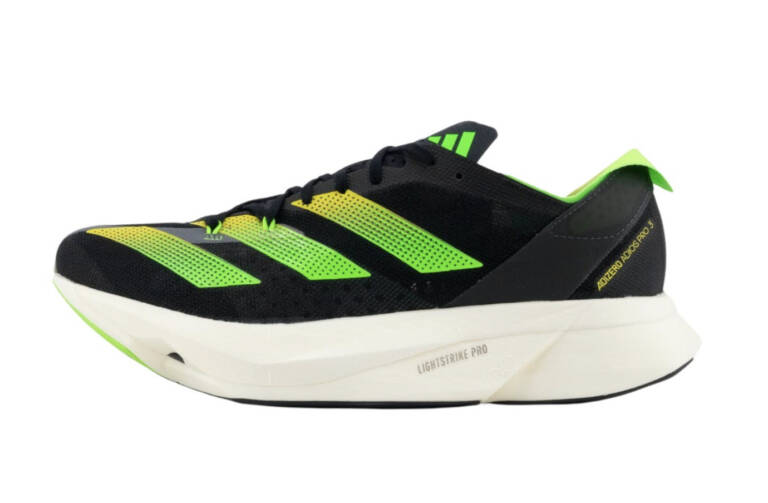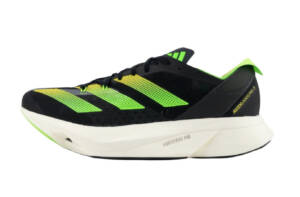 Its highly cushioned midsole has more foam in the forefoot than in previous models, with a wide base and prominent toe spring. This makes it feel stable, responsive, and smooth in transitions and turns.
The Adios Pro 3 sole features adidas' Lightstrike Pro foam which is a tiny bit heavier than Nike's foam but provides more stability and durability. The Energyrods that line the foot like metatarsals also aid in stability.
The toe-off is powerful thanks to the Adios Pro 3's high-toe spring and rocker.
Adizero Adios Pro 3 Specs
Brand: adidas
Model: Adizero Adios Pro 3

Adidas Adizero Adios Pro 3

Type: Race
Weight: 7.60 oz.
Price: $250 US (on sale for $175)
Heel: 39.5 mm
Toe: 33 mm
Drop: 6 mm
Related: An interview with Pro Runner Neely Gracey
My Road Test:
I decided to try the Adios Pro 3 after Neely Gracey sung its praises. She's a 4-time Olympic Trials Qualifier and a mother runner I've interviewed several times and trust.
My first run with the Adios 3 was an easy 10-miler. I was first struck by how comfortable and roomy these shoes felt. While I didn't feel a huge boost in my step like I do in the Alphaflies, my leg stride and foot strike felt more efficient and supported.
I tried these shoes out again on a 9-mile tempo workout two days later and I ran about 10 seconds faster per mile than I thought I would. My legs felt fresh through the whole workout when I anticipated fatigue and cramping. A few days later, I took them to the track for some mile repeats. My legs and feet felt stable, sturdy, powerful, and cushioned. I also liked that I could feel the ground underfoot. Throughout the workout, I felt in control.
I didn't feel like I was necessarily being propelled forward like I do in the Alphaflies. Yet, I still felt like my foot strike and leg turnover were faster, and my legs had more durability.
In essence, the Adios 3 feels like a daily trainer with a stout energy return.
Related: How I Stopped Being an Injury Prone Runner
Adidas Adizero Adios Pro 3 Pros: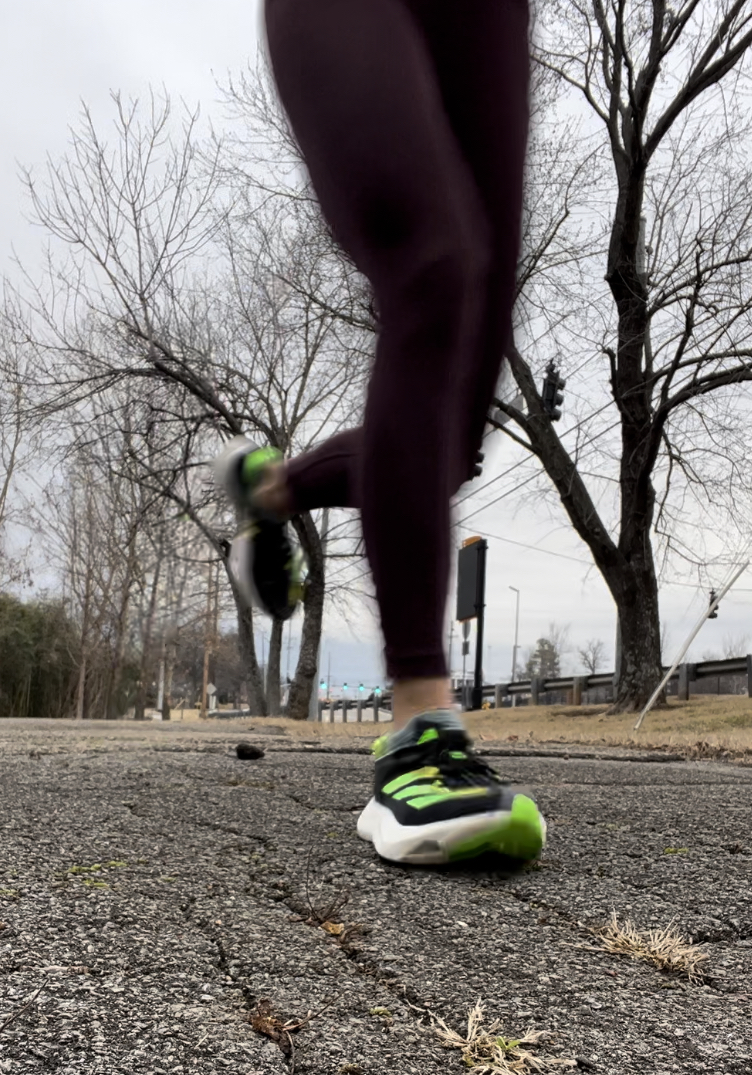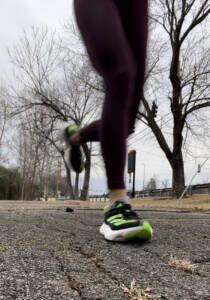 Cushioned and smooth ride
Responsive
Solid stability and support
A bit less expensive than the Nike
Adidas Adizero Adios Pro 3 Cons:
Less prominent bounce
A bit heavier
Runs a bit bigger in size
Tongue slips down
Not durable
Nike Air Zoom Alphafly Next% vs Adidas Adizero Adios Pro Bottom line:
So, what carbon fiber shoe do I recommend? If you're wanting something fast and are willing to sacrifice some comfort (and some serious cash), then the Nike Alphafly Next% is your racing shoe. You will feel its propulsion with every step.
However, if you are looking for a more supportive, stable carbon fiber running shoe, then the adidas Adizeo Adios Pro 3 is your racing shoe. (I highly recommend this shoe for injury-prone runners!) The Adios Pro 3 still has a noticeable energy return and improvement in running efficiency but offers more structure and space.
In a nutshell, if you want EXPLOSIVE, go with Nike. If you want SMOOTH, go with Adidas.
If you want guidance with your running goals including marathon training, check out my run coaching services. Also, be sure to check out my free training plans: