Yoga for runners is like eating vegetables. We know we should do it. We know it is good for us. But we don't.
For most mother runners, it comes down to time. We simply don't have time to do it.
That's why I got with Ashly Sims, a mother runner and lead yoga instructor at Yoga Six in Knoxville, to share the 6 essential poses runners should be doing to strengthen and lengthen key muscle groups used in running.
Related: The Mother Runners training plans
These yoga poses below will help you feel looser while running and may even help you run faster.
Yes, you read that right, studies show that yoga can improve running times. That's because yoga helps improve the strength and flexibility of muscle groups recruited in running, bolstering your bound. What's more, yoga can also help with your breathing and mental toughness. Just ask elite mother runner, Lauren Fleshman, who vows that yoga has helped her mentally in races and workouts when the going gets tough.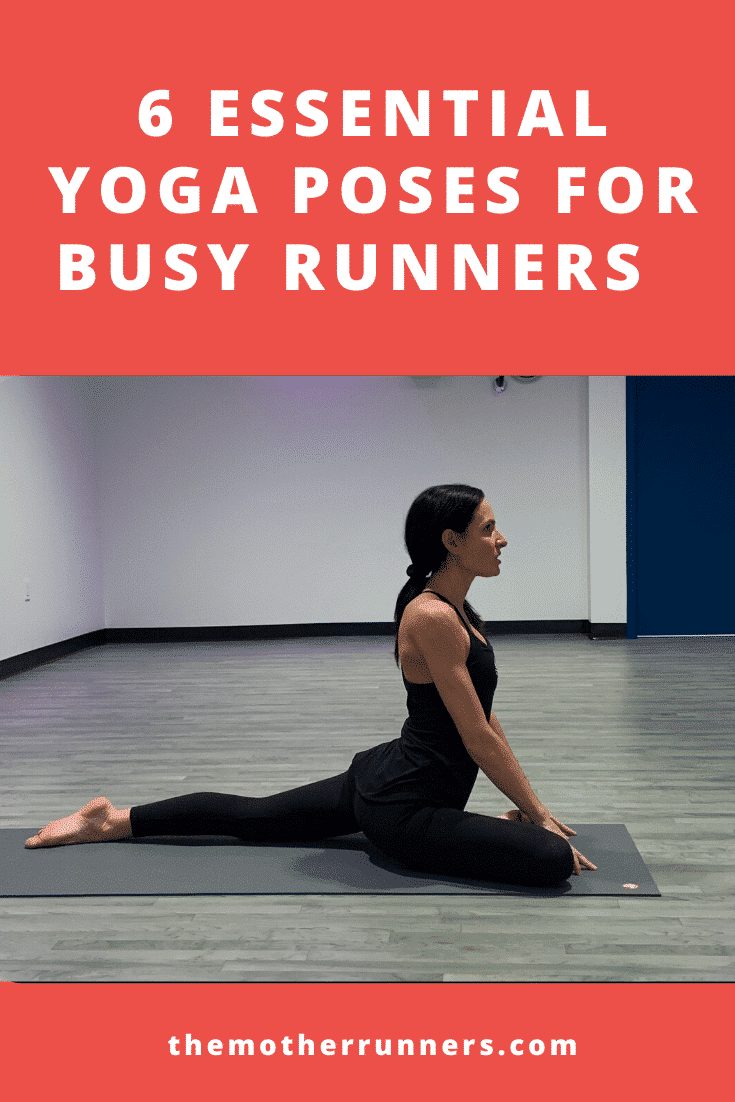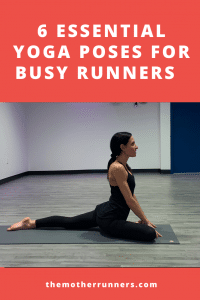 Here are the 6 essential yoga moves every runner should be doing.
You should be doing these poses AT LEAST 4 times a week and more if you are training for longer distances like a marathon.
Don't worry, they don't take long (but they do reap long-term benefits).
Just hold each pose for 5 to 8 breaths. If you are strapped on time, Ashly recommends doing the Gorilla and Lizard poses. Also, use a book or pillow as a yoga block if needed for extra support and length.
Related: 6 essential strength training exercises for runners.
Lizard Pose
The Lizard Pose is a great stretch for your hip flexors, hamstrings, and quadriceps. Incorporating Lizard into your yoga practice can help to improve the flexibility of your hip ligaments and strengthen the muscles in your legs.
Here's how to do it:
Start in down dog.
Step right foot to the front of your mat.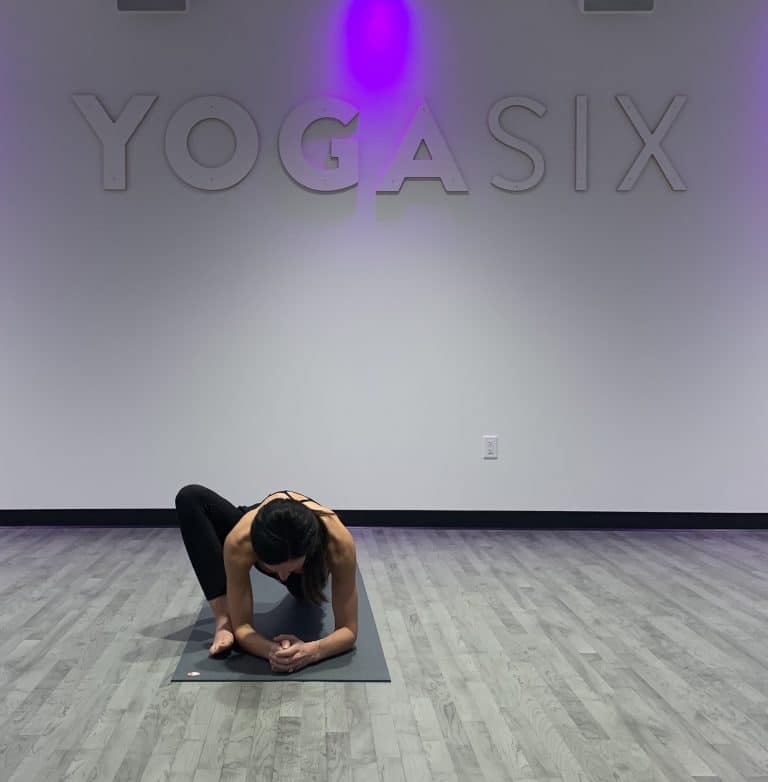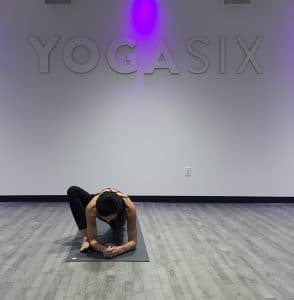 Lower the back knee down and come into a low lunge.
With your hands on the ground-gently extend the left leg back until you feel an opening in your left hip flexor.
From there, walk your right foot out to the inner edge of your mat and open up your foot by pressing the outer edge of the foot into the mat.
Place hands on the ground or for a deeper stretch, place forearms on the ground to the right of the front foot for an even deeper stretch.
Release head and neck and allow your left hip to sink towards the ground with each exhale.
Most importantly, breathe. Don't hold your breath.
Hold.
Repeat on the other side.
Half Pigeon
The Half Pigeon stretches hip flexors, opens gluteus maximus, and helps relax the piriformis muscles.
Here's how to do it: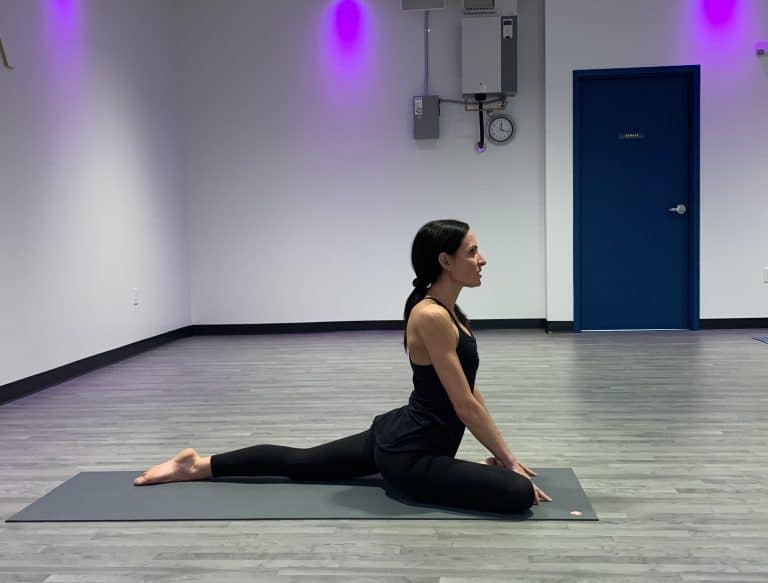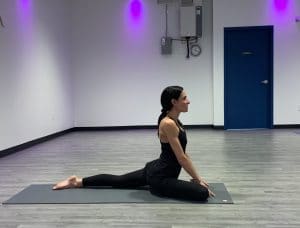 Start in down dog.
Bring shin to the front of your mat. Many teachers will cue you to get your shin parallel to the mat but let's get real, that's challenging, especially for us runners. Instead, try to reach your front knee towards your wrist and let your shin follow.
Release your back leg down and level hips to your mat.
Sit up tall with a long spine.
Walk hands back towards your hips.
Inhale. Exhale as you sink your hips to the floor with them square to the mat.
You can stay here. Or walk hands to the front and release down to the forearms. For a more relaxing version, stack a few pillows in front of you and rest your chest.
Hold.
Repeat on the other side.
Half Pigeon with Quad stretch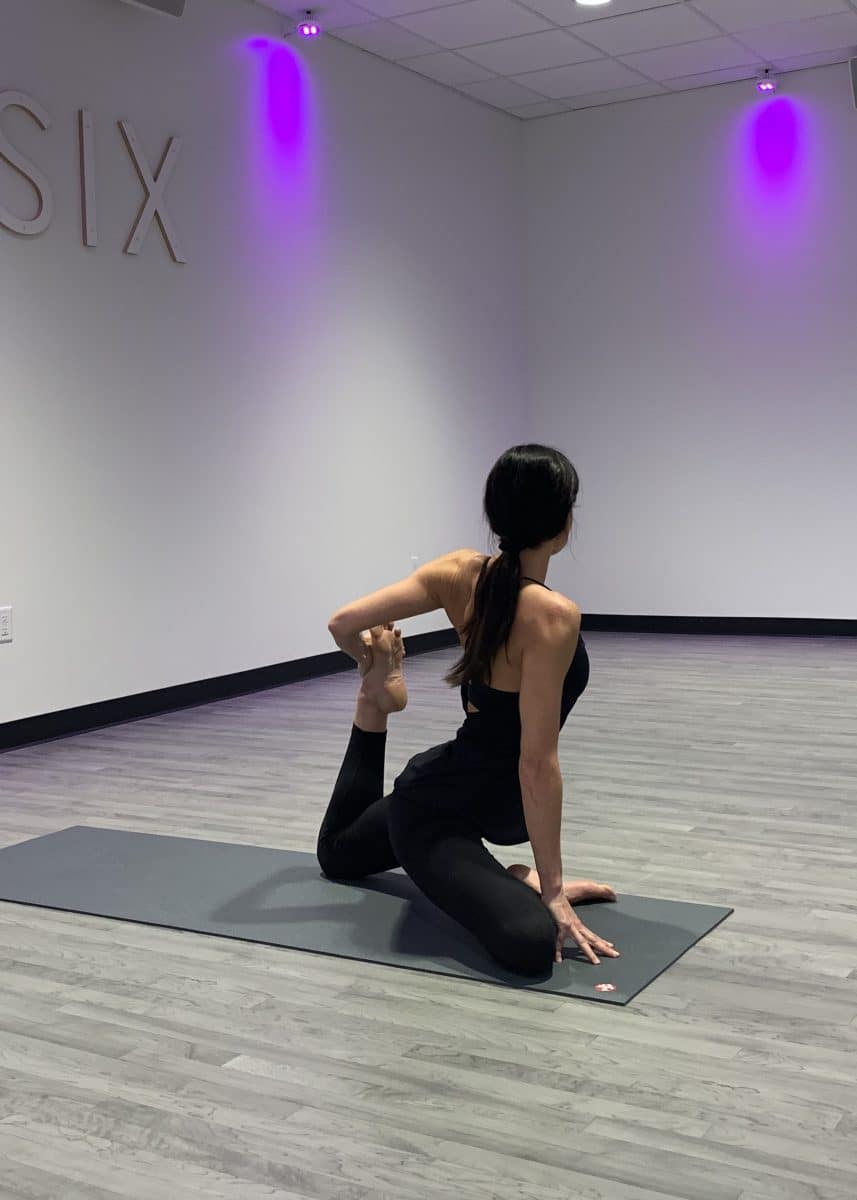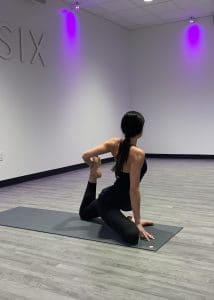 Half pigeon with quad stretch stretches your hip flexors and quads, opens gluteus maximus, and helps relax the piriformis muscles.
Here's how to do it:
Follow the above instructions for half pigeon.
Walk hands back towards your hips.
Bend the extended leg behind and take the ankle in your hand as you bring your foot towards your seat.
Hold.
If you are in need of some extra length, use a towel to wrap around your foot, grab it, and pull towards your body.
Repeat on the other side.
Related: A proven guide to injury prevention for runners
Fire log
The Fire Log Pose stretches the outer hips intensely, particularly the piriformis.
Here's how to do it: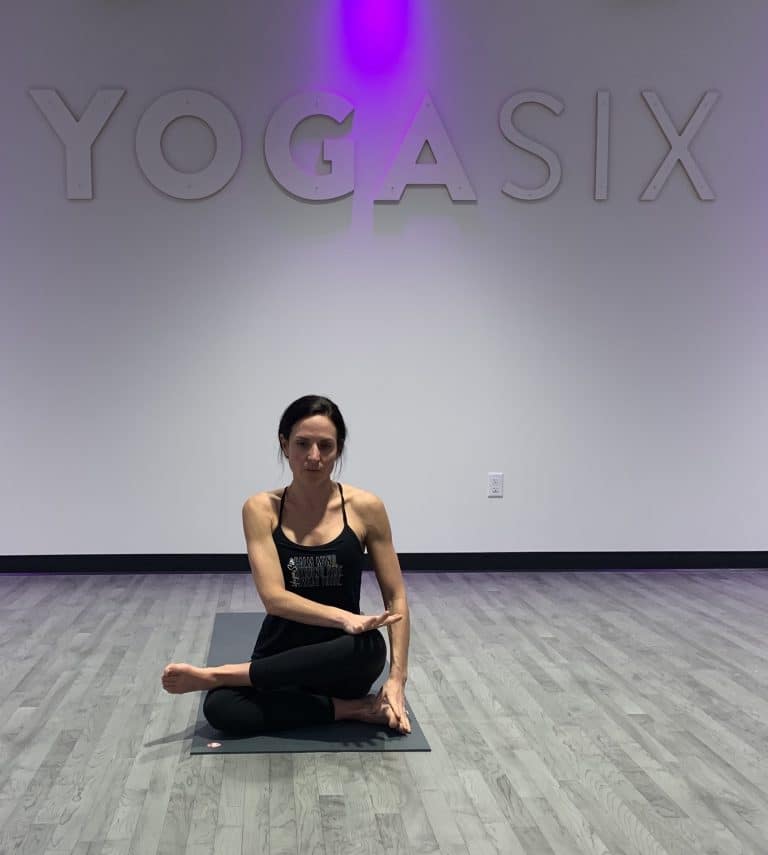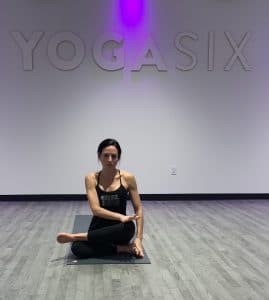 Sit on one edge of a thickly-folded blanket with your knees bent and feet on the floor.
Lightly shrug your shoulders up and strongly roll the tops of your upper arm bones back.
Press the bottom tips of your shoulder blades into your back.
Slide your left foot under your right leg to the outside of your right hip, and lay the bottom (left) leg on the floor.
Then, stack your right leg on top of the left. Be sure the right ankle is on outside the left knee (so the sole is perpendicular to the floor).
You can slide your left shin forward directly below the right to increase the challenge; otherwise, keep the left heel beside the right hip.
Hold.
Repeat on the other side.
Gorilla Pose
This pose stretches the backs of the legs (your hamstrings and calves), helping to lengthen and strengthen those tight muscles. It also gives you an opportunity to relax the neck and shoulders.
Here's how to do it: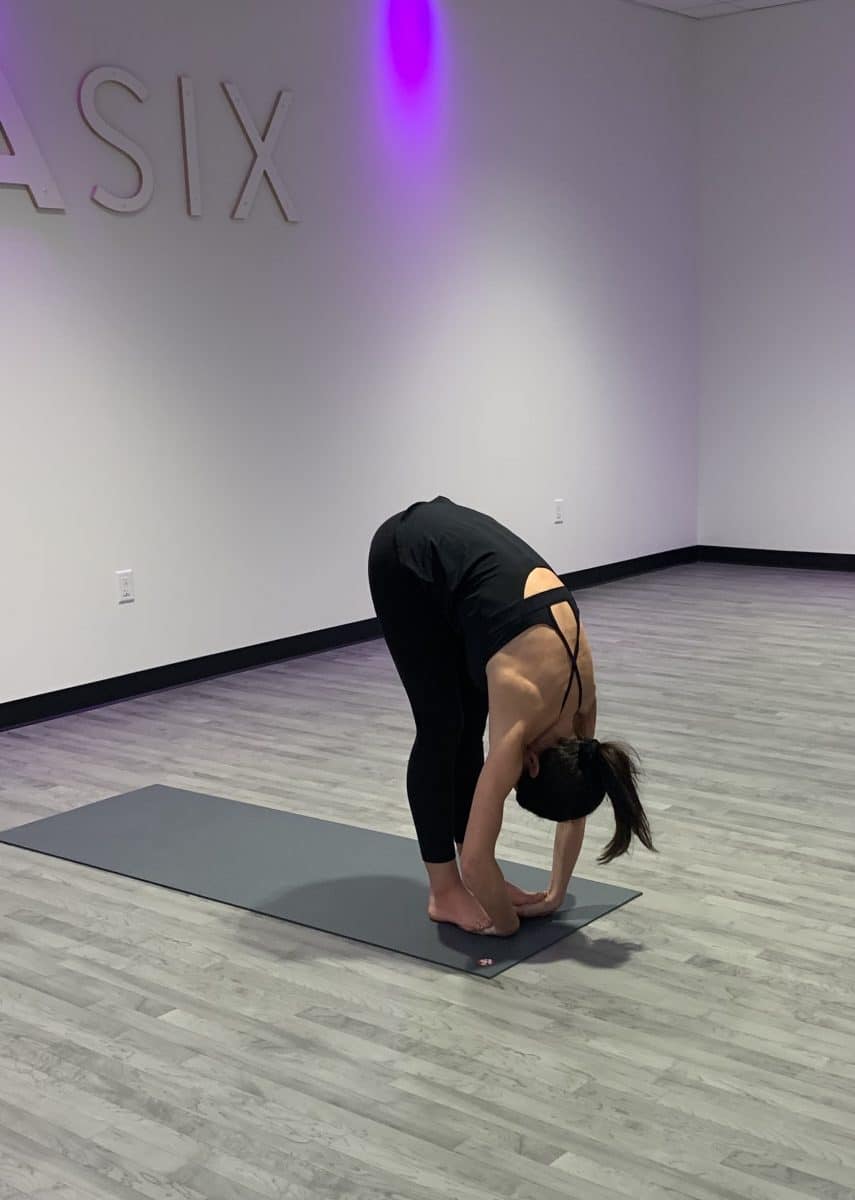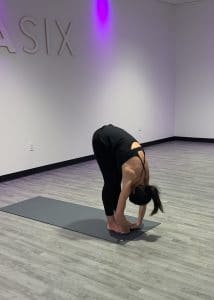 Start with feet hip-distance apart.
Bend your knees and fold forward.
Allow your hands to slip under your feet, bringing your toes your wrists.
Bend your knees as much as your body needs.
Once your hands are under your feet, inhale as you lift up with a flat back.
Hold.
Exhale to fold deeper and with each breath- create more length in the back of the leg by straightening the legs even more.
Forward Fold with a Twist
This pose stretches the back of the legs and the IT band (notoriously tight for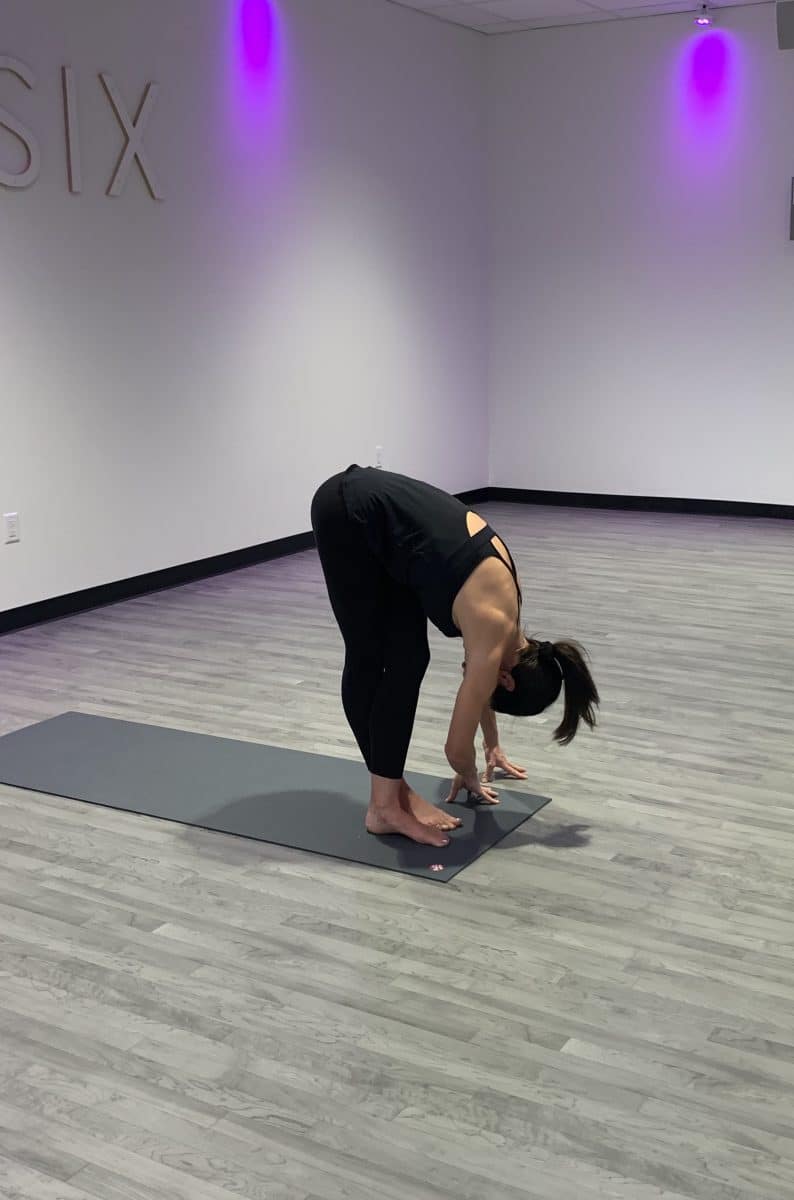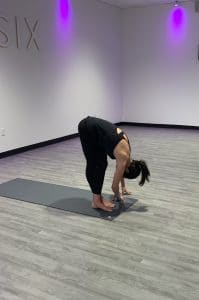 runners).
Here's how to do it:
Cross your feet, bringing them together evenly with your pinky toes touching.
Bend your knees.
Allow your fingertips to touch the floor (or put them to the back of your legs).
Cross your right leg in front of your left.
Walk your hands to the outside of the left foot (or take the left calf muscle in your hands).
Breathe and fold deeper with each exhale.
Repeat on the other side.
I am the worst at finishing a run and going right back to my daily duties, taking no time to stretch tired muscles. I invite you to join me in taking the 5 minutes or so that it takes to do these poses before we come in the house–even if it means running a half-mile less. I feel certain we'll feel the benefits with looser joints and more pep in our step, mamas!