In the summer of 2021, I was hit with what I thought was a bad case of plantar fasciitis. I wrote about it on my Instagram and was approached by dozens of people and companies, suggesting the best running insoles to try.
Desperate, I tried many of them—shelling out lots of dough only to learn nothing was going to help me because I didn't just have plantar fasciitis–I had a significant plantar fascia tear. After healing it, I began my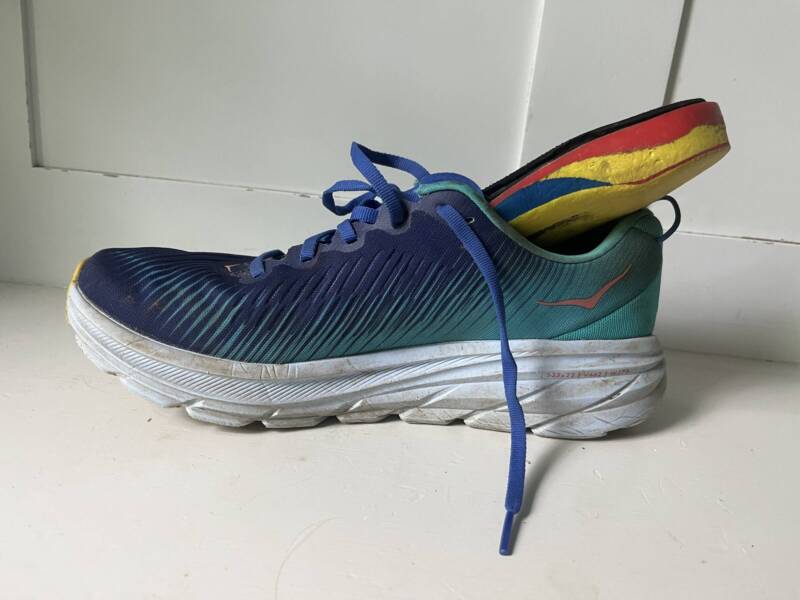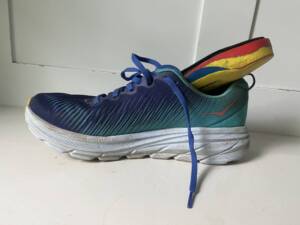 run/walk return to running with custom orthotics for runners, and almost never run without them.
Related: Does PRP Injections Help Heal Plantar Fasciitis?
But it struck me—many runners rely on running shoe inserts for comfort and injury-prevention. And many insoles for runners have changed their running lives. On the other hand, many runners have wasted money on expensive running shoe inserts that didn't help or even hurt them.
I want you to avoid that problem. So, I asked around, did research, and even tried running shoe insoles to find what the best running insoles are out there.
Related: Hoka Rincons: The Best Running Shoe for Plantar Fasciitis
In this article, I will answer:
Should runners use insoles?
What to look for in running insoles?
Who needs insoles for running?
How many miles do you run in insoles?
Then I list the best running insoles for plantar fasciitis, flat feet, high arches, running performance, and women.
Let's go!
Should runners use insoles?
Some runners may need insoles if they find that their feet need extra cushion, or they are having recurring injuries that can be corrected by a running insole. It's best to consult with a sports med doc or physical therapist about this.
Many runners will seek the help of insoles for their running shoes if they experience tired feet or foot pain while running.
If you haven't found this pair of running shoes yet, then insoles can help you to transform your running shoes into a more comfortable pair, and may even increase your running speed.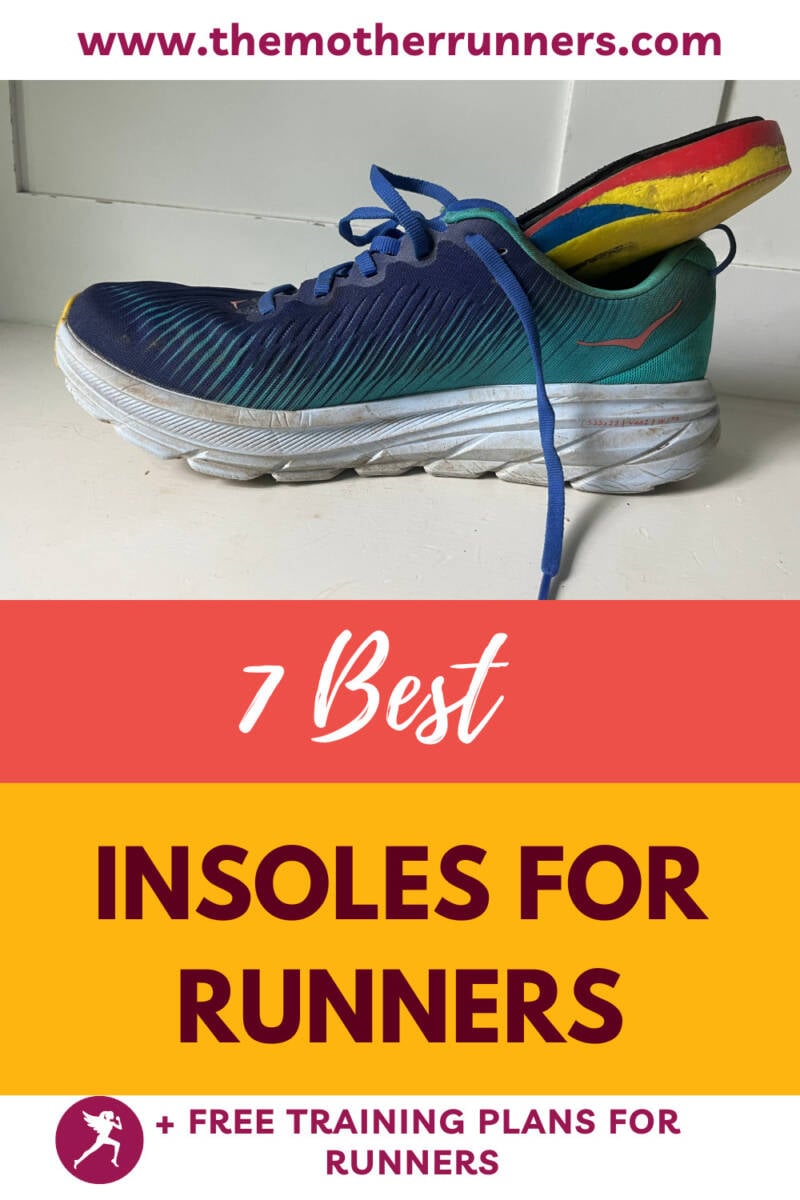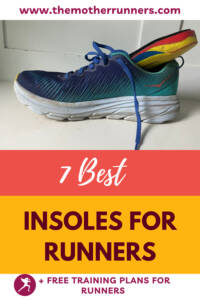 It can make sense that a cushioned running insole can aid in comfort when you think about it. When we run, we can take more than 1400 steps a mile (for an 8 minute mile and close to 1700 for a 10-minute mile). This can lead to fatigued and aching feet without proper cushion.
But how do you know what kind of insole is right for you? Are there some insoles that are better for runners than others? The answer is yes, there are some insoles that are better for runners, and there are even insoles that are designed with specific foot conditions in mind.
Related: How I Stopped Being an Injury-Prone Runner
What to look for in insoles?
The most important thing to look for in running insoles is your individual comfort. What works perfectly for some may not work at all for you. You may have to try a few different types of insoles before you find the pair that is right with you. Take advantage of any of these insoles that offer a money-back guarantee within a specific time frame.
Who needs insoles?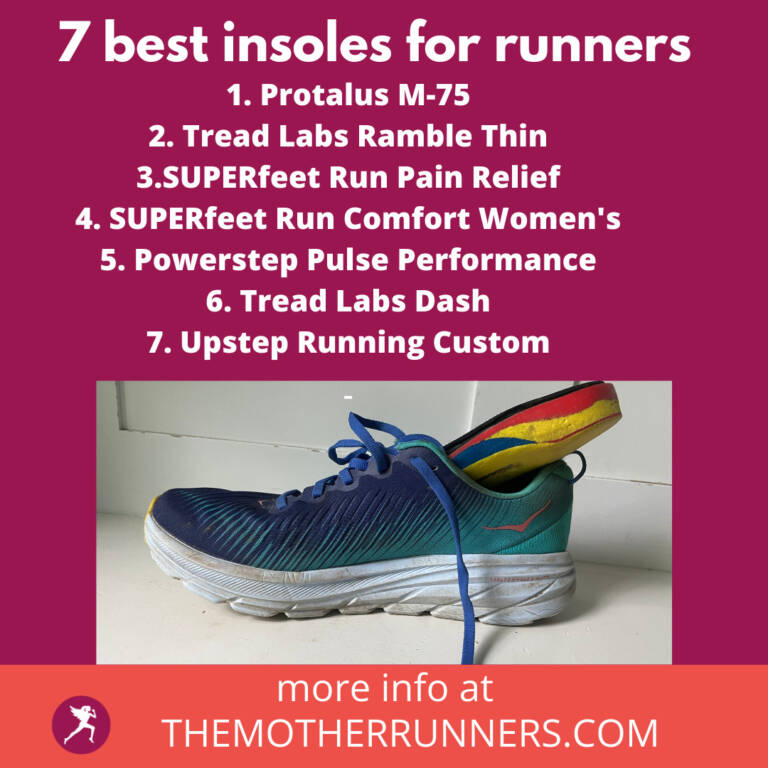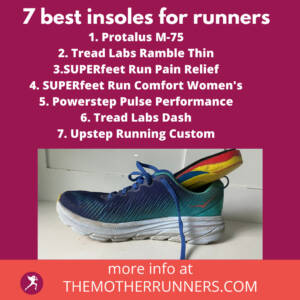 Anyone who has regular foot discomfort should consider adding insoles to their shoes. Insoles can provide extra support and cushioning that may relieve your foot pain. Another sign that you may need insoles is uneven wear patterns on your shoes.
Related: Can Your Running Shoe Pattern Predict Injury?
For example, if one side of the sole of your shoe is more worn than the other you may suffer from overpronation. If the heels of your shoes are more worn than the rest you may suffer from plantar fasciitis.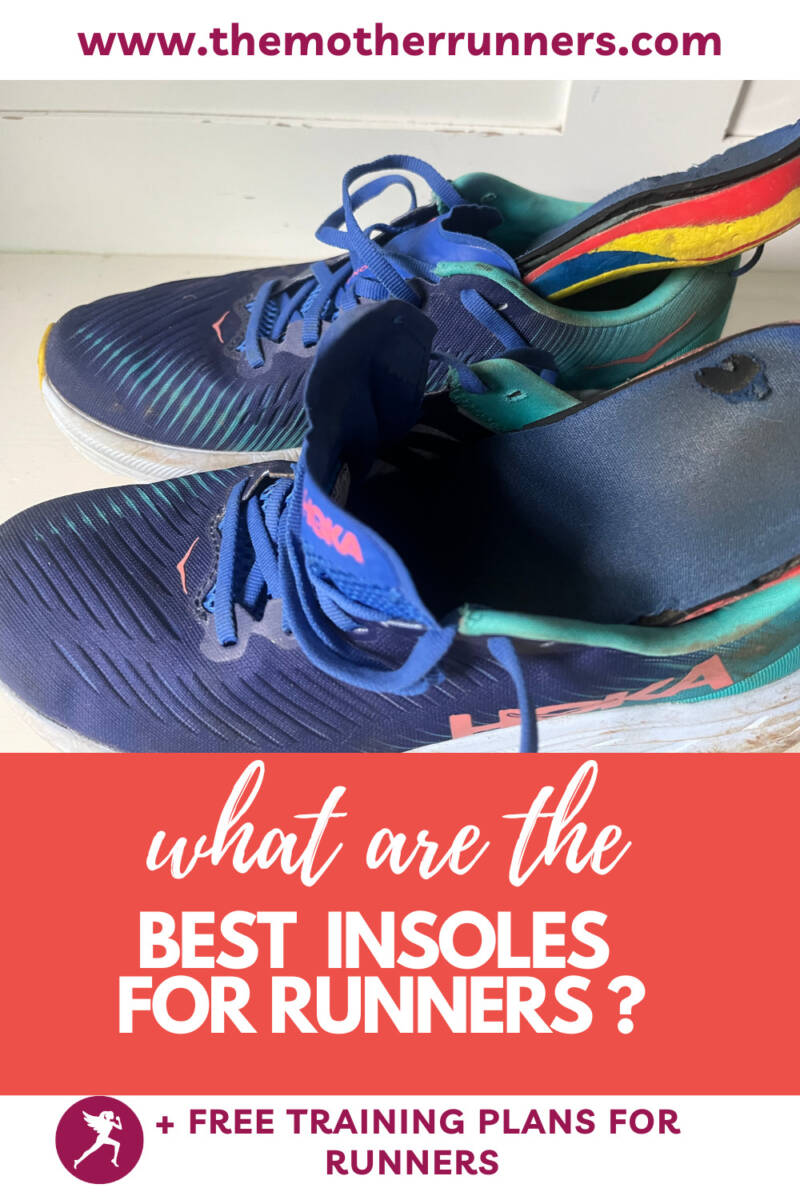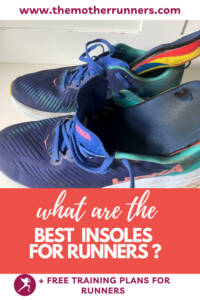 If you suffer from any kind of foot pain when you are running or walking consider visiting with a health professional such as a podiatrist or physical therapist. If you have chronic issues with your feet and foot pain then custom orthotics (like I have) may be the best choice for you. I needed custom orthotics because I have the beginning of "hammer toes" on my right foot that need to be corrected. I also perform toe yoga daily to help strengthen my feet.
Related: 5-minute Mobility Routine for Runners
How many miles do you run on insoles?
You can expect to run 350-450 miles on an individual pair of insoles. However, this number will vary by brand of insole, and each individual runner.
Related: How Can You Tell When You Need New Running Shoes?
However, you should replace your insoles when they begin showing signs of wear and tear, or they no longer feel as supportive or comfortable as before. I usually can tell that I need new running insoles or running shoes when I start to get random "niggles."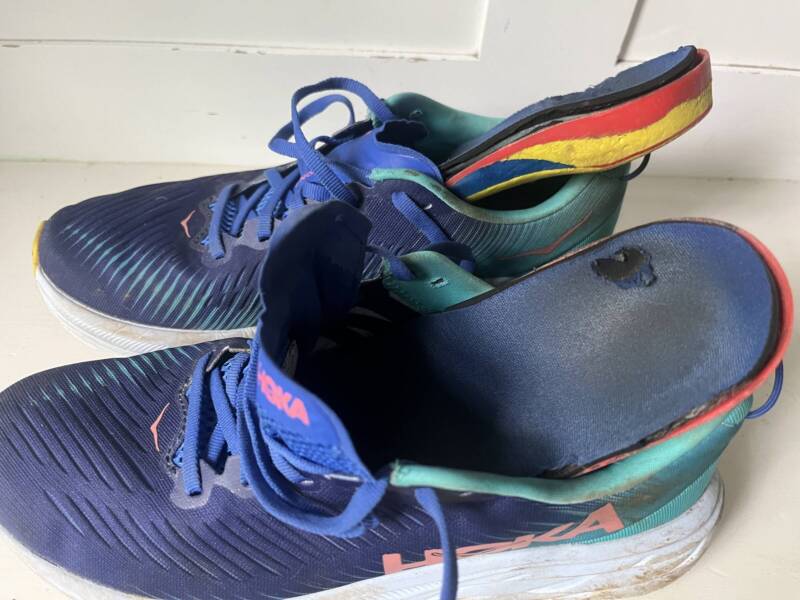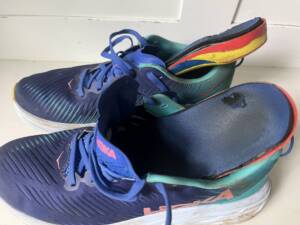 The 7 Best Running Insoles for Runners
Insoles for running shoes can make your workouts and training a lot more comfortable, especially if you have flat feet, high arches, or are prone to injuries such as plantar fasciitis. With the right running insole, you may even find that you are running faster and that your form and performance improve.
Here are the best insoles for runners.
Best Running Insoles for Plantar Fasciitis: Protalus M-75
Plantar Fasciitis is a common injury for runners unfortunately and it can make it difficult to continue training. Plantar fasciitis occurs when the collagen fibers in the plantar fascia which go from your heel bone to your toes thickens or breaks down.
This injury can cause a lot of pain in your heel when you are walking, running, or stretching. Fortunately, a running shoe insert specifically for plantar fasciitis can help!
The Protalus M-75 insoles provide plenty of support for your foot by coming higher on both sides of the foot than similar insoles which can relieve pressure on the bottom of the foot. There are more than 1500 five-star reviews for these shoe inserts. Many were purchased and worn to help with plantar fasciitis. These insoles are very reasonably priced currently at $17.95 per pair, marked down from $59.95.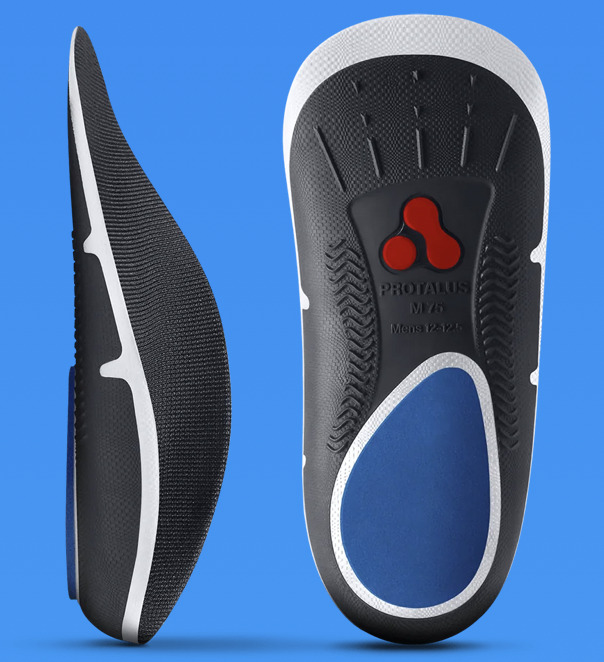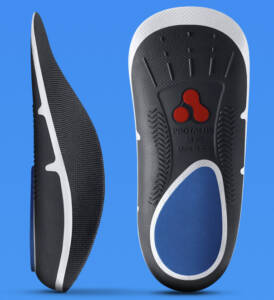 These insoles have four different layers to provide you with the most comfort while wearing them. The top cloth wicks away moisture and is both antimicrobial and antifungal. The second layer is molded to the contour of your foot and provides full length cushioning.
The third layer is also contoured for comfort, support, and stability, and has ridges on the bottom to grip the inside of your shoe. The fourth and final layer is 4mm thick, cushioned, and provides comfort and shock absorption.
Buy the Protalus M-75 for $17.95
Best Insoles for Flat Feet:

Tread Labs Ramble Thin offer firm support for flat feet.
People with flat feet have either very little or no arch on one or both feet, which can make running uncomfortable. Fortunately, this can be easily fixed with shoe inserts for flat feet which can comfortably provide you with a nice arch inside of your running (or other shoes).
The best running shoe inserts for flat feet are the Tread Labs Ramble Thin insoles. These insoles are two parts, the bottom part is a molded arch support, and the top portion is a replaceable cover. If your insoles start to feel less than comfortable or begin to break down you can replace the top portion with a new cover.
The top cover is replaceable and offers 3mm thick top covers that give you firm but flexible support. You can choose the level of firmness that is most comfortable for you (firm, extra firm, and ultra firm), and the height of the arch. There is a 90-day comfort guarantee so you can exchange them or receive a refund, you can try out these insoles for $55.00.
Buy the Tread Labs Ramble thin for $55
Best Insoles for High Arches: SUPERFeet RUN Pain Relief
If your feet have high arches, finding a comfortable pair of insoles can be a bit challenging, but you might want to try the SUPERFeet RUN Pain Relief insoles. These insoles come with a removable heel stabilizer so that you can personalize your comfort.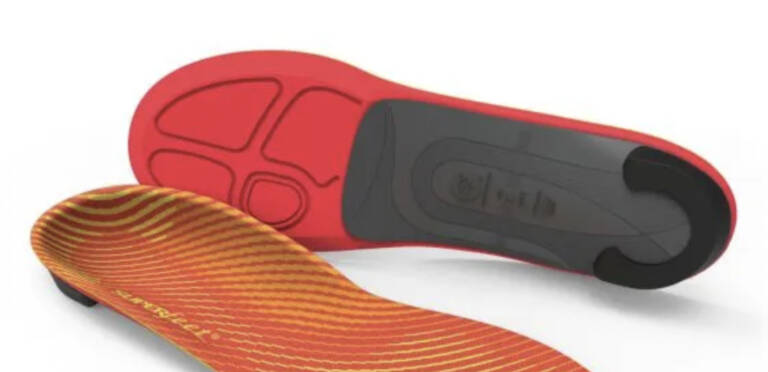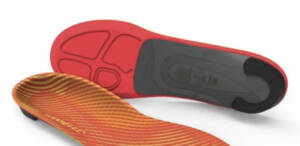 The high arch support keeps your foot stabilized when running to reduce stress on your back, knees, feet, and ankles. These running insoles are $64.99 per pair and come with a 60-day comfort guarantee so if they aren't working out for you, you can get your money back.
Buy the SUPERFeet RUN Pain Relief for $64.99
Best Running Insoles for Performance:

Tread Labs Dash improves biomechanics and delivers superior energy return in a super-strong, ultra-lightweight and nearly rigid insole.
Some insoles for runners are designed to help correct biomechanics as well as improve your running performance. The Tread Labs Dash insoles are made of carbon fiber which improves running economy by allowing you to use less energy with each step.
The Tread Labs Dash running insoles are made from 100% carbon fiber with a 5 mm thick ventilated top cover over a 1.25 mm thick arch support. These insoles are completely customizable to the height of the arch that you find most comfortable and cost $115 per pair.
Related: Are Carbon-fiber Shoes Worth the Money?
I would say that this does not make any sure as energy-efficient as other carbon fiber shoes, however it may provide a noticeable pep in your step. Customer service for Tread Labs is top notch with easy exchanges and returns.
Buy the Tread Labs Dash for $115
Best Insoles for Women: Superfeet Run Comfort Women's
If you are looking for a running shoe insole that is specifically designed with a woman's foot in mind, then the Superfeet Run Comfort Women's insole is for you. These carbon fiber insoles are made with the dimensions of a woman's foot in mind.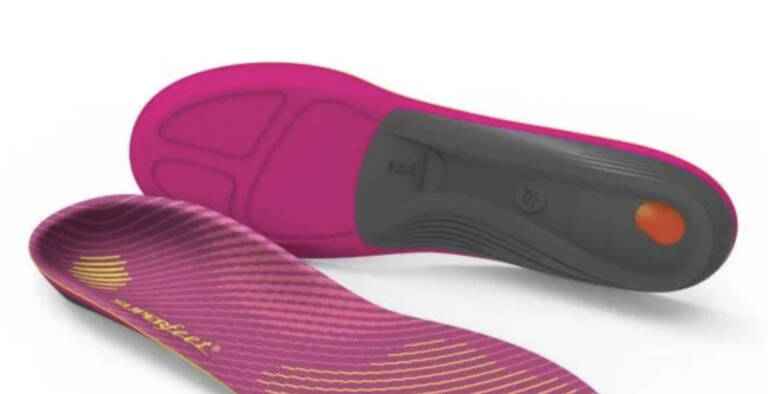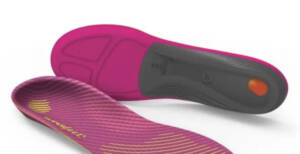 These insoles have a heel cup specially designed for a women's foot with heel impact technology designed to make wearing them more comfortable. These insoles absorb shock, stabilize the foot while running, and relieve stress on your feet, ankles, and knees, These running shoe insoles are currently available for just under $49.
Buy the Superfeet Run Comfort Women for under $50.
Best Insoles for the Money:

PowerStep PULSE Performance provides shock absorption and bounce back to prevent injury and improve performance.
If you are looking for an insole that won't bust your budget but will still provide all of the comfort and support that you need consider the PowerStep PULSE Performance insoles. These insoles are designed for comfort and performance with full length total contact support. =
These cushioned insoles provide stability, cushioning, and shock absorption to help relieve and prevent pain from your heels to your toes. A one-time purchase of these insoles is $52.95. You can save 20% per pair ($47.66) by signing up for their subscribe and save option.
Buy the PowerStep PULSE Performance for $52.95.
Best Custom Orthotics:
Sometimes your foot issues aren't easily solved with generic running shoe inserts and you need something customizable. I recommend working with a physical therapist well-versed in running. However, if this isn't an option for you (especially since custom orthotics can cost several hundred dollars), custom orthotics like Upstep Running Custom Orthotics are a solid alterative.
There are three steps to getting your Upstep custom running orthotics. First, you will take a quiz that will take less than a minute, after that, you will receive an impression kit in the mail, step in the impression kit, and send it back. In about 35 days you will receive your customized orthotics from FedEx.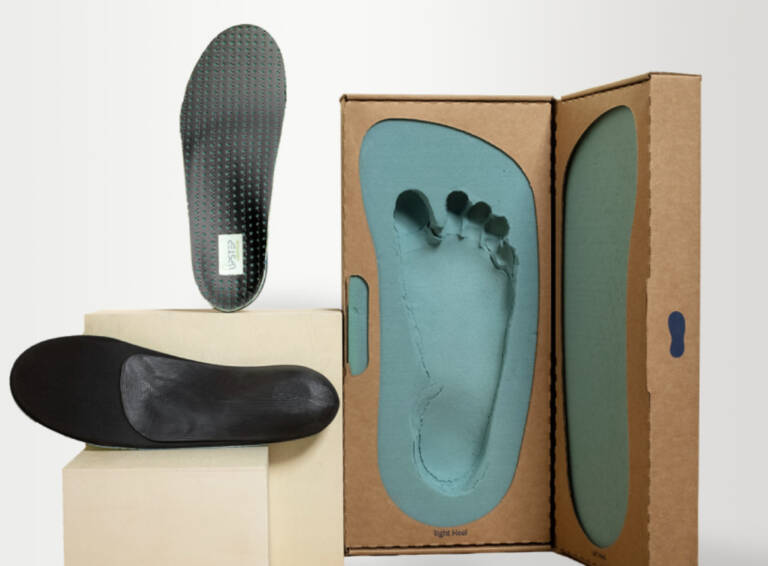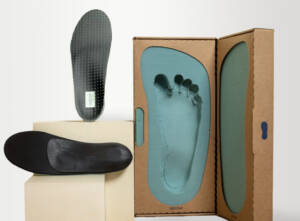 As you might expect these custom running inserts are more expensive than some of the other options because they are custom-made to your feet. The price for a pair of these running insoles is $217. However, they do offer a 180-day money-back guarantee if you aren't completely satisfied.
Buy the Upstep Running Custom Orthotics for $217.
If you want guidance with your running or marathon goals, check out my run coaching services. Also, be sure to check out my free training plans: