The other day my husband said he thought he could beat me in a mile race. I was floored. I take my run training very seriously—he, not so much. So, this summer, we plan to race on the track. The stakes: if I win, I get a home gym. If he wins…doesn't matter. He's not going to. (Like my confidence?). In truth though, we don't need a home gym thanks to the boom of strength training apps.
From the very earliest Jane Fonda VHS to the countless YouTube workouts streaming at the click of a button, the online world of fitness and strength training classes has grown exponentially in the last 30-odd years. Even more so, the on-demand availability of workout and weight-lifting apps has accelerated since 2020 due to the closing of gyms across the world.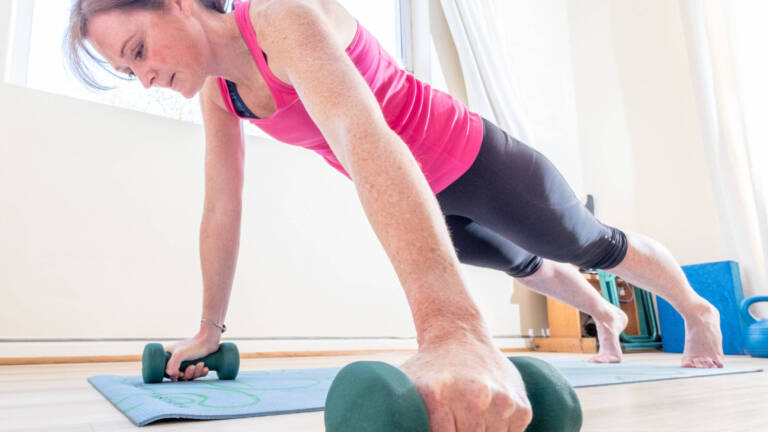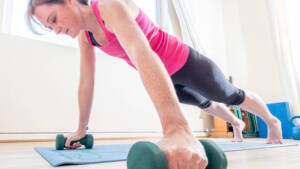 Like everyone else, I signed up for the fitness app OnePeloton during the pandemic when they offered a free trial. Like most everyone else, I stayed a member even when it was no longer a free strength training app. In fact, the price of this fitness app has ballooned from $0 to $4.99 a month to $12.99 a month.
But it's worth it.
The Best Strength Training Apps for Runners (Especially Mother Runners)
The wide variety of on-demand fitness apps is ripe with opportunities for time-strapped mother runners to fit in strength training while at home with the kids. It's not uncommon for me to be using my fitness app while my kids and their friends play around me, or sometimes do the workout with me.
But strength training apps today may feel a little like "a dime a dozen," with everyone taking a stab at online fitness. Which ones are worth our time, money, and attention? Better yet, which ones can be the most beneficial for runners?
By talking with other mother runners, teaming up with one of my athletes, Rachel Penate, doing research, and signing up for free trials, I've rounded up 10 of the best strength training apps for runners.
In this article, I will answer:
What is the number 1 workout app?
Who has the most effective workout app?
Should you pay for a fitness app?
& the ten best exercise apps for runners
Let's get going!
Related: Strength Training Guide for Runners
What is the number 1 workout app?
OnePeloton is the number one fitness app. It has a near cult following thanks to its offerings of a variety of classes including weightlifting, cycling, running body weight strength, Pilates, core, yoga, barre, and even meditation for your mind.
The instructors are charismatic, likable, energetic, and motivational. You can choose workouts based on the amount of time you have, workout equipment, ability, and body parts.
Related: 8 Plyometric Moves for Runners
Who has the most effective workout program?
OnePeloton has the most effective workout program because of its variety and ease of use. With this fitness app, you get the most bang for your buck and use of your time. It is truly the best fitness app overall.
What is the best free fitness app?
FitOn is a free fitness app that offers quick workouts that leave you feeling accomplished, energized, yet calm. Because this app is free, the customizability is limited as are its offerings.
Should I pay for fitness apps?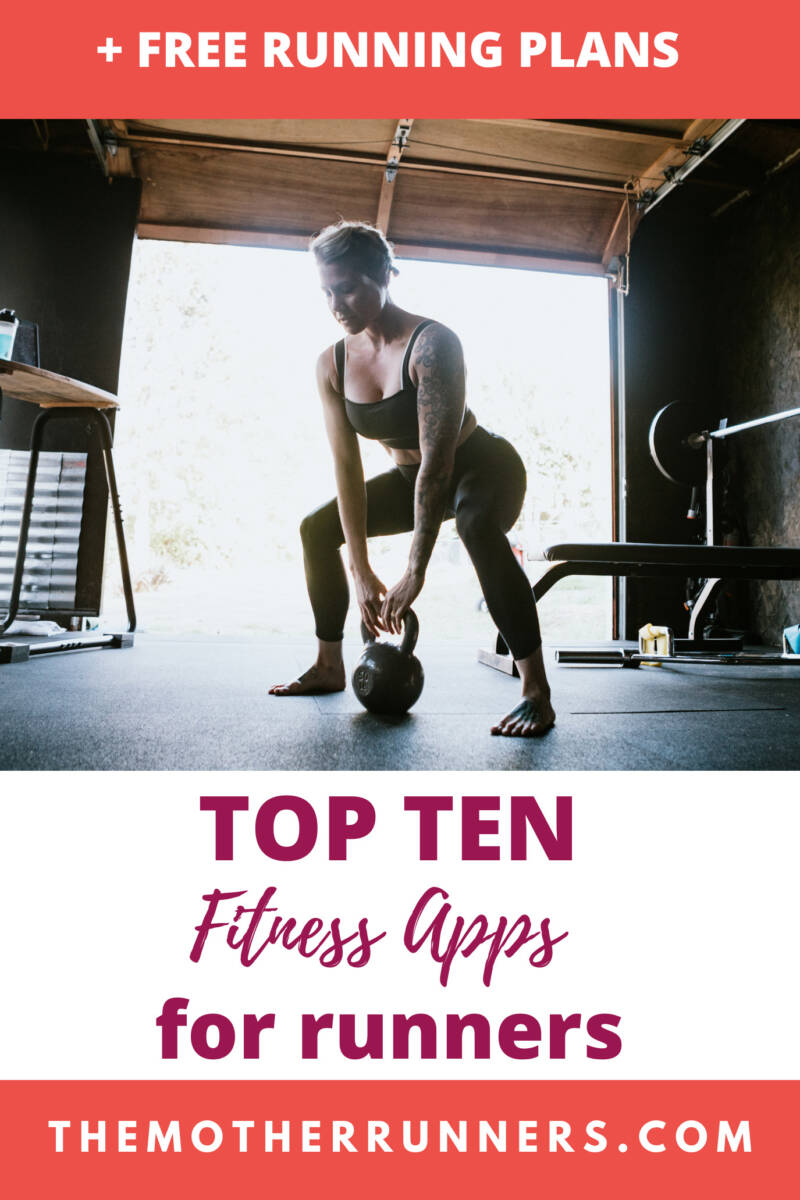 Yes, you should pay for a fitness app. They are truly worth the money and buying into a workout app also gives you skin in the game to stay committed to your goals.
If you have a hard time rationalizing paying for a fitness app, think of it as a very inexpensive gym membership or personal trainer. Truly, the best fitness apps are the ones that you pay for.
However, most of the best fitness apps allow you a week free trial and you may cancel anytime unless you opt for the annual plan over the monthly plan.
The 10 Best Strength Training Apps for Runners
Most Popular High-Energy Classes with Celebrity Trainers
OnePeloton The brand that brought us some of the first high energy cycling studios hosts classes for so many more fitness disciplines today including running, barre, yoga, Pilates, strength training, and more. The OnePeloton app is chalk full of high energy music-driven workouts led by dynamic trainers. Truly, I've become a big fans of these instructors. Almost every class I take with Robin Arzon, she says something brilliant that stays with me.
Pros: Has run specific strength workouts (ranging from 10-30 min each) and is always adding new content. I love Matt Wilpers and Becs Gentry's workouts and demeanor. Also offers post-run stretches.
Cons: Some of its best features (like the Peloton Guide – which gives you AI feedback on your form, reps, and muscle use – costs extra).
Cost: 30 days free, 12.99/mo after
App Rating on Apple: 708K ratings on the App store w/ an average rating of 4.9.
Les Mills is another high energy music-driven workout studio known for its "on-brand" workouts and flashy classes. Les Mills on-demand workouts boasts a deep well of quality content for the at-home fitness guru.
Pros: A wide variety of fitness types (from traditional strength training, to kickboxing, to martial arts) and training personalization that helps you hit your goals in a fun and engaging community.
Cons: Everything about Les Mills is branded and can feel a little bit overwhelming if you're just in it for the workouts.
Cost: 14-day free trial, $7.49/mo for Base; $14.99/mo for Premium.
App Rating on Apple:3K ratings on the App store w/ an average rating of 4.9.
Related: 5-Minute Warm-up for Runners
Free Strength Training Apps
FitOn is yet another fitness app boosted by the lure of "quick and effective workouts from celebrity trainers." While Peloton and Les Mills are driven by studio classes and high energy music, FitOn is driven by zen trainers in bright and airy in-home filming locations — which can be much more approachable to some who aren't traditional fitness class takers.
Pros: FitOn is a FREE workout app! There are a wide variety of classes (many of which require no gym equipment) and classes include prenatal and postnatal options. The app is available to download directly on Apple TV.
Cons: Progress tracking seems to be more weight-loss focused which may be off-putting if weight-loss is not your goal.
Cost: Fitness is free, PRO version includes nutrition, offline downloads, and premium music
App Rating on Apple: 282K ratings on the App store w/ an average rating of 4.9.
Related: The Best Cross-training Exercises for Runners
Nike Training Club is another no-cost strength training app from the well-known company, Nike. Simple to use and free for the taking, Nike Training Club offers workouts for all experience levels.
Pros: Nike Training Club is FREE with personalized progressive training and nutrition advice (limited options in the free version), as well as pre-set daily reminders to hold you accountable. Nike also has a sister running app, Nike Running Club that contains customizable running training plans for any distance runner.
Cons: With any free training app, the customizability is usually pretty limited. Depending on your level of experience, this app may not hold all that you need to progress in your strength training goals.
Cost: Free!
App Rating on Apple: 9K ratings on the App store w/ an average rating of 4.8.
Related: How I Stopped Being an Injury Prone Runner
Best for Yoga and Meditation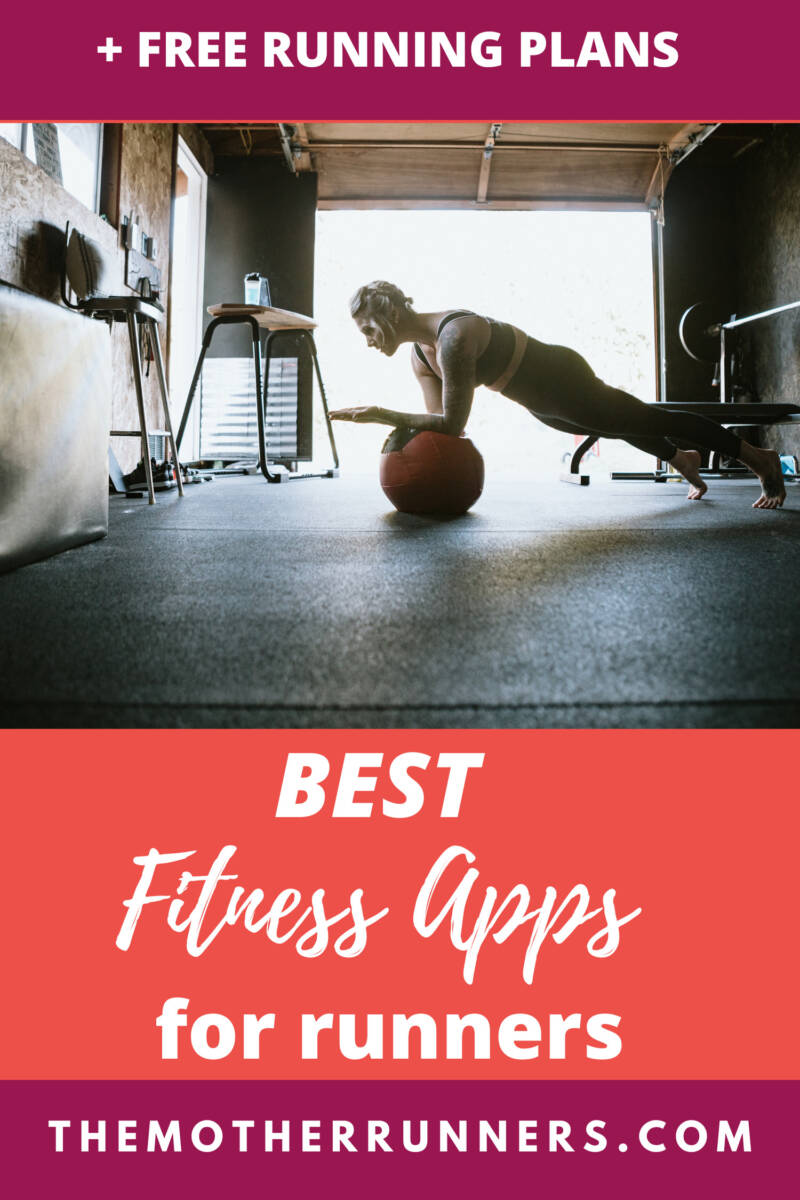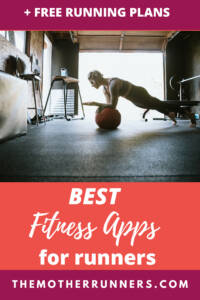 Alo Moves offers fitness classes including strength, Barre, Pilates, HIIT, and core, but it is most well-known for its yoga and meditation. Filmed in bright studios and airy locations, Alo Moves is the most aesthetically pleasing platform of these 10.
Pros: New workouts are added daily with offline downloads available. Alo Moves has a sister app called "Alo Gives" which offers Free, Scholastic-approved mindfulness videos for kids.
Cons: At $20/month, Alo Moves is one of the more expensive apps on this list.
Cost: Free 14-day trial. Unlimited yoga, fitness, and meditation for $20/month or $199/year after that. Alo Moves also offers 30 days for free with any Alo Yoga purchase.
App Rating on Apple: 2K ratings on the App store w/ an average rating of 4.9.
Related: Is Yoga Good for Runners?
Best Self-Guided Strength Training App
FitnessAI uses progressive overload and AI technology to create individualized training plans that optimize suggested weights, reps, sets, and rest time with each workout completed.
Pros: FitnessAI is a completely individualized weight training app that adjusts to your specific data and provides adjusted workouts and detailed progress tracking. You start by first entering in your goals and equipment available, and then the strength training app curates a strength training gplan for you. Included with your membership is live support with fitness trainers via a messaging system. I also like how FitnessAI prompts you daily to do your workout.
Cons: Each exercise is demonstrated with graphics, not live instructors which might be difficult to understand for those who are new to strength training.
Cost: 7-day free trial, 89.99/yr after
App Rating on Apple: 41K ratings on the App store w/ an average rating of 4.7.
Fitbod allows you to set goals, indicate the gym equipment at your disposal and specify your level of experience with weight-lifting to create a custom plan at your disposal.
Pros: Creates easy to execute strength training plans and provides live demonstrations of each move on an easy-to-use interface. Also includes muscle heatmap tracking to optimize proper recovery.
Cons: Workouts are entirely self-directed. Like FitnessAI, Fitbod requires self-motivation beyond the encouragement of a live trainer.
Cost: 3 free workouts, $12.99/mo or $79.99/yr
App Rating on Apple: 7K ratings on the App store w/ an average rating of 4.8.
Best Strength Training App for Injury Prevention
Recover Athletics is a one-stop shop for an injury-prone runner or a runner wanting to stay healthy. Focusing specifically on prehab and injury prevention, Recover Athletics provides routines from pro athletes like Meb Keflezighi and sports physicians to maximize your time on and off the road.
Pros: Recover Athletics is partnered with Strava and provides syncing and integration with the App (including a soreness tracker). Meb Keflezighi (the 2004 Olympic silver medalist in the marathon) is an athlete advisor for the company. I love how the app reminds me to do its stretching routine as soon as my Garmin loads up my run to Strava.
Cons: To receive all of the integration benefits, you need to also be on Strava. A lot of runners don't like to use Strava for mental healthy or safety reasons.
Cost: Recover Premium, unlocks a Strava subscription and vice versa 99/mo or 24.99/yr (Recover); 11.99/month or $79.99/year (Strava)
App Rating on Apple: 5K ratings on the App store w/ an average rating of 4.8
Related: How to Foam Roll
Most like Traditional Personal Training
Future is for the athlete who likes the experience of direct coach-to-client personal training but prefers to work out at home.

Here are the best fitness apps for runners
Pros: Future pairs you with a real personal training coach who then creates weekly personalized and adaptable training plans for you. Included in each membership is personalized audio coaching, biometric tracking, and direct access to your coach. Future also works with businesses to create wellness programs for all employees. It's truly like having a personal trainer come to your house!
Cons: This strength training app is the most expensive of the 10 listed.
Cost: 30-day free trial; $149/mo – $1425/yr
App Rating on Apple: 5K ratings on the App store w/ an average rating of 4.9.
Related: How to Start Running Postpartum
Best for Postpartum Recovery
Get Mom Strong specializes in pelvic floor and core recovery before, during, and after pregnancy.
Pros: This app is perfect for the Mother Runner returning to running after having a baby or desiring strength training support during her pregnancy. The app also includes a nutrition program.
Cons: There are currently only 6 programs available, making Get Mom Strong not as customizable as other apps.
Cost: 7-day free trial, $28.99/mo, $69.99/quarterly, or $199.99/yr
App Rating on Apple: 82 ratings on the App store w/ an average rating of 5.0.
(Stay tuned to my Instagram to find out who wins the mile—my husband or me.)
If you want guidance with your run training, including strength training, check out my run coaching services. Also, be sure to check out my free training plans: