The weather is starting to transition to warmer temperatures as the flowers begin to bud and grass green. 'Tis the time to start dreaming of running spring half marathons and marathons in these gloriously mid temps perfect for running. But there are so many—how do you choose?
I'm here to help. I asked around and scoured the internet to pick a dozen spring half marathons and marathons with beautiful courses—some challenging and some fast—that would be fun for the whole family (or just you, or a group of friends!).
I won't lie, it was hard choosing the best spring half marathons and marathons, but based on reviews I was able to narrow them down. I include spring races all over the U.S. to give you a variety of locations and scenery.
Before we get to the list, let's answer some general questions about half marathons and marathons:
Are half marathons fun?
Yes, half marathons are fun. Whether you are chasing a PR or looking to push yourself to complete the distance, you will feel proud of yourself and enjoy the celebratory atmosphere and race swag.
Marathons are also fun—though they are very challenging. With a marathon, most people feel wiped out and need rest for at least a week afterward.
For spring races, there is a good chance you may be running in the rain. Check out my tips for running and racing in the rain.
How long should you train for a half marathon?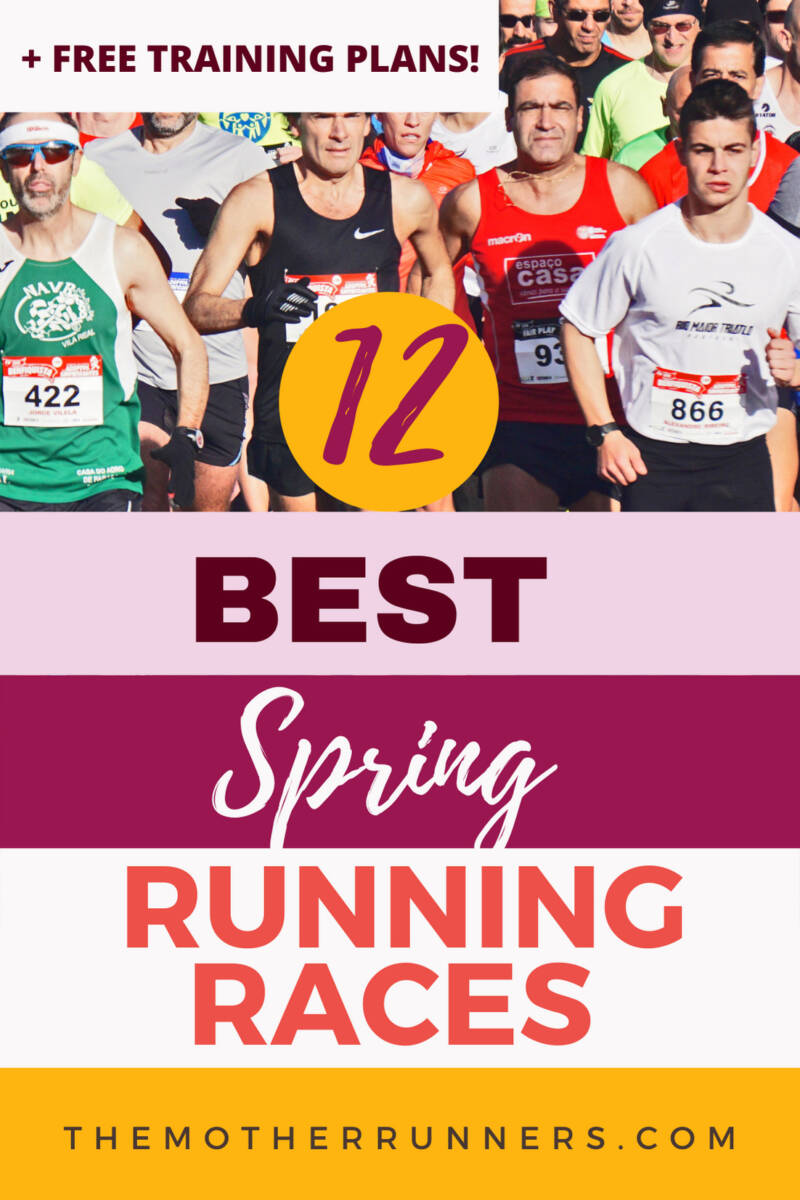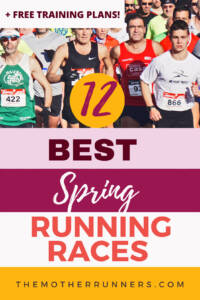 It typically takes at least 12 weeks to train for a half marathon. It takes at least 16 weeks to train for a marathon.
Should you run 13 miles before a half marathon?
You do not need to run 13.1 miles for training for a half marathon. Instead, you can train up to 10 miles to safely cover the half marathon distance. Your adrenaline and excitement will carry you the rest of the 3.1 distance.
Also, it's important to note, NOT to run 26.2 before a marathon. That will be too much stress on your body and inhibit recovery before race day.
Related: Check out my FREE training plans for a half marathon and marathon
What happens to your body after a half marathon?
There are usually only risks for minor injuries when running a half marathon such as shin splints or sore legs. Take several days off and foam roll before running again.
A marathon may cause more serious running injuries. At least a week of recovery is needed after running a marathon, and you will likely feel lethargic for several weeks afterward depending on your race effort.
Related: 26 Ways to Recover Faster from a Marathon
6 Best Spring Half Marathons
Okay, now that is out of the way, let's get to the list of the best spring half marathons and spring marathons in the U.S.! Special thanks to the runners who shared their experiences and the race review website Bibrave for their help!
Chicago Spring Half Marathon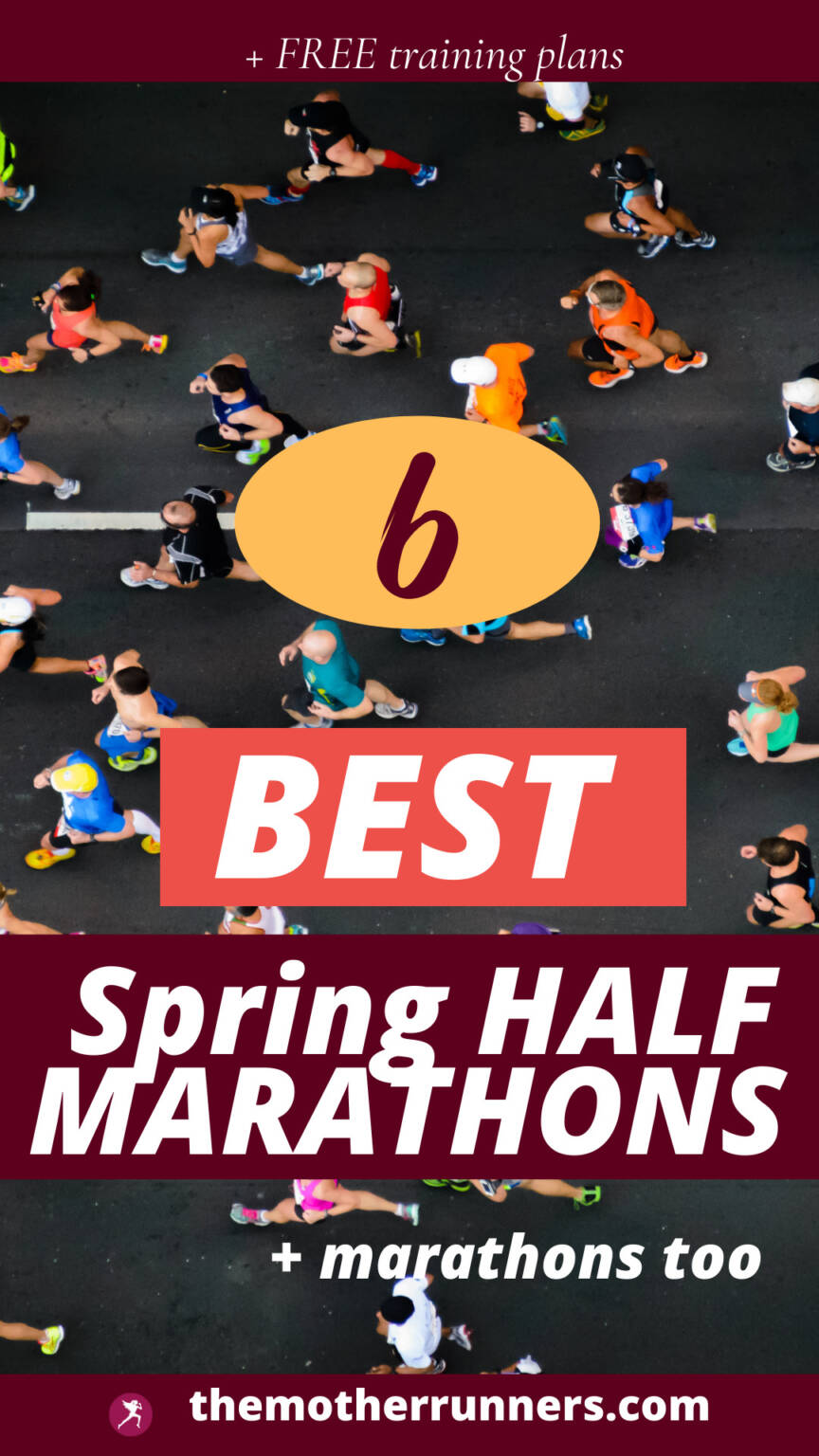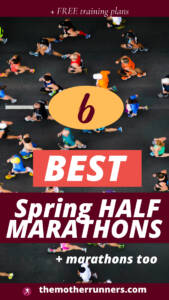 Chicago, IL (May)
The Windy City likes to kick off the beginning of spring with the Chicago Spring Half Marathon which runs along Lake Michigan. The course is fast and flat, making it a good choice for those seeking a half marathon PR.
The finish is incredibly festive with a beer garden, spring market, hot breakfast, live music, and more.
Some pro tips: The course is scenic although the start is in Chicago's Southside which can be a bit sketchy. Be sure to plan out your parking ahead of time and leave lots of time for bib pick up as it can be chaotic.
Runners say the race is well-organized, the communication is great, and the race experience is exhilarating.
Capital City Half Marathon
Columbus, Ohio (April)
The Capital City Half Marathon is a perfect race for beginner runners. It has a lot of energy, scenic and relatively flat course (with some gentle hills), and a moderately sized expo. The race showcases the historic neighborhoods of downtown Columbus. Runners rave about the VIP experience which gets you extra food, lets you skip lines, and even enjoy bubbly.
The finish line features pizza, beer, and even margaritas. It's recommended you prepay for parking ahead of the start to forgo the hassle of trying to find a spot downtown.
Greenbrier Half Marathon
White Sulphur Springs, West Virginia (May)
Immerse yourself in history and majestic mountains at the Greenbrier Half Marathon. The half marathon course winds its way through some of the country's top golf courses nestled in the base of the mountains and on the 11,000-acre grounds of the luxury resort, The Greenbrier Inn. The Greenbrier has hosted 26 of our country's 46 presidents along with plenty of celebrities and leaders.
The Greenbrier half marathon ends with a party, live music, and even some champagne. Part of the race swag includes a wine glass!
The course is hilly and includes running on some gravel and grass, so do not plan for a PR! Instead, plan to have fun! Celebrate your race with golf, fine dining, boutique shopping, gaming, and more than 55 activities at the resort.
This is a great race to plan as a girls' getaway!
Covered Bridges Half Marathon
South Pomfret, VT (early June)
The Covered Bridges Half Marathon isn't well-known…yet. It's a scenic race featuring rolling hills and a net downhill course. Run through miles of charming New England scenery featuring a bucolic green countryside.
The race is incredibly friendly and laidback, complete with robust community support. The point-to-point course runs through one covered bridge and past two others. The race is low-key, featuring a bib pick-up the morning of, so plan for that extra time.
This is not a PR-likely course but the views will make up for an extra time on the clock. If you want to experience New England charm, this is your half marathon!
Coeur d'Alene Half Marathon
Coeur d'Alene, ID (May)
The Coeur d'Alene Half Marathon is a breathtaking spring half marathon run at 2,200 feet above sea level. The course hugs the shores of the namesake lake and Spokane River and features rolling hills throughout including a net incline in the first half of the race. It finishes at McEuen Park.
This spring half marathon is a wonderful destination race for the whole family as the resort town of Coeur d'Alene features plenty of recreational and leisure activities. The town is both charming and friendly and boasted as one of the most beautiful half marathon courses in the country.
Glacier Half Marathon
Kiowa, MT (late June)
Okay, technically this race is in the summer but because the weather is typically mild (between 42°–69°F), I'm including it in my spring half marathon round-up. I don't think I've ever researched a race with such a consensus of reviews: challenging but worth it due to the stunning views.
This spring half marathon is part of Vacation Races' National Park Half Marathon Series. It's certainly a destination race in which you'd want to bring the whole family. Heck, even strollers are allowed on the course! But unless you're really a masochist, it might be best to leave them with your partner.
That's because this race starts at over 5,000 feet elevation and climbs 1,000 feet for the first five miles. But it's worth it due to the spectacular views of "snow-capped mountains, beautiful valleys, amazing lakes" and even the occasional black bear sighting.
After you hit your peak at about 6,000 feet, you'll run downhill along Looking Glass Highway to finish at historic Glacier Park Lodge.
Many have dubbed the Glacier half marathon as the most beautiful half in the country and most beautiful of the National Park Half Marathon series!
6 Best Spring Marathons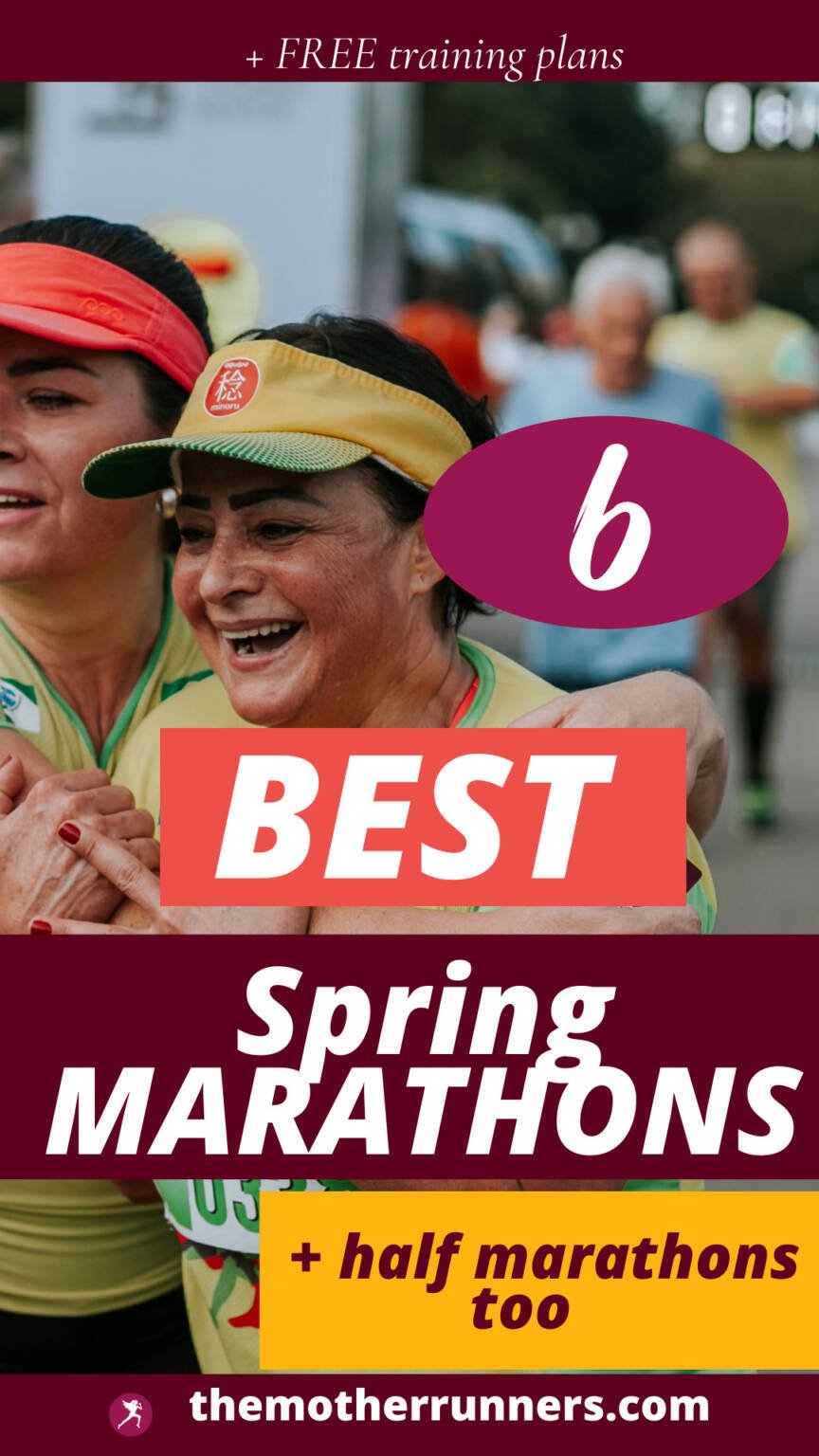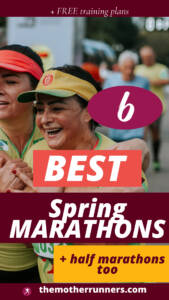 Skechers Performance Los Angeles Marathon
Los Angeles, CA (March)
If you want a PR in the marathon this spring, then the Skechers Performance Los Angeles Marathon. With more than 24,000 runners, it is one of the largest marathons in the country.
The point-to-point, net downhill course (which has some gentle rollers the first five miles) starts at Dodger Stadium, passes through La La Land and famous neighborhoods of the famous such as Hollywood and Beverly Hills, and finishes near beautiful Santa Monica Pier. Don't be shocked to see a celebrity cheering you on!
Runners note that due to the size of the race, the start and finish lines are chaotic and the post-race party was a bit anti-climatic. However, there are plenty of restaurants near the finish to help you refuel and celebrate.
And, there is amazing crowd support along the course of which is called "from the stadium to the sea."
Boston Marathon
Hopkinton, MA (April)

Well, I can't have a spring marathon round-up without including THE iconic Boston Marathon, of which so many runners dedicate their running careers to qualifying.
Held on Patriot's Day, also called Marathon Monday, the whole city celebrates the Boston Marathon runners. Indeed, you feel so special and honored to be running this race which is point-to-point and features unique cheering sections along the way.
Again, Boston is not a marathon to try to nab a PR in due to several large hills including the infamous Heartbreak Hill, but the experience is one-of-a-kind. Even after the 2013 bombing, the quest to qualify for Boston lives strong in runners worldwide.
Flying Pig Marathon
Cincinnati, OH (May)
If you need a course to qualify for Boston on, check out the Flying Pig Marathon! Runners rave about the scenery fully stocked aid stations, organization, and party-like atmosphere which lasts all weekend long. (But beware: there are rolling hills throughout the course!).
Every year, the once small race now features about 5,000 marathoners who "fly" through the "Queen City" and over the bridges of the Ohio River. Meanwhile, more than 150,000 spectators cheer them on.
Unique to the race: bacon at mile 15 and an endless amount of pig-themed puns like starting corrals called "pig pens", a "finish swine" instead of finish line, and volunteers called "grunts."
There is plenty for the family to enjoy in Cincinnati and your kids can even run the Flying Piglets kids fun run.
Big Sur International Marathon
Carmel, CA (April)
A spring marathon list cannot overlook the Big Sur International Marathon, which runs along the nation's first nationally designated Scenic Highway, Highway 1. (You may recognize it from the beginning of Big Little Lies).
The largest rural marathon has been popular for more than 30 years due to its breathtaking point-to-point course that touches seven state parks, crosses the iconic Bixby Bridge and features 13 significant hills in the back half.
Note: This is a very challenging course—but the reward is the sweeping views of the Pacific Ocean and Redwood forests. Runners applaud the race for its volunteers, entertainment, friendliness, and organization.
With so much to do in the Monterey Bay area, this is a great destination race to bring the whole fam or enjoy with some friends.
Grandma's Marathon
Duluth, MN (June)
You know a race has to be good if it's in a small town but is well-known. That describes Grandma's Marathon. A race that people will take several plane rides to covet that BQ and marathon personal record.
Since 1977, this annual race has drawn 9,000 marathons to the North Shore of Minnesota. It's an incredibly organized race with beautiful views of Lake Superior along Old Highway 61 (plus 30+ rivers, creeks, and streams). The crowd support is electric, and the community is extremely friendly. Runners also love the thorough communication leading up to the race and on race day.
The point-to-point, waterfront course is mostly flat with just a few gentle hills and one bigger one at mile 22.
There are also plenty of outdoor activities to do, so bring the family and make it a long weekend of relaxation and fun in the Great Outdoors.
Vermont City Marathon
Burlington, VT (May)
I just love Burlington and so I had to include the Keybank Vermont City Marathon on this spring marathon list. This course is fast and scenic and has more than 20,000 fans that bring the energy. Lots of people use this course as a Boston Qualifier and many runners have become repeat racers.
The Vermont City Marathon is also family-friendly. I mean it is in Ben & Jerry's country, after all! In fact, runners are treated to extra scoops at the finish. But the 26.2 miles are also a treat—winding through the downtown streets of charming Burlington, the glittering waters of Lake Champlain, and past the lush mountains of the Adirondack and Green Mountains.
While many runners claim marathon PRs on this course, beware of mile 15 which is called the "Assault on Battery."
The race is easy to navigate for both athletes and spectators, and the expo and swag get high marks. It's a seriously fun race in which you can have your ice cream and eat it too.
If you need help chasing your next marathon, check out my run coaching services.