Downhill marathons caught my eye on Instagram in the last recent years. I saw runners nabbing huge PRs and running crazy fast times—much faster than their previous race times. It seemed like downhill races were becoming the next iteration of beating the clock after science-backed energy gels, pre-workout concoctions, and carbon fiber shoes.
Related: Do Carbon Fiber Shoes Make You Faster?
I was intrigued AND tempted. Could a downhill race be all I needed to get my 2:45 marathon goal? Are downhill marathons easier? Was this the answer? But also, was it cheating? Running downhill fast is obviously easier than running 26.2 miles on a flat course.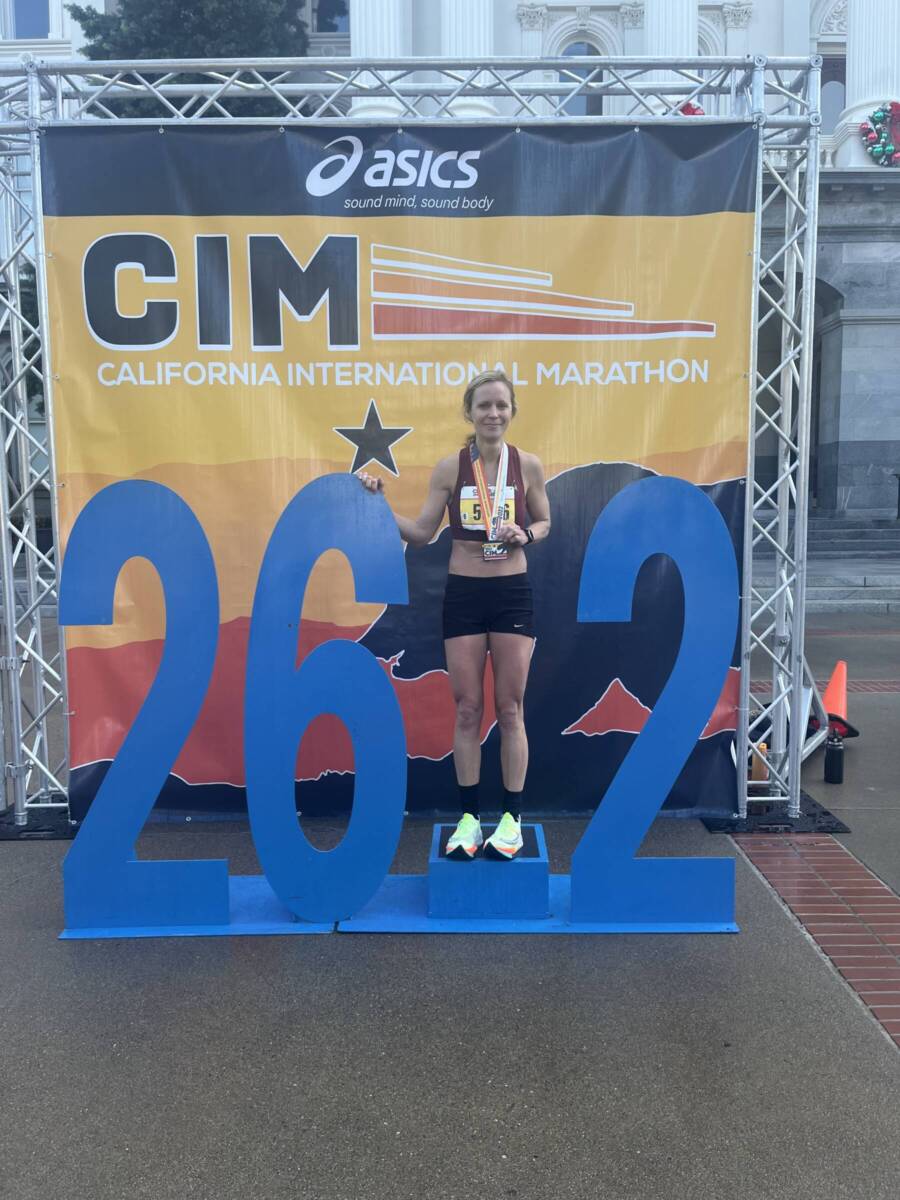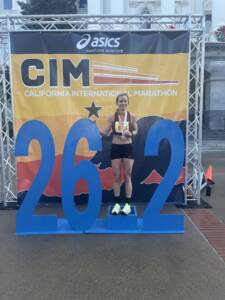 But anyone who has run a marathon with downhills (like the Boston Marathon) knows that it can decimate your quads. Does the stress of downhill running cancel out the help of gravity?
With no shortage of options for some pretty scenic and gnarly altitude drops (see list of best downhill marathons at the end of this article), the downhill marathon is quickly gaining speed and the attention of serious and recreational runners alike.
I wanted to know more about the pros and cons of downhill marathons. So I dug into the research and connected with exercise physiologist Todd Buckingham for an analysis of downhill marathons.
Related: Fastest Marathon Courses to Run This Fall
In this article, I will cover:
What qualifies as a downhill marathon
The pros and cons of downhill marathons
How to train for a downhill marathon, and
A list of the best downhill marathons in the U.S.
So, let's roll!
What is a downhill marathon?
Simply put, a downhill marathon is any marathon with a net loss in elevation. Most commonly, downhill marathons include a dramatic net loss in elevation over the course of 26.2 miles.
The topography of a downhill marathon varies greatly and can range from a steep 5000 ft loss in elevation to a more subtle 900 feet of gradual loss.
From scenic routes down mountain switchbacks (like the adventurous REVEL series) to strategic city route planning (like the popular CIM with a gradual net loss), there is a downhill marathon for every race preference and desire.
Are downhill marathons Boston qualifiers?
Most downhill marathons are Boston qualifiers. In fact, the Boston Marathon doesn't stipulate rules related to net elevation loss. Instead, the marathon must be certified by the USATF to be a Boston Marathon qualifier.
If your marathon is USATF-qualified, then it is a Boston Marathon qualifier. The race website should clearly list if it is a BQ-race or not. If you are not sure, contact the race director.
(By the way, the USATF guidelines for Olympic Trials Qualifying times stipulate an elevation loss of no more than 3.3 meters/km. This means your marathon must not exceed 139.24 meters total or about 445 feet to get an OTQ.)
Related: My Experience Running the CIM Marathon
Are downhill marathons easier?
Downhill marathons can make it easier to run faster times. However, downhill marathons come at a cost—mostly paid by your quads.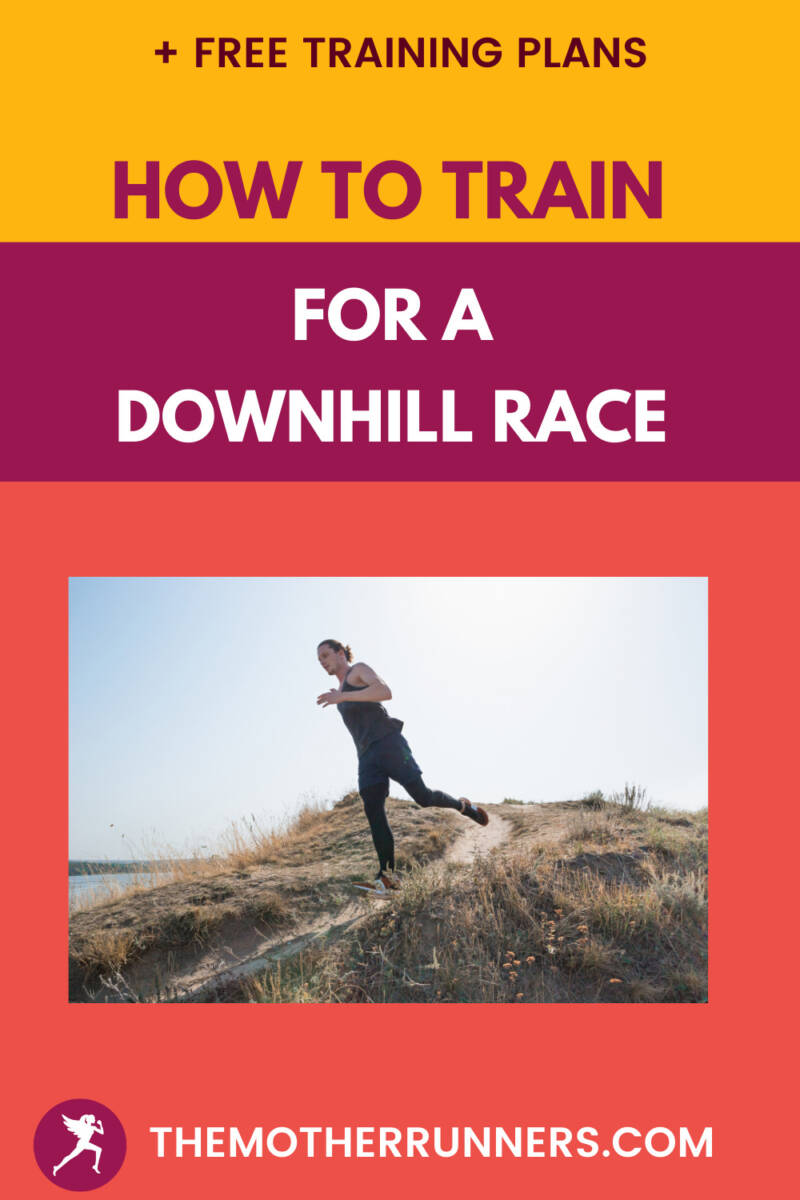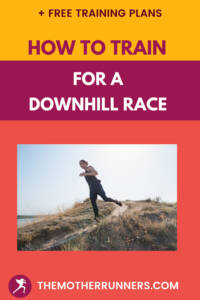 Downhill marathons are not created equal since the net elevation loss can vary widely. Therefore, it's important to take into consideration your own goals, race conditions, and personal fitness.
How much faster do you run in a downhill marathon?
You can shave 3.6 percent of your average one-mile pace for every 100 feet of elevation loss (or a 2 percent grade per mile), according to a Runner's World article.
So, if you run a 8-minute mile pace, that's about 27 seconds faster per mile you can run. This equals an almost a 13-minute PR IF other factors such as altitude and muscle fatigue are held constant.
If you train specifically for a downhill marathon, you could see a huge marathon PR—maybe not 13 minutes' worth—but a sizable chunk which I think any runner would take! (For most runners I have observed, I have seen about 5 minutes shaved off marathon times. This is anecdotal!)
Related: How to Predict Your Marathon Race Pace
So, what are the pros of the downhill marathon and what are the potential cons that could hold you back?
The Pros of a Downhill Marathon
Possible PR, BQ, or OTQ. The main pro of a downhill marathon is that you can run faster times with less effort thanks to gravity. Many major downhill races boast speedy courses and draw many BQ (Boston-qualifying) and OTQ (Olympic Trials Qualifying) hopefuls. These exciting environments can provide a necessary mental boost in addition to physical.
Easy on the lungs. With gravity on your side, a downhill marathon can provide a welcome break for your cardiovascular system.
Beautiful scenery. Many downhill marathons use the topography of mountain terrain to their advantage and make for some beautiful views and scenery. Ventura's "Mountains to Beach" marathon (for example) offers both panoramic mountain and beach perspectives that can offer necessary mental stimulus during the tough middle-to-late miles.
The Cons of a Downhill Marathon
Muscle fatigue from increased impact. Downhill marathons are much tougher on your body than flat marathons, says Buckingham. Running downhill produces eccentric muscle contractions which cause more muscle damage than their counterpart, concentric muscle contractions. This means that in the race's later stages, your legs may not be as fresh as they would be if you were running on flat ground. Additionally, on the day(s) after the downhill marathon, you will be sorer than if you had run a flat or undulating marathon. You may also be at a great risk for injury. (Your DOMs—delayed onset muscle soreness—will be INTENSE post-marathon).
Related: How to Recover Faster from the Marathon
High altitude complications. Marathons with a significant decline in altitude can come at the cost of a high-altitude start. If you are not already accustomed to high altitude, you run the risk for breathing and digestive issues without proper preparation and training.

I ran the popular downhill Pin these downhill marathon tips for later!

Increase in blisters. The downward force on your foot can contribute to an increase in foot rubbing on the inside of your shoe. Which, as we all know, is a sure recipe for blisters.
Non-sanctioned race. Depending on the net elevation loss, a downhill race may not qualify you for the Boston Marathon, Olympic Trials, or World Record. Be sure the downhill race you are running meets the standards of your ultimate goal.
Related: Should You Pop a Running Blister?
How to Train for a Downhill Marathon
As your training would change for a flat or hilly marathon, so too, should your training change for a net downhill marathon. Below are training tips for running a downhill race.
1. Incorporate hill workouts in training.
Utilizing both uphill and downhill training (i.e. hilly miles, hill repeats/sprints) will help prime muscles for this unique terrain. It's important to also know your slope of grade (i.e. 5% decline, 10% decline) and incorporate that slope accordingly (especially into long runs) — avoiding steep downhills during taper. Use a forgiving surface to train on to help mitigate cumulative training fatigue and the risk of injury. If you don't have a good downhill course, find a treadmill to "practice like you play," suggests Buckingham. If you don't have hills near you, parking garages can be a great stand-in for a downhill marathon course.
2. Focus on good form.
The extra gravity force of downhill running can exacerbate your running form if you're not careful. It's important to focus on not overstriding, leaning too far forward, and heel striking during downhill running. Practice landing light, swinging your arms faster than normal, and relaxing into your stride. Be prepared to run in a zigzag pattern over steeper sections if you find yourself running too fast and need to regain control over your speed.
3. Check on your shoes.
More force is placed on your forefoot during downhill running, so ensure your shoes have the proper cushion to support you. Be sure to practice running in your race day shoes.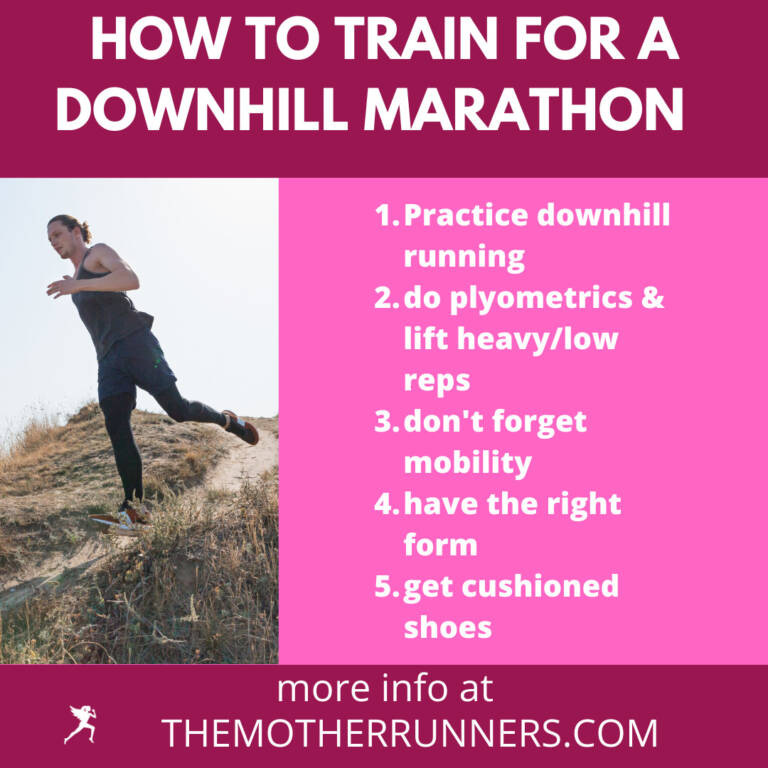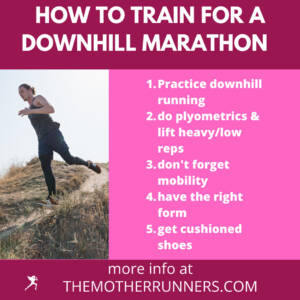 4. Strengthen your legs (especially your quads).
Buckingham suggests strength training with heavy weight and low reps: Lift a few times (4-6x) for 3-4 sets with 2-4 minutes of rest in between.
Related: 8 Fastest Marathons to Run This Spring
5. Incorporate plyometrics.
In addition to heavy lifting, Buckingham suggests doing plyometric training with movements like jump squats and box jumps. These explosive movements involve eccentric contractions that produce a lot of muscle damage. He says this will get you specifically focusing on eccentric muscle contractions to get the legs used to what they will experience during the downhill marathon. Check out my 8 plyometric moves for runners.
6. Improve your mobility.
Be sure to do mobility before you run. Check out my 5-minute mobility routine.
7. Activate your glutes.
Focusing on glute strength will help to absorb the force of those downhill miles. A sure way to wake up your glutes and work on that strength is to incorporate glute activation drills before each run.
8. Have a smart pacing plan.
Just like you might be tempted to push the pace at the beginning of any marathon, you'll be even more tempted to push the pace when downward momentum is in your favor. Having a smart pacing plan will ensure good running economy throughout your entire race.
Related: How to Strength Train for the Marathon
Top Downhill Marathons, by location
Below are the top net downhill marathon courses. These marathon courses feature a gradual downhill, no steep hills, and a lightning fast course. Some are scenic marathons. Some are not the the most beautiful marathon course but still fast marathon courses and still Boston qualifiers. All on this list set you up for success towards that elusive Boston-qualifying time or personal record.
WESTERN U.S.
REVEL Big Cottonwood Marathon, Murray, UT
Elevation Loss: 5244 feet
BQ %: 27.44%
REVEL Big Bear Marathon, Redlands, CA
Elevation Loss: 5083 feet
BQ %: 38.74%
REVEL Mt. Charleston Marathon, Las Vegas, NV
Elevation Loss: 5078 feet
BQ %: 36.67%
Hawaii Bird Conservation Marathon, Hilo, HI
Elevation Loss: 3790 feet
BQ %: 35.56%
Deseret News Marathon, Salt Lake City, UT
Elevation Loss: 3157 feet
BQ %: 10.66%
St. George Marathon, St. George, UT
Elevation Loss: 2557 feet
BQ %: 14.97%
Light at the End of the Tunnel Marathon, North Bend, WA
Elevation Loss: 2040 feet
BQ %: 41.02%
Bears Ears Marathon, Bluff, UT
Elevation Loss: 1809 feet
BQ %: Not Reported
Tucson Marathon, Tucson, AZ
Elevation Loss: 1710 feet
BQ %: 15.30%
Sun Marathon, Santa Clara, UT
Elevation Loss: 1654 feet
BQ %: 12.93%
Utah Valley Marathon, Provo, UT
Elevation Loss: 1557 feet
BQ %: 16.67%
Leavenworth Marathon, Leavenworth, WA
Elevation Loss: 1462 feet
BQ %: 16.67%
Rogue Marathon, Medford, OR
Elevation Loss: 931 feet
BQ %: 29.29%
Ventura Marathon, Ventura, CA
Elevation Loss: 926 feet
BQ %: 24.80%
Mesa Marathon, Mesa, AZ
Elevation Loss: 866 feet
BQ %: 22.22%
Mountains 2 Beach Marathon, Ventura, CA
Elevation Loss: 748 feet
BQ %: 28.25%
Buckeye Marathon, Buckeye, AZ
Elevation Loss: 532 feet
BQ %: 14.16%
Vernonia Marathon, Banks, OR
Elevation Loss: 517 feet
BQ %: 14.78%
SoCal Marathon, Huntington Beach, CA
Elevation Loss: 343 feet
BQ %: 5.30%
California International Marathon, Sacramento, CA
Elevation Loss: 340 feet
BQ %: 31.91%
EASTERN U.S.
REVEL White Mountains Marathon, Conway, NH
Elevation Loss: 2357 feet
BQ %: Not Recorded
New England Green River Marathon, Greenfield, MA
Elevation Loss: 1465 feet
BQ %: 21.54%
Steamtown Marathon, Scranton, PA
Elevation Loss: 954 feet
BQ %: 18.34%
Sugarloaf Marathon, Kingfield, ME
Elevation Loss: 572 feet
BQ %: 31.37%
Greenbrier River Trail Marathon, Cass, WV
Elevation Loss: 338 feet
BQ %: 3.85%
CENTRAL U.S.
Sundance to Spearfish Marathon, Spearfish, SD
Elevation Loss: 2974 feet
BQ %: 42.11%
Leading Ladies Marathon, Spearfish, SD
Elevation Loss: 2251 feet
BQ %: 28.09%
Marquette Marathon, Marquette, MI
Elevation Loss: 809 feet
BQ %: 24.03%
Whistlestop Marathon, Ashland, WI
Elevation Loss: 568 feet
BQ %: 17.35%
INTERNATIONAL
World's Fastest Marathon, Granada, Spain
Elevation Loss: 6,358 feet
BQ %: Not Recorded
P tit Train du Nord Marathon, Saint-Jerome, QC
Elevation Loss: 727 feet
BQ %: 23.50%
If you want guidance with your running goals, including training for downhill races, check out my run coaching services. Also, be sure to check out my free training plans: