I got into running thanks to my father who trained for the Marine Corps Marathon every year. I was thinking about how far the sport of running has come since I was little and he trained. My dad didn't run in fancy carbon fiber shoes, or moisture-wicking clothes, or have any sort of fuel—let alone high-tech running gels—along the course. He just ran in his simple, waffle-soled shoes and cotton t-shirts.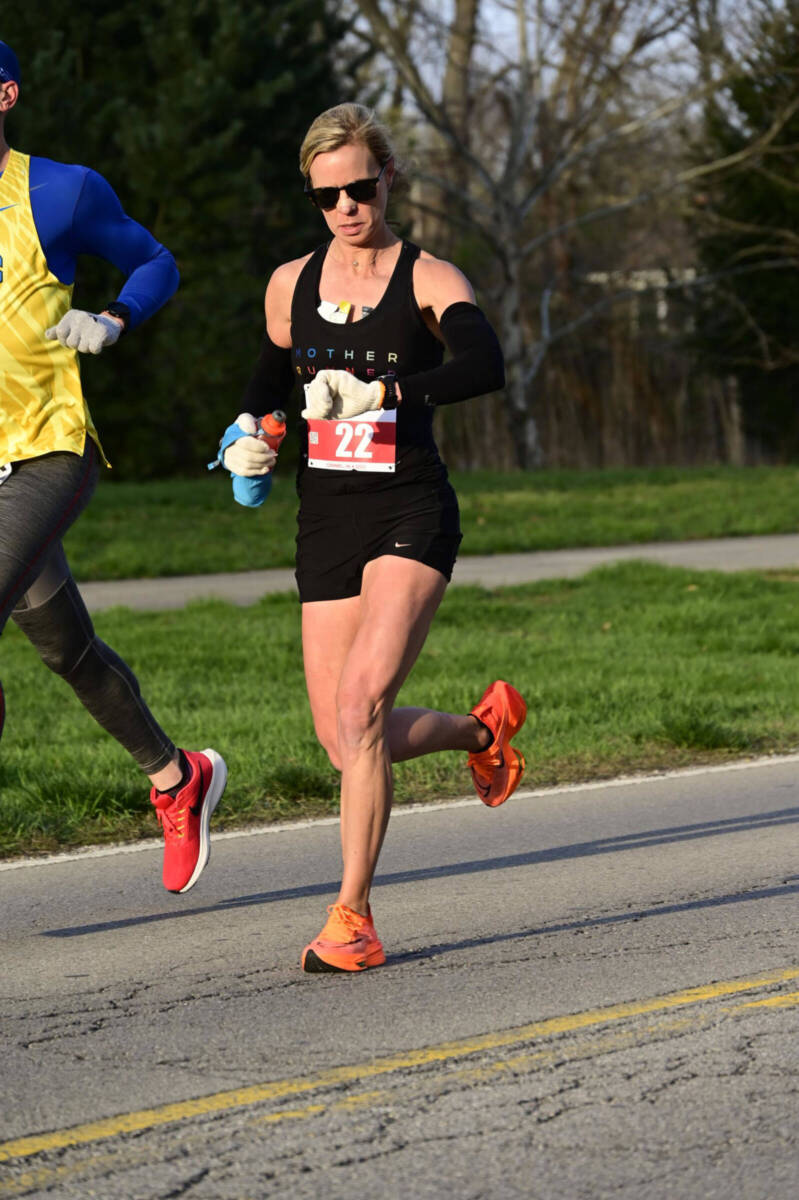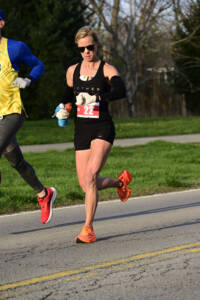 Running has come a long way. We know so much more about how to perform better and have the science and technology to help. One giant innovation is energy gels also known as sports gels or running gels. Sports nutrition scientists figured out that our bodies run fastest and farther by using simple carbohydrates that quickly convert to energy.
Related: How to Pick the Best Energy Gel for You
The advent of energy gels
Scientists developed sugary sports gels, gummies, blocks, chews, and drinks that are easy to take and digest on the go in the 1980s and becoming popular in the early 2000s. The jury is still out on the taste but these running gels are a much more efficient source of energy than your body's fat or regular food.
These energy gels solved a great conundrum regarding distance running—hitting the wall. The wall in the marathon is essentially when your body runs out of glycogen (carbs that convert to energy). Your body only has about two hours of glycogen stores so after two hours (or so), it must tap into fat to run. Getting energy from fat is a more involved process, so your body must slow down to access it.
Related: How to Avoid Hitting the Wall in the Marathon
Therefore, study after study shows that the use of energy gels for running helps you run faster for longer. Use running gels early and often for the best results.
And train with them to run harder, recover faster, and get your stomach used to them.
Digesting food or energy gels while running can be hard on the stomach and cause stomach upset, aka runner's stomach or runner's trots.
Related: What are Runner's Trots?
And not all running gels are created equal.
I tested out running gels, asked other runners about their experiences, and offer up the 6 best running gels that give you energy, are easy on the stomach, and taste good!
Before I get to them, I first answer:
What is an energy gel?
What are the benefits of energy gels
What are the side effects of energy gels?
How to use energy gels (when and how often),
Should you take a variety of energy gels, and then
Share the 5 best running gels
So, let's go!
Related: 26 Marathon Tips for Going 26.2!
What is an energy gel?
Energy gels or running gels are small packets of carbohydrates in the form of simple sugars such as glucose, maltodextrin, dextrose, sucrose, and fructose to provide fuel for exercise. They help you run longer, perform better, and also recover faster.
Running gels typically provide energy for about 30 minutes of running and are best used for runs longer than an hour.
Energy gels come in different textures, thicknesses, and flavors. Some are all-natural and some have artificial sweeteners. Many running gels also include electrolytes like sodium.
Related: Complete Hydration Guide + 4 Electrolyte Drink Reviews
Should I use gels when running?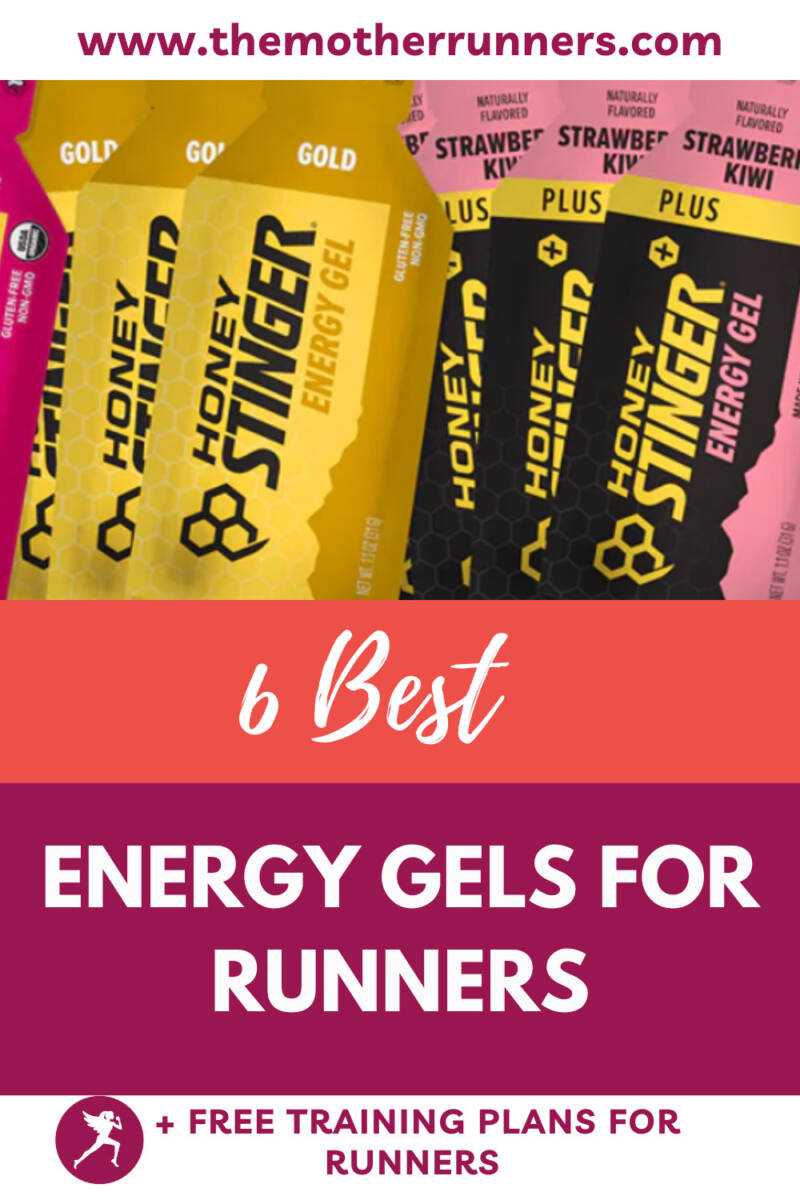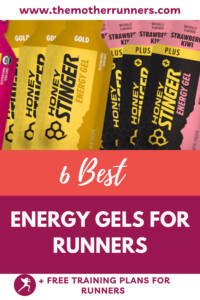 You should use energy gels for long-distance running or other endurance events. Typically, you want to use energy gels for running that last more than an hour. Marathoners most frequently use running gels for their long runs.
If you have a run that lasts just over an hour, there is no need to use an energy gel.
If you run upwards of an hour, then start taking an energy gel about every 30 minutes of running.
What are running gels used for?
Running gels are used for energy on the run. Runners' bodies tap into glycogen to fuel their running. Glycogen stores in the body are limited to about two hours worth of running so running gels allow us to run for longer by restocking our fuel source (glycogen).
Most energy gels use sugars that go straight into the bloodstream and are easily accessed for energy.
Related: The Scientific Benefits of the Long Run
How many gels should I eat while running?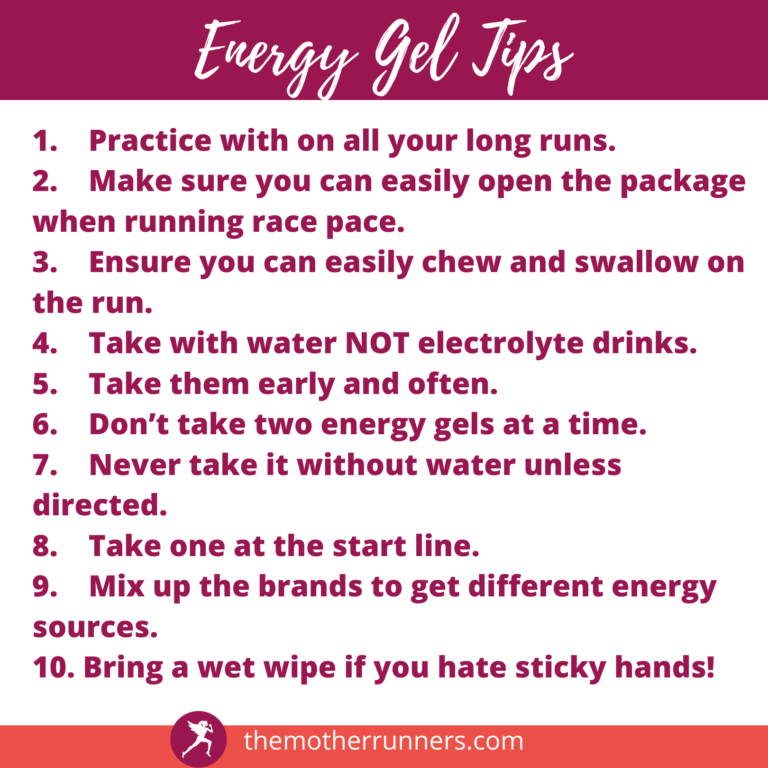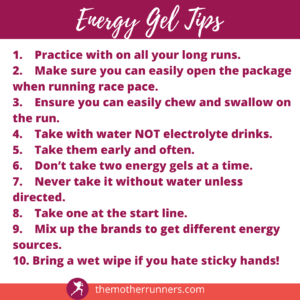 You want to start taking energy gels about every 30 minutes during your longer runs (anywhere from every 20 to 45 minutes of running).
Therefore, if you run for:
2 hours, take 3 energy gels
3 hours, take 5 energy gels
4 hours, take 7 energy gels
For my marathons, I take one energy gel at the start and then one every 4 miles. Therefore, I end up taking a total of 6 gels. Pro Runner Emma Bates takes a UCAN energy gel every 5k, so she takes 7 gels in her marathon.
Related: How I Fueled by 2:54 Marathon
How do you use energy gels?
Typically, you will take an energy gel about 15 minutes before exercise and then continue to take a running gel about every 30 minutes you are exercising. Running gels are best suited for long or intense workouts.
Many energy gels must be taken with water in order to be absorbed into your system. Some energy gels are hydrogels or isotonic energy gels which means they can be taken without water. Hydrogels or isotonic energy gels are premixed with water.
Three of the best running gels listed below are isotonic gels that do not require drinking water to work.
Related: 7 Ways to Recover Faster from a Marathon
What are the side effects of running gels?
Running gels can cause an upset stomach which is one reason why a lot of people don't like taking energy gels while running.
Because your blood is flowing to your extremities while running, digestion of anything isn't easy during exercise. Then, trying to digest a super concentrated sugary gel with limited blood flow is even harder.
Therefore, the most common side effects of running gels are vomiting, diarrhea, bloating, cramping, gastric upset, and sickness.
This is one main reason why it's so important to "train your gut" to digest energy gels during runs. Your stomach can be trained to work while the rest of your body is working, too. Additionally, you need to try different energy gels to figure out which ones your stomach tolerates best.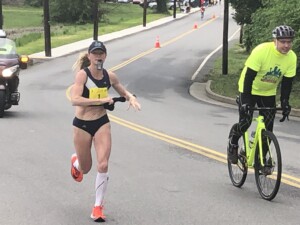 Related: How to Train Your Gut
Should you use a variety of energy gels?
Yes, you should use a variety of energy gels when training. I have found that taking several different types and flavors of running gels helps you tolerate the tastes better during training and also helps avoid stomach issues.
When you're sucking down the same gel every few miles, having a variety can literally help it be easier to take these gels. You can even time your favorite one around the proverbial "wall" as something to look forward to.
There is anecdotal evidence that having different energy sources (a variety of sugars or starches) can make it easier on your stomach and also provide different pathways of energy.
Related: Fueling 101 for Marathoners
What are the benefits of energy gels?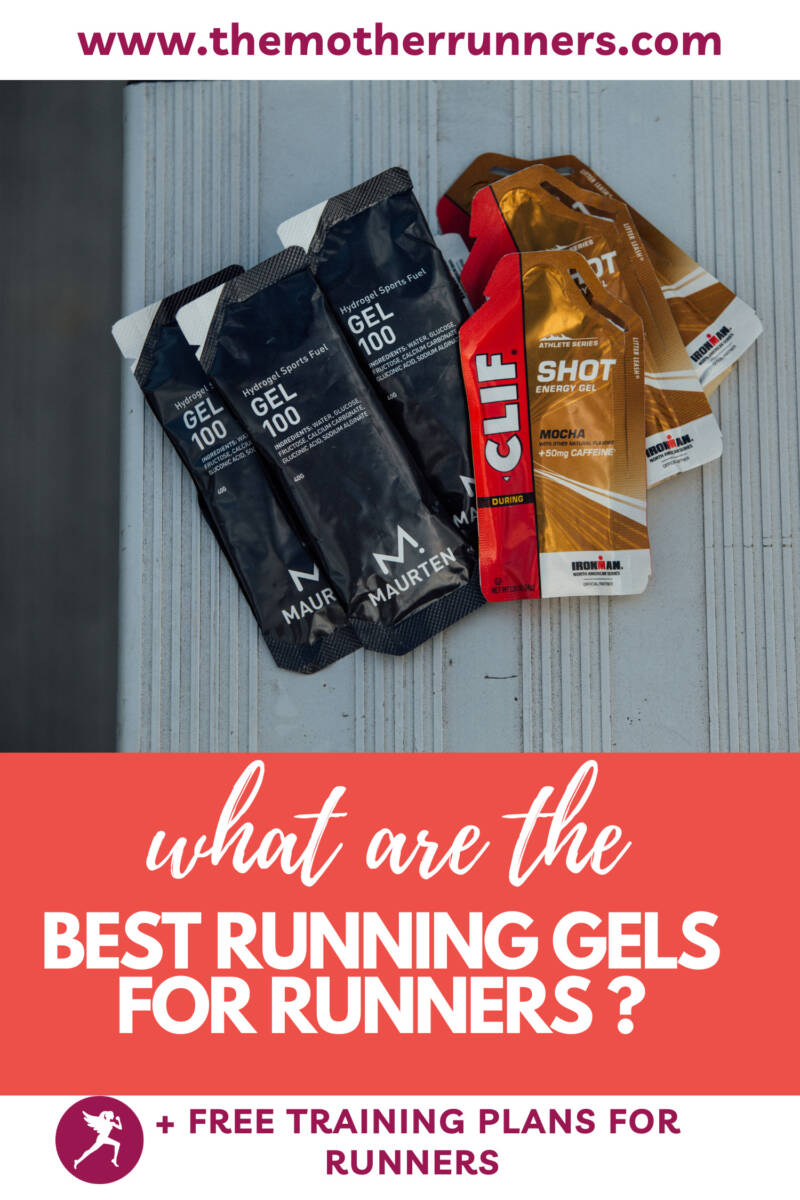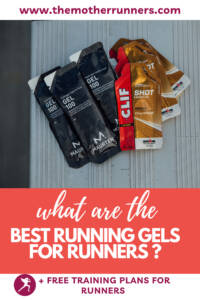 If you care about your endurance running performance, then you want to start using energy gels. Running gels have a host of benefits for runners:
Read about how to choose the best energy gel for you here.
The 6 Best Running Gels: Energy Gels for Runners
UCAN Edge Gel
Best for: sustained energy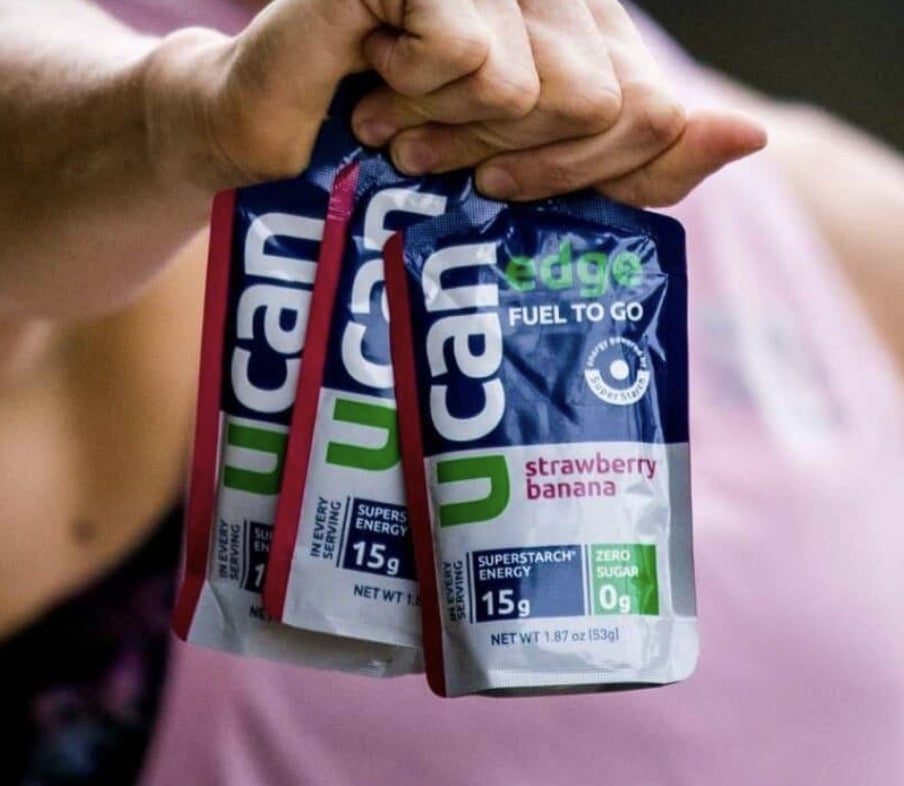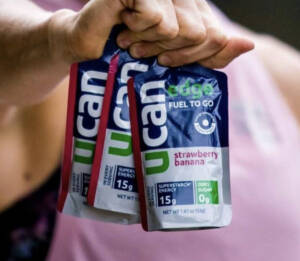 UCAN Edge gels harness UCAN's LIVSTEADY "revolutionary complex carbohydrate" that delivers a steady stream of energy, rather than a spike of energy like many running gels provide. If you suffer from a spike and crash, have stomach upset, or jitters from sugar, then UCAN Edge energy gel is worth trying.
UCAN gels help you maintain a stable blood sugar level for more consistent energy, endurance, hunger control, and overall metabolic health. If you don't like the idea of consuming a lot of sugar, then UCAN Edge may also be the right fit for you.
UCAN Edge Gel has two cons:
While UCAN claims one Edge packet can provide 75+ minutes of sustained energy without sugar or caffeine, because there are less carbs per serving, you may have to take them more frequently.
UCAN gels do not have any electrolytes so you will need to supplement with a sports drink or salt tablets.
UCAN Edge Gel Specs:
Price: $34.95 for a box of 12
Flavors: strawberry banana, pineapple, or orange
Carbs per serving: 19 grams
Caffeine: no
Electrolytes: Yes, 50 milligrams of sodium per gel
Sugar source: zero sugar, uses cornstarch
Take with water: no
Save 15% on any UCAN products with code WHITNEY15. Use this link to buy!
Maurten Gel 100:
Best for: easy-to-take and digest energy
Maurten Gel 100 is by far one of the most popular energy gels among runners.
It is personally one of my go-to gels. It is a hydrogel which means it doesn't need water to be taken. Maurten is utterly tasteless and has a runny jello texture. It boasts some of the quickest absorption rate with some runners saying they feel the boost almost instantly.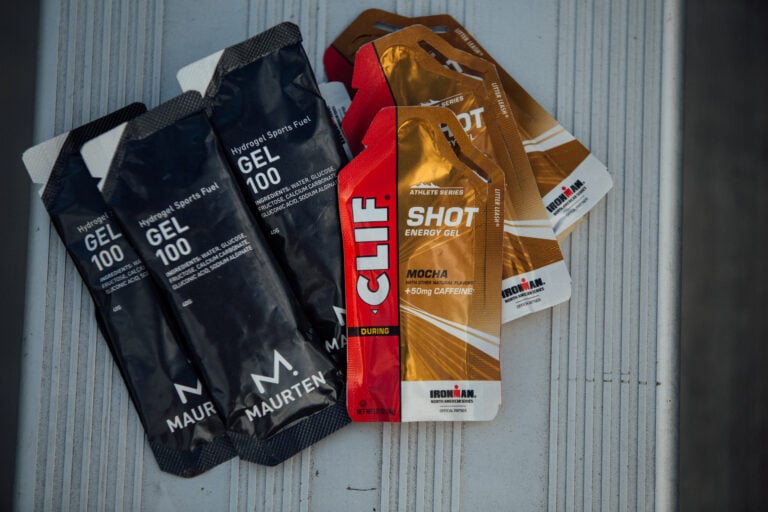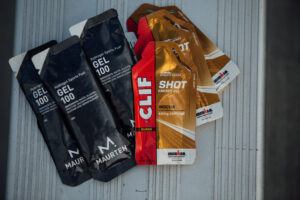 No runner reported stomach issues from Maurten gels.
The Maurten Gel 100 has some cons:
it's pricey.
Some runners don't like the "snot-like" consistency.
Maurten Gel 100 Specs:
Price: $43.20 for a box of 12
Flavors: unflavored
Carbs per serving: 25 grams
Caffeine: caffeinated and non-caffeinated options
Electrolytes: Yes, 85 milligrams of sodium per gel
Sugar source: glucose, fructose
Take with water: no
SIS Energy Gel:
Best for: a big burst of energy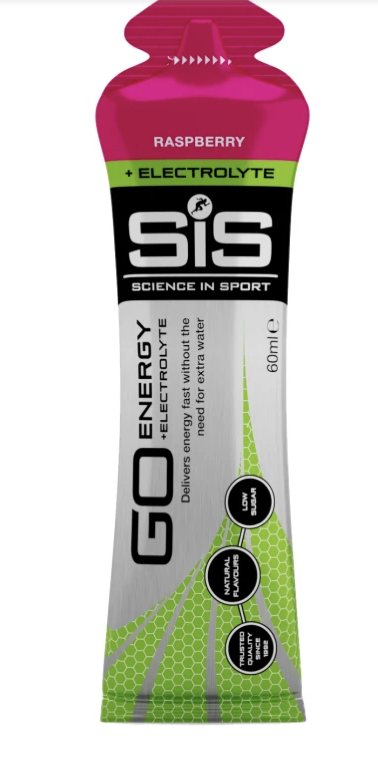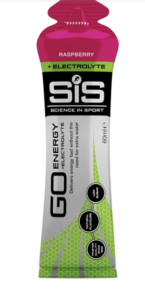 SIS Energy Gels comes in a close second to Maurten. It's another gel that can be taken without water and has an applesauce texture. SIS has some artificial flavoring but is free from dairy, gluten, nuts, animal products, and wheat.
SIS gels come in fruity flavors and go down smooth. They aren't overly sweet, are easy to swallow, and don't cause stomach upset. Runners, including myself, had a big energy boost about 10 minutes after taking them, though this can vary. The first time I took it, the burst almost took me by surprise. I was running much faster with less effort and felt a bit light-headed.
SIS Energy Gel has some cons:
Bland flavor
Watery consistency
The packet is large and it takes effort to drink. You have to basically sip it out of the container.
SIS Energy Gel specs:
Price: $33.00 for a pack of 30
Flavors: orange, lemon and mint, salted strawberry, apple
Carbs per serving: 22 grams
Caffeine: caffeinated and non-caffeinated options
Electrolytes: Yes, up to 500 milligrams of sodium per gel (depending on the gel)
Sugar source: maltodextrin
Take with water: no
Related: 3 Proven Ways to Refuel from a Long Run (+ 2 Yummy Recipes
HUMA Energy Gel PLUS
Best for: electrolytes and energy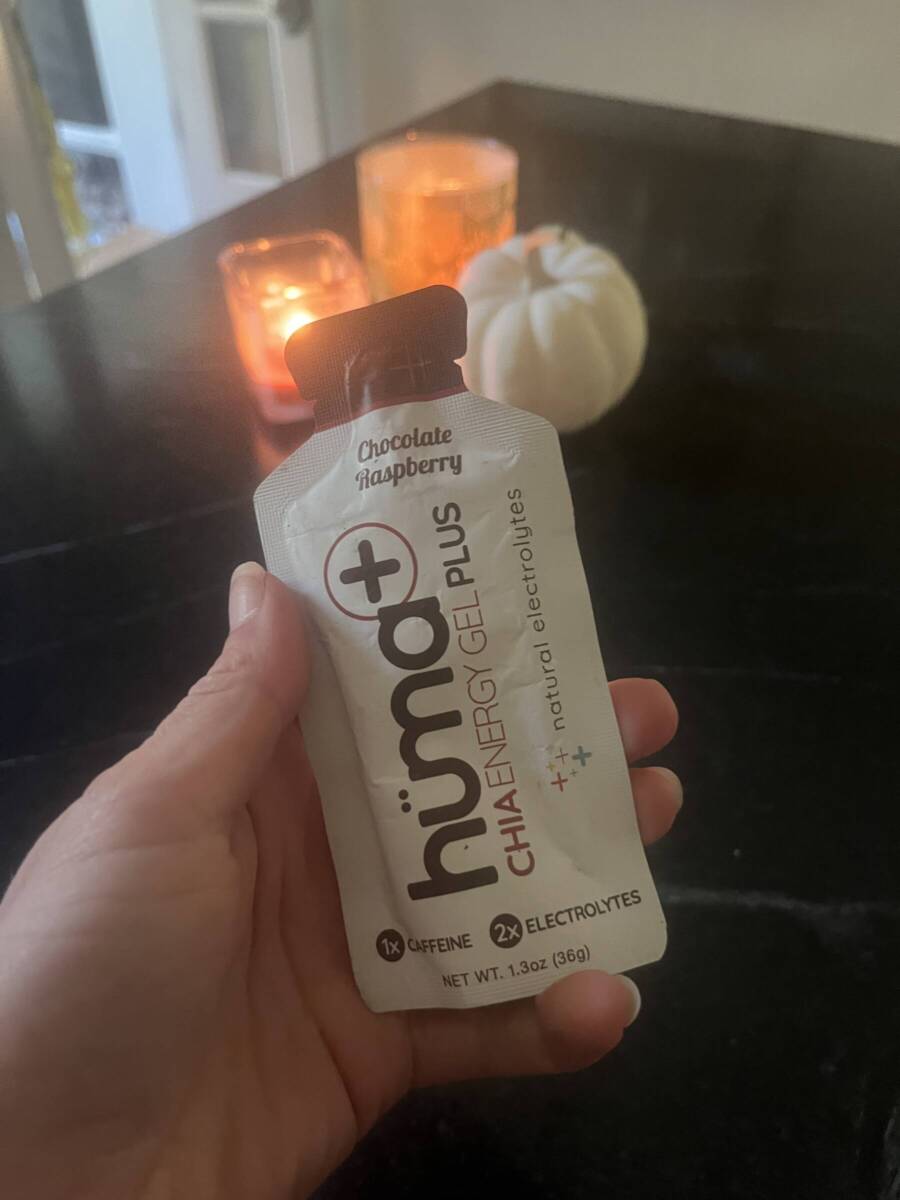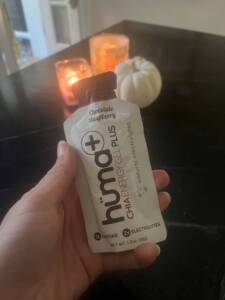 Huma Energy Gel PLUS is a unicorn of energy gels. It is all-natural, real food, AND it comes with the electrolytes you need.
This means you don't have to stress about figuring out how many carbs, water, and ELECTROLYTES you need. No messing with sports drinks. Just rely on the gels and water. (Also, no worrying about gels turning into sludge and wrecking your stomach if taken too close to a sports drink).
The biggest con for Huma was:
some people said it caused stomach upset and reflux, so try it first!
HUMA Energy Gel specs:
Price: $2.75 for one
Flavors: Four flavors like strawberry banana or chocolate raspberry
Carbs per serving: 25 grams
Caffeine: caffeinated and non-caffeinated options
Electrolytes: Yes, 240 milligrams of sodium per gel
Sugar source: chia seeds, coconut water, sea salt. That's it.
Take with water: yes
Honey Stinger Energy Gel:
Best for: all-natural energy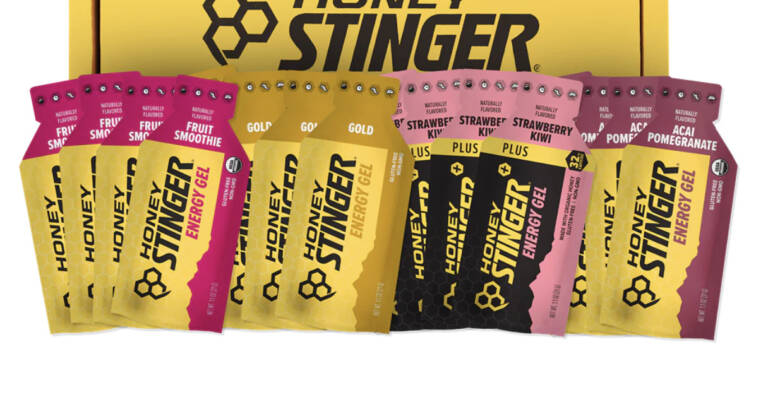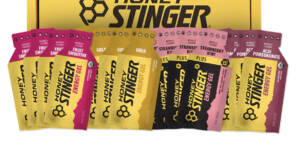 Runners who take Honey Stinger (or just plain old honey packs) swear by it. They love the sweet natural taste and the pureness of it. No mystery here on what it tastes and feels like—Honeystinger is made with organic honey and syrup.
Honey Stinger is easy to take and easy on the stomach. Runners say it provides a big energy boost. These running gels come in several fruit flavors and are free from gluten, soy, nuts, and dairy.
The brand also offers energy chews and caffeinate chews that come with more than 100 grams of sodium, 20+ grams of carbs, and 50mg of caffeine (with two servings per package).
Honey Stinger Gels has two main cons:
Honey flavor overpowers fruit flavor
Sticky
Honey Stinger Energy Gel Specs:
Price: From $29.99 for a box of 16. Save 15% here!
Flavors: Several fruit flavors like fruit smoothie and strawberry kiwi, chocolate, vanilla
Carbs per serving: 24 grams
Caffeine: caffeinated and non-caffeinated options
Electrolytes: Yes, 32 milligrams of sodium per gel
Sugar source: organic honey, organic tapioca syrup
Take with water: yes
Spring Energy Gels:
Spring Energy gels are one of the yummiest energy gels on the market. That may be because they are made of real food. If you want the energy spike without all the sugar, then these endurance gels are your dream boat. Spring Energy offers a balance of carbs that gives you an energy boost without the sugar or maltodextrin overload. For runners who would rather fuel with real food but would rather run without PBJs in their pockets, this is the answer.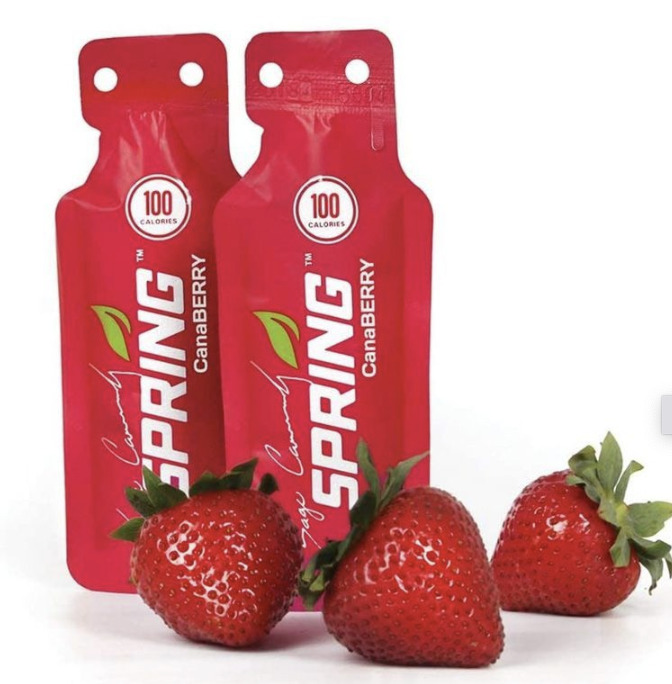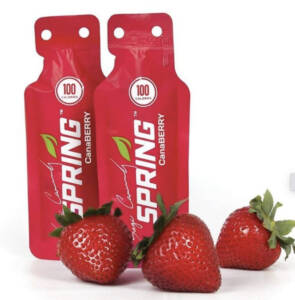 But it comes with a cost–almost 5 bucks a package! Which can be hard to swallow–when you think of it as paying for a nice dinner out per long run. But Spring Energy's balance of acidity and osmotically to improve absorption and reduce tummy troubles may be worth the cost for you!
Best for: real food option
Spring energy gels have two main cons:
they are the most expensive energy gel included in this list.
contains a lesser amount of carbs so need to take more often.
Spring Energy Gels Specs:
Price: $4.80 for one
Flavors: Eight flavors like strawberry, coffee, or cranberry
Carbs per serving: 17 grams
Caffeine: caffeinated and non-caffeinated options
Electrolytes: Yes, 60 milligrams of sodium per gel
Sugar source: fruit, rice, and coconut
Take with water: yes
If you want guidance with your running or marathon goals, check out my run coaching services. Also, be sure to check out my free training plans: