I am currently on a mission to find the flattest and fastest fall marathons in the U.S. Why? Well, I am on a mission to run a 2:40-something marathon and I need all the help I can get to do that! And, currently, I am taking time off from marathon training to get a handle on a quad and hip injury. Therefore, I am lining up contingent fall marathons (plans A-D) that align with my healing process.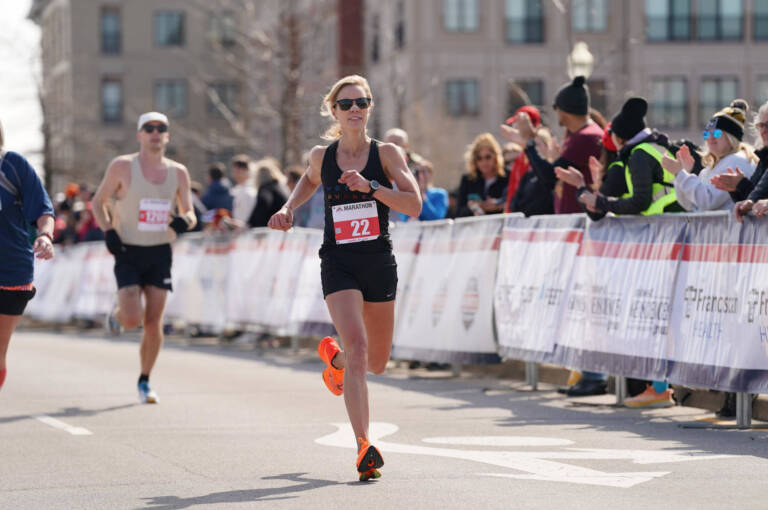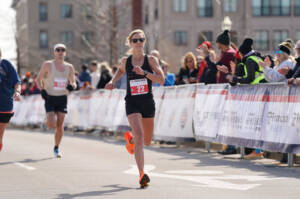 While running is so much more than fast times, for many of us, the fast marathon times excite us. And it excites me for now. I want to reach my potential while I can (I am about to turn 42) and I want/need the best marathon course to do so.
Related: 13 Race Day Tips to Nail Your Marathon PR
So, I asked around and round up a dozen of the best marathon (and half marathon) courses to run this fall in the U.S.
All of the fall marathons below check the boxes of:
Flat
Fast
Boston-qualifying course
Well-organized
Fun
Good weather
You'll notice the New York Marathon and Chicago Marathons aren't on there. Well, while these major marathons bring much of their own appeal, they aren't the best marathons for running personal bests. Plus, you must get into them.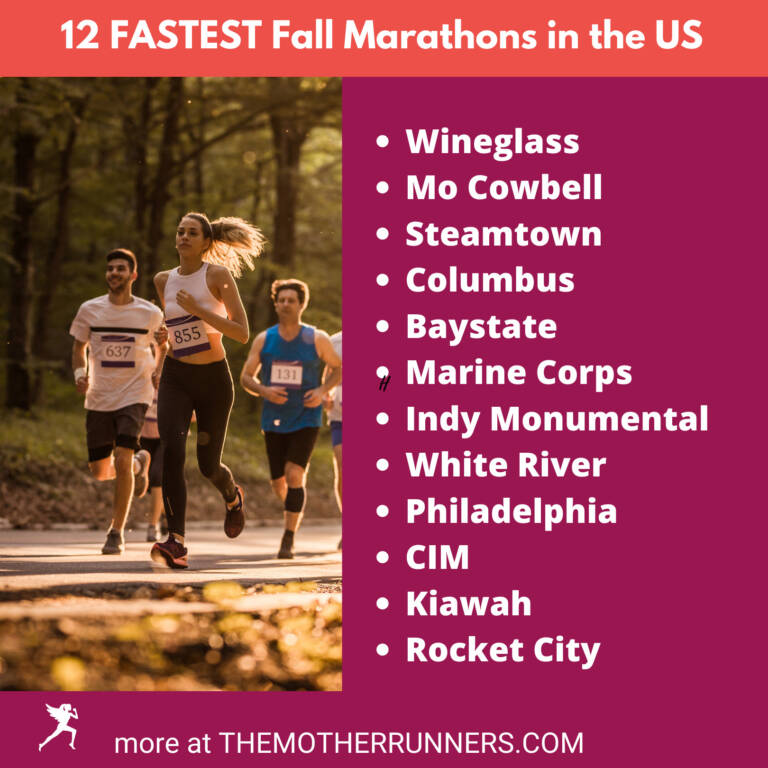 The marathons on my list are smaller, and much easier to register for. Oh, and they are flatter and less crowded, too (no offense to Chicago or New York!). Some of these marathons I have run and others I know people who have run (big thanks to my runner friends Jen Weston and Mary Alex Gary for their insights).
I also looked at race reviews to create this "best marathons to run this fall" list which includes:
Wineglass Marathon & Half Marathon
Mo Cowbell Marathon & Half Marathon
Steamtown Marathon
Columbus Marathon & Half Marathon
Baystate Marathon & Half Marathon
Marine Corps Marathon
Indy Monumental Marathon & Half Marathon
White River Marathon
Philadelphia Marathon & Half Marathon
California International Marathon
Kiawah Island Marathon & Half Marathon
Rocket City Marathon & Half Marathon
So, let's go!
Related: Do Carbon Fiber Shoes Make You Faster?
12 Flattest & Fastest Fall Marathons in the U.S.
The Wineglass Marathon and half marathon has been voted the best marathon in New York twice by Race Raves and there's no wonder! This point-to-point downhill marathon is fast and beautiful. I know several people who have walked away (okay, limped away) with shiny new marathon PRs from this downhill course (including Jen Weston who ran a blazing 2:52!).
Wineglass is a flat marathon that goes from Bath to Corning, New York, running you on mostly flat streets through bucolic small towns and the country, dotted with changing leaves and gorgeous trees. This race has a small-town marathon feel with only a few thousand runners participating in the marathon, half-marathon, and 5k. Indeed, it often sells out.
If you want to take the family to your marathon or plan a trip with friends (aka racecation) the Wineglass marathon is a great one to do so. Between wine tasting, local breweries, shopping, and museums, there is plenty to do Wineglass Marathon weekend! It is definitely on my radar!
Course: Point-to-point downhill marathon with an elevation loss of 200 feet
Boston qualifier: yes
Half marathon: yes
Weather: High 60/Low 39, rains 9 days in October
Pros:
Fast
Pretty course with fall foliage
Personal feeling
Ideal running temps
Great special guests like Meb, Deena Kastor and Bart Yasso
Cons:
Can be hard to get to! Most people fly into Rochester or Syracuse and drive, 90 or 60 minutes respectively
Point-to-point course means you must take race transportation to the start line or from the finish line.
Spectators can be sparse at times.
Related: How to Predict Your Marathon Race Pace
The Mo Cowbell Marathon and half marathon is a scenic, mostly flat course that starts and ends along the Missouri River in historic St. Charles, Missouri, near where Meriwether Lewis and William Clark began their discovery of the West. About half of the marathon course is paved roads winding through historic neighborhoods and the other half is an out and back on dirt trails. Runners rave about the finish line festivities and treats.
Course: multiple loops and out-and-back with an elevation gain of about 120 feet
Boston qualifier: yes
Half marathon: yes
Weather: High 69/Low 44, rains about 6 days in October
Pros:
Friendly race with good communication and organization
Hotels are walking distance to the start
Fun party and awards at the finish
Cons:
Some desolate parts, including some parts near highways
Somewhat hilly near mile 20, near the wall
Expo is 20 minutes away from the course and hotel
Related: How to Recover Faster from the Marathon
The Steamtown Marathon is a net downhill marathon that runs point-to-point through 14 communities and 4.2 miles of paved rails to trails along the Lackawanna River. It has been rated among the nation's top ten marathons by Runner's World. The Steamtown marathon has also been rated one of the nation's fastest marathon courses with about a quarter of runners running Boston qualifying times.
The first half of the marathon features the downhill portion which can help you stay on pace but also shred your quads if you don't train for it. Despite being a small-town race with a cap of 3,000 runners, the crowd support is strong except for serene stretches along the river. This race does sell out so if you plan to do it, register soon!
Course: point to point with a net loss 955 feet
Boston qualifier: yes
Half marathon: no
Weather: High 61/Low 42, rains about 7 days in October
Pros:
Smooth logistics and great organization
Peaceful parts of course mixed with crowds
Amazing afterparty with great food and enthusiasm
Benefits the local children's hospital
Cons:
Downhill race can toast the legs, need to race smart
Related: How to Strength Train for the Marathon
Pin these fastest marathons to run this fall for later!
The Columbus Marathon gives runners a tour of Columbus winding past local landmarks such as the Ohio Statehouse, Nationwide Children's Hospital, and historic German Village, and The Ohio State University. The race benefits Nationwide Children's Hospital with a patient at 24 of the 26 miles. The other two miles feature one dedicated as an Angel Mile for the special children who have been taken too soon, and one mile is an "alumni mile" for Marathon Mile Champions from past years.
The patients and their families cheer on runners and serve as a powerful reminder as to how your run is helping sick and injured children. Runners also can raise money as a Children's Champion for these kids. The marathon course is pancake flat with a downhill finish. I am signed up to run it this year but may not be able to do with my hip injury—and it totally bums me out. If not this year, next!
Course: loop
Boston qualifier: yes
Half marathon: yes plus other distances
Weather: High 66/Low 43, rains about 6 days in October
Pros:
Inspiring purpose with children's hospital patients and their families along the way
Well organized with incredible crowd support and funny signs
Fireworks at the start line
Great expo and afterparty
Cons:
Some runners didn't like the shirt or medal very much
Elevation gain of 571 feet is more than others on this list
The goal of the Baystate Marathon in Lowell, MA is to help runners run Boston qualifying times. That's why this race is no-frills, but flat and well-organized. In fact, about a quarter of runners qualify each year. The course is fast, and is mostly urban, taking you through city streets over many canals. There's nothing special about the course and the crowd support is lackluster but despite that, the route sets you up for success to run a fast time.
Course: double loop
Boston qualifier: yes
Half marathon: yes
Weather: High 63/Low 39, rains about 8 days in October
Pros:
Well organized
Mostly flat
Double loop allows spectators to see you multiple times
Cons:
Has been a bit windy on some race days
Not a very scenic route
Little crowd support
Roads not closed to cars
Related: Are Downhill Marathons Easier?
It doesn't get much flatter than the Indy Monumental Marathon. I ran the Indy Marathon in 2019 with the hopes of running a sub 2:45 and qualifying for the Olympic Trials. Unfortunately, I ran with a torn hamstring and missed—but still ran a 5-minute PR!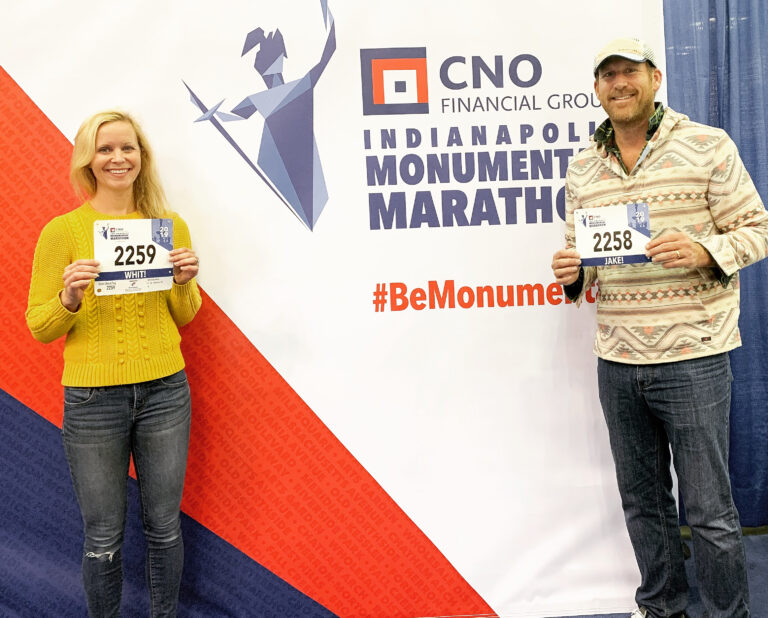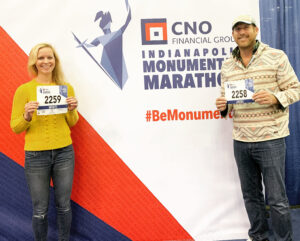 The Indy Marathon is incredibly well-organized. There are plenty of nice hotels near the start and finish, which are close to one another.
The people in the city were incredibly friendly and supportive. The after-party is a great celebration. The course is urban running through the streets and neighborhoods of Indy with an elevation gain of 302 feet. There are quite a bit of turns and the crowd isn't very prominent in a majority of the course outside downtown but you never feel alone. My biggest complaint about Indy is that it can be very COLD and last year runners said they ran in what felt like a wind tunnel.
Course: loop
Boston qualifier: yes
Half marathon: yes
Weather: High 65/Low 43, rains about 6 days in October
Pros:
Well organized
Mostly flat
Very convenient start and finish
Great expo and after-party
Cons:
Can be very cold and WINDY
Desolate with not a lot of cheerleaders on some parts
Not a very scenic route
Related: Is it Safe to Run Back-to-back Marathons?
The Marine Corps Marathon will forever hold a special place in my heart. I grew up watching my dad (former marine) train for the Marine Corps Marathon every year and then it became my first marathon, running it while as a college student in DC, in 2003.
The Marine Marathon takes you through downtown Washington, D.C. past all the national and historic landmarks, buildings, and neighborhoods such as Pentagon, Arlington National Cemetery, Georgetown (my alma mater), the Capitol Building, White House, and the National Mall. You finish uphill at the Marine Corps War Memorial (Iwo Jima statue). Part of the course is also run through the beautiful tree-covered Rock Creek Parkway.
The organization of the event is with military precision and crowd support is strong throughout the majority of the course. The last four miles or so (near the wall) are a bit desolate at the time you need it most. Weather can be dicey—it has been warm and rainy in the past. And the uphill finish hurts!
Course: loop
Boston qualifier: yes
Half marathon: no but other distances
Weather: High 69/Low 46, rains about 6 days in October
Pros:
Well organized
Beautiful historic landmarks and course that keeps you engaged
Great expo and after-party
"People's marathon" feel with great race day atmosphere
Cons:
Has been warm and rainy
Start logistics in the city can be confusing—leave yourself extra time to get to start
Difficult for spectators to navigate
Some dismal parts
Congested
700 feet elevation gain is more than most on this list
Related: How Much Time Should You Take Off After a Marathon?
The Philadelphia Marathon is a staple for many New England runners as it offers a scenic fast course with great crowd support. The Philadelphia Marathon takes runners on a tour through Philadelphia past centuries of history and architecture like the Liberty Bell, diverse and lively neighborhoods, and views throughout Fairmount Park, along the Schuylkill River, and even past the zoo.
Runners love the energy and race day vibes but say the organization could be better with the inconsistent placing of fluids on the course, a crowded expo, and a confusing start line. If you run this race, leave yourself extra time to navigate the expo and start!
Course: loop
Boston qualifier: yes
Half marathon: yes and other distances
Weather: High 56/Low 42, rains about 7 days in November
Pros:
Beautiful scenery
Great race day energy
Fast course ripe for PRs
Zero elevation gain with a couple of hills to work different muscle groups
Cons:
Logistics at the start and aid stations need improvement
Some sparse spots with few spectators
A few sharp turns. Get a full review here.
Related: How Far to Run Before a Marathon?
The White River Marathon is a small-town friendly race in Arkansas capped at under a thousand runners. It's a great marathon for those looking for a BQ and for those wanting to run a marathon in all 50 states. It's a no-frills race that starts with a steep downhill so be sure to watch your pacing! Then it's mostly pancake flat.
There is a family-feel pasta dinner the night before and the town is ready to welcome runners. The course takes you along the White River with pastoral scenic views. There are few spectators except mother nature along the course.
Course: double out and back
Boston qualifier: yes
Half marathon: yes and 5k
Weather: High 63/Low 41, rains about 7 days in November
Pros:
Pretty yet quiet course
Small, family-feel race
Easy to navigate
Spectators can easily see their runner many times
Cons:
Little crowd support
Downhill start can mess up pacing
Not easy to get to –can fly into Little Rock or Memphis
Related: What to Expect After You Run a Marathon
I ran CIM in December of 2022. It was my first race back after my 2.5 year hiatus and I wanted a sure thing. I had heard nothing bad about this net downhill course, so I went for it. Even though I didn't have the day I wanted, CIM didn't disappoint. The course was mostly flat with gentle rollers to keep it interesting. The crowd support endured the 26.2 miles.
The energy from start to finish was phenomenal and it was the most well-organized race I had ever been to. It is a fast race so even though I was running a 2:50 marathon pace for the first 16 miles, I still had so many runners in front of me (and then passing me…waa waa).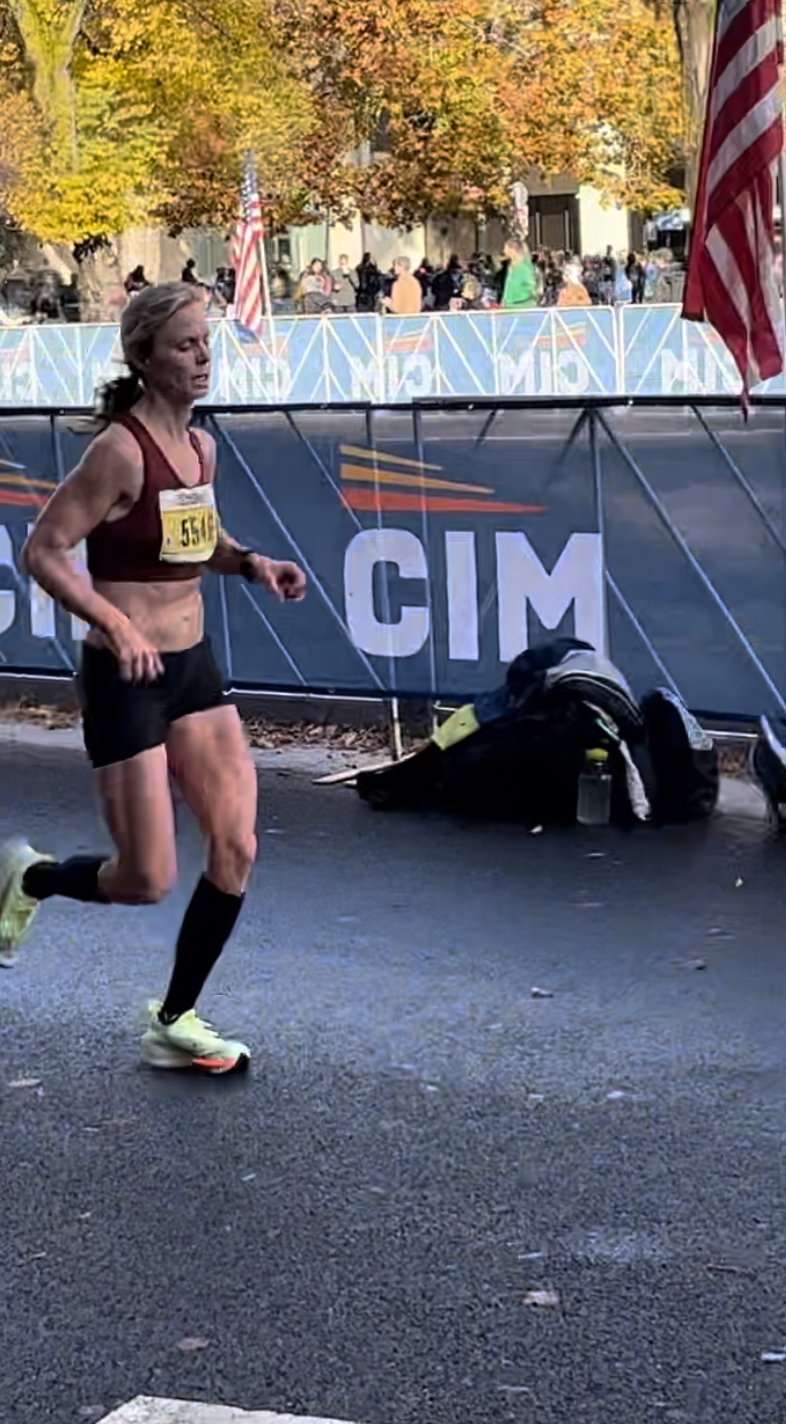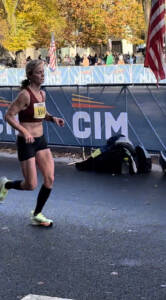 The downhill start makes it easy to go out too fast, so you have to be careful. The course takes you through neighborhoods and down farm-lined roads into historic downtown Sacramento. If you are wanting to nab a PR, CIM is your race.
Course: point-to-point
Boston qualifier: yes
Half marathon: no
Weather: High 56/Low 41, rains about 7 days in December
Pros:
Amazing energy
So well-organized
Fast with a net downhill course
Spectators can easily see their runner many times
Cons:
You have to take a shuttle to the start
Must stay mentally engaged to not go out too fast
Downhill with a net elevation loss of about 1,000 feet can be tough on quads
Related: My Experience Running the CIM Marathon
I ran the Kiawah Island half marathon about a dozen years ago. The race was incredibly well-organized and flat, flat, flat, with lots of crowd support. Though, I was sad I never got to see the ocean. Instead, you run through neighborhoods of the quaint island town and past the golf course.
The start and finish are at the beautiful Kiawah Island Resort. If you are looking to make your marathon or half marathon a race-vacation the Kiawah marathon is a great one to choose. You can stay at the luxury resort, go run your 26.2 miles or 13.1 miles, then walk back to your hotel room, dine, and get a massage at their top-notch spa later.
Course: Loop
Boston qualifier: yes
Half marathon: yes and 5k
Weather: High 63/Low 46, rains about 7 days in December
Pros:
Scenic views of marshes and neighborhoods, and golf course—no ocean
Very well-organized
Big race in a small town feel
Great energy at the start and finish
Usually good weather (typically overcast and mild)
Cons:
Plan to have to wait for start line shuttles
No view of the ocean while running
Lots of turns on the course
Hard to find a place to stay on Kiawah. Can also stay in Charleston, SC and drive 45 minutes
Related: 8 Fastest Marathons to Run this Spring
The Rocket City Marathon is your ticket to running rocket fast. Indeed, my husband ran his fastest marathon time and BQ there (and then passed out, but that's another story) and my friend Mary Alex won it last year!
The flat and fast marathon course starts at the entertainment venue, Von Braun Arena, then takes you past the University of Alabama at Huntsville Campus, over to the US Space and Rocket Center, through the Botanical Gardens with pretty holiday lights, and back to the Von Braun Arena for a unique indoor finish line. Runners get to celebrate with delicious post-race food and complimentary post-race stretching. (At this juncture, I think Rocket City will be the marathon I run this year!).
Related: 26 Tips for Going 26.2
Course: Loop
Boston qualifier: yes
Half marathon: yes and others
Weather: High 54/Low 39, rains about 8 days in December
Pros:
Scenic views of Rocket City, running through quaint neighborhoods
Unique indoor finish
Mostly flat with one hill
Convenient hotels near start and finish
Very well-organized
Easy for spectators
Great crowd support
Cons:
One gravel spot made it tricky to run on
Weather can be cold and rainy
Not a ton of fans on back half (but still lots to see)
Gain of about 640 feet
No matter what marathon you choose, all of these are winners!
If you want guidance with your marathon or half marathon running goals, check out my run coaching services. Also, be sure to check out my free training plans: