I almost always wear a sports bra with a pocket when I run. In fact, I am sure I am known around my neighborhood as the woman who runs with a phone on her chest (maybe resembling a robot…).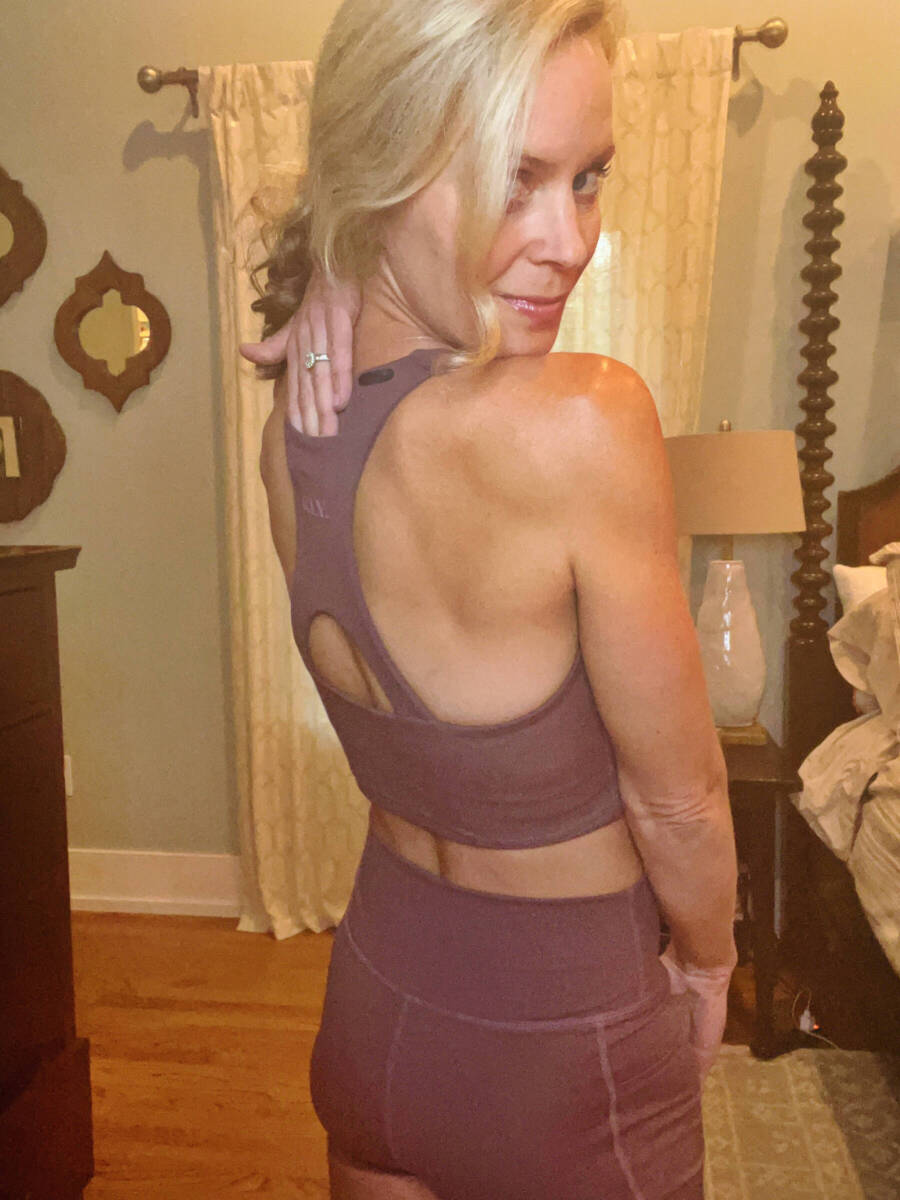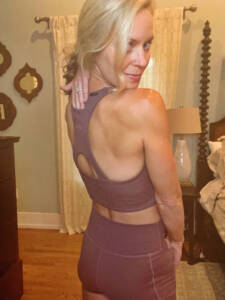 I love the ease of being able to access my phone while running. Yes, yes, I should unplug and run mindful miles. But I like being able to answer my son's calls, change playlists or podcasts, see alerts, and easily call someone if I need help.
I also use pockets in my bra to store fuel for running and find it so much easier to grab gels or salt tablets from my chest than inside pocket on shorts, for example.
Related: How I Fueled my 2:54 Marathon
I recommend all runners run with their phone from a safety perspective. Sure, watches like the Apple watch are easier to run with but I don't find them to be as user-friendly—especially should you need to call for help.
For about a decade now, I have run in a Lululemon sports bra that has two breast pockets. However, Lulu stopped making these sports bras years ago and mine have slowly deteriorated. They've gotten stiff, smelly, and have permanent deodorant streaks.
Clearly, it's time for me to find some new pocket bras for running.
So, here we are. I asked around, got out my credit card, and offer the 7 best sports bras with pockets in the front and back.
In this article, I will cover:
How to get the right sports bra size
Two different styles of sports bras
Does wearing a cell phone in your bra cause cancer?

Pin these pocket bras for later!

And share the 8 best pocket bras for runners:

Tracksmith
Adidas
Oiselle
Rabbit
FITTSAFE
Relay Active
Senita
Brooks
Related: Safety Tips for Runners & Best Personal Safety Devices
How do I know the right sports bra size to get?
Finding the right sports bra size can be tricky since many sports bras are sized in small, medium, or large, etc. Therefore, I suggest buying a few sizes and returning the ones that don't fit.
You'll want a sports bra that allows you to fit two fingers under the straps and bottom band. If it's tighter than that, you'll get painful chaffing. If it allows more space, you'll lack support.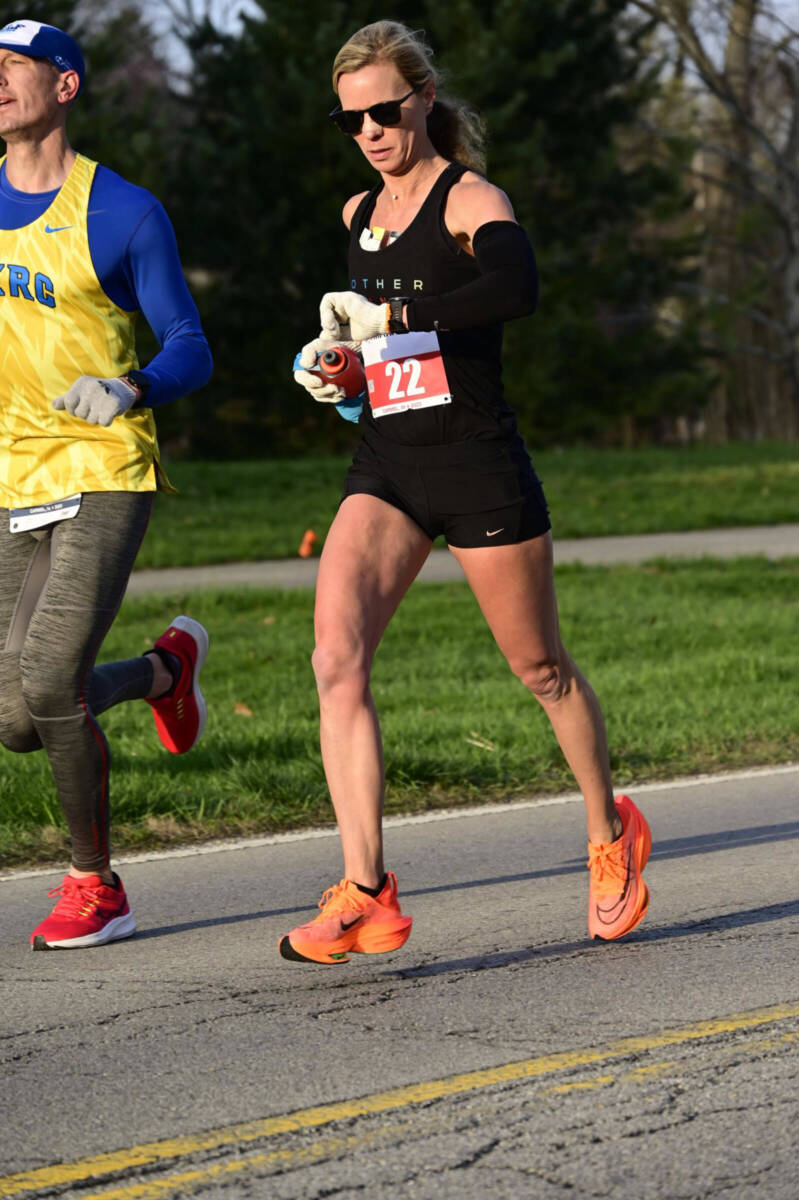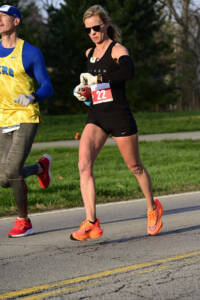 If the sports bra has hooks, test it out the on loosest setting—this will ensure it still fits even if it stretches out. (The below sports bras do not have hook closures).
If the sports bra measures in number sizes, follow these instructions for getting the correct size:
Measure your rib cage, then measure over the fullest part of your breasts at the nipple line.
Subtract these two numbers from each other to get your bra number size. So if you measure 26 for rib cage and 32 for breast size, your number size is 6.
Compression vs. Encapsulation
Sports bras come in two types (which you will see below):
Compression: these sports bras basically flatten your boobs, so they don't jiggle when you are running. Compression is best suited for smaller chests.
Encapsulation: these sports bras are molded with cups or underwire. These are the type of sports bra that look like they have boobs even when not on anyone. Those with larger or denser breasts tend to like this type of sports bra better.
Related: The 4 Best Bras for Large Busts
Does wearing a sports bra with a phone pocket cause cancer?
There is no conclusive or consistent evidence that cell phones have been linked to cancer. Still, wearing a phone near your breasts may make you nervous. If it does, choose one of the sports bras with a phone pocket in the back. The downside of these sports bra pockets is that it isn't as easy to reach or access your phone.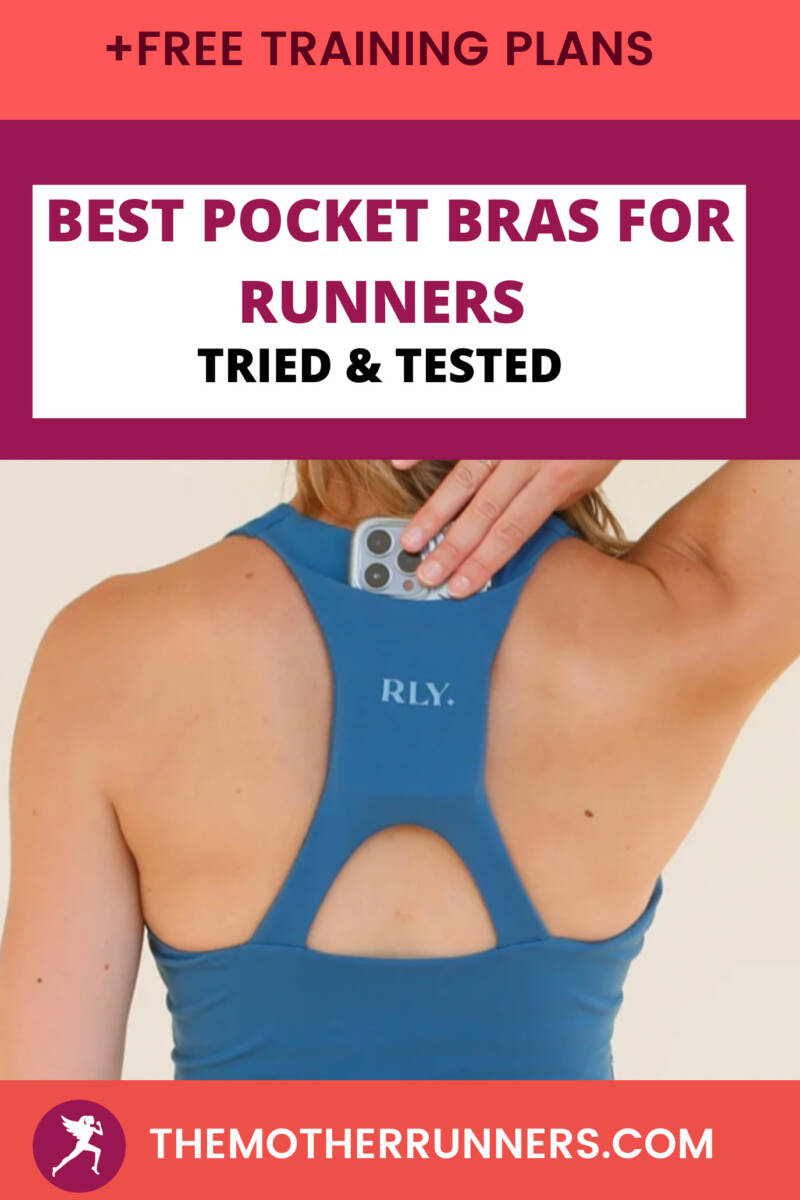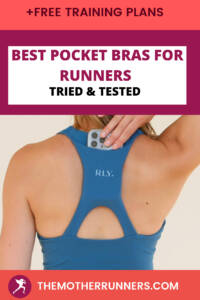 I like to wear my phone in my left breast pocket. I try to switch sides just to balance it out.
8 Best Sports Bras with Phone Pockets for Runners
Okay, below are the 7 best pocket bras with pockets for phones for runners. They were tested either by myself, or other mother runners of various chest sizes and running abilities. These sports bras have pockets in the front and/or back and some also include pockets for smaller items such as keys or credit cards.
So, let's go!
Best Sports Bra with Pocket in Front
The Tracksmith Allston Bra is a buttery soft and comfortable bra, allowing natural movement of your gals. It is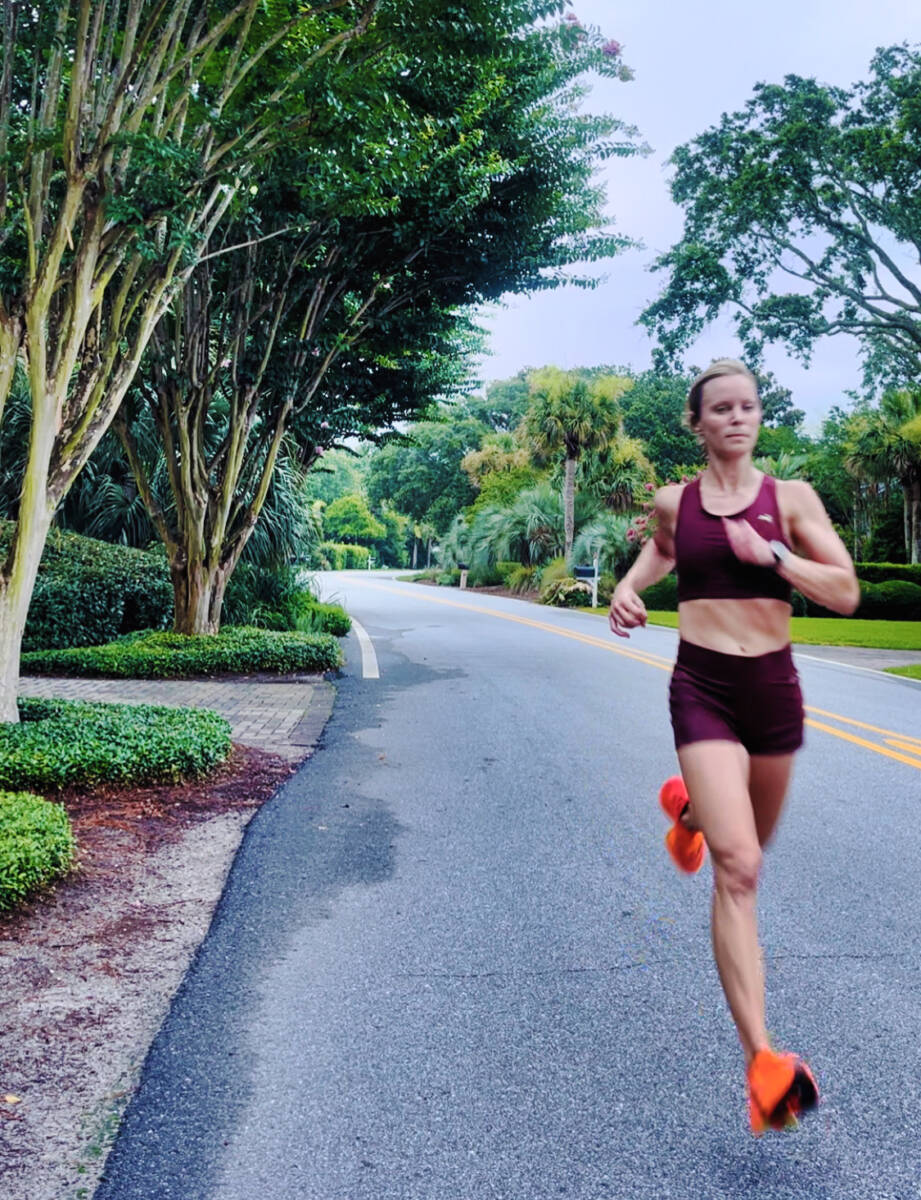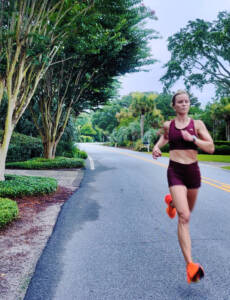 one of my favorite sports bra with phone pocket because of how comfy it is and how large the front chest pocket is. In fact, you can stuff the pocket full of multiple gels and your phone with room to spare. I prefer sports bras with a phone pocket on the front because I reach things easily. This bra pairs well with the Tracksmith Lane Five short tights, making you feel fast for race day. Indeed, this is what I wore for the CIM marathon.
My biggest complaint about this bra is that there is no cup or lining so your nipples are, umm, very prominent (especially when sweating). Also, there is a lack of structure and compression, so there isn't a lot of support for those with larger busts (not me!). The chest band also took some wears to loosen for me. Plus, the phone pocket is so large that things slip and slide and can be hard to find. I meticulously planned the order of my gels for my race, so I didn't have to search for them.
Price: $72
Pros:
Buttery soft material with minimal chafing
Attractive, sporty design with matching shorts
Easy access to pocket
Phone will not fly out during faster running

Tracksmith Allston pocket bra is comfortable and soft.

Quick drying
Pretty color options
Durable fabric
Cons:
Chest pocket is large so items slip around
Little nipple coverage
Takes some wears to break in
Only sizes up to size C with only 3 colors
Expensive
Rabbit's UtiliBRA-vo offers a laser-cut pocket between your shoulder blades that keeps your phone secured when running. This bra comes in an attractive design with medium-width straps and removable cups. I deem this one of the best and most comfortable bras with a pocket for long runs because it feels secure, lightweight, and comfortable with no chafing for the long haul. It comes in several different colors and designs.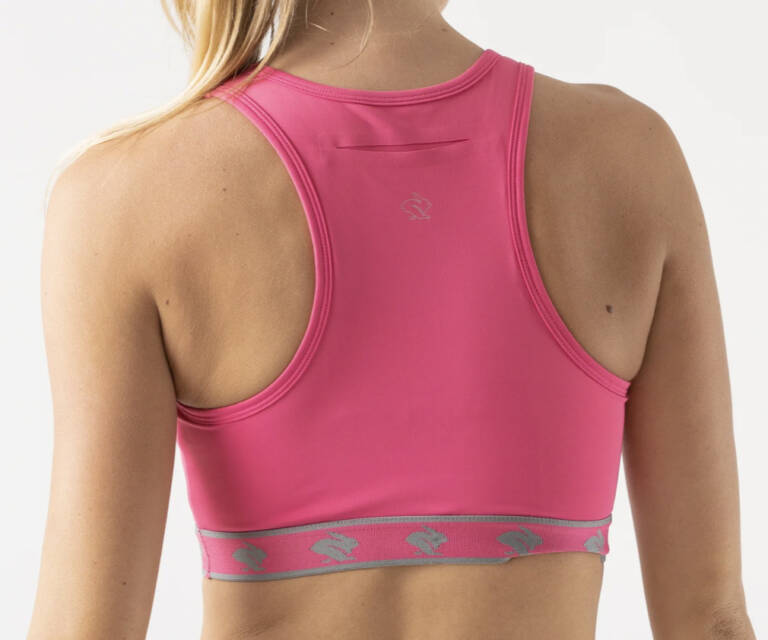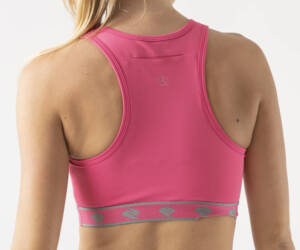 Price: $50
Pros:
No chafing
Pretty design in pretty colors
Lightweight
Quick-drying
Phone stays secure
Cons:
Only goes up to a C cup
Straps are not adjustable
Hard to put phone in and out unless you have good shoulder range of motion
I have fallen in love with my adidas sports bra. I partnered with adidas as part of their blogger network and was pretty jazzed to find out they had a sports bra with a pocket since I was in the market for one. At first, this pocket sports bra took some getting used to since the chest band is much longer than the Lululemon one I typically wear. But this bra quickly overtook my Lulu fave because I love the individual front pockets and the support design.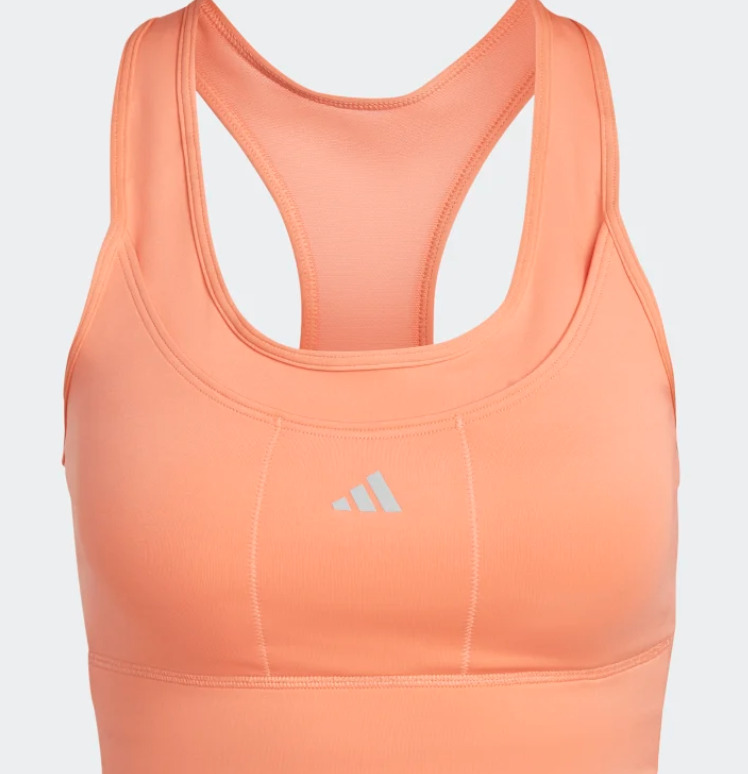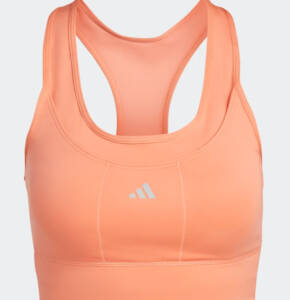 While this sports bra is compressive, it also has individual cups for a more flattering (instead of pancake) look. The three individual pockets on the front make it easy to sort my phone from my energy gels for quick and easy access during fast workouts or races. Also, this bra features a clever reflective bungee in the back for holding the top you shed when you get hot. Making it even better, the adidas Pocket Bra is made from recycled plastic. I feel lightning fast when I pair it with the adidas 3 stripe short leggings.
Price: $44 marked down from $55
Pros:
Comfortable
Individual front pockets allow for optimal and organized storage
Hooks in back allow for holding top
Individual cups

Adidas pocket bra has a place to hold your shirt in back.

Fast-drying
Cons:
Long chest band may be uncomfortable or hot for some
Only two color options
I love the Oiselle Pockito pocket bra because it has a front pocket plus two side pockets in an attractive mesh. The design of the Pockito is pretty but supportive with double straps in the back. It features full coverage, compression with removable cups, with a wide, stable chest band. Small items like a key or small gel can fit in the sides but may rub. The middle phone pocket is good for easy runs, but your phone can fly out if you use this for speedwork.
If you like Oiselle and want a pocket bra for fast running, try the Fly-out bra which I think replaced the Pockito and has a back phone pocket. It comes in pretty colors and Oiselle's token flying bird pattern.
Price: $58
Pros:
Soft fabric
3 pockets
Pretty design with an array of colors
Supportive for high impact
Cons:
Phone pocket doesn't securely hold phone for fast running
Can be hard to access phone in the back pocket
Brad new! FITTSAFE, a brand dedicated to keeping women safe on the run has designed a sports crop bra with a zip pocket below your breasts on the front that can easily hold a phone and other items. It also has an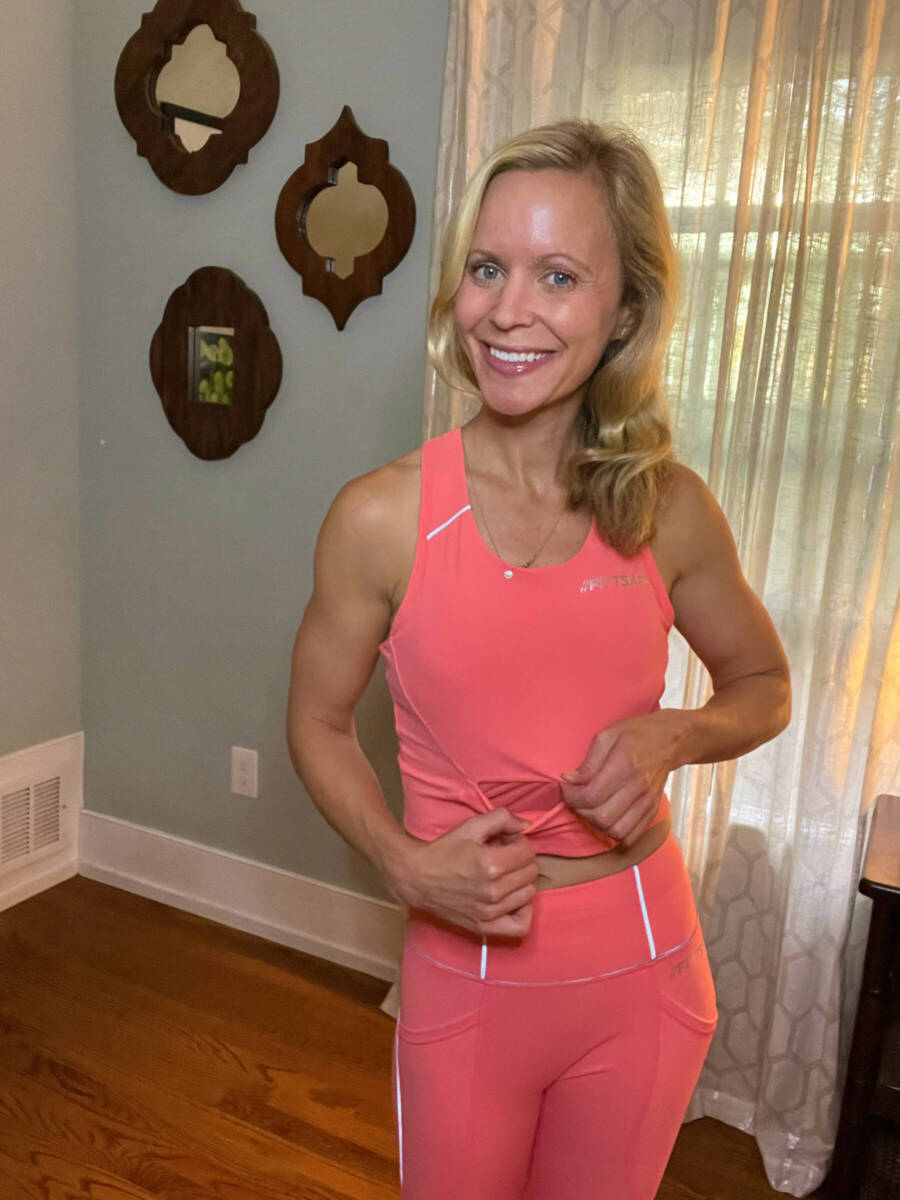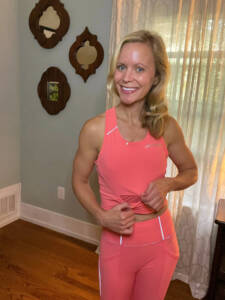 internal pocket not he back for smaller items. The cut with cup liners make this crop incredibly flattering and the material is super silky and smooth.
Price: Coming soon!
Pros:
zip pocket below chest is comfortable and secure
two pocket options on front and back
Supportive and flattering fit!
Cons:
Only in crop length
Limited colors and supply
Price: $54.99
Best Sports Bra with Pocket in Back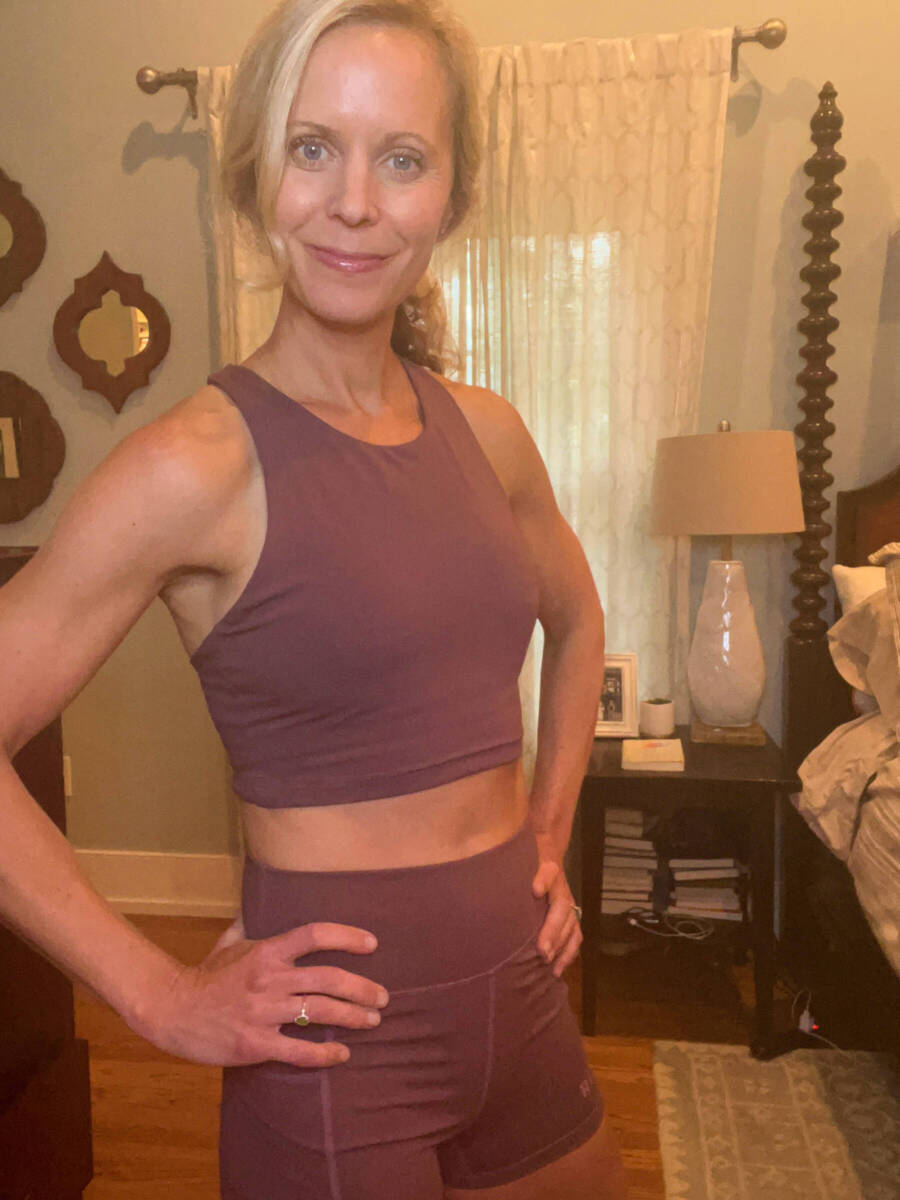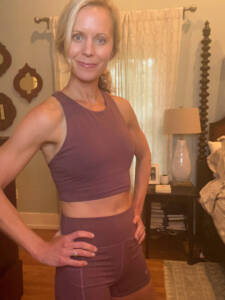 RelayActive is an active apparel company founded by Ann Mazur, an Olympic Trials marathoner and founder of Runners Love Yoga. Ann uses fun, unique patterns in her designs and her new Kella Pocket Crop Top is no exception. The top is supportive with an interior bra design, ultra-comfortable, flattering, and ultra-cute. This crop and matching shorts has quickly become my FAVORITE running outfit. Nothing is softer, prettier, or more functional. I am OBSESSED.
The back phone pocket is easy to access and runners say their phone stayed put with no bouncing. I can grab my phone by pulling the top up (I have very limited arm mobility). They also said they didn't chafe and this top has become a favorite for long runs, opting to keep gels in the pocket rather than a phone. If you like Ann's style but are looking for a pocket bra, check out her Brooklyn Pocket Bra.
Price: $54
Pros:
Flattering design and patterns

RelayActive pocket crop tops come in beautiful and unique colors and patterns. They are super stylish!

No phone bouncing
Softest fabric I have ever felt in running gear
Breast forms are attractive and stay put
Incredibly comfortable
love the matching shorts with side pockets for lots of storage
Cons:
The Senita Sarah Pocket Bra was the most popular sports bra with pocket mentioned by mother runners in my Instagram. Several of the moms said they started wearing Senita for comfort while nursing and then segued into the pocket bra so they could run with their phones.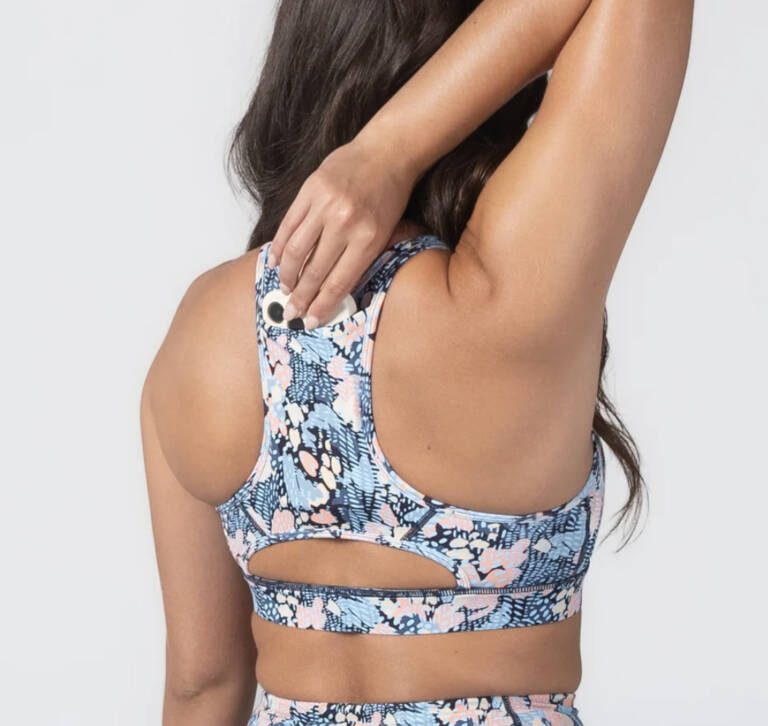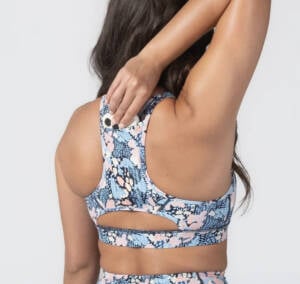 This bra comes in sweat-wicking, ultra-soft fabric, flat seams for zero chafing, medium impact, and a back pocket for phone storage. The design is compressive with removable cups. Users say the phone stays put in the back even while stretching.
Price: $32
Pros:
Comfortable
Several patterns, colors, and wide spectrum of sizes
Removable cups
Fast-drying
Stretchy yet support fabric
Lightweight and open design keeps you cool
Cons:
Some say it sizes too small
Some wearers say there was too much movement and it wasn't compressive enough
Hard to put phone in and out unless you have good shoulder range of motion
Related: Best Nursing Sports Bras for Running
The Brooks Drive 3 Pocket Bra looks like a straightforward basic running bra with a traditional design, but it offers special features that set it apart. First, the fabric is soft, moisture-wicking, and allows for supported yet natural movement of your chest. There are no seams which mean no chafing. It's compressive with removable cups so you can choose how much support you want.
Finally, the Brooks Drive 3 Pocket Bra comes with a phone pocket high in the back between your shoulder blades, making it easier to access your phone. Two smaller pockets are hidden on the side of your rib cage for items like a key or credit card.
Price: $25 marked down from $50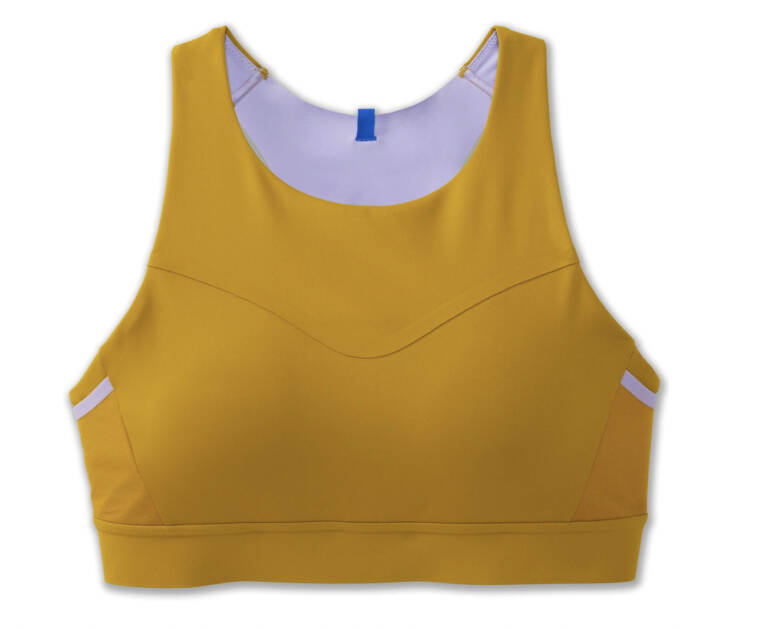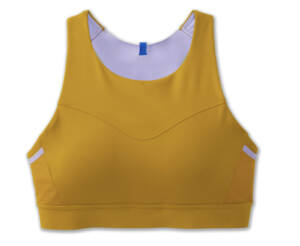 Pros:
Moves with you
High support
Wide size range
5 pretty colors
High neckline
Easy-access phone pocket and two side pockets
Inexpensive
Cons:
Limited availability
Runs small or sizes are inconsistent
Can be hard to take on and off
Cups fold
If you want guidance with your running goals, check out my run coaching services. Also, be sure to check out my free training plans: