One of the perks of being a runner is the simplicity of it—put on your shoes and go. Mother runners love the peace and quiet that come with this simple act. But that doesn't mean we wouldn't appreciate some little extras to make it a little more enjoyable and satisfying. That's why I've polled the mother runner community, done my research, and rounded up the must-have fitness gift ideas for mother runners in 2020…with discounts to boot!
I've included big-ticket items and stocking stuffers so feel free to share it with Santa's little helpers or show the mother runner in your life just how much you appreciate all she does.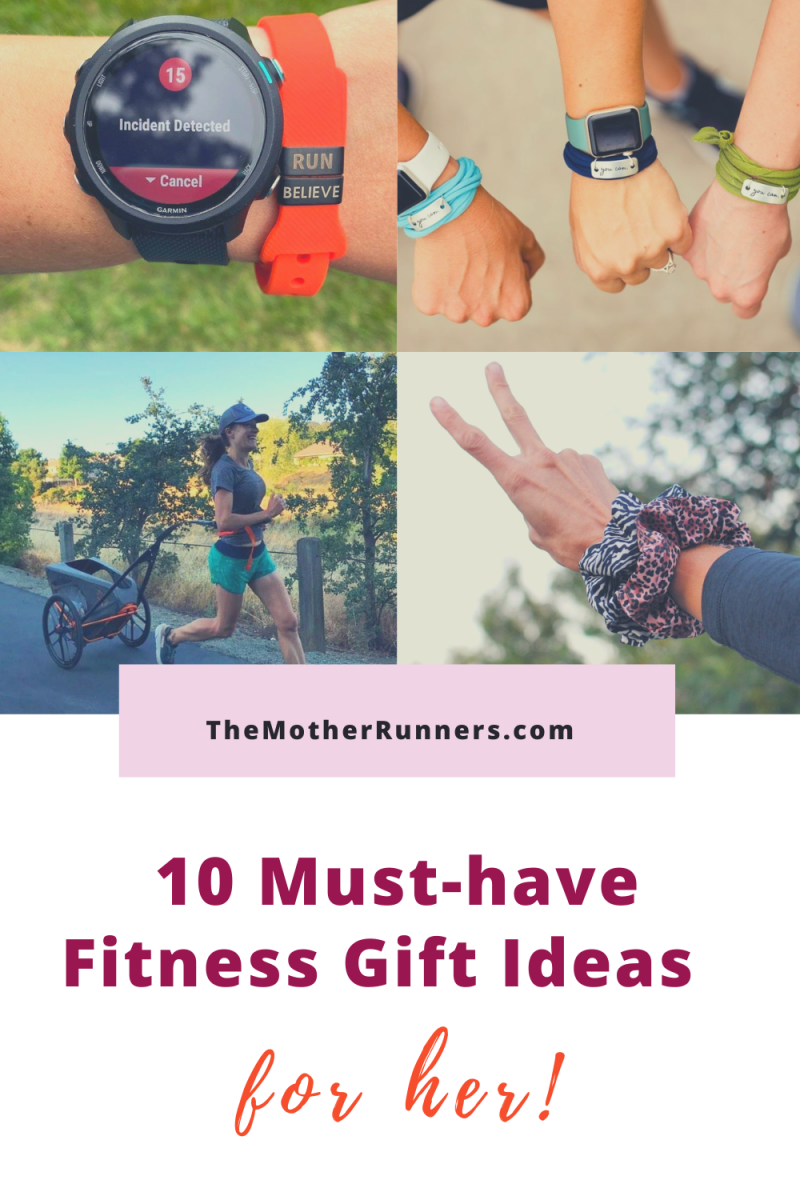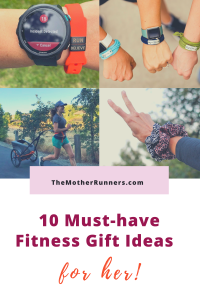 13 Must-have Holiday Gifts for Mother Runners
Under the tree:
Massage gun
The most popular (and potentially priciest) item on mother runners' wish lists is a massage gun. Massage guns can aid in recovery so we can log more miles and, well, they hurt so good! As one review raves: "it's a combination of deep tissue massage with hot tub and a chiropractor, all combined into one small device that you can take with you anywhere you go. It's the kind of pain that makes you smile."
The most coveted brand with the best reviews is the Theragun coming it at just under $600.
A more economical option is the Massage Gun, marked down from $200 to just $80. A little smaller with less power, it still offers heat and up to 30-speed ranges.
Related: How to fit in exercise during the holidays
GPS watch
Call it an addiction, but most mother runners NEED to know their pace and distance. Otherwise, it's hard to work towards our goals. Crucial to this is a GPS watch. They are more accurate than the Apple watch or phone apps, and last for a very long time! A very popular model is the Garmin Forerunner 245 smartwatch which connects to your phone so you can get texts, calls, and play music. This model, priced at $360, comes with 3 pretty waterproof straps to fit your mood or outfit.
Sarah Marie Run clothing
Get one of those awesome "Mama Needs to Run" shirts and a variety of other awesome tops and gifts like wine glasses from Sarah Marie Design Studio. Complete with kids' clothing that says "I'm the reason mama needs to run," you're certain to find something that awesomely fits your mood. Prices vary.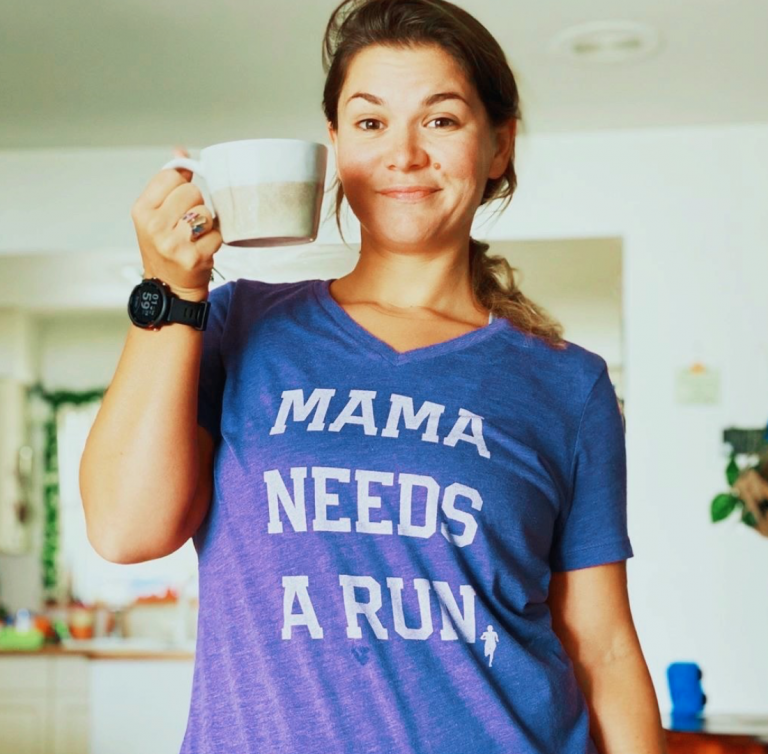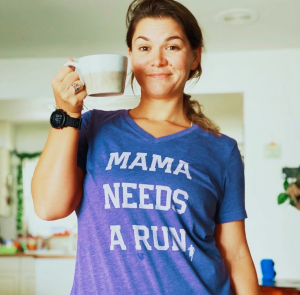 Apple Air pods
Speaking of listening to music, I can't go for a solo run without my Apple Air pods. I use them to chat on the phone, listen to podcasts, or jam out to music (which studies show help you run faster and longer). Airpods, coming in at $260, don't slip out of my ears and stand up to being washed in the washing machine…multiple times (oops!).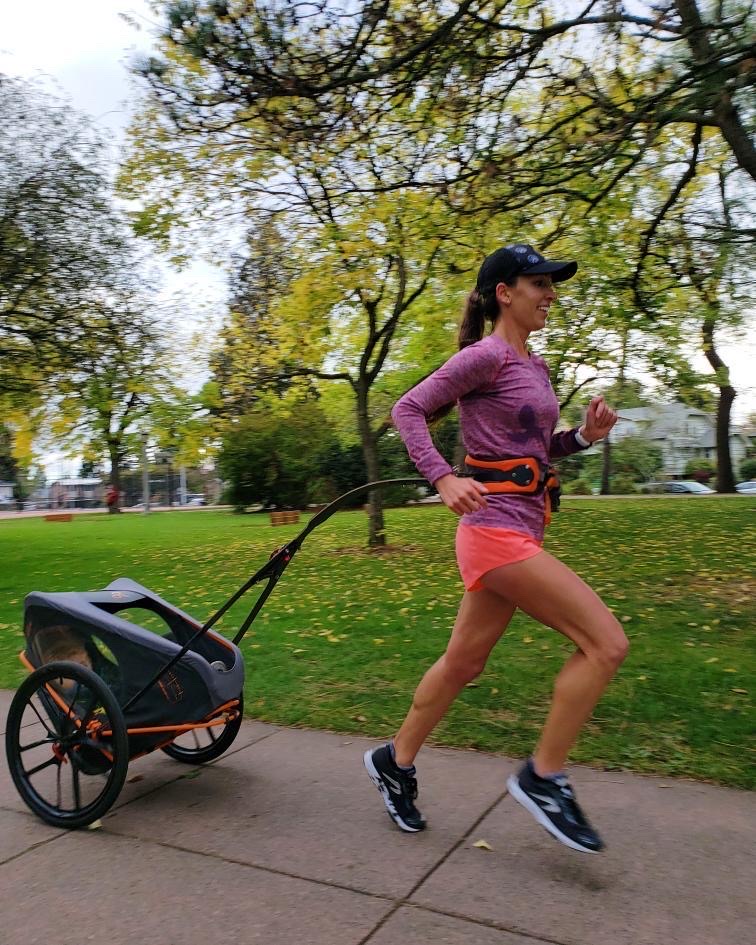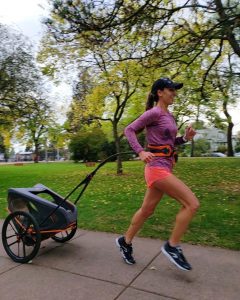 Kidrunner stroller
The Kidrunner stroller is taking the mother runner community by storm by turning stroller running on its head—or more accurately, flipping it to the back. Instead of pushing your heavy loves in front of you, you pull them behind you. Think of a dog sledding team (yes, you're the dog). Mother runners say it allows them to feel free and it's a lot easier on the body. You can save 10% on the old model or pre-order the new model with code "themotherrunners." Sticker price is about $350.
Related: The best running strollers on the market
Rollga roller
Some studies show that foam rolling before running can prevent injuries and after running can decrease delayed onset muscle fatigue. And to be honest, foam rolling just feels good. The Rollga roller, priced around $40, is by far my favorite foam roller because it's like a hybrid of a foam roller and a bunch of lacrosse balls. The bumps hit the right spots in the tight muscles and it allows you to roll two legs at a time. Anecdotally, this roller has helped my legs feel fresh faster. And you can save 20% by using code "motherrunners20."
In the stocking:
Runchies
The runchie, a scrunchie with a zipper pocket big enough to hold keys, cards, and cash is pretty genius. Designed with a sweat-wicking fabric and super stylish designs, you don't have to hide your keys or tuck them into weird places on your body for a run or race. Starting at $15, save 25% with code MotherRunner.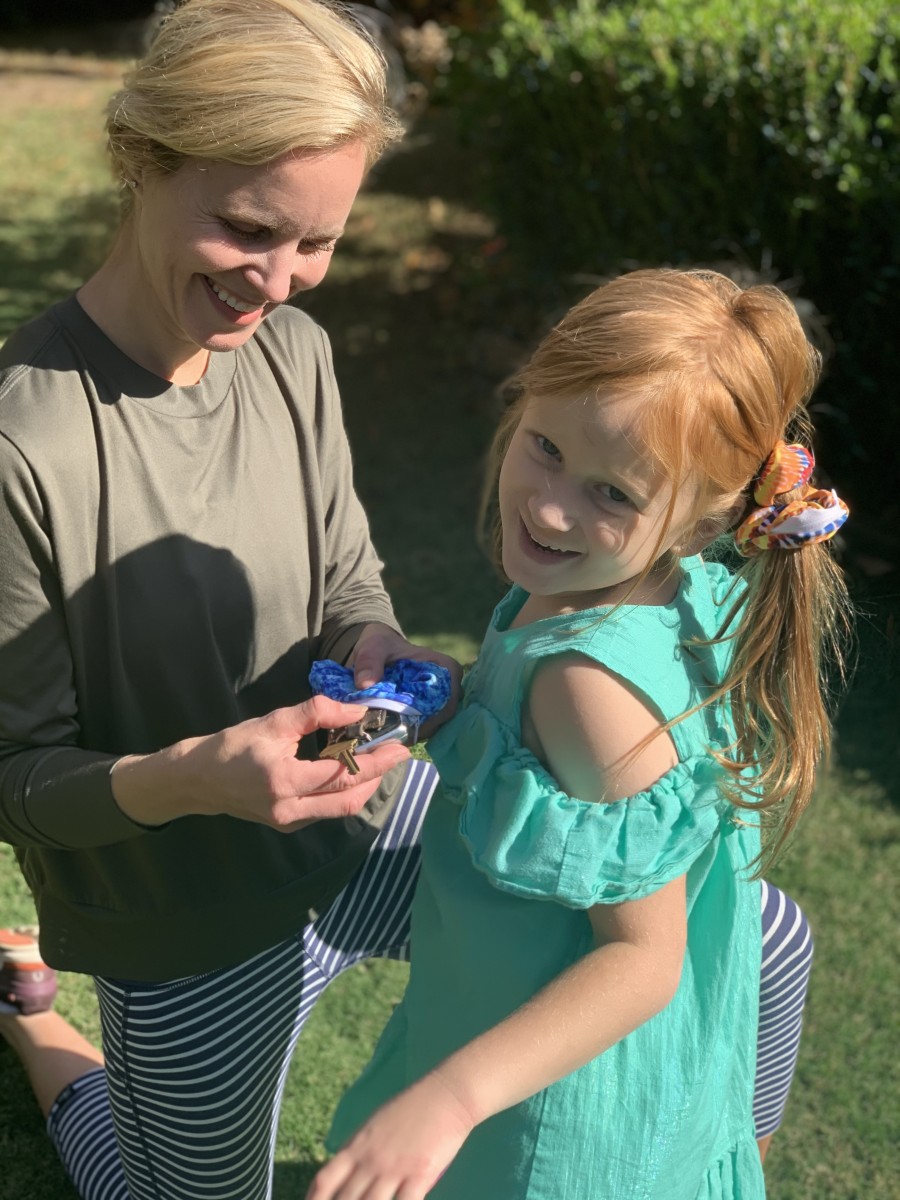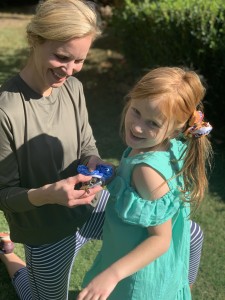 Koala Clip
Speaking of running with essentials, the Koala Clip is hands-down mother runners' favorite hands-free option. Insert your phone into the Koala Clip and then clip it onto the back of your sports bra for fuss-free running with access in case of emergencies. Priced around $40, save 10% with code "motherrunners10."
Zenevo chocolate
Who doesn't want a little sweet treat in their stocking? And, what about one that brings extra cheer by boosting your performance with a zip of energy. That's what the yummy Zenevo chocolates are designed to do by aiding in things like run, sleep, and relaxation. Prices vary. Save 20 percent with code "motherrunners20."
Runner's Cookbook
Chelsea over at Mae's Menu is a runner who whips up delicious, satisfying, creative, and simple recipes designed for runners! She released her cookbook Fueled: 30-minute Dinners to Live and Run Well just in time for the holidays! Chelsea has an amazing knack for giving healthy meals something unexpected to make them especially delicious. Priced at just under $30, it's the perfect gift for your fellow mother runner!
Momentum wraps
Whether you're trying to finish a tough workout or just finish the day, Momentum Jewelry's motivation wraps give you that encouragement you need. Designed with various mantras and an assortment of colors, shapes, and metals, find one that really speaks to you or your favorite mother runner. Priced around $19, you can get your second one half off with code: ChaseYourDreams.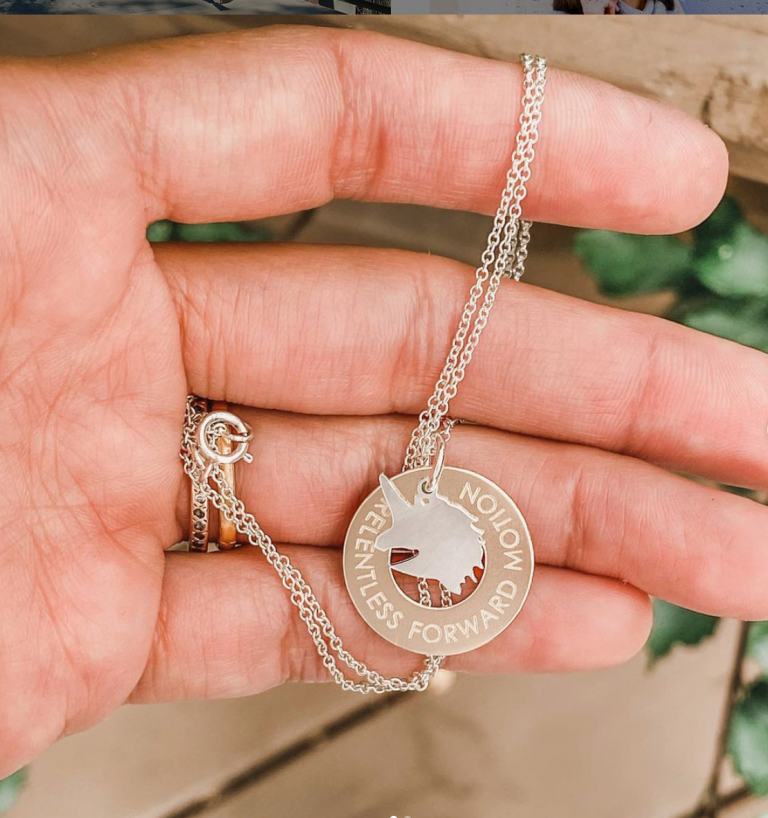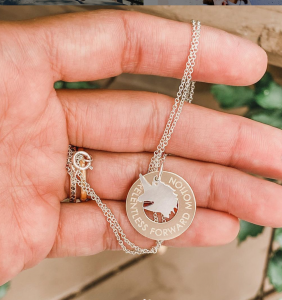 Related: How to get your motivation back
Erica Sara Jewelry
Commemorate your favorite race, distance, or your children with personalized and simply stunning jewelry from mother runner and designer, Erica Sara. Her jewelry is beautiful and sure to be a favorite among all mother runners alike.
This holiday will be different, but I hope these special gifts help bring joy and appreciation into you and your awesome mother runner friends' lives.
My Favorite Run Box
The Favorite Runners Box is a quarterly subscription box that helps motivate you on your fitness journey while living more sustainably and making a difference. Each season, you'll discover 6-8 running accessories and nutrition products from socially-responsible brands while engaging in fun workout challenges and giving back to the running community. Each box runs about $60 but is valued at over $120! A portion of proceeds from each box will go directly towards a fitness-related nonprofit. This season, we're proud to partner with Girls On the Run, a nonprofit dedicated to empowering young girls through running.