The other week I wrote an article on what to do if you have a blister from running. SO many people reached out and thanked me for helping them with this conundrum. But then they asked, what are the best running socks that prevent blisters?
So, I want to give the people what they want! Because blisters aren't only painful—they are annoying. They mess with your running performance, but you feel like it shouldn't because it's just a small bubble on your foot.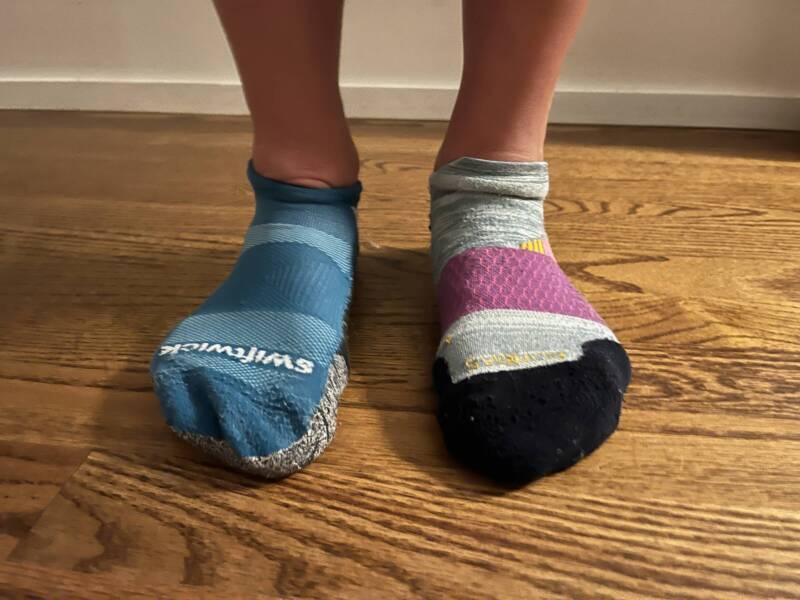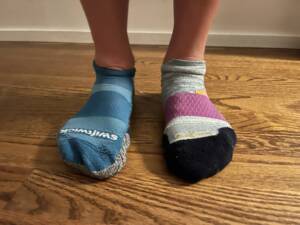 The good thing is blisters on your feet from running are completely avoidable. The key to getting rid of blisters is to get rid of friction: I went for a run last week in some shoes a brand sent me to try. Lo and behold—I had blisters on my feet when I finished my run! I liked the shoes, but it was clear they didn't like me. They were too wide, and the sliding created friction that created blisters.
So, aim number one in preventing blisters is to make sure you have the right-fitting shoes. Aim number two is to ensure you have the best running socks that do not rub. If you need extra protection (especially if you are running a long-distance event like a marathon on up), slather your feet in Vaseline or Body Glide.
Related: 26 Tips for Marathon Race Day
I can't help you with finding the right running shoes for preventing blisters. Our feet are like snowflakes. They are all different, and so our personal preferences in shoes will be different. But socks, I can help you with.
In this article, I am rounding up the 6 best running socks that prevent blisters. I have tried each of these socks in my running career and give a full review including pros and cons. (Note: I prefer no show socks so that is what I tested, but all these socks come in various lengths).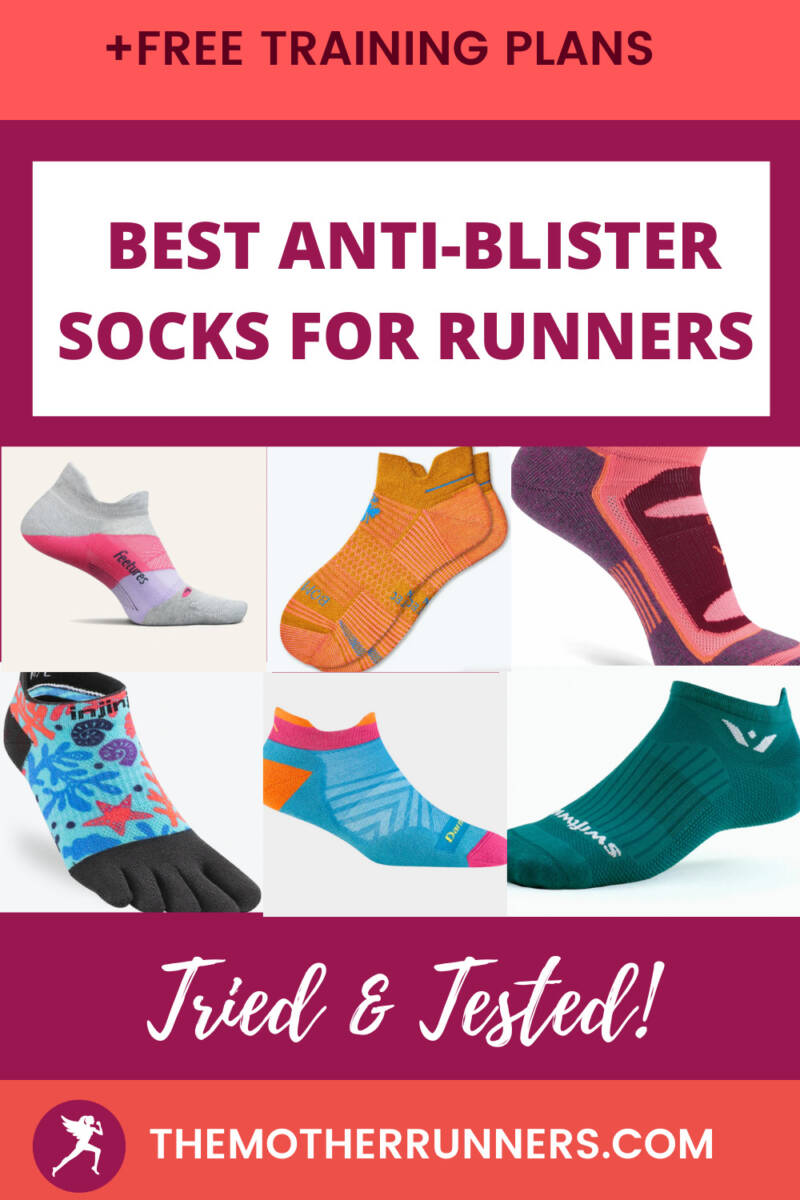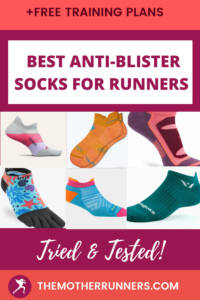 I will also cover:
What causes blisters from running
And what to look for in a running sock
And, don't forget to check out my article with expert advice from a dermatologist on what to do if you have a blister (to pop or not to pop).
Okay, let's go!
What causes blisters when you run?
Friction is what causes blisters when you run. And friction is caused by moisture, excess fabric, seams, and sliding when running over long distances. All these factors can lead to rubbing on your skin which leads to blisters. You are at the highest risk for blisters when doing long runs in hot weather.
Banish friction and you banish blisters. Do this by investing in one of the below anti-blister socks.
Related: Should You Pop a Running Blister?
What to look for in a running sock:
When looking for the best anti-blister running socks on the market, you want to look for the following features: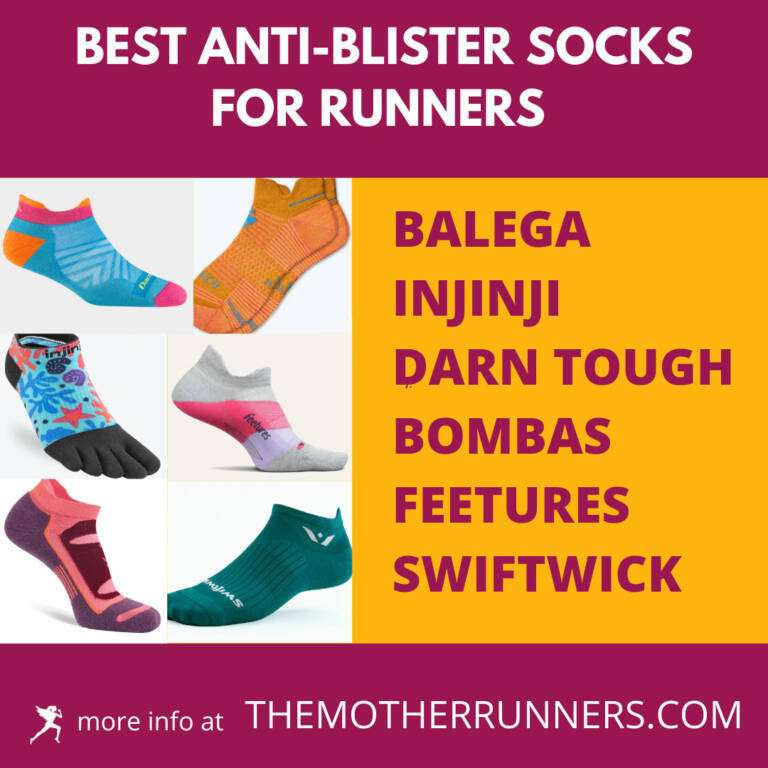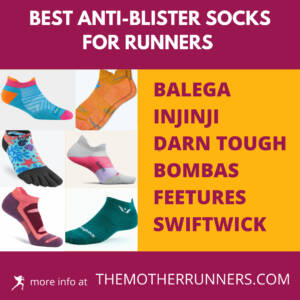 Smooth, temperature regulating, and breathable fabrics such as merino wool or a technical fabric (no cotton socks!)
Tight knit structure (which studies show prevents friction)
Seamless toe area
Contoured compression
Full coverage of the foot up to below the ankle (at least)—the length is a personal preference
Durability—your sock should last for years of long runs
The below anti-blister running socks boast all these features and more.
Related: Is it Safe to Run Back-to-Back Marathons?
What are the best anti-blister socks?
The best anti-blister running socks to prevent friction blisters from my experience include: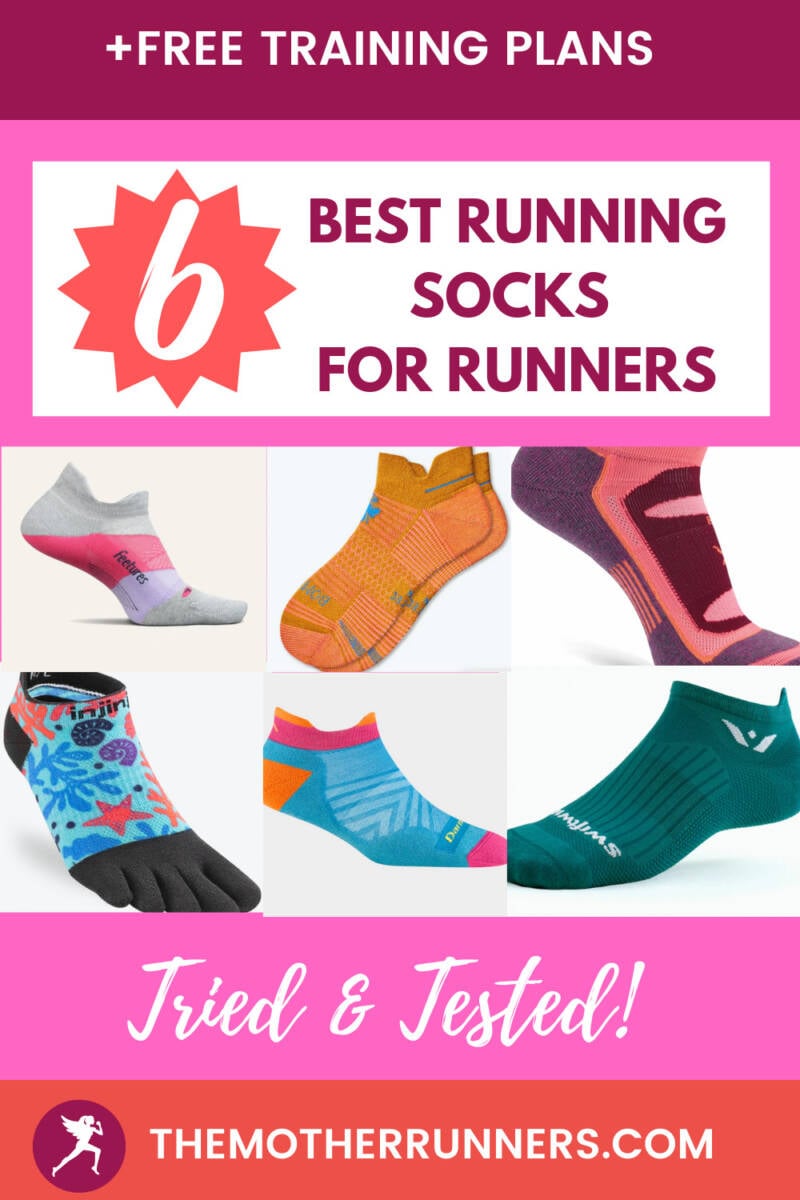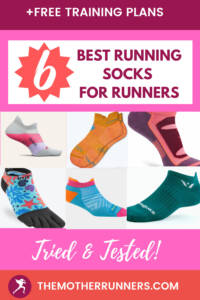 Read below for more detail.
The 6 Best Running Socks for No Blisters
The Balega Blister Resist Running Socks are my favorite running socks because they are comfortable socks, anti-blister, and I love the cut.
Balega socks are designed to wick away moisture AND regulate temperature, so you won't be running with hot, sweaty feet making you more prone to blisters. These lightweight socks combine natural mohair fiber with technical fiber Drynamix for ultimate protection against running blisters even on hot long runs.
Related: 7 Best Pocket Bras for Runners
Balega socks come in a no-show tab, quarter, and crew lengths. I love the cut of the no-show tab because they are low enough to, well, not show, but high enough to protect from rubbing, chaffing, and bunching.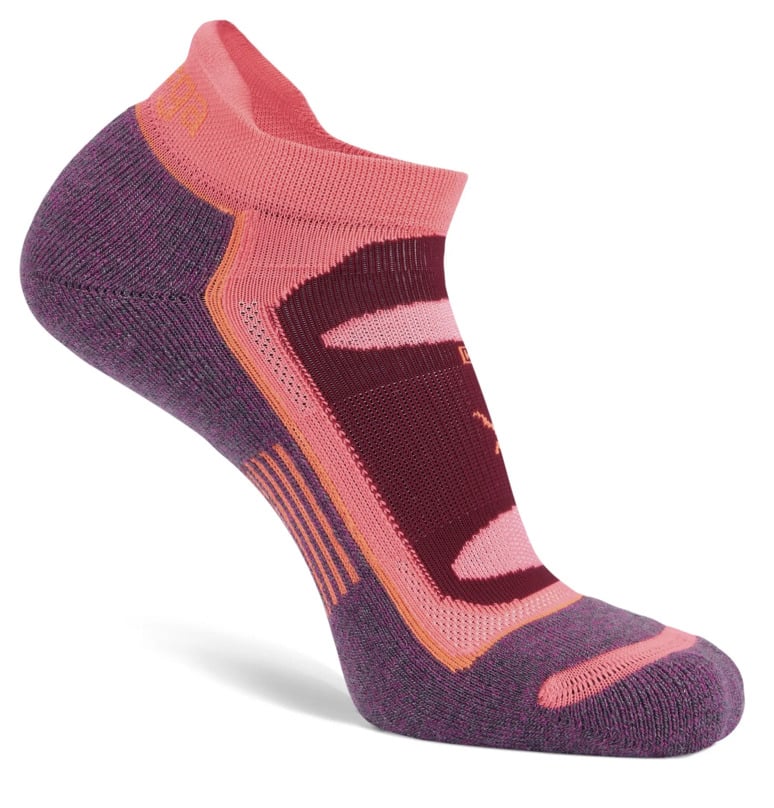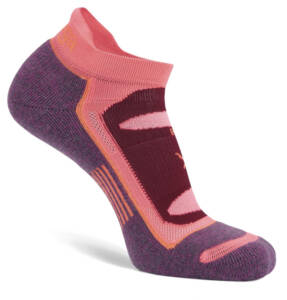 These running socks are also seamless and feature subtle contouring with arch support compression, fitting snugly but not too snugly.
I love my Balega socks so much that I am wearing pairs with holes in them (from my big toenails)! Guess it's time to buy a new pair!
Price: $20-24
Pros:
Truly anti-blister
Sweat-proof
Temperature regulated
3 lengths
Cons:
Not very cushioned
Doesn't come in many color options
Related: 7 Best Hoka Running Shoes for Long Distance
The Swiftwick Aspire Zero Tab is perfect for the runner who gets blisters and tired feet. This comfortable lightweight sock is thin with a snug fit so it doesn't rub your skin. The firm compression improves blood circulation, allowing your feet to feel fresh on those long runs.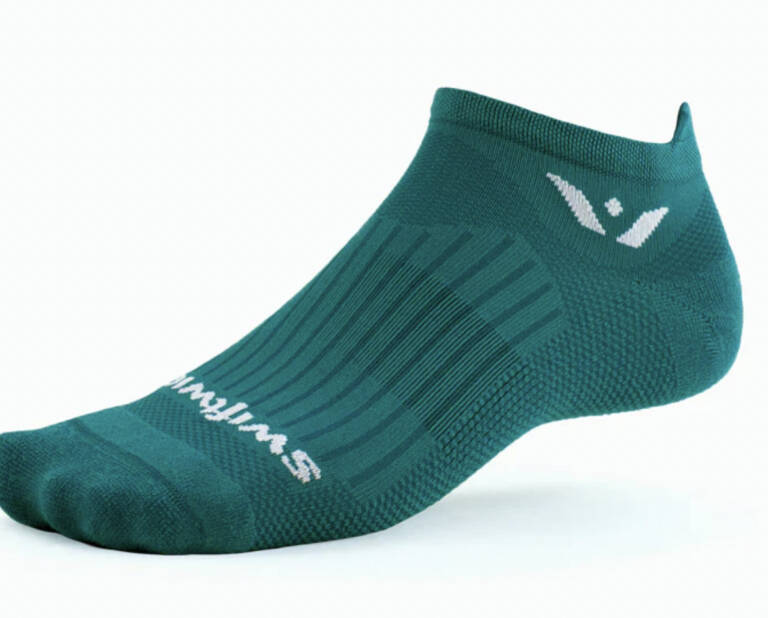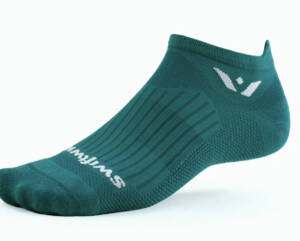 Swiftwick's signature blend of nylon, olefin, and spandex gives the company its name of wicking away moisture swiftly so you can run swiftly. The zero cuff sits just below the ankle. But if you don't like that, it comes in various lengths including a full-length compression sock.
Price: Starting at $16.99
Pros:
Thin and lightweight
Breathable
Resists foot fatigue with improved blood flow
Cons:
Can feel tight on some feet
Longer lengths can be hard to put on
Limited color options
Related: Best Running Shoes for Achilles Tendonitis
If blisters are a chronic problem, then Injinji toe socks are your solution. Injinji's genius design takes away the opportunity for skin-on-skin friction by wrapping each toe individual in a moisture-wicking thin lightweight fabric. Injinji's women's socks are specifically designed for women with a narrower profile, more stretch, and toes with better compression and support.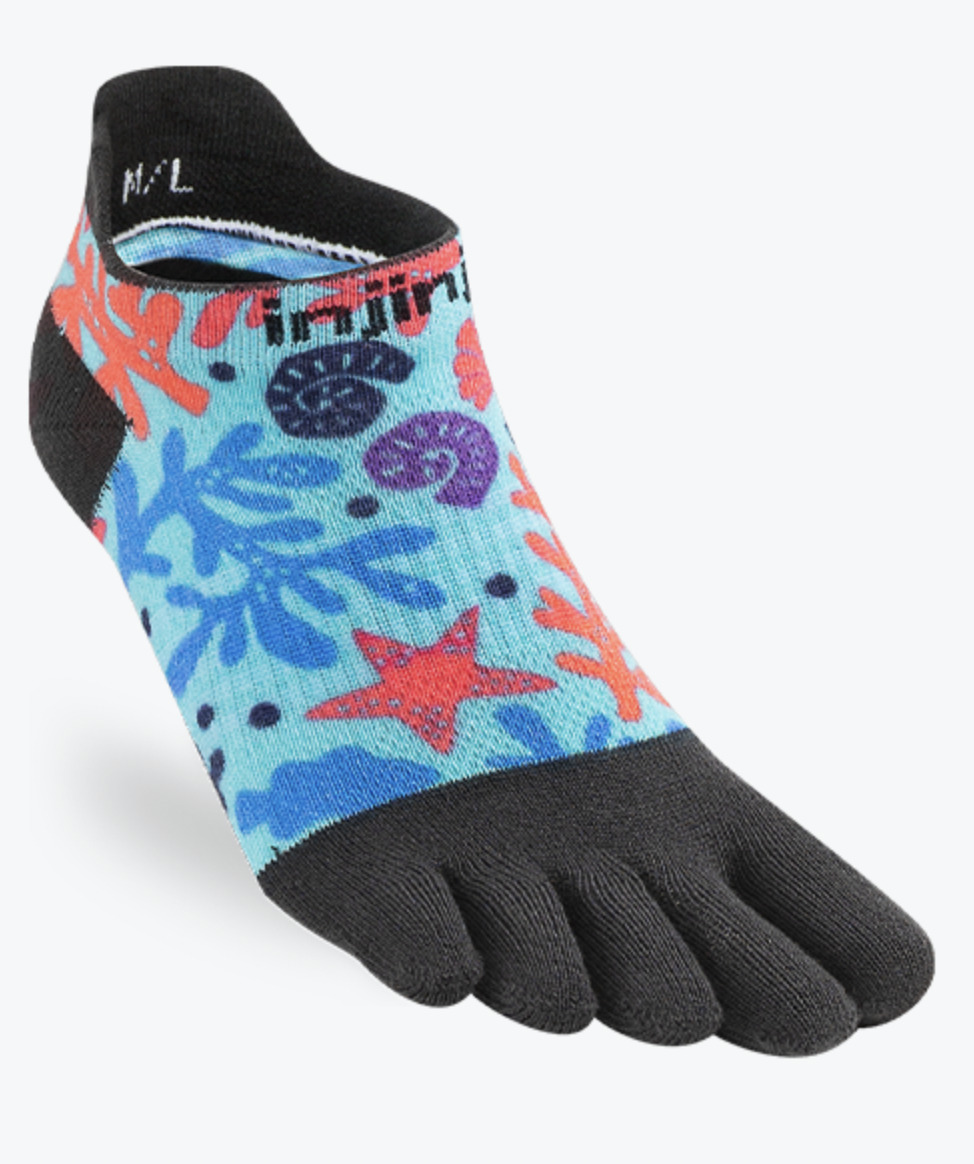 The first time I tried on an Injinji sock, I was expecting the fabric to feel thick and uncomfortable between my toes. But the opposite was true. They felt comfortable and my feet felt supported and protected. These running socks also feature fun patterns and a mesh top with COOLMAX fibers for added anti-blister protection.
If that's not enough, Injinji has arch support and the positioning of your foot ensures your entire foot is engaged when running, potentially giving you more power in your stride and protecting against injury—especially on rugged terrain.
Price: $16
Pros:
Ultimate blister protection
Arch support
Total engagement of the foot for more efficient stride
Fun patterns
Specifically designed for a woman's foot
Comes in various lengths for personal preference
Cons:
Limited sizes
Takes some time to put on which makes these not ideal for time-strapped mother runners
Related: Best Recovery Shoes for Runners
A review of blister-free socks wouldn't be complete without Darn Tough running socks which are one of the best socks on the market to guard against blisters, especially in the toe area. What I love most about these running socks is how soft and cushioned they feel while also being lightweight and breathable. They also come in pretty electric colors!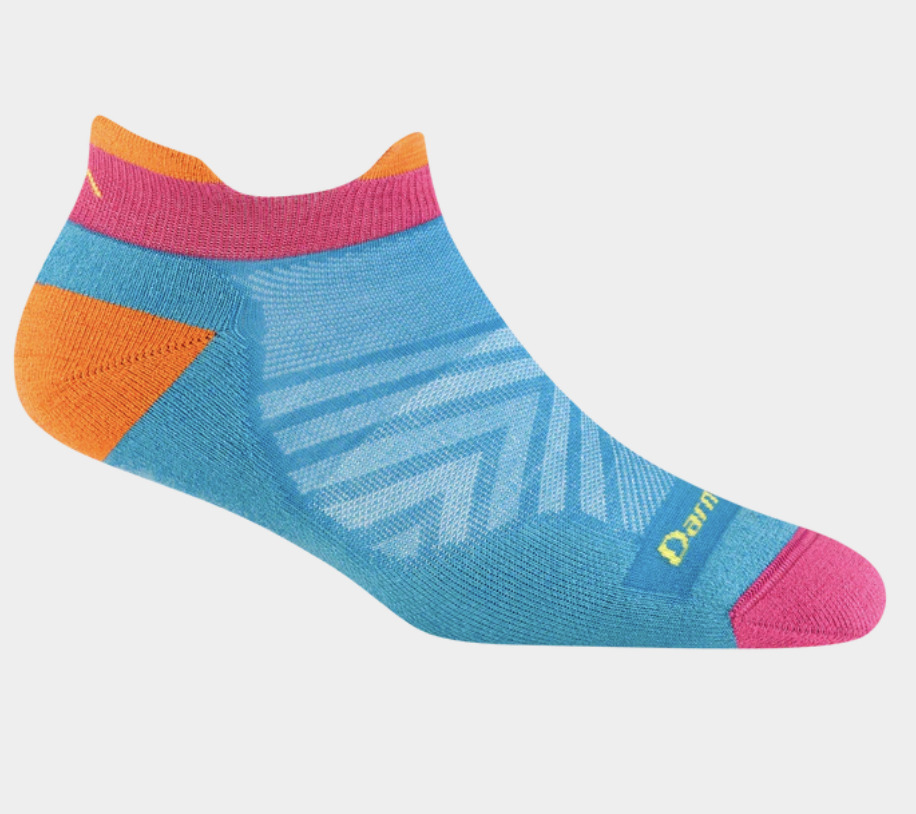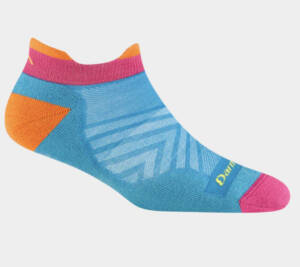 The Darn Tough socks are made with ultra-lightweight Merino wool, the magical sweat-wicking anti-blister fabric that allows your feet to breathe while working hard. Darn Tough's "performance fit" protects against slipping, bunching, blisters, hot spots, and foot fatigue.
Price: $18
Pros:
Lightweight and breathable
Cushioned
Supportive including arch support
Pretty colors
Cons:
Limited sizes
Some find the toe area too narrow
Doesn't last as long as other socks
Related: Hoka Bondi Review: The Most Cushioned Running Shoes
The Feetures Elite Cushion No Show Tab socks are the most cushioned running socks I own. The padding is subtle and hits the right spots on my feet that when I slide them on—it's like a breath of fresh air…on my feet…wait, is that weird?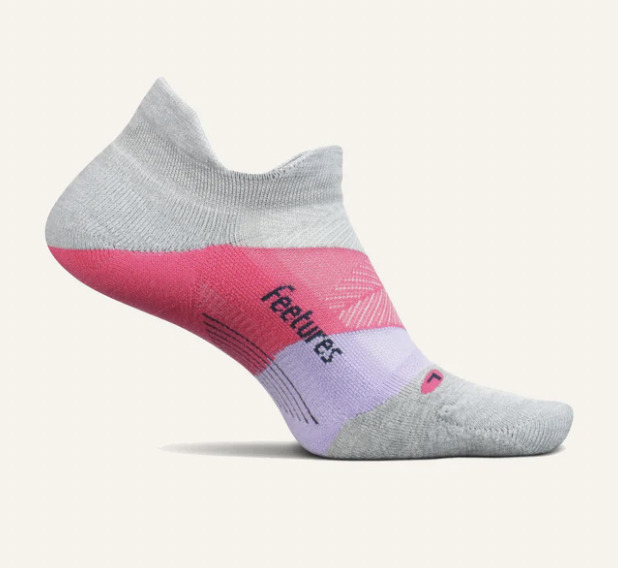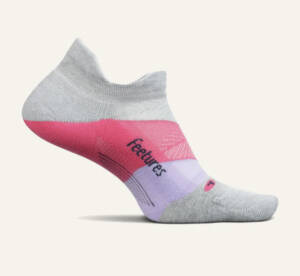 The nylon and spandex blend is soft, and I have never had a blister in these socks despite logging long distances in my daily trainers as well as my racing shoes. That's thanks to the anatomical design meant to perfectly hug your feet plus no toe seams.
Wash socks inside out to maintain softness.
Price: $18
Pros:
Targeted cushion and compression aren't bulky but comfortable
Fun colors color palettes
Lifetime guarantee
Cons:
Tab sits high so not exactly no show
Not as breathable as other socks
Limited sizes and lengths
We fell in love with Bombas socks when trying to find a comfortable sock for my daughter who hated seams. Bombas was the end of a long line of rejected socks and she loved them so much, the whole family decided to get pairs.
Bombas has a near cult-following as their honeycomb design (aka ex tex) offers both support and cushion. The running socks are thin and not cushioned, unlike their traditional design, keeping your feet cooler and more comfortable in your running shoes.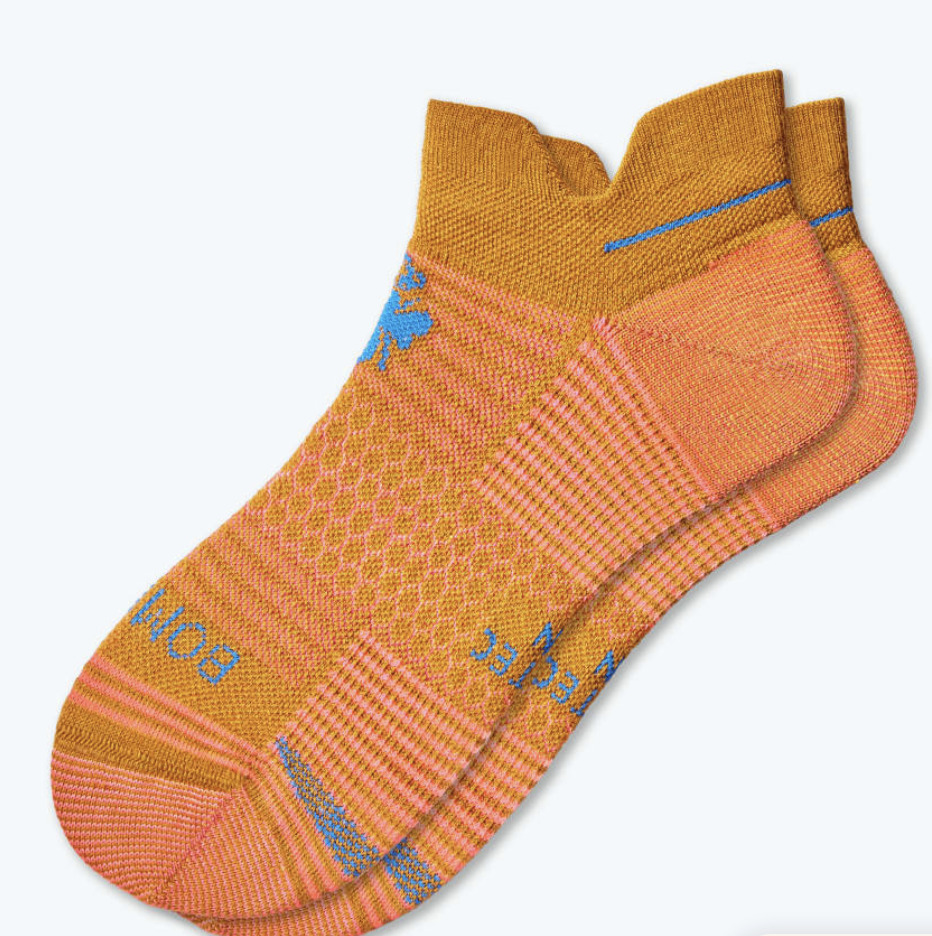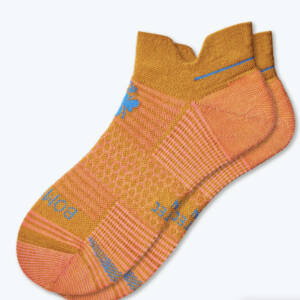 Along with a seamless toe, Bombas socks rock a Y-stitched heel and airflow venting. Their colors and color combinations are my absolute favorite on this list. And if that's not enough, every time you buy a pair of socks, a pair gets donated to the homeless community.
Price: $16.50
Pros:
Beautiful color combinations
Form-fitting feel
Anti-slip design
Vented
Benefits the homeless
Cons:
Only 3 sizes
Not as cushioned as other anti-blister design
If you want guidance with your running goals, check out my run coaching services. Also, be sure to check out my free training plans: