Here's a secret to marathoning: those who nail their fueling plan run well. Those who don't hit the wall. That means you need to find the best energy gel for you, figure out the timing of these energy gels, and train your stomach to take them in.
So many runners wait until race day to take energy gels. This is a huge mistake as it can lead to GI distress like runner's trots or runner's stomach that can torpedo your marathon.
Unfortunately, too many of us learn this the hard way.
My Energy Gel Mistakes
My first marathon I was just a college kid. I didn't train or even think about energy gels.
This was my first major mistake (common among many new runners).
Related: How to Start Running: A Beginner's Guide
On race day at the Marine Corps Marathon, I tucked a few Power Gels into my pocket and ran the best I could. I sporadically took the energy gels as I wound my way through Washington, D.C.
I took some of the energy gels with water. Some I took with energy drinks.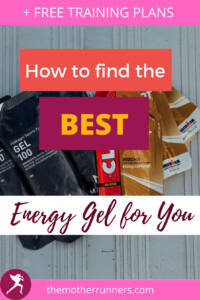 This was my major marathon mistake number 2:
don't take energy gels with energy drinks. It's too hard on your stomach when your stomach is already working overtime with less blood to digest your fuel.
Towards the end of the marathon, my stomach started cramping. I had to stop and walk a couple of times. As soon as I crossed the finish, to the porta-potty I went. My stomach was done.
You're already ahead of me! Good for you for doing your research now on how to fuel for a marathon! I didn't think twice about it.
However, even diligent runners who know they should take energy gels when running a marathon take the wrong energy gels, wreaking havoc on their stomachs. We all are different and what works for one runner may not work for another.
In this article, I'm going to cover:
The basics of the best energy gels for runners
Why runners need to take energy gels
How to find the best energy gels for you
Tips for taking energy gels, and
The 3 best energy gels according to runners and reviews
To write this article, I spoke with experts, scoured reviews and research, and surveyed fellow runners. I hope it helps you run a personal best in your marathon!
Related: 26 Marathon Tips for Going 26.2!
What is an energy gel?
Energy gels are gels with concentrated amounts of carbohydrates, about 25 grams per package, in the form of simple sugars such as glucose, maltodextrin, dextrose, sucrose, and fructose to provide fuel for exercise. They are easily taken in and digested so that they can fuel your running while you're running.
Studies show they boost performance and help athletes maintain blood sugar levels.
Energy gels come in a variety of flavors from vanilla, chocolate, coffee, fruit flavors, and honey. Some include all-natural ingredients while others have artificial sweeteners and additives. Some energy gels also have caffeine and electrolytes.
Related: Complete Hydration Guide + 4 Electrolyte Drink Reviews
If my energy gel has electrolytes, do I still need to drink a sports drink?
Yes, you most likely should still drink a sports drink between your gels. Most gels have less than 50 milligrams of electrolytes (sodium in most cases) and don't have much potassium. Athletes lose about 200 milligrams or more of electrolytes an hour, so supplementing your gels with an electrolyte drink is a good call, suggests running coach Laura Norris.
Related: 7 Ways to Recover Faster from a Marathon
How much caffeine should I have in a marathon?
Caffeine is a performance enhancer, but too much can elevate your heart and breath rate and upset your stomach. Registered dietician to elite athletes, Amy Stephens, recommends taking one to two caffeinated energy gels in the second half of a marathon. Caffeine starts having an effect in about 15 minutes and lasts for about an hour.
The amount your body can handle is trial and error for a runner.
How many energy gels should I have in a marathon?
Aim to have two energy gels an hour in a marathon. So, if you are running a four-hour marathon, you should have up to 8 energy gels.
How long do energy gels last?
One gel provides energy for about 30-45 minutes of running.
When should I take an energy gel?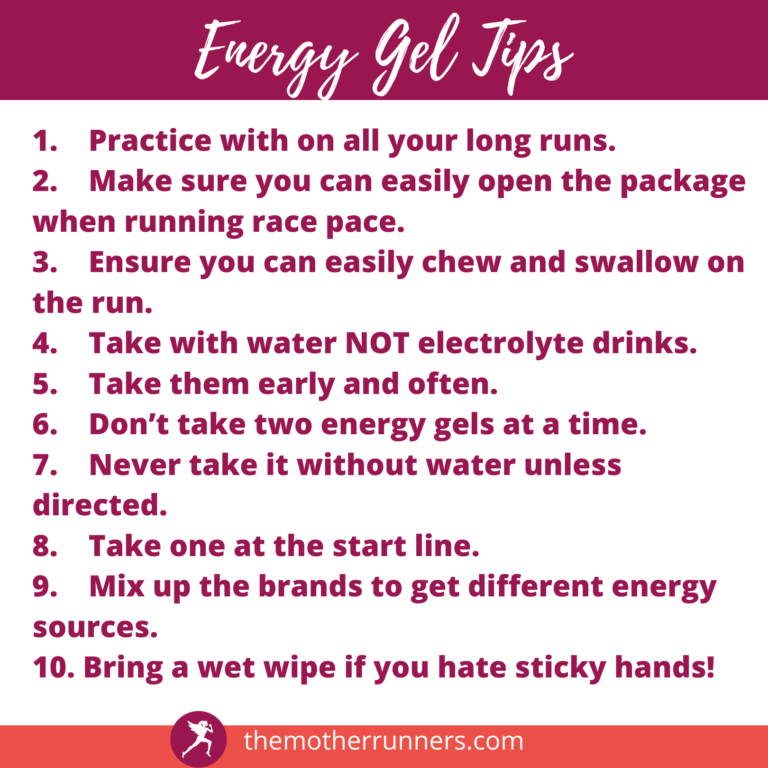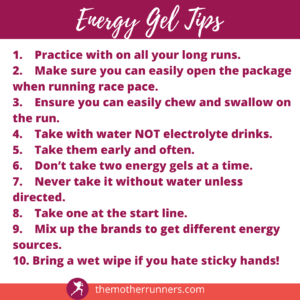 When running a marathon, you should take an energy gel at the start line and then take them about every 20-30 minutes with water throughout the duration of the race.
Drink sports drinks in between your energy gels.
Studies show that runners who take energy gels in the marathon early often have better times.
To avoid stomach upset from energy gels, you need to practice taking them on your long runs. Get more tips on fueling and training your gut here.
How long does it take for running gels to kick in?
It takes anywhere from three to fifteen minutes for energy gels to start working. This is because every runner absorbs energy gels at a different rate.
Related: How to Avoid Hitting the Wall in the Marathon
Also, health economist Cameron Cook, who is working on an equation to take the guesswork out of marathon fueling, explains that once your glycogen stores have run out, your metabolism slows, decreasing your energy gel absorption rate. This means you run the risk of the gels just sitting in your stomach.
So, if your stomach is upset later in the race, it's probably best to forgo the energy gels.
Related: Marathon Fueling 101: What Runners Should Eat
Why do runners need energy gels?
Runners need energy gels for fuel to complete a marathon distance or longer.
Your body taps into two sources of energy for fuel for your running: glycogen (carbohydrates) which is stored in liver and muscles and is easily accessible and fat which isn't as easily accessible and fuels slower running.
Your glycogen stores last for about 2 hours of running (though the faster you run, the quicker you burn through your stores). Taking energy gels helps you supplement these stores so you can run farther and faster.
If you run out of glycogen stores, your body switches to burning fat which requires you to run much slower or maybe even stop running altogether.
Bottom line: runners need energy gels to complete their marathons or other long-distance races.
Related: 10 Best Supplements for Runners
How do I pick the best energy gel for my marathon?
Ask a dozen marathon runners what the energy gel is for them, and chances are you'll get a dozen different answers.
We all have different stomachs, different biochemistries, different energy demands, and different preferences.
For this reason, it can be hard to pick the best energy gel for your marathon racing strategy. But I am here to help with energy gel selection tips.
Here is your step-by-step guide to selecting the best energy gel for you.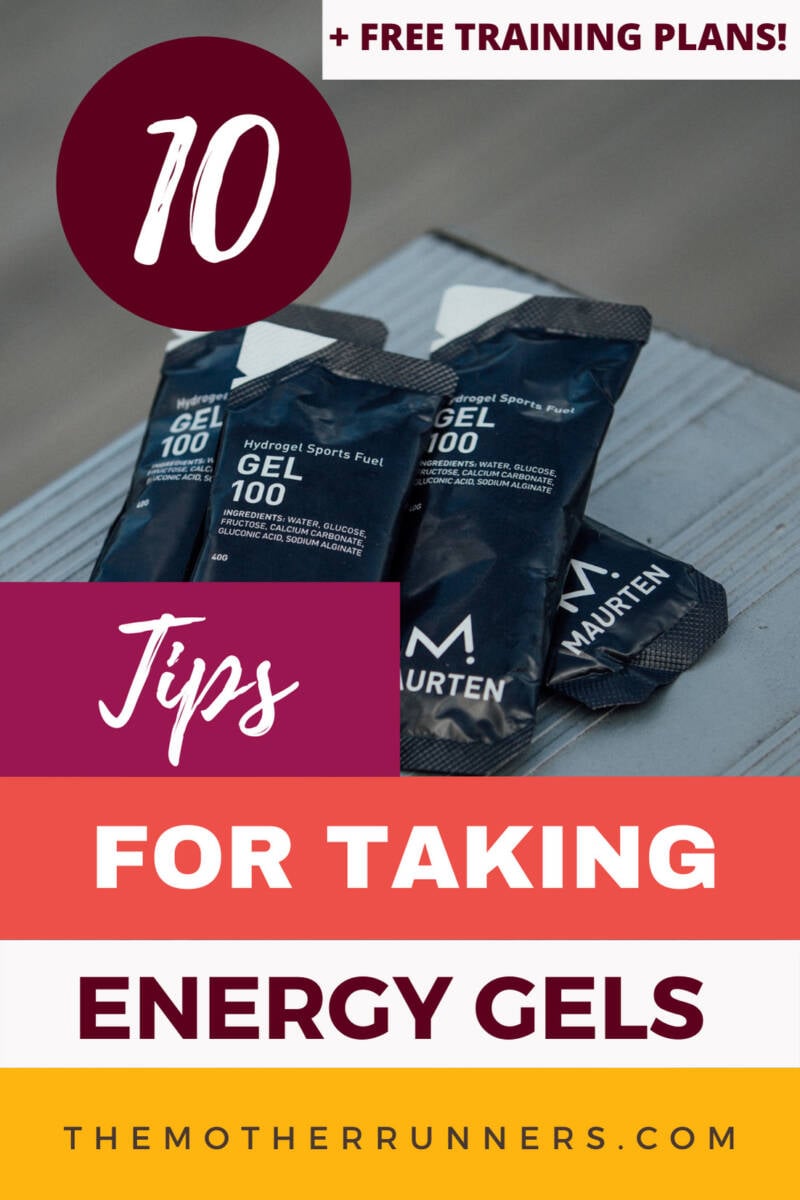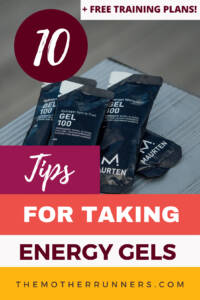 What's your taste: Ask yourself do you like fruit flavors, chocolate, or vanilla? Do you have texture issues? Do you tolerate slimy foods? Sticky? Thick? Syrupy?
Try a selection: Go to your local running store and buy a selection of energy gels to try. Take little sips in your home to narrow down to the ones you like the best.
Give it a go: Next, buy a few of the energy gel brands you like and try them on your next long runs over an hour or workouts. Take with water. Note if they make you feel energized during? Did they sit well in your stomach on the run and after? Were they easy to open and take?
Keep practicing: Once you find the ones you like, keep practicing with them. You may realize you love an energy gel but the package is hard to open when running at race pace. Or maybe your stomach doesn't tolerate it on race day.
Remember, your stomach is a muscle and needs to be trained to digest energy gels while on the move. Aim to get in the groove of taking them every 20-30 minutes on your long runs.
Related: The Scientific Benefits of the Long Run
What are the best energy gels for runners?
I surveyed runners, read reviews and culled all the energy gel brands down to the most popular 3 best energy gels for runners.
Here's the list!
The 3 Best Energy Gels for Runners According to Runners
Maurten Gel 100:
Maurten Gel 100 is by far the most popular energy gel among runners.
It is personally my favorite. It is a hydrogel which means it doesn't need water to be taken. Maurten is utterly tasteless and has a runny jello texture. It boasts some of the quickest absorption rate with some runners saying they feel the boost almost instantly.
No runner reported stomach issues from Maurten gels.
The Maurten Gel 100 has two cons:
it's pricey.
the energy gel package can be tough to open on the run.
Maurten Gel 100 Specs:
Price: $43.20 for a box of 12
Flavors: unflavored
Carbs per serving: 25 grams
Caffeine: caffeinated and non-caffeinated options
Electrolytes: Yes, 85 milligrams of sodium per gel
Sugar source: glucose, fructose
Take with water: no
SIS Energy Gel:
SIS Energy Gels comes in a close second to Maurten. It's another gel that can be taken without water and has an applesauce texture. SIS has some artificial flavoring but is free from dairy, gluten, nuts, animal products, and wheat.
SIS gels come in fruity flavors and go down smooth. They aren't overly sweet, are easy to swallow, and don't cause stomach upset. Runners report feeling a boost about 10 minutes after taking them, though this can vary.
SIS Energy Gel has 2 cons:
Bland flavor
Watery consistency
SIS Energy Gel specs:
Price: $33.00 for a pack of 30
Flavors: orange, lemon and mint, salted strawberry, apple
Carbs per serving: 22 grams
Caffeine: caffeinated and non-caffeinated options
Electrolytes: Yes, up to 500 milligrams of sodium per gel (depending on the gel)
Sugar source: maltodextrin
Take with water: no
Honeystinger Energy Gel:
Runners who take Honeystinger (or just plain old honey packs) swear by it. They love the sweet natural taste and the pureness of it. No mystery here on what it tastes and feels like—Honeystinger is made with organic honey and syrup.
Honeystinger is easy to take and easy on the stomach. Runners say it provides a big energy boost. Honeystinger gels come in several fruit flavors and are free from gluten, soy, nuts, and dairy.
Honeystinger Gels has 2 cons:
Honey flavor overpowers fruit flavor
Sticky
Honeystinger Energy Gel Specs:
Price: From $29.99 for a box of 16
Flavors: Several fruit flavors like fruit smoothie and strawberry kiwi, chocolate, vanilla
Carbs per serving: 24 grams
Caffeine: caffeinated and non-caffeinated options
Electrolytes: Yes, 32 milligrams of sodium per gel
Sugar source: organic honey, organic tapioca syrup
Take with water: yes
HUMA Energy Gel PLUS
Huma Energy Gel PLUS is a unicorn of energy gels. It is all-natural, real food, AND it comes with the electrolytes you need.
This means you don't have to stress about figuring out how many carbs, water, and ELECTROLYTES you need. No messing with sports drinks. Just rely on the gels and water. (Also, no worrying about gels turning into sludge and wrecking your stomach if taken too close to a sports drink).
The biggest con for Huma was:
some people said it caused stomach upset, so try it first!
HUMA Energy Gel specs:
Price: $2.75 for one
Flavors: Four flavors like strawberry banana or chocolate raspberry

Huma gel plus gives you the carbs and electrolytes you need!

Carbs per serving: 25 grams
Caffeine: caffeinated and non-caffeinated options
Electrolytes: Yes, 240 milligrams of sodium per gel
Sugar source: chia seeds, coconut water, sea salt. That's it.
Take with water: yes
HUMA gels were mentioned by runners however for every runner who touted HUMA gels, another said it gave them an upset stomach, reflux, or gas. So, it is not included in my best energy gels for runners lists.
Spring, Clif, and UCAN gels were also somewhat popular.
Not popular? GU energy gels. Many runners said it hurt their stomachs and didn't like the taste.
Related: 3 Proven Ways to Refuel from a Long Run (+ 2 Yummy Recipes
Now, here are some tips to optimize your use of energy gels so you can run your best!
Here are 10 Tips for Taking Energy Gels
Practice with on all your long runs
Make sure you can easily open the package when running race pace.
Ensure you can easily chew and swallow on the run. Use ittle sips if you must.
Ingest with water not electrolyte drinks.
Take them early and often, before you think you need them! (At least every 30 minutes!)
Don't take two energy gels at a time or else you'll wreck your stomach.
Never take it without water unless directed by the brand (like Maurten is a hydrogel that doesn't need water).
Take one at the start line of your marathon to top off glycogen stores!
Mix up the brands to get different energy sources to be easier on the stomach and more effective.
Bring a wet wipe if you hate sticky hands!
If you would like help with your running goals, check out my run coaching services!