The news of the kidnapping and murder of Liza Fletcher, mom of two boys 5 and 7, has rocked the mother runner and running communities. We are heartbroken and angry. And we realize we as female runners need to take our running safety seriously. This is why I am writing this article about GPS tracking running devices and runner safety tech.
Technology can be our friend or foe when it comes to running. Apps like Strava can share personal information making it easy for predators to find you. But apps (like Strava) and GPS watches like Garmin can also make it easy for your loved ones to track you, find you, and call for help.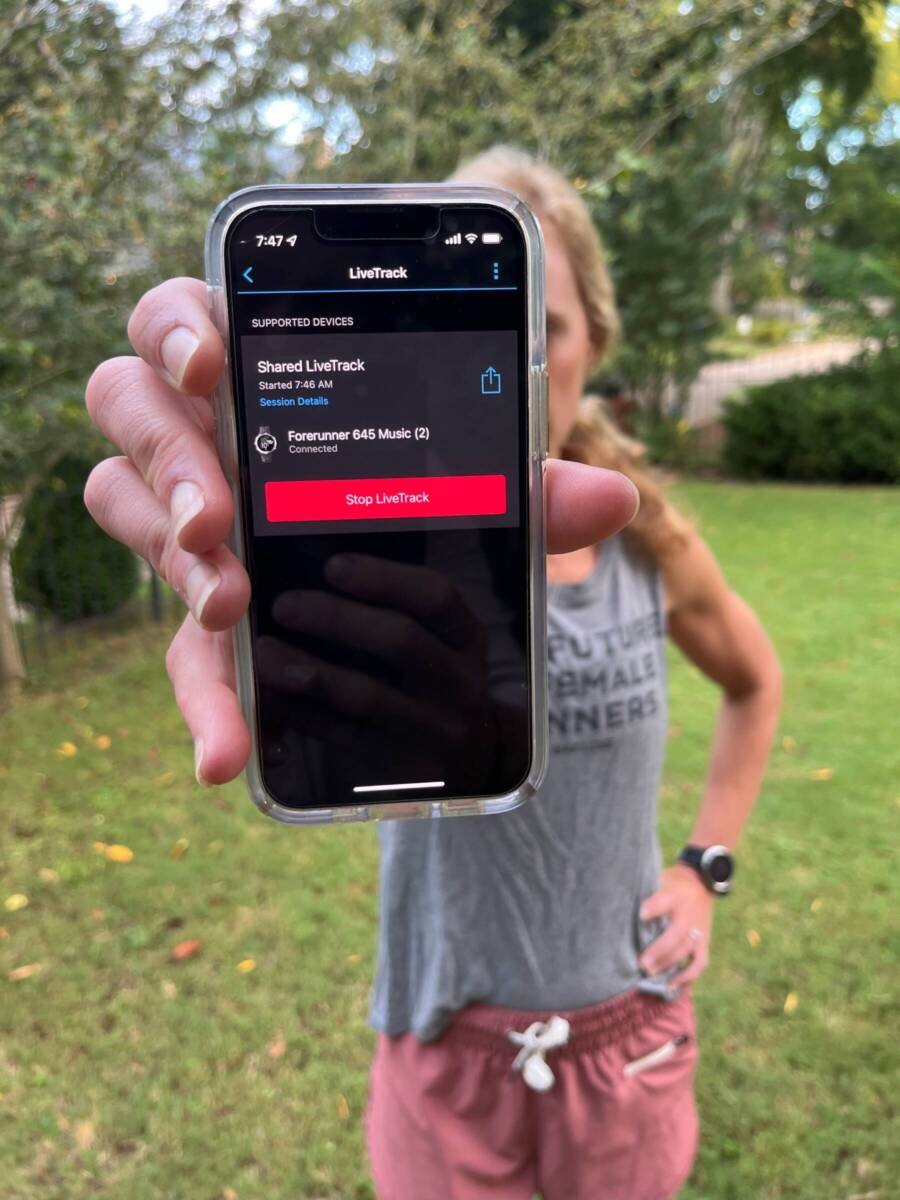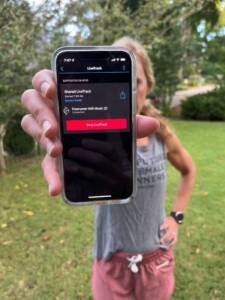 As moms, all we want to do is have time for ourselves, to run carefree. This time makes us better moms, wives, friends, workers, people… It's a sad reality that we cannot run carefree in this world.
Related: Running Safety Tips
Why I'm scared to run alone
Since Liza's murder and the kidnapping of a female runner in my town just a few days later, I am scared to run on my usual running paths. I'm unsure of where I will do my long runs or workouts.
I wish the only thing I had to worry about was finding a flat path to nail my 10-mile steady-state workout on, instead of finding a path where I don't have to worry about being attacked.
But this is the world we live in.
People can easily stand on the outside and tell us that we shouldn't run alone. We shouldn't run in the dark. But for moms, this is often THE ONLY TIME we have to run.
Liza was attacked shortly after 4 a.m. It's not uncommon for moms to run at that time because that is the only way we can have "me time," to get our miles in…the rest of the day we give ourselves to other people. We have kids, jobs, families, friends who need us, and a long list of responsibilities.
Related: How to Become a Morning Runner
Liza typically ran with other people but that Friday morning she had to run solo. (If you can run with a group, do it. Connect to a local running store or track club to find running groups). It can be hard for schedules to align—especially as busy mother runners. She was dedicated and doing what she could to get her training in.
If you have to run alone, you want to:
I have rounded up standard running safety tips here.
This article focuses solely on how to use technology like GPS tracking running watches to keep you safe on the runs.
Specifically, I will cover how to use:
Strava privacy controls and Strava beacon to keep you safe
Garmin GPS tracking technology
Other GPS run tracking technology
Apple Watch and iPhone GPS tracking and technology, plus
GPS tracking tech that you can use without a smartphone
I hope these runner safety tech tips help you stay safe on your runs.
How to Stay Safe on STRAVA
Strava is a popular running app that can be used to enhance your safety when used correctly. However, if you do not pay attention to privacy controls, you can share dangerous personal information with strangers.
Strava defaults to public settings so I urge you to check your privacy settings to only allow followers to see your activities and hide your routes.
To stay safe on Strava: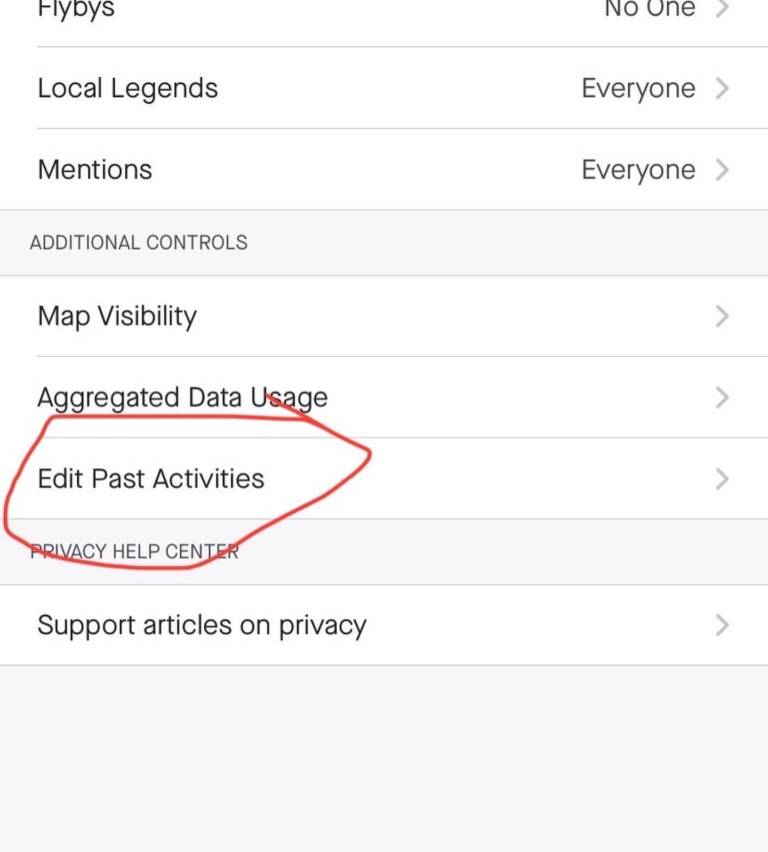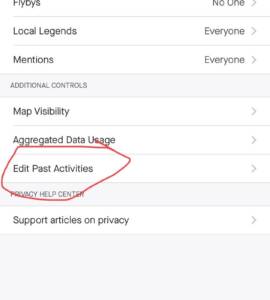 Go to privacy controls and make sure only followers can see your activities.
If you have had to change this feature, go to edit activities and edit past activities.
Hide your start and end points so people cannot see where you live in Map Visibility. You can also completely hide your route there.
Being private will also make Strava ask for your permission for people to follow you. If you have had to change this feature, then you need to go through your followers and have them unfollow you.
Next, turn on Beacon, a safety tracking device, and add safety contacts.
Then turn on Strava and your safety contacts will be notified that you are running and get your real-time location.
If you pay for Strava, you can toggle to connect the Beacon feature to your Garmin so you don't have to start both your Garmin GPS watch and Strava.
Note that your safety contacts will still get your location even if you hide your start and end points on your map. That only shows up after you load your run.
Very important: You need to carry your phone with you for the beacon tracking feature to work. Beacon is available for subscribers on the Strava Apple Watch app on Series 2 and above. Beacon requires a cellular connection so if you have an Apple Watch with cellular connectivity, you can use Beacon without carrying your phone.
How to Use Garmin Safety Features to Stay Safe When Running
Newer Garmin watches offer live track and safety features for you to alert your loved ones of your running location and if you need help.
What Garmin watches have incident detection?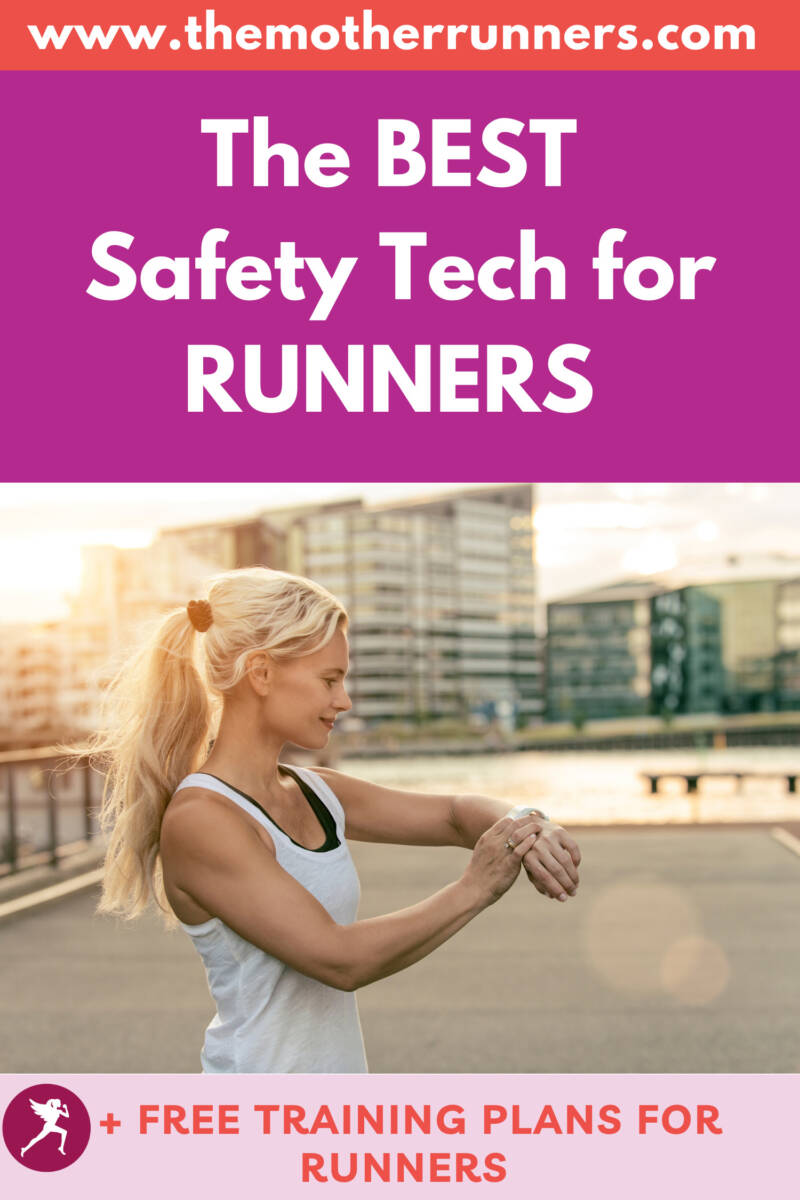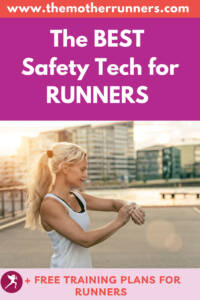 Newer Garmin watches offer incident detection if something strange happens to your data such as heart rate. They also offer the ability to alert safety contacts of an emergency.
The Garmin watches that have incident detection, live tracking, and other safety features include:
vívoactive 3 Music
fēnix 5 Plus Series
Forerunner 645 Music and
Forerunner 945 LTE offers protection without carrying a cell phone
Related: Garmin Metrics Explained
How do Garmin safety features work?
If anything should happen when you're on the go, activating the assistance feature will discreetly send a message with your real-time location to your preloaded chosen contacts.
With incident detection, your device will automatically send a message with your real-time location to your chosen contacts when an incident is detected during an outdoor walk, run, hike or bike activity.
Wi-Fi is not required, but your smartphone will have to be with you and Garmin Connect will have to be running for these smartwatch safety features to work. IMPORTANT: An Apple watch will not enable these features to work. You must have your phone.
Loading Emergency Contacts on Garmin Connect:
Open Garmin Connect on your smartphone

Be sure to input emergency contacts and start your Garmin Live Track if you are going for a run.

Press More (iPhone: bottom right corner; Android smartphone: upper left corner)
Press Contacts
Press the three dots on the top right corner and then choose contacts from your address book or enter their contact information manually
Once you have chosen your contacts, press the back arrow in the top left corner
Go to Safety & Tracking
Click Incident Detection & Assistance
Click Add Emergency Contacts
Your contact list should show up, and you can select up to three emergency contacts
Be sure to sync your watch when you are finished
Turn on Incident Detection
Incident detection will automatically turn on when a user adds emergency contacts to Garmin Connect (and those contacts get synced to the watch)
Turn on Live Track
You also have the option to turn on live tracking. LiveTrack creates a real-time view of your location during an activity, so friends and family can follow along.
From the Garmin Connect app access the menu: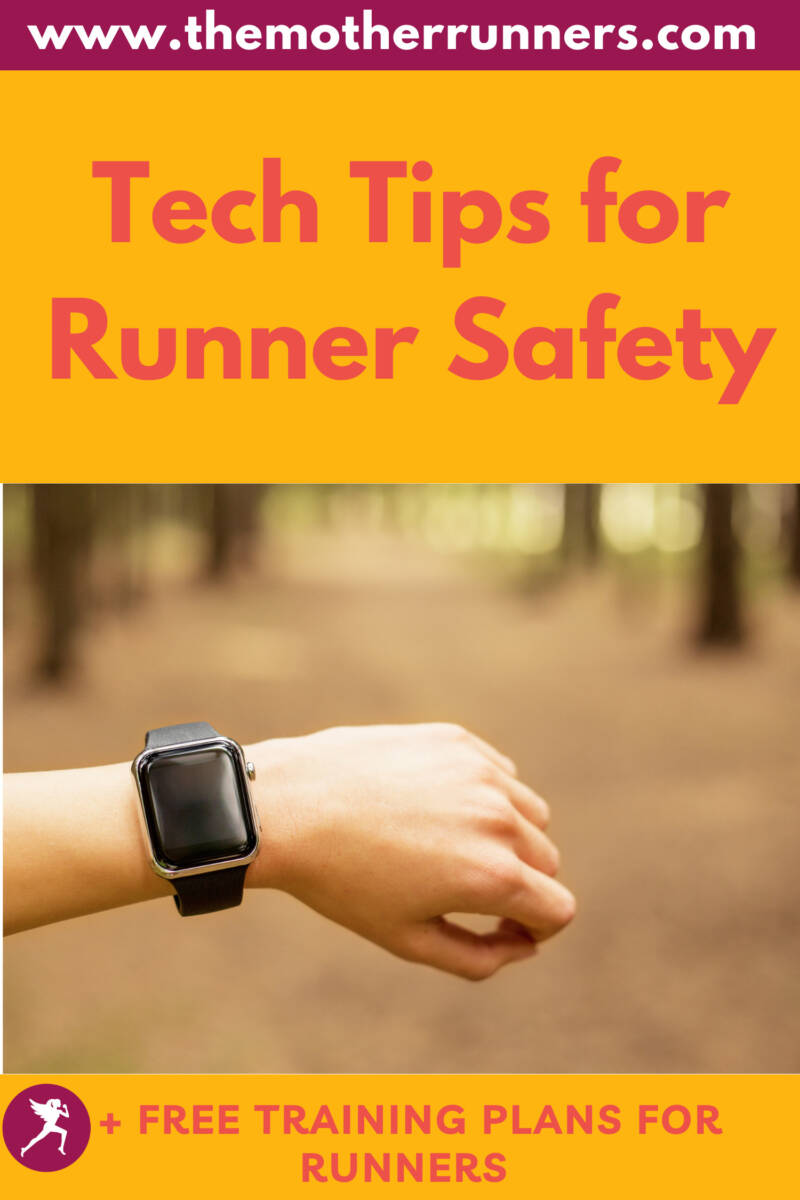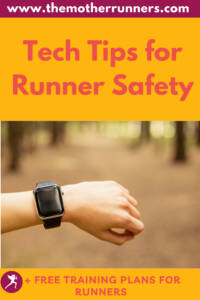 Android: Select (top left).
iOS: Select More (bottom right).
Select Safety and Tracking (if you do not have this option, proceed to step 3).
Select LiveTrack.
If prompted select I Consent. From here, LiveTrack-supported devices will be listed.
Select from the top right.
Select Settings.
Configure each LiveTrack setting. Choose Help from the upper right corner to learn more about each setting.
Email: Add Recipients who will be emailed a link to your location once you start LiveTrack.
You can share a link to your location via text message or other messaging apps by selecting and set it to ping your contacts regularly.
(Android) or
(iOS) from the Supported Devices screen once a LiveTrack session is in progress.
GroupTrack: Share your location with Connections on their map-enabled Garmin devices.
Strava Beacon: For Garmin: Enable Strava Beacon when a LiveTrack session starts.
Twitter: Allow Garmin Connect to send a tweet out through your Twitter handle when you start LiveTrack.
Extend LiveTrack: Keep your LiveTrack session visible for 24 hours after the session ends.
Select the arrow from the upper left corner to exit the Settings menu.
What apps offer GPS tracking without a GPS watch?
Other location-sharing features runners can use via smartphone that don't require an expensive GPS watch include:
Google maps
Find My iPhone
Find My Friends app
iPhone location sharing
Life360 app
Glympse app
ROAD iD app and wearable
MapMyRun app
Runkeeper app, and
Strava app (as mentioned)
Should I run with my phone?
Yes, you should run with your phone. Carrying a phone did not help Liza. It was found near the area she was abducted. However, having a phone gives you a better chance of getting help or being found.
And for most of these GPS tracking devices to work, you need your phone near you.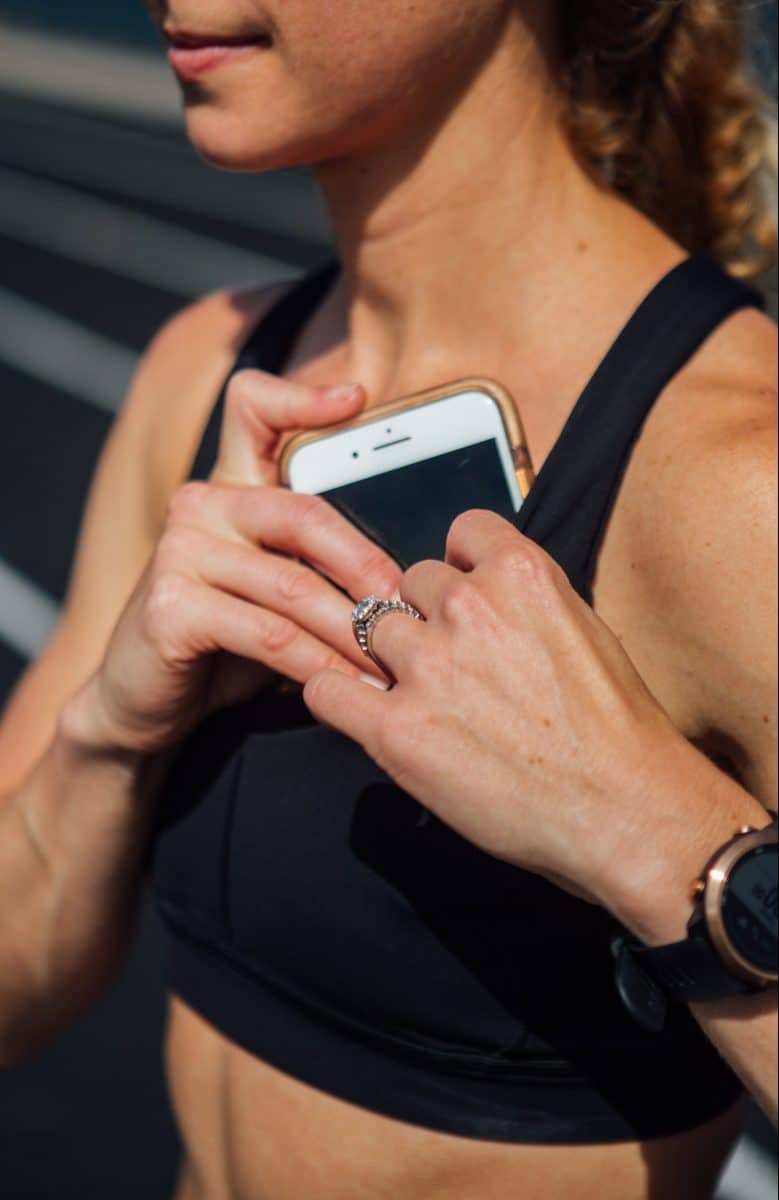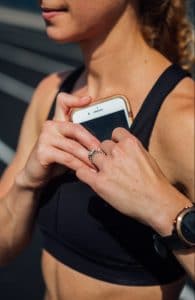 How do I run with my phone?
There are many running sports bras, running shorts, and devices that help you carry your phone when you run.
I list the best attire here and clips here. Two favorites are TitleNine's Runway bra and the Koala clip which clips onto the back of your bra. You can also just stick your phone in the front of your bra (in a ziplock bag if you're going to be sweating) which is what I often do.
Related: Best Sports Bras for Big Busts
How can I use an iPhone to keep me safe while running?
There are many ways you can use an iPhone or smartphone to keep you safe while running.
You can share your location with loved ones before you run via your smartphone.
Via your iPhone or Apple watch, you can ask Siri to call 911 by saying, "Hey Siri, call 911."
On an iPhone, you can also Press and hold the side button and one of the volume buttons until the Emergency SOS slider appears. Drag the Emergency SOS slider to call emergency services. If you continue to hold down the side button and volume button, instead of dragging the slider, a countdown begins and an alert sounds. (Get instructions for Galaxy here.)
An iPhone can help people or police track you via its GPS.
You can use an iPhone to pretend like you are talking to or about to meet someone (or actually call someone) should you be in an uncomfortable situation.
Is there a way to use GPS tracking without a phone?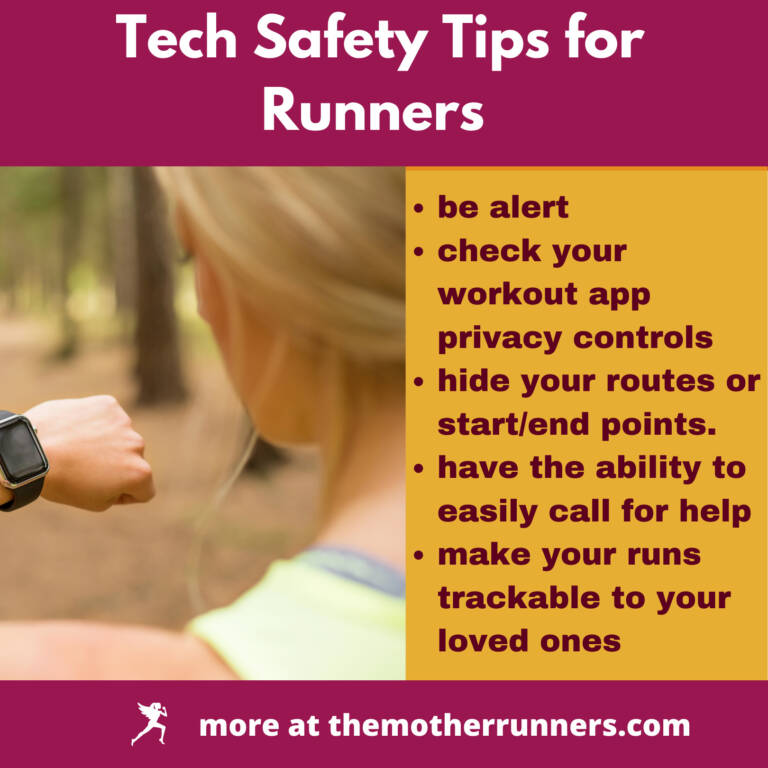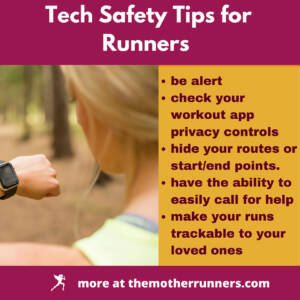 There are a few ways you can use GPS tracking without carrying a phone.
You can enable Strava Beacon on the Strava Apple Watch app on Series 2 and above. Beacon requires a cellular connection so if you have an Apple Watch with cellular connectivity, you can use Beacon without carrying your phone.
You can purchase Garmin's Forerunner 945 LTE, which for about $6 a month, you can access Garmin's safety features such as Live Track GPS and emergency detection without your phone.
You can carry an Apple Air Tag can help people track you should your attacker throw or destroy your phone. It works when near any Bluetooth connection (even your attacker's phone) so it can anonymously send a signal. It needs to be set to lost mode for this to happen. Make sure your loved ones can access your devices.
This is not an exhaustive list of the GPS tracking running devices and technology that can keep you safe, but I hope it is enough to help you. Again, please also read my article with general safety tips and safety tech.
Special thanks to my Instagram followers who helped me put together the safety tactics they use while running.
Please stay safe.
If you want guidance with your run training, check out my run coaching services. Also, be sure to check out my free training plans: