Looking to find the best running stroller for you is almost the same as trying to find the best car. You want it to be safe, go the distance, be comfortable, and fit your lifestyle. It's a commitment—not just for your pocketbook, but for your life.
As a mother runner, having a jogging stroller is a lifeline. It gives you freedom to reconnect with yourself when you've entered a time where everything feels strange and new.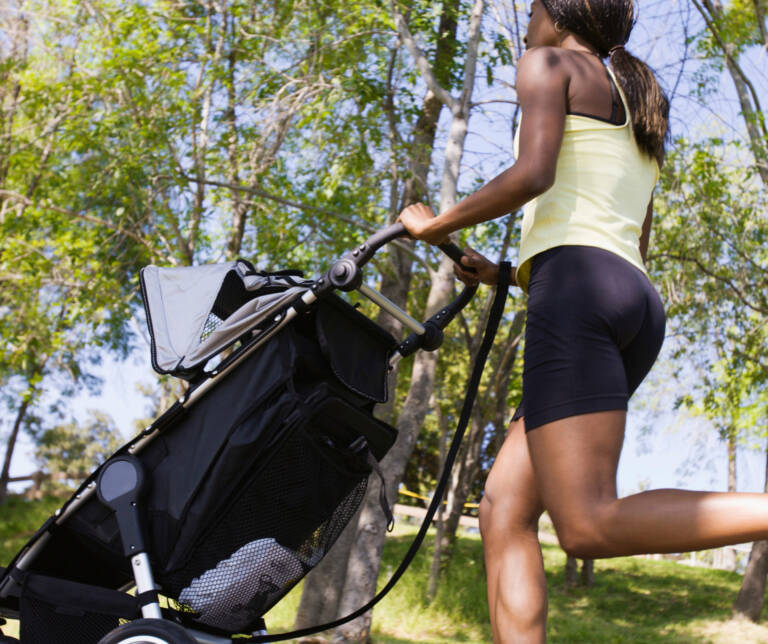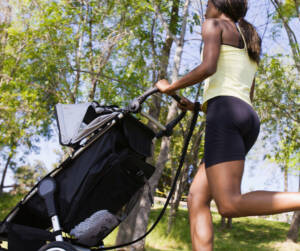 Being able to get outside and be active with my babies was so important for my mental health. It allowed me to feel like myself again and like I had control when I felt completely out of control. It also allowed for valuable bonding time with my babies.
Related: Can Running Help with Postpartum Depression?
How I did this running stroller review
There are a lot of running strollers out there so how can you find the best running stroller for you?
I polled mother runners on my Instagram, then did the research to find the 7 best running strollers in 2023 These best jogging strollers fit different categories for what moms may be looking for, e.g. fast, double, durable, or adaptable.
The below best running strollers are high quality check the boxes for what I was looking for in the following areas: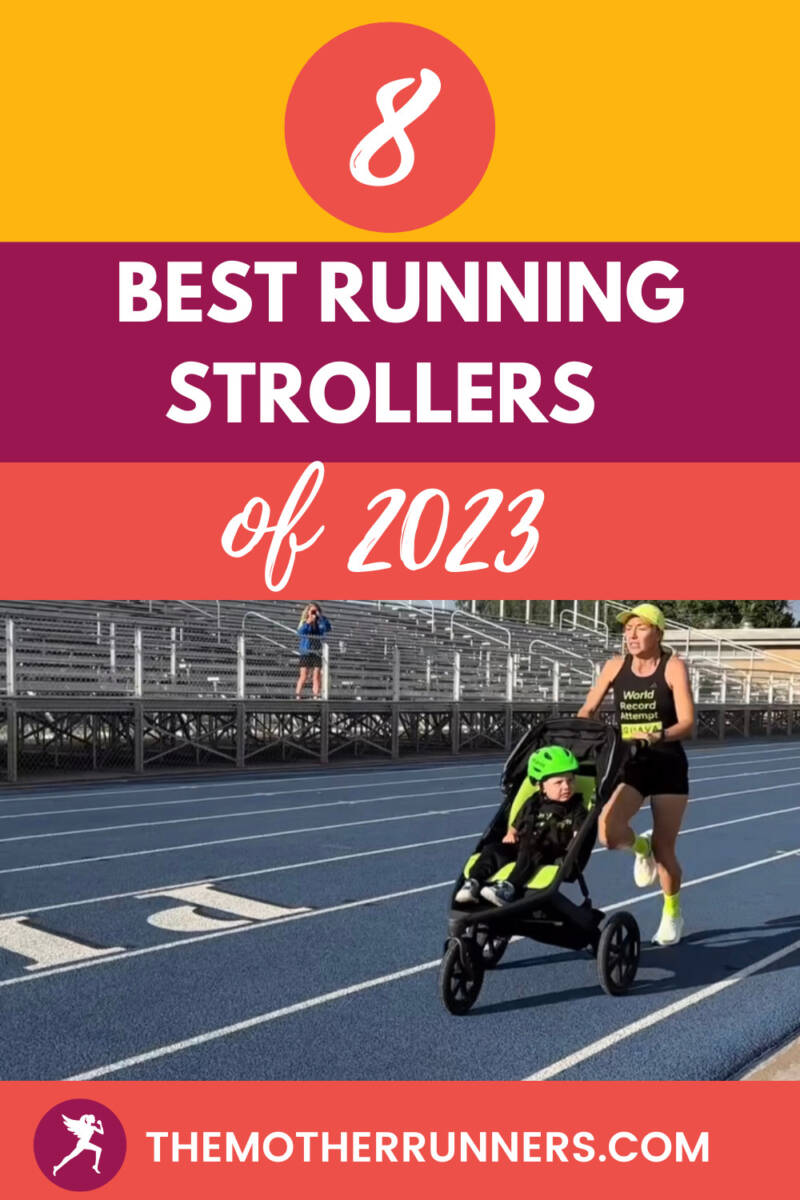 Safety with hand brake, parking brake, anti-tip design, five-point harnesses, and wrist strap
Large storage basket
Front wheels with locking and unlocking options
Adjustable handlebar for comfort
Smooth ride with suspension system, shock absorption and air-filled tires
All-weather gear
All-terrain wheels
Air-filled tires
Option for fixed front wheel with easy front wheel lock
Child trap with cup holders and parent tray
Options for infants (unless noted)
Easy maneuverability
One-handed fold (unless noted)
lightweight strollers (unless noted)
Related: How to Keep Your Toddler Happy in the Running Stroller
We used our single and double Bob strollers for years—buying the double from Craiglist. If you get sticker shock from some of these strollers, I recommend trying to find them used.
Okay, and now, here we go with the list of the 7 best running strollers.
8 Best Running Strollers in 2023
Best Overall: BOB Gear Revolution FLEX 3.0
Best for the mom who plans to use the jogging stroller for a long time
What is the best jogging stroller? You'll hear the name over and over again, Bob. Or, better known as The Bob. The Bob Gear Revolution Flex was the best jogging stroller almost a decade ago when I became a mom—and it still is today.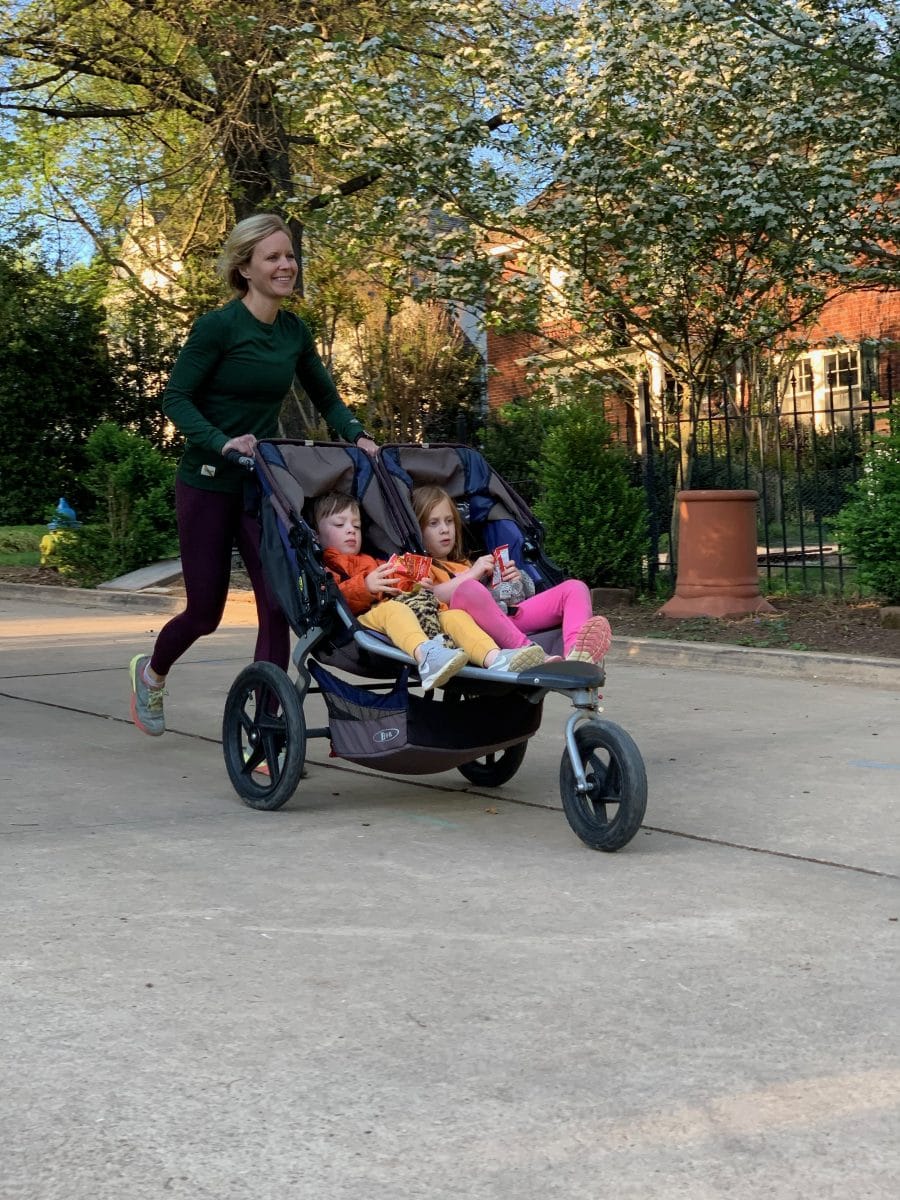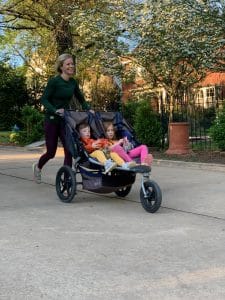 When I asked my Instagram followers what their favorite running stroller was, most answers were The Bob. Why? Because The Bob jogging stroller offers a smooth ride for the kids and parents, its comfortable, has tons of storage, easy to push and steer, sturdy, and has one of the highest weight limits for jogging strollers.
The designers of The Bob Revolution know what kids and parents want. They have a peek-a-boo window in the canopy so parents can see their kids and kids can see their parents. It has a front wheel you can lock when on rocky terrain and unlock so you can steer, lots of pockets, a wrist strap for added security if going down steep hills. It also allows for a car seat to click into it, so you can run with your infant (when your OB and pediatrician give you the green light).
Perhaps one of the best qualities of The Bob is how durable it is. Most families have their Bob running strollers through many kids and then turnaround and sell them second-hand, and those families get the same quality and durability.
Related: 12 Genius Stroller Running Tips
The Bob Revolution Flex 3.0 Pros
Lots of storage
All-terrain and all-weather

The Bob Revolution FLEX 3.0 is the best overall running stroller on the market.

Canopy for shade
Front-locking wheel
Car seat adapter so you can run with infants
Stellar shock-absorption, stability, and suspension system
Durability lasts through many years and many kids!
The Bob Revolution Flex 3.0 Cons
Not easy to collapse
Bulky so may not fit in all cars
Must ensure the car seat adapter is for the right brand of car seat and compatible with the Bob
Price: $550
Also comes in a double stroller option for $680.
Related: How Cold is Too Cold for a Stroller Run?
Best Multi-Sport Running Stroller: Thule Chariot Sport Light
Best for the active mom who likes to bike (and ski) in addition to running
If you're an extra sporty family that wants to bike, and even ski, with their babe—then the Thule Chariot Sport Light is your multisport trailer! Moms recommended it because it is easy to convert to other sports, offers a light and smooth ride, has a great view for the kids, and features lots of room for books and snacks.
Many parents enjoy using the Thule Chariot Sport Light for runs and quickly converting it to a trailer to be pulled by a bike. Users report that it is easy to breakdown and is compact to fit in a car.
Pros:
Spacious

Thule Chariot Sport Light is a smooth multi-sport trailer.

Easy to convert, store and breakdown
Non-adjustable suspension system
Extra-large back wheels for all-terrain
Mesh covering for air flow
Weather shields
Thule Chariot Sport Light Cons:
Doesn't recline but can buy a baby sling

Pin these best running strollers of 2023 for later!

Cannot see through the top
Must buy a jogging kit to convert to a jogging stroller for $120
Price: $720
Related: Your Stroller Running Guide + Expert Tips
Best Hands-free Running Stroller: kidRunner
Best for the mom who wants to run like she's not pushing a stroller
The kidRunner is unlike any stroller you've seen. I'm not even sure you can call it a stroller because it clips in the back via a harness so you pull your kiddos like they're in a sleigh (yes, making you the dog.)
Lyndy Davis, a two-time Olympic Trials Qualifier, says that she couldn't feel her child behind her at all, and that it is much easier on the back than a traditional stroller. "I want to be the mom who chases her dreams. Luckily, I found a stroller that lets me do that," she said.
There are major perks to the kidRunner. The biggest perk is that it simulates running without a stroller the best since you're hands are free. This allows you to do speedwork (though it will still need to be adjusted since you are still pulling a load). Moms say their kids stay in the kidRunner longer than regular running strollers.
However, there are drawbacks. It can be hard to find the right balance, putting you at risk for back pain if you get it wrong. You also can't see your kids, stopping and handing them things isn't easy, it's hard to hear them, and also hard to steer.
kidRunner pros:
Hands-free running
Child can see you
Spacious compartment for kiddos

kidRunner is hands-down the best hands-free jogging stroller option.

Users say kids stay in it longer
Best for speedwork
All weather cover
Great customer service
Best for moms with 3 young kids (can push two and pull one)
kidRunner Cons:
No sunshade so can get hot
Difficult to find the right balance
Can hurt your low back if not balanced correctly
Wide with a long yoke, so hard to turn with it
Can't see your little ones easily
Doesn't fit in most cars
Cannot run with babies under 6 months since there is no car seat adapter option
Price: $675
Related: Teach Your Kids to Ride a Bike While You Run
Most Versatile: Guava Roam Jogging Stroller
Best for the mom who wants to take her kiddo on lots of adventures
Neely Gracey set her stroller mile record in a 5:24 using the Guava Roam Stroller, so there's that. This stroller packs up easily, fits into small spaces like the trunk of your car, and is easy to travel with. It is one of the most compact running strollers on the market, folding up to half its size and features a lightweight aluminum frame weighing only 25 pounds. The Roam Stroller also comes with a parent tray that can hold your personal items like a phone or keys. These key features make the Roam stroller an ideal travel stroller for trips to the beach, zoo, or park.
I name the Guava Roam most versatile because while it is a speedy jogger, it's also so easy to collapse and pack, that it will be your go-to stroller for anything. The Guava stroller also features a swing-arm-style suspension and all-terrain, airless bike tires, which move independently over bumps, making it the ultimate smooth ride even on uneven surfaces and at higher speeds.
The Guava Roam has a weight limit of up to 60 pounds and can fit car seats with infant car seat adapters.
Guava Roam Jogging Stroller Pros:
Guava 3D Fold Technology™ makes it am easy and compact fold

Neely Gracey set the world record for the stroller mile in a time of 5:24 using the Guava Roam stroller. Credit: Dane Cronin

Lock or unlock the front wheel from the handlebar for quick transitions between walking & running.
Airless, rubber tires keep you rolling without worrying about flats.
High performance stroller but also good as an everyday stroller
All-terrain ready independent suspension for a smooth ride over rougher trails
Recline option
Parent tray
Sunshade
Removable, washable padded seat insert
Can use a car seat adapter with it
60 day free trial
Guava Roam Jogging Stroller Cons:
narrow so doesn't maneuver side to side as easily as other wider models
comes in black unless you choose color pack for extra $95
airless tires do make the ride a little more bumpy so for an infant is best to stay on sidewalks and paved bike paths
Price: $549 marked down from $649
Speediest: Thule Urban Glide 2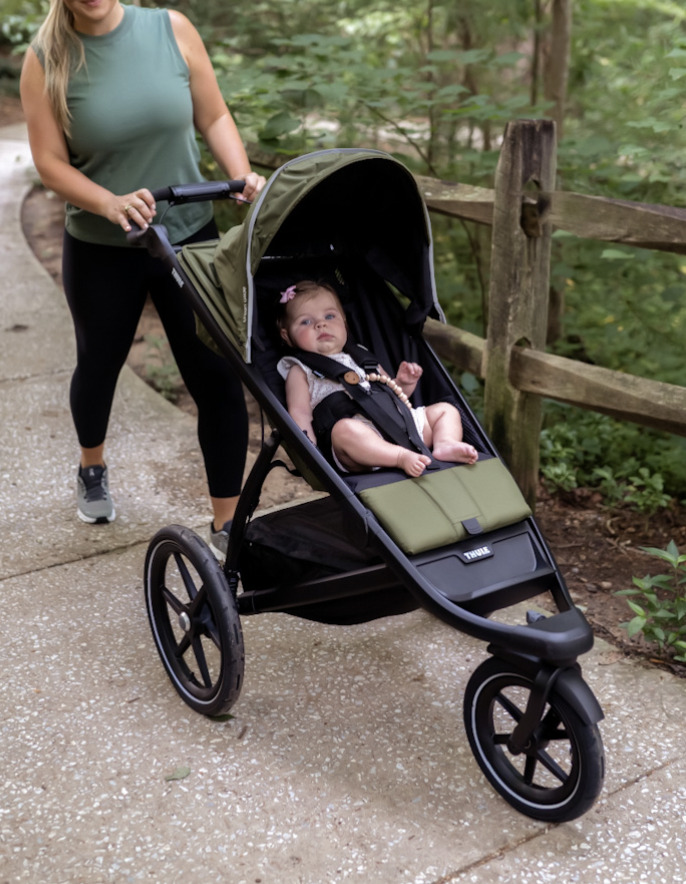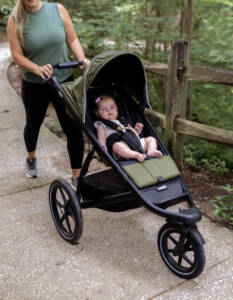 Best for the mom who wants to GO FAST
I watched a mom run a 5k at a sub-6 minutes pace pushing a stroller. Obviously, I had to ask her about her running stroller. She said she is obsessed with the Thule Urban Glide 2. Indeed, when I asked The Mother Runner Instagram nation for their favorite running stroller, many named the Thule Urban Glide 2 citing its near weightless ride, maneuverability, and amazing customer service.
According to Katie, "the front wheel on my first one wasn't functioning properly after about 1,000 miles and they sent me a brand new one no questions asked!" Indeed, reviews do note trouble with the front wheel, so keep on the lookout for that if you purchase this stroller. Keep your proof of purchase for ease.
Other users say the Thule Urban Glide 2 is easy to collapse, pack, and feels snug and safe for babies and toddlers.
Thule Urban Glide 2 Pros:
Lightweight with an ultra-smooth ride
Urban Glide Bassinet attachment so you can run with your infant
Great customer service
All-terrain
Ergonomic for comfort of adult pushing it
Compact making it easy for city walking to trail running
Easy to collapse with a single hand
Thule Urban Glide 2 Cons:
Reviewers note that the front wheel can become loose
Other reviewers citing it being delivered broken or breaking early in use
Price: $520
Also comes in a double stroller option for $680.
Related: How to Start Running Postpartum
Best Adaptive Stroller for Bigger Kids: Benecykl Freedom Pushchair
Best for the mom who needs to push bigger kids and special needs kids
The Benecykl Freedom Pushchair is a multi-sport trailer and adaptive stroller that easily attaches to a bike. It's reclined and spacious for long legs, making it perfect for bigger kids up to 170 pounds (!). One look and it will remind you of the wheelchair pros you see at races. It's snazzy and fast looking.
It also continues as a smooth ride despite the weight or size of your kiddo. Users say it's incredibly durable and easily convertible. It even comes with kits for skiing and the beach! It's especially designed for special needs children.
Benecykl Freedom Pushchair Pros:
Smooth ride
Ultra-safe
Comes with a mosquito net, rain cover, canopy, and backpack

Benecykl Freedom Pushchair is great for big kids and kids with special needs.

Padded headrest and side rests
Swivel wheel
Accommodates up to 170 pounds and 6 feet 2 inches!
Easily convertible as a trailer or adaptive stroller
Benecykl Freedom Pushchair Cons:
Expensive!
Heavy, weighing in at 40 pounds
Not easily collapsible or compact
Not suitable for running with young infants
Takes several weeks or months to be shipped
Price: starting at $3,600
Best Budget Running Stroller: Mountain Buggy Terrain Active Stroller
Best for the mom who doesn't want to spend a lot on a running stroller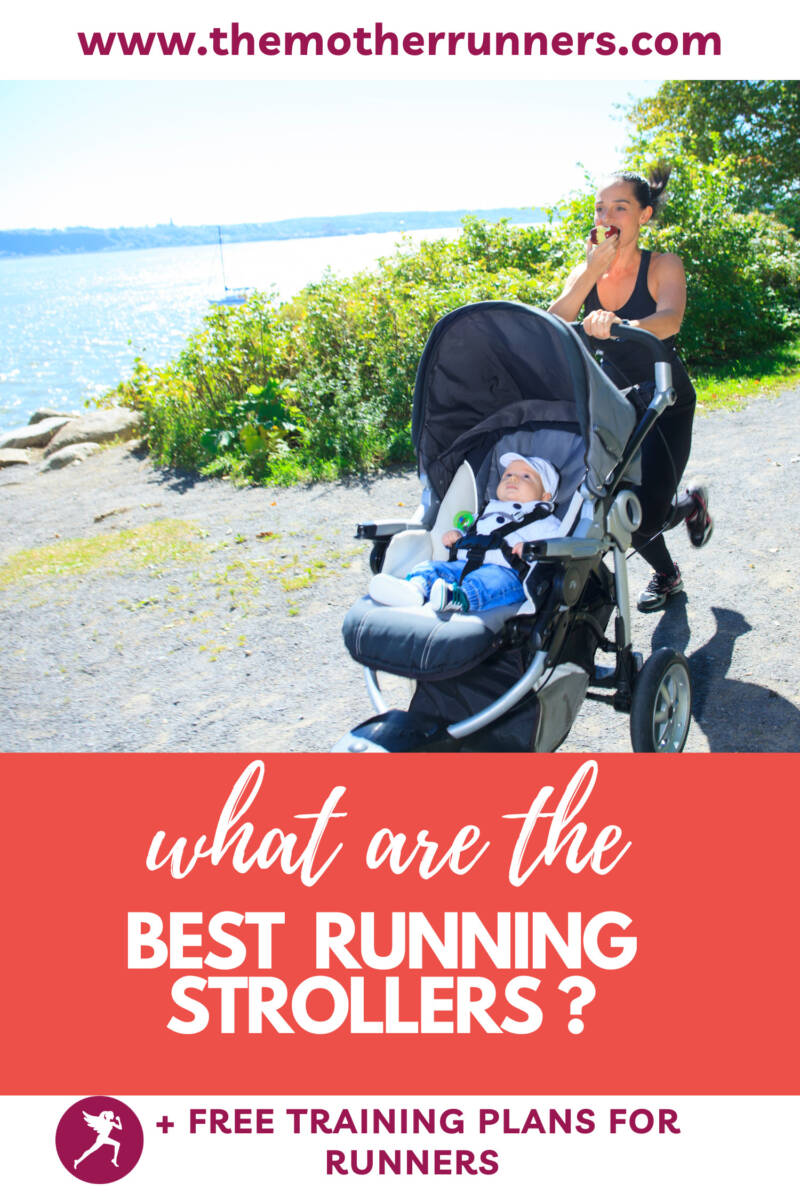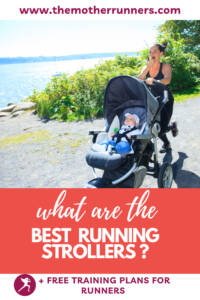 The Mountain Buggy Terrain Active Stroller comes in more than a hundred dollars less than its competitors but is easy to maneuver, safe, and can handle rough terrain. The Mountain Buggy Terrain Active Stroller offers the all-terrain ride a mountain bike would demand—even for infants. This stroller comes with a soothing fabric sling seat for tiny ones and good kerb pop even as your kids get heavier.
It's much more compact than its competitors (like the Bob) which is a plus (but that also means less storage and a smaller canopy). Like the Thule, this jogging stroller can be collapsed by one hand.
The Mountain Buggy has cute print options and the ability for a stroller board to be added for older children to hop on the back. It's also lightweight, weighing five pounds less than the BOB and three pounds less than the Thule (20 pounds).
Mountain Buggy Terrain Active Stroller Pros
Smooth, all-terrain ride
Good maneuverability and kerb pop
Inexpensive, especially for the quality
Mountain Buggy Terrain Active Stroller Cons
Smaller than the Bob with less space and storage
Some users cite it's not as durable as its main competitors
Price: $440
Related: Benefits of Stroller Running
Best Double Stroller: Phil & Ted's Sporty Inline
Best for the mom with lots of little kids
There's no way around it. Pushing a double stroller is HARD WORK. But Phil & Ted's Sporty Inline double stroller makes it as easy as possible by taking the load off.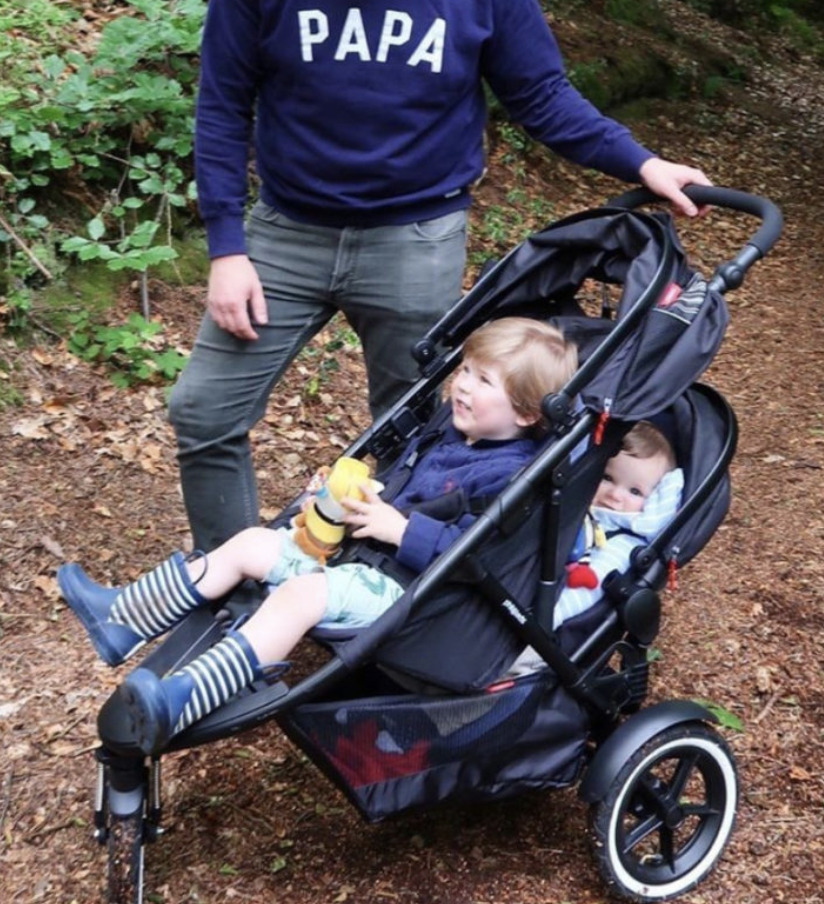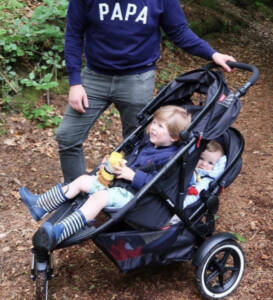 This double stroller is the only inline running stroller—meaning it can convert to a double stroller from a single. In fact, this double stroller boasts going through our many phases of motherhood life. It can accommodate an infant, a toddler, an infant and toddler, and two toddlers (with a step-up board on the back). It's easy to maneuver, can go off-road, and weighs much less than its double stroller competitors—clocking in at 26 pounds versus 30+ pounds of others on the market.
Mother runners also rave about Phil and Ted's customer service. Bear in mind though it has a weight capacity of 44 pounds and is recommended for ages zero to five. Mother runners who are city slickers loved how sleek Phil and Ted's stroller is, not taking up sidewalks, and how easy it is to collapse.
Related: How to Train for a Race with a Running Stroller
Phil and Ted's Sporty Inline Pros:
Offers many riding options for different ages and stages of life
Easy to stand and pack away
Air-filled tires and ultra smooth ride
Roomy and tall seat
UPF50 sun shade with peekaboo window
Phil and Ted's Sporty Inline Cons:
Stroller is only usable for smaller kids with a weight capacity of only 44 pounds.
Price: $490
If you want guidance with your running or marathon goals, check out my run coaching services. Also, be sure to check out my free training plans: