UPDATED March 20, 2023: (Editor's note: Friends, three times now I have had to update this list due to marathons becoming disorganized. This list is updated replacing the Albany Marathon in Georgia with the beautiful Bayshore Marathon in Michigan. This year, Albany ended up being more than 27 miles–breaking the hearts of many would-be Boston Qualifiers…) Okay, so now I feel satisfied with those list of eight fast marathons in the spring to help you nab that marathon PR or BQ marathon time.
When it comes to marathons, I don't want to mess around with a slow marathon course. I want the flattest and fastest marathon course I can find. You'd think that would be easy to come by—but it's actually not! Especially in the spring. But I've done by research to find the fastest U.S. marathons in the spring.
Why I researched the fastest spring marathons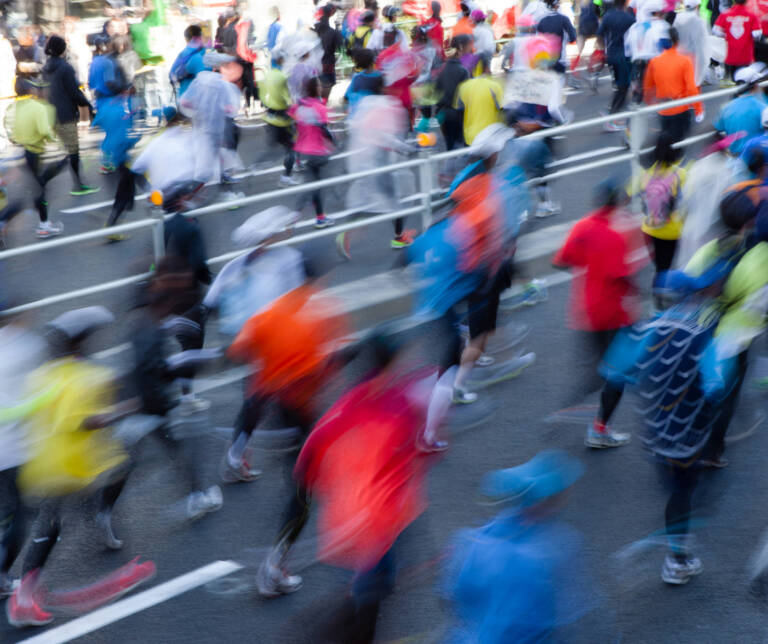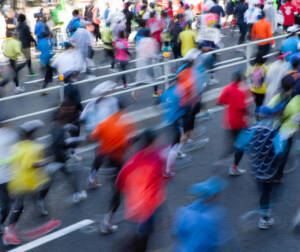 After running the California International Marathon this year, one of the fastest marathon courses in the country with about one-third of runners qualifying for the Boston Marathon, I wanted to keep going on chipping away my marathon time.
Related: My Experience Running the CIM Marathon
I lined up in Folsom, California, after being out of the sport for 2.5 years with injuries, ready to run a sub 2:50 marathon. However, my legs said "not today, Whitney!" and locked up at mile 16 and I ran a 2:58.
Related: How to Get Over a Bad Race
After I licked my wounds, I started plotting for the next one. I'm not interested in running famous or pretty marathons at this point. I'm not rushing to sign up for the majors, including the Boston Marathon. While I still can, I want to see how fast a marathon time I can get.
Unfortunately, there aren't a ton of fast and flat spring marathons in the U.S. Maybe it's because winter running is grueling?
Related: How to Run in the Cold
So, the best marathons are in the fall? And, if you want a shot at running a fast marathon time or nabbing a Boston Qualifier, you need to run your race before June in most parts of the country because otherwise it gets too hot. Your body has to work harder to keep itself cool which slows your running pace. When temps creep above 59 degrees is when this begins to happen.
Related: The Benefits of Running in Hot Weather
There are several spring marathons that are fast and flat. I share the fastest and flattest marathons that give you a good shot at a BQ below.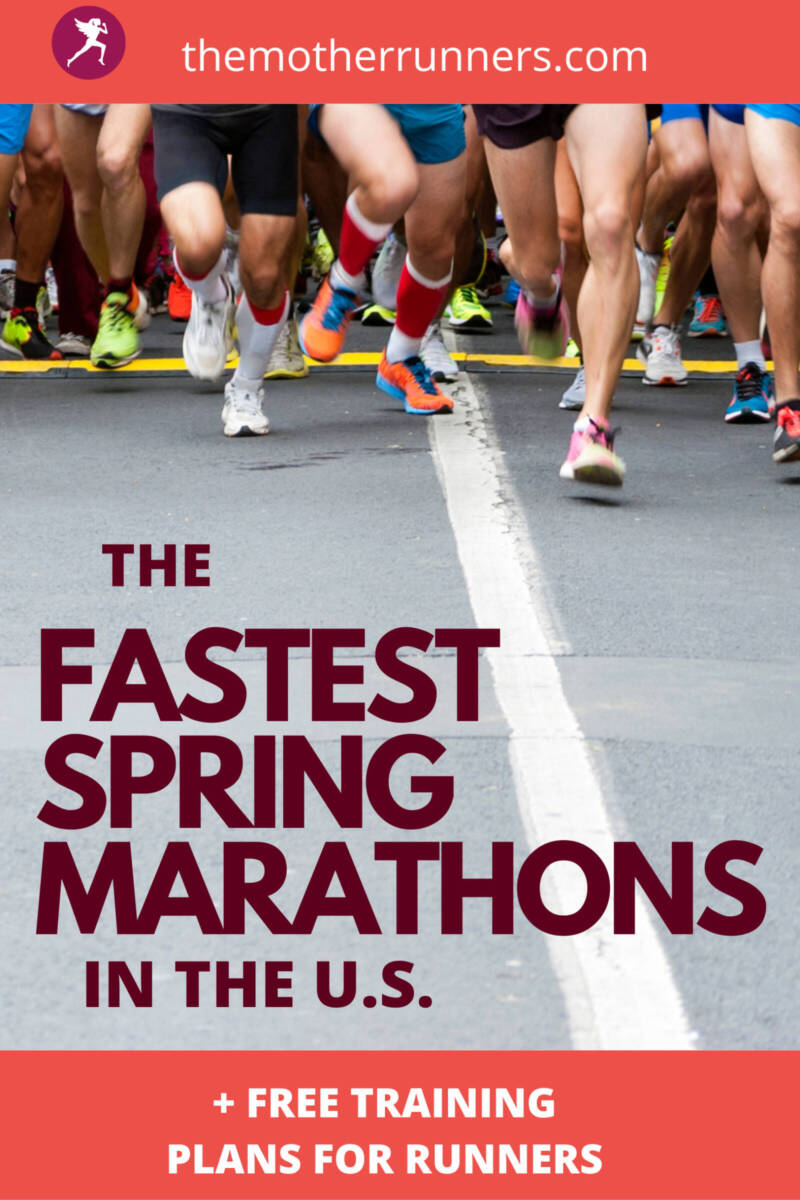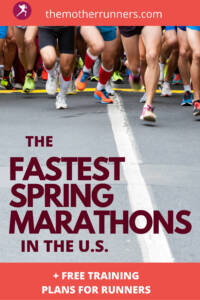 Criteria I looked for to find these fastest marathons included:
Reputation
Organization
Elevation
Boston qualifier percentage
Number of course turns
Weather
I don't want you wasting time on marathons that are poorly organized or have a ton of turns that can add time. I also include spring marathons all over the country because maybe you're like me, and don't want to travel too far away from the family.
Related: How to Adapt to Racing in Bad Weather
After CIM, my husband and I were like—yeah, let's pick a close one that maybe even the kids can come to next time.
Before I get to the fast marathons in the spring list, check out my Best Spring Half-Marathons and Spring Marathons list for some fun marathon courses and experiences if that's your thing!
Okay, let's roll!
Related: Smart Racing Strategies from a Pro
8 Fastest Marathons in the Spring in the U.S.
1. Woodlands Marathon
Woodlands Marathon Description: Okay, so the Woodlands Marathon is technically in winter, but because it is warm in the heart of Texas, I am including it on the fast Spring Marathons list.
The Woodlands Marathon is the fastest course in Texas, one the top 25th fastest courses in the country, and qualifies close to 11 percent of its registered runners for the Boston Marathon.
The Woodlands marathon course traverses the streets of Town Center and the community on a pretty flat course, finishing on the scenic The Woodlands Waterway. There are several "cheer zones" to keep you motivated.
Past runners say it is a fast and flat course. However, I will say that race distance was miscalculated in one year. So keep that in mind.
Location: Woodlands, TX
Date: Feb. 25, 2023
BQ percentage: 11 percent
Weather: High is 67 degrees and low is 46 degrees. It rains just 5 days in the month of February on average.
Course: This course consists of a few loops and does have rolling hills throughout.
Elevation: Starts at 175 feet and ends at 220 feet. Net elevation gain of 472 feet.Read more about the course here.
Pros: Fast with great crowd support. Best weather you can find in a fast, flat spring marathon in February!
Cons: Quite a bit of turns on the course so be sure to run the tangents. Not a huge Boston qualifier marathon compared to some of the others on this list. Also, even though it isn't that hot most years, it is almost always HUMID.
2. Myrtle Beach Marathon
Myrtle Beach Marathon description: This race runs through the main streets of Myrtle Beach with part of it along the coast itself. Runners like the view of the ocean and the sea breeze. There isn't a lot of crowd support throughout the race and some said it wasn't well organized. For example, pedestrians ran in front of some runners and aid stations ran out of fluids later on in the race when the temps climbed into the high 60s.
Location: Myrtle Beach, SC
Date: March 4, 2023
BQ percentage: 12.3 percent
Weather: High is 65 degrees and the low is 47 degrees. It rains on average 5 days in March. Slight sea breeze.
Course: Marathon course is a loop with few turns. A few miles in the middle run along the coastline. The course runs from Market Common, all the way up Ocean Boulevard to the Dunes section of Myrtle Beach. Runners will see the Myrtle Beach SkyWheel and Boardwalk, beachfront hotels and Thunderbolt Park.
Elevation: Starts at 5 feet, maxes at 32 feet with a net gain of 522 feet. See the marathon course details here.
Pros: You're at the beach! The course is fast and flat.
Cons: Weather can be hot and humid as the race progresses, little crowd support throughout the course, and some said the race was not well-organized in years past. Not a huge BQ marathon compared to the others.
Related: What to Wear for Running in the Rain
Related: Make Running a Habit in 2023
3. Carmel Marathon
Carmel Marathon description: The Carmel Marathon is an extremely well-organized event with a great finisher's medal, a nice race expo and packet pick-up, and supportive volunteers. The first half of the race is primarily downhill. I would love to run this race again in better weather. The course is scenic running past large homes with beautiful landscaping and plenty of volunteers and spectators. The Carmel Marathon is the 34th largest marathon in the US, with more than 29 percent of runners crossing the finish line as Boston Qualifiers.
The Carmel Marathon is on my list for 2023 spring marathons!
Location: Carmel, Indiana
Date: April 8, 2023
BQ percentage: 20.9 percent
Weather: High of 63 degrees and low of 41 degrees. Rains 9 days in the month of April.
Course: Slightly rolling but fast and scenic with less than 400-foot elevation change over the entire distance.
Elevation: Elevation starts at 739 feet and maxes out at 880 feet with less than 400 feet of elevation change. See the marathon course details here.
Pros: Great chance of PR on this fast and scenic course with lots of support.
Cons: You could be running in snow!
Related: How to Run in the Snow
4. Colorado Marathon
Colorado Marathon Description: The Colorado Marathon is one of the best marathons to qualify for the Boston Marathon because of our downhill course. The gradual decline in elevation gives runners a fast advantage that not many other Boston qualifier races provide. Between 16 to 18 percent of runners get a BQ. The course is mostly scenic and goes down the Poudre River Canyon in northern Colorado. Read more about the Mountains 2 Beach marathon BQ course here.
Location: Ft. Collins, Colorado

Pin these fastest marathons in the US for later.

Date: May 7, 2023
BQ percentage: 16 percent
Weather: The high is 62 and the average low is 35. It rains 4 days on average in April.
Course: Marathon course is a point-to-point, steady downhill, starting at about 6,000 feet elevation. "This is high-altitude territory, and we want each participant to be prepared mentally and physically, even though there is a steady decline in elevation throughout the course," reads the race site.
Elevation: Starts at 6,113 feet and ends at 4,969 feet for a net elevation loss of about 1,238 feet. Read more about the course here.
Pros: This is a beautiful course with a net downhill elevation.
Cons: This is a high-altitude course so if you aren't accustomed to running at elevation, your performance could be negatively impacted. Also, you have to take a bus up to the start since it is point and point, and there have been delays in the past.
Related: How to Get Over the Marathon Wall
5. Mountains 2 Beach Marathon
Mountains 2 Beach Marathon Description: The Mountains 2 Beach Marathon has a loop for the first 7 miles around the picturesque town of Ojai where orange groves are on your right and mountains are on your left. The course then takes you on scenic bike paths. The net downhill is noticeable and may impact some runners' quads who do not train on downhills.
Location: Ojai, California
Date: May 21, 2023
BQ percentage: 19.9 percent
Weather: The average high is 78 degrees and low is 48 degrees. It rains just one day on average in May.
Course: This marathon is a point-to-point net downhill, scenic, course.
Elevation: The elevation starts at just over 700 ft. and gradually descends to sea-level over 22 miles for a net downhill of just over 700 feet. Yet it is still a Boston Qualifying marathon course!
Pros: Net downhill makes it lightning-fast BQ course, and the course is gorgeous throughout.
Cons: There was a massive disorganization in 2022 that had many runners warning you to stay away from this race. Also, if you don't train on downhills, it could rip up your quads.
6. Eugene Marathon
Eugene Marathon description: The Eugene Marathon event was once dubbed the "perfect race" by Runner's World magazine. It is known for being a flat and FAST route that passes through beautiful parks and tree-lined paths which crisscross the picturesque Willamette River.
Participants run in the footsteps of legends like Steve Prefontaine, Raevyn Rogers, and Ashton Eaton as they experience 26.2 magical miles of Track Town USA. The course takes runners through Alton Baker Park, past Valley River Center to the Owosso Footbridge where they start the return journey to the finish. The final miles of the Marathon course run along the Willamette River and feature Eugene's new Downtown Riverfront Park.
Location: Eugene, OR
Date: April 30, 2023
BQ percentage: 26.2 percent
Weather: The average high is 61 and low is 41 degrees. It rains on average of 11 days in the month of April in Eugene.
Course: This flat and fast course takes you through Track Town, USA starting at the running mecca of the University of Oregon, going through footpaths and bridges, and running next to the Willamette River. It's scenic and inspiring.
Elevation: Max elevation for this marathon is 538 feet and the minimum elevation in 395 feet. There is a gain of 496 feet and a loss of 502 feet. Read more about the Eugene Marathon BQ marathon course here.
Pros: This is one of the flattest courses in the US! It is well-supported so you will likely never run alone, having plenty of runners, volunteers, or runners around you.
Cons: It could be raining.
Related: How to Set Running Goals
7. Bayshore Marathon
Bayshore Marathon Description: The Bayshore Marathon has a near cult following with those who run it, falling in love, and making it a yearly Memorial Day tradition. The flat marathon course runs along the scenic shores of the Grand Traverse Bay. The course winds through neighborhoods, offering up great crowd support, bands, and flowering trees. (Amanda over at Run To The Finish has a great overview here.)
Location: Traverse City, MI

Pin these 8 fastest spring marathons for later!

Date: May 27, 2023
BQ percentage: Exact percentage not known but Boston calls Bayshore a top Boston qualifying marathon.
Weather: The average high is 69 and low is 45 degrees. It rains on average of 11 days in the month of May in Traverse City.
Course: This flat and fast, out-and-back, course takes you along the shores of the bay and through neighborhoods. On one side of you are the shimmering blue waters of Lake Michigan. On the other side are gorgeous flowering cherry trees and orchards.

The course begins on the campus of Northwestern Michigan College. (Beware, if you are doing the half marathon, it begins with a steep up and down hill before flattening out).

Elevation: Max elevation for this marathon is 424 feet with a net gain of zero elevation! See the Bayshore Marathon elevation map here.
Pros: This course is beautiful, flat, and well-organized, with great crowd support. The finish line is complete with ice cream and homemade cookies. Overall, the race has a hometown, comfortable, and warm feel.
Cons: They keep this race small so it sells out quickly.
8. Grandma's MarathonGrandma's Marathon
Grandma's Marathon Description: The Grandma's Marathon is one of the most popular destination marathons because of its speed, scenery, and organization. About 9,000 runners line up in this midwestern town for one of the best marathons in the country. Runners rave about the beauty, organization, crowd support, and gently rolling course.
Location: Duluth, MN
Date: June, 17, 2023
BQ percentage: 17.2 percent
Weather: The average high of 66 degrees and the low is 49 degrees. It rains 6 days in the month of June on average.
Course: This spring BQ marathon is a "wonderful combination of serenity and excitement" running alongside Lake Superior's quiet and scenic shores. Then it enters the city limits of Duluth where runners are encouraged by lines of cheering, crazy fans.
Elevation: Grandma's Marathon starts at 740 feet elevation and ends at 610 feet. It is a fast, rolling flat course. One reviewer says, "there are no big hills along the route, but plenty of gradual, rolling hill sections. Lemon Drop Hill at mile 22 is as hilly as the course gets, and it is quite manageable." Read more about this BQ course here.
Pros: Well organized, scenic, supported, and lightning fast.
Cons: Duluth can be hard to get to! Overall, I did not find any complaints about the organization.
(Honorable Mention Fast Marathon) Oak Ridge to Kingston Express Marathon
Oak Ridge to Kingston Marathon description: I am including this local (to me) race for those who only care about a FAST MARATHON TIME. This no-frills race is primarily targeted to those seeking a Boston Marathon qualifying time or half marathon performance indicator. You are encouraged to only participate if you think you will meet the Boston Marathon qualifying standards. The participant cap is only fifty people! But 85 percent of those runners qualify for Boston on this flat (for East Tennessee) out-and-back course.
Location: Oak Ridge, TN near Knoxville
Date: March 5, 2023
BQ percentage: 85 percent
Weather: High is 63 degrees and the low is 40 degrees. It rains on average 10 days in March.
Course: The course is an out-and-back on the Oak Ridge Turnpike with bike lane/shoulder. View a race recap here.
Elevation: Max gain of 600 feet. It starts with a net downhill and has rollers in the middle. Because it is an out-and-back, what comes up must come down–and vice versa.
Pros: This race has no turns, just curves in the road, and is relatively flat. Weather is almost always cool.
Cons: This is a no-frills race with little to no crowd support and runners around you. This race is for those meaning business when it comes to BQ. I recommend having a friend pace you for some of the back half of this race and making sure family and friends are there to cheer.
If you want guidance with your running goals including marathon training, check out my run coaching services. Also, be sure to check out my free training plans: