As running outside gained popularity in 2020, so did treadmill running. Many people discovered what moms of young children already knew—treadmill running is a saving grace when you can't leave your house.
Running on a treadmill comes in handy when your kids are too young to be left alone so you can run, or they are napping, or you're in quarantine, or the weather is bad, the list goes on.
Is treadmill running as effective as running outside?
But treadmill running is not the same as outdoor running. Tips and tricks are needed to get the most out of the experience.
That's because treadmill running lacks wind resistance, varying terrain, and the pounding on stiff surfaces that reinforce your bones. But treadmill running offers some things that outdoor running does not.
Running on a treadmill offers you the ability to change the gradient as you please, absorb ground reaction forces thereby minimizing joint impact, and run whenever you have a window—without the need for childcare!
Treadmill Running Tips for Mother Runners
To help you maximize your treadmill running experience and keep your kids entertained while you do it, I've talked with running coaches, medical professionals, and mother runners experienced in treadmill running (including pro runners) to answer all your treadmill running questions and gather the top treadmill running tips to make your indoor running a sweaty success!
Related: Bust Barriers to Exercise
How can I start running on a treadmill?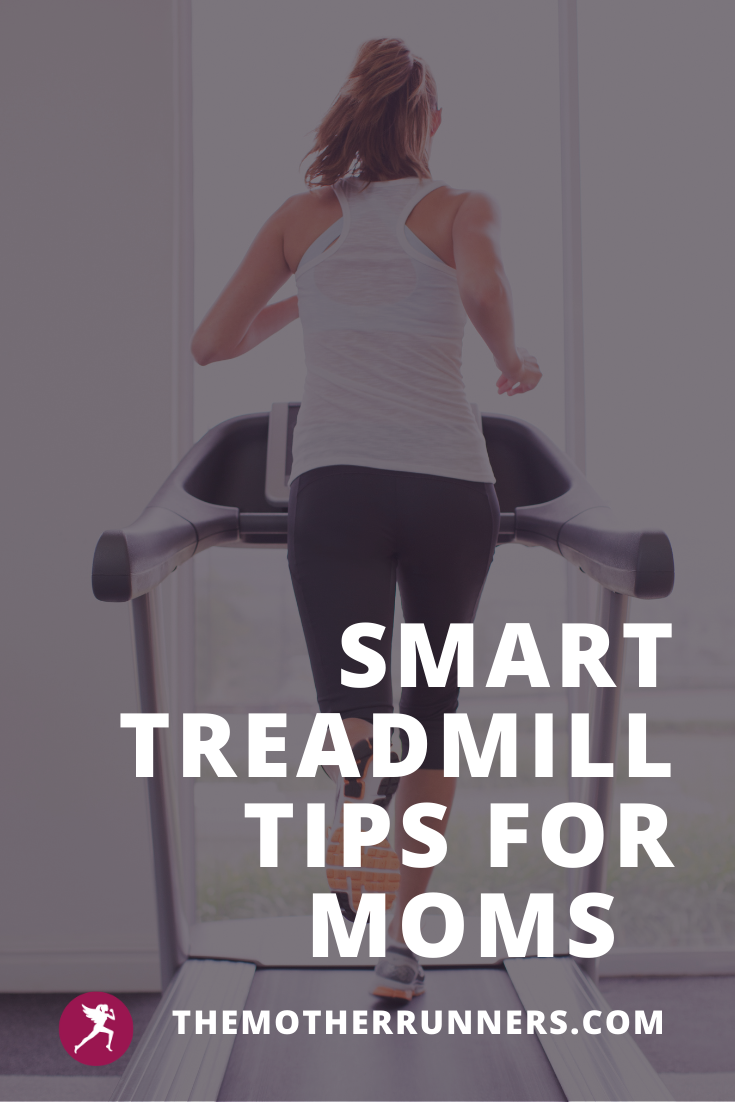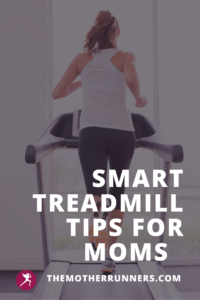 Running on a treadmill is great for beginner runners because you can control your pace and the terrain. It's wise to start walking before you start running (a great tip for all life things in general!), gradually building in short run intervals (such as run for 30 seconds, walk for one minute)—then increasing the run time and decrease the walk time.
Beginner runners should aim for 3 30-minute treadmill sessions a week. After a few weeks, add another day of treadmill running, and so forth. You can find beginner treadmill workouts here, here, and here.
How to run on a treadmill
Running outside offers wind resistance as well as a nice mix of inclines and declines (a.k.a. hills). Treadmill running does not automatically do this.
"The treadmill locks you in at a precise pace and gradient unless you change it," explains The Mother Runners co-coach Laura Norris. "Outdoor running includes variations of elevation and pace (even slight ones). By changing incline and pace, you mimic outdoor running. Not only does this reduce monotony, but it also reduces the risk of overuse injury from repetitive movement."
(Read Laura's tips for training for a race using a treadmill here.)
Varying the incline will also better prepare you for outdoor running, burn more calories, and improve your fitness. Studies show that starting at a 1% incline best mimics outdoor running by offsetting air resistance and the moving belt. Some mother runners like to warm-up with a powerwalk at a super high incline of 10 or 15, then settle in at a 1% baseline incline to make it feel less difficult.
Get a pace conversion chart here.
What is proper treadmill running form?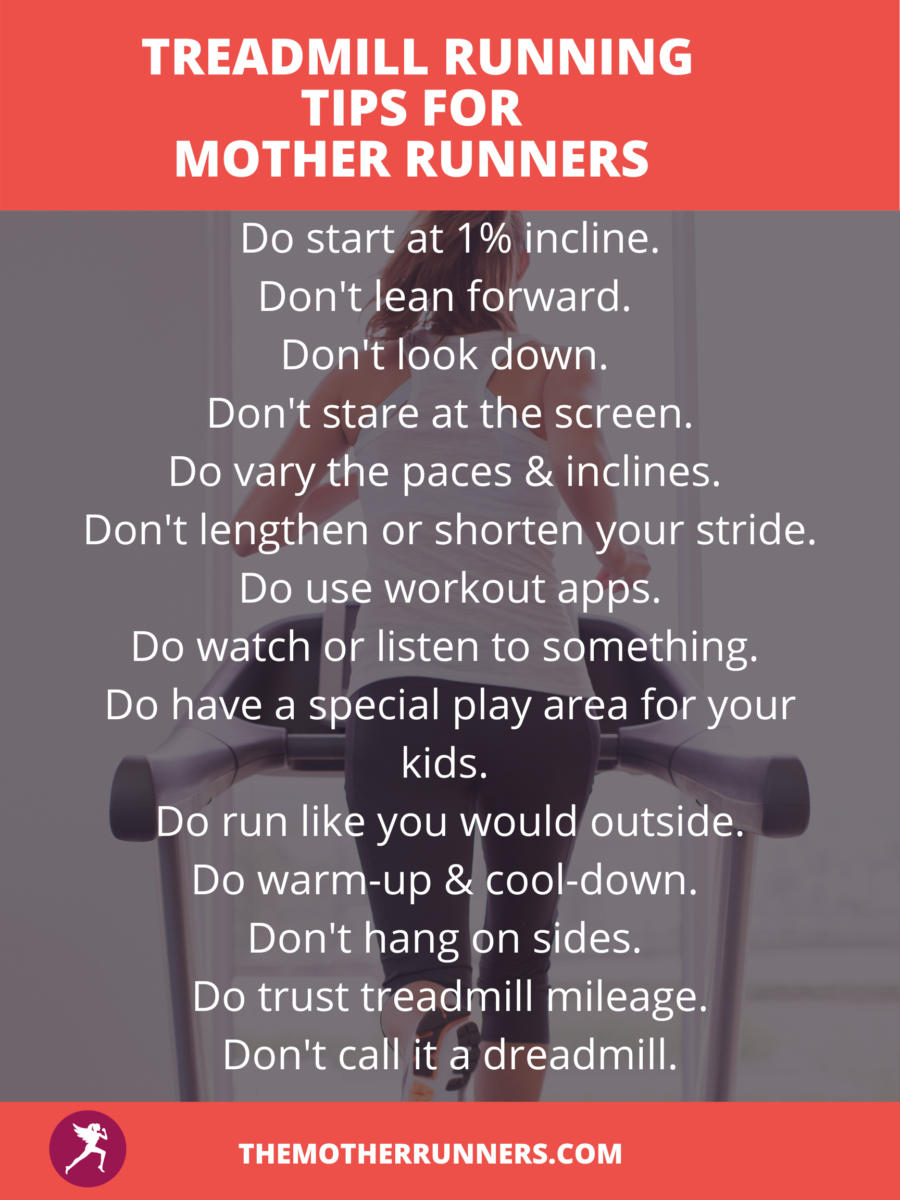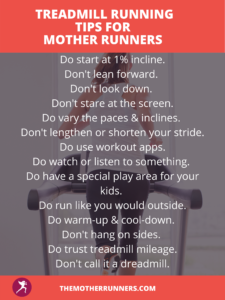 The best way to run on a treadmill is to try to run just as you do outside:
Don't lean forward.
Don't look down.
Don't stare at the screen.
Don't shorten or lengthen your stride.
Stand tall, arms swinging by your side, with your neck and shoulders relaxed, and your body centered over your feet. Do periodic body checks throughout your run. (This is a great habit for running outdoors as well.)
Staying relaxed is extremely important when running on a treadmill, says physical therapist and run coach Janet Yiu, as there is a definite danger of head and neck strain.
"When you look up over the treadmill, your rib cage tips upwards. This limits the mobility of the diaphragm—the muscle that allows you to breathe," explains Yiu. "This can increase neck and shoulder tightness and even limit your running workout because you can't catch your breath."
The best way to avoid this is to run like you would outside. Outside you vary your gaze by looking ahead and down at the ground. Do this by aiming your eyes over and towards the bottom of the screen. "This helps you avoid straining your diaphragm and messing up your breathing," said Yiu.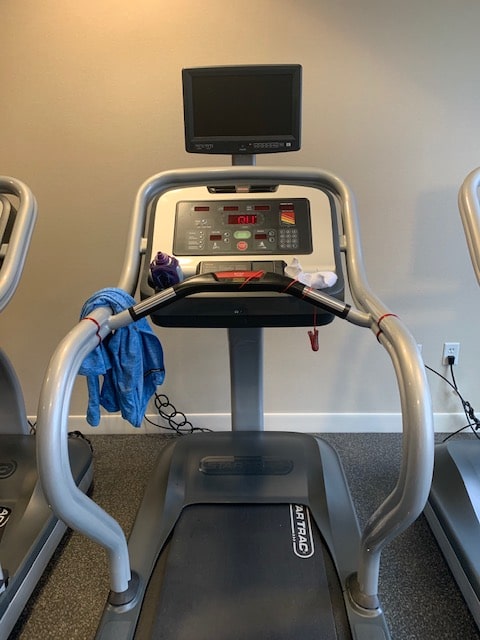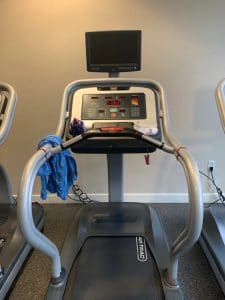 Also, resist the urge to lean on the sides and be sure to warm-up and cool-down. Abruptly starting and stopping the treadmill increases your risk of injury.
How do I stop being bored on the treadmill?
The biggest complaint about treadmill running is boredom. But YOU CAN be entertained on the treadmill! In fact, today, you have so many resources at your disposal to pass the miles. Watch Netflix, Amazon Prime, or Hulu. Download movies and shows. Listen to audiobooks, podcasts, and music. (This A to Z Running podcast is even about treadmills!)
Related: The Best Running Podcasts
Some mamas even read books and magazines, using clothespins to keep the pages from flapping (although this can cause neck strain). Heck, you can even call a friend or family member.
To avoid feeling like you'll never be done with your run, don't look at the screen! The numbers will never seem to go up fast enough. Spare yourself through distraction.
Mamas like to do speed intervals to pass the time or don't allow themselves to look at the treadmill screen until a show ends, a commercial comes on, or a certain number of songs play. You can cover the treadmill screen with a towel or shirt to keep you from cheating.
How can you entertain your kids while running on a treadmill?
There are two basic rules when it comes to treadmill running with kids: have a designated play space and employ novelty.
Former pro-runner for New Balance, Sarah Brown, has a gated area set up in her workout room that her daughters can play in, keeping little fingers safe from getting pinched in exercise equipment. To keep them entertained, she switches out toys so that there's always something new.
Related: An Interview with Former Pro-Runner Sarah Brown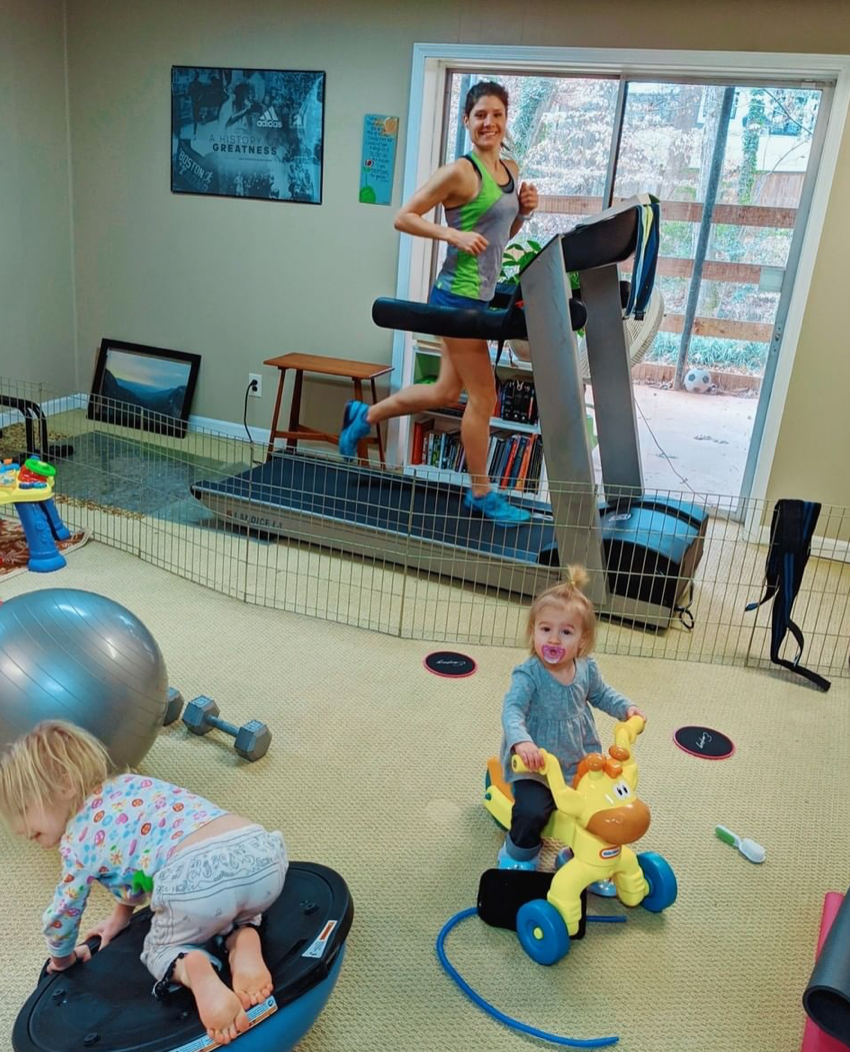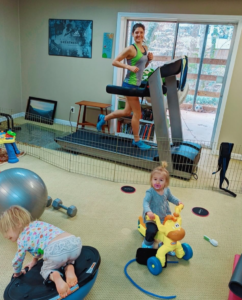 Mother runner Meridith Ussery, who has trained for 100 milers using a treadmill, set up a craft area for her girls and calls it their "special art room." She also has a dress-up box and will have the girls look at books and tell her what they see. "It definitely takes more oxygen, but it's worth it!"
Other mother runners employ tablets or movies "to have some peace." There's no judgment here, mama. You got to do what you got to do! And if that means screen time, so be it!
New moms with infants usually wait for the baby to sleep, setting up a rocker or MamaRoo near the treadmill or having the baby monitor within view.
Related: Genius Stroller Running Tips
How can you get a good workout on a treadmill?
Variety is the spice of life when it comes to treadmill running and your smartphone or watch is just what you need to get a taste.
Here are the best running treadmill apps:
Chances are your treadmill offers some great workout programs, too, including speed, hill training, fat-burning, and power hiking, to name a few (or try this one from AtoZrunning.com). These work different muscle groups, protect you from overuse injuries, and up your cardio game.
How accurate are treadmill miles?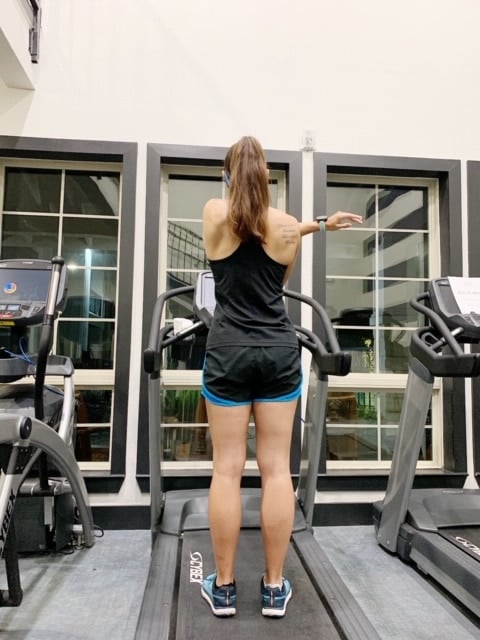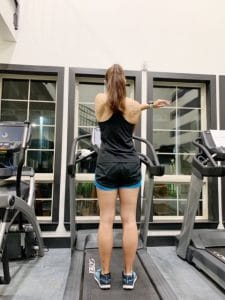 GPS watches like Garmin aren't always the most accurate when it comes to tracking your pace and distance because they focus on your stride length among other body mechanics which are likely altered running on a treadmill.
Instead, trust your treadmill. Most treadmills are pretty accurate when it comes to tracking your distance and pace. This is because the distance is measured by the revolutions of the belt which do not change despite changing inclines.
If you want your GPS watch to sync with your treadmill runs, invest in a foot pod that goes with your watch. Foot pods, which cost about $60, are a small device that attaches to your shoe and contain a calibrated accelerometer that calculates the movement of your foot across a range of strides and paces.
What are the best treadmills for 2021?
Most mother runners agree you need to spend at least $500 to get a quality treadmill. Go under that, and you risk getting one with little cushion and a higher risk for injury. Check-out this list of the 5 best budget-friendly treadmills. Run coach Amanda Brooks over at Run to the Finish rates the best treadmills here.
Whatever you do, don't call it a dreadmill.
Treadmills have a bad rep. But so many moms are reliant on it to get their workouts in, so focus on their attributes like nearby bathrooms, controlled temperature, and a place to put your stuff.
These mother runners see it as an opportunity. "The treadmill is a tool to help me achieve my goals," says mother runner Kristen, who is aiming for a Boston Marathon qualifying time. "Change in my perspective has done wonders for my workouts."
For many of us, running outside is, well, a breath of fresh air (especially needed when you are a new mom or a mom living in a pandemic).
Treadmill running is a way to keep taking care of yourself, get those endorphins flowing, and can get you ready to hit the roads when you have the chance.
Top 14 Treadmill Running Tips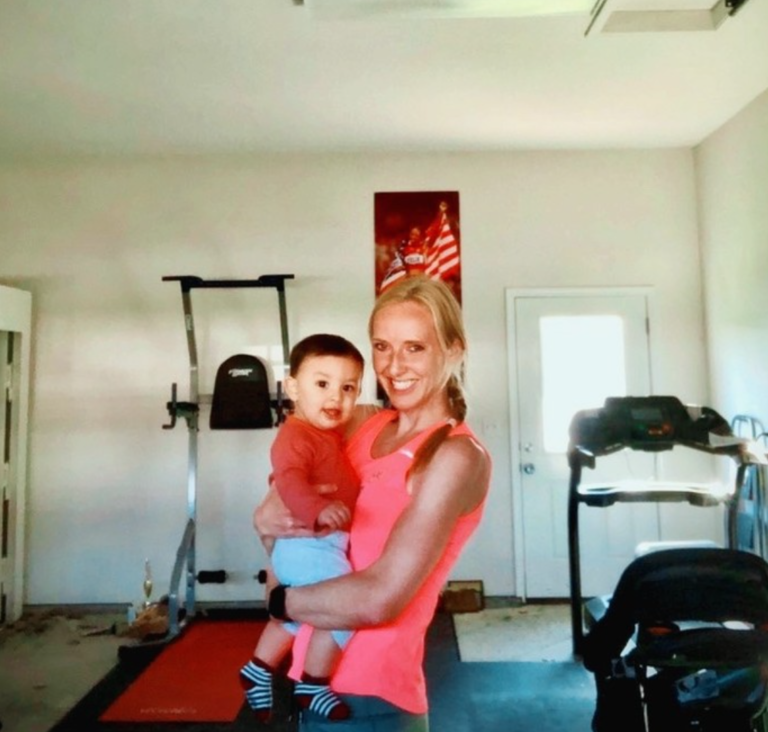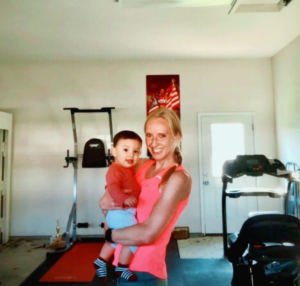 Do start at 1% incline.

Don't lean forward.

Don't look down.

Don't stare at the screen.

Do vary the paces & inclines.

Don't lengthen or shorten your stride.

Do use workout apps.

Do watch or listen to something.

Do have a special play area for your kids with special toys.

Do run like you would outside.

Do warm-up & cool-down.

Don't hang on sides.

Do trust treadmill mileage.

Don't call it a dreadmill.
PS-I'd love to help you reach your running goals whether it be to run your first 5k or run competitively! Email me at whitney@themotherrunners.com with questions or check out my Coaching Services page!