Hmmm, what's for dinner? This is a question that daunts me every day–even more so during the coronavirus pandemic. Without being able to pick up fresh produce or fish on a daily basis, I feel very limited in what I can cook in quarantine for my family.
I brought my conundrum to my mother runner friend Erica Hopper. I knew Erica, a former chef with a passion for healthy eating, would be able to help. Erica earned her culinary degree from the Culinary Institute of America and nutrition degree from the University of Tennessee, Knoxville, and went on to work in several restaurants, food publishing, and had her own healthy meal delivery service. (Fun fact: she was even a food stylist for Southern Living.) She is now on a mission to help people eat well, live balanced, and not be intimidated by any of it with her new blog.
Below are her tips for how to cook in quarantine healthy and fast dishes, and how to get your kids involved in the fun, too: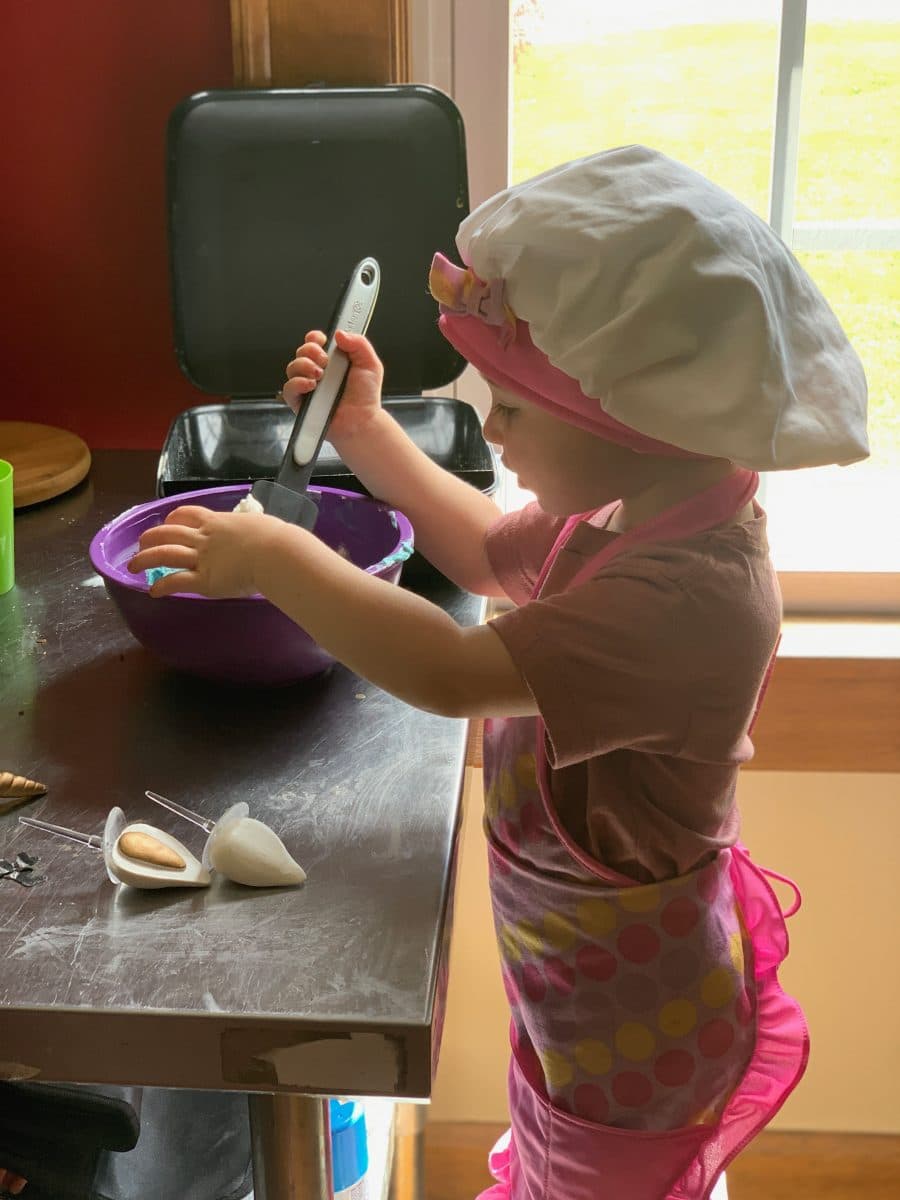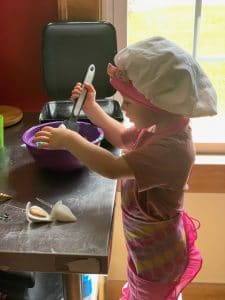 Tips to Cook in Quarantine:
Here are some steps to help you eat healthy on a budget, empty out your pantry stash, and even have a little fun with your kids, all while #socialdistancing.
I don't know about you, but it feels like I haven't left my house in years! This extrovert does not handle social distancing well, BUT I'm doing my part to flatten the curve. And since I'm expecting my third little love, my husband has also banned me from running any household errands, which I definitely appreciate.
The early pregnancy sickness and the kitchen we demolished back in January has not helped me get through this quarantine, but it has helped me get a little more creative. I've been using up some of our pantry staples and thinking of new ways to eat healthily, try to stay on budget, and even get my kids involved in some fun activities. Plus, cooking and cleaning the dishes counts as schoolwork, right???
So, here are some ideas to use in your kitchen to help you get through #quarantine2020.
Related: 35 Tips to Keep You Sane in Quarantine
Related: Running & Parenting in a Pandemic
Empty your freezer & pantry.
Come on, you know you do it. You can cook in quarantine A BIG MEAL, with the intention of freezing it for later. You think, "Oh when there is no time to cook, we'll just pull this out to have for dinner! I am a genius!" Then the aforementioned meal sits in your freezer for years before you work up the courage to clean it all out, and most of it ends up with freezer burn and in the garbage.
So, now is the perfect time to NOT let that food go to waste! Dig through the freezer, and see what you have. Can you use something in there to make a meal for your family? If so, go for it! I currently have some rice thawing that will be served with chicken and veggies.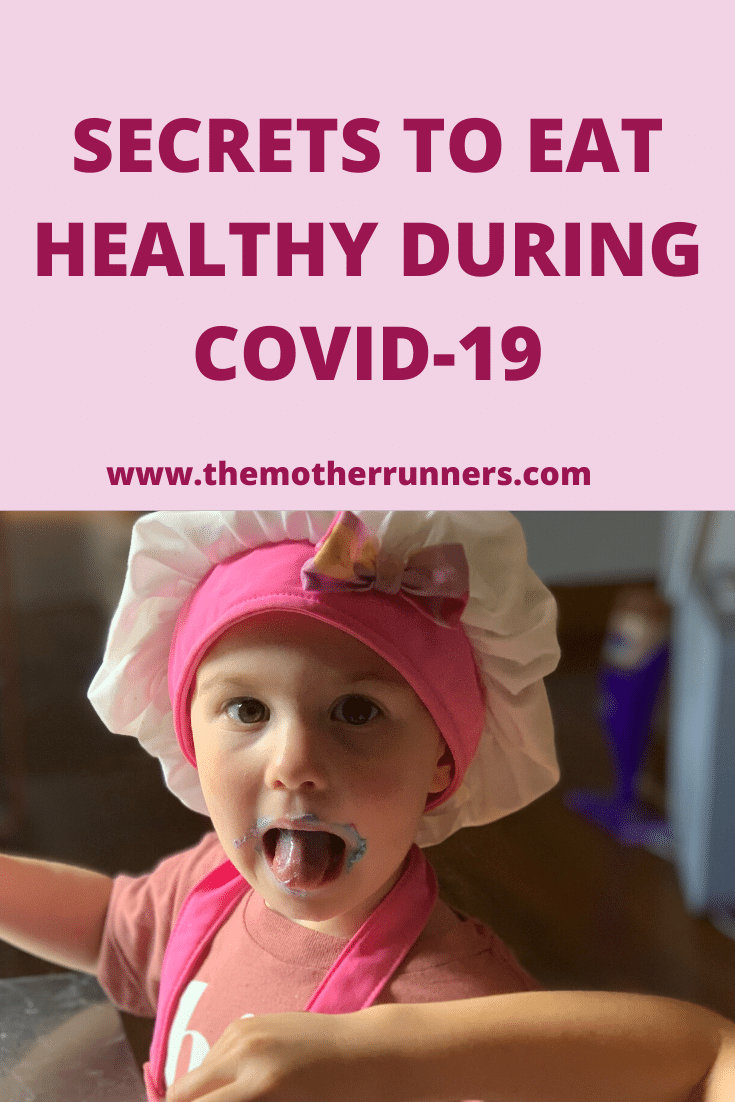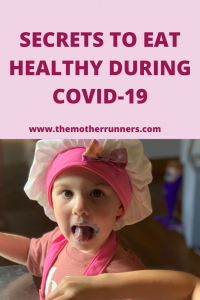 It's also a great time to go through all of your dry goods. Not only can you use up the boxes of pasta and cans of beans and tomatoes, but it's a great time to get rid of all those expired bags of flour, boxes of crackers and containers of spices. Admit it. You have spices that have probably been around longer than your kids…I know I do!
Related: 5 Ways to a Healthier Kitchen
Here are some ideas of items you might just have hanging around and what you can do with it!
· Rice. You might not know, but rice freezes really well. Just place it in a zip-top bag and lay flat to freeze. When you're thawing it out, just stick it in your fridge overnight! I love to roast up some veggies and sauté with rice and avocado oil.
· Chicken. I always grill or sear a few extra chicken breasts, so I'll have some to freeze. Thaw it out, and shred it up in your mixer. Use it however you want! I like to make this chicken salad. It's light, fresh, and a perfect grab-and-go lunch.
· All. The. Frozen. Veggies. I currently have 2 large bags of frozen okra, and 4 large bags of frozen broccoli. Did you know, you can actually roast frozen veggies? Like you can cut open the bag, throw it on a sheet pan, drizzle with avocado oil, salt, and pepper, and pop it in the oven! It takes a few extra minutes in the oven, but it's SO easy!
Try something new.
Now is the time to try all those bookmarked recipes you swore you would make one day. It's also a great time to try out new ingredients. Have you always wanted to make that Farro salad you saw on Pinterest or those chickpea chocolate chip cookies? Well, now is your chance! Recipes that use "off the wall" ingredients are prime for this time. They are likely the only ingredients left on the shelves at your local grocery store!
I was craving some good ole' fashioned chocolate chip cookies the other day, so my husband went to the store to stock up on baked goods. There were 2 bags of flour left in the entire store! So, get brave and flex those creative muscles with ingredients you've never used before.
Here are some ideas for ingredients to cook in quarantine that you might not use all the time, but might be able to find in the store when there is no bread or pasta or toilet paper!
· Farro. Farro is a grain that is not used nearly enough. It is high in fiber, Vitamin B3 and zinc. It has a nutty flavor and can be used in all sorts of ways. I especially love it in a warm farro salad with dried cranberries and baby kale. Some keys to making the best farro around – soak it overnight, season your cooking water WELL, don't forget the butter.
· Gluten-free flour blends. A few months ago, I made the switch to gluten-free. I am not 100% strict with it, but I do notice that I feel much better if I steer clear of it (harder to do when pregnant!). So, I've been finding new ways to use gluten-free flour blends, almond flour, and coconut flour.
Get your kids in the kitchen.
Read on how to find out how to have fun with your kids in the kitchen on Erica's full blog at sugarandsaltblog.com.