It's kind of impossible to not be inspired and amazed by this month's Mother Runner of the Month, Colleen Martin.
Here's a quick recap of Colleen: she is a mom to 7 (7!) kids (pre-k to 16), works full-time as a business manager at a Catholic high school, has been consistently running since high school, has run-dates with her husband, and writes for her own blog and a Catholic women running blog. Her nominator is in awe of how Colleen manages to stay in shape when it is hard for her with just two kids (let alone 7)! I think most of you will find Colleen's take on exercise and health refreshing and moving.
Meet Colleen.
Related: Nominate your own Mother Runner of the Month.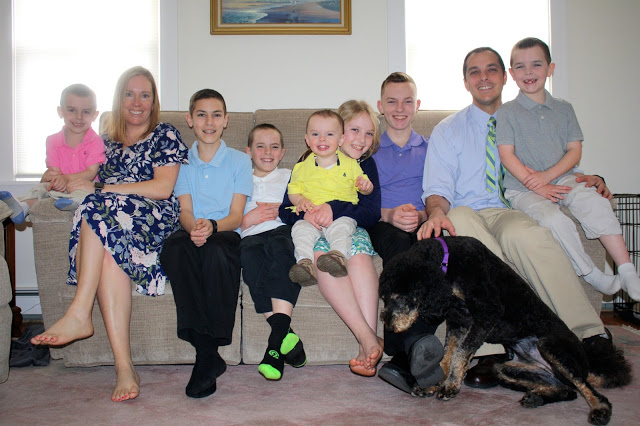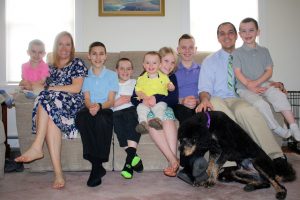 Why do you enjoy running?
I literally use it as an escape – from the chaos of life, to clear my head, to relax, to solve all my problems
What are your running goals and accomplishments?
I've run three half-marathons, and a few 5ks and 10ks. I decided after my last half that racing is not my thing. I don't need an upcoming race to train for in order to run. I just love to run! I don't need any added pressure when I work out – it's literally my time to release the pressures of life. Having to follow a training plan made me hate running, which is sad, and something I don't want to feel again.
Related: Meet the other Mother Runners of the Month
How does your love of running impact your kids/family?
I've been running and working out nearly every day since I was 14. My husband played sports, but when that time of his life was over, he began running with me, and we treat it like a date. It's a lovely time together! We can only do this because our kids are older. Back when they were all little, we joined a gym with daycare and would exercise that way, or we would take turns going for runs outside.
We always make time for the other to fit exercise in because we love each other and want to grow old and healthy. I think our children see our devotion to exercise and follow it in their own way. Most of them are three-season athletes, and we suggest runs and playing outside to those who aren't. We sign up the kids up for fun runs, and bring them to the track for workouts with us. We truly don't care if they are the best athletes or the worst, as long as they're active and enjoying it.
Related: How running helped this Mother Runner fight cancer
How does running make you a better mom?
It keeps me sane and happy and I always come back feeling refreshed and ready to tackle big family life. When I'm cranky, my husband will suggest I go for a run! It's my medicine :).
What's the best piece of running advice you've ever gotten?
Mix up the workouts – don't just run! Add in workout classes, weight training, swimming, whatever you like to cross-train your muscles.
Do you have any favorite running podcasts?
I don't really listen to podcasts…when I run I prefer fast, upbeat music not suitable for little ears ;).
What's your favorite running gear?
I wrote a post about that here!
How do you stay motivated when the going gets tough?
I just always think about how I will feel when I'm finished. Also, don't be afraid to stop running as much if you find that you are dreading runs. I have gone through that cycle a few times, and I actually take more group classes now and run less and that makes me enjoy my runs so much more!
Please add anything else you'd like to talk about!
Run outside as much as possible – the Vitamin D and fresh air do your body good! I run intervals on the treadmill because it makes the time seem to go by faster and doesn't get boring. Also, finding a running buddy (for me it's my husband) is invaluable!