I have a secret to tell you—something that happens to me on the regular. I get completely blocked and lose all creativity when it comes to meal ideas. My family can be pretty picky and tricky to feed. In trying to please them, I have little left for myself and then am desperate for ideas. So, this article is to help me and (yes!) YOU come up with healthy meal ideas for runners.
And by meal ideas for runners, I mean something SIMPLE. Something that doesn't require tons of ingredients and lots of time you don't have. These meal ideas for runners help you recover faster and fill the tank quickly.
Related: The Scientific Benefits of the Long Run
These healthy meals are some of my favorite staples and come from fellow mother runners, food bloggers and nutritionists I know and trust who specialize in feeding athletes.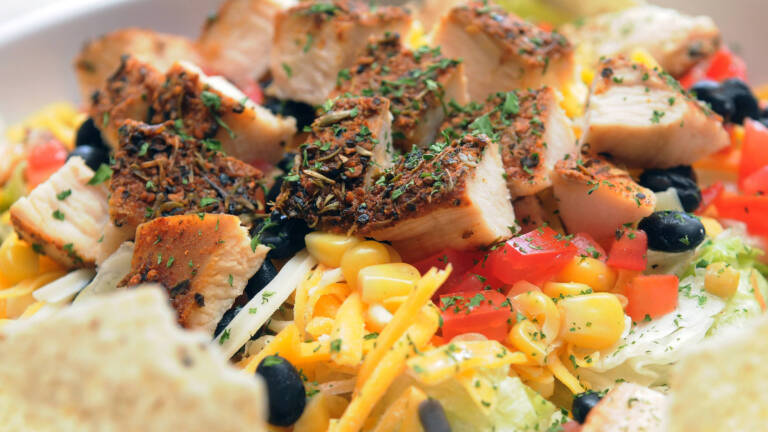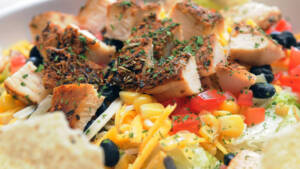 Eating well is critical for being a healthy and successful runner. I remember when I began training with a running coach and running more competitively. I didn't realize the importance of fueling—especially refueling after a run.
Related: 3 Proven Ways to Refuel from a Long Run + 2 Yummy Recipes
The importance of eating for running performance
I found that I wasn't recovering well after my workouts and wasn't ready for the next ones. My coach asked me what I was doing after my run. I told him I would usually come home and go immediately back into mom mode. I wouldn't eat anything. An alarm went off.
That was the problem, he pointed out. And he was right.
Related: Marathon Fueling 101: What Runners Should Eat
As soon as I began eating or drinking smoothies within an hour of my run, I started recovering faster and performing better. It was remarkable how quickly it all changed by making one easy fix. I began first by drinking chocolate milk and eating a banana.
Then I began making protein smoothies and now I plan meals after long runs and hard workouts to help my muscles begin building back stronger.
Related: The Best Foods to Eat Postpartum
With a tiny bit of forethought, these meal ideas for runners can help you, too!
In this article, I'm going to share:
What foods are good for runners
What foods should runners avoid
15 simple and healthy meal ideas for runners including healthy dinner ideas
Plus 8 recipes for runners
So, let's dig in!
What foods are good for runners?
Foods that are whole foods and include simple carbs are best for runners. These foods may include:
potatoes
oatmeal
quinoa
rice
toast
pancakes
bagels
nuts and nut butters
whole fruit
sweet potatoes
granola
brown rice
whole-grain bread, cereal, and pasta
What foods should runners avoid?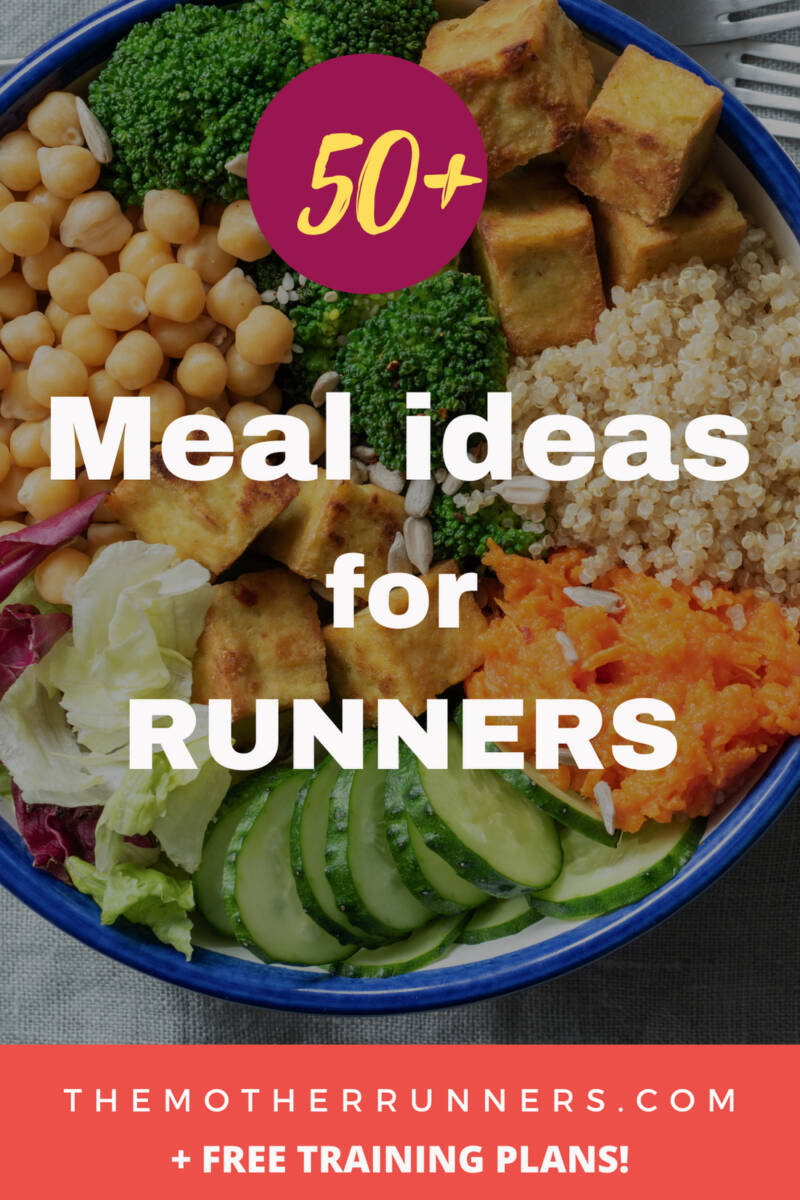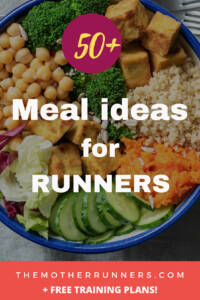 To perform their best and avoid stomach issues, runners should avoid sugary, greasy, and heavily processes foods. The foods runners should avoid include:
Related: Train Your Gut to Stop Runner's Trots
Sodas
Energy drinks
Frozen meals
Dairy products (before a run)
Greasy and fatty foods
Spicy foods (before a run_
Alcohol
Foods high in fiber (before a run)
What does a professional runner eat in a day?
Professional runners follow these simple guidelines: eat whole foods that include all the food groups. Avoid foods high in saturated fats, and grease, and are heavily processed.
In general, professional runners eat foods high in carbohydrates for energy, moderate protein for muscle-building, and some fat for recovery and energy.
You can get a great idea of what professional runners eat by purchasing former pro runner Shalane Flanagan's books. My favorite recipe for runners' book is her Cook Fast. Run Fast. Eat Slow. Book. Big point here: what pros eat, we should eat too. It's nothing special. Just simple, healthy food!
Related: Run to Lose Weight Safely (Top Tips & Mistakes)
What foods give you instant energy for running?
Foods that give you energy for running have simple carbohydrates that your body can break down into fuel.
Some quick snacks for runners for energy include:
Bagels or an English muffin with peanut butter and jelly
Oatmeal with raisins
Cereal
Fruit like bananas, berries, oranges, or apples
Eggs with toast
Dried dates
Eggs
Avocados
Sweet potatoes
Peanut butter and jelly
Apple sauce
Yogurt with granola
Rice cakes with peanut, almond, or cashew butter (this is my favorite!)
Are eggs good for runners?
Yes, eggs are a great food for runners because it is a healthy protein source. One egg has about 6 grams of protein, important for muscle building. Eggs also have leucine which is an essential amino acid for making protein—aiding in muscle and bone growth.
Eggs are a great food to eat after running to aid in recovery.
Related: Cook from Pantry Staples
Are omelets good for runners?
If you have five minutes after a run, an omelet with cheese and vegetables is a great food for runners. An omelet is rich in protein and antioxidants, add some toast or an English muffin for extra carbohydrates, and you are giving your body what it needs to recover faster and become stronger.
Related: How to Poop Before Your Race
Is pasta good for runners?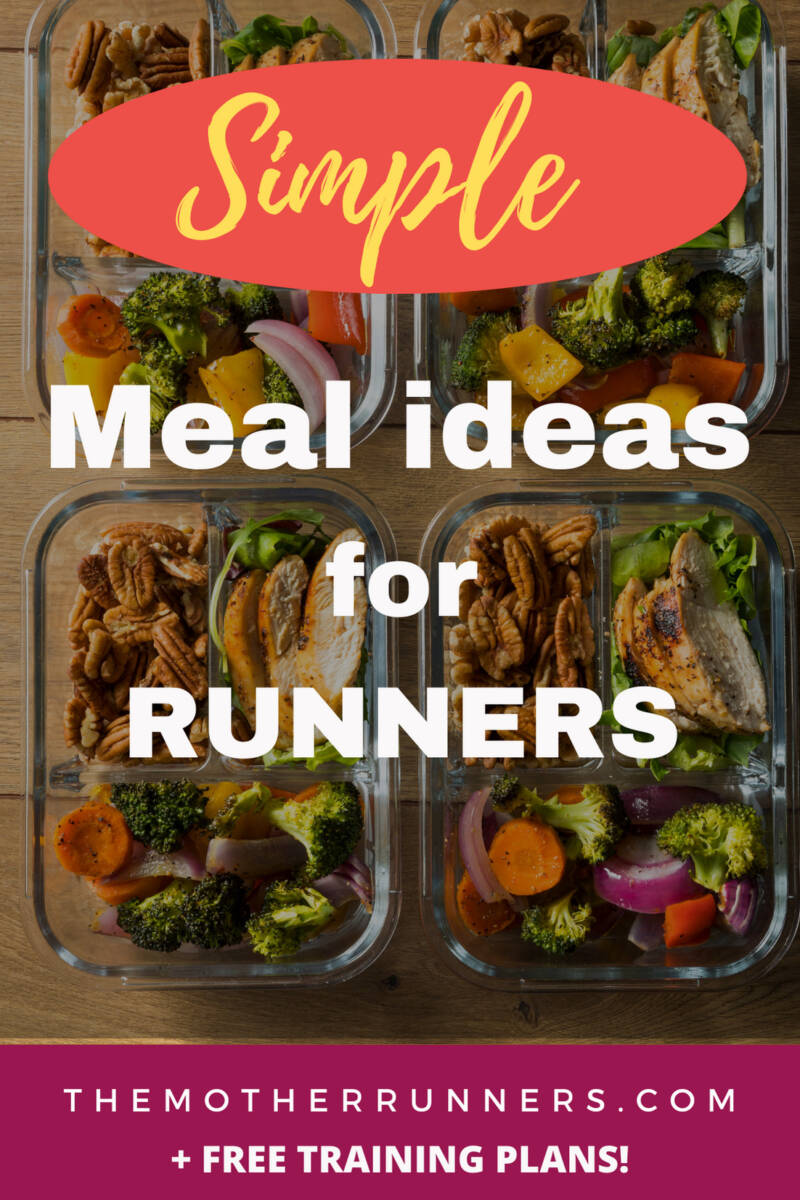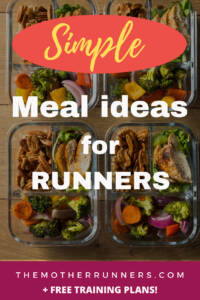 Pasta is a great food for runners because it contains simple carbohydrates for runners to break down for energy when running. These carbohydrates also can help restock glycogen stores that have been depleted when running long distances (especially more than two hours).
Related: How to Carb Load for a Marathon
Are sweet potatoes good for runners?
Sweet potatoes are an excellent food source for runners because they contain carbs for energy along with Vitamin A (important for cell growth and immunity), fiber (important for gut health), and potassium (important for maintaining fluid levels in our cells).
Is rice good for runners?
Rice is an excellent source of fuel for runners due to its carbohydrate contents. In fact, rice is often used in energy gels to help fuel endurance performance. Brown rice, in particular, is rich in nutrients such as manganese, selenium, magnesium, B vitamins, and fiber.
Related: 4 Yummy Fall Recipes for Runners
What should runners eat for dinner?
Runners should eat a balanced plate with protein, carbs, and healthy fats. In general, a runner's plate should include:
meat, fish, cheese, and/or beans
carbs such as pasta, rice, quinoa, potatoes, or couscous,
veggies such as zucchini, spinach, broccoli, Brussel sprouts, and green beans, and
healthy fats from oils such as avocado or olive oil.
What are some healthy dinner recipes for runners?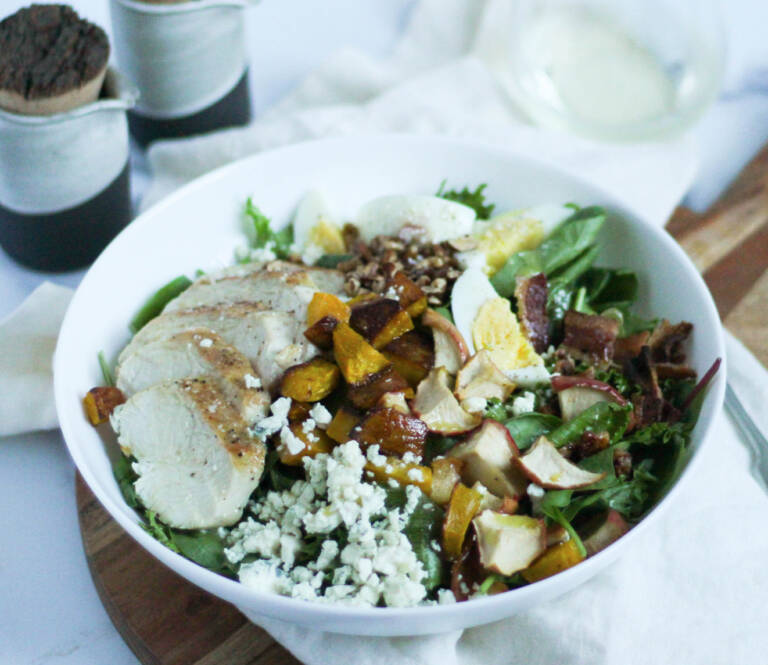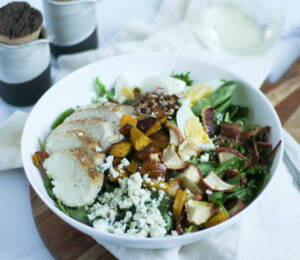 Here are 16 healthy dinner meal ideas for runners that your family will eat too!
Spaghetti and ground turkey meatballs and a side salad or vegetables
Chicken stir fry with veggies and rice
Make your own pizza with toppings such as cheese, pepperoni, onion, peppers, sausage, spinach, etc.
Sushi rolls including teriyaki chicken, salmon, or veggies with rice
Turkey burger (or black bean or Beyond Beef burger) with a baked potato and broccoli
Chicken kabobs over brown rice
Salmon (or any fish or meat) with French fries and roasted vegetables
Potato skins with toppings such as cheese, tomatoes, spinach, and sour cream
Avocado toast with pesto or hummus spread and a side salad
Salad with cooked tuna steak slathered with soy sauce and sesame seeds, sunflower seeds, almond slices, berries, feta cheese, and DIY dressing (oil and vinegar, mustard, lemon juice, salt and pepper)
Couscous salad with roasted veggies and feta cheese
Cucumbers with lime and grilled chicken
Chicken, roasted broccoli, and sweet potatoes
Salmon, sweet potatoes, and green beans with butter and garlic
Hearty pasta salad with veggies, beans, cheese, and vinaigrette
Breakfast burritos
What should a distance runner's diet look like?
If you are a distance runner, you need more carbs than the average person. The keto diet and the intermittent fasting diet (especially if you are a morning runner) are definitely not for you!
Related: How to Become a Morning Runner
As a distance runner, eat 2.7 to 4.5 grams of carbohydrates per pound of body weight per day. So, if you weigh 135 pounds, you should eat between 365 to 607 grams of carbs a day.
Do this by including carbs in all your meals and snacks. Cereal, oatmeal, granola, rice, pasta, bagels, crackers, rice cakes, toast, bananas, fruit, and starchy vegetables are great ways to fuel your runs.
Related: Why You Shouldn't Intermittent Fast & Exercise
Remember, if you don't have enough carbs, then you don't have enough energy to run your best.
What should I cook for dinner?
When trying to come up with meal ideas for runners or dinner ideas for the family, it can be helpful to think of themes. For instance:
Monday: Soup night
Tuesday: Taco night
Wednesday: Pasta night
Thursday: Fish night
Friday: Vegetarian bowl night
Saturday: Pizza night
Sunday: Hearty salad night
8 Meal Ideas for Runners
Okay, now let's get to the good part. Here are 8 meal ideas for runners. These recipes for runners can easily be healthy easy dinner recipes for the family, too.
I chose these recipes for their nutritional content, ease, taste, and simplicity. No fancy ingredients or cooking contraptions required!
Veggie and Black Bean Burrito
This recipe comes from Betsy Johnson, a nutritionist, endurance athlete and runner. It's got all you need: protein, carbs, and healthy fats. And is ready in a snap—just cook up the veggies, put some cheese in a tortilla, and then fold the veggies into the wrap. Yum!
Vegan Harvest Bowl
I love "bowls." You basically layer any yummy grain like quinoa or rice with veggies, beans, and a dressing and voila! You have a nutritious, delicious, and satisfying meal! This bowl from Betsy features cauliflower rice.
If you are running a lot, I recommend subbing in a grain such as rice or quinoa instead. To make it extra fast, buy the microwaveable grains in a pouch.
Quinoa Vegetarian Bowl
This vegetarian bowl from Betsy features protein-rich quinoa. If you eat meat, feel free to throw in your favorite protein such as chicken.
Also, Flanagan's book has a whole section on "power bowls" to equip you to make your own with whatever you have in the pantry.
Veggie Hummus Pita Sandwich
I love pita pockets! Slather some hummus inside the pita, throw in some lettuce, chopped tomatoes, onions and cucumbers, feta cheese, and avocado, and you have yourself a refreshingly delightful meal. This recipe takes the hummus pita sandwich up a notch.
Macaroni Tuna Salad Recipe
I'm huge on pasta salad in the summer. I love to dice up fresh veggies, throw in some dill, cheese, and white beans plus my own vinaigrette (oil and vinegar with lemon, salt, pepper, and mustard) and YUM. Chelsea of Mae's Menu has a delicious, comforting, and healthy tuna macaroni pasta salad that is sure to please!
Spicy Southwest Salad
Salads can be FILLING when you load them up with veggies and protein. This southwest salad is full of nutrient-rich veggies and a taste that your family will love. Don't be afraid to add tortilla chips or a tortilla shell to make it even more delicious.
Autumn Cobb Salad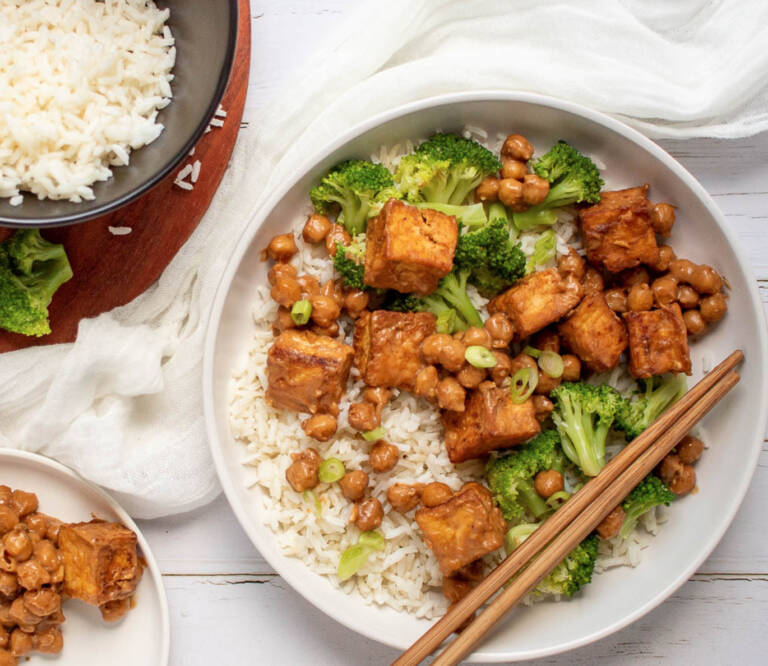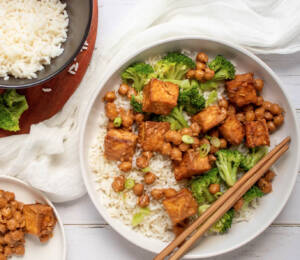 When the air cools, you'll love this fall salad from my mother runner friend and kitchen genius, Erica Hopper. It's a cobb salad complete with butternut squash and pecans.
Her vegan penne alla vodka recipe and crispy peanut tofu and chickpeas recipe are divine but require more hands-on time or a piece of equipment (blender). If you have some extra time, then I suggest trying these out!
Ground Turkey Sweet Potato Skillet
I love it when you can throw everything into one pan and come out with a delicious and filling meal. That's what this recipe from Chelsea is.
It's Mexican-inspired and full of protein and carbs. If you're vegetarian (like my husband), throw in some Beyond Beef sausage crumbles instead. And if you don't like sweet potatoes, fingerling potatoes or baby potatoes are a delicious substitution.
If you want guidance with your marathon and other running goals, check out my run coaching services. Also, be sure to check out my free training plans: