Three running books from highly respected elite female distance runners have been released this year. I gobbled them up as soon as I could even though my life doesn't seem to lend itself to much reading.
The books, Good for a Girl by Lauren Fleshman, Choosing to Run by Des Linden, and The Longest Run by Kara Goucher, give us an inside look into the lives of professional runners.
From the outside looking in, we erroneously believe that being a professional runner means getting pampered and paid big bucks to workout…that it means having teams of people catering to you–cooking your meals, giving you massages whenever you want, telling you to take your mandatory nap…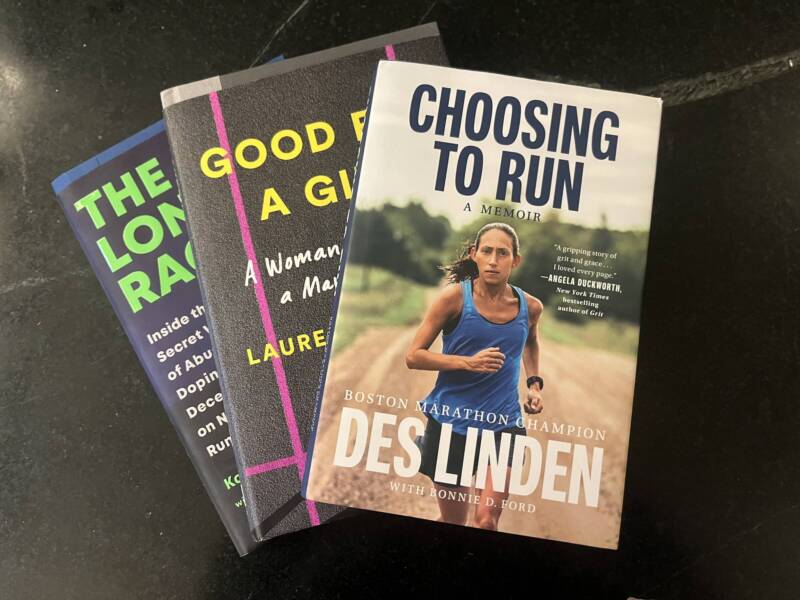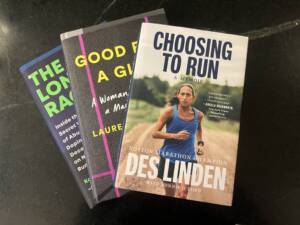 As a stretched-thin mother runner, what we deem as life of a professional runner seems like a dream come true. But as these three books reveal–our assumptions couldn't be more wrong.
Instead, the life of a professional runner, especially a female professional runner, is poisoned by double standards, and men taking advantage in every sphere. It means being put in a pressure cooker to perform even when you know it can do you harm. It means being paid little—especially compared to male counterparts. And if you don't place or worse, get injured or pregnant, you can have your salary suspended or stripped away.
It means being sexualized and not taken seriously. And yes, it means, being pushed or deceived to betray your body in so many ways such as restricting food, running through injuries, and doping.
Related: An Interview with Pro Runner Neely Gracey
My initial reaction to these pro-women's running books
My eyes were opened by reading these books, and I regularly went to bed sad or angry. In fact, when reading Kara's book–I was fuming. It is pretty hard to read it and not hold ire for Alberto Salazar…and Nike. However, I was also incredibly inspired and fell more in love with our sport.
These women are incredibly brave. All three of these books about running read like personal diaries. Fleshman, Linden, and Goucher bare their souls and open themselves up to intense scrutiny and criticism. But they did so in a collective pursuit to make this sport better now and for the generations of female runners to come.
I collaborated with one of my athletes I coach, Rachel Penate, who is also a beautiful writer and voracious reader to review these three new books about running: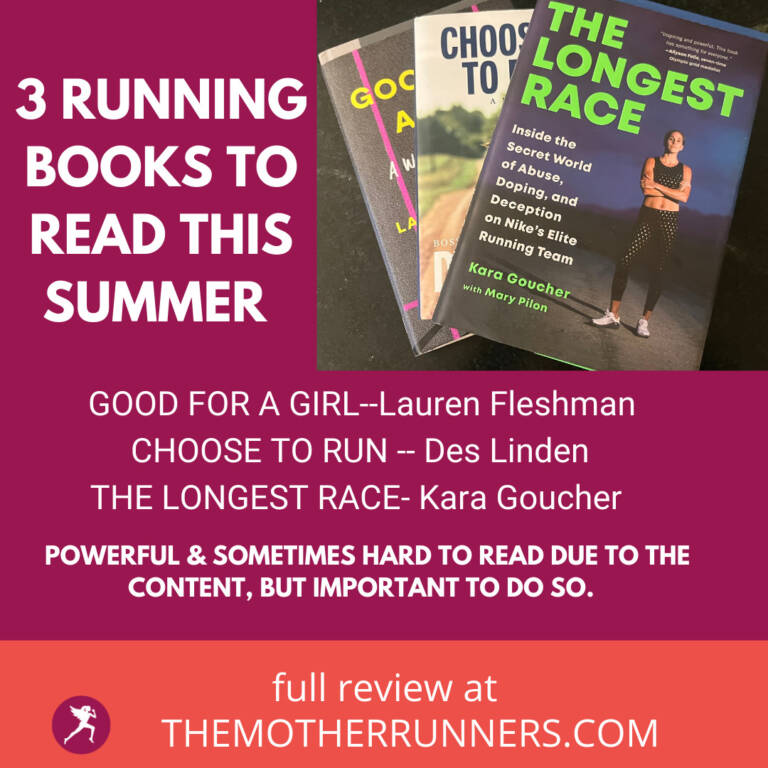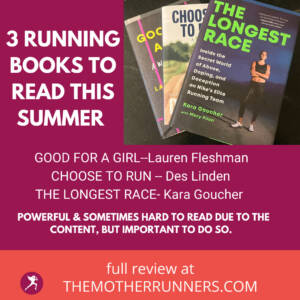 Good for a Girl reveals the sickness in the running culture (promoted by males) to try to halt puberty through eating disorders in hopes of faster times.
Choosing to Run gives you an inside view of the grit a distance runner must have to keep going despite illness, injury, and perilous conditions.
And, The Longest Run takes you inside the horror that is the Nike Oregon Project, rife with sexism, sexual and emotional abuse, and cheating.
In reading them, you will see that things are never what they seem. I hope these running book reviews help you figure out what to pick up first this summer. I also hope you get some time to relax and read–as I know that is rare as a mother runner (especially with young kids!).
Related: Interview with Pro Runner Beatie "Speedy" Deutsch
Three of the Best Running Books to Read This Summer
"Good for a Girl" by Lauren Fleshman
Who is Lauren Fleshman?
As a young teen, Lauren discovered the thrill of racing her peers at the highest levels. From the Foot Locker Championships all the way to coming in 4th at the Olympic Trials, Lauren has seen it all on and off the track. She is a fierce advocate for the holistic care of women runners and a force to be reckoned with in the world of women's coverage in the sport of running. Her work is seen in major publications like The New York Times and Runner's World and will continue to be celebrated thanks to her newest book, Good for a Girl.
Related: Best Running Podcasts for Mother Runners
Book Review of "Good for a Girl"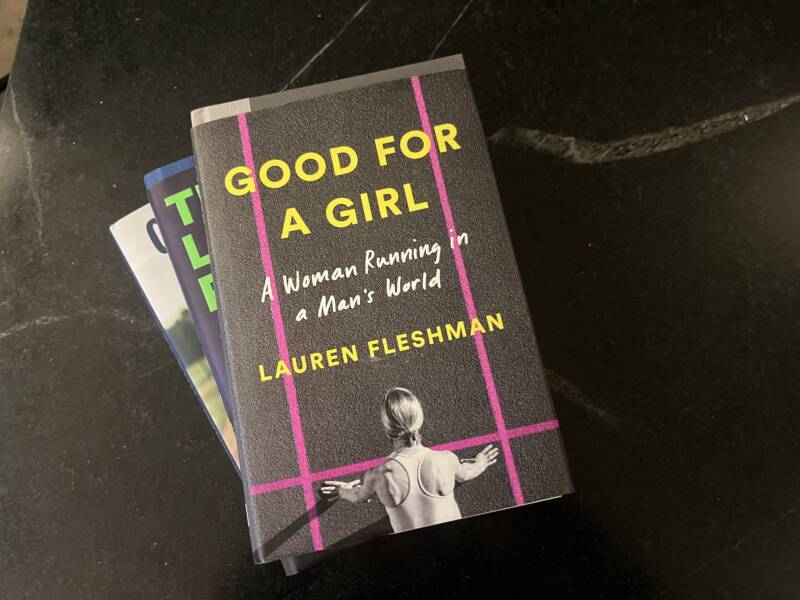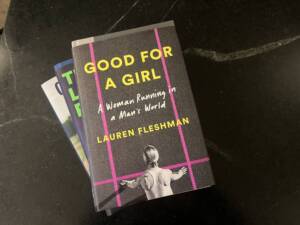 What would happen if we stopped pretending that women runners were the same as men?
It's a question obvious enough to ask, but not so easy to answer. For decades, coaches have operated off of the mindset that what's good for an individual is good for the team. For years, women have been told to ignore the symptoms that warn them they are teetering close to the edge of injury — that there is an ideal race shape or weight you must do anything to achieve, that amenorrhea (the absence of a period) is the mark of a female runner working just hard enough. Lauren Fleshman, in her newest book, Good for a Girl says, "Hold up! Let's re-evaluate this flawed mindset a little bit. Women are not the same as men."
Leaning on 20+ years of competitive running experience, hours of study and research, and countless anecdotes from her years of coaching, Lauren sets out to dispel all of these damaging mentalities and present a hard look at what it takes to holistically support women whose hormones affect not only performance, but also recovery.
Lauren's book is a compelling and deeply heartfelt letter to all young women and those who care for them. It is an extremely motivating treatise on not only the uniqueness of female runners but the incredible power and strength that women can tap into on and off the running course.
Related: Interview with Former Pro Runner Sarah Brown
Good for a Girl Summary:
Good for a Girl is a must-read for any female runner, coach, or parent who works with young female athletes (or anyone who wants to better understand the particular limitations of female athletes). Lauren's heart on these pages offers such an intimate, easy-to-read, and balanced perspective that is backed up with an entire appendix of sources and resources to go deeper. It is a literary work of achievement in women's running and is deeply necessary in this world today.
Purchase Good for a Girl from Lauren's Website.
Quotes and summary from the publisher, Penguin Random House.
"Choosing to Run" by Des Linden
Who is Des Linden?
Des Linden is probably best known for winning the Boston Marathon in 2018, but her legacy will include much more than this title. She is a marathon champion, two-time Olympian, and fierce advocate for writing your own narrative. Des' story is one of hard work, grit, and no assumptions, proving time and time again that she is a champion on and off the road. Des continues to race professionally and hosts a podcast with fellow marathoner (and author of The Longest Race) Kara Goucher.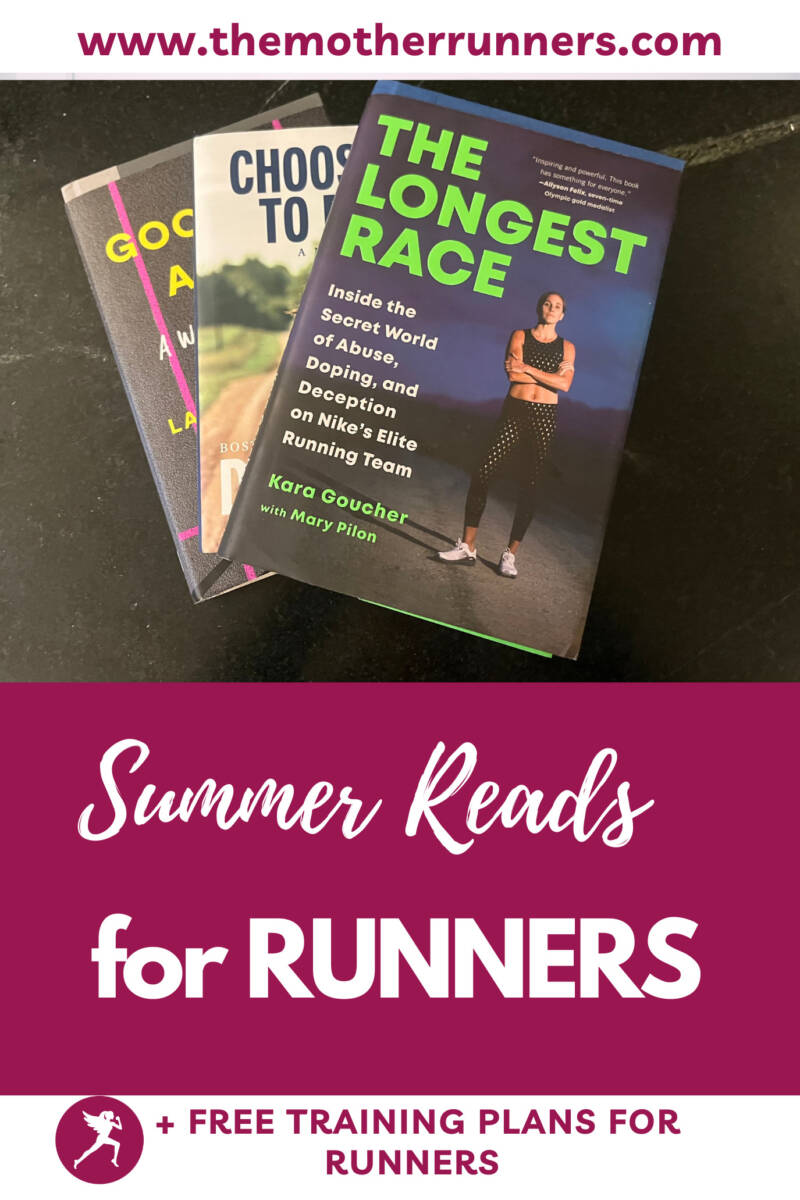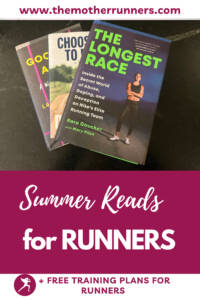 Book Review of "Choosing to Run"
As a spectator of any marathon, we can look at any finishing time and make a whole lot of assumptions — about an athlete's training, their effort, their endurance capacity (for the good and the bad). But, until we know the whole story, we don't know what they had to sacrifice to get there. 2:39:54 is not an "impressive" winning marathon time when looked at through an objective microscope, but 2:39:54 holds a certain kind of magic for Des Linden.
In 2018, Des had to fight tooth and nail in the most treacherous of conditions for that time to win her Boston. In fact, she even planned on dropping out.
With unapologetic candor and hard-earned wisdom, Choosing to Run is a deeply exciting re-telling of the decade leading up to Des' 2018 win and the grit and determination that got her there.
Flipping back and forth between specific mile markers of her 2018 race and the years leading up to it, every twist and turn in the road of her story leads back to that race that deeply changed the trajectory of her career. It is a truly unique literary style that lends itself to such a fun read.
Related: 9 Steps to Return to Running After Injury
"Choosing to Run" Summary:
While many of our marathon times will never match Des', there is so much within the pages of her story that reads in such a relatable way: particularly the fierce fire to get back up and keep going when all we want to do is stop.
Des had to overcome that ugly desire to quit in 2018 — during that uncomfortably cold, windy, and stormy Boston Marathon morning. But, it was overcoming the even uglier storm of self-doubt that made her a champion.
She didn't think she could do it… until she did.
Choosing to Run is a gripping and honest memoir about what it takes to achieve your goals and the lessons we learn in the process. Marathoner or not, there is something in this book for everyone.
Choosing to Run summary, quotes, and link to purchase from Penguin Random House.
"The Longest Race" by Kara Goucher
Who is Kara Goucher?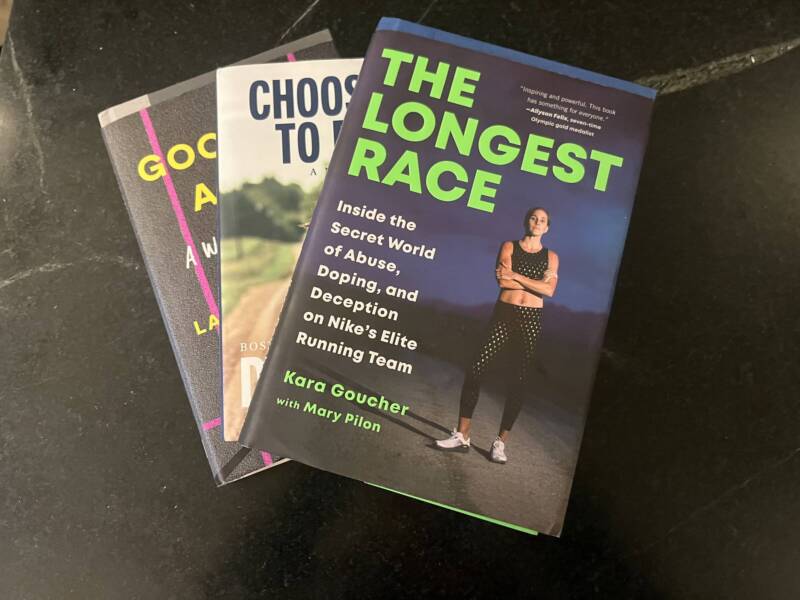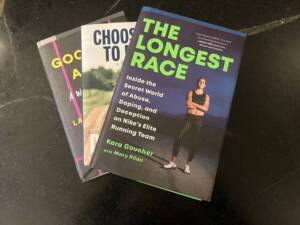 Having lost her father at a very young age, Kara is no stranger to learning how to overcome great adversity. Her love of running began in the Northwoods of Minnesota and continued through some very tough, but successful years as a collegiate and professional runner — including being the primary whistleblower on Alberto Salazar and the Oregon Running Project. She is highly decorated with many achievements, including podium spots at major world marathons and an appearance at the 2008 Beijing Olympics. Kara's work today includes coaching, podcasting, and advocacy for clean (anti-doping) sport.
Book Review of The Longest Race
Anyone who has been around the sport of running long enough knows that it is full of some incredibly dedicated and determined people. Running is a hard sport that requires as much sacrifice (if not more) than it does skill. But, what happens when a coach with great determination tries to take the shortcut to success? What happens when a world so insular and tightly wound starts to warp the reality on what one must sacrifice for a team?
This is the setting where Kara woke up too late in her career when she realized all was not as it appeared at Nike's Oregon Running Project. And, this is the guttural story she unravels for us in The Longest Race.
It is a story full of as much pain, twisted ambition, and abuse of power as it is of unrelenting hope, unconditional love, and bold courage. One might come to Kara's book for the "tea spilled" on Nike and Alberto Salazar, but one will most definitely leave full of so much enthusiasm for the way in which bringing darkness to the light can transform not only one's life for the better but so many others to come.
Related: 36 Running Tips to Try This Year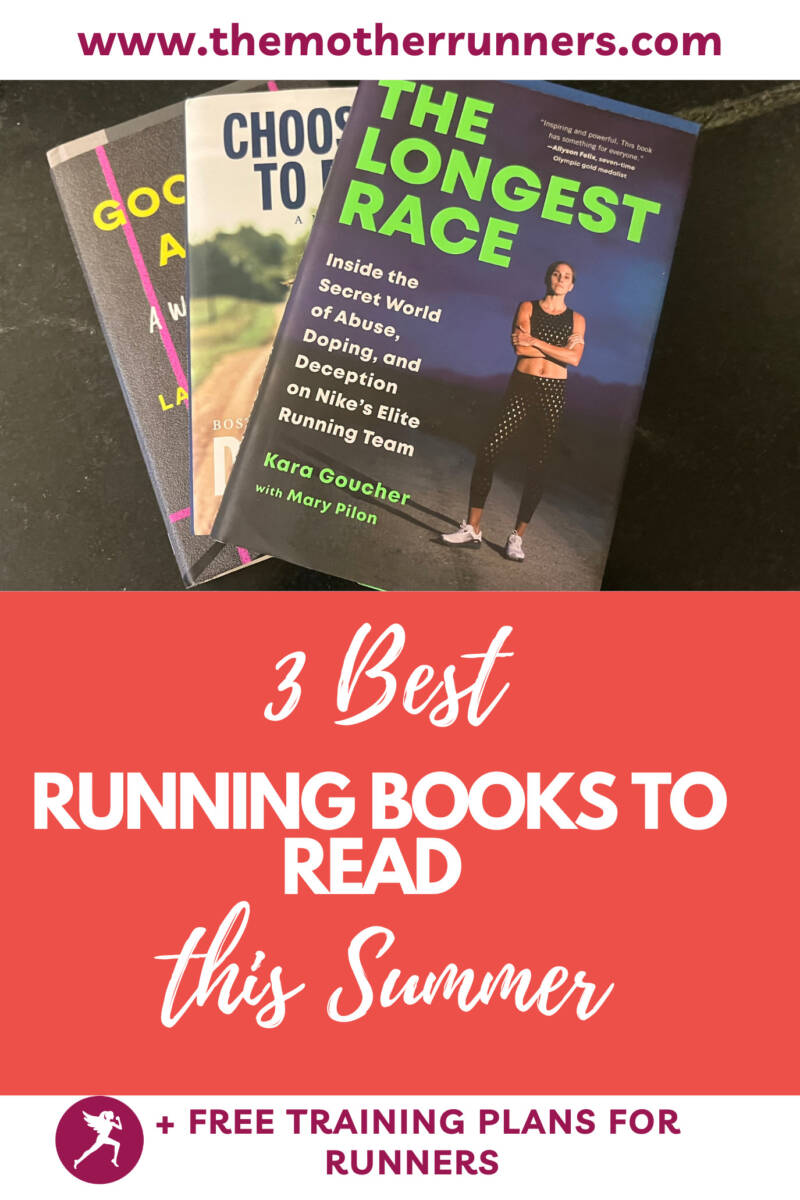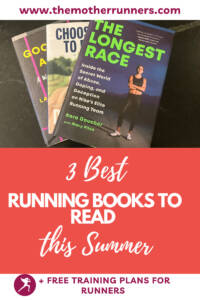 The Longest Race Summary:
Kara's memoir isn't an easy "beach read," nor is it one you will be able to digest quickly. There is so much within these pages that causes one to pause and consider how it is that such large institutions are so blind to clear abuses of power. It is both a warning siren and a love letter. To anyone who has been abused by authority figures in sport, Kara says "I've been there too."
The Longest Race is an important story in the world of women's running and is a shining example of courage that will deeply affect the lives of many athletes to come.
*As a note: There is a lot within these pages that might be hard to stomach for a sensitive reader. The Longest Race includes scenes of both sexual and emotional abuse.
"The Longest Race" summary, quotes, and link to purchase from Simon and Schuster.
If you want guidance with your running goals, check out my run coaching services. Also, be sure to check out my free training plans: